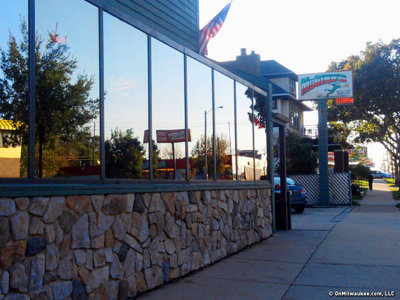 Miller Park bar guide
Note: The contents of this guide were checked for accuracy when this article was updated on April 10, 2011 at 5:41 a.m. We continually update the thousands of articles on OnMilwaukee.com, but it's possible some details, specials and offers may have changed. As always, we recommend you call first if you have specific questions for the businesses mentioned in the guide.
Baseball season is here and you're probably already wondering how many Brewers games you'll get to in 2012. Of course, you'll probably want to meet up with friends before or after the game so to help you out, here is a list of bars in the area around Miller Park.
To keep things simple -- and close to the stadium, we limited our list to establishments operating within the boundaries of 76th Street (west), National/Greenfield Avenues (south) and State Street (north).
As always, if you have a favorite spot to prepare for or celebrate a Brewers' victory, feel free to post it below.
4th Base
5117 W. National Ave., (414) 647-2368
4thbase.com
If you're not planning on tailgating, you might want to stop at 4th Base for a meal. The food is leaps and bounds ahead of the traditional bar fare. And, if you're just looking for a drink, this "upscale" neighborhood tavern won't do you wrong.
Benno's Bar & Grill
7413 W. Greenfield Ave., (414) 453-9094
bennosbar.tripod.com
A little bit west of Miller Park in West Allis is this spacious and comfortable watering hole. You'll find plenty of beers on tap, plenty of televisions to watch the game ... and plenty of room to gather with a handful of your favorite fans. If the restroom sign looks familiar, it's because it once hung at County Stadium.
Fiesta Sports Bar
5108 W. Bluemound Rd., (414) 443-0287
fiestasportsbar.com
You might remember this establishment as Fiesta Garibaldi. The bar underwent a bit of a change about a year ago, transforming into more of a sports bar, complete with a new menu.
Brewski's Sports Bar
304 North 76th St.,(414) 475-0500
brewskissc.com
Something of a newcomer to the area, Brewski's isn't too far from the ballpark, at 76th Street and Bluemound Road The bar has 25 flat-screen televisions and a 3,000-square foot patio, so you can get comfy before, during or after a game.
Derry Hegarty's
5326 W. Bluemound Rd., (414) 453-6088
derryspub.com
Derry Hegarty's doesn't really fit the bill of a traditional sports bar and its definitely not a regular stop for the younger crowd; instead, more of a quiet, laid-back place inhabited by the post-Marquette crowd with occasional stops by local politicos. Still, grab a cold one afterward and let traffic clear out before heading home. Hegarty's offers a shuttle to every home game.
Dino'z Sports Bar
5018 W. State St., (414) 777-5060
For roughly two years, Dean Pawelski operated Dino'z Sports Bar in West Allis. A lifelong resident of the area, Pawelski saw his bar grow more popular with patrons, but eventually, things got too crowded and he recently set up shop on State Street, just south of Miller Park off U.S. 41. The bar offers shuttles to every Brewers home game.
Friday's Front Row Grill
1 One Brewers Way (Miller Park), (414) 902-4201
frontrowmilwaukee.com
When the Brewers played at County Stadium, league rules dictated that beer couldn't be sold after the seventh inning. Fortunately, the Brewers were able to exploit some sort of loophole when they built Miller Park -- Friday's Front Row Grill serves drinks throughout the game and after. They usually have a pretty good post-game beer special.
The Jack
4823 W. National Ave., (414) 384-8111
dangerouslyclosetostallis.com
They do bar food right at The Jack, priding themselves on fresh ingredients and made-from-scratch dishes. Burgers, wings, pizza - it's all here. The Jack is walking distance from Miller Park but they also provide a free shuttle to the game
Kelly's Bleachers
5218 W. Bluemound Rd., (414) 258-9837
kellysbleachers1.com
Kelly's Bleachers is a good spot to watch big games: five big screen TV's, numerous smaller ones, and they know enough to turn the music off and the game sound up.
The walls at Kelly's are decorated with Wisconsin sports mementos. A notable one is an autographed picture of the almost forgotten Bonnie Brewer.
After Brewers games you can use your ticket stub for half off beer taps. If you want to discuss the game in detail, you might want to try another bar -- the music here is very loud. It's the only bar near Miller Park with a dance floor, so it may attract more girls after the game -- or at least the guys trying to meet them.
Kelly's offers a shuttle to every home game.
Mollica's Pub
5501 W. National Ave., (414) 988-9642
mollicaspub.com
Come here before, during or after the game - Mollica's has a shuttle to Miller Park, 4 50" TVs if you feel like staying put, and a daily happy hour from 4 p.m. to 7 p.m. Since Mollica's merged with Emilia's Grotto, the food has gotten a major upgrade from traditional bar fare: you can enjoy dishes like Build-Your-own pizza and Chicken Parmesan. Enjoy the Brew Game specials like all-you-can-drink domestic tap beer for $20.
O'Brien's Pub
4928 W. Vliet St., (414) 453-6200
O'Brien's is a good choice after a Brewers game -- it's a little less crowded than spots closer to the stadium. The bar has a shuttle, but parking can be a little scarce -- especially if softball season is underway across the street at Wick Field.
Oscar's On Pierce
1712 W. Pierce St., (414) 810-1820
oscarsonpierce.com
With a spacious patio and plentiful customer parking, Oscar's makes pre or post-game bar food and beverages an easy feat. Established in 2011, their specialty is oversize, affordable burgers. Try the Big O for $7.25, featuring 8 oz. of Black Angus smothered in Chipotle Jack and Smoked Gouda, topped with Hickory, chorizo, fried onions and a side of guacamole. People also say the Bloody Marys are out of this world.
Rounding Third
6317 W. Bluemound Rd., (414) 475-1982
A favorite spot for baseball and football fans alike, Rounding Third offers a free nacho bar after home games, a slew of TVs and a back room that went smoke-free well in front of the ban. Catch the shuttle or just stay and enjoy the game on the HD screens.
Saz's State House
5539 W. State St., (414) 453-2410
sazs.com
Saz's is more of a restaurant than a pub -- patrons at the bar can get crowded out by diners waiting to be seated at this popular eatery. As you would expect at a restaurant bar, Saz's offers a lot of hearty appetizers -- ribs, mozzarella marinara, clam strips and chicken tenderloins are some of the items to snack on. Plus, you can hop the shuttle right to the stadium.
Steve's on Bluemound
5841 W. Bluemound Rd., (414) 257-3210
Steve's on Bluemound is a spacious sports bar with a shuttle to Miller Park, and all the classic barroom amenities -- darts, pool, air hockey, foosball, big-screen TVs and video games. This is probably the top place on the west side as far as bar games are concerned. Grab a stool and enjoy the game. Or, catch the shuttle and head to the yard.
Talkbacks
Otto | April 10, 2011 at 6:57 p.m. (report)
Oskar's on 16th and Pierce is a nice new place with good bar food and drinks.
DowntownRed | April 10, 2011 at 8:14 a.m. (report)
And while it's not a bar, the parking lot of Target has become a very popular hangout before the game. Nothing like grilling between grocery carts for people to cheap to pay for parking.
Facebook Comments
Disclaimer: Please note that Facebook comments are posted through Facebook and cannot be approved, edited or declined by OnMilwaukee.com. The opinions expressed in Facebook comments do not necessarily reflect those of OnMilwaukee.com or its staff.