'Tis Dining Month, the tastiest time of year! This means we're dishing up fun and fascinating food content throughout October. Dig in, Milwaukee!
In honor of Dining Month, we're resharing this story of a classic Milwaukee restaurant (and, now, bar!). Enjoy!
Depending on your age, or should I say, more diplomatically, your era, you may or may not remember 4928 W. Vliet St. as O'Brien's Pub, which has occupied the place since July 1998.
For many years, it was also home to the Golden Zither, one of Milwaukee's landmark – if now lost – German restaurants, named for a German stringed instrument that looks a bit like a guitar with its neck broken off and attached lenthways along the body (fretless versions more resemble the autoharp).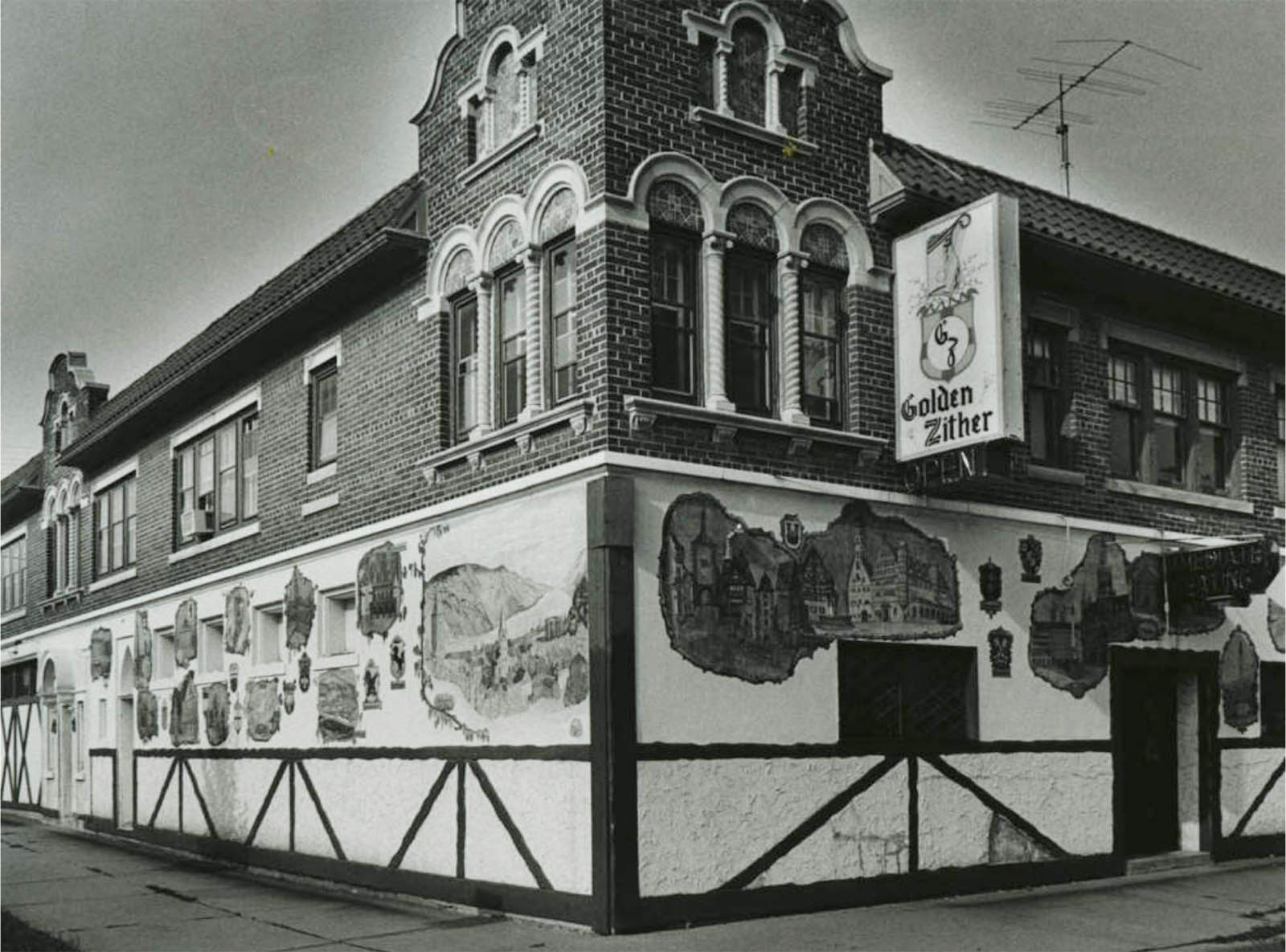 Over its 95-year lifespan the building, which originally had four storefronts (including one facing 50th Street) and three apartments upstairs, has had its share of tenants.
But, O'Briens, owned by Brian Eft and Joel Klamann, takes the cake. It also occupies all of the four former retail stores, which have been opened up and connected inside for many years, since the Golden Zither days.
"We beat 'em all," says Eft, when I stopped in for a visit in January. "We're the longest running business in the building. That's pretty cool."
In normal times, the bar and restaurant is popular not only with Washington Heights neighborhood residents, but also with the evening and weekend warrior athletes who play softball and kickball and other sports across the street at Wick Field, as well as employees of Milwaukee Public Schools, whose central office is a block west, and Milwaukee Police Department employees stationed a block east.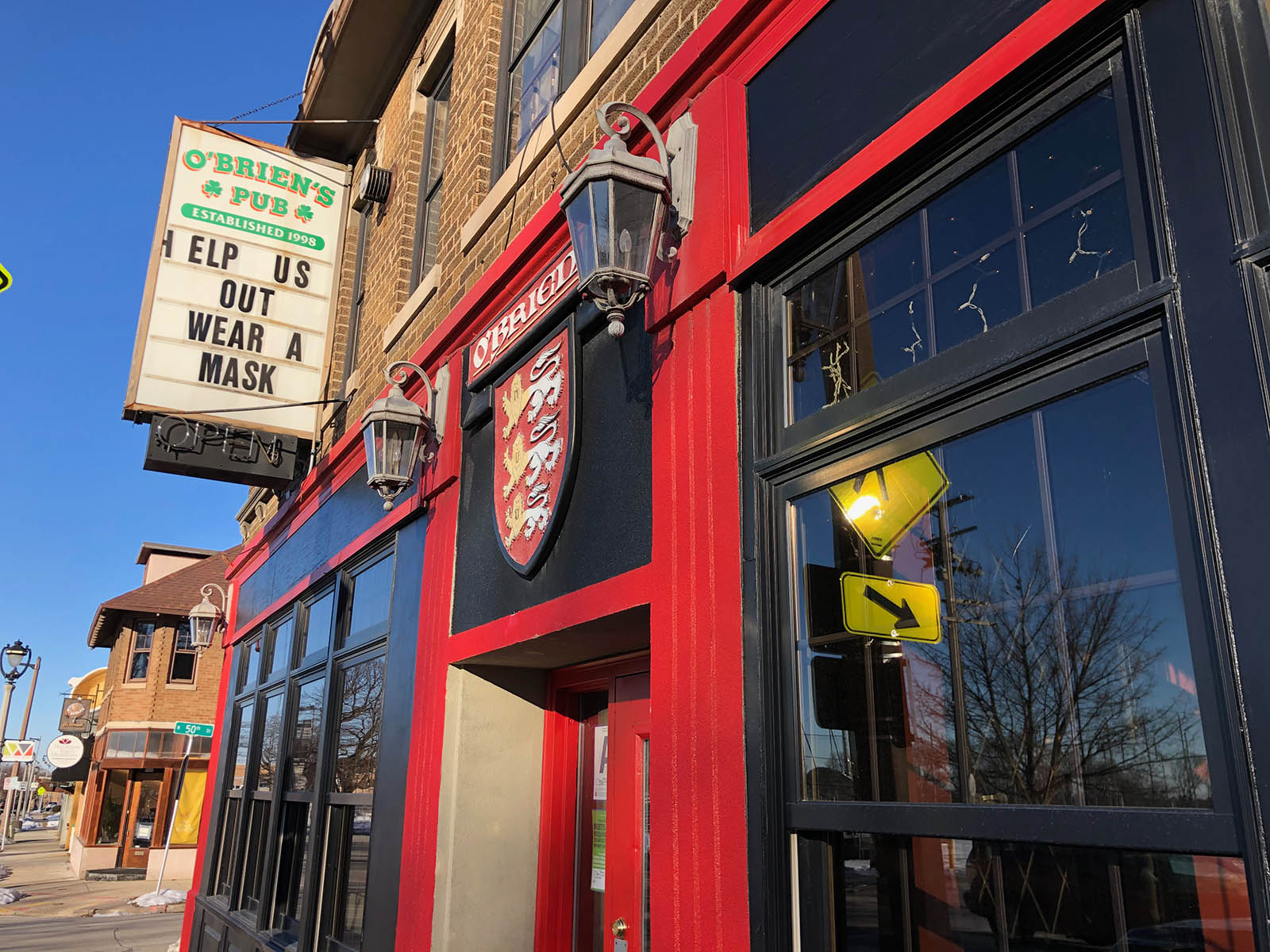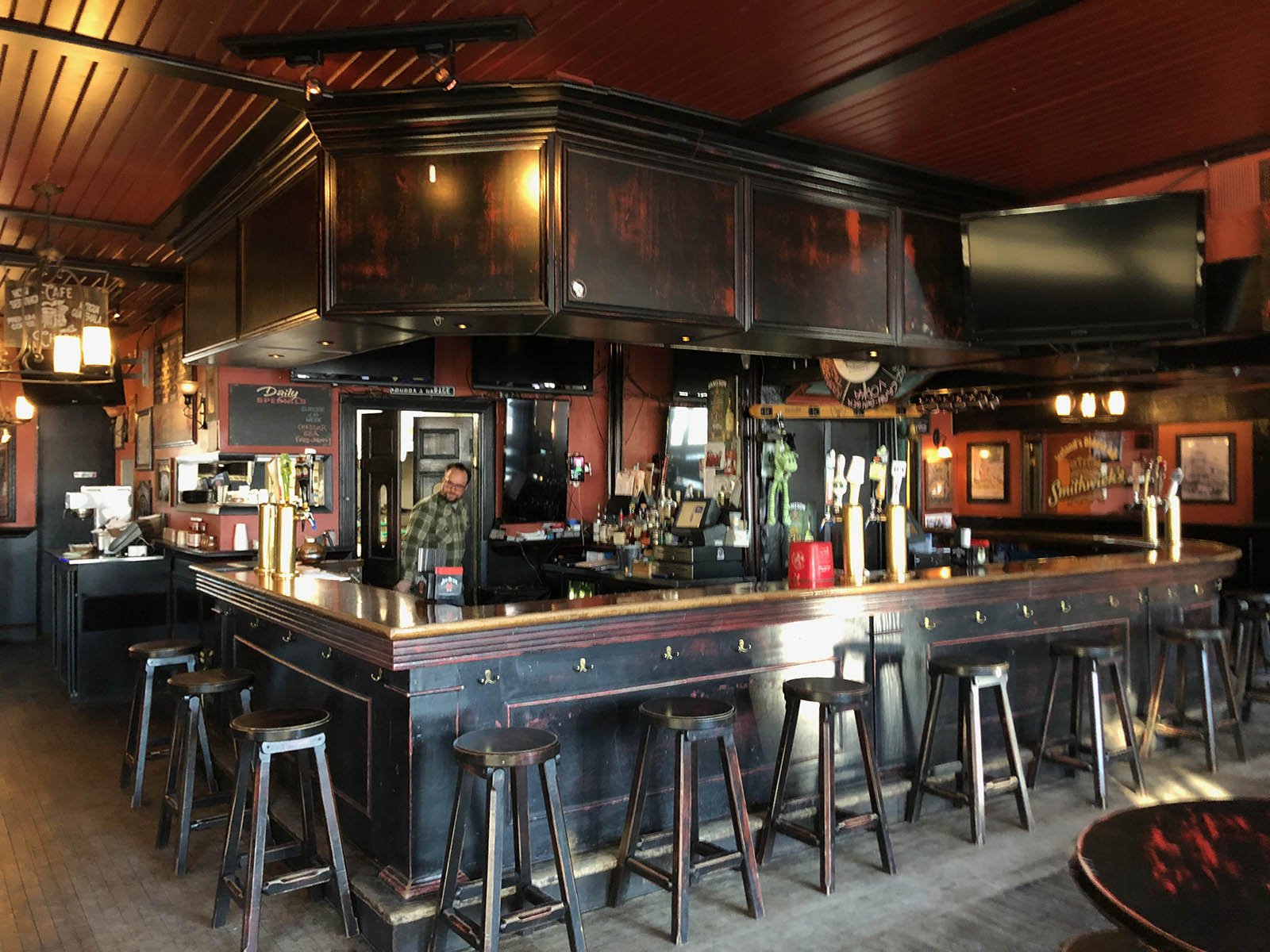 In 1926, American Building and Investment Co. hired architect P.E. Schaefer to design the two-story building that was completed in 1927 at a cost of $28,000.
Among its earliest tenants were the Valley View Market, which was open by early 1928, as well as a bakery that was ending its run by 1930.
Just a neighborhood high street building serving local customers, the building and its tenants tended to fly under the radar, except in a couple cases, in its first few decades.
Sadly, in 1931, the family of butcher John Olen was devastated by the murder of their 19-year-old daugher Mabel, at their home around the corner of 49th Street, by her 29-year-old boyfriend who was angry that she wouldn't marry him.
Surely, this tragedy would've made the Olens question their decision to relocate to Milwaukee from Duluth a few years earlier.
John Olen died the following year at the age of 62, and a year and a half after his death, the meat market was listed for sale or rent.
Later in the decade, Henry Hartel was operating a tavern in the space one door east off the corner. He was caught up in a scandal that alleged that Miller Brewing Company – flaunting the kinds of laws the Repeal brought along with it, preventing brewers from owning and operating saloon – was providing free fixtures to bars, presumably in exchange for special considerations.
By 1945, Hartel's tavern was being run by Lukas and Agatha Binter, Austrian immigrants who opened a saloon at 5th and Center as soon as Prohibition ended in 1933 and moved at the end of World War II to Vliet Street.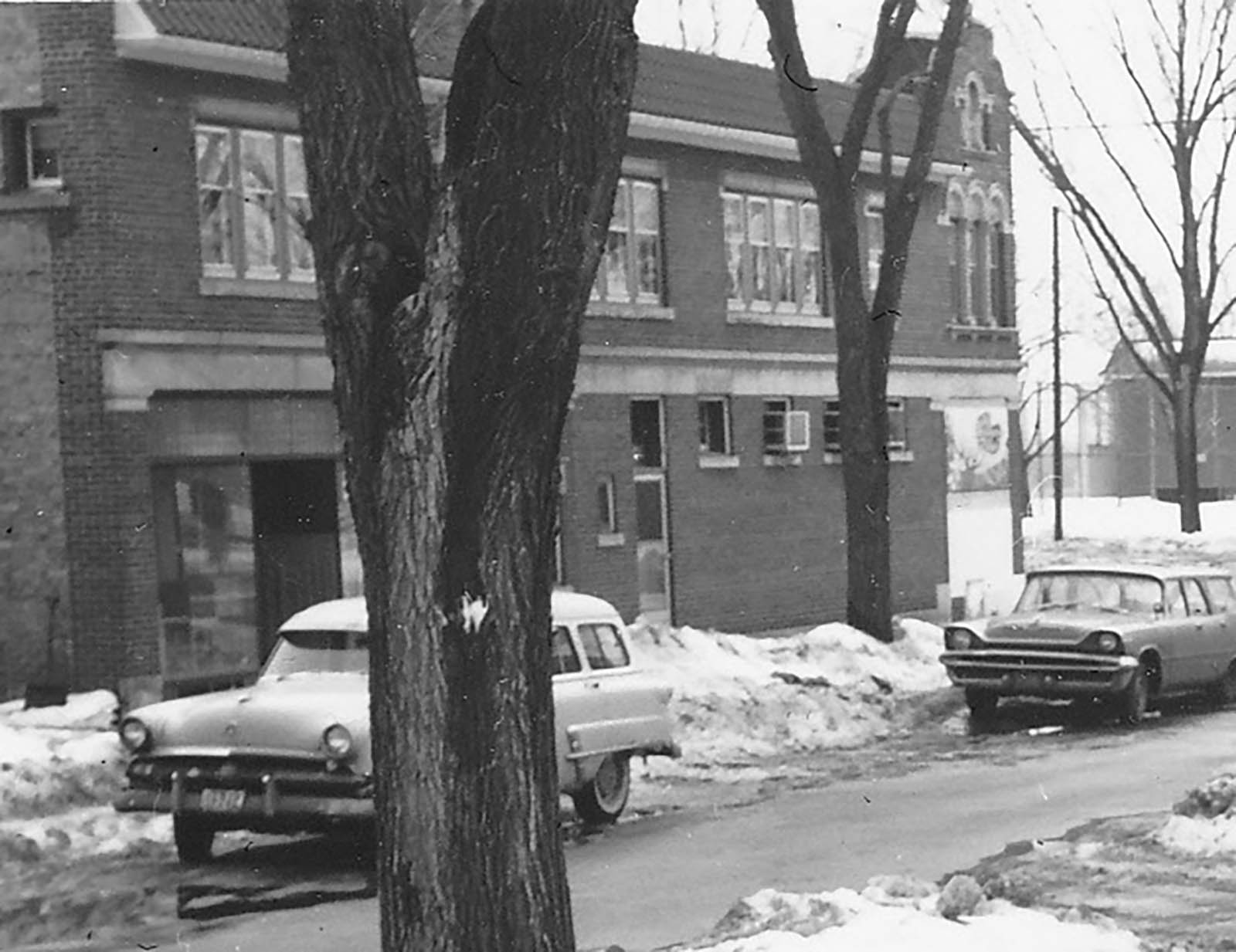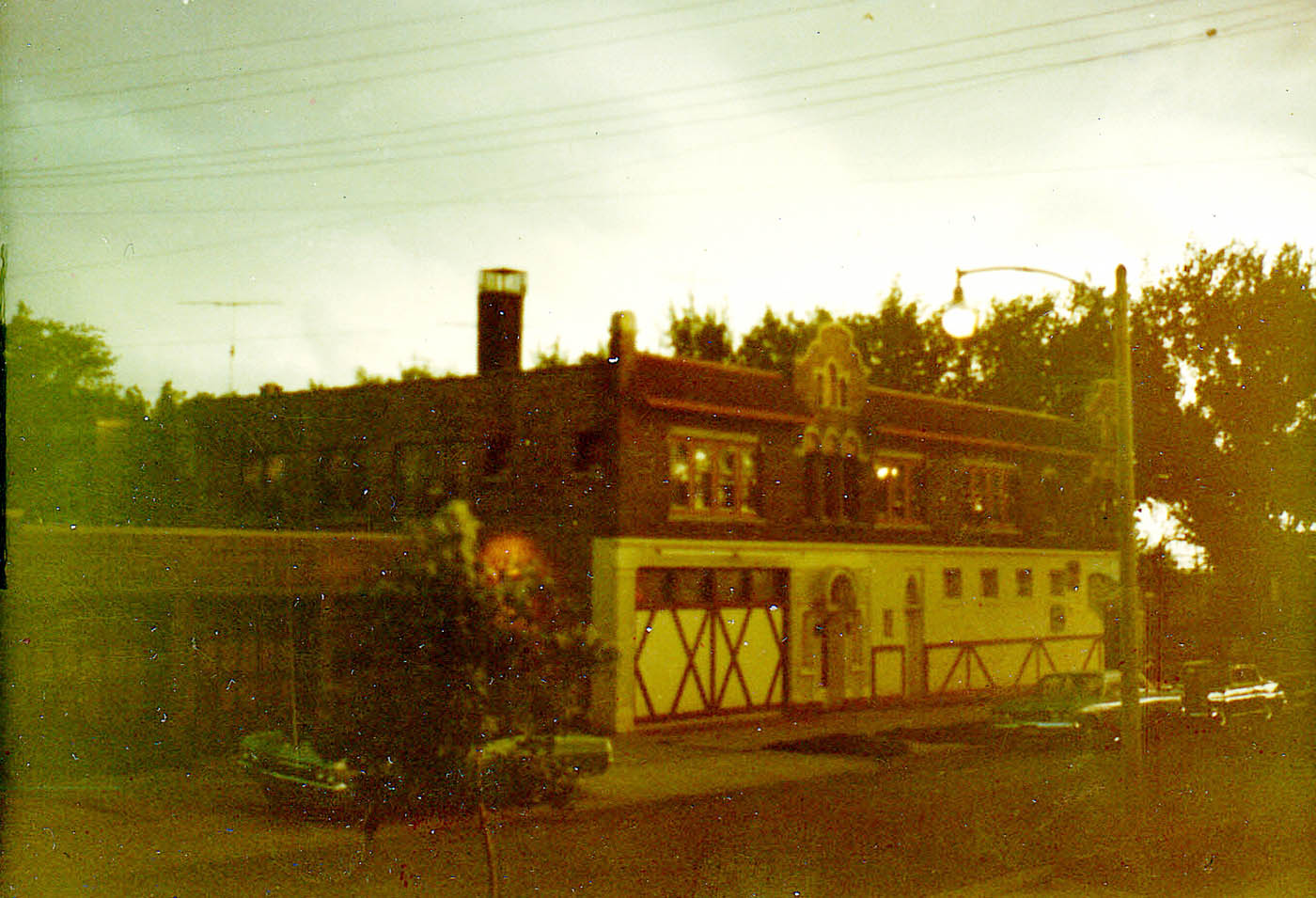 Lukas was born in Karnten, Austria (the state of Carinthia) and Agatha (nee Saringer), hailed from nearby Irschen, Austria. They arrived in Brew City in 1923. The couple had four sons – Wilhelm, Johann, Lukas Jr. and Rudolph – three of whom were born back in Austria.
When Lukas died age age 62 in 1952, Agatha continued to run the business, which was known as the Wick Field Bar, which claimed to have the world's best chili (now that's real gemutlichkeit!) – until her passing 12 years later at the age of 69.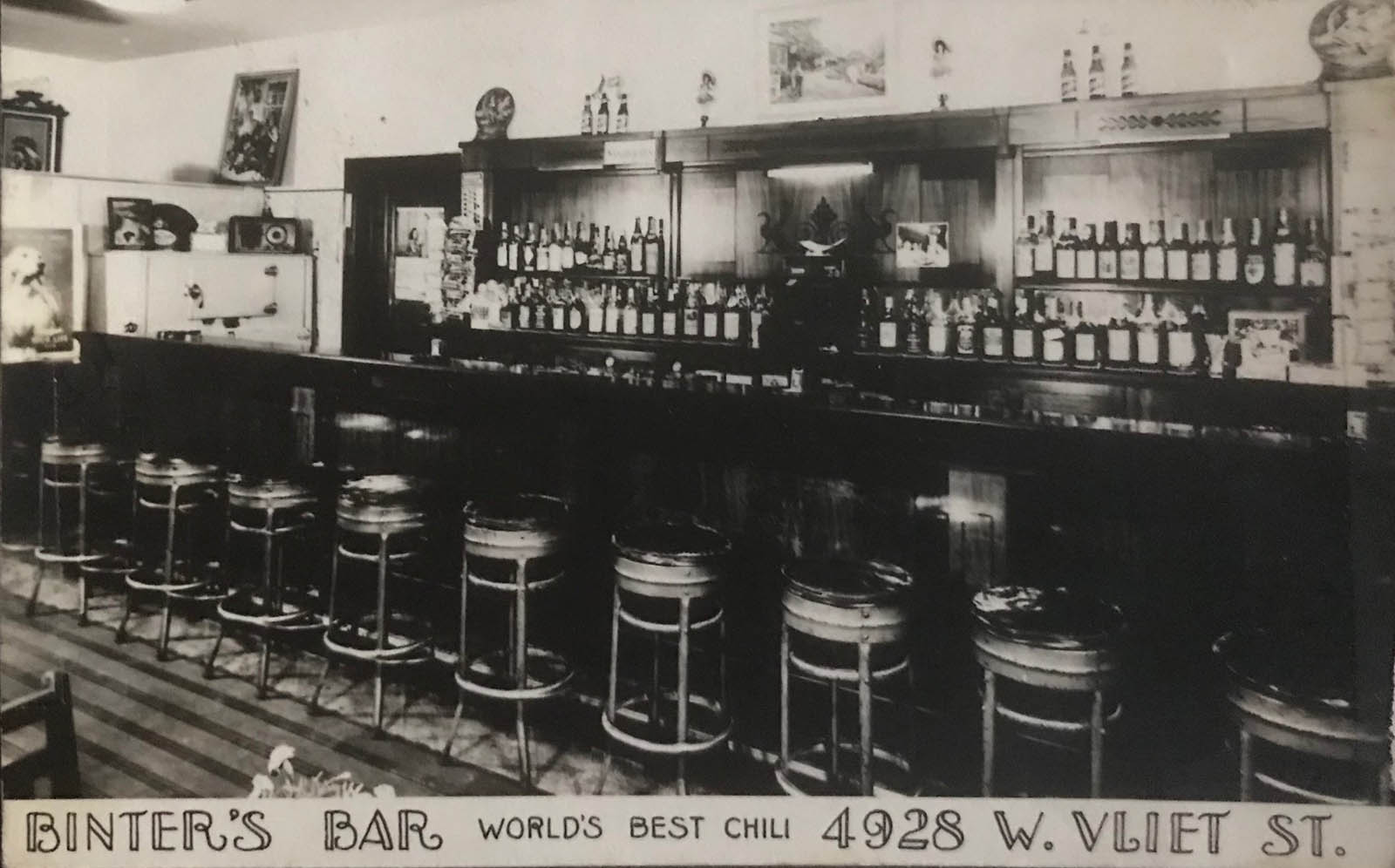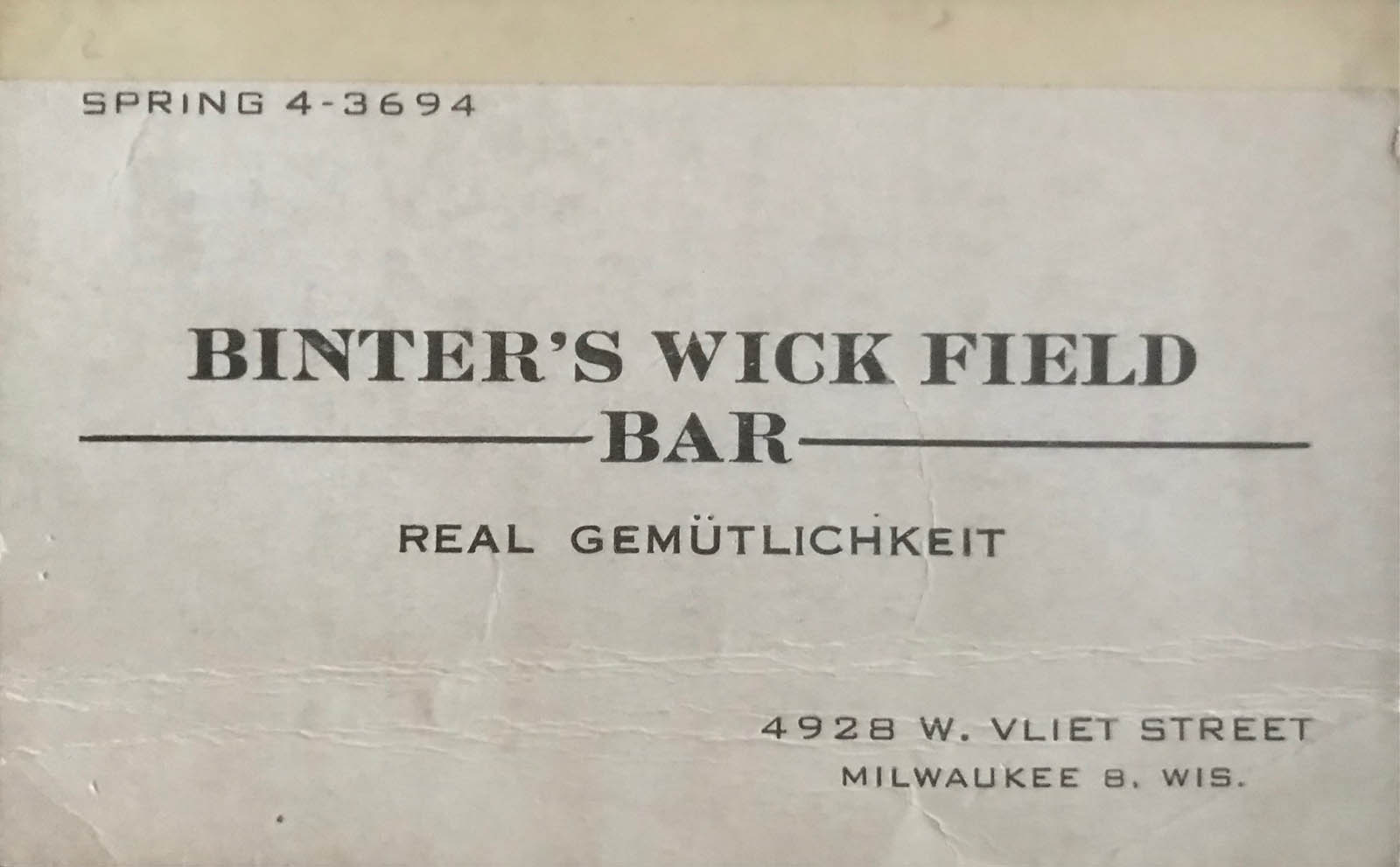 The year before, their son Wilhelm – known to all as Bill or Willie – took over and renamed the place The Golden Zither.
According to a 2013 obituary written by the Journal Sentinel's Jan Uebelherr, 20-year-old Bill was working as a barber when he signed up to fight in World War II.
"(He) hadn't yet had his first shave when he answered the call," she wrote. "An Austrian immigrant, he volunteered to serve in World War II and found himself attached as a medic to Merrill's Marauders, a guerrilla unit that spent five rugged months in the jungles of northern Burma. Of its roughly 2,800 members, 130 made it to the end of the campaign – including Bill Binter (pictured below at the Golden Zither).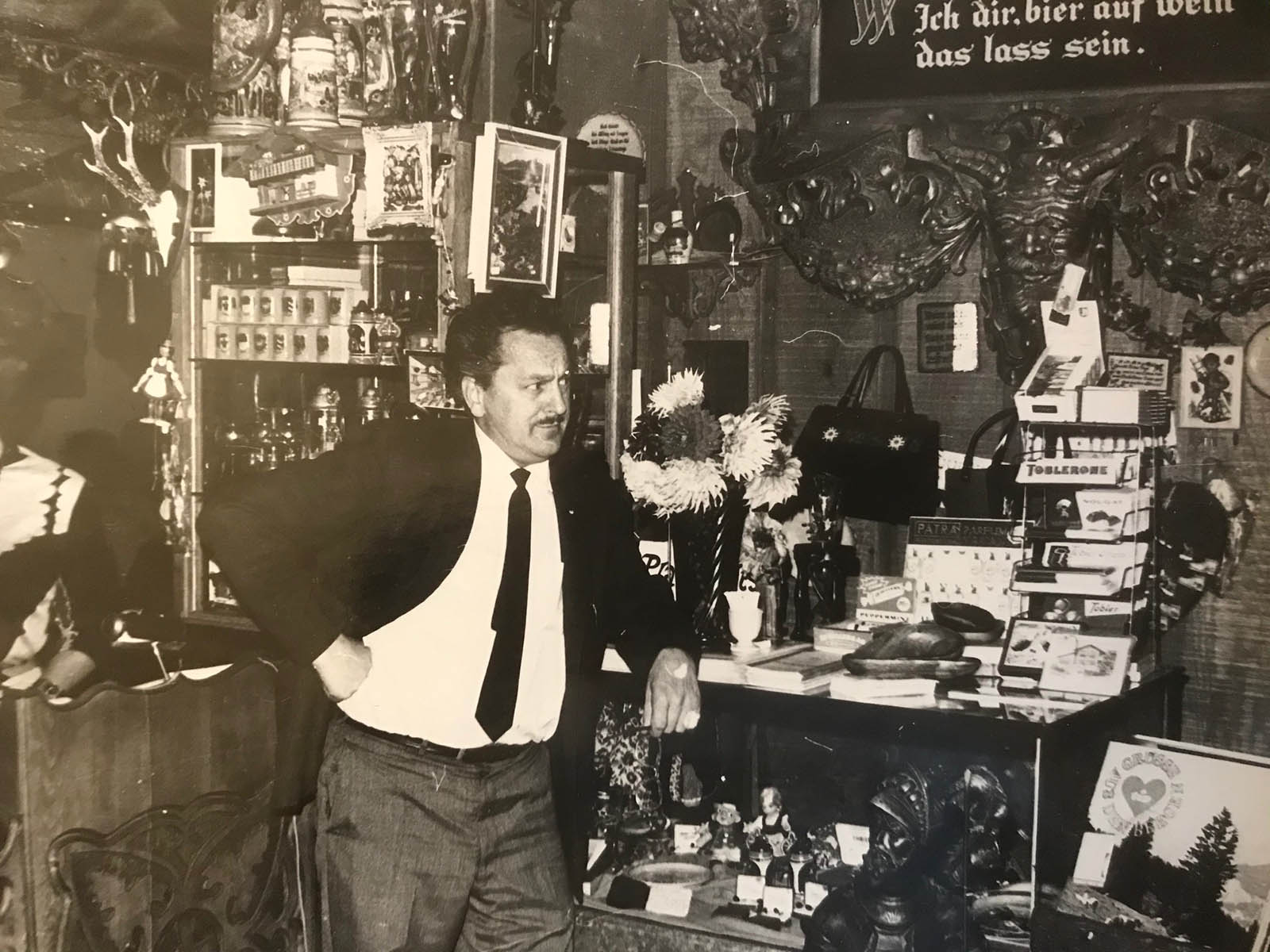 "'It was some of the most miserable fighting on the planet'," his son Gary Binter told the paper.
Brian Eft met the elder Binter – who died at the age of 90 – once and said he seemed like a quiet, tough as nails guy. Exactly what you'd expect of one of only 130 survivors of a brutal campaign.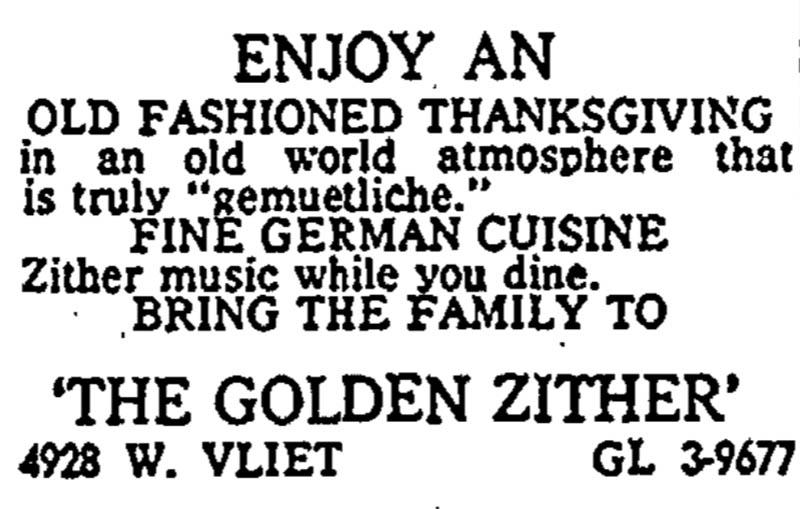 When he returned from war, Bill held a few jobs before ending up back in his parents' bar: working in a machine shop at Louis Allis, cutting hair in a barber shop, driving a cab.
When Binter's Wick Field Bar was transformed into the Golden Zither, they painted murals outside (think Karl Ratzsch's exterior Downtown) and added stained glass windows, heavy chalet-style beams and other Austrian touches inside.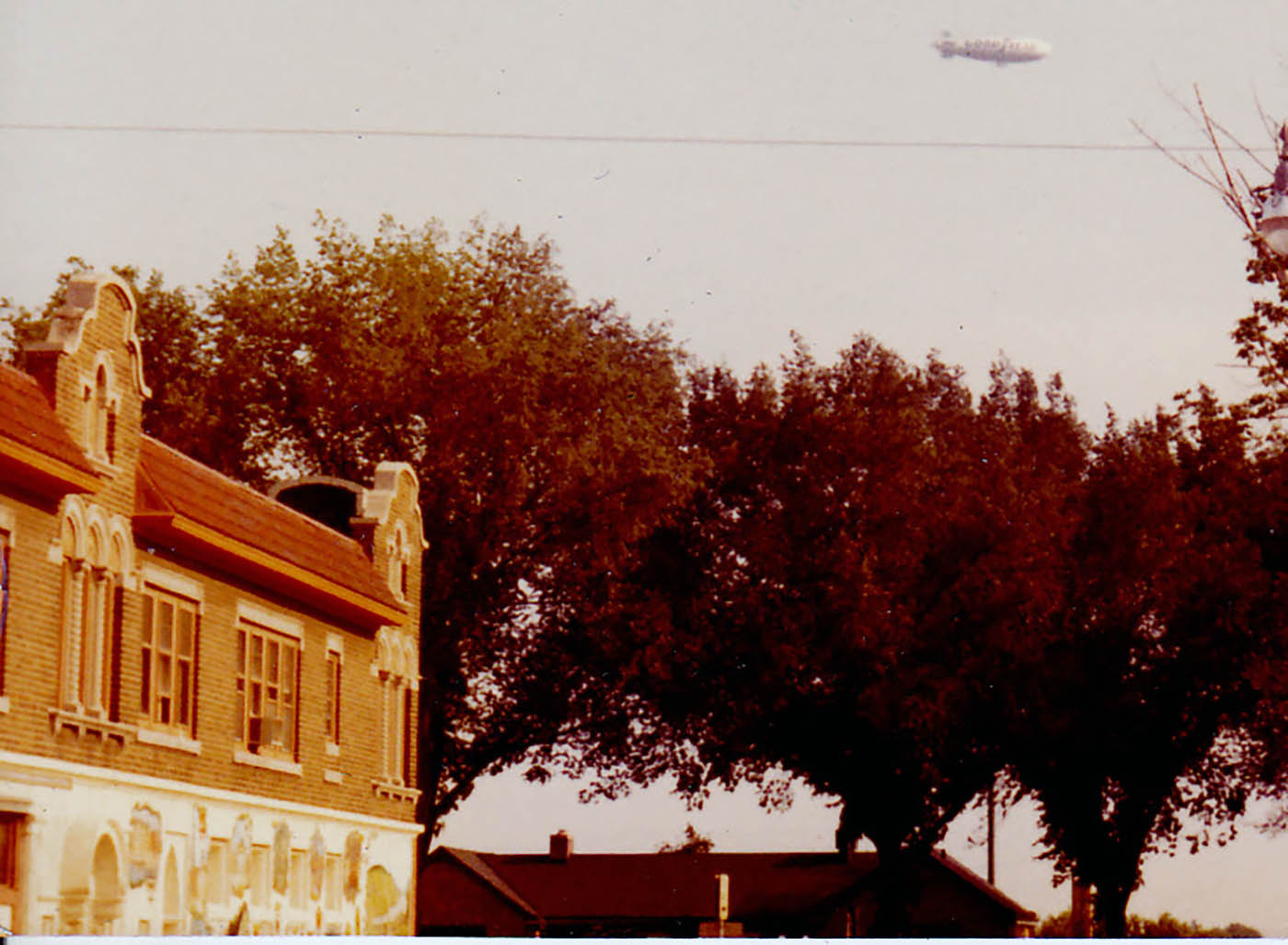 Binter's mother cooked the food and his wife Fannie, a singer with the Florentine Opera, was the hostess and was known to belt out some songs, too.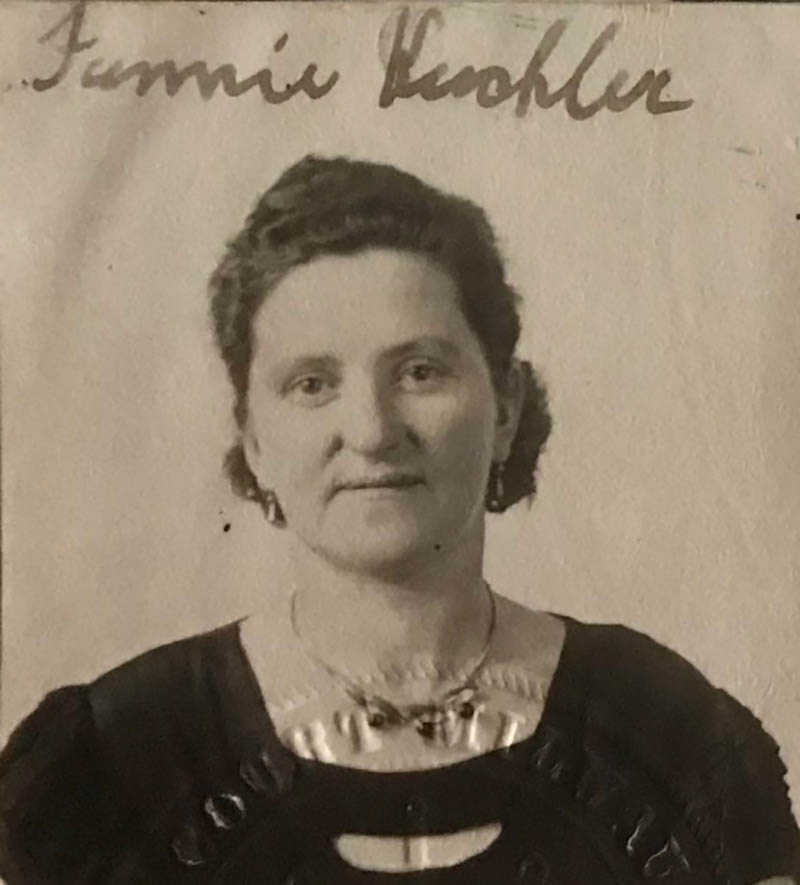 Fannie's mother Frances Kuchler – called Oma – cooked at the restaurant, too.
Arriving in Milwaukee in 1930, Francis Kuchler and her husband opened Kuchler's Cafe on 3rd Street near Reservoir Avenue, until it closed in the 1950s. Her sauerbraten and goulash skills earned her an excellency in Old World cookery award from the Professional Chef and Cooks Guild of Wisconsin in 1969.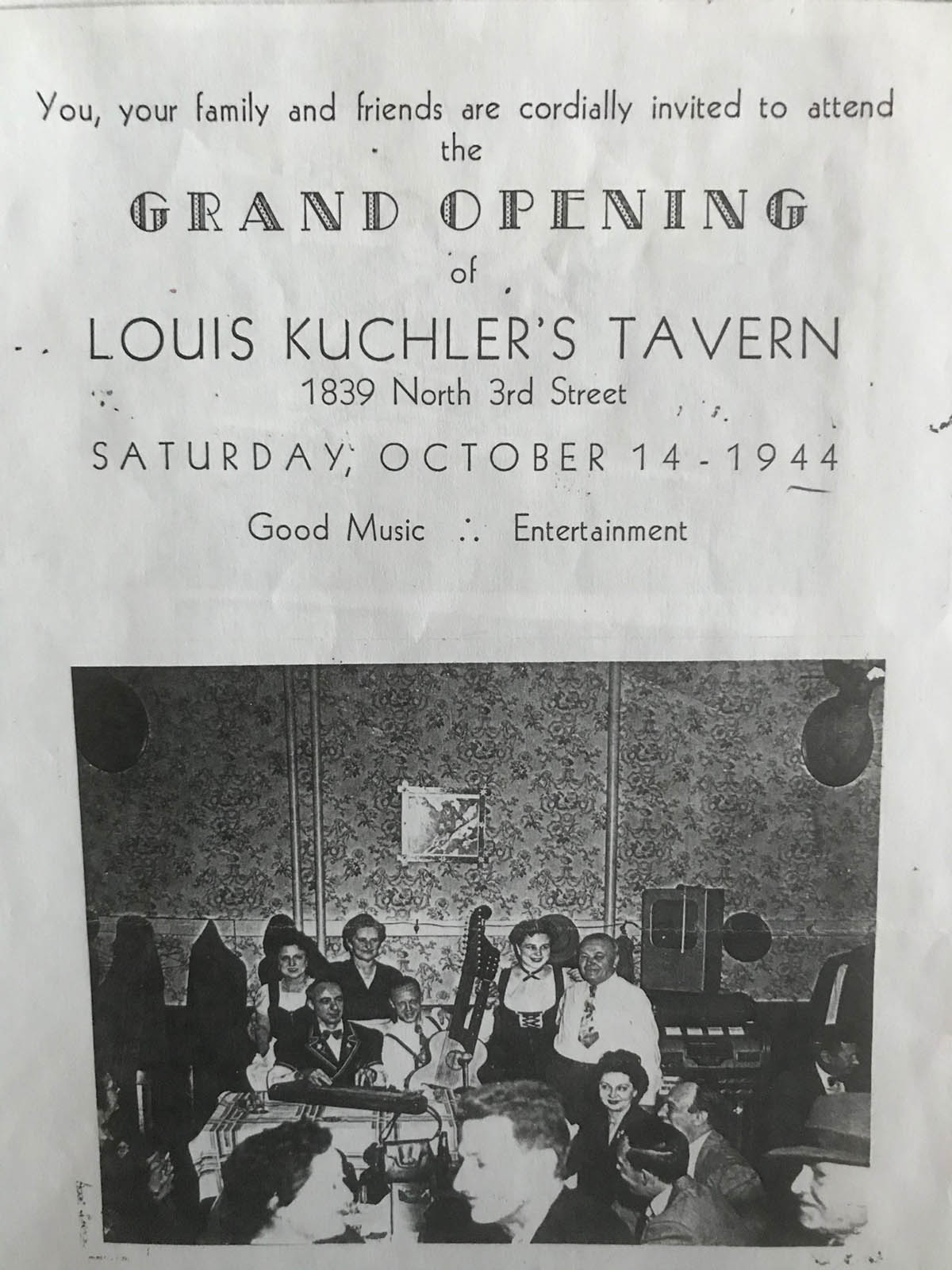 In addition to sauerbraten and schnitzel on the menu, the Golden Zither was known for its singing waitresses, and of course Fannie's voice, which she often combined in duets with the zither of Albert Mueller.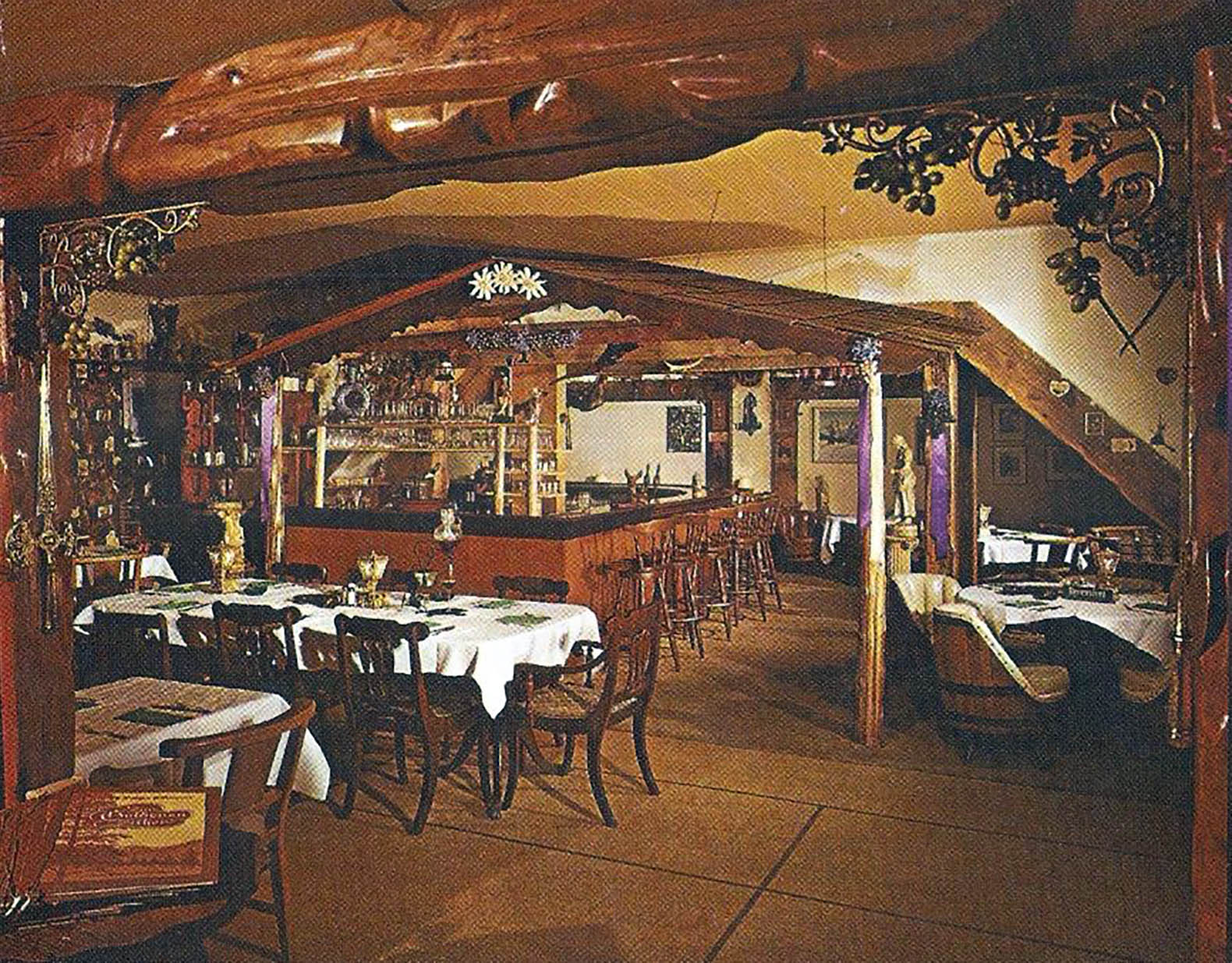 Mueller was an interesting fellow.
Born to Swiss immigrants in New Glarus in 1913, Mueller, a family legend has it, was lucky to be born at all, according to an obituary in the Journal Sentinel when he died in 1996.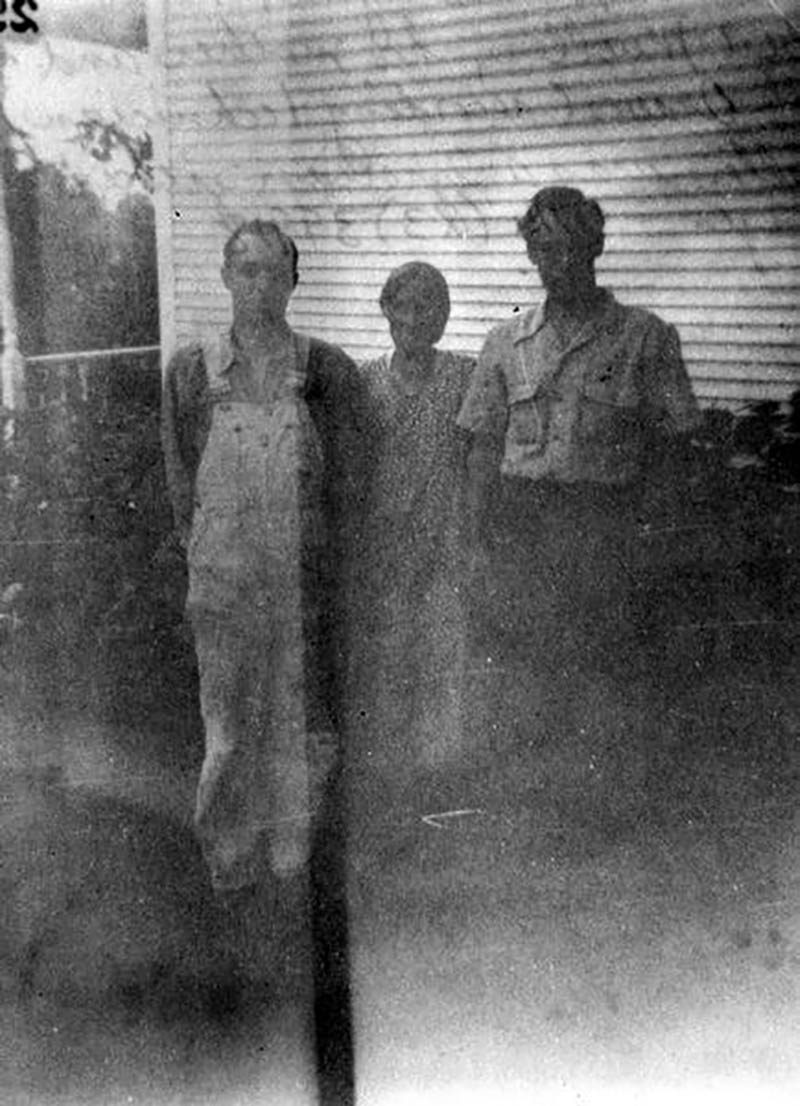 "As the tale goes," wrote Eldon Knoche, "Bertha Banziger missed the first ship she was to have taken when she sailed to New York in 1912, so she arrived aboard another boat. The ship she missed was the Titanic."
Bertha Mueller bought her son a zither – a common instrument is Switzerland and other northern European countries – when he was just 12 and he took took it, first receiving lessons from a hotel manager in Monroe.
Within nine months, the teacher told Mueller he had taught the boy all that he could and for the next four years Mueller used his skills to transpose piano music to the zither. When he was 17 he met someone with a collection of German zither music, according to Knoche, and Mueller was off and running.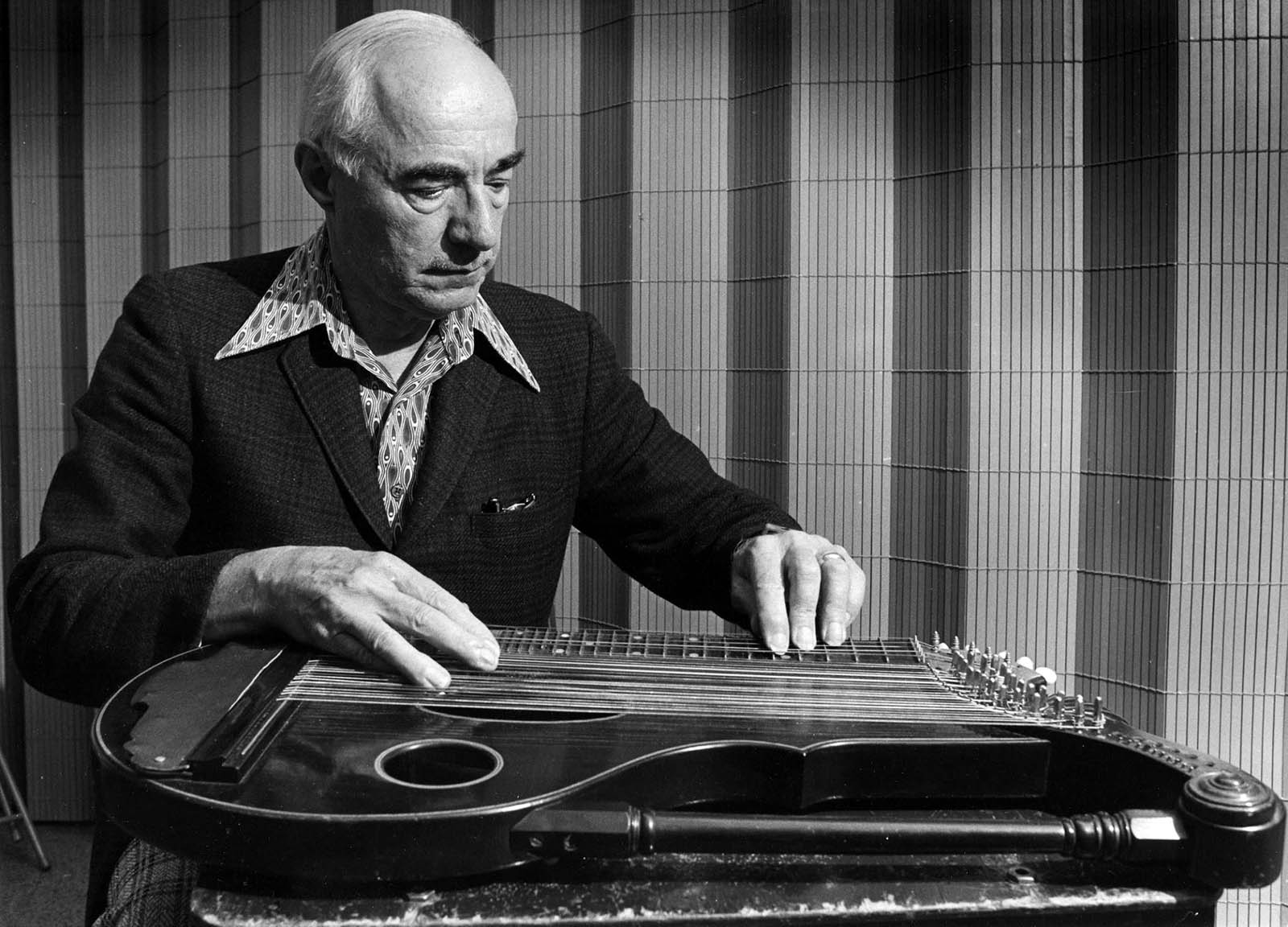 Mueller moved to Milwaukee around 1940 and two years later became a founding member of the Milwaukee Zither Club and he performed regularly at the Swiss Club on 24th Place and Vliet Street.
Twenty years later, when the Golden Zither opened, he ditched his day job and began playing there right away, performing on a zither he made himself and painted gold. He stayed on for 13 years, even remaining after the Binters divorced and sold the place to Albert and Francis Stollenwerk in 1971.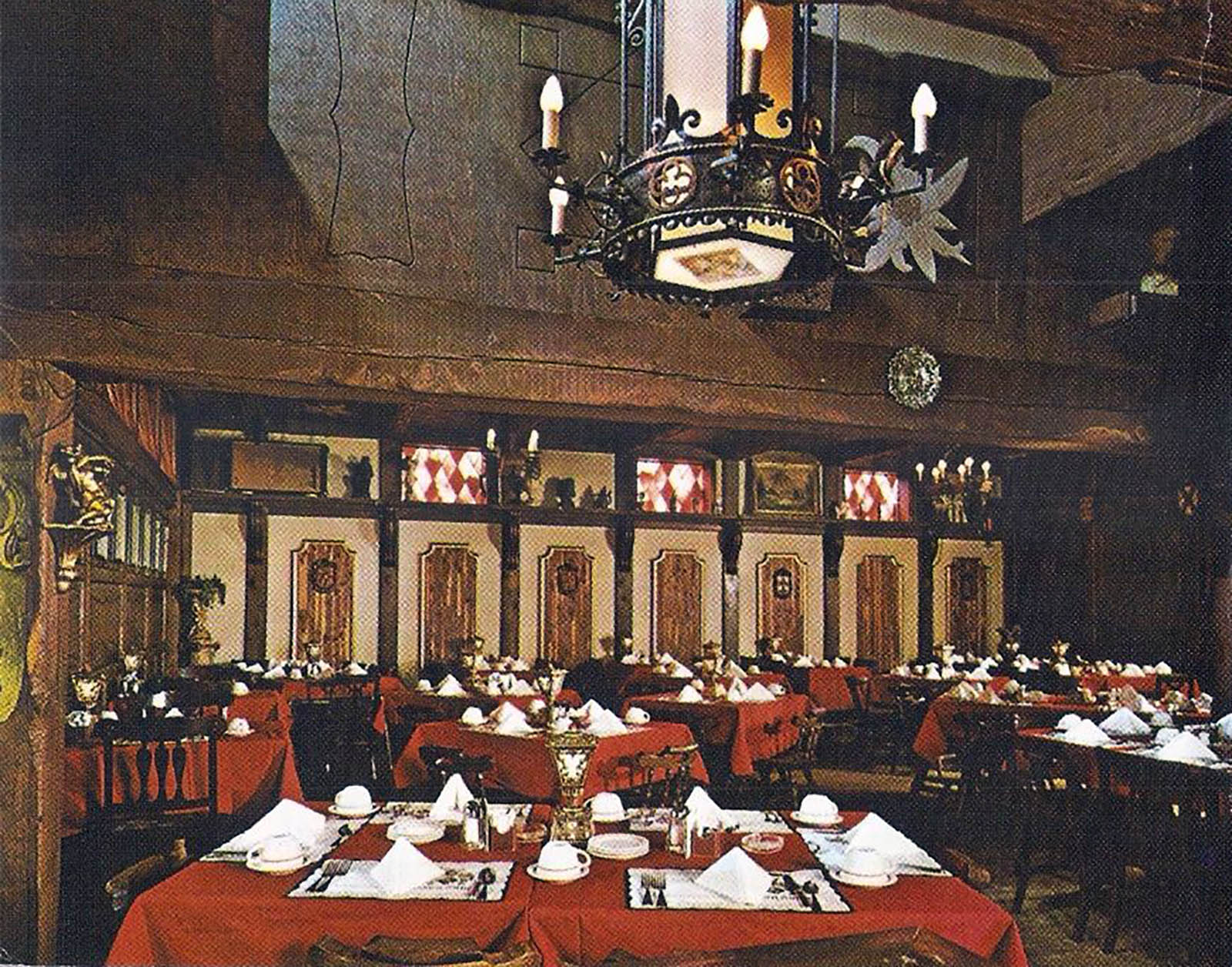 For eight of the years he played at the Golden Zither, his performances were broadcast live on the radio every Saturday night from 10 until midnight.
One such broadcast, from 1974, is in the collection of the Mills Music Library at UW-Madison and includes performances by Mueller and Fannie Binter, along with the Jolly Alpine Boys polka group, singers June Steinke, Bob Frisch and Otto Biersack, and instrumentalist Hans Gleiber.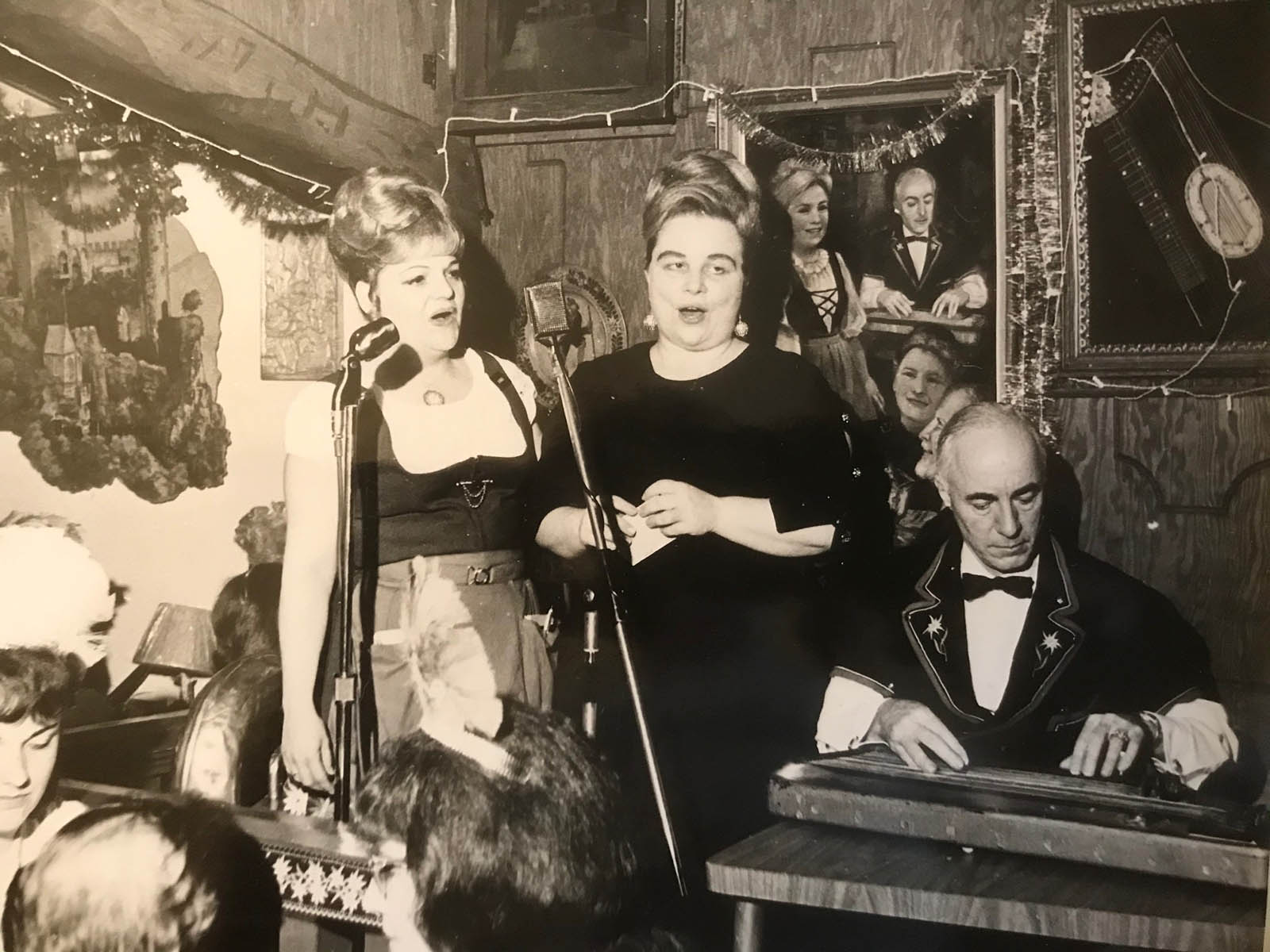 Leaving the Golden Zither around 1976, Mueller formed the Vienna Strings with violinists John Formella and Armin Nolte, and an accordionist and played at places like Zur Krone in Walker's Point, the Bavarian Inn in Glendale, at Germanfest and at weddings and events.
Louise Ganschow was another zitherist who performed at the restaurant, having learned the instrument at age 8 from her father, concert zither player Fritz Siewert.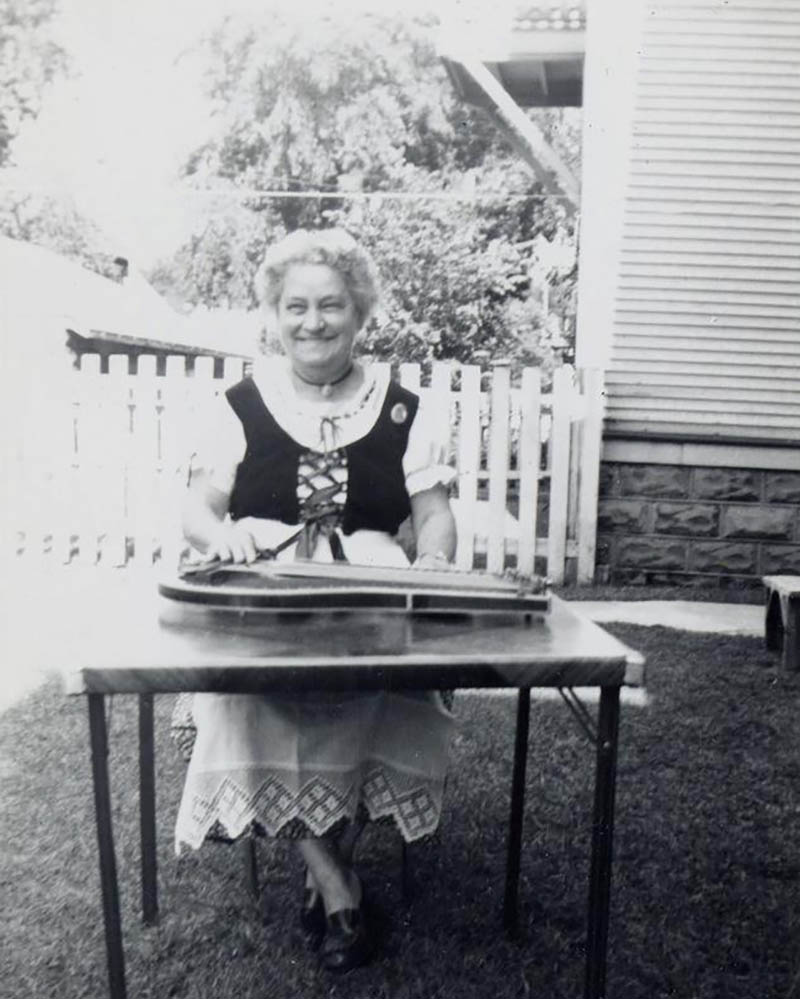 Ganschow, who died in 1977 at the age of 89, had a long career before her time at the Golden Zither, too, playing her instrument on WISN radio in the 1930s and on Milwaukee Public Television in the 1960s.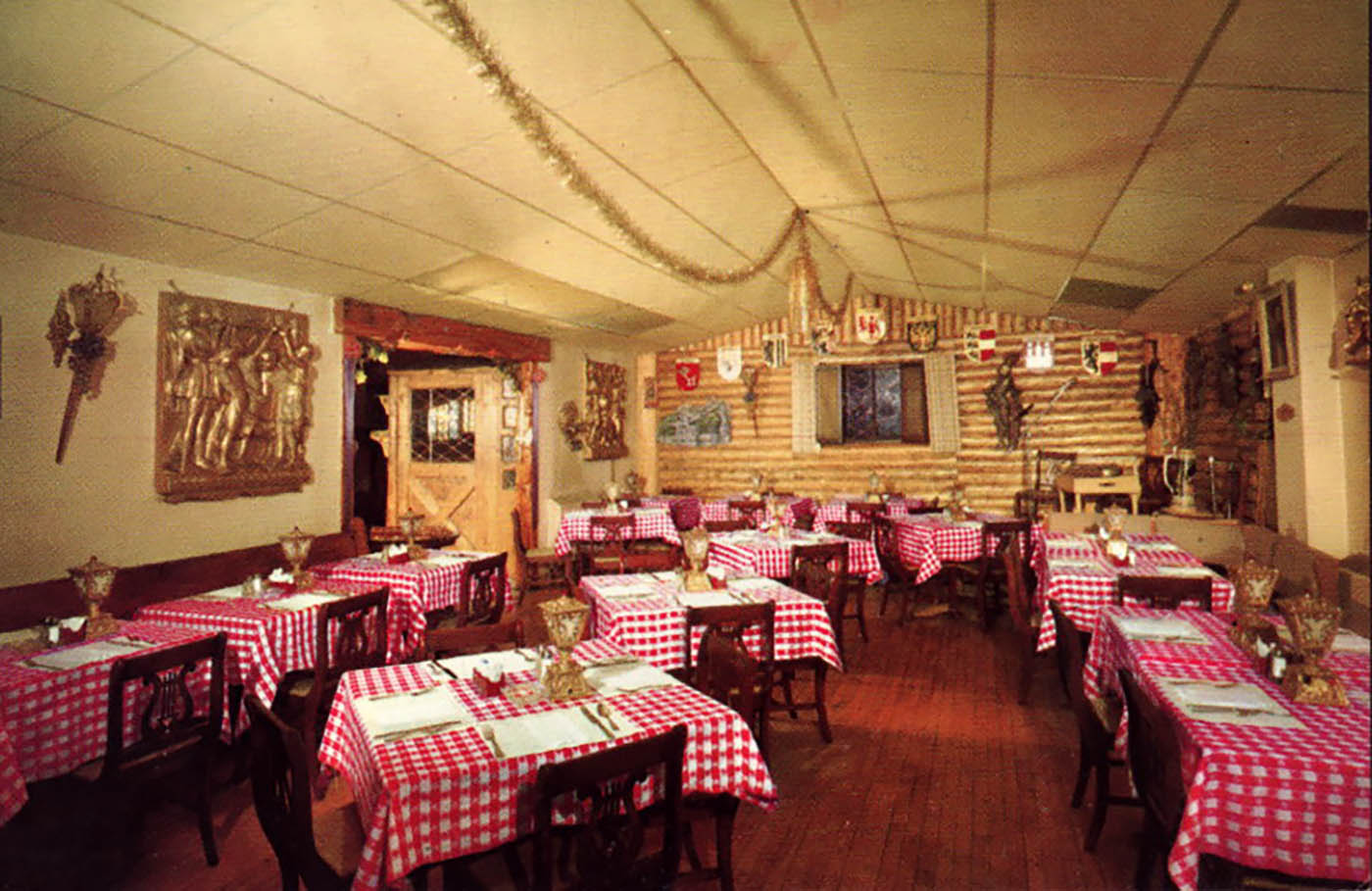 In 1978, the Golden Zither was silenced after a health department inspector catalogued a long list of violations.
"One of the 'big four' German restaurants ordered closed by health department due to more than a dozen violations, including mouse droppings (and) a deep fryer that was leaking grease through the floor into the basement'," wrote the Journal.
"'I was appalled at the mess I saw. I couldn't believe it'," said inspector Clarence Williams. 'Where the clean salad plates were kept there were mouse droppings all around. My God, mice walk all over the plates.'"
When the inspector returned to check on the status of the 14 violations, he found almost none had been rectified.
"On the revisit Williams pointed out mouse dropprings and, 'Stollenwerk said he thought it was food stuffs or seasoning'."
Euw.
Later that month another inspector checked in and found all but one violation had been corrected and the Golden Zither was allowed to reopen. It would last another three years before closing for good.
Afterward, a series of bars occupied the space, beginning with John Jonas and Dick White's John Doe's Pub, which was known for its fish fry, brunch and Philly cheesesteak, but especially for its live music.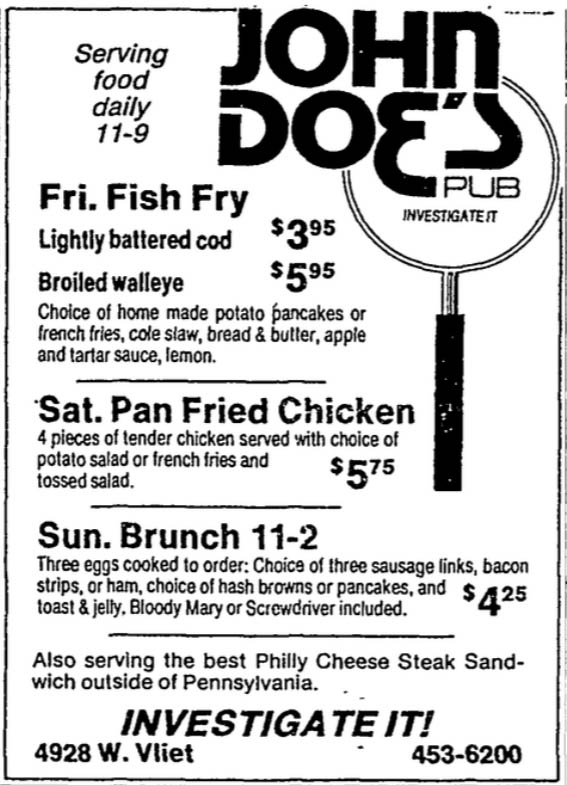 The Bodeans were regular performers and when the Waukesha band inked its deal with Slash Records, it held a celebration at the bar.
By late summer 1988, Hare E's Pub was in the space and still focusing on live music.
This incarnation, says Eft, was owned by Bob Krause, who operated food concessions at State Fair, as well as the popular Robert's on Howell.
By late 1990, Bingo's, which had been located near 47th and Center, run by John "Bingo" Berta, moved in.
Then, one July night in 1998, Bingo's gave way to O'Brien's.
"I think John even gave us whatever he had made that last night from 10 o'clock on," Eft recalls.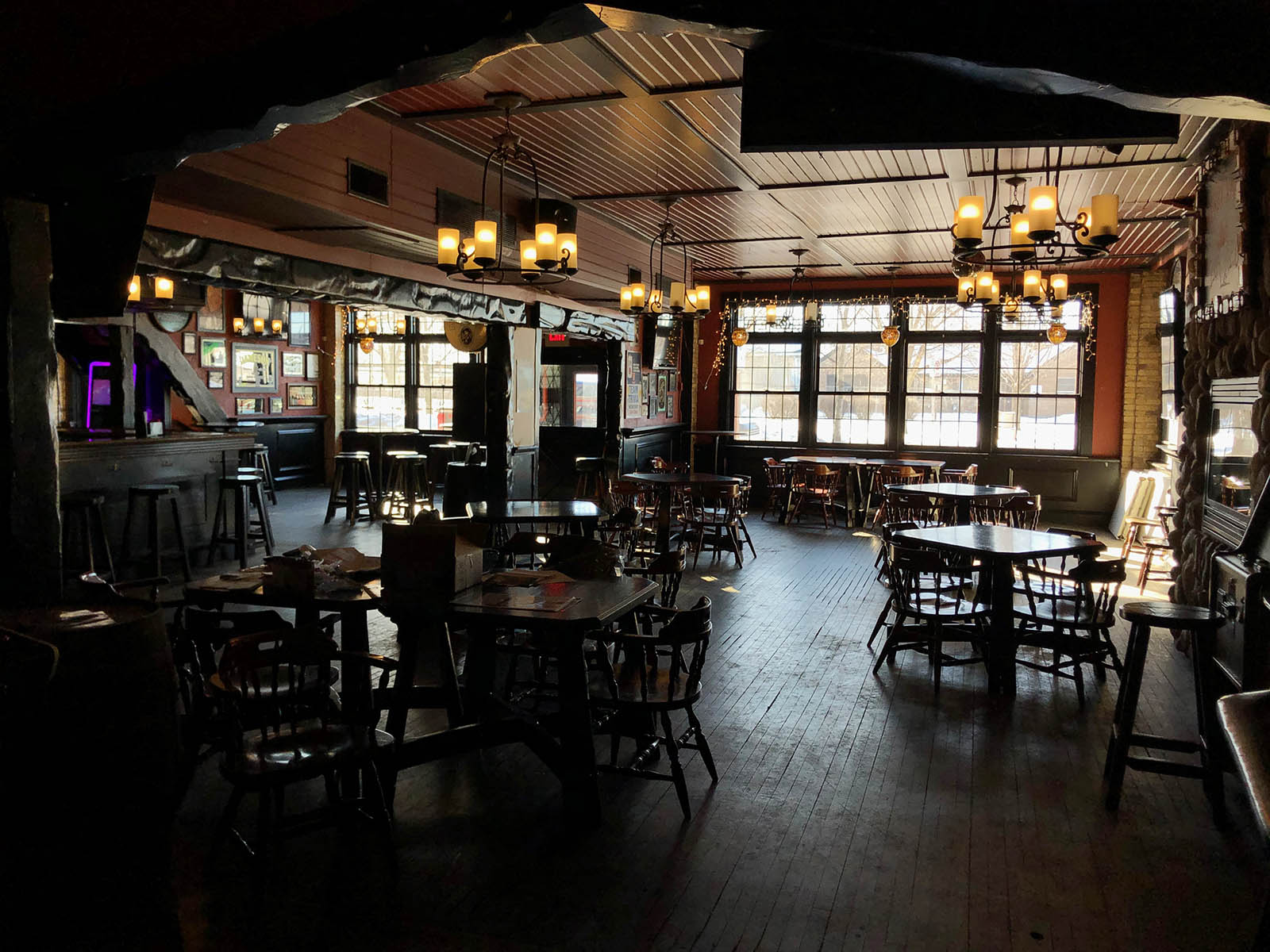 These days, you can still see remnants of the Golden Zither inside O'Brien's – which has roughly the same layout, with the bars, front and back, in the same location – despite the fact that it was heavily Irish pub-ified when it opened.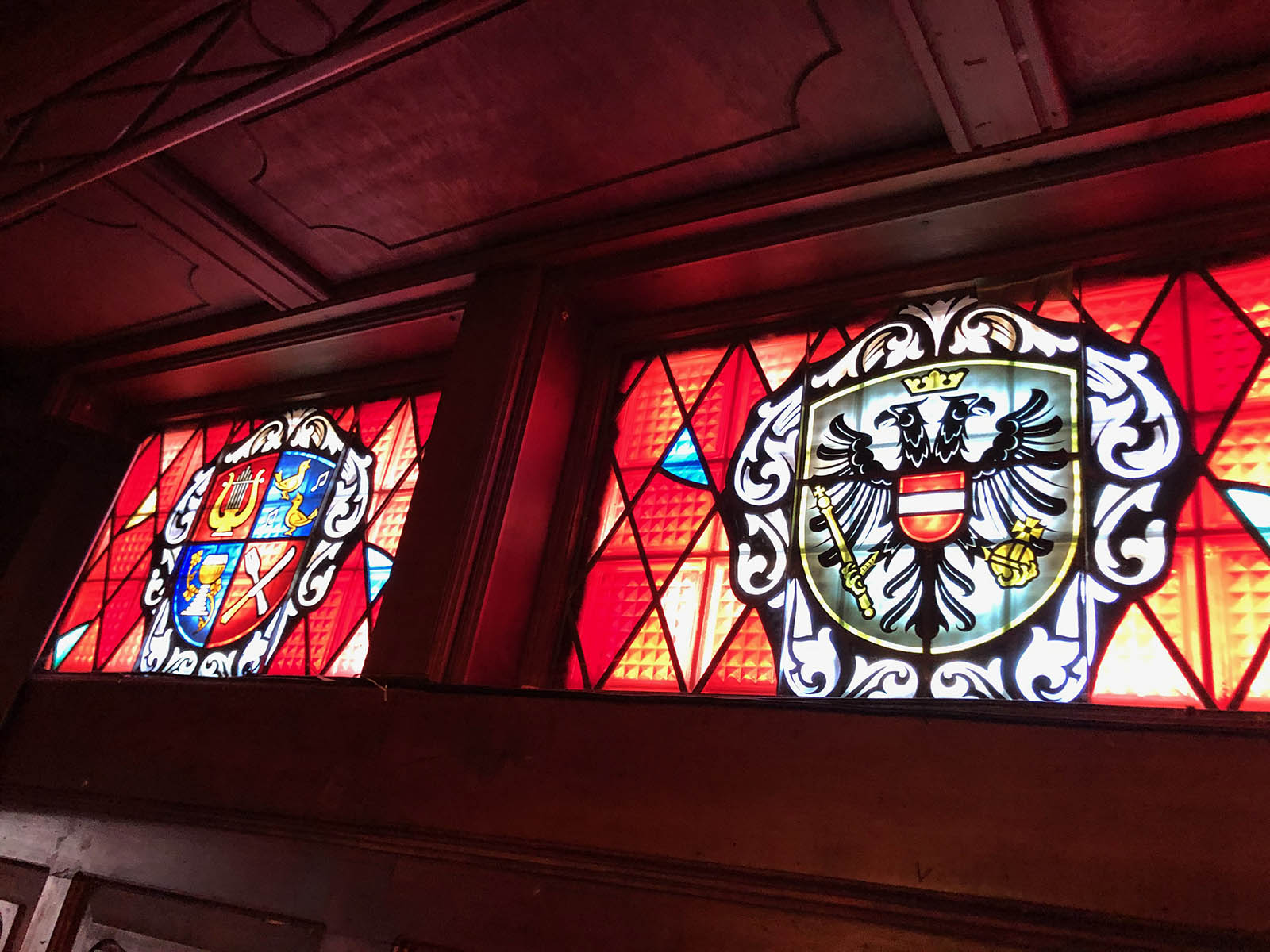 Some of those heavy alpine beams are still in place, as are some of the stained glass windows in the back room, where most of the Zither history lives on.
Back here the original Golden Zither bar with its wooden motifs survives, as does the wood ceiling with matching designs.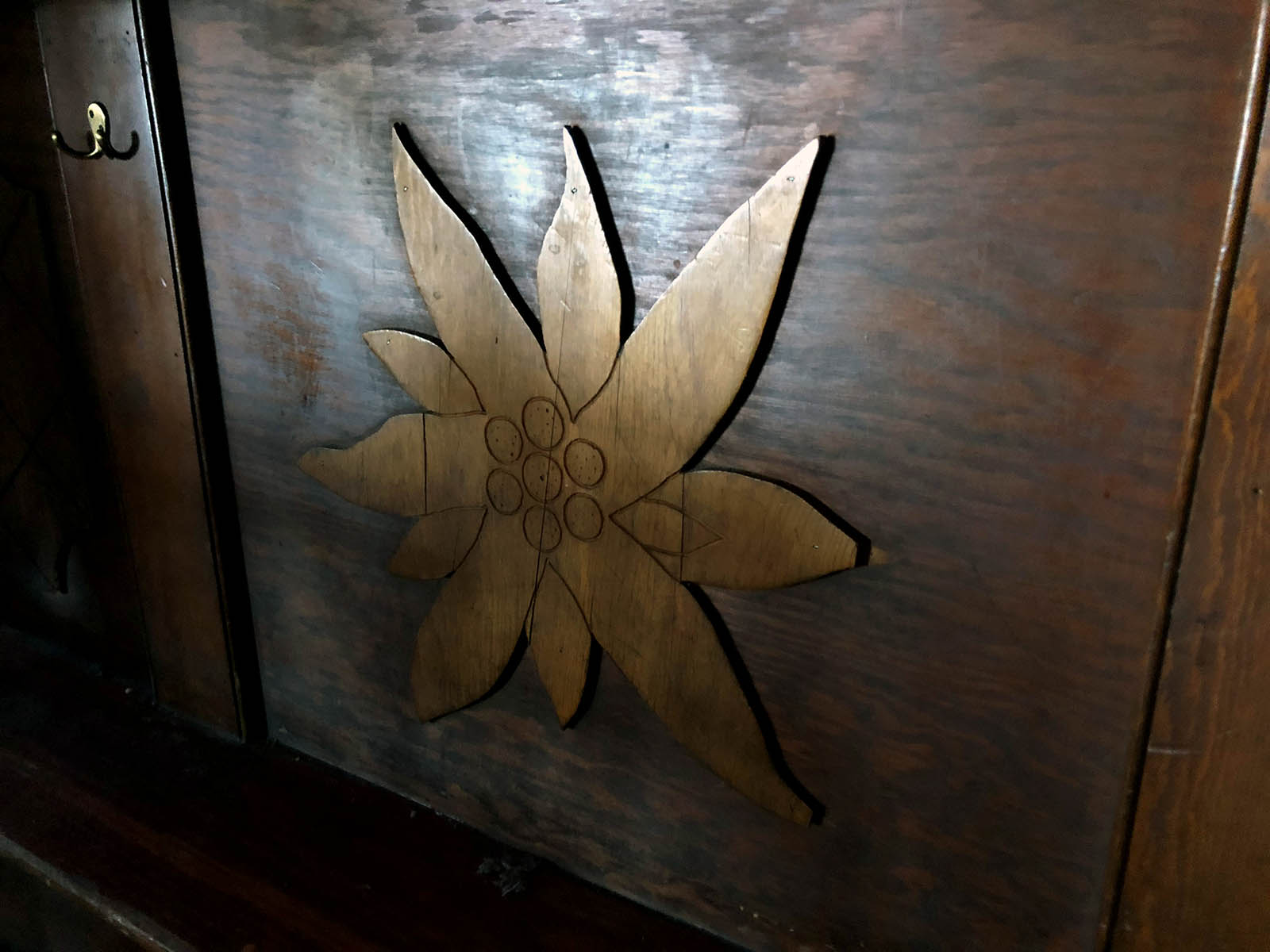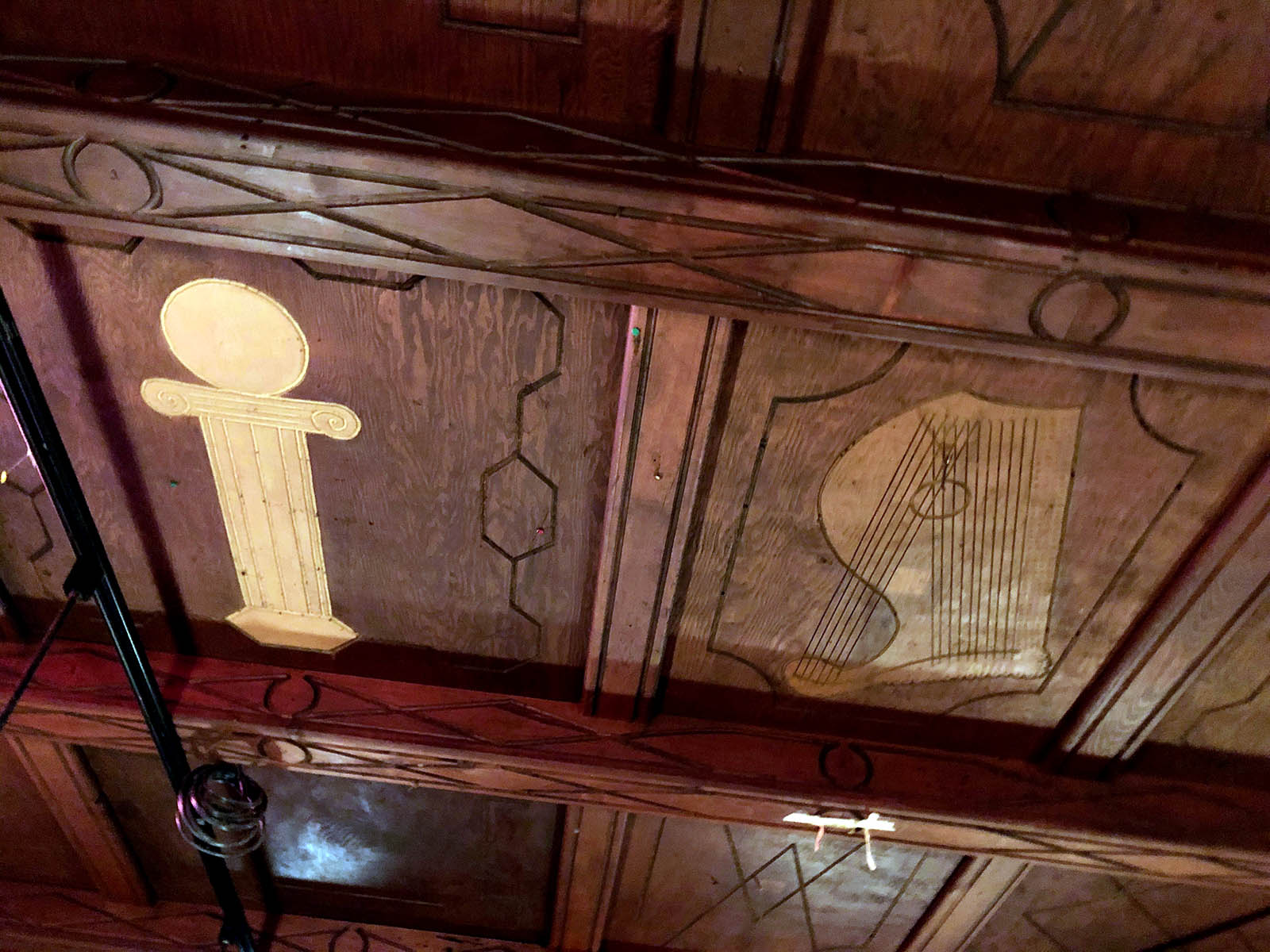 Though neither he nor his partner carry Irish surnames, O'Brien's is named in honor of their connections to the Auld Sod, says Eft, who has worked in and/or owned the building for 29 years now.
"We both have some Irish roots," he says. "Part of Joel's family is Irish and I'm like 1/16 Irish. The name is a tribute to Ireland."
Though times have been tough during the lost year of COVID, O'Brien's has survived and Eft has high hopes for the return of good weather.
"The city has given us permission to put a parklet out here," he says as we stand on the corner of 50th and Vliet. "It'll take up part of the sidewalk, we'll install permeable pavers where the grass is and then we can build out six feet into the street."
By the time you read this, work on the parklet could be underway.
Alas, there is no plan to hire any zither players ... for now.
Born in Brooklyn, N.Y., where he lived until he was 17, Bobby received his BA-Mass Communications from UWM in 1989 and has lived in Walker's Point, Bay View, Enderis Park, South Milwaukee and on the East Side.
He has published three non-fiction books in Italy – including one about an event in Milwaukee history, which was published in the U.S. in autumn 2010. Four more books, all about Milwaukee, have been published by The History Press.
With his most recent band, The Yell Leaders, Bobby released four LPs and had a songs featured in episodes of TV's "Party of Five" and "Dawson's Creek," and films in Japan, South America and the U.S. The Yell Leaders were named the best unsigned band in their region by VH-1 as part of its Rock Across America 1998 Tour. Most recently, the band contributed tracks to a UK vinyl/CD tribute to the Redskins and collaborated on a track with Italian novelist Enrico Remmert.
He's produced three installments of the "OMCD" series of local music compilations for OnMilwaukee.com and in 2007 produced a CD of Italian music and poetry.
In 2005, he was awarded the City of Asti's (Italy) Journalism Prize for his work focusing on that area. He has also won awards from the Milwaukee Press Club.
He can be heard weekly on 88Nine Radio Milwaukee talking about his "Urban Spelunking" series of stories.