Enjoy this look back at one of our favorite pieces! We continue to publish great new articles daily but will share some unique throwbacks to Milwaukee's (and our!) past.
Even if you'd never visited one of Enlightened Brewing's previous spaces – not far from its current home at 2020 S. Allis St. in Bay View – you'd be right to think the new place is pretty expansive, with its roughly 14,000 square feet.
Tommy Vandervort and James Larson (pictured below) launched Enlightened at the dawn of 2015 in a 470-square-foot space on the second floor of the Lincoln Warehouse and within a year it had grown so much that it moved to a streetcorner space downstairs (which is still open) with a whopping 1,700 square feet for the brewery and a new taproom.
By 2018, Enlightened announced the new brewery and taproom.
"In the end, we really just need more space," Larson told OnMilwaukee at the time. "It's been really difficult for us to keep up with the amount of beer that's moving through our tap room, let alone make enough to really get our distribution to the point where we'd like it. That requires more space and bigger equipment."
"Our goals are to expand production to include bottling, canning and barrel aging … and then there are fun things like beer dinners and festivals … all things we currently don't have the capacity to accommodate," Vandervort added.
The new place has 3,000 square feet of taproom that feels like a whole new world, with tons of table seating, a long bar along the left side and plenty of daylight streaming in through newly reopened windows along Allis Street and skylights above. And plenty of production space, too.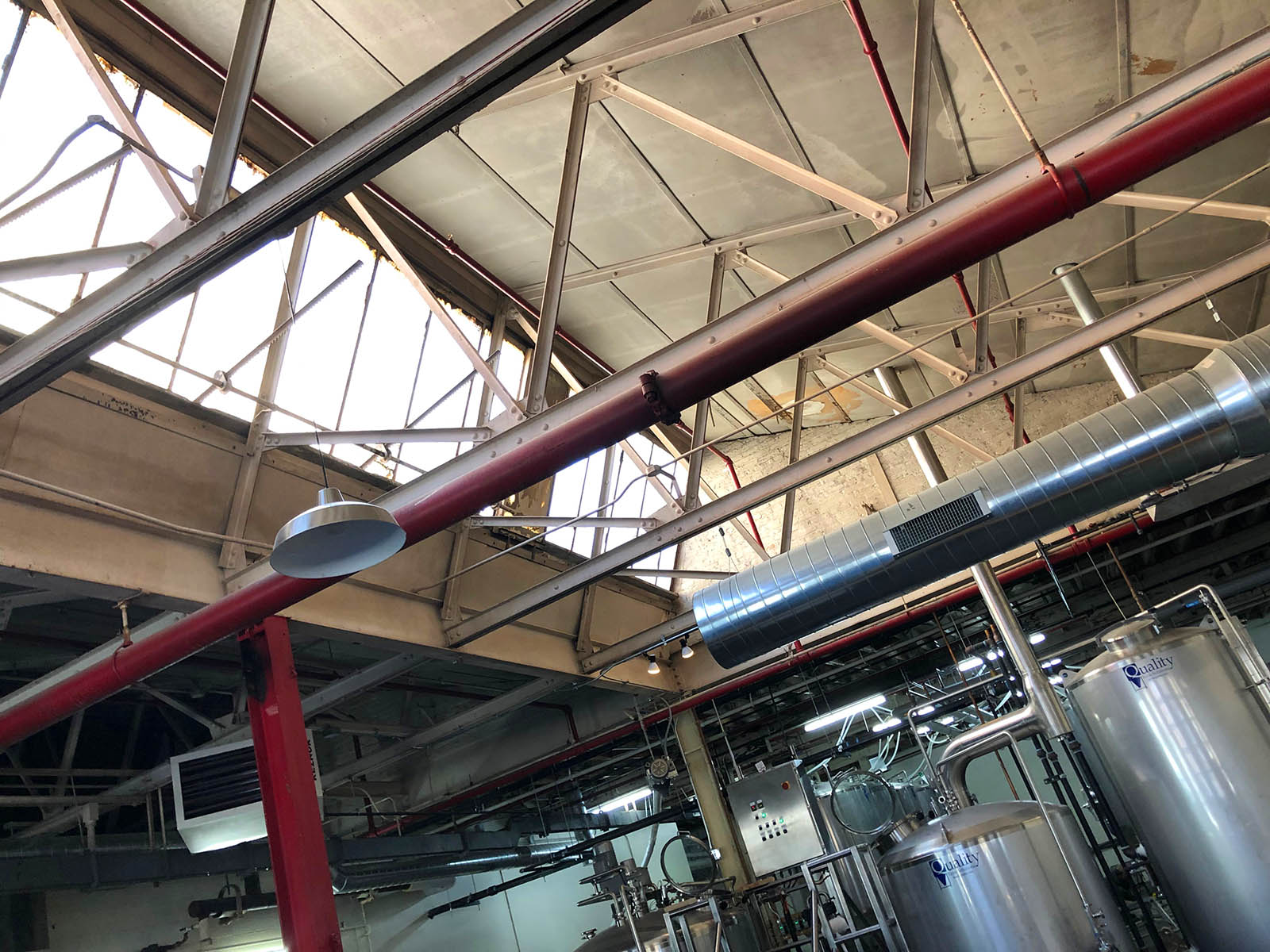 This whole new world, however, is now the public face of a sprawling complex that is anything but new.
The single-story building, capped with a rooftop full of factory-style sawtooth skylight windows – which were also reopened to daylight by Enlightened – is part of a huge facility that was long home to the Louis Allis Company.
Louis Allis Company
If the name seems familiar, it's because Louis Allis was the son of industrialist Edward P. Allis and began working in his father's firm as a clerk after receiving his degree from Pennsylvania Military College in 1888.
By 1901, just after the E.P. Allis Company became part of the newly created Allis-Chalmers Company, the young Allis left to focus on real estate. While some later sources suggest he departed due to some sort of illness, newspaper reports from that year make no such claim and note that Allis spent much of the year traveling, including a visit to Pittsburgh that October to check in on his brother Jerry, who was ill.
Allis, who was a golf pioneer in the Milwaukee area, appears to have also been quite active on the links throughout 1901.
That July, the Milwaukee Journal reported, "Louis Allis has resigned his old position with the Allis-Chalmers company and on Aug. 1 will sever his active connection with the corporation. Mr. Allis will continue his residence at Milwaukee and have offices in the University building and will devote most of his time to managing the large land interests of the family. For several years this part of the work has been almost entirely in the charge of Mr. Allis, who is thoroughly familiar with all its details. Mr. Allis still retains his interest in the Allis-Chalmers company."
In fact, Allis dabbled, becoming president of the Elizabeth Mining Company in Cheyenne, Wyoming, in early 1902 and investing in Milwaukee's Mechanical Appliance Company, then located in a former shoe factory on 3rd Street.
By 1903, he was Mechanical Appliance's president and a couple years later, the concern relocated to Stewart Street in Bay View, a move surely sparked by Allis, since the site was formerly the Allis family farm, and a spot across the street was once home to the Edward P. Allis Company foundry.
The site on the 1894 (above) and 1910 (below) Sanborn fire insurance maps.
In its first five years of business, according to the Louis Allis website, the company increased its workforce nearly sixfold. So, it needed space and soon swallowed up the site to the east, which had been the gargantuan home of Milwaukee Malleable Iron Company.
Despite its name, Milwaukee Mechanical Appliance made small electric motors and dynamos and quickly became an industry leader thanks in large part to Allis' reputation for innovation. Thus, in 1922, the business was renamed the Louis Allis Company.
According to Thomas Fehring's "The Magnificent Machines of Milwaukee," the company ditched a side business making exhaust and ventilating fans to focus strictly on motors, releasing a series of new motors in 1922. Not long after, Louis Allis Co. designed and manufactured the world's first "integral-horsepower, explosion-proof electric motors.
"Because of this design, they manufactured almost all of the motors used to drive gun turrets for the United States Navy during the Second World War," wrote Fehring. "The Navy preferred Louis Allis' steel motor casings since they wouldn't send out shrapnel if hit by enemy fire."
In the 1940s, more than 1,000 people worked at Louis Allis, which was acquired by Litton Industries in 1967, sold to MagneTek in 1984, was then taken over in a leveraged management buyout a decade later and filed for bankruptcy and closed in 1998.
While the revived company still makes electric motors, it does so 25 miles north of Birmingham, Alabama, rather than along Bay Street in Bay View.
But – as is also the case with Allis-Chalmers in West Allis – after employing so many for so long in Milwaukee, it's unsurprising that finding someone with a connection to Louis Allis here is pretty darn easy.
"Well, I'll use the cliche, if I had a nickel for every time I was told my uncle worked here, my father, my father's friend's cousin," says Mike Doro, who currently owns the more than 500,000-square-foot complex that rambles over roughly four square city blocks along the north side of Bay Street.
Doro takes me and Larson and Vandervort through a door and on a tour of the complex, which may look inactive from the street, but is anything but. In fact, says Doro, it is 96.5 percent occupied.
The Skylight Opera and Milwaukee Repertory Theater store costumes and props here and also build sets on the site. Brinn Labs – an arm of the Betty Brinn Children's Museum – is here, often abuzz with activity.
We stop in and chat with some folks working in a wood shop that is used on a cooperative basis, and we peek in at the office space of a local health benefits company.
Some space – at times crisscrossed by old rail tracks, even inside the buildings, and at times paved in heavy-duty end-grain wood floors (pictured above) – is used by the Doral Corporation, which works in a number of sectors, including moving and storage.
Doro tells me the company helped physically bring Happy the Hippo to the Milwaukee County Zoo a few years back, and, unbeknownst to Larson and Vandervort, had held the new Enlightened brew system in storage on-site before it was delivered for installation.
As we walk, we see sparks fly as steel is being made and processed, and a number of other fascinating and diverse businesses are simultaneously at work just steps away.
Behind a few walls, perhaps a couple hundred feet away, is Spectre Vintage Furniture – a retail shop – and Vision Design, which, says Doro, builds custom things for places like Iron Horse Hotel and the Milwaukee Public Market.
There's so much activity in the complex – where upwards of about 250 people are at work on a daily basis, according to Doro – that even Larson and Vandervort had no idea that right on the other side of their wall is a multi-bay loading dock that's got semis moving in and out all day long.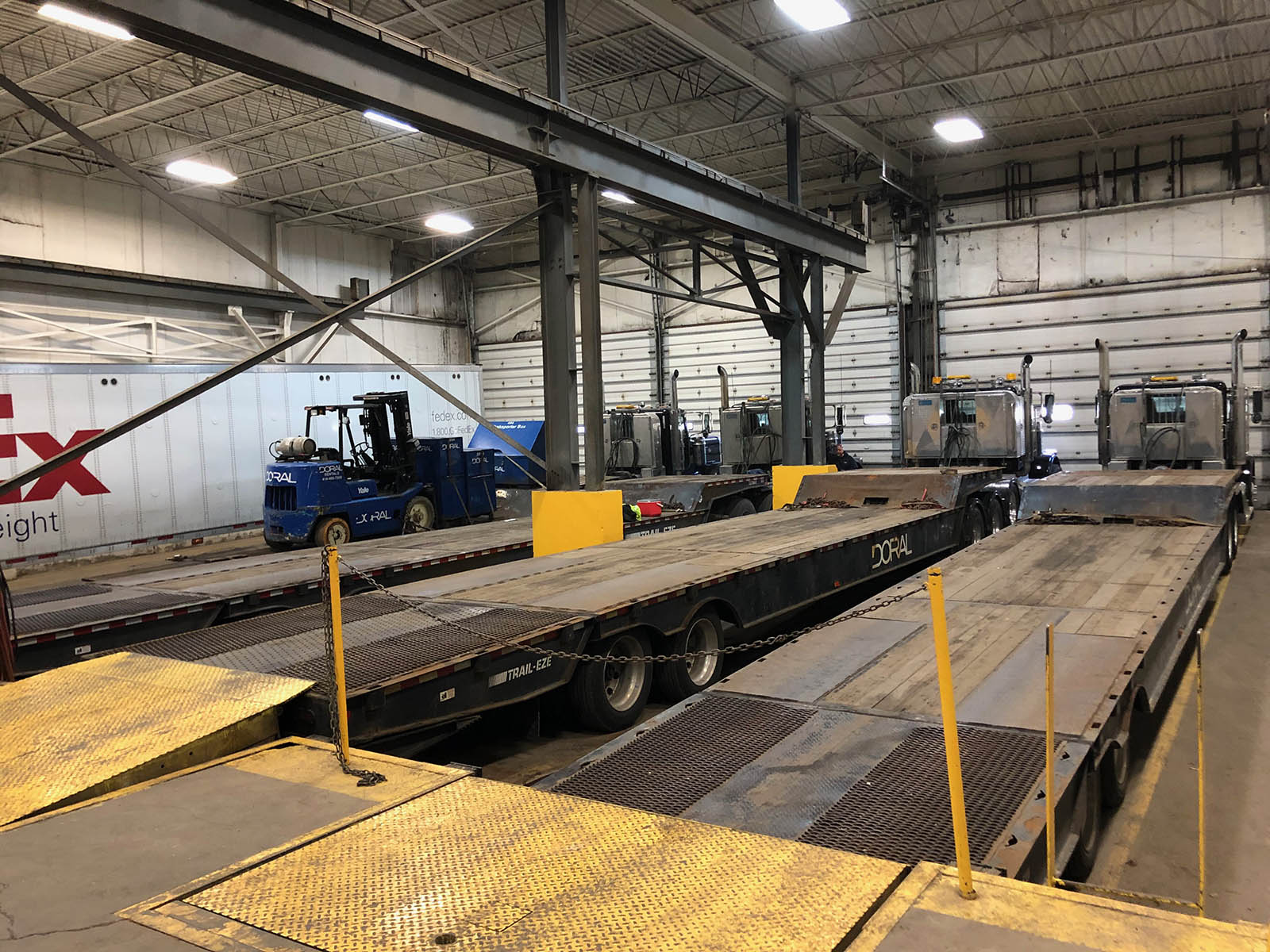 What's no mystery to them is what was formerly in what is now the Enlightened Brewing Space.
"When we got in here, Downtown Books was storing many books in here," says Vandervort. "Many books. They had boxes and boxes. There must have been a million books."
The two enlisted some help to palletize and wrap the books and move them out so they could get busy readying the new brewery. (Downtown Books still rents space in the complex, too.)
They unblocked the closed windows to the sidewalk, reopened the skylights, fixed the floor, built the bar and a new vestibule, added the taproom furniture and decor and, most importantly, installed a new 10-barrel brewing system and 10 20-barrel fermenters – all made by Oconomowoc's Quality Tank Solutions – to boost production to more than 3,000 barrels a year.
That's up from the 250-barrel annual capacity back at the Lincoln Warehouse.
"I'm hoping to hit a thousand barrels this year," says Vandervort, who says that they really cranked on production before the move in an attempt to have some inventory in advance of opening the new place.
"We tried to do that because the first time we moved, from upstairs to downstairs (at the Lincoln Warehouse), we shut down the brewery without really building up an inventory. So then we opened the tap room, and we had to get moving on the new system. I wanted to avoid that again.
"We are still brewing over there (at the Lincoln Warehouse) and the retail side is open. We're still brewing small-batch stuff on the old system."
But the new place has room for a canning line, too.
"It's a micro canner that came from Michigan, actually the same rig that Eagle Park got, and now Black Husky is using it to do their cans," says Vandervort.
"When we don't need it we can roll it out of the way when we're doing something else," adds Larson. "It's good for now; it's good quality. It's going to be kind of tricky if we have to do everything in a day.
"If we're brewing, racking and packaging it's going to kind of become cumbersome because it does really need to be right by the tank. And it does really need to have everybody working on it because it doesn't really have any bells and whistles. But it works great now. We're cranking out cans on it."
Off in a corner next to the production space is a storage and office area full of little (and not so little) side projects the guys hope to get to someday, including a giant slab from an ancient tree felled in South Shore Park, an oversized novelty hop cone and an old parking lot attendant's booth.
"It's just enough to keep us busy for the next 10 years," quips Vandervort. "Maybe 20-25 years."
On the wall nearby we spot tons of pencil markings, including names and phone numbers, scrawled, surely, by an employee who, years ago, had a phone nearby.
Demand for Enlightened beer is gangbusters at the moment say the owners, so production is full steam ahead these days, says Larson.
"We're definitely pedal to the metal right now ... gotta get the tanks full."
Enlightened signed on with General Beverage Sales, a New Berlin-based distributor, and now the beer is in cans all over the area, including at Ray's and Discount Liquor, but also at Woodman's and other retailers, too.
"They've really been helpful making the connections and telling our story," says Vandervort. "But it was challenging feeding the beast at first."
But, says Larson, Enlightened's staff has stepped up.
"It's been good. It's been a good problem to have. We had to come up with a system and these guys are doing a great job working overtime, hauling ass, getting it done."
"Never a dull day for sure," adds Vandervort. "It's not boring."
Born in Brooklyn, N.Y., where he lived until he was 17, Bobby received his BA-Mass Communications from UWM in 1989 and has lived in Walker's Point, Bay View, Enderis Park, South Milwaukee and on the East Side.
He has published three non-fiction books in Italy – including one about an event in Milwaukee history, which was published in the U.S. in autumn 2010. Four more books, all about Milwaukee, have been published by The History Press.
With his most recent band, The Yell Leaders, Bobby released four LPs and had a songs featured in episodes of TV's "Party of Five" and "Dawson's Creek," and films in Japan, South America and the U.S. The Yell Leaders were named the best unsigned band in their region by VH-1 as part of its Rock Across America 1998 Tour. Most recently, the band contributed tracks to a UK vinyl/CD tribute to the Redskins and collaborated on a track with Italian novelist Enrico Remmert.
He's produced three installments of the "OMCD" series of local music compilations for OnMilwaukee.com and in 2007 produced a CD of Italian music and poetry.
In 2005, he was awarded the City of Asti's (Italy) Journalism Prize for his work focusing on that area. He has also won awards from the Milwaukee Press Club.
He can be heard weekly on 88Nine Radio Milwaukee talking about his "Urban Spelunking" series of stories.