There are breweries of all kinds, from baseball-themed to fantasy-themed. But, until now, I've never been to a craft brewery where, while sitting at the bar nursing a hazy, I could look at and consider a mesh from a finite element analysis.
Um, what?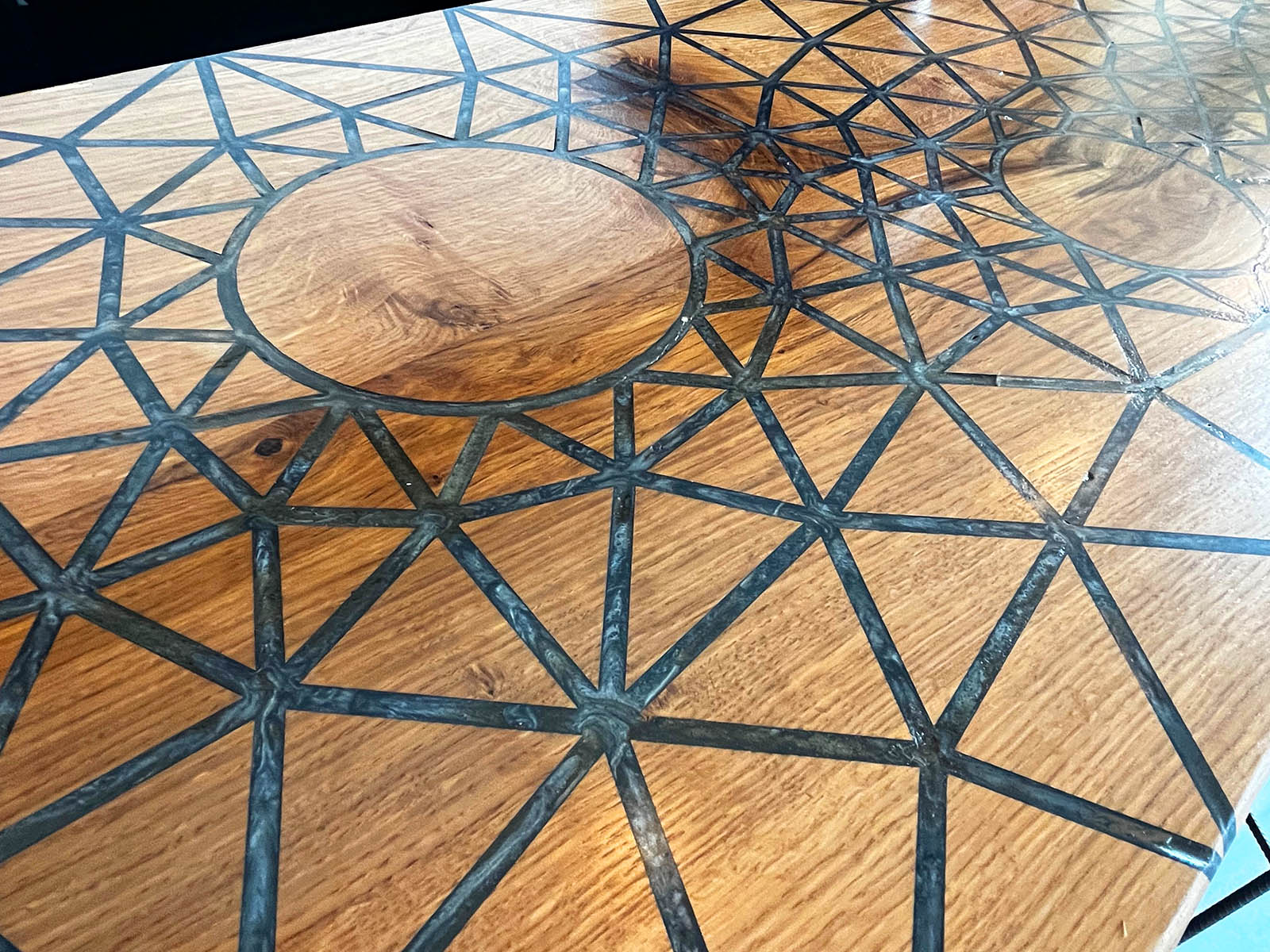 "It's a method used to solve partial differential equations," enthuses Ron Hockersmith, co-owner and brewer at Amorphic Beer, which is poised to open later this month at 3700 N. Fratney St., in Riverwest.
Hockersmith and his partners Alan Willhite and Joe Broeckert met while working together at GE Healthcare and all have backgrounds in engineering.
As I marvel over the handiwork of Urban Craftsman Nick Hardrath – whose shop shares a building with Amorphic and who built the bar from a tree felled in Fond du Lac – Hockersmith and Willhite explain that the pattern inlaid in the bartop is the kind of thing that would be used to test something like an airplane wing.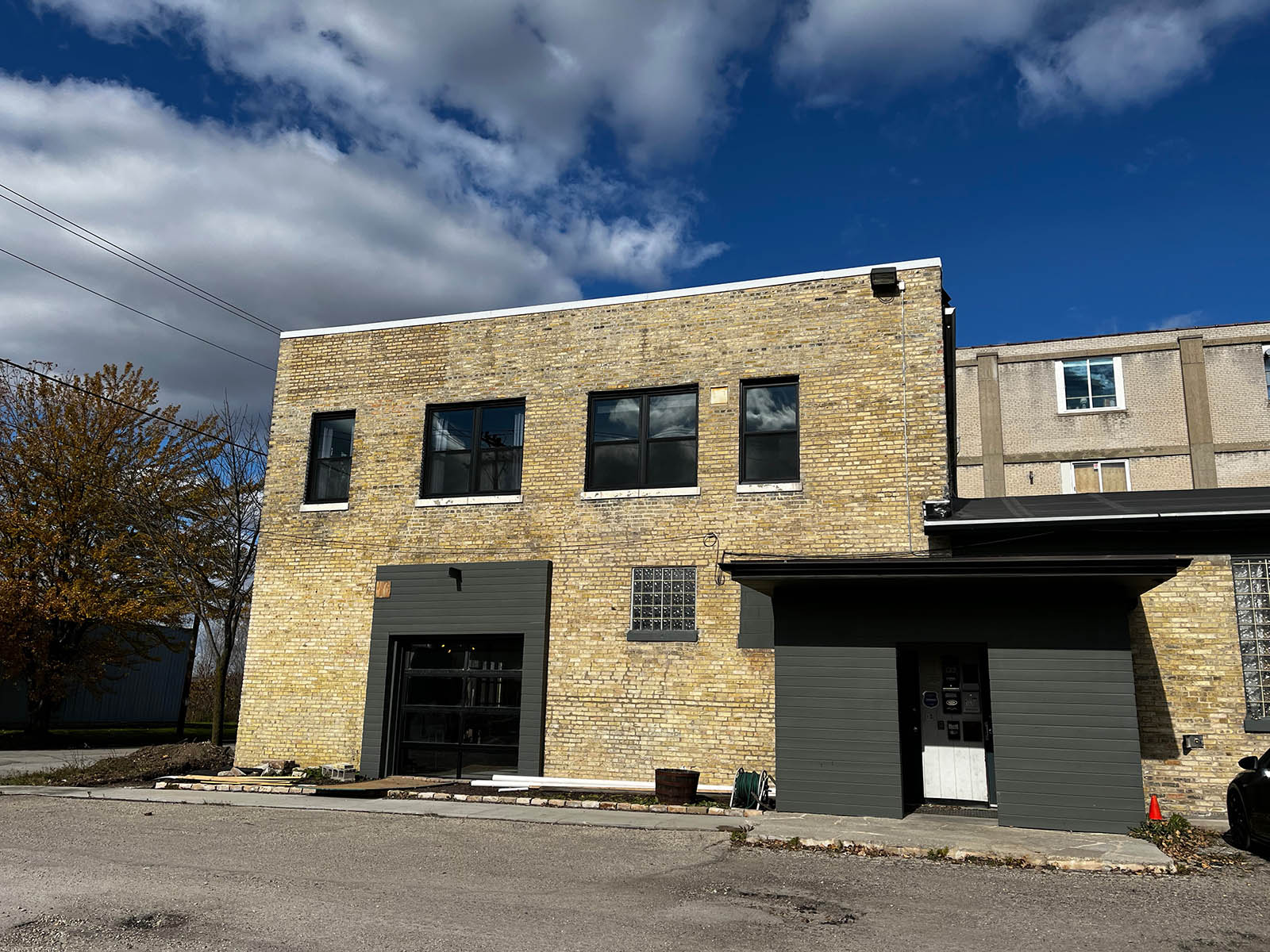 "You'd calculate the stresses at all the different points," says Hockersmith, who seems to have plenty of stresses as he works to get Amorphic ready for its debut.
There is furniture, finishing touches in the taproom, a patio to be completed outside, beer to brew.
But the 5,000-square-foot place looks great and they expect it'll be ready by around Nov. 20.
The taproom is expected to seat about 50, with room for another 30 on the patio facing Fratney Street.
The building went up in 1915 and was soon home to A.H. Petersen Manufacturing Co., which made gauges, power drills and other tools there.
Interestingly, according to CableOrganizer.com, Peterson developed his Hole-Shooter at the behest of Henry Ford, in 1918.
"World War I was coming to a close, and automotive tycoon Henry Ford was looking for a fabricator who was willing to produce a compact, lighter-weight, portable version of the 1/4" capacity power drill," according to the site. "A young Wisconsin manufacturer by the name of A.H. Petersen accepted Ford's commission, and developed what came to be known as the Hole-Shooter.
"Weighing in at only 5 pounds, this revolutionary power tool was driven by a series-type Westinghouse motor, and was the first industrial drill that was light enough to be operated with just one hand, but powerful enough to handle heavy-duty workloads."
However, in 1923 the factory was ravaged by fire and Petersen's partner, Albert F. Siebert – who joined a year earlier – bought what was left at public auction and started Milwaukee Tool the following year.
Meanwhile, Milwaukee Bedding Company moved in to the Fratney Street building from its Downtown location.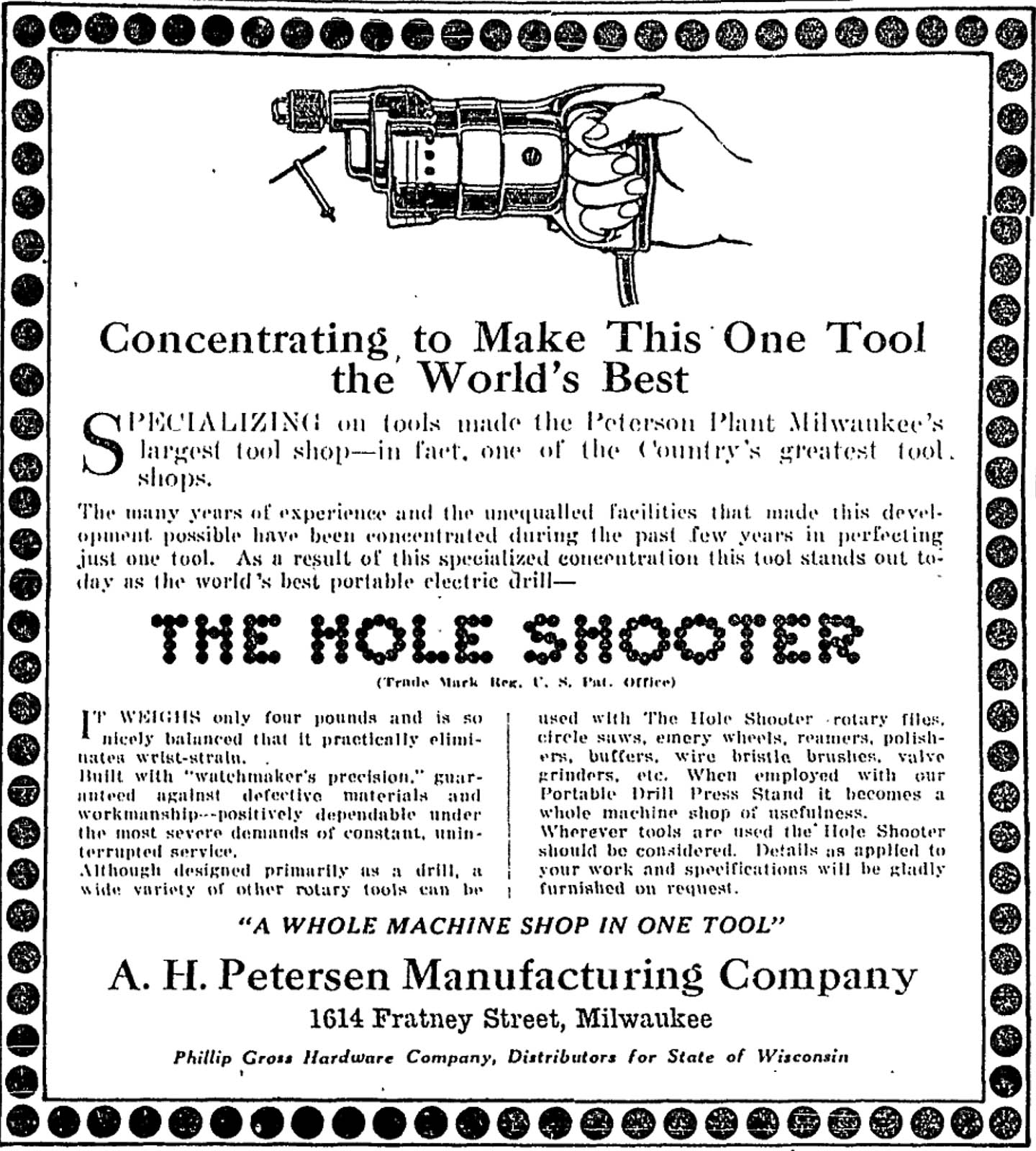 The business, which was prone to fires – newspapers record numerous blazes in the building over the years – and to at least a couple labor strikes, endured in the space until the dawn of the 1970s.
Later, it housed a box factory, a company that made displays for trade shows and, in the years just before Amorphic arrived, a wet suit manufacturer.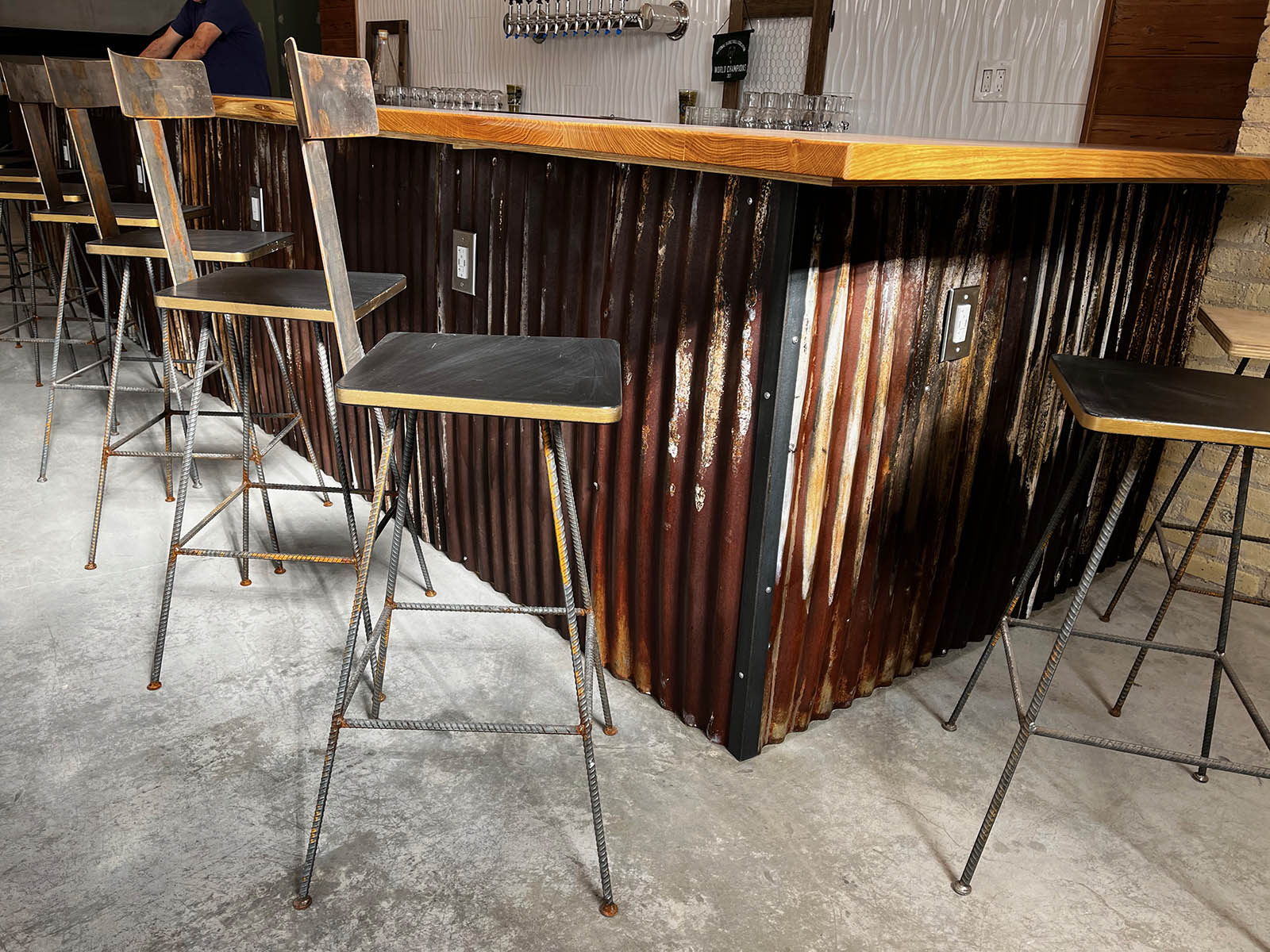 So, it has exactly the kind of industrial vibe you'd expect: high ceilings, exposed brick walls, concrete floors. And the new owners have amped that up with corrugated metal on the front of the bar and some pieces scavenged from other areas of the building, including a cool set of vintage lockers.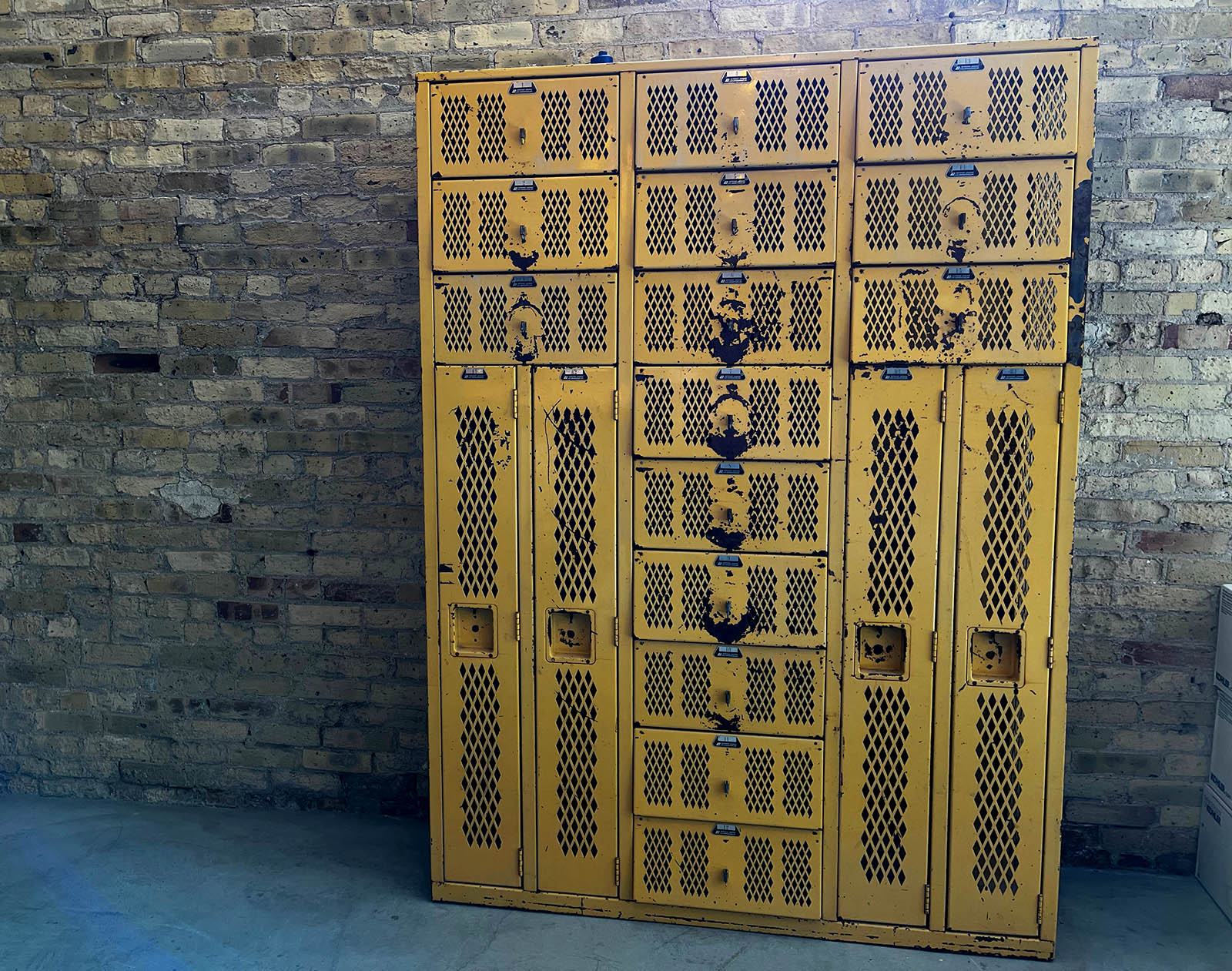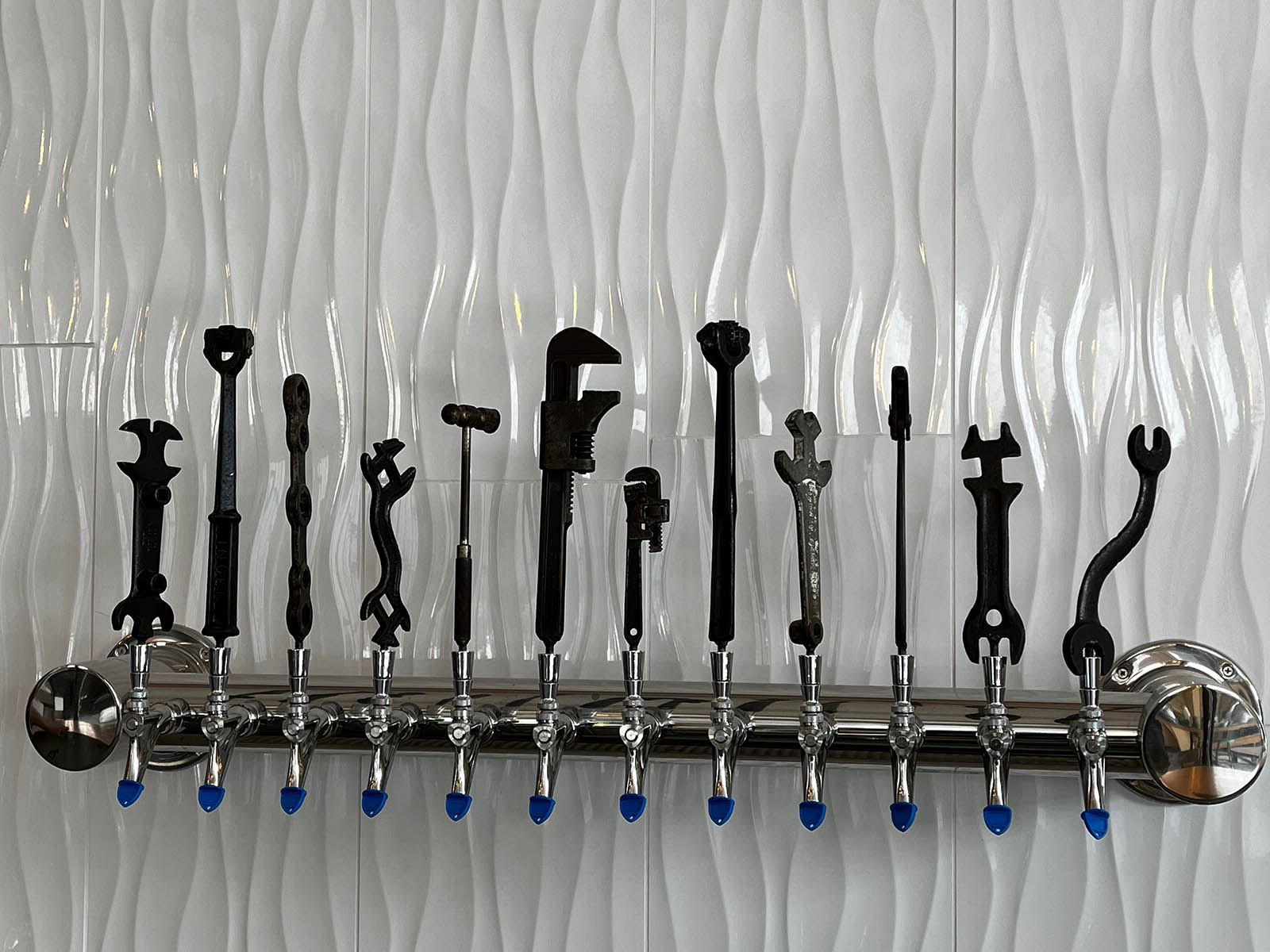 The tap handles are tools, like wrenches and a hammer.
"It was just a disaster," says Hockersmith, who notes that he and his co-owners did as much of the work as possible to transform the space themselves.
"It's been hectic," Hockersmith adds. "(Alan's) doing dry wall, or electrical work, and I'm trying to make a test batch of something and figure out a variable, and try to keep stuff clean during construction ... we clean it every day, but as soon as you walk in here, or out there, and then walk into there, it's no longer clean."
Hockersmith, who retired early from his gig at Leonardo DRS, which manufactures naval power and propulsion, transportation and logistics systems, including for the U.S. Navy, spent a year brewing at Company Brewing in Riverwest and is now at the helm of his own 10-barrel system in a brewhouse adjacent to the taproom.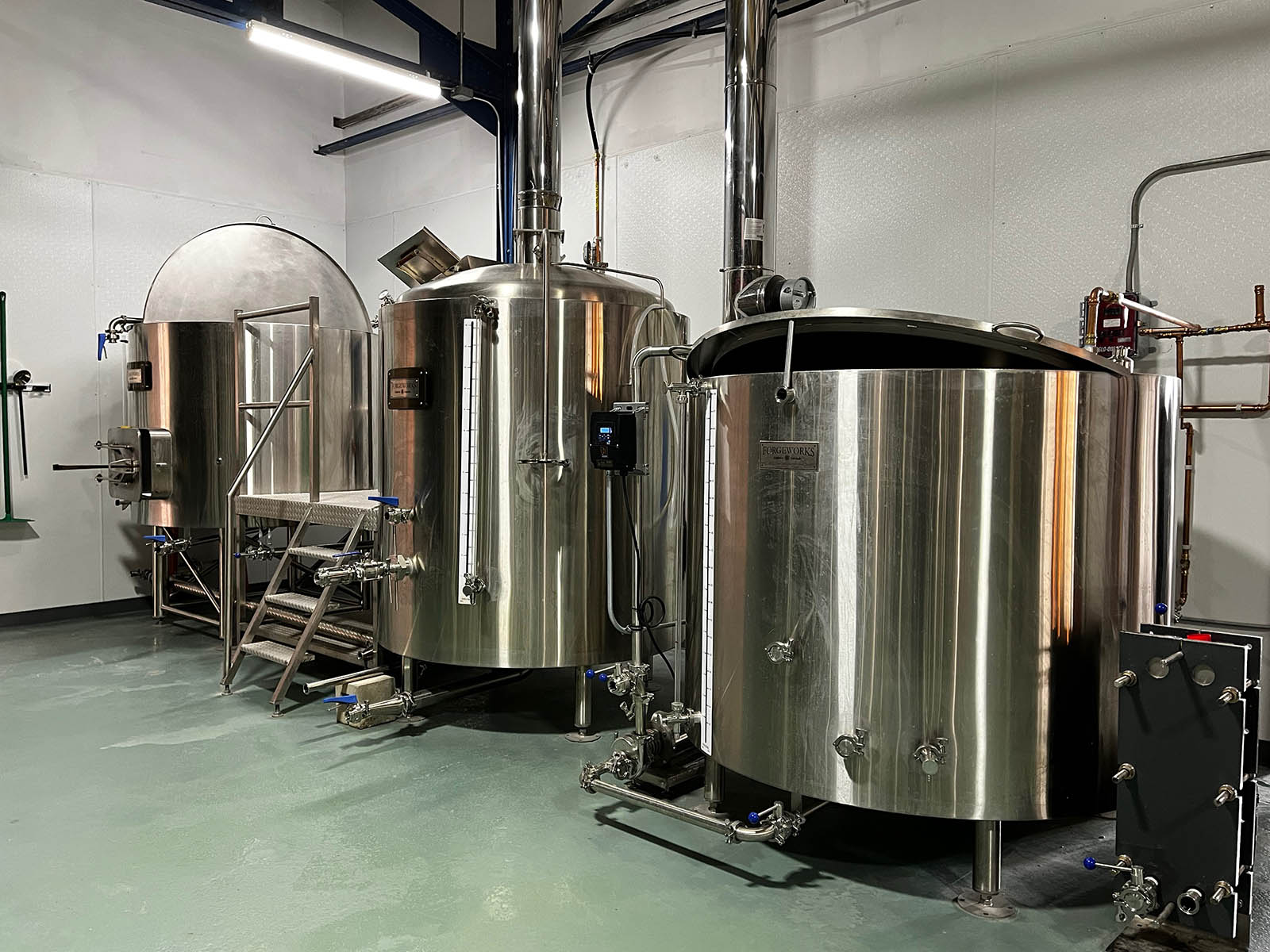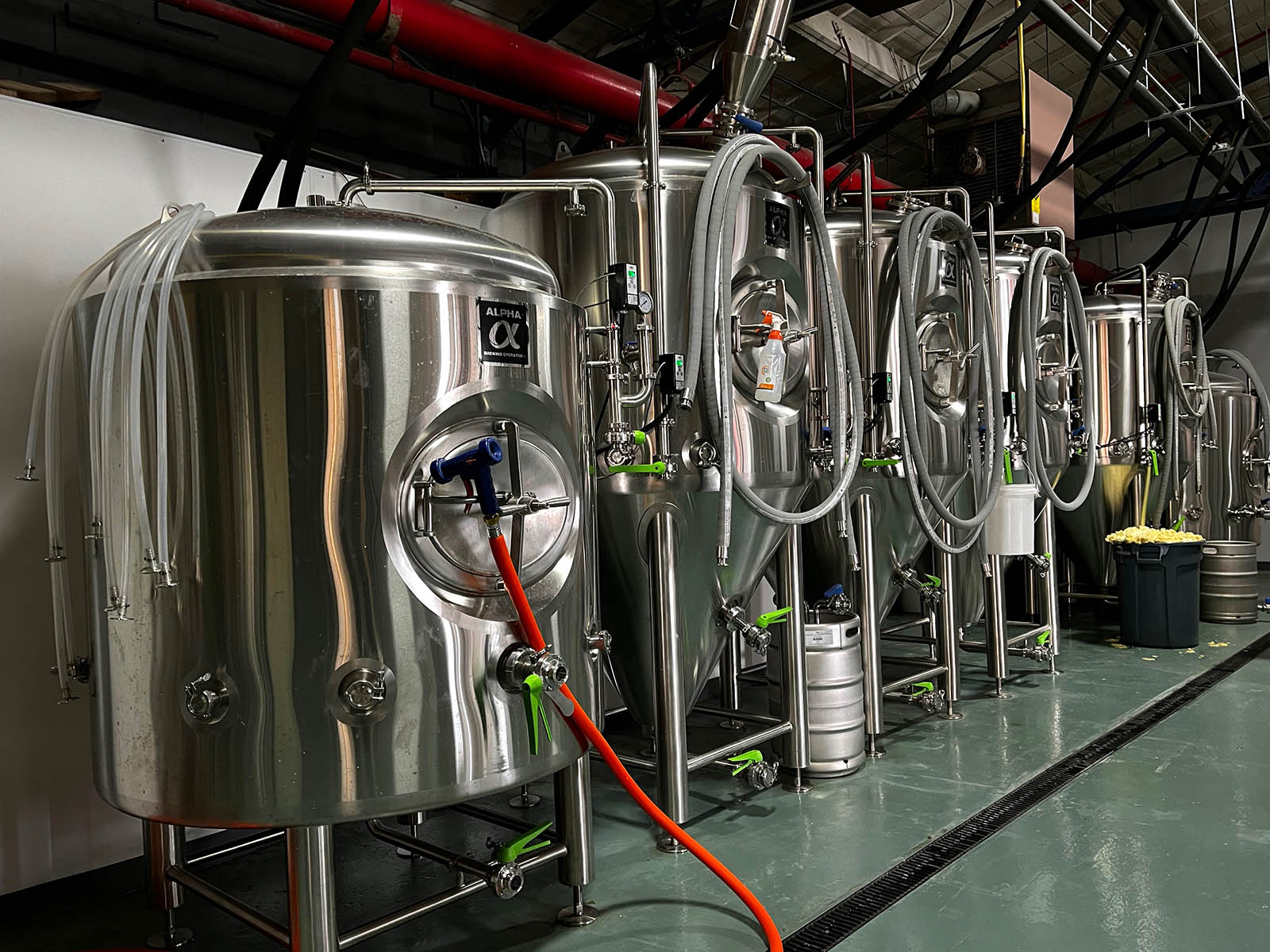 "Right now all of our tanks are also 10-barrel," notes Hockersmith. "Our plan for the long-term is to have 20-barrel tanks down the middle, but we're easing into it. Right now we can brew 10 barrels of beer, and put 10 barrels of beer in (a tank). But eventually we will be able to brew 10 barrels of beer twice in one day into a 20 barrel tank, but we're not doing that just yet."
Amorphic has also got a one-barrel system from Spike Brewing – located around the corner – for test batches and small one-off brews.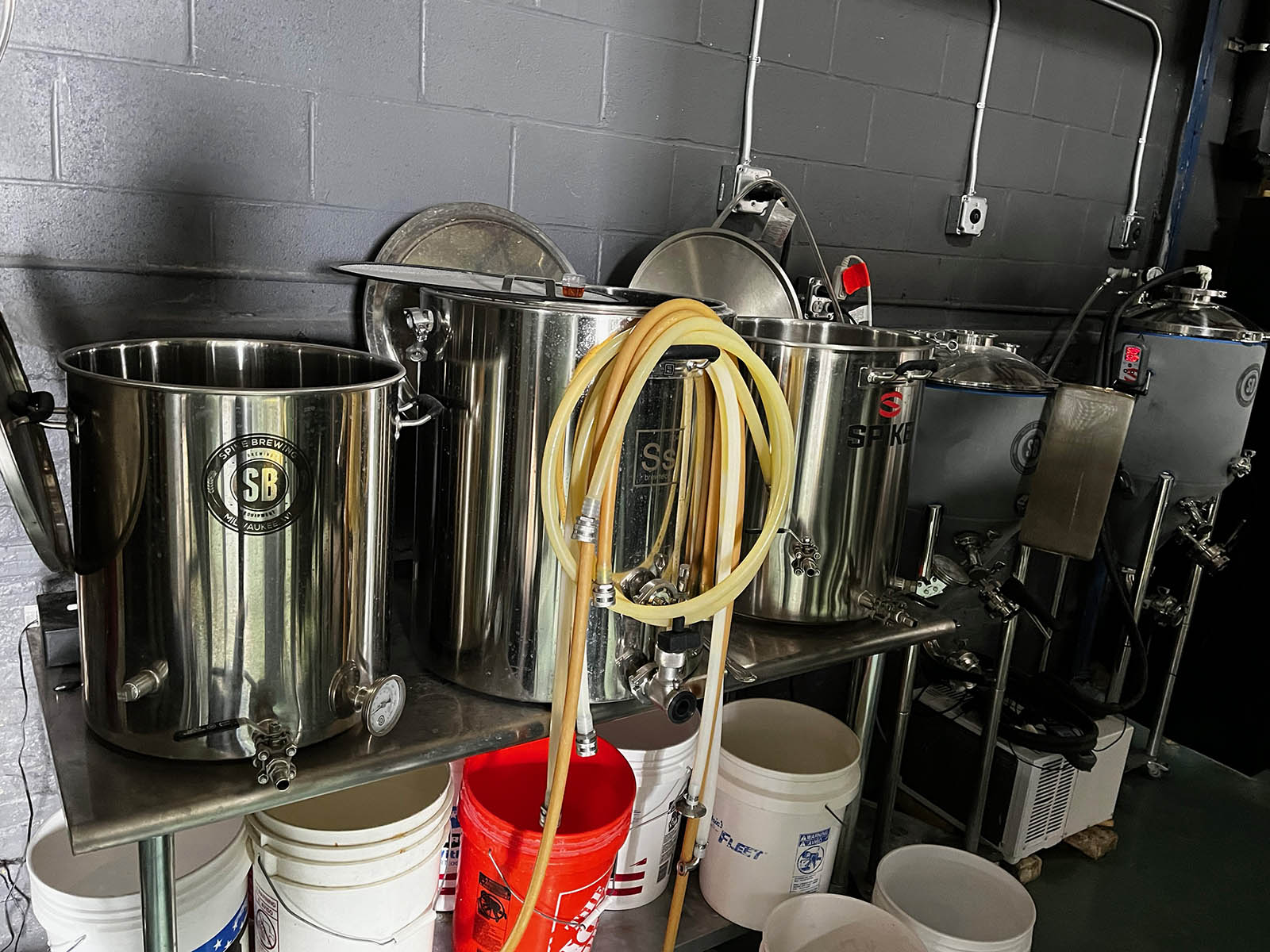 Amorphic's owners had also looked at Bay View and Walker's Point as potential sites for their brewery, says Hockersmith.
"I've always liked the bars and restaurants in Bay View and Riverwest and Walker's Point, so that was kind of where we focused our search," he says. "Found nothing really in Bay View, there's just a lot of residential for the most part. The few industrial places there are, everyone else snagged those.
"We got a couple of hits in Walker's Point, but pricey. I thought we found a great place, the price was OK, but it was twice as big as we wanted, and the guy wouldn't subdivide."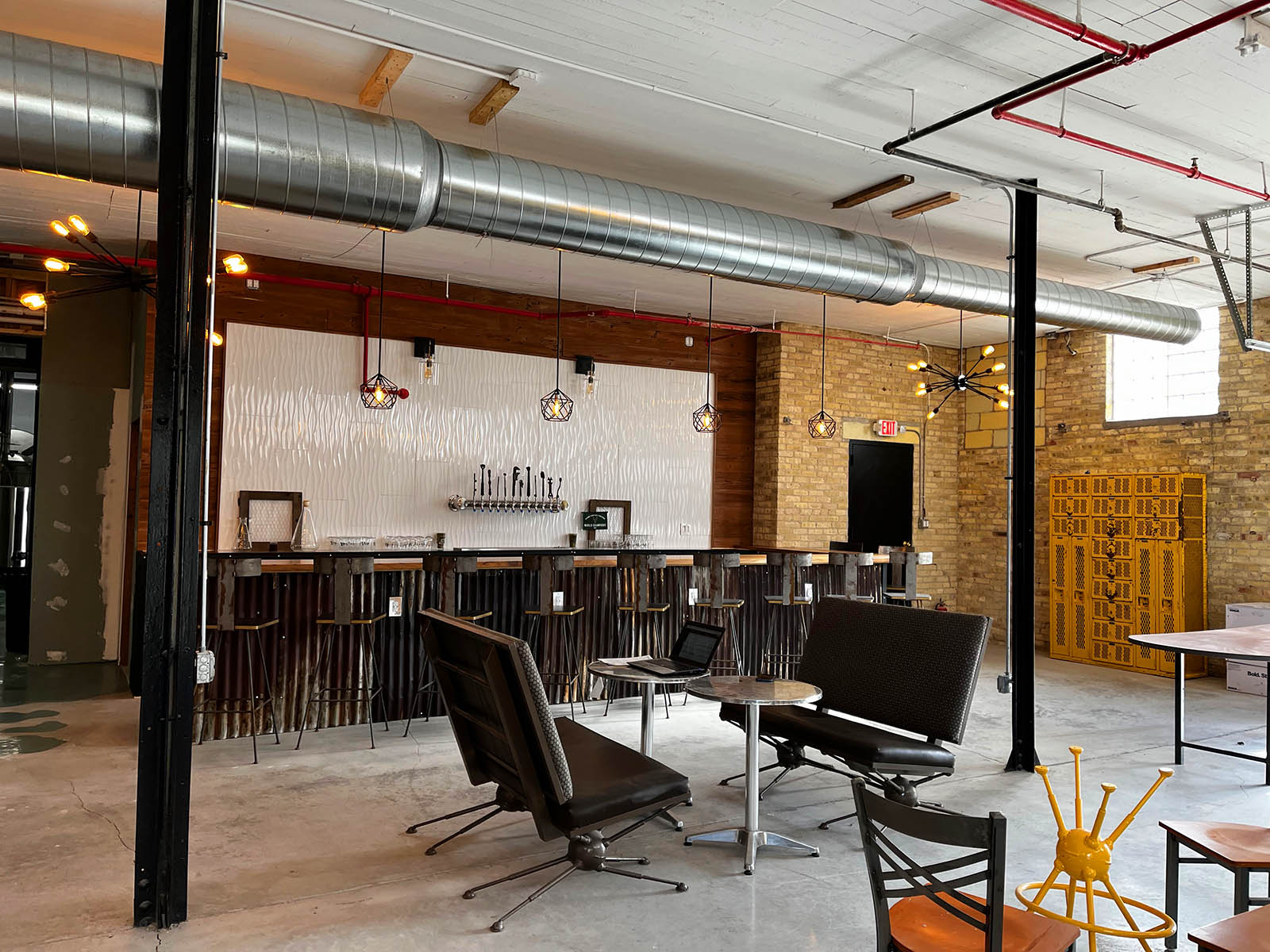 But Amorphic is more than happy in Riverwest.
"Black Husky, Company, Eagle Park, Lakefront and Gathering Place are all in within a two-mile radius," he says, noting that Hardrath is next door and there are other benefits, too.
"Any time you need anything... I needed someone to weld the taps on, and across the street, there's a guy that welds stuff. And he's like, 'Well you can have the neighborhood discount.' And then he (Gregg Whitehall of Metalsmoke Design) literally walked them over the next morning. While I'm putting them one – he wants to see them on so he can take a picture – I'm I'm burning my hands. I'm like, 'Did you just weld these?' He said, 'Yeah, I just welded them and walked over.'"
Soon, the building next door may also be full of more artists and makers via this project.
But what about the beer?
"I think that our philosophy is very bold flavored beers, and some of those barrel aged long-term things," says Hockersmith. "Either the dark beers and the bourbon. I personally like a lot of the Belgian mixed fermentation things in wine barrels."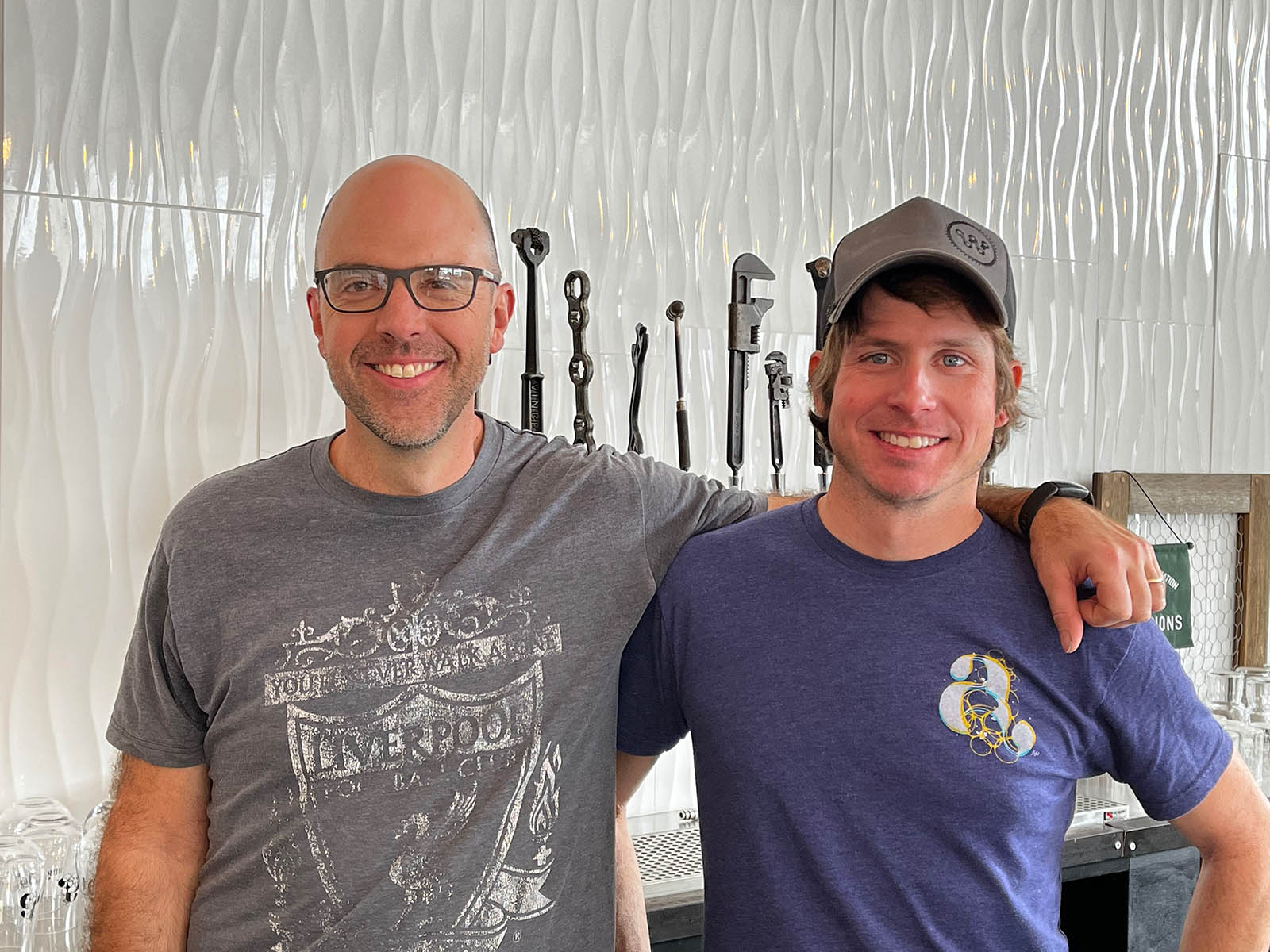 At the moment, Hockersmith is working on a few things, including a hoppy Czech lager, a dark Czech lager with four different roasted malts – including one with heavy coffee notes – and a hazy IPA. He also plans to open with a prickly pear and hibiscus flower kettle sour on tap.
"Eventually we'll probably have four hazy IPAs at any given time, showcasing different hops," he adds. "Maybe they're the same beer, but we would change temperature parameter or something, and people can participate in the science experiment with Untapped."
Though there's no plan at the moment to get a canning line, Amorphic does plan to begin canning for carryout pretty much immediately, using a mobile canner.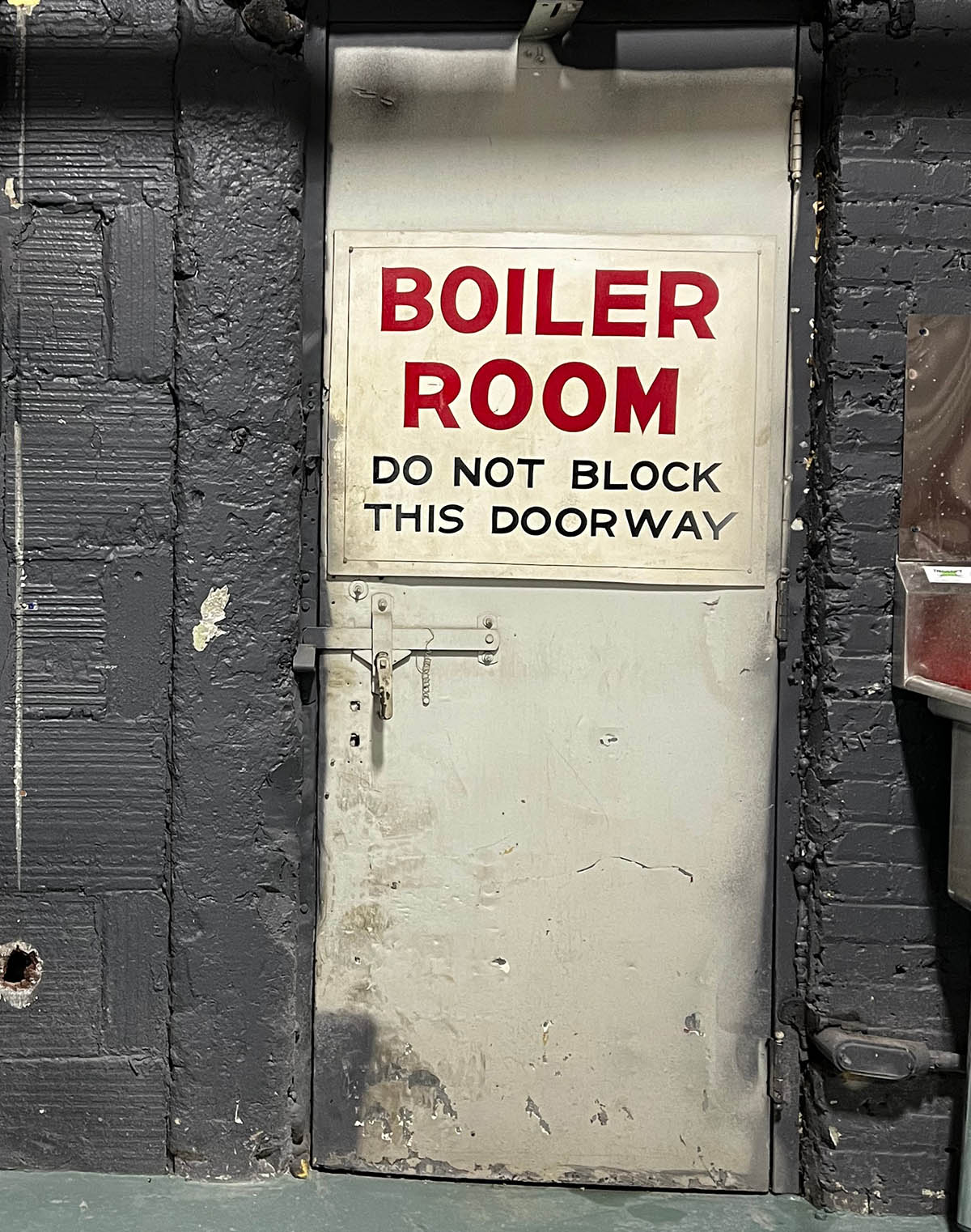 They also plan to have a crowler canner.
The plan is to sell most of the packaged beer out of the taproom, at least initially, with perhaps a few retailers on board.
"We figure long-term we'll probably be 50/50 on premise and off premise," says Hockersmith.
There's a beautifully finished space upstairs – with more of Hardrath's handiwork – that could, in time, become part of a taproom expansion.
For now, the focus is getting the place done and ready to open just before Thanksgiving.
"If get through a couple of inspections with the city and state in the next couple of weeks, then it's feasible," Hockersmtih says. "And the beer will be ready."
Born in Brooklyn, N.Y., where he lived until he was 17, Bobby received his BA-Mass Communications from UWM in 1989 and has lived in Walker's Point, Bay View, Enderis Park, South Milwaukee and on the East Side.
He has published three non-fiction books in Italy – including one about an event in Milwaukee history, which was published in the U.S. in autumn 2010. Four more books, all about Milwaukee, have been published by The History Press.
With his most recent band, The Yell Leaders, Bobby released four LPs and had a songs featured in episodes of TV's "Party of Five" and "Dawson's Creek," and films in Japan, South America and the U.S. The Yell Leaders were named the best unsigned band in their region by VH-1 as part of its Rock Across America 1998 Tour. Most recently, the band contributed tracks to a UK vinyl/CD tribute to the Redskins and collaborated on a track with Italian novelist Enrico Remmert.
He's produced three installments of the "OMCD" series of local music compilations for OnMilwaukee.com and in 2007 produced a CD of Italian music and poetry.
In 2005, he was awarded the City of Asti's (Italy) Journalism Prize for his work focusing on that area. He has also won awards from the Milwaukee Press Club.
He can be heard weekly on 88Nine Radio Milwaukee talking about his "Urban Spelunking" series of stories.