Maybe you haven't noticed, but the three-story building at 3738 N. Fratney St., in Riverwest's Riverworks BID industrial zone, has undergone a stunning change.
Long sheathed in bland sheet metal, the building's new owners removed that dull, forbidding outer layer to reveal a red brick facade – with windows!! – as part of a plan to bring new life to the building, which, most recently, was home to a retail interiors business.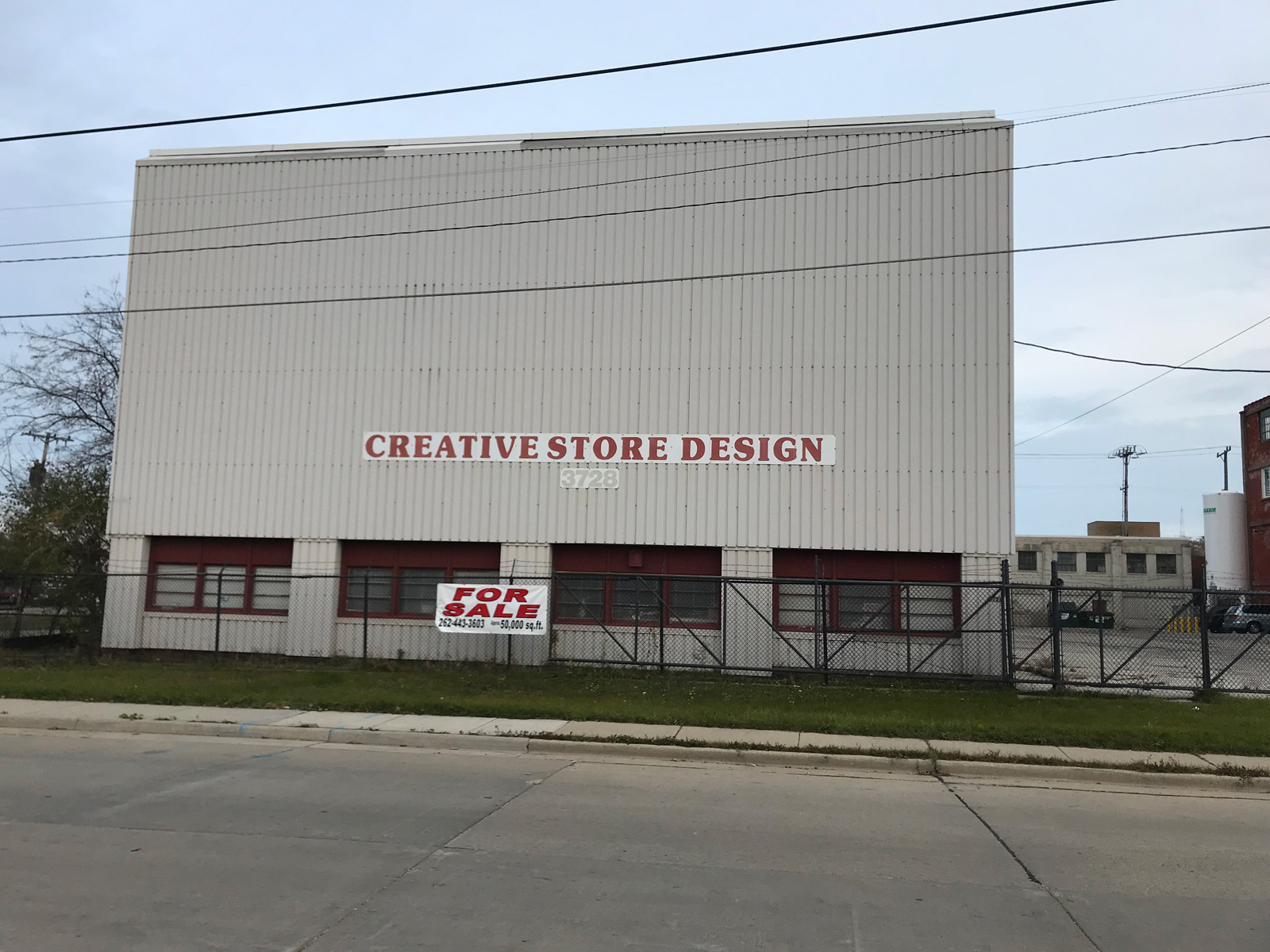 Before and after photos of the Fratney Street facade. (Courtesy of Jon Krouse)
The 52,000-square foot complex, which sits across a parking lot from the headquarters of Fresh Is Best pet food manufacturer, is being renovated for two phases of artist and maker studios.
"We're trying to create a creative district on Fratney," says co-owner Jon Krouse, who also owns the so-called Goat Palace building – a former foundry at 3740 N. Fratney St. that has hosted events in the past – next door (pictured below).
"There's this whole thing happening there. Flux Design is there, Gathering Place Brewery."
The Goat Palace
Once funding is secured, work on transforming the 14,000-square foot Goat Palace into a full-time, permanent event space with a bar and a commercial kitchen can begin. Krouse, whose says the zoning, design, engineering and liquor license are already complete, hopes to be able to begin construction on that project by winter.
The Goat Palace renderings by Dan Beyer Architects.
"The Goat Palace is a shovel-ready project to turn a 1920s-era aluminum foundry into a event venue," says Krouse. "The project calls for new plumbing, electrical, HVAC and other infrastructure. New clerestory windows will bring in lots of natural light and the exterior will be updated with a patio and 1-acre-plus lawn for hosting larger indoor/outdoor events. Occupancy is set at 560. We won't be open by the DNC convention, unfortunately."
Artists/makers studios building
Along with a group of investors, Krouse and partner Carl Nilssen (who owns the nearby building that houses Gathering Place and Flux) bought the former tannery building in December and have begun work.
In addition to removing the sheet metal, they also removed a teetering addition to the north. They've replaced the windows and filled an endless stream of dumpsters to clear out the inside, where there are now tradesmen working on upgrades.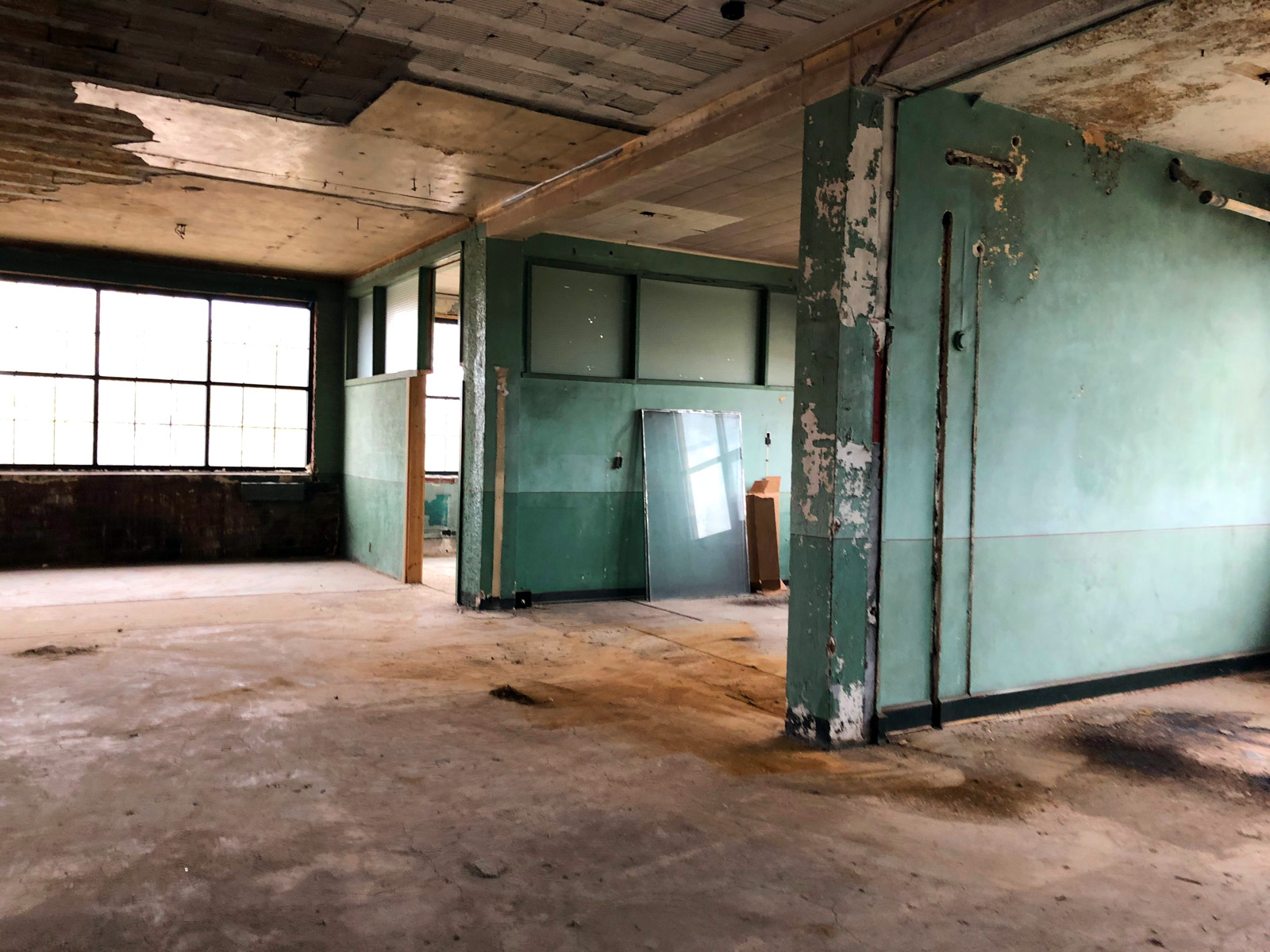 Phase one of the project will build out six studios in the front of the second floor (pictured above). A second phase will populate the rest of that floor with 11 more studios (pictured below).
The rear of the first floor is being rented to Fresh Is Best for storage. A front space, zoned light industrial, will be available to tenants and there is not yet a plan for the smaller third floor – added in 1931, at a cost of $16,000 – though Krouse says leasing it is not required to make the development plans a reality.
"It's a bit of a boot-strap operation as we try to keep the costs as low as possible so we can keep the rents affordable for local artists, makers and start-ups looking for space to expand out of their homes and garages," says Krouse.
Still, they have to make some changes, like making the building ADA accessible and adding bathrooms.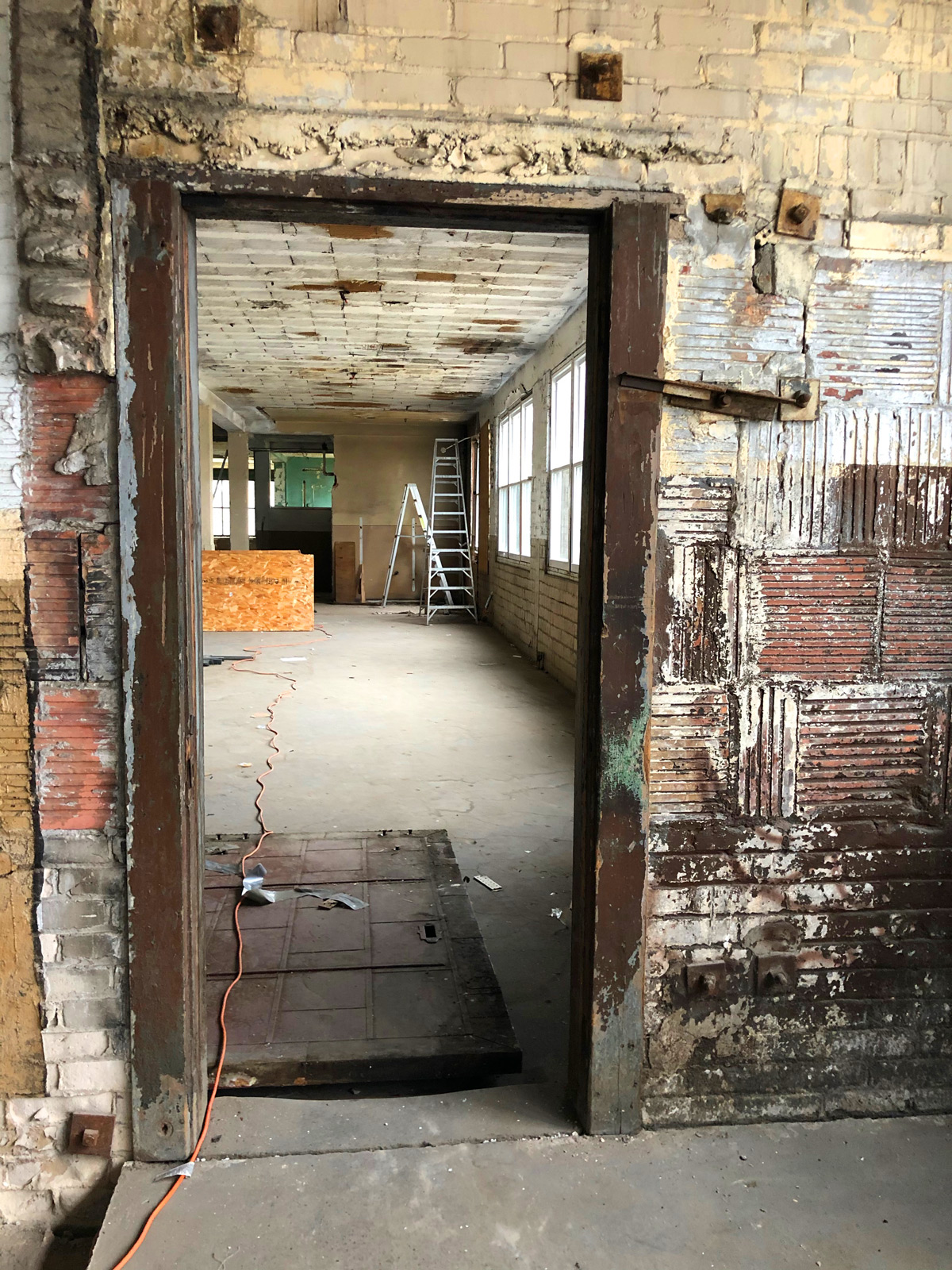 Studio spaces will range from 655 to 1,265 square feet, though adjacent studios could be combined to create larger spaces.
Krouse says rents will start at $550 and include heat. The building will have wi-fi and 100 Amp electric service, as well as ceiling fans and energy-efficient LED lighting. Ceiling heights range from 11-feet, 4-inches to 12-feet-4 inches.
The first studios are expected to be ready for tenants by January.
The complex of buildings – which initially had its own power plant – was constructed over time, in phases, and the earliest iteration is unclear. A small article about a 1931 fire accurately described the factory as, "a rambling structure of concrete."
By 1918, the Martin-Alaskin Co. operated a fur dressing factory in the buildings and by the following year, the J. Laskin & Sons (aka J. Laskin Sons) was doing the same work there (a 1919 classified ad is below).

The company was founded by brothers Myron and Arthur Laskin, whose father Jacob – a Russian immigrant – was a fur manufacturer in Chicago, where both boys were born.
In 1920, the two were living together as boarders on Broadway in Downtown Milwaukee and operating their business: Myron as the technical guy and president, Arthur as the secretary and treasurer overseeing sales. By the following year, the company already had an office in New York, which Arthur would manage.
In September 1920, Fur Trade Review magazine wrote, "One of the largest plants in the United States, and one of the newest, if not the newest, devoted exclusively to the dressing and dyeing of Australian and New Zealand rabbit skins, is situated in Milwaukee, Wisconsin. ... Louis J. Laskin was the architect ... The Laskin plant is undoubtedly one of the most up-to-date plants of its kind in existence, and as an example of a sealine factory it is doubtless the last word in modern equipment and appliances, all especially designed and originated for the handling and preparation of sealine, from the raw rabbit skins to the finished and beautiful piece of peltry which is really best described as sealine."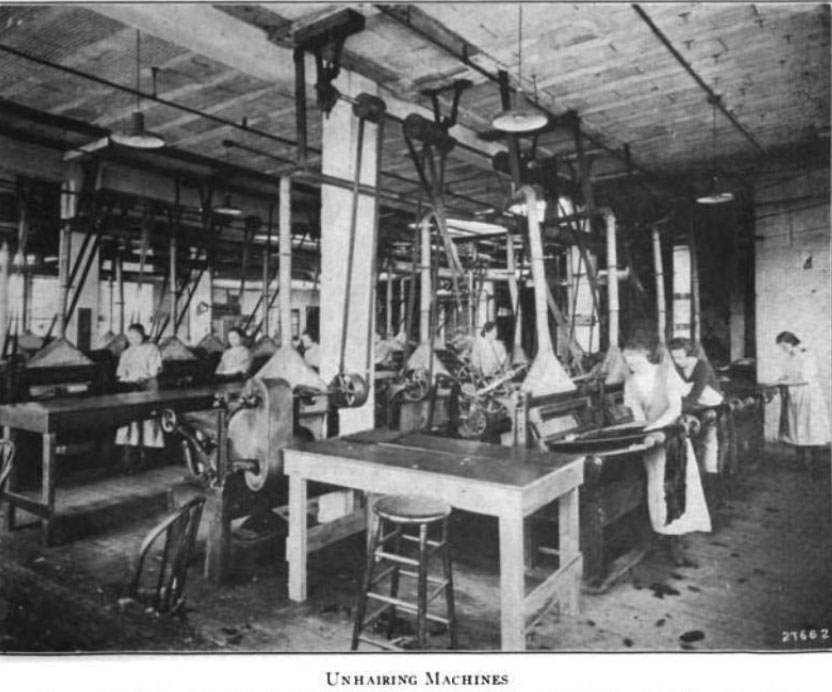 The plant as seen in three 1920s photos provided to Fur Trade Review by Laskin.
Early on the business focused on tanning shearlings (recently sheared sheep and lamb skins) and dyeing and dressing rabbit pelts. Later in the 1920s, the company would become the first in the United States to produce a fur finish on sheepskins, according to a later article in the Sentinel.
By 1930, the company was a big supplier to the United States Army, manufacturing flight suits and boots for the Army Air Corps. Two years later, it expanded into suede garment leather.
"The firm designed and developed a sheepskin lined Army Air Corps flying suit, and this material was supplied to the British in large quantities before the U.S. entered the war," wrote the Sentinel.
"For the 3 1/2 years after Pearl Harbor the government took 100 percent of Laskin's output. Laskin chemists and dyers developed a special shearling which not only was resistant to oil, water and gasoline but was crackproof, too. ... Several hundred thousands of flight suits were made and 1,500,000 pair of fleece lined winter flying boots."
One of the company's contracts with the Army, in 1937, was worth $75,925 or more than $1.35 million in today's dollars, adjusted for inflation.
In spring 1942, the plant was hit by a strike when workers demanded higher pay, marking one of the earliest wartime strikes in the city. (Laskin workers walked out on numerous occasions before and after, too.)
After the war, Laskin was able to return to the consumer market, too, and by 1946, the Sentinel could report that, "has a dominant position in the sheepskin tanning and lambskin processing industry, with leadership emphasis in the field of mouton dyed lambskin. Myron Laskin, who since 1921 has held the reins of the tannery firm which was named for his father, Jacob Laskin, shuttles between Milwaukee and New York in the coordination and guidance of a business whose postwar proportions, he revealed last week, are rosy despite prevailing shortages of raw materials and price difficulties.
"(Laskin) expects to produce enough mouton for 100,000 women's coats this year. Several thousands of lambskins are processed daily in the Fratney Street plant."
Those skins arrived in Riverwest not only from domestic producers, but from South America, Australia and South Africa, too.
At the time, Laskin had 600 employees working in more than 300,000 square feet of space.
In 1949, the Laskins sold part of the company to Marx & Co. in New York and two years later, Myron and Arthur retired, but remained on the board.
However, without their daily guidance, the business ended up closing in 1955.
Inside the buildings, there's nary a trace remaining of the Laskin Company – other than a bit of woodwork in what appears to have been a stairway up to the offices – but there's a lot of history in those walls.
Perhaps that history will inspire Milwaukee artists and makers.
Born in Brooklyn, N.Y., where he lived until he was 17, Bobby received his BA-Mass Communications from UWM in 1989 and has lived in Walker's Point, Bay View, Enderis Park, South Milwaukee and on the East Side.
He has published three non-fiction books in Italy – including one about an event in Milwaukee history, which was published in the U.S. in autumn 2010. Four more books, all about Milwaukee, have been published by The History Press.
With his most recent band, The Yell Leaders, Bobby released four LPs and had a songs featured in episodes of TV's "Party of Five" and "Dawson's Creek," and films in Japan, South America and the U.S. The Yell Leaders were named the best unsigned band in their region by VH-1 as part of its Rock Across America 1998 Tour. Most recently, the band contributed tracks to a UK vinyl/CD tribute to the Redskins and collaborated on a track with Italian novelist Enrico Remmert.
He's produced three installments of the "OMCD" series of local music compilations for OnMilwaukee.com and in 2007 produced a CD of Italian music and poetry.
In 2005, he was awarded the City of Asti's (Italy) Journalism Prize for his work focusing on that area. He has also won awards from the Milwaukee Press Club.
He can be heard weekly on 88Nine Radio Milwaukee talking about his "Urban Spelunking" series of stories.