This morning, the Bucks announced Good City Brewing as the first anchor tenant in the upcoming arena entertainment district, with the East Side-based craft brewery opening a new taproom in the future Downtown hotspot.
The Bucks formally unveiled the new tenant today at 11 a.m. during a press conference held at the site of the future Good City taproom at the corner of 4th Street and Juneau Avenue.
"Andy Jones, David Dupee and I intentionally put down roots and made a bet on Milwaukee when we founded Good City in 2016," said Good City co-founder Dan Katt, in a press release. "The new entertainment block epitomizes the direction Milwaukee is going, and we couldn't be more excited and honored to be involved in this once-in-a-generation development project."
"Good City Brewing is a local brewery that will play a significant role in making the new entertainment block uniquely Wisconsin and a prime destination for food and craft beer," said Peter Feigin, President of Head of the Herd Real Estate Development LLC, the developer of the Entertainment Block, in the release.
Good City's new 11,000-square-foot space will serve as a taproom and second production facility for the upstart craft brewery, with the first floor functioning as a 200-seat taproom and the second floor as an outdoor patio area as well as 350-person event space. And while the taproom will feature 24 Good City brews as well as a wood-fired oven kitchen concept, one of the key focuses for the new space will be the production of sour beers, emphasizing foeders – aka an old technique involving large wood vats that help produce sour beers – and a pilot brewing system that will produce fellow small batch and experimental brews.
"While our core philosophy is to brew clean and balanced beers, we've always had our eyes on launching a sour beer program," said Good City co-founder and brewmaster Andy Jones, in the release. "To do so requires a separate facility for quality and cross-contamination reasons. The entertainment block provides us with a unique opportunity to grow our brewery with funky and innovative offerings that we have been unable to explore to date."
The new Good City Brewing taproom is expected to open, along with the rest of the entertainment block, in spring of 2019.
We couldn't be more excited and honored to open a downtown facility and taproom at the Entertainment Block! #seekthegood pic.twitter.com/y4yjTgDpEo — Good City Brewing (@GoodCityBrewing) May 31, 2018
Stay tuned to OnMilwaukee for more updates about the new Good City Brewing taproom and other new additions to the Bucks arena Downtown entertainment block as they are announced.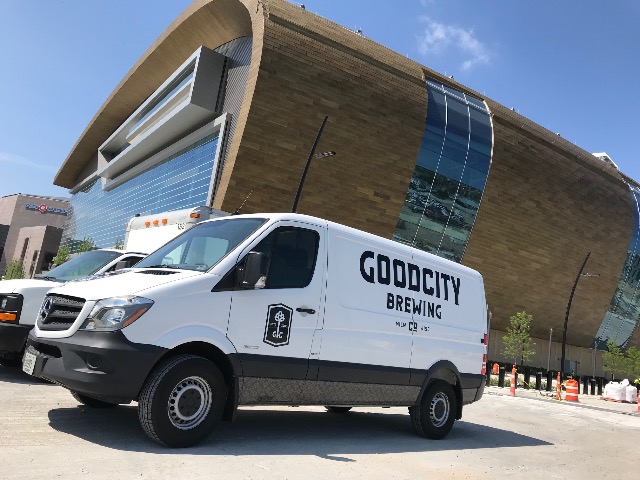 As much as it is a gigantic cliché to say that one has always had a passion for film, Matt Mueller has always had a passion for film. Whether it was bringing in the latest movie reviews for his first grade show-and-tell or writing film reviews for the St. Norbert College Times as a high school student, Matt is way too obsessed with movies for his own good.
When he's not writing about the latest blockbuster or talking much too glowingly about "Piranha 3D," Matt can probably be found watching literally any sport (minus cricket) or working at - get this - a local movie theater. Or watching a movie. Yeah, he's probably watching a movie.