The new Bucks arena is slowly yet surely coming alive, with recent first looks at the nifty new atrium, the new Miller-sponsored bars and the new head coach in charge of the team on the court. And today, the still-yet-unnamed Wisconsin Entertainment and Sports Center unveiled another new aspect of the arena: the Jack Daniel's Bar.
Located on the arena's upper concourse, the new Jack Daniel's Bar – created in partnership with the famed Tennessee whiskey brand – will pour a special cocktail program unique to the WESC, featuring a featured drink for the inaugural year, cocktails on tap and more.
"We are thrilled to have one of the world's leading spirits companies as a partner," said Matt Pazaras, Bucks Senior Vice President of Business Development and Strategy, in a press release. "Jack Daniel's best-in-class products, plus its expertise in mixology and fan activation, will contribute to what will be one of the best customer experiences in sports."
"We are utilizing iconic Jack Daniel's visuals within the bar to share Jack Daniel's unique process and story that 'Every drop of Jack Daniel's comes from Lynchburg, Tennessee,'" said Lisa Estes, Jack Daniel's Midwest Marketing Manager, in the release. "We are a proud partner of the Milwaukee Bucks and excited to share these experiences with fans at the new venue."
Here are a few quick renderings of what the Jack Daniel's bar will look like: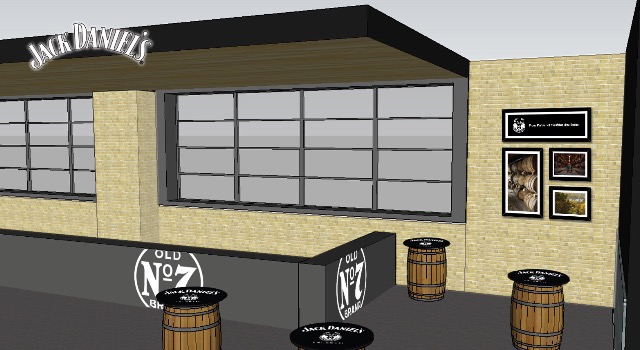 If you'd rather not venture to the upper concourse, other Jack Daniel's cocktails will also be available throughout the arena at the facility's assorted bars, suites and lofts – not to mention Bucks events in the plaza area.
Stay tuned to OnMilwaukee for more Bucks arena news and updates as they're served up.
As much as it is a gigantic cliché to say that one has always had a passion for film, Matt Mueller has always had a passion for film. Whether it was bringing in the latest movie reviews for his first grade show-and-tell or writing film reviews for the St. Norbert College Times as a high school student, Matt is way too obsessed with movies for his own good.
When he's not writing about the latest blockbuster or talking much too glowingly about "Piranha 3D," Matt can probably be found watching literally any sport (minus cricket) or working at - get this - a local movie theater. Or watching a movie. Yeah, he's probably watching a movie.