The Bucks' massive superstar somehow just got bigger as the team, Milwaukee Downtown BID #21 and local artist Mauricio Ramirez finished up a gorgeous and gigantic new mural of Giannis Antetokounmpo this week.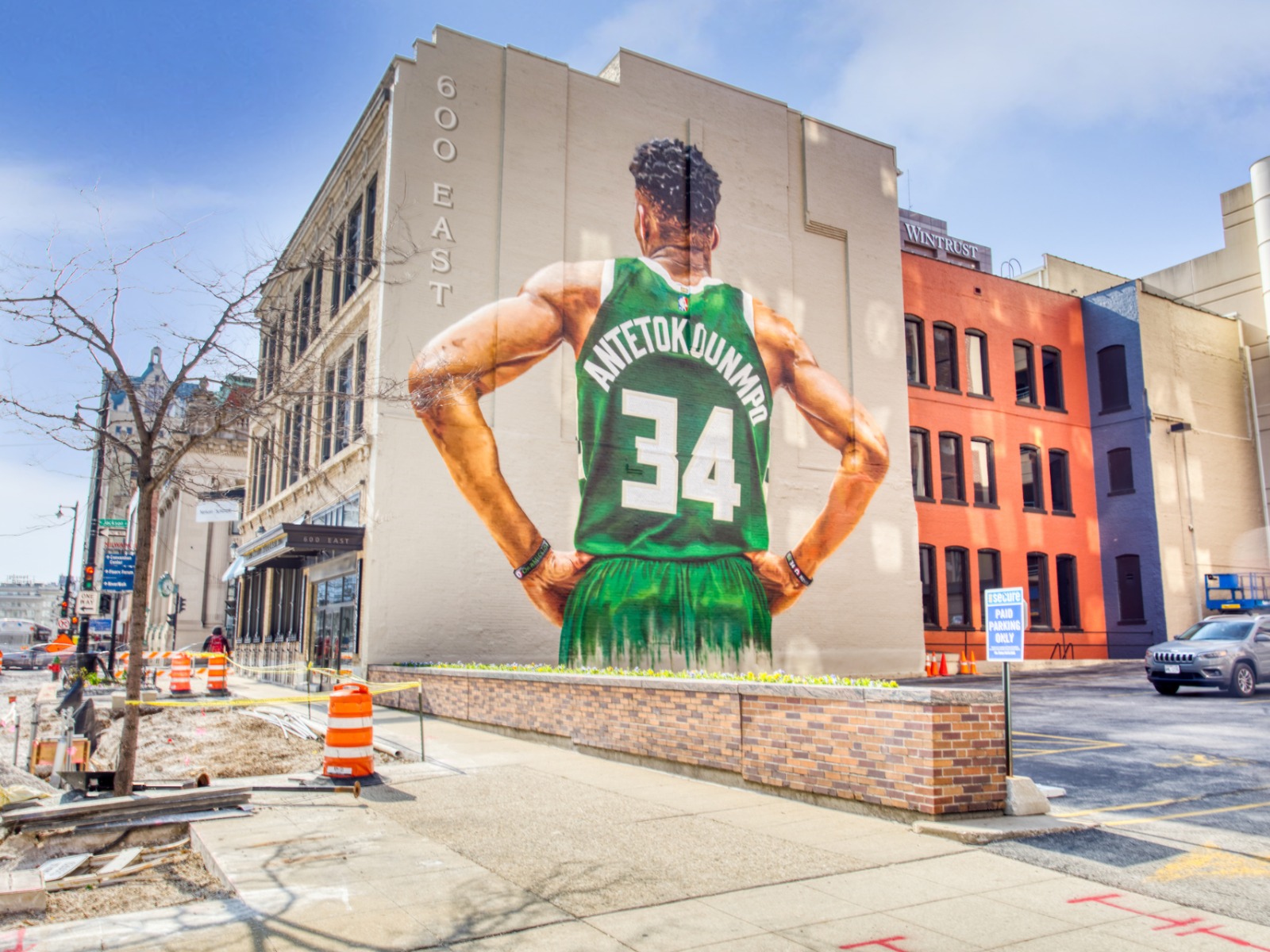 Found on Wisconsin Avenue on the east-facing wall of the 600 East building, the new three-story mural features the two-time NBA MVP's back clad in a Bucks jersey. The mural was originally unveiled in progress on Wednesday, April 27.
"Giannis has a personality that's larger than life, and we hope that this mural captures his essence," said Gabe Yeager of Milwaukee Downtown BID #21, said at the April press event.
"I think it's really cool that literally Giannis is looking toward Downtown, his home court at Fiserv Forum in Deer District, and figuratively looking forward despite all that this champion has already accomplished, symbolizing his desire, his attitude, his passion for continuing to improve everyday and looking forward," said Dan Nelson Jr., owner of 600 East.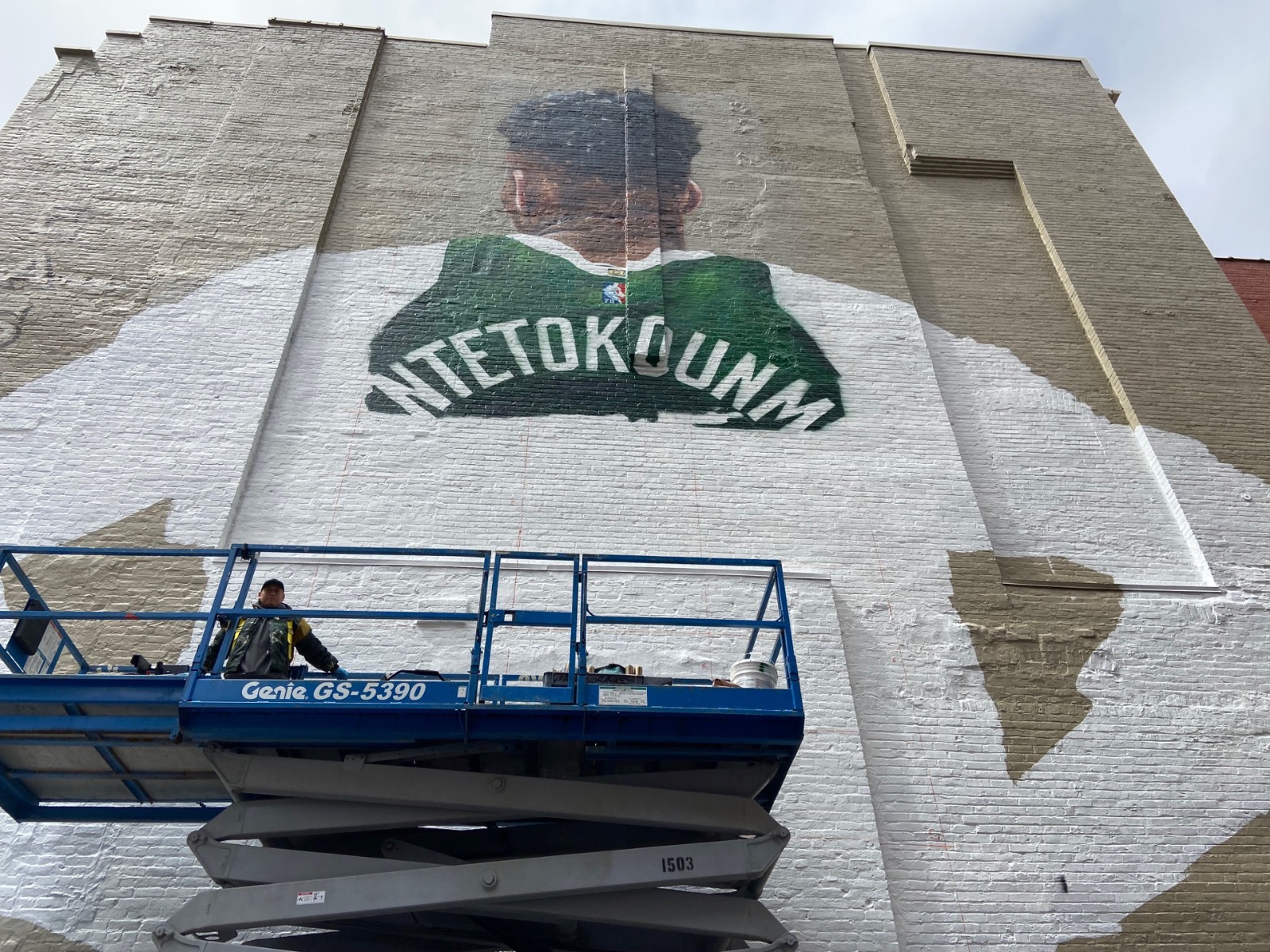 The mural is the latest public art piece from Ramirez, whose work can be found throughout the city – from Walker's Point to assorted utility boxes around Downtown. The giant 600 East work is serves as a departure from many of the local artist's other works, going for a more photorealistic approach as opposed to the abstract geometrical look of some of his other Milwaukee murals.
"It's such an honor to be painting a high-profile athlete who's not just dominant in the NBA but a good person overall," Ramirez said.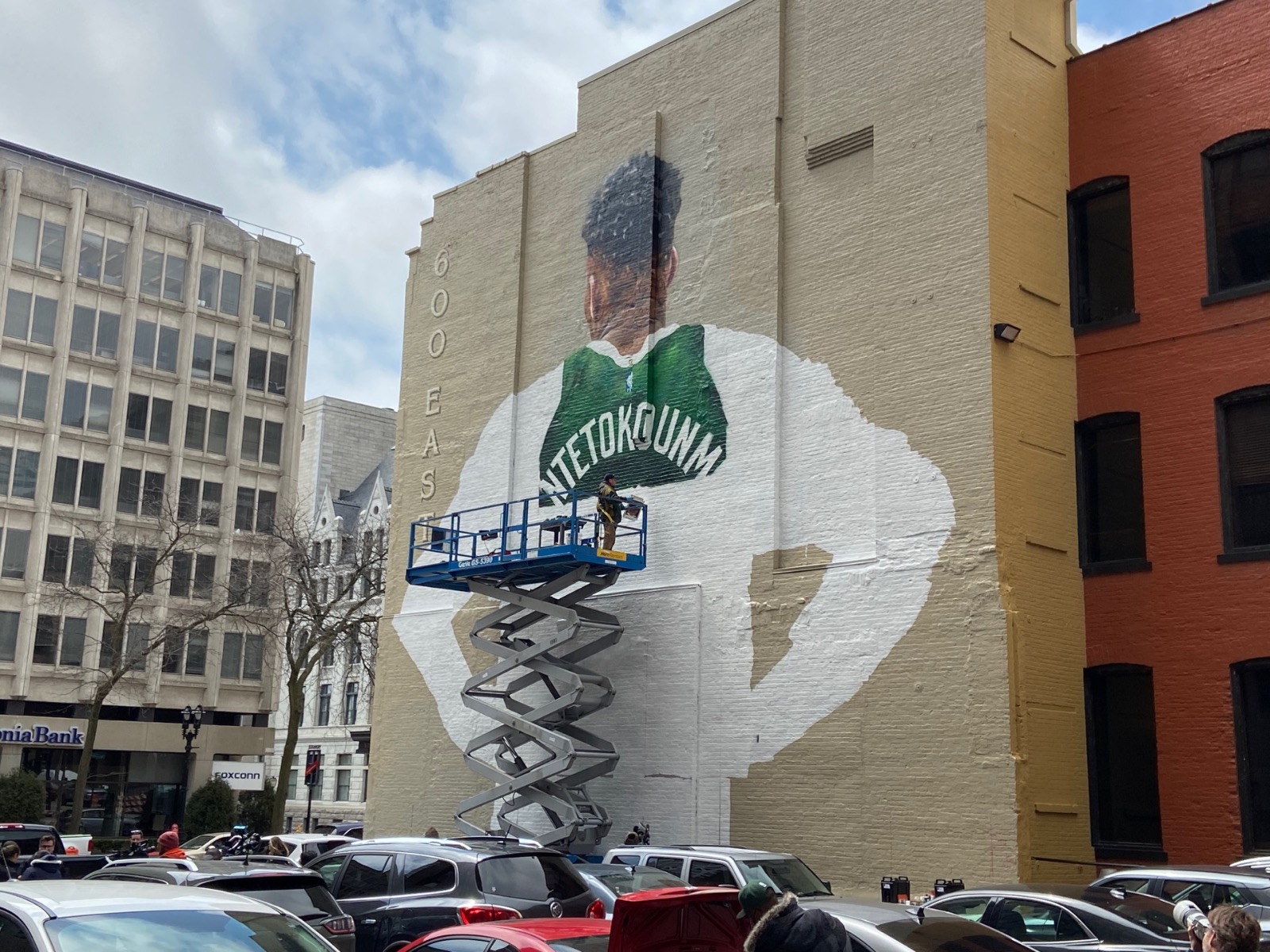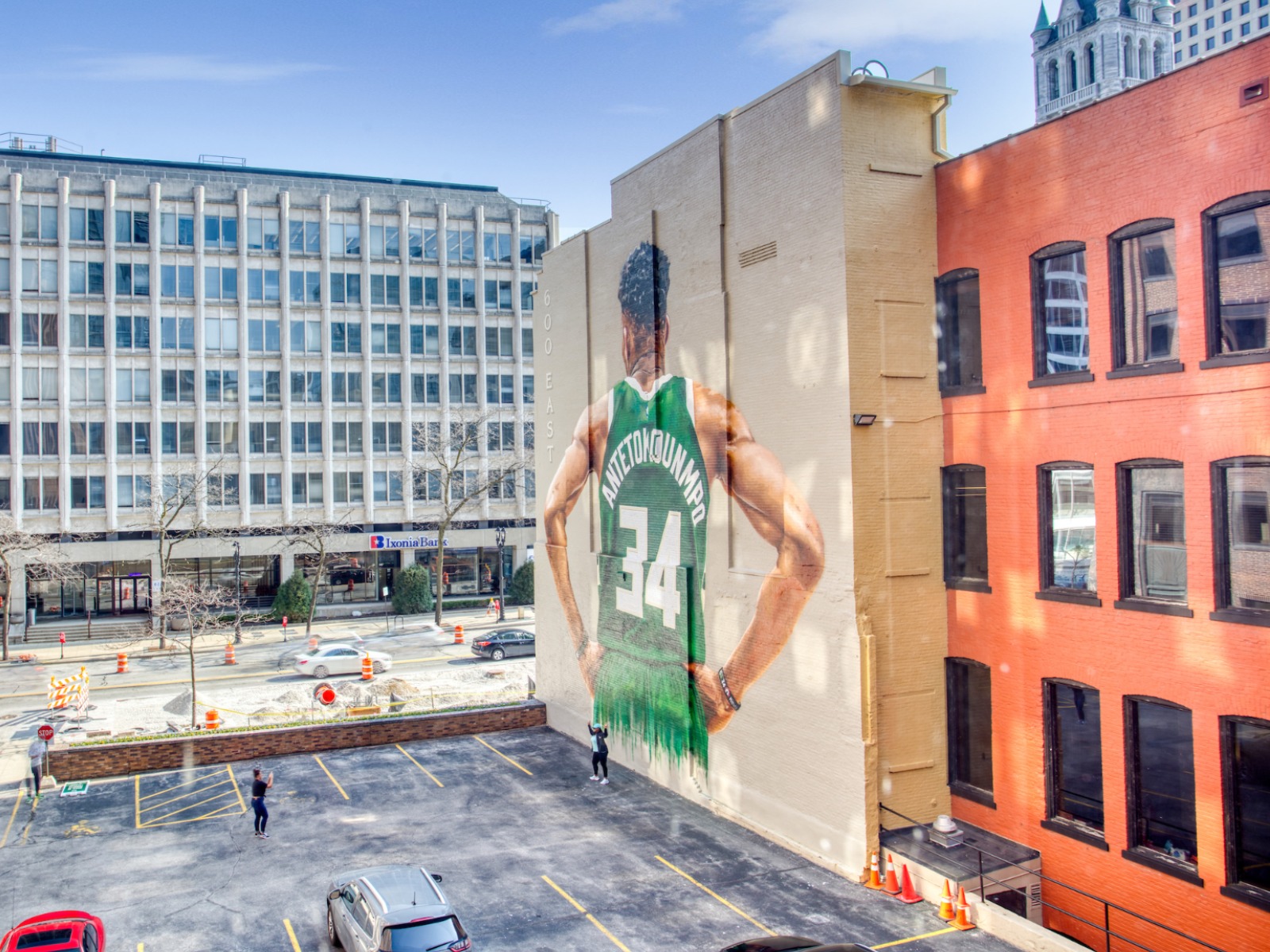 Giannis is, of course, no stranger to being the subject of a mural. The Greek Freak can also be found outside The Highbury Pub in Bay View, which added a painting of Giannis protesting with his teammates to its front-facing wall in 2020.
As for the new Downtown piece, the impressive job is now done – and speaking of finishing the job, the Bucks will hopefully do the same as they take their 2-2 second-round series with the Boston Celtics out east. For more information on the next game, where to watch it and more, click here. And here's to Giannis and the rest of the Bucks painting a masterpiece of their own this postseason.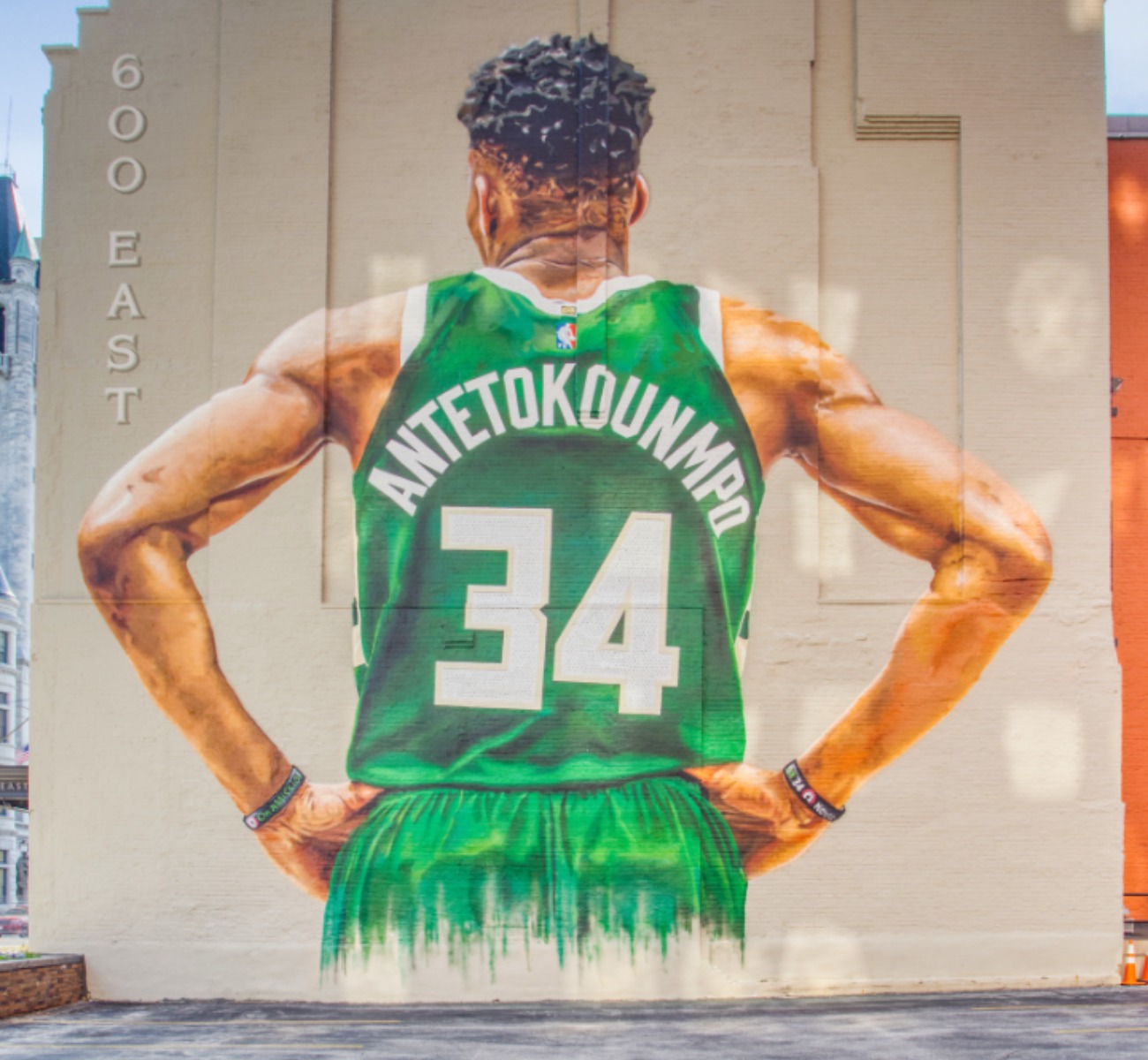 As much as it is a gigantic cliché to say that one has always had a passion for film, Matt Mueller has always had a passion for film. Whether it was bringing in the latest movie reviews for his first grade show-and-tell or writing film reviews for the St. Norbert College Times as a high school student, Matt is way too obsessed with movies for his own good.
When he's not writing about the latest blockbuster or talking much too glowingly about "Piranha 3D," Matt can probably be found watching literally any sport (minus cricket) or working at - get this - a local movie theater. Or watching a movie. Yeah, he's probably watching a movie.