Of course the Bucks won on Thursday night. After Tuesday night's brutal collapse, we were down on Giannis and company. We were writing the obit for Coach Bud's Milwaukee tenure. We were wondering if Giannis was a true team-leading Finals-capable star. We were already blaming a ref's hometown for the seemingly inevitable Game 6 loss.
That's not how Milwaukee sports work, however.
Any good Milwaukee fan knew that losing Game 6 would be too easy and too obvious. Nowhere near enough torture involved. No, we would have to be brought back up. We would have to experience joy and hope again. We would have to, despite everything the past and basic pattern recognition would tell our brains, be convinced into believing once again that this time will be different. Then, and only then, could we receive our one final emotional brick punch to the stomach and kick out the door.
But ... maybe this time, we won't? DANG IT, I'M BELIEVING AGAIN!
Despite just about everything I've ever experienced in life as a Wisconsin sports fan, it's hard not to feel a little positive after Thursday night's strong 104-89 victory at Fiserv Forum. It was easily the team's best performance thus far this series, putting in strong defense while playing far smarter on the offensive end. Now, winning on the road will be tough, Kevin Durant still exists, James Harden's clearly loosening up, and at some point, Joe Harris will hit a shot again. But even if things go sideways on Saturday night's climactic Game 7, at least we sent out the 2020-21 season here in Milwaukee in celebratory style.
And who knows, maybe ... just maybe ... no, I can't! Instead, let's look back at Thursday's glorious victory and savor some of the key moments from the amazingness while we still have them. (But maybe STOP IT! SHUT UP, BRAIN!)
1. Brew City showed up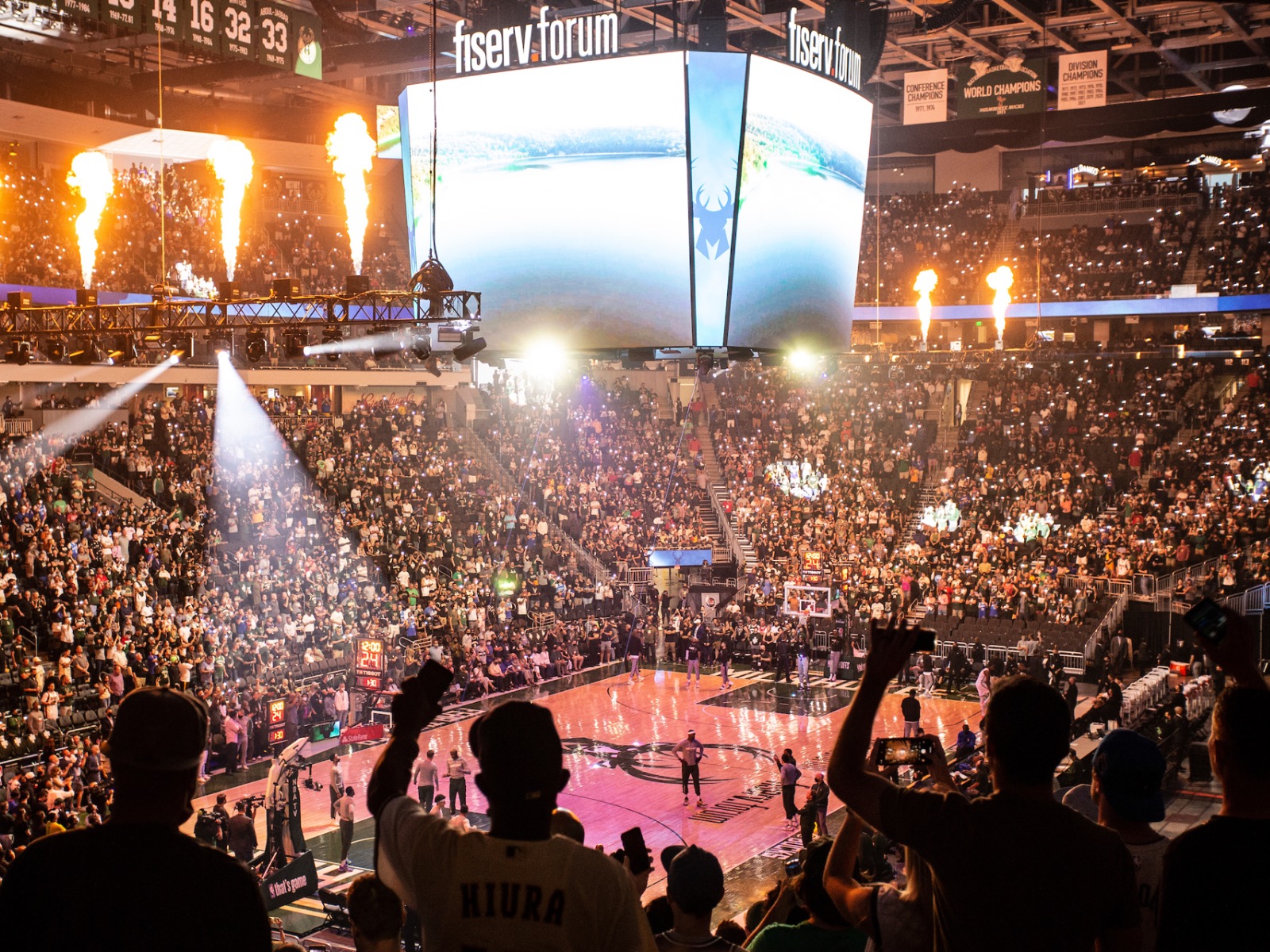 If this was the last home game of the season for the Bucks, Brew City – both on the court and off – showed up. The crowd was loud and proud both inside and outside the arena on Thursday night, giving Giannis and company the extra juice needed to drag this highly-anticipated series to a final game. It's been ugly a lot this series – and I mean A LOT – but Game 6 was a beautiful scene.
2. Electricity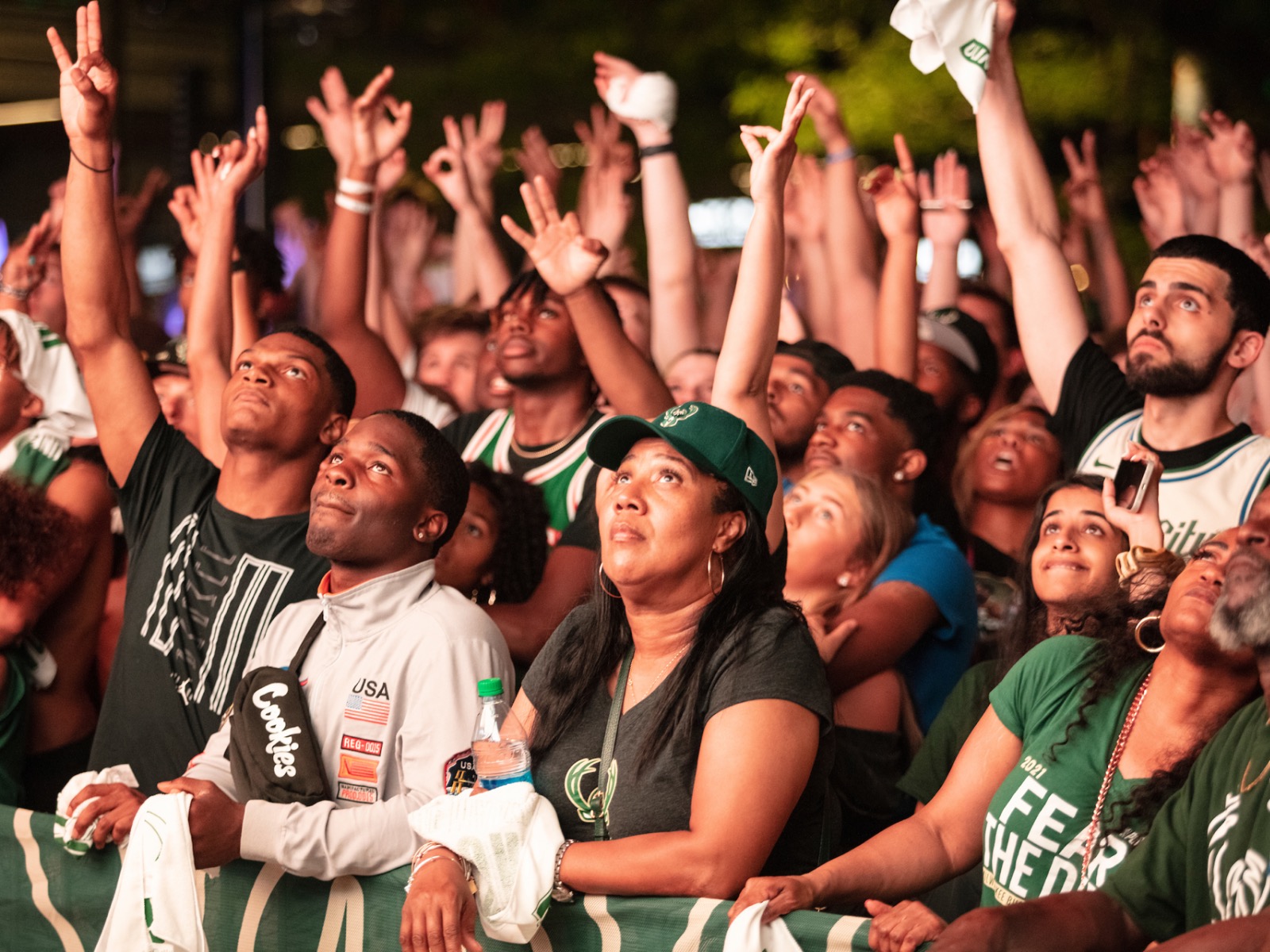 Even with storms in the forecast, Bucks fans gathered in the outdoor plaza in Deer District to set the ideal energized stage for this big-time broadcast. Thankfully the rain and ugly weather held off for the most part, but even though there was no lightning or thunder, there was no lack of electricity in the air Thursday night.
3. Middleton has a moment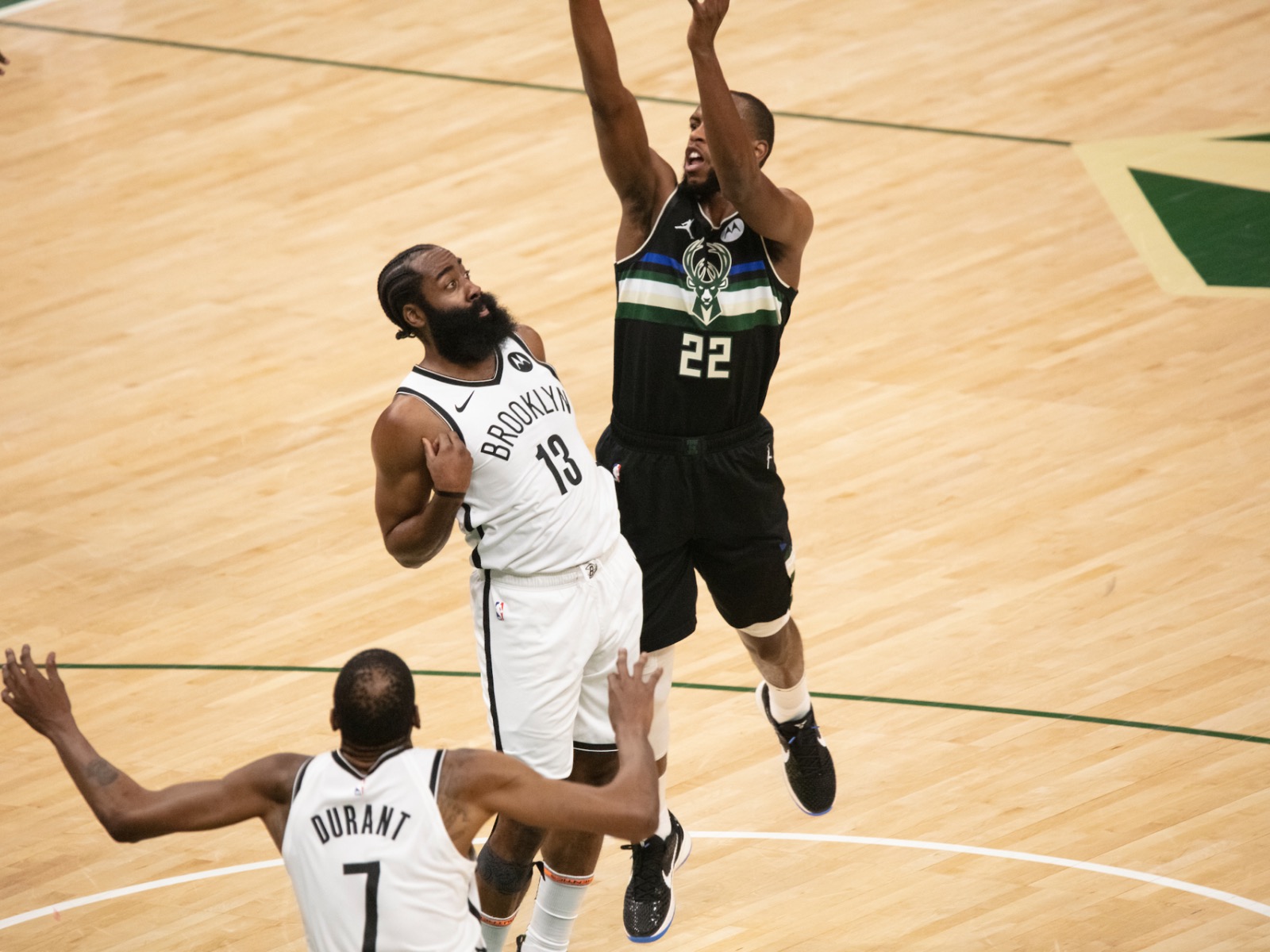 Khris Middleton gets a lot of punishment whenever the Bucks fall short – which is unfortunately pretty regular – but on Thursday night, any criticism got to shut right the heck up. The team's silent second-best player loudly balled out like a number one, doing his best Durant impression, getting to his spots on offense and putting in an impressive 38 points on only 16 shots (including five threes) not to mention ten rebounds, five steals and five assists. He was the best performer in Milwaukee's best game thus far this series – which should silence his critics for, oh, at least a day or so.
4. Antetokounmpower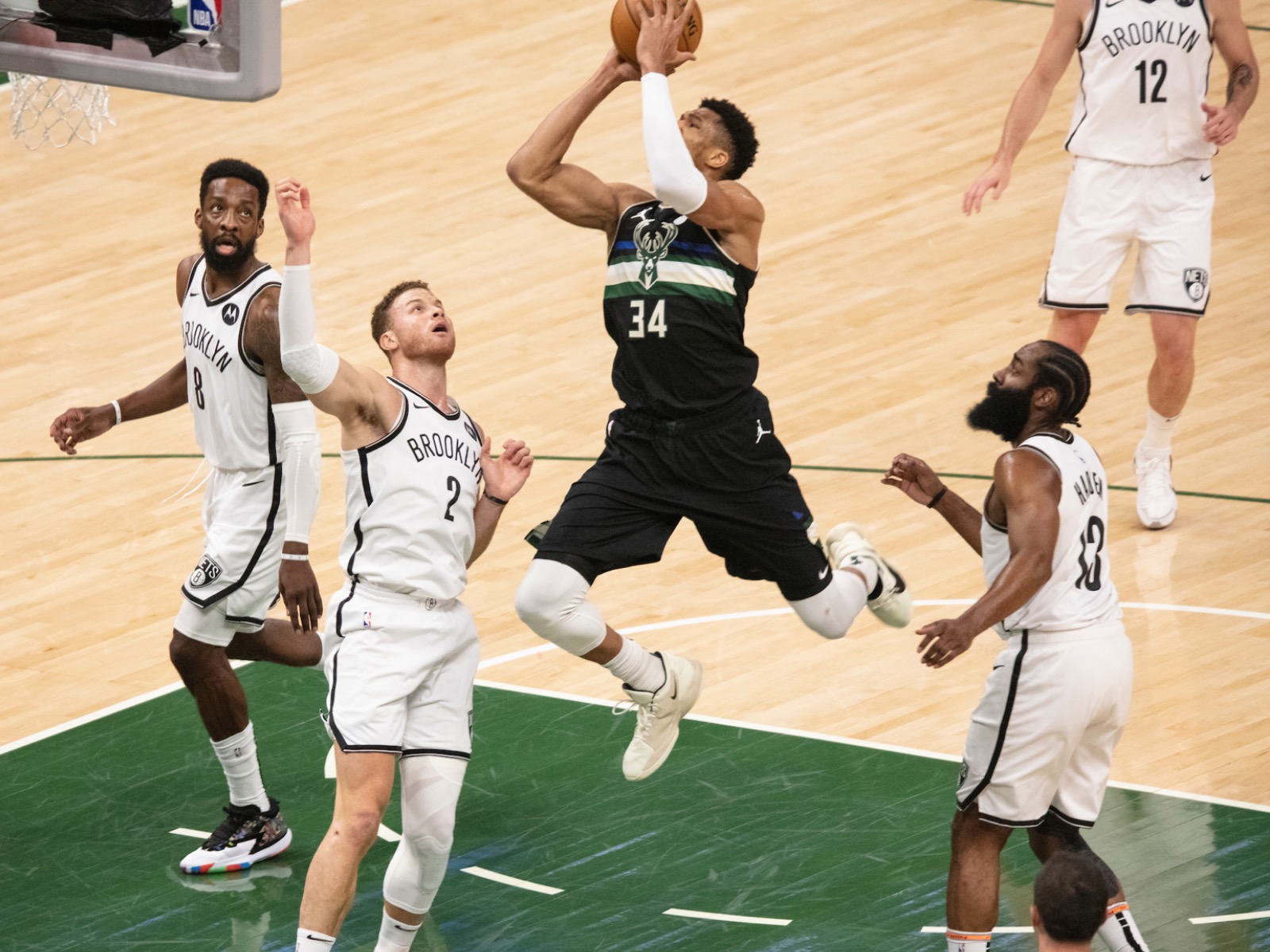 Even though the night belonged to Khris Middleton, the Greek Freak still made his presence known during the crucial Game 6, playing smart basketball and netting 30 points plus 17 rebounds and three assists. And the best stat of all for Bucks fans? Not a single three-pointer attempt. Truly a night for celebration.
5. Gucci Mane of the house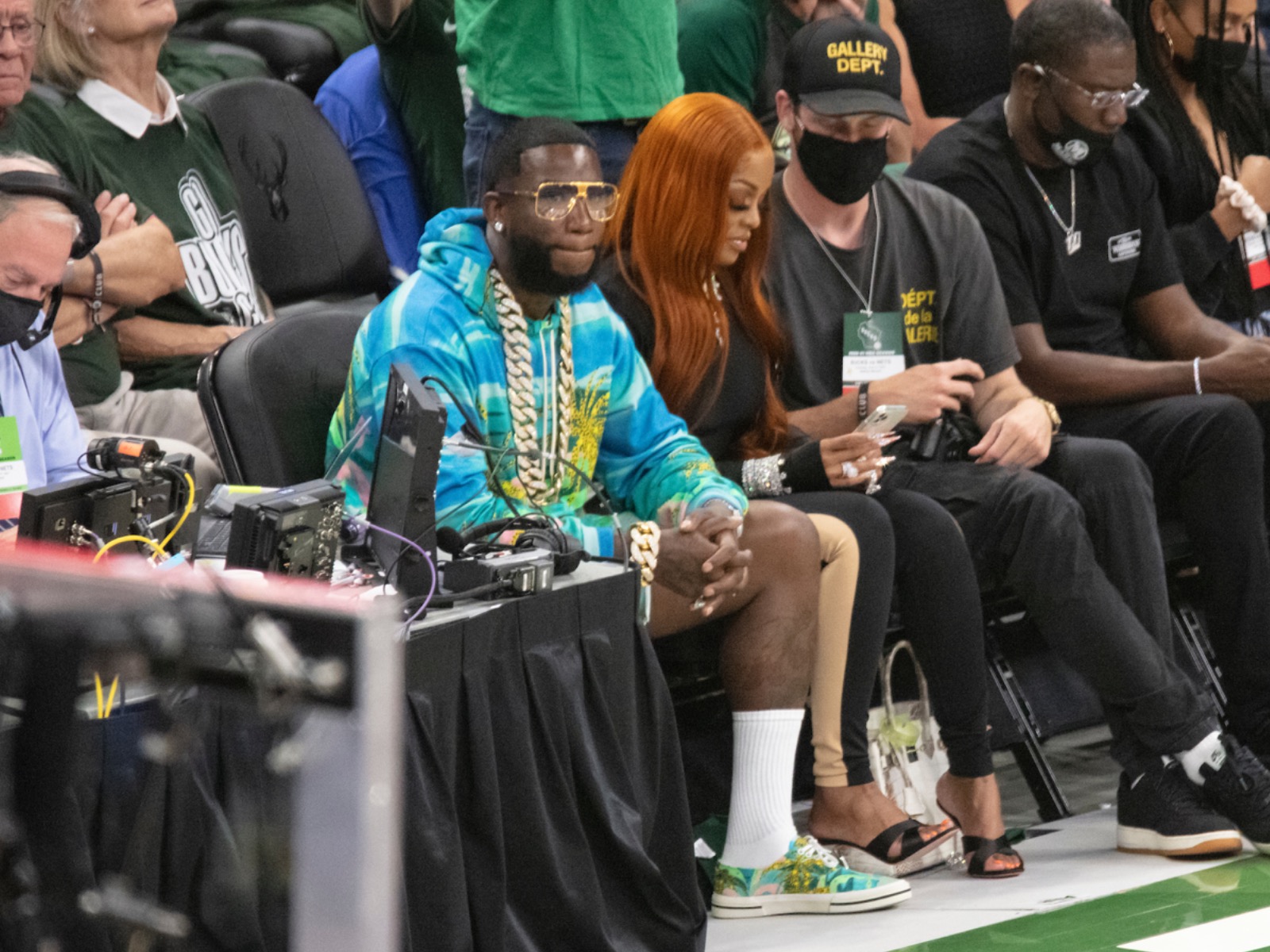 There were no Packers this time in Fiserv Forum – odd that Aaron Rodgers never came to a game; you'd think that would definitely unite the local crowd – but there was the team's unexpected star supporter on the sideline: rapper Gucci Mane. Joined by his wife Keyshia Ka'Oir Davis, Mane got to see a win – though hopefully things go better since the last time he dropped by a Bucks playoff series ...
6. Paint power
GIANNIS DROPS THE HAMMER.

HE DON'T WANNA GO HOME

(via @NBATV)pic.twitter.com/XSbbC9jhFZ — Bleacher Report (@BleacherReport) June 18, 2021
See what happens when you stay in the paint and go to town on smaller players? COOL, WINNING THINGS HAPPEN!
7. Cleaning up the mess
Middleton beats the 3Q buzzer 😮 pic.twitter.com/EjGXwGIqOb — NBA TV (@NBATV) June 18, 2021
The third quarter got a little intense for Milwaukee fans – especially after what happened just 48 hours before to the Bucks. But thankfully Khris Middleton was there with some timely shots to keep the Nets at arms length, including this buzzer-beating clean-up job on a Giannis fastbreak that retained the Bucks' 11-point lead as well as the momentum going into the final frame.
Admittedly, the Nets seemed like they were perhaps content to let this game go and save some energy for Saturday's Game 7. But unlike other games in this series, the Bucks actually took advantage of an opportunity given to them. One does like to see it.
8. The exclamation point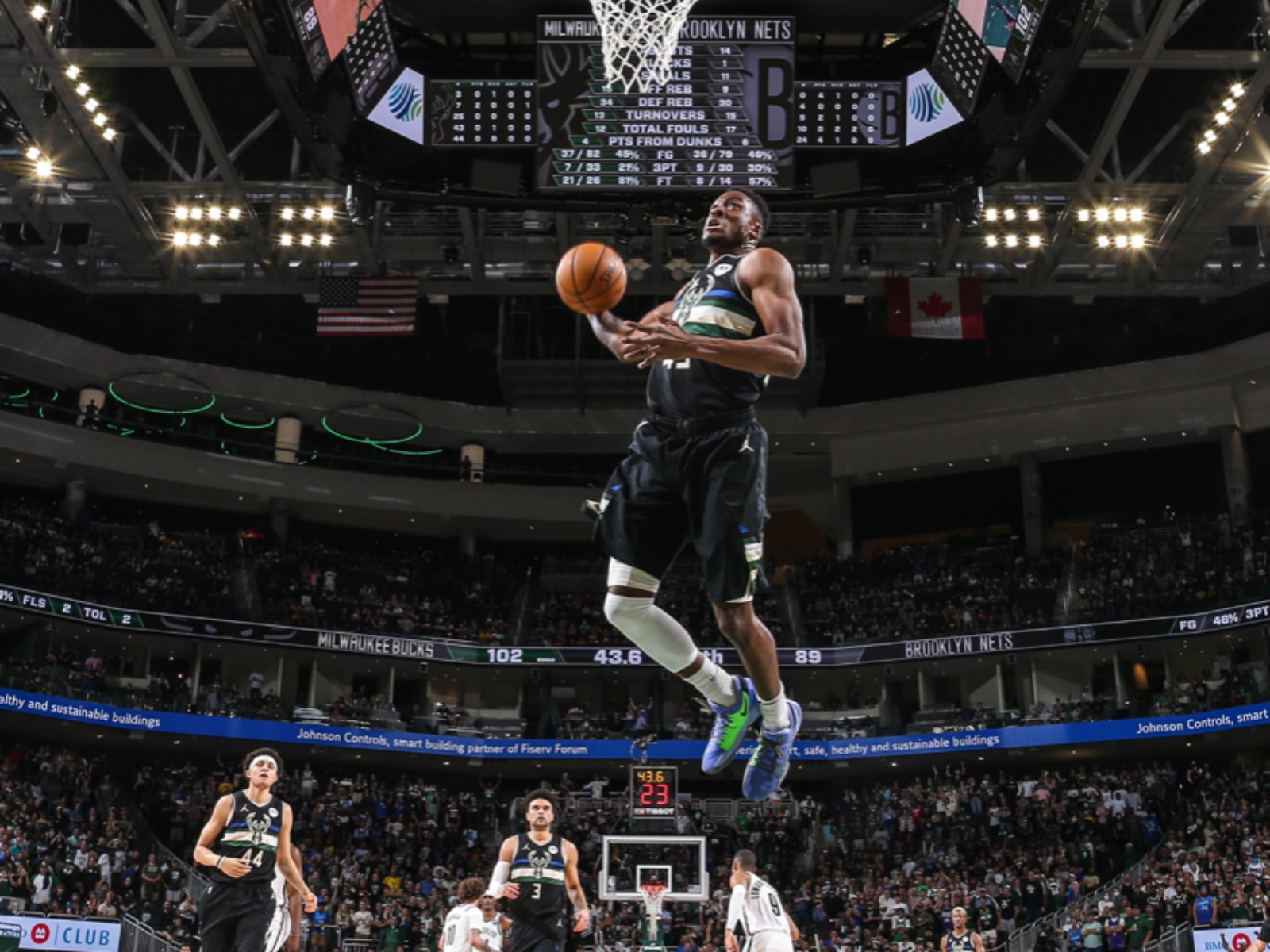 Yeah, sure, this dunk didn't count – and the play before, another monster Thanasis slam was cruelly blocked by the rim. But Thursday night's joyous celebration required fireworks of some kind, and The Human Victory Formation was ready with a lighter and a fuse.
9. Hope they had giveaway shirts at the game
BUCKS WIN!! pic.twitter.com/9QU38cMJlF — Milwaukee Bucks (@Bucks) June 18, 2021
First of all, this guy better have gotten a free shirt from the team store after this bravado display of Bucks berserk-itude. Second, I now feel inspired to run through a brick wall.
10. #BucksInSix is sooooooooo 2013
Bucks fans were chanting "Bucks in 7" at the end of the game 🗣 pic.twitter.com/MvapiMFwk9 — Bleacher Report (@BleacherReport) June 18, 2021
Chanting #BucksInSix is like dabbing or doing the Harlem Shake, old man. #BucksInSeven? Now that's fire ... or is it lit? Are the youths saying either of those anymore? What does TikTok say? The culture: It's moving so fast, and I am so very tired.
11. And now we pray
THE BUCKS FORCE GAME 7! 😤 pic.twitter.com/8eot7vgX9i — SportsCenter (@SportsCenter) June 18, 2021
The ultimate stage is set. Game 7: the peak of athletic competition. Time to toss some kind thoughts and words up to the sports gods. They haven't been gentle to Milwaukee – but maybe they'll smile on us for once on Saturday night (if probably just to set us up for an even bigger heartbreak down the line).
As much as it is a gigantic cliché to say that one has always had a passion for film, Matt Mueller has always had a passion for film. Whether it was bringing in the latest movie reviews for his first grade show-and-tell or writing film reviews for the St. Norbert College Times as a high school student, Matt is way too obsessed with movies for his own good.
When he's not writing about the latest blockbuster or talking much too glowingly about "Piranha 3D," Matt can probably be found watching literally any sport (minus cricket) or working at - get this - a local movie theater. Or watching a movie. Yeah, he's probably watching a movie.