For first time in 50 years ... actually, since those Bucks never received a parade, that doesn't apply here. For the first time in history, the NBA champion (!) Milwaukee Bucks received a victory parade, drinking and weaving and drinking some more through the streets of Downtown before arriving at Deer District for a proper staged NBA Finals celebration (and even more drinking). All the while, Bucks fans from near and far cheered the team along their path ... and tossed them a few bonus celebratory beers from the sidewalk.
It was messy. It was loud. It was hot and sweaty. And it was utterly and completely glorious, an ecstatic rejoicing half a century in the making. Let's do this again, Milwaukee – and not with a 50-year wait next time – and let's keep soaking in one of the greatest days in Brew City history with these blissful images.
1. Counting our Kohl's cash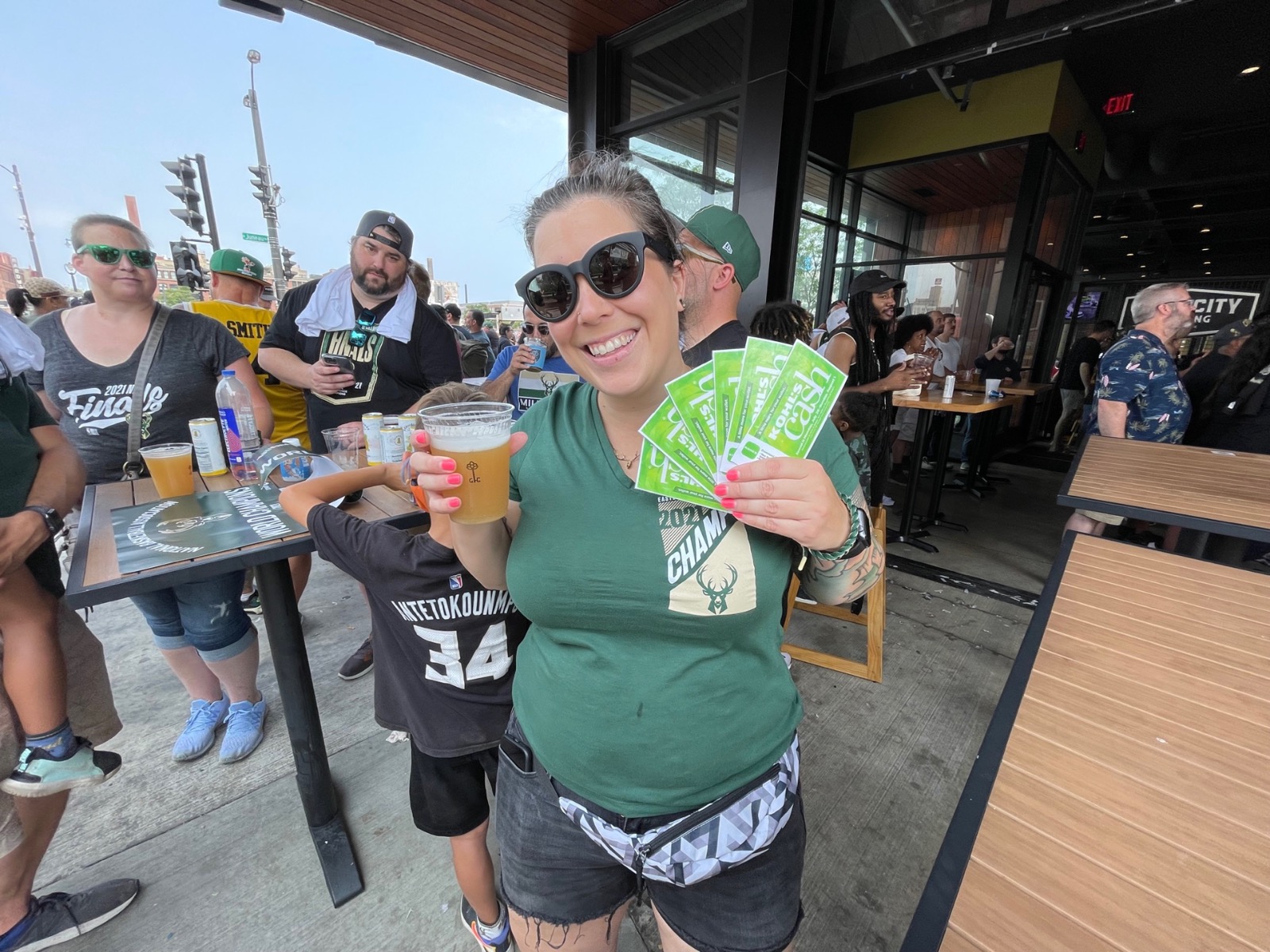 The Suns may have been eliminated, but the spirit of Counting Hundreds Bro lives on – albeit with a far better twist.
2. Early weekend starts now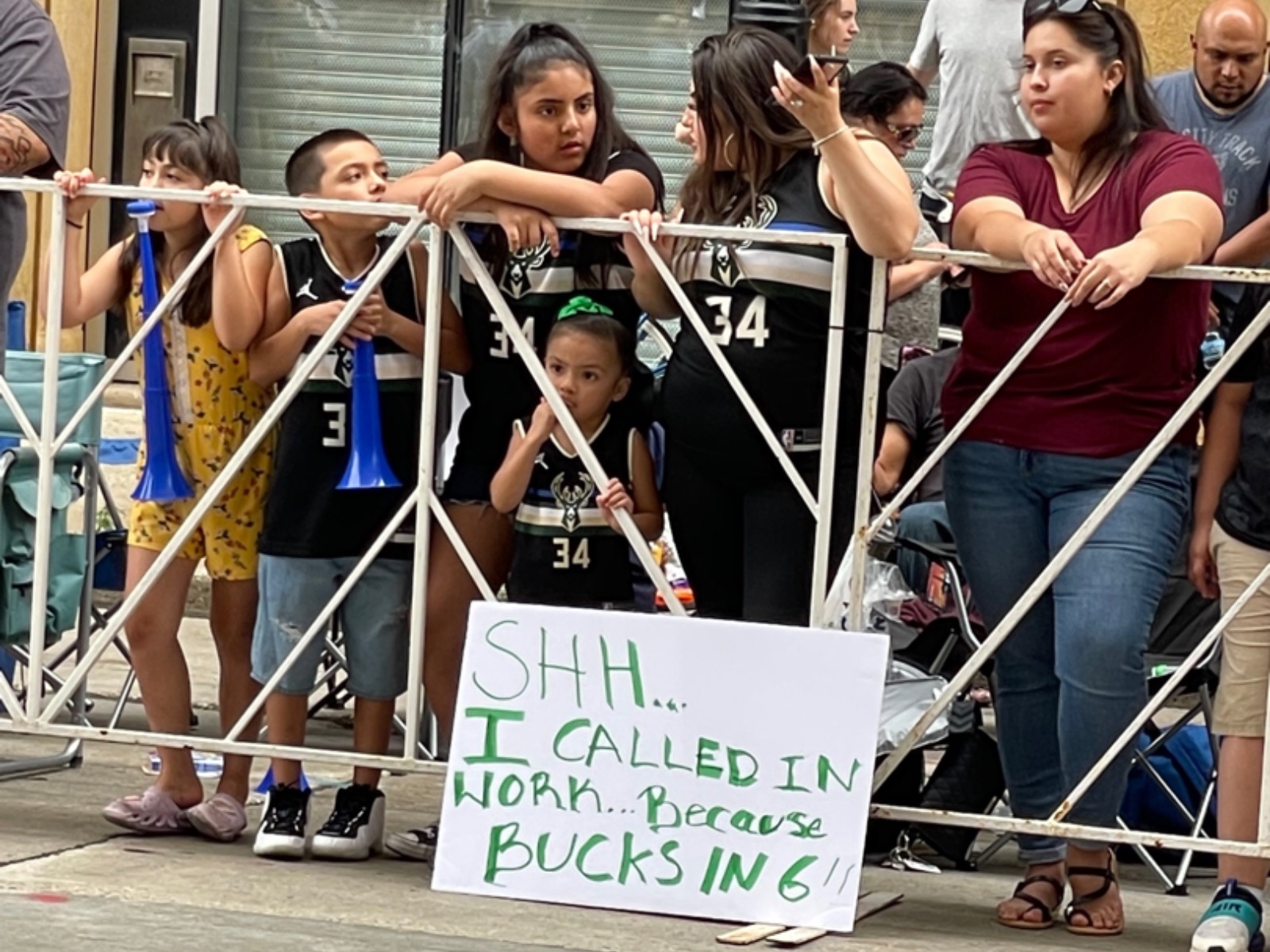 Your secret's safe with us.
3. Leader of the herd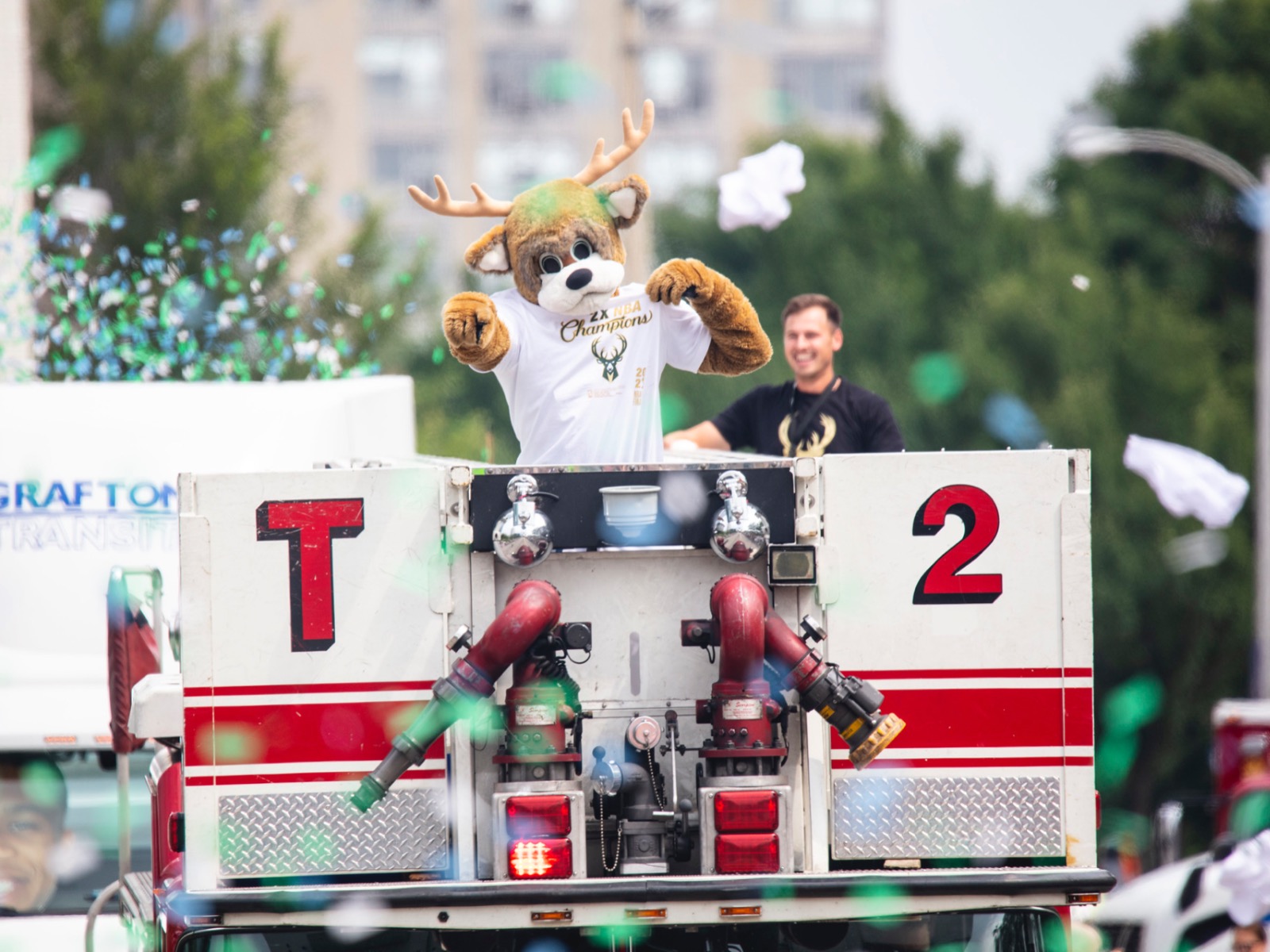 We found something we love watching Bango do even more than acrobatic slam dunks: leading a victory parade.
4. The prophet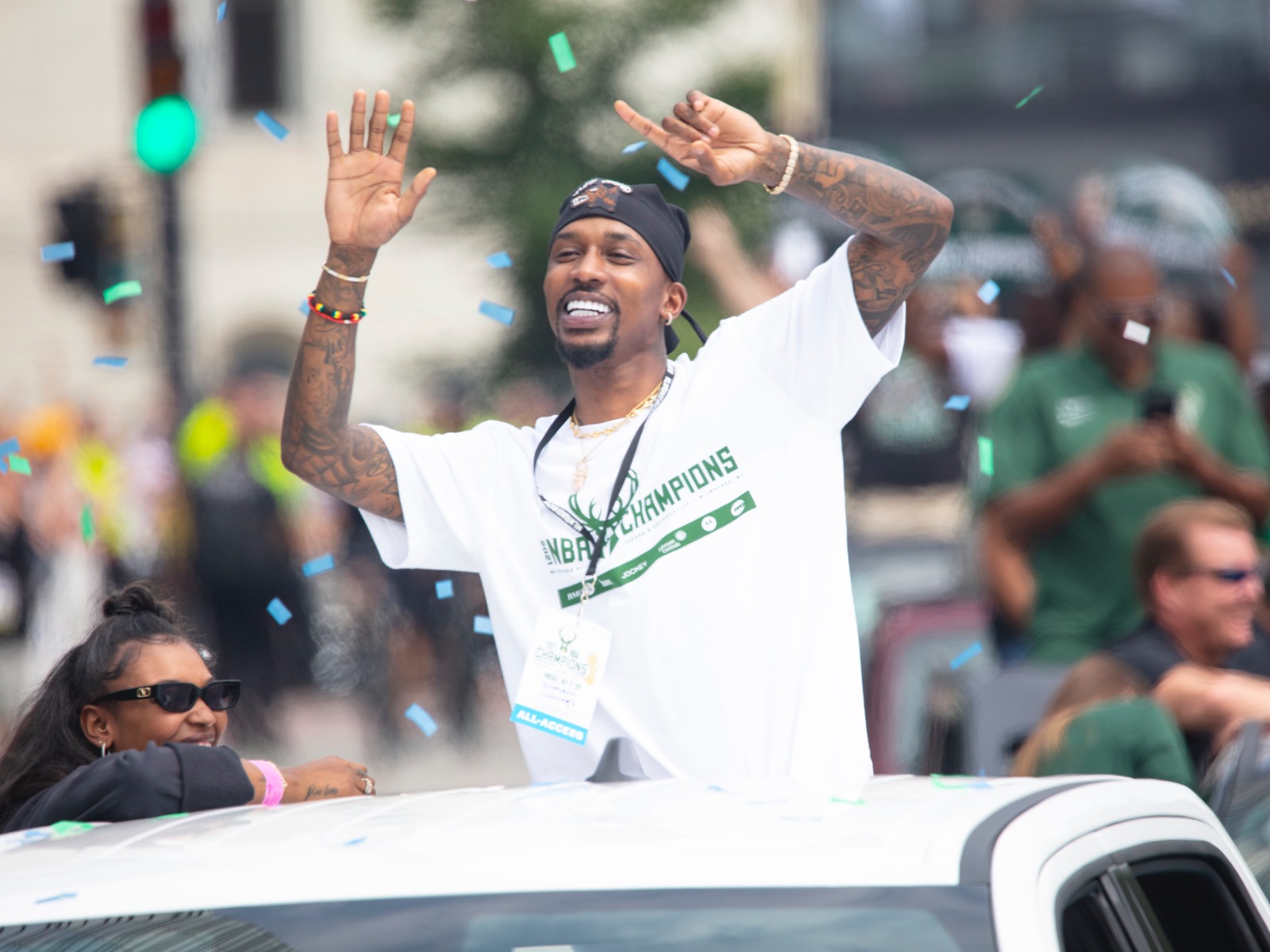 Brandon Jennings continued preaching the gospel of #BucksInSix during Thursday's parade – and the word was good, indeed.
5. Bud knows best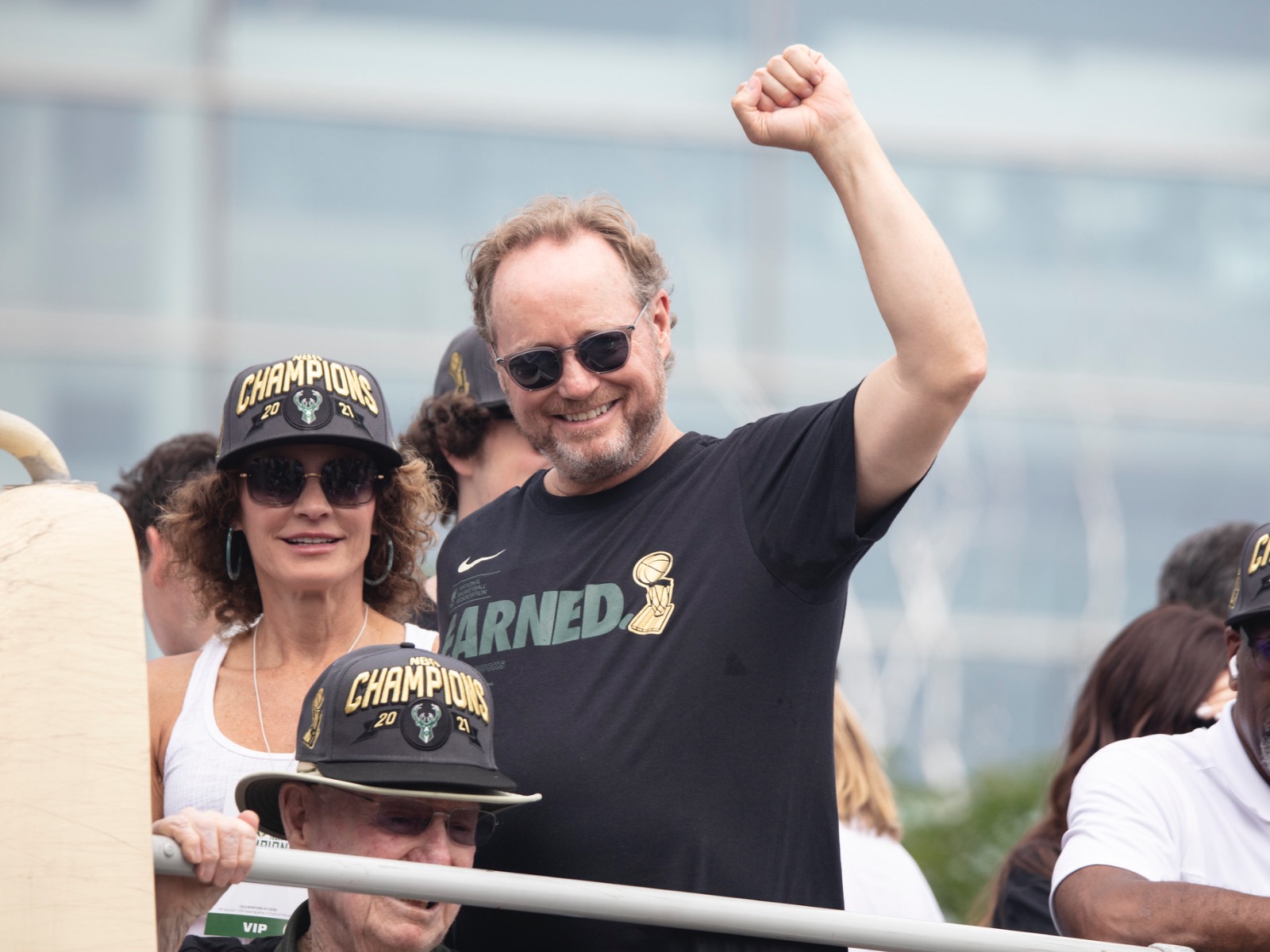 For much of the past season, Coach Mike Budenholzer was on the hot seat. On Thursday afternoon, he was in a seat at the front of a victory parade.
6. P.J. and champagne: a love story (part one)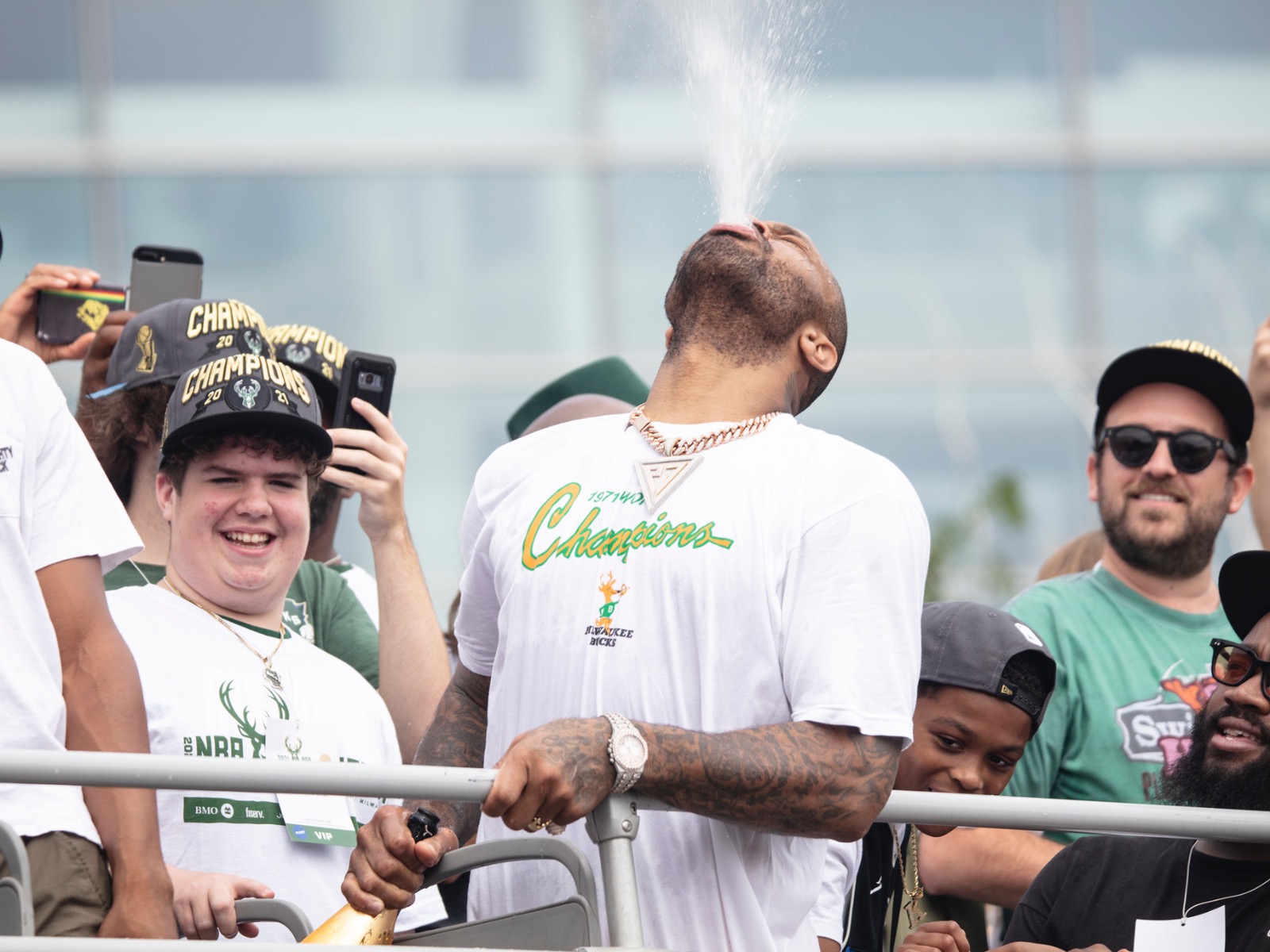 Bucks fans got used to watching P.J. Tucker sloppily chug champagne throughout the day's celebrations – and they also never got tired of it. Considering the defense he played on the likes of Kevin Durant, Devin Booker and more this past playoff run, he earned every drop.
7. Drink up, Donte
.@Divincenzo, a man of the people! pic.twitter.com/jdggIidrPa — Milwaukee Bucks (@Bucks) July 22, 2021
Donte DiVincenzo may have had to sit for most of the playoffs due to a tendon injury, but he looked pretty spry and active on Thursday afternoon, snagging beverages out of the air and swigging them down with the Bucks faithful.
8. Bobby! Bobby! Bobby!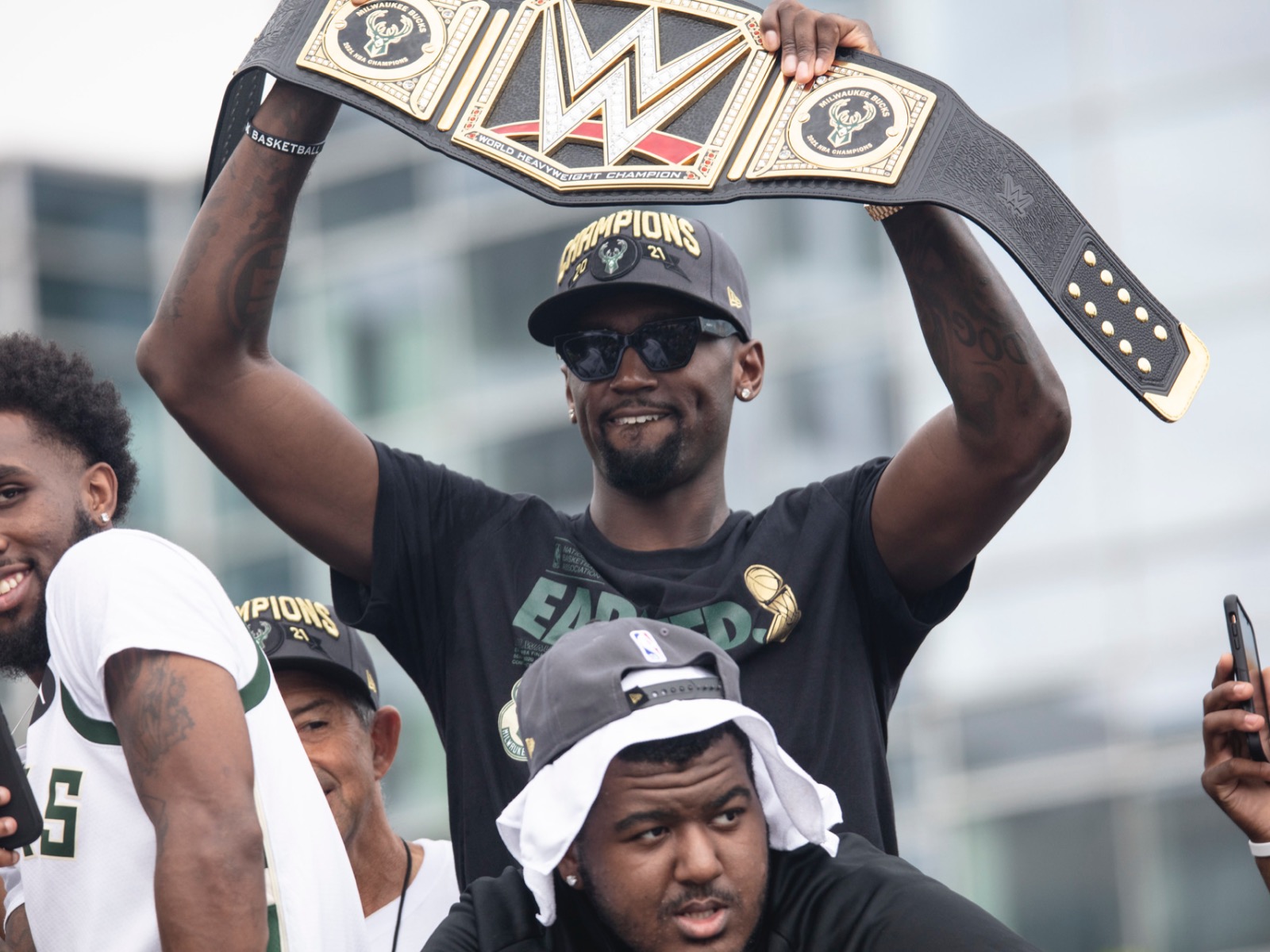 The future mayor of Milwaukee apparently claimed another title before the parade: WWE champion. No, it's not just a rinky-dink fake; like Bobby Portis' off-the-bench impact, it's the real deal.
9. Meet the guest of honor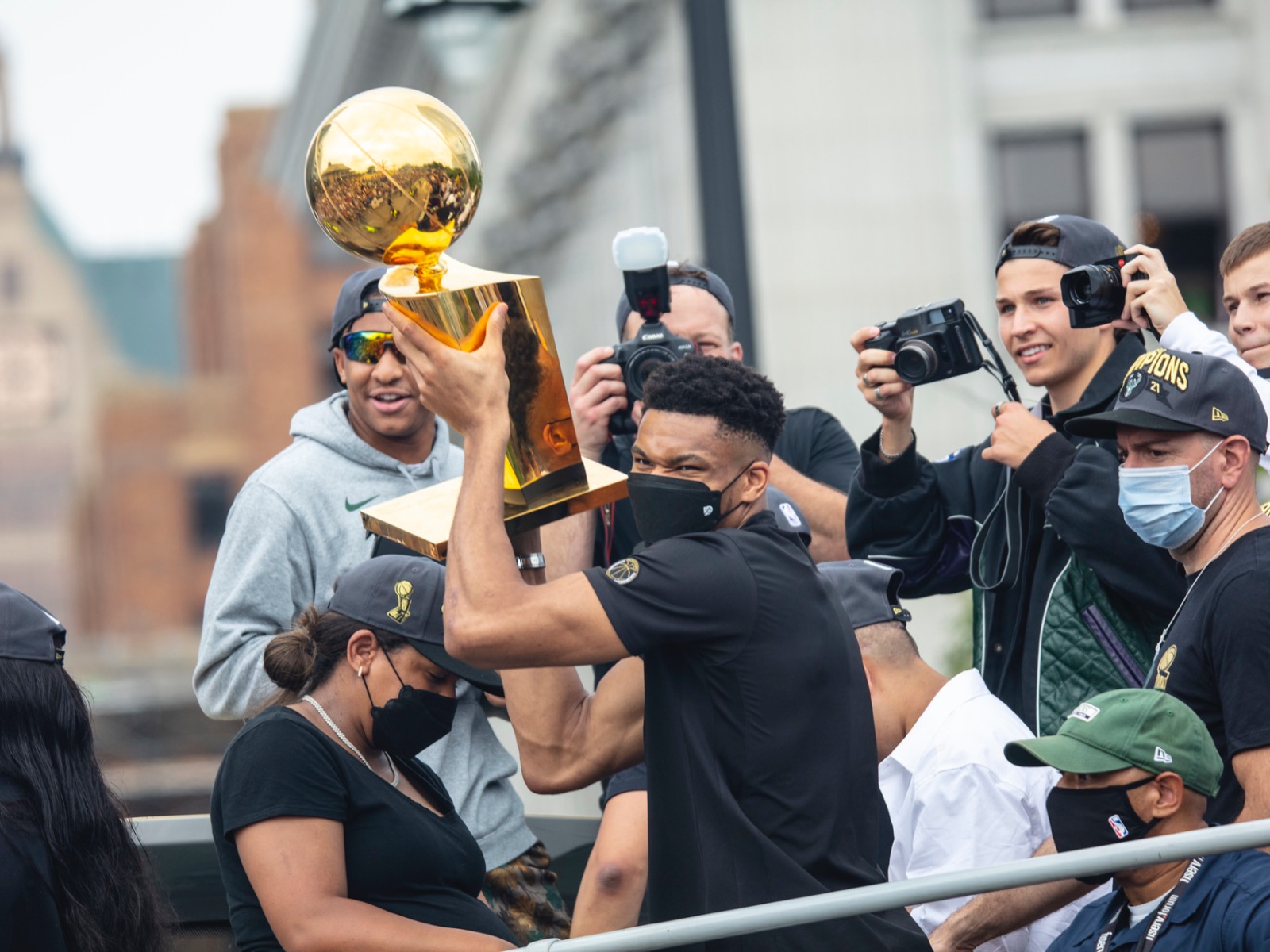 Finals MVP Giannis showed off the guest of honor at the Bucks' celebration parade: the Larry O'Brien trophy. He's only been in town for a few days, but we already think he fits right in here in Milwaukee.
10. His proper title – returned
"MVP!"

Giannis & the @Bucks parade crowd. 🏆pic.twitter.com/d2Ezeo9CQH — NBA (@NBA) July 22, 2021
When Giannis won his first MVP honor back in 2019, he told Milwaukee fans not to call him MVP until he was a champion. Well, now he's a champion, so Milwaukee fans greeted him with his proper, twice-well-earned title.
11. Take all the time you need now
Giannis really shot a free throw from the parade bus 😂 pic.twitter.com/0k7W55HdAw — Milwaukee Bucks (@Bucks) July 22, 2021
His form certainly looks good to us. Here's to Giannis recreating his 17-for-19 performance from the charity stripe even more in the future.
12. P.J., now cheating on champagne with beer
PJ pounding champagne with Khris pic.twitter.com/N4UbF5MW7M — Paul Henning (@brewcitypaul) July 22, 2021
P.J.'s drink of choice on Thursday afternoon may have been champagne, but when you win a title for Brew City, you gotta chug a beer too.
13. Looking good, Milwaukee
The champs are here! pic.twitter.com/tqGFWFypFK — City of Milwaukee (@cityofmilwaukee) July 22, 2021
Brew City's been one of the most glorious sights throughout the postseason thanks to the wild scenes at Deer District – and we didn't quit on Thursday afternoon, filing the sides of Downtown's streets by the thousands and throwing an incredible party 50 years in the making.
14. The human victory formation got to the victory parade
Thanasis is in health and safety protocols, so he did his intro from the car 🙏 pic.twitter.com/KSxtwZv2oj — Bleacher Report (@BleacherReport) July 22, 2021
Thanasis didn't let being in health and safety protocols stop him from celebrating the greatest achievement in his professional career. Instead, for the stage portion of the day, Thanasis made his grand entrance from the safe distance of his Jeep – and will all of the chaotic, joyful and contagious energy you'd expect from him.
15. Leader of the pack
"We got dogs. They just don't know how to BE dogs."

P.J. says that mentality was already in Milwaukee pic.twitter.com/lyYSztRGdL — Bleacher Report (@BleacherReport) July 22, 2021
The Bucks were a very good team before P.J. Tucker arrived midway through the season from Houston – but with the vet's additional toughness, grit and – yes – doggedness, Milwaukee became a champion. We'd love to see him back in cream and green next season ...
16. P.J. and champagne: a love story (part two)
Dogs. pic.twitter.com/a3NdrI5OHZ — Bobby Tortoise (@BurnerBobbyP) July 22, 2021
Milwaukee will always be Brew City – but this week, we may just have to call ourselves Bubbly City thanks to P.J. Tucker and his ravenous celebrations on Thursday. Pat Connaughton and Bobby Portis would be proud.
17. Dreams of streamers
🎉🏆 pic.twitter.com/HzAbT6qTgE — NBA (@NBA) July 22, 2021
Those streamers are so lucky to be graced by Giannis' shoulders. Truly some blessed party decor.
18. The king
Look, Giannis. Everything the light touches is your kingdom. pic.twitter.com/woSGA0oaMu — Jenny Fischer (@jennylynnfisch) July 22, 2021
Between the Giannis block, that viral image of the team picking the Greek Freak up off the floor and now this gorgeous image, the Bucks have their pick of future statues outside Fiserv Forum.
As much as it is a gigantic cliché to say that one has always had a passion for film, Matt Mueller has always had a passion for film. Whether it was bringing in the latest movie reviews for his first grade show-and-tell or writing film reviews for the St. Norbert College Times as a high school student, Matt is way too obsessed with movies for his own good.
When he's not writing about the latest blockbuster or talking much too glowingly about "Piranha 3D," Matt can probably be found watching literally any sport (minus cricket) or working at - get this - a local movie theater. Or watching a movie. Yeah, he's probably watching a movie.