The Bucks unveiled a set of interior renderings for the new Downtown arena on Thursday, providing a glimpse of the unique features that will help define the social experience of attending events in the new building.
Work on other buildings in the arena complex – which also includes a team training center and an entertainment block – is expected to begin soon.
Construction of the primary #Bucks development -- arena, plaza, training facility, office building -- will begin within the next 8 weeks. — Jimmy Carlton (@jimmycarlton88) May 5, 2016
The preliminary images showcase proposed designs for the main concourse along the south side of the arena, an event-level club near the Bucks' tunnel, a concourse-level bar with views to the court, and the unique "panorama club" at the top of the bowl.
Panorama Club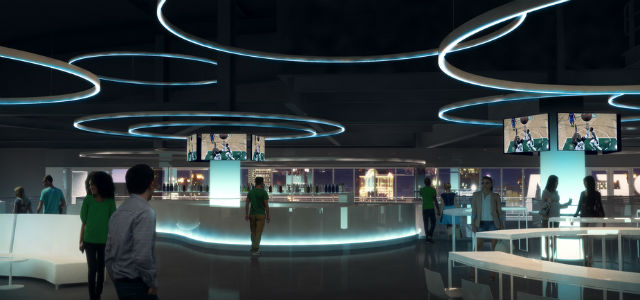 The vision for the main concourses includes spacious walkways to facilitate easy navigation throughout the building with plenty of natural light and views of the surrounding cityscape. The vaulted ceilings and exposed upper concourses will provide a sense of continuity between all levels of the arena.
The club space rendering is representative of a handful of exclusive spaces in the building that will feature high-end finishes and amenities, giving Bucks fans and event-goers a unique environment in which to socialize before, during and after arena events.
Courtside premium club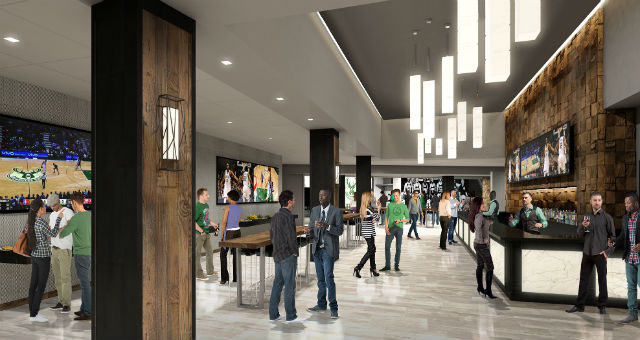 The concourse-level bar and Panorama Club are both examples of the many unique spaces in the building that will be accessible to all fans, providing the opportunity to socialize outside of the bowl while still enjoying unique views of the action on the floor.
Panorama Club: Bowl view
The 714,000-square foot arena will be home to Milwaukee Bucks basketball and countless sports and entertainment events. The arena design features an intimate bowl optimized for basketball viewing with the majority of the seats in the lower level closer to the action, while still providing the flexibility to host hockey games, end stage and center stage concerts, family shows, circuses and ice events, as well as open-floor exhibitions.
Public bar on main concourse
The Bucks tapped Populous last year to lead a group of prominent global, national and local architects including Wisconsin-based firms Eppstein Uhen and HNTB for the new arena and master plan of the entire development.
The public groundbreaking event for the new arena is scheduled for Saturday, June 18 (visit bucks.com/blockparty for more information), with construction scheduled to be completed in time for the start of the 2018-19 NBA season.
South Main Concourse (Highland Avenue)
To view more previously released renderings of the exterior and interior of the new arena, visit the Bucks' website.