For the 10th straight year, October is Dining Month on OnMilwaukee, presented by the restaurants of Potawatomi Hotel & Casino. All month, we're stuffed with restaurant reviews, dining guides, delectable features, chef profiles and unique articles on everything food, as well as voting for your "Best of Dining 2016."
Cafe Lulu
2265 S. Howell Ave.
(414) 294-5858
lulubayview.com
Unlike seemingly everyone else in Milwaukee over the last decade, I haven't yet jumped on the Bay View bandwagon (it's actually a fixed-gear bike). But, just like seemingly everyone else in Milwaukee who's ever been to the funky café and bar at the intersections of Kinnickinnic, Lincoln and Howell Avenues in the neighborhood, I do love Lulu.
A three-time OnMilwaukee winner for best sandwiches, the expansive and eclectic menu has an excellent assortment of burgers, pitas, melts, baguettes and buns, all of which deliver a diversity of mouth-wateringly fresh ingredients to please everyone from the Bay View vegan to the Cudahy carnivore and all the suffix tarians and ambivalent eaters in between.
There are house-made pizza appetizers, exotically enticing salads – including a modernized Lulu Waldorf Chicken Salad – two-dozen types of sandwiches, a daily soup that deserves more prestige than just another du jour (on this night it was turkey gumbo with andouille sausage) and a hearty brunch menu, too.
Oh, and that Asian slaw. I just can't quit it. My story, a slaw story, is below.
Type of food: Eclectic American, featuring sandwiches and salads.
Prices: $7.95 to $10.95
Vegetarian friendly: Of course! There are lots of salads, hummus and vegetable pitas, fancy cheese melts, fish and portabella sandwiches and more.
Hours: Open from 11 a.m. to 10 p.m., Monday through Thursday, 11 a.m. to 11 p.m., Friday and Saturday, 11 a.m. to 9 p.m. on Sunday.
Parking: Even at such a crowded intersection on Bay View's main drag, street parking is available (and even attainable), plus a small next-door lot and plenty of places a couple blocks away.
Vibe/dress: Casual, laid back. Inside, it's chill even when busy, with spacious table seating, an often-crowded bar and pleasant staff.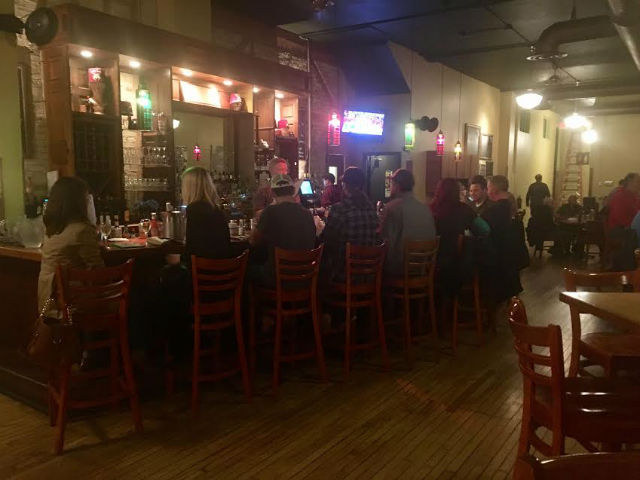 With two friends visiting from Washington, D.C. (home of the federal government and Ruth Badger Ginsburg!) and more hungry than happy to see me, I knew the pressure was on to give them not only a great meal, but also a taste of Brew City's zesty culture. Repeatedly – relentlessly! – referring to things as "hip" and "trendy" (as in, "yeah, this area's pretty hip" and "that parking spot was really trendy, right?"), I was saved from potentially calling the Smokehouse Chicken Sandwich "hella dope" by our waitress, Sally, who was actually cool and also super helpful.
She counseled us on the best beer pitcher special – taking in our preferences, which ranged from price to type to alcohol content and then back to price – and gave perhaps the best, most direct suggestion to my friend on what to order. Usually, when you ask a server for a recommendation, he or she will make sure to tell you that all of the choices are good, which probably isn't true and definitely isn't helpful. Alternatively, Sally assuredly advised my waffling friend to get the Big Kahuna Tuna sandwich because the yellow fin tuna steak was very fresh, it was a unique ensemble – coming in a double layer of slaw with a spicy sesame oil-rice wine vinaigrette and wasabi mayo – and, most importantly, the chef always grilled it up to perfection.
Sally was right, the chef did and my friend, who'd said she was already intrigued by the sandwich anyway because "Kahuna is one of my favorite words," was very happy with it.
I got the Smokehouse Chicken Sandwich, which was indeed hella dope, as it always is, with a massive but well-cooked chicken breast, seasoned and spiced, accompanied by sharp cheddar, crisp bacon, red onion, lettuce and tomato and a whole lot of satisfaction. My other friend ordered the East Indian Chicken Pita – a plump chicken breast marinated in spices and yogurt, grilled and topped with lime-cilantro marinated onions and served with a cucumber yogurt sauce – and it disappeared from the plate in minutes.
For our sides, we all got a little bit of both the house-made potato chips and the Asian slaw, and that is incontrovertibly the only way to do it. Oh man, that slaw.
After polishing off the rest of the pitcher of Two Brothers' Atom Smasher Octoberfest, we declared ourselves contentedly full, which is the best kind of full – and that's the wonderful thing about Lulu; you're eating such well-prepared and combined ingredients that taste so good you don't even realize they're actually light and healthy; this was a new conceptual experience for me – got a fun, friendly goodbye from Sally even though we were the last table to leave before closing time and then made our way back Downtown from Bay View.
Befitting its neighborhood, Café Lulu is cool. More importantly, it's very good. Also, did I mention the Asian slaw?
Born in Milwaukee but a product of Shorewood High School (go 'Hounds!) and Northwestern University (go 'Cats!), Jimmy never knew the schoolboy bliss of cheering for a winning football, basketball or baseball team. So he ditched being a fan in order to cover sports professionally - occasionally objectively, always passionately. He's lived in Chicago, New York and Dallas, but now resides again in his beloved Brew City and is an ardent attacker of the notorious Milwaukee Inferiority Complex.
After interning at print publications like Birds and Blooms (official motto: "America's #1 backyard birding and gardening magazine!"), Sports Illustrated (unofficial motto: "Subscribe and save up to 90% off the cover price!") and The Dallas Morning News (a newspaper!), Jimmy worked for web outlets like CBSSports.com, where he was a Packers beat reporter, and FOX Sports Wisconsin, where he managed digital content. He's a proponent and frequent user of em dashes, parenthetical asides, descriptive appositives and, really, anything that makes his sentences longer and more needlessly complex.
Jimmy appreciates references to late '90s Brewers and Bucks players and is the curator of the unofficial John Jaha Hall of Fame. He also enjoys running, biking and soccer, but isn't too annoying about them. He writes about sports - both mainstream and unconventional - and non-sports, including history, music, food, art and even golf (just kidding!), and welcomes reader suggestions for off-the-beaten-path story ideas.