It was only five years ago that Canni (pronounced "can-eye") Hemp Co., located at 810 S. 5th St., became Milwaukee's first CBD and hemp specialty shop.
"The big question in a lot of people's minds was: 'Can I get cannabis products here?' It was a question within the name and the answer was yes," said Canni Hemp Co. owner Colin Plant. "We can help facilitate that, and we started as a health and wellness-focused brand and continued to be very focused on the wellness aspect of leisure."
This year, Canni Hemp Co. will once again evolve and push forward the market, opening a cafe and infusion bar in its Walker's Point space. With its grand opening Friday night, Canni Infusion Bar & Cafe will become a first of its kind bar for Milwaukee, carrying botanical drinks with kava, canna and functional mushrooms.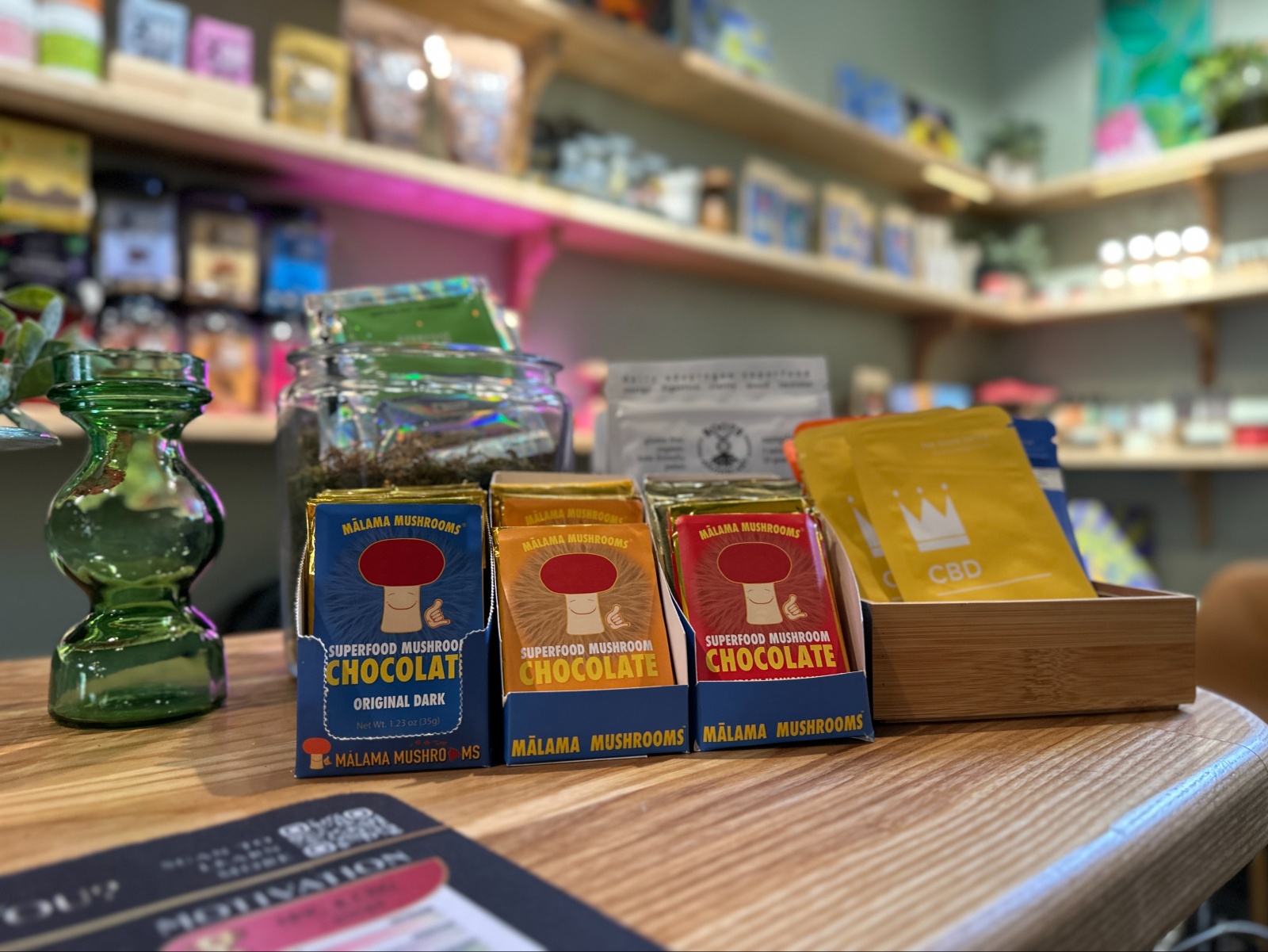 One of the star components of Canni's new concept is kava, an increasingly popular plant-based extract that elevates mood and delivers a feeling of relaxation as well as a buzz similar to an alcoholic drink – but without feeling the effects of a hangover.
"I first found kava like 20 years ago in Hawaii, then five or six years ago when I was in Tampa – a big kava scene," Plant explained. "You can go five blocks anywhere and you'll run into kava bars. I was intrigued by it, and it was a really interesting subculture."
Planted noticed the range of kava use in the cafes he visited and decided to bring that influence to his business for Milwaukeeans to enjoy.
"You go into these little cafes and you see all walks of life sitting there drinking kava," said Plant. "It was kind of cool; they treat it like a cafe but around happy hour it converts into a bar social setting. I found it fascinating. When I came up here, I was trying to do more research and nobody was doing or knew what it was.
"We started carrying canned beverages and gummies with kava in it and now it's a focus of what people can enjoy here."
Canni Infusion Bar & Cafe's opening menu includes kava as a part of its "choose-your-own-adventure"-style offerings. Customers can order classic cafe drinks – such as the pour-over coffee, cold brew, latte and more – and crafted drinks, then choose whether they want them classic, infused with kava or one of the bar's other infusion options (including hemp-derived THC, full spectrum CBD or a Malama mushroom blend), or with a traditional spirit like vodka, gin or tequila.
"The root of our business and brand is cannabis but there are so many botanicals, plant derivatives and adaptogens that can provide this euphoric and enjoyable experience – kava, canna and functional mushrooms," Plant said.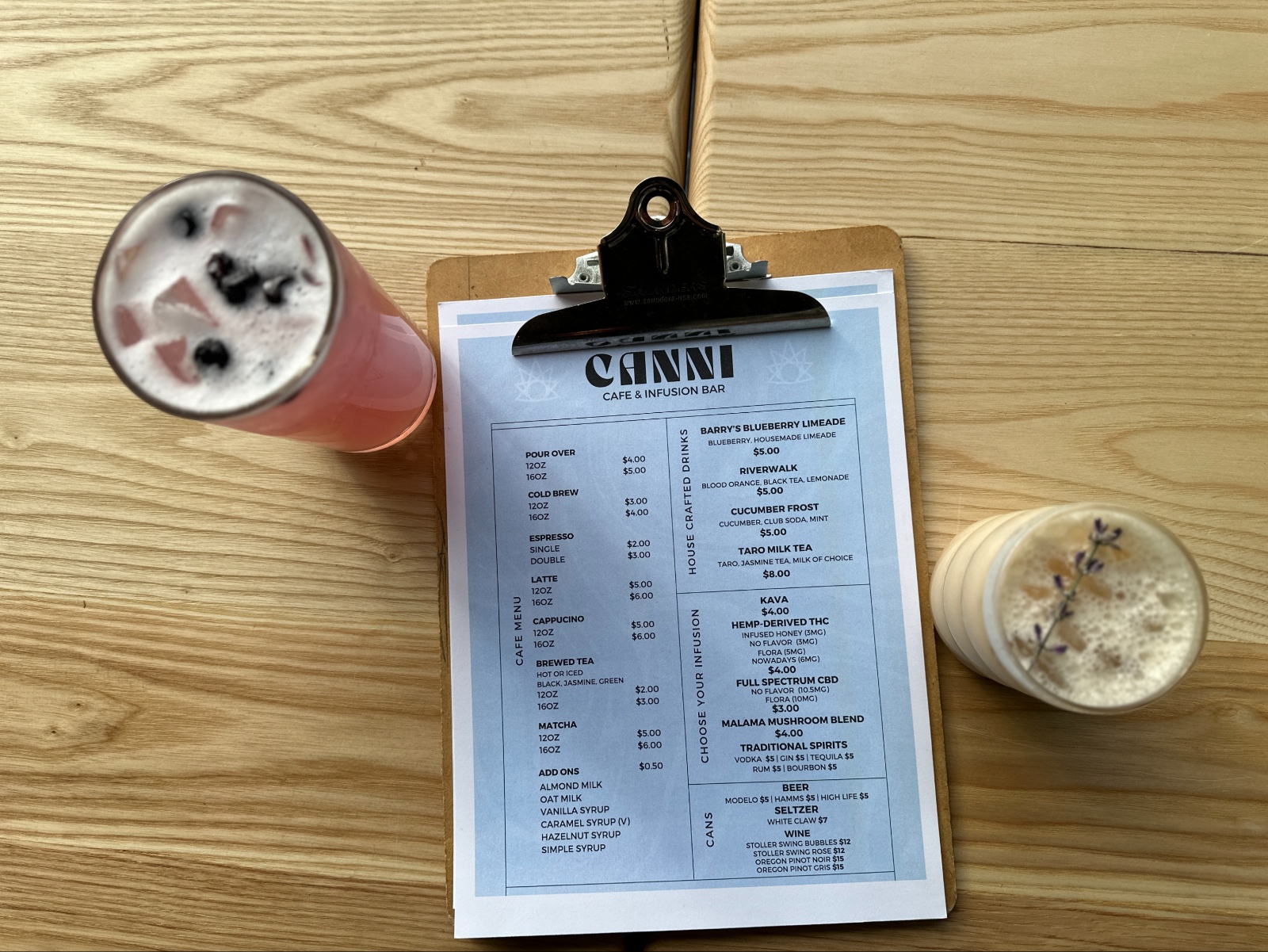 Some of the house-crafted drink options on Canni Infusion Bar & Cafe's grand opening menu include Barry's Blueberry Limeade, taro milk tea and more. If you're not sure where to start with infusion drinks, the taro milk tea may just be the way to go.
"The taro milk tea idea actually came from (co-worker) Bella," said barista and mixologist Moonie Swaser. "It's a milk of your choice but I recommend oat since it adds to it a lot. We also add jasmine green tea from Rishi MKE, in-house tauro syrup – which is made of tauro and ube mix – and kava.
"It pairs so well with kava, and it mixes right in with the creaminess of the milk. It's turned into a house favorite."
However, you have to be patient since the taro milk tea has to be shaken for two minutes to activate the kava. Plus, when you're sipping on your tea, you will feel a mouth-tingling sensation from the kava.
"We shake that separately in our aluball shaker," Swaser explained. "We do a cold-water activated one which is two minutes of the brute force shaking. What that does is help give you the euphoric upbeat feeling."
If you're not quite sure aobut indulging in botanicals, Canni Infusion Bar & Cafe offers other alternatives in the hopes of having something for everyone.
"To have a bar/cafe without being able to serve liquor in the city of Milwaukee, we felt like we might as well get our licenses as well," Plant said. "We wanted to make sure we could accommodate all."
However, it's strongly discouraged to mix alcohol and kava together.
"We do have disclaimers saying don't mix alcohol and kava," Plant explained. "It's not a great combination. In small quantities, it's fine – but if you go out drinking and have a kava drink, you would be very lethargic and it's not a great thing to mix."
Canni Hemp Co. will still focus on its health and wellness products and brand alongside its new infusion bar and cafe concept in the space.
"We wanted to create an environment where people could come in, hang out and feel comfortable," said Plant. "We wanted to be the place where your mom or your aunt could feel comfortable coming in here and learn about it, buy and enjoy these products."
Canni will celebrate its new infusion bar and cafe with a grand opening celebration today starting at 5 p.m. Everyone is welcome to attend to see how the company has transformed their existing space. There will also be music provided by DJ Andrew Optimist, treats by Sweetly Baked, drink specials and Canni merchandise.
After the grand opening, Canni Infusion Bar & cafe will be open 7:30 a.m. until 8 p.m. on Mondays through Thursdays, 7:30 a.m. to 10 p.m. on Fridays and Saturdays, and noon to 5 p.m. on Sundays. For more information, click here.
"We're as ready as we will ever be," Plant stated. "We did a soft open last week, and we feel it went pretty well, sharing with this community a new way to think about nightlife. This business is extremely fulfilling for us, having people trust the products we carry and come back to us."
Courtney Bondar is an adventurous Multimedia Journalist at OnMilwaukee, covering all things Milwaukee. Born and raised in Greendale, WI, Courtney has a deep-rooted connection to her hometown and a strong desire to explore and showcase the vibrant city of Milwaukee.
You can often find Courtney all over Milwaukee, attending exciting events - documenting her experiences on her Instagram stories. Her genuine enthusiasm for her work shines through in her posts - as she strives to capture the beauty of the city and shares it with her followers.
Courtney's passion for writing is evident in her engaging and heartfelt articles. While she covers a wide range of topics, she particularly enjoys delving into the intricacies of dating culture and the art of mixology. Her insightful and thought-provoking pieces offer a unique perspective on these subjects, captivating readers with her authenticity and wit.
After dedicating herself as an intern at OnMilwaukee, Courtney's hard work and dedication paid off when she earned her well-deserved diploma. Now, as OnMilwaukee's first full-time multimedia journalist, she is fully committed to continuing her journey - bringing her distinctive voice and storytelling skills to the forefront.