Ahoy Milwaukee mateys! OnMilwaukee declares May 24th as the official "Talk Like A Milwaukee Pirate Day." This fake Milwaukee holiday provides an excellent opportunity to don pirate wear while expressing Brew City pirate phrases like "Yarrrr der hey!" "Walk the Plankinton!" or "Shiver me winters!" And remember: the foam cheesehead is the original trifold hat.
Editor's note: This story originally ran Oct. 24, 2015 and only applicable links have been updated.
In the 1980s, whenever my grandparents traveled from Ottawa, Ill., to visit my family in Milwaukee, we kicked off their visit with a trip to Captain's Steak Joynt, a local chain of nautical-themed restaurants owned by the Marcus Corporation.
Along with Farrell's and Barnaby's, the Captain's serves as the setting for many of my childhood dining memories, so when Leslie Heinrichs, the archivist for Marcus, dug up a trove of photos and information about these now-defunct eateries, I was flooded with nostalgia.
The first Captain's Steak Joynt opened in 1969 as Marc's Steakhouse at 7822 W. Capitol Dr. By the mid-1980s, the chain was at its peak with 11 restaurants throughout the state. The name morphed multiple times, from Marc's to the Captain's Steak Joynt to simply The Captain's.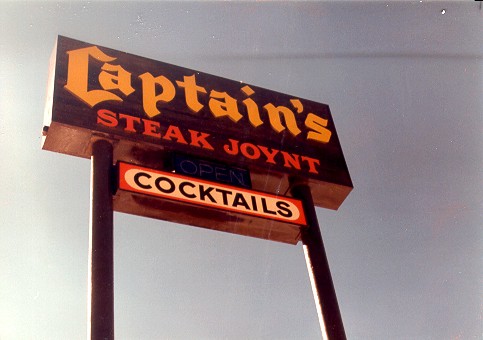 Marcus Corporation Historical Archives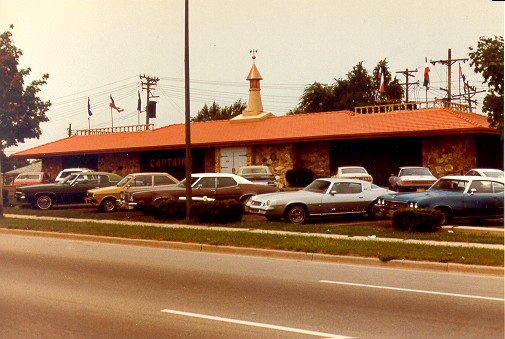 Marcus Corporation Historical Archives
Through Heinrichs, I learned that "my" Captain's was located at 1038 N. Jackson St. – now the site of the Bollywood Grill. This was the only Downtown location. It opened on May 12, 1976 and featured a different design and decor than the others, including a separate but adjoining lounge called the Captain's Hideaway.
My most vivid memories of Captain's are of the treasure chest, which was near the front door and filled with parting gifts for kid diners. I remember my father getting exasperated by how long it took my sister Jenny and I to decide whether we wanted to pick a Chinese fortune fish that "detected" your mood by how much it curled up or a pocket game of sliding number tiles.
(Sorry, sister, I know you've been "Jen" since circa 1995, but you're forever "Jenny" to me.)
Downtown's Captain's Steak Joynt was spacious and dark-ish with booths, nets on the ceiling and tables with round-backed wicker chairs. Jenny and I would wander around the restaurant and lounge while our mom and grandma drank strawberry daiquiris – the Captain's signature cocktail for some reason – and our dad smoked cigarettes. To our delight, the grown ups were too engrossed in conversation to notice our absence and the waitstaff didn't seem to mind our roaming, either, because they never once told us to go back to our table.

Marcus Corporation Historical Archives
The salad bar, shaped like a ship, also stands out in my mind. According to Heinrichs, the Captain's chain was considered a pioneer in the salad bar concept. As a kid, I loved how the Captain's salad bar allowed me to pick and choose what I wanted to eat, and introduced me to a few dated-but-delicious foods including cheese fondue (!), French onion soup and sourdough bread.
The children's menu was printed on the back of a paper pirate's hat and listed items like a "dinghy dog" and chocolate milk but, eventually, my sister and I stopped ordering entrees because we were stuffed from the salad bar by the time our dinner came. The Captain's signature menu items were primarily seafood and, of course, steaks. My mom usually got the white fish mentioned in this review of the restaurant that ran in the Milwaukee Sentinel on Jan. 12, 1979.
For me, dinner with my parents and grandparents at the Captain's Steak Joynt was the first of many encounters I would have with the Marcus Corporation. Little did I know when I was drenching my salad with blue cheese dressing at the boat-shaped salad bar that I would later work for the company in one of its movie theaters – the now-defunct Prospect Mall Cinema – as well as become The Pfister Narrator at the Marcus-owned Pfister Hotel. Life coincidences are a funny thing. They are everywhere if we feel like noticing, but often, it's easier not to.
The Captain's concept struggled in the late-1980s and in 1988 some of the Captain's Steak Joynt's were remodeled and renamed Pancho O'Malley's. Another was renamed Seafood, Etc.
The Downtown Captain's closed on May 29, 1988, after the lease expired. My family went until the bitter end. I remember the tell-tale signs that the end was near – suddenly the salad bar wasn't as fresh and well-stocked; the lounge felt lonely.
By 1993, all of the restaurants were shuttered. It's unclear why the Captain's concept sank: it seems like there'd still be room today in the contemporary family dining scene for a nautical-themed bar and eatery with big salads and cheap steaks. But, as we all know, restaurants fade away like everything else and all the cliches about good things coming to an end and gold not staying once again ring true. What remains are the memories and, for some reason, the foods we ate as children – and the places where we ate them – are some of our clearest and fondest.
Ahoy, Milwaukee.
Marcus Corporation Historical Archives

Molly Snyder started writing and publishing her work at the age 10, when her community newspaper printed her poem, "The Unicorn." Since then, she's expanded beyond the subject of mythical creatures and written in many different mediums but, nearest and dearest to her heart, thousands of articles for OnMilwaukee.

Molly is a regular contributor to FOX6 News and numerous radio stations as well as the co-host of "Dandelions: A Podcast For Women." She's received five Milwaukee Press Club Awards, served as the Pfister Narrator and is the Wisconsin State Fair's Celebrity Cream Puff Eating Champion of 2019.