Picture it. Milwaukee, 2019: Nile Rodgers and Chic just destroyed the stage with hits spanning decades including "Le Freak" "Rapper's Delight" and an amazing rendition of "Get Lucky" sung by the amazing Kimberly Davis with the vocal range one could only dream of. Needless to say, I was taken to church with this blend of funk, soul and dance music getting me in the mood to turn back time.
As my sister and I headed back to our seats shining bright like diamonds after a brief intermission, you could hear the Fiserv Forum crowd begin to go into to a frenzy. Hues of blues from the elaborate lighting rigs hit the faces of eager fans waiting for THE Cher.
How did she make her entrance, you ask? She was was lowered from the heavens, of course, donning a vibrant red wig draped in gold with a headpiece fit for a queen. She and her dancers set the tone of the show with the energetic opener of "Woman's World." It felt like a bit of Vegas right here in our hometown – all the glitz, glam and energy a fan could ever ask for.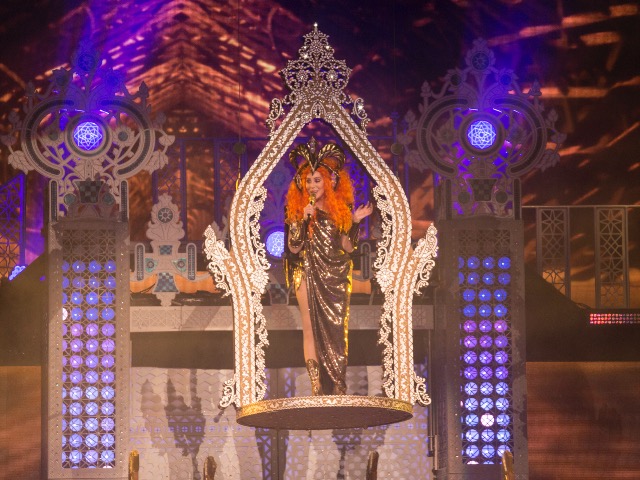 The show took us through a retrospective of the 73-year-old Cher's career in the industry, instructing the crowd to have a seat after her show-stopping opening number.
The queen shared personal stories of overcoming financial hardships in the beginning of her career with Sonny Bono, the criticisms she faced from some of Hollywood's elite, and even joked about her age saying, "While I'm busy encouraging you girls to be your best, sometimes I just want to ehh." It was an authentic, "sorry not sorry," tell-it-like-it-is Cher moment, and it made me respect her body of work that much more.
Then, after her monologue, the party began!
She delivered hit after hit – like "SOS," during which she wore a purple velvet romper with a deep V showing off all the goods. If any of you see her, ask if I can borrow it for my next show. One of my favorites, "Strong Enough," was performed as well. It took me to a place this Mother's Day; my mom passed away a few years back, and I got a little choked up.
To add to the emotion, Cher performed "I Got You Babe" on a stage designed to allow her to duet with Sonny himself. The moment was heartfelt and a great moment for everyone at Fiserv Forum to sing along. The accompanying stage production gelled with the many shifts in the show's mood, moving seamlessly with each number – one that even had Cher making an entrance on an elephant! The showmanship of it all!
As the show neared the end of the night – bam! – we got another outfit change. I felt like she changed at least a million times, but it was probably more like 15? Maybe 20? I lost count! This time, she came out rocking the infamous "If I Could Turn Back Time" look that she still rocks at 73. I can only hope to look as good as her when I'm rocking stages at her age!
The crowd went wild for this one – including my sis and I, twirling in our seats, while being told to sit down by some lovely people behind us. Who comes to a concert to sit down? Not I! Her music was meant to make you move, so when the last song of the night hit, all of my inhibitions hit the road.
A pop filled intro to "Believe" took me so far back into the late '90s and early '00s, I almost bought some JNCO jeans. Momma Cher made her final entrance, as the whole crowd got on its feet for this literal show-stopping closing number – full of acrobatics, laser lights and glitz that could rival any number from Cirque du Soleil. Cher took center stage in a jeweled look shining like the brightest star in the sky. Her warm smile flashed on the jumbotron one last time before she made her exit off the stage, making every mother, father, son, daughter and lover in attendance believe in life after love.
Cher will always be an icon who continues to motivate and inspire new artists. If you were at this show, you'd see where most of these pop princesses – including myself – gather so much inspiration from. Her vocals didn't miss a beat, her dancers supported her in every way and her heart was in the performance from the beginning until the end.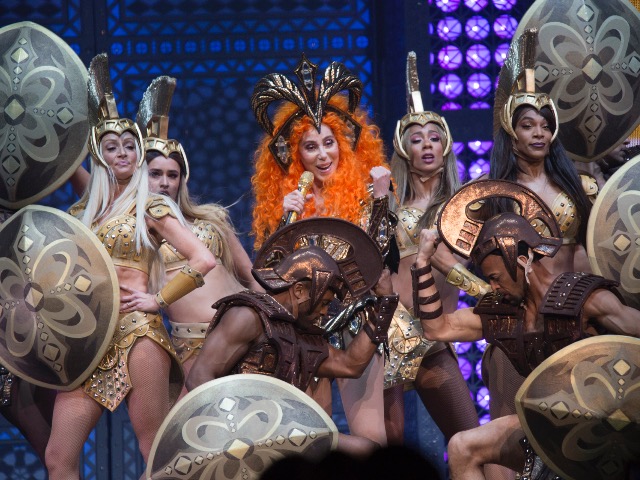 It was Mother's Day – and best believe mother Cher showed up letting the Fiserv Forum crowd know why she will always and forever be the queen of queens!