After 25 years as the frontman – who went by "Cesar Palace" – for the 5 Card Studs, Chris Tishler decided it was time for a change. Thus he branched out on his own and, with the talents of local industry folks, made his first solo album, "Reach for the Sun."
The 13-song album is a mix of genres, but the common thread throughout is Tishler's signature rich, warm voice.
Tishler describes the album as "cathartic" for him personally, and – being the guy he is – gives much credit to participating musicians Liv Mueller, Betty Blexrud-Strigens, Matthew Meixner, Brian Kasprzak, Jamie Breiwick, Cecilio Negron, Jr., John Kruth and Brian Tairaku Ritchie.
OnMilwaukee recently asked the always thoughtful and prolific Tishler five questions about his new record, which is available here.
OnMilwaukee: What inspired you to name the album "Reach for the Sun?" Are you feeling fairly optimistic these days? Also, the cover art is really appealing, but wondering if it's supposed to be branches or candles or...?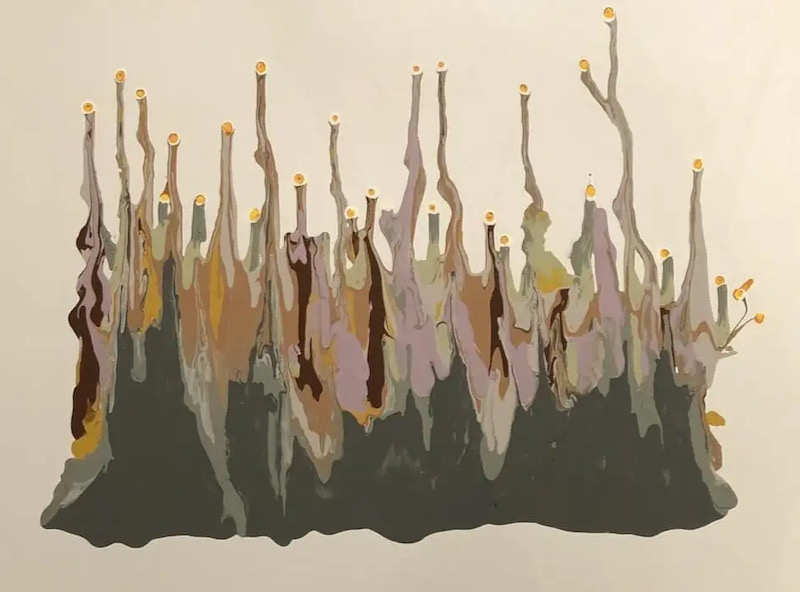 Chris Tishler: When I first went into Jeff Hamilton's to record, it was solely with the intention of recording a couple of tunes I'd written after an ended relationship. Once I "purged" those, I started writing some more new material, so I just kept going with it. I threw in a few previously unrecorded songs and as I did I started getting into a much better headspace and was indeed feeling a lot better.
When I felt that I was "finished" recording songs and realized that I had enough where I could actually release an album, I'd thrown around a bunch of titles. Trying to keep them somewhat thematic with lyrical content, none of them were really clicking. I looked back on the whole experience and realized that the whole thing was really healing for me. The positivity that resulted from it in my life, I just visualized something like reaching up to the sun or something along those lines. That concept stuck in my head and it seemed like a fitting title.
The cover art, thank you. It's one of my art pieces. I did all of the art for the inner sleeve as well as including individual original pieces with each copy of the vinyl version. It's actually called "Les Jardin des Ouefs (Garden Of Eggs)", but it looked like an abstract version of the "reaching" concept I mentioned for the title, so it all just kind of fell into place. Doing your own artwork makes it a hell of a lot cheaper, too.
How did it feel to have total control of your music after being in bands for so long?
I'd had almost total control of the music I'd written when I'd released other albums of bands I've been in, sure, but as a first "solo effort" it was freeing and scary as hell, all at the same time. I'd never really intended to make a "solo album" per se in the first place, so when I had a lot of songs in the bag and realized that it could be an album, I just had to decide to go for it instead of sitting on a bunch of recordings.
That felt slightly daunting, but if it's something that I didn't like and wasn't proud of I wouldn't have released it for public consumption. In the end it's my name on it and I have to dig it and live with it.
You have some very talented Milwaukee musicians contributing to a few of your tracks. How did you choose these musicians? Did they all have something in common you wanted on your album?
Nothing in common really. It was really just what the songs needed that dictated who played on what. I'd originally intended to just play everything on it – I play drums, percussion, bass, guitars and a shaky small bit of Wurlitzer on the record – but after a while that can sound a little too much like just one person's style. Also, there are things that I simply can't do like play keyboards WELL if at all, as well as certain other instruments. I'm beyond lucky to have gotten the people that I did to flesh it out. When I read over the list of them now it's still kind of crazy to me.
I knew that for keys I'd wanted Matt Meixner. Having played with him for so long in my previous cover band and way before that, we're really good friends and we just work really well together. He's an incredible player. I'd always wanted to do ANYthing musically with Liv Mueller and we took a different approach with this, having her do a somewhat spoken vocal (which seems criminal because her singing voice is so great). Betty Blexrud-Strigens sang on the opening song and it's just gorgeous. My cousin Kori Klein played viola on the closing track and it was really special to have family on this as well. Jeff Hamilton can usually play anything he puts his mind to and it was awesome to have him on mandolin, lap steel, Coral sitar and Casciotone. Brian Kasprzak is a really great friend and having him on sitar and singing backups for a tune was really cool. The De La Buena guys (Jamie, Cecilio and Joey) came in and made the song they were on completely their own. I just ended up singing on it. Jeff went the extra mile and got a hold of John Kruth to play ghita and through Jeff's affiliation with the Violent Femmes got Brian Tairaku Ritchie to come in and play shakuhachi flute on a track the last time the Violent Femmes were in town, which was incredible.
Long-winded answer, I know, but to be this fortunate to have all of these people on this thing I have to pay them all their due respect.
Do you have any upcoming gigs? How do you feel about playing out again?
Gigs, plain and simple, no. At least not yet. The record itself was actually finished a while back, but I delayed putting it out due to the pandemic and whatnot. Along those same lines, I delayed even thinking about playing this out, let alone assembling a band for it. Not that it won't happen – it will – but it wasn't a first priority for me. Right now I'm concentrating on making a few videos for it and trying to re-learn how to promote one's self. Haha.
I'd left a band that I was in for 25 years which played usually over one hundred gigs a year. While the experience as a whole was good and I'm thankful that it happened, many aspects of it left a really bad taste in my mouth. Playing that often while holding a full-time job, coupled with the role that I held IN that band and what it entailed for me personally got to be too much, physically and emotionally. I won't ever be in a band again that dictates you fill the calendar with it to make money, that's for sure. I'm finally on my own clock and it'll happen when it's supposed to happen.
Are you working on new material? Can you see yourself joining or forming another band or are you solo for a while?
I've come up with some new songs, but haven't written a lot since completing the record, no. While I was doing these recordings, some of that time was spent recording a conceptual double album with my other band CHIEF, so there was a ton of music swirling around in my head for the past couple of years. It's been nice to "be a civilian" and when I feel like sitting down to play, I do. When something pops into my head musically, I pursue it, but it's become more of a relaxed process, which is cool. It makes writing things more of a joy now, which I really like.
As for forming a band or being solo for a while, the solo performer thing works better for others than it does me. I've done it, but I get pretty anxious trying to go it entirely alone and it shows. I enjoy being IN a band (when it works) more than solo performing, anyway. Again, as for a "Chris Tishler Group" or whatever, it'll happen when it's supposed to happen.
Joining another band? Unless Eddie comes back from the dead and Van Halen needs another vocalist, probably not.
To purchase "Reach For the Sun" go here. The CD and limited-edition vinyl are available locally at Rockhaus, RushMor Records and Bullseye Records.

Molly Snyder started writing and publishing her work at the age 10, when her community newspaper printed her poem, "The Unicorn." Since then, she's expanded beyond the subject of mythical creatures and written in many different mediums but, nearest and dearest to her heart, thousands of articles for OnMilwaukee.

Molly is a regular contributor to FOX6 News and numerous radio stations as well as the co-host of "Dandelions: A Podcast For Women." She's received five Milwaukee Press Club Awards, served as the Pfister Narrator and is the Wisconsin State Fair's Celebrity Cream Puff Eating Champion of 2019.