To celebrate Black Restaurant Week – and because we dig chicken and waffles – a friend and I stopped by Coffee Makes You Black for lunch or brunch or ... who cares which meal. We are talking about chicken and waffles.
It was love at first sight for me with this dish. I immediately appreciated the symmetry of it – almost like an edible yin-yang topped with butter. I also liked that the chicken was served on top of the thick waffles as opposed to next to them. This is "all in" chicken and waffles eating – none of that nibbling on a piece of white meat and then pecking a waffle square.
You have to eat the chicken and the waffles together, at the same time, or else you are chicken and waffling wrong.
The large chicken tenders were moist on the inside and crispy on the outside – just as fried chicken enthusiasts like it – and the waffle was billowy and well-cooked. The size of the butter dollop was extra large, just like my after-lunch sweatpants had to be to accommodate my fullness.
For $9, this is an extremely fair-priced meal and one that's available for breakfast, brunch, lunch or brinner (breakfast for dinner). I also tried the hot mango tea which came in a large, glass mug and had a sweet and satisfying flavor.
The cafe is located inside a former bank, which makes the environment unique and appealing. To find out more about the origin of Coffee Makes You Black, go here. And then actually go to Coffee Makes You Black because you can't eat delicious chicken and waffles by clicking on a link. But maybe in the future – one can only hope.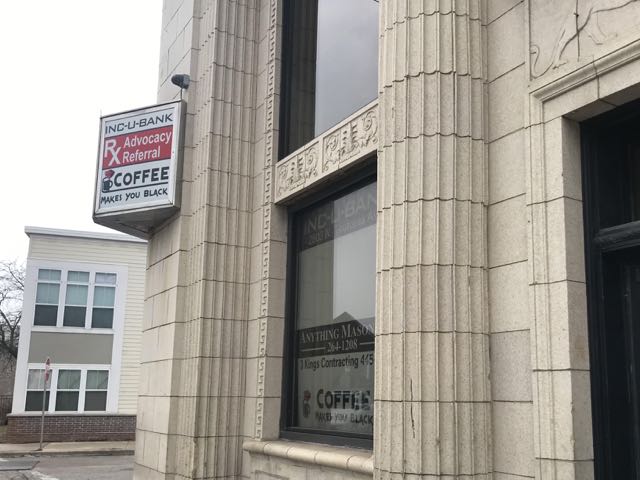 Molly Snyder grew up on Milwaukee's East Side and today, she lives in the Walker's Point neighborhood with her partner and two sons.
As a full time senior writer, editorial manager and self-described experience junkie, Molly has written thousands of articles about Milwaukee (and a few about New Orleans, Detroit, Indianapolis, Boston and various vacation spots in Wisconsin) that range in subject from where to get the best cup of coffee to an in-depth profile on the survivors of the iconic Norman apartment building that burned down in the '90s.
She also once got a colonic just to report on it, but that's enough on that.
Always told she had a "radio voice," Molly found herself as a regular contributor on FM102, 97WMYX and 1130WISN with her childhood radio favorite, Gene Mueller.
Molly's poetry, essays and articles appeared in many publications including USA Today, The Writer, The Sun Magazine and more. She has a collection of poetry, "Topless," and is slowly writing a memoir.
In 2009, Molly won a Milwaukee Press Club Award. She served as the Narrator / writer-in-residence at the Pfister Hotel from 2013-2014. She is also a story slam-winning storyteller who has performed with The Moth, Ex Fabula and Risk!
When she's not writing, interviewing or mom-ing, Molly teaches tarot card classes, gardens, sits in bars drinking Miller products and dreams of being in a punk band again.