To celebrate Black Restaurant Week – and because we dig chicken and waffles – a friend and I stopped by Coffee Makes You Black for lunch or brunch or ... who cares which meal. We are talking about chicken and waffles.
It was love at first sight for me with this dish. I immediately appreciated the symmetry of it – almost like an edible yin-yang topped with butter. I also liked that the chicken was served on top of the thick waffles as opposed to next to them. This is "all in" chicken and waffles eating – none of that nibbling on a piece of white meat and then pecking a waffle square.
You have to eat the chicken and the waffles together, at the same time, or else you are chicken and waffling wrong.
The large chicken tenders were moist on the inside and crispy on the outside – just as fried chicken enthusiasts like it – and the waffle was billowy and well-cooked. The size of the butter dollop was extra large, just like my after-lunch sweatpants had to be to accommodate my fullness.
For $9, this is an extremely fair-priced meal and one that's available for breakfast, brunch, lunch or brinner (breakfast for dinner). I also tried the hot mango tea which came in a large, glass mug and had a sweet and satisfying flavor.
The cafe is located inside a former bank, which makes the environment unique and appealing. To find out more about the origin of Coffee Makes You Black, go here. And then actually go to Coffee Makes You Black because you can't eat delicious chicken and waffles by clicking on a link. But maybe in the future – one can only hope.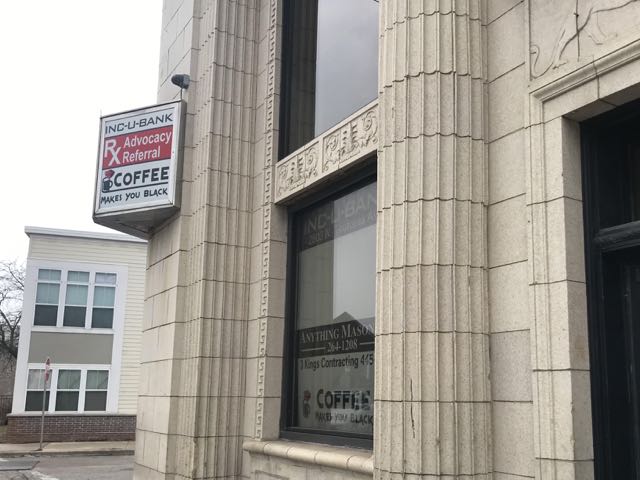 Molly Snyder started writing and publishing her work at the age 10, when her community newspaper printed her poem, "The Unicorn." Since then, she's expanded beyond the subject of mythical creatures and written in many different mediums but, nearest and dearest to her heart, thousands of articles for OnMilwaukee.

Molly is a regular contributor to FOX6 News and numerous radio stations as well as the co-host of "Dandelions: A Podcast For Women." She's received five Milwaukee Press Club Awards, served as the Pfister Narrator and is the Wisconsin State Fair's Celebrity Cream Puff Eating Champion of 2019.