For years we had heard about "the gas station petting zoo in Oconomowoc" and recently, feeling curious and a bit skeptical that such a combination could exist, we made the jaunt to check it out.
The Concord General Store/Mobil Gas Station/Concord Petting Zoo is actually located seven miles from Oconomowoc in the town of Sullivan. It has 10 gas pumps, two of which are ethanol-free for filling up old cars, boats and vehicles with smaller motors.
The store features the usual chips-and-pop munchies along with a large selection of Wisconsin products from cheese curds to pickles to Anodyne Coffee. They also have a deli, cafe – called the Moose Cafe – and a liquor section brimming with Wisconsin wines and beers. There's also a locally-brewed kombucha on tap and a lot of taxidermy animals.
The shop opened in 2004 and Jody Stiemke has worked there as a cashier for 10 years.
"We have a lot of 'good for you' things from Wisconsin," says Stiemke.
The petting zoo, which is about an acre or so and home to about 30 animals – sheep, goats, miniature horses, donkeys, alpacas, cows, pigs, chickens, ducks and a peacock – is free, but donations are encouraged. We recommend buying carrots from the cashier to feed the goats and horses. We found it very cute and maintained, more like a family farm than a "zoo." I bought a peacock feather for $1 on my way out. And there are adorable tiny houses for kids to explore.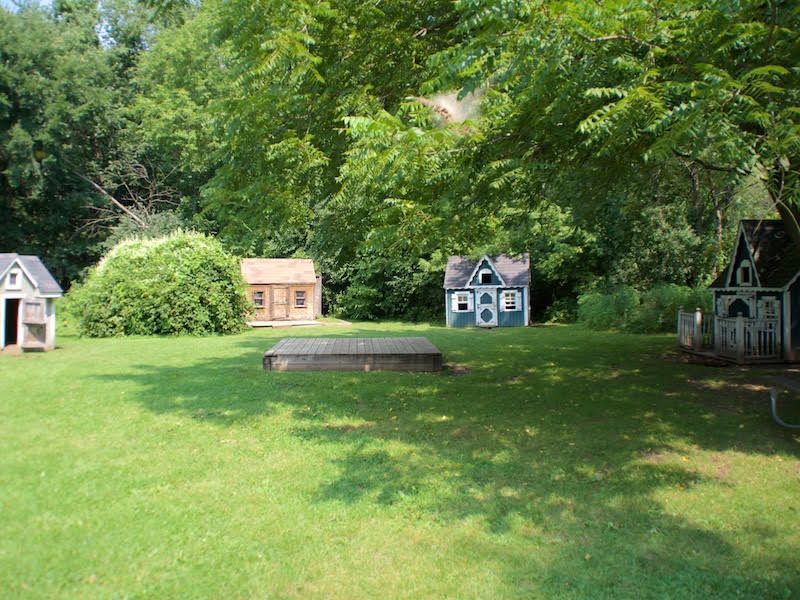 Going to the general store/gas station/petting zoo is definitely worth a half-day trip from Milwaukee. Where else can you gas up, eat a bunch of organic food and feed an alpaca on the same lot?
"People have a lot of fun here," says Stiemke.
Here are 12 more photos from this quirky and delightful place:
Moose alert
Real horse
Fake horse
So delicious
Local joe
Local sweets and dills

King, clearly
Carrot life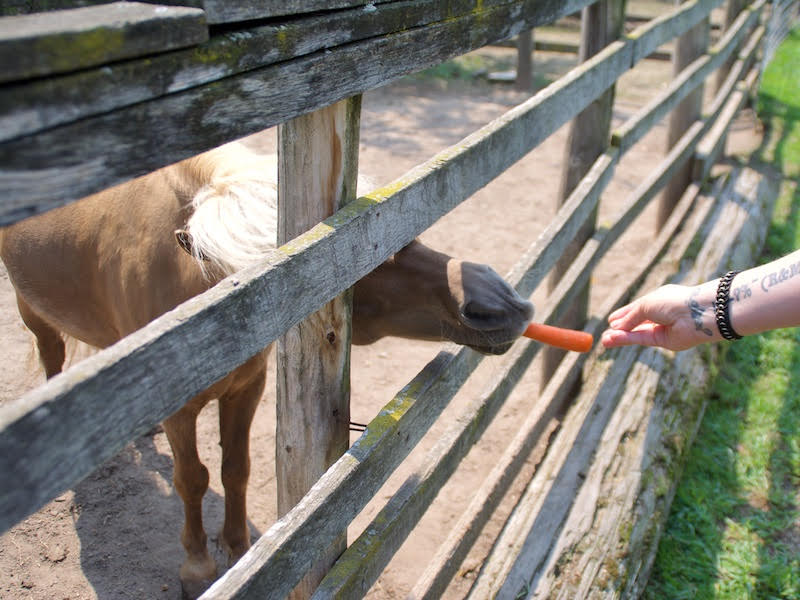 Carrot life cont'd
Carrot lyfe 4-ever
No interest in carrots whatsoever
Oh schtop it
Molly Snyder grew up on Milwaukee's East Side and today, she lives in the Walker's Point neighborhood with her partner and two sons.
As a full time senior writer, editorial manager and self-described experience junkie, Molly has written thousands of articles about Milwaukee (and a few about New Orleans, Detroit, Indianapolis, Boston and various vacation spots in Wisconsin) that range in subject from where to get the best cup of coffee to an in-depth profile on the survivors of the iconic Norman apartment building that burned down in the '90s.
She also once got a colonic just to report on it, but that's enough on that.
Always told she had a "radio voice," Molly found herself as a regular contributor on FM102, 97WMYX and 1130WISN with her childhood radio favorite, Gene Mueller.
Molly's poetry, essays and articles appeared in many publications including USA Today, The Writer, The Sun Magazine and more. She has a collection of poetry, "Topless," and is slowly writing a memoir.
In 2009, Molly won a Milwaukee Press Club Award. She served as the Narrator / writer-in-residence at the Pfister Hotel from 2013-2014. She is also a story slam-winning storyteller who has performed with The Moth, Ex Fabula and Risk!
When she's not writing, interviewing or mom-ing, Molly teaches tarot card classes, gardens, sits in bars drinking Miller products and dreams of being in a punk band again.