NEW YORK – What I love about New York is that after living there 17 years and visiting probably another 12-15 times in the years since, there's always something new and different to see.
I've come to savor the unexpected.
On my most recent visit, the unexpected started the moment I took off, when I discovered that JetBlue – which added daily nonstops to JFK and Boston from Milwaukee in March and which invited me to try the new service – doesn't charge for its on board high-speed Wi-Fi.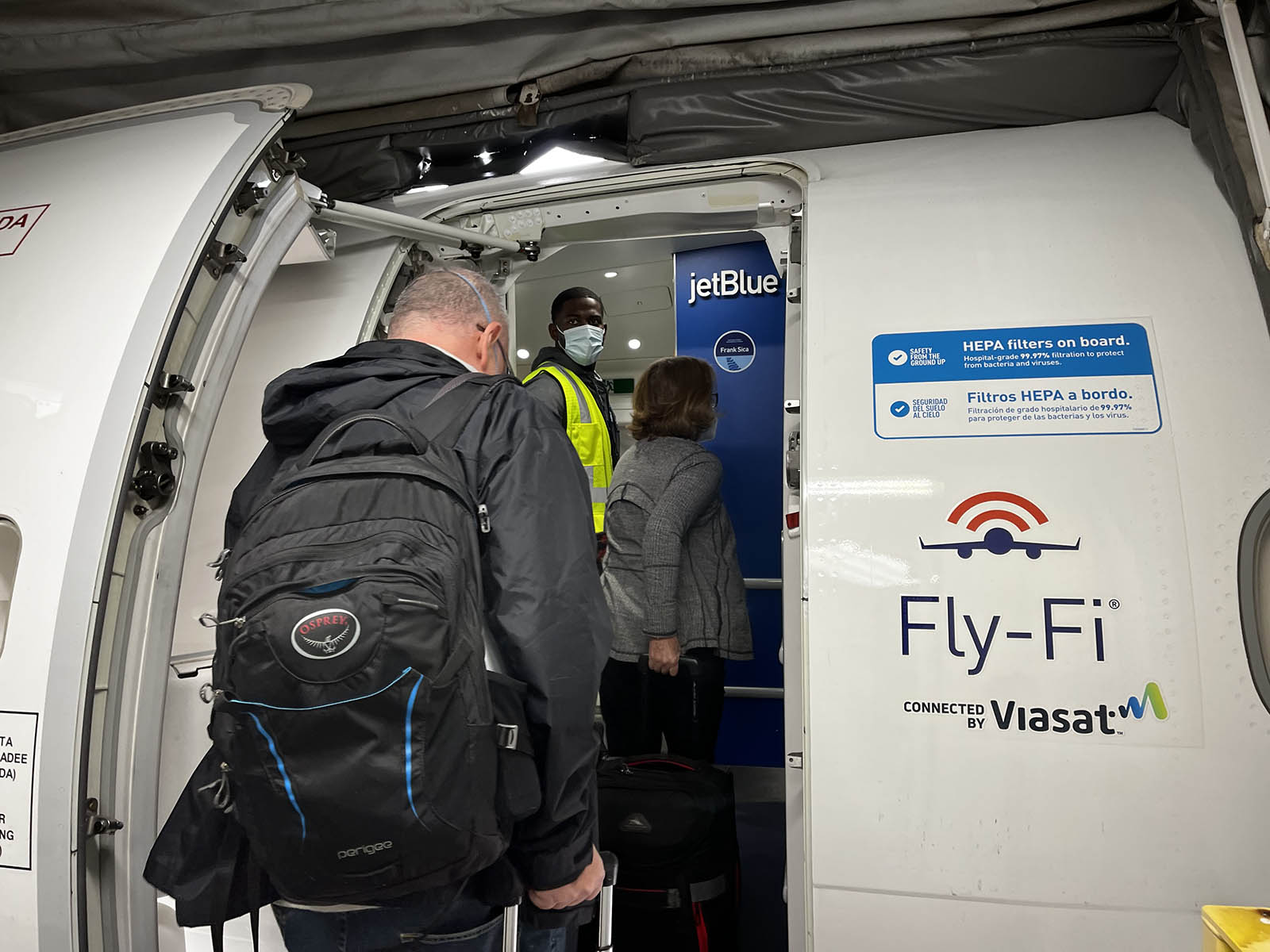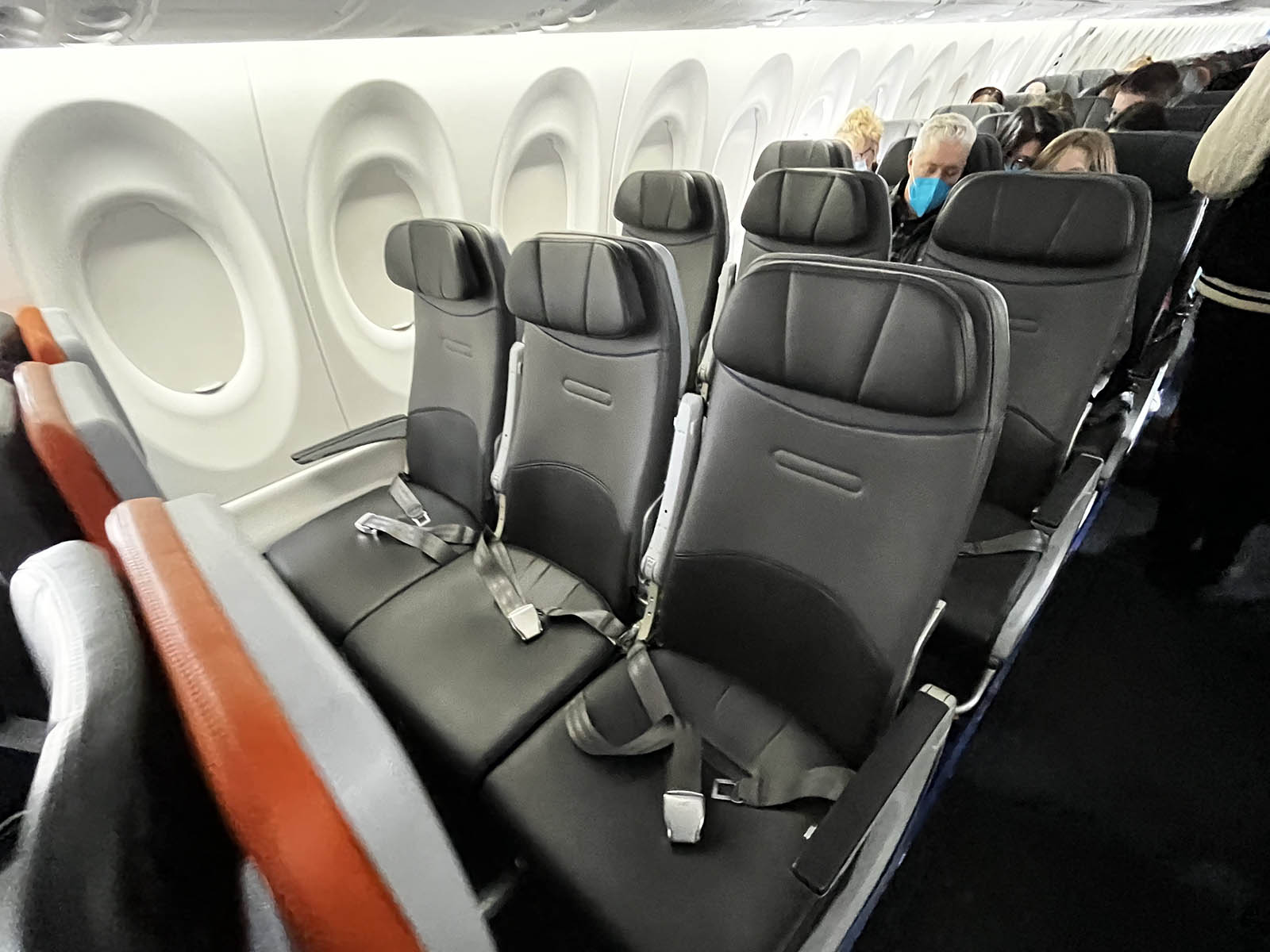 With that bonus connectivity, multiple device charging options, better than average space and a great selection of entertainment options on the seat-back screen in front of me, the trip, ahem, flew by. Add in flights that departed on-time, easy check-in on the app (I did it while walking) and great communication via email and the journey was a breeze.
Also unexpected? The New York airport. Arriving at JFK Airport is something I haven't done on a domestic flight in years.
Like many I'm used to flying into LaGuardia from Milwaukee, but JetBlue's nonstops go to JFK from Milwaukee and so I was greeted with a different side of Queens upon arrival.

When you get there take a moment to walk across the space-age red and white skywalk from Terminal 5 baggage claim into the TWA Hotel, located in architect Eero Saarinen's 1960s TWA terminal, an icon of modernist architecture.
Admire its sweeping, stark white curves and its Midcentury Modern furnishings, and consider, too, how this work by the designer of the War Memorial Center in Milwaukee influenced Santiago Calatrava.
If you haven't flown into JFK, getting into the city is easier than you might think. The most laid-back route, of course, is to get a cab or rideshare. That's also likely the most expensive.
The least expensive is to hop the subway train at nearby Jamaica Station or Howard Beach. But for just a couple bucks more than the subway – and a LOT less than a taxi or Uber – take the Long Island Railroad commuter train and you'll be at Penn Station in less than 30 minutes.
One place I'd never stayed in New York City is the Financial District, but Downtown Manhattan 2022 isn't anything like it used to be.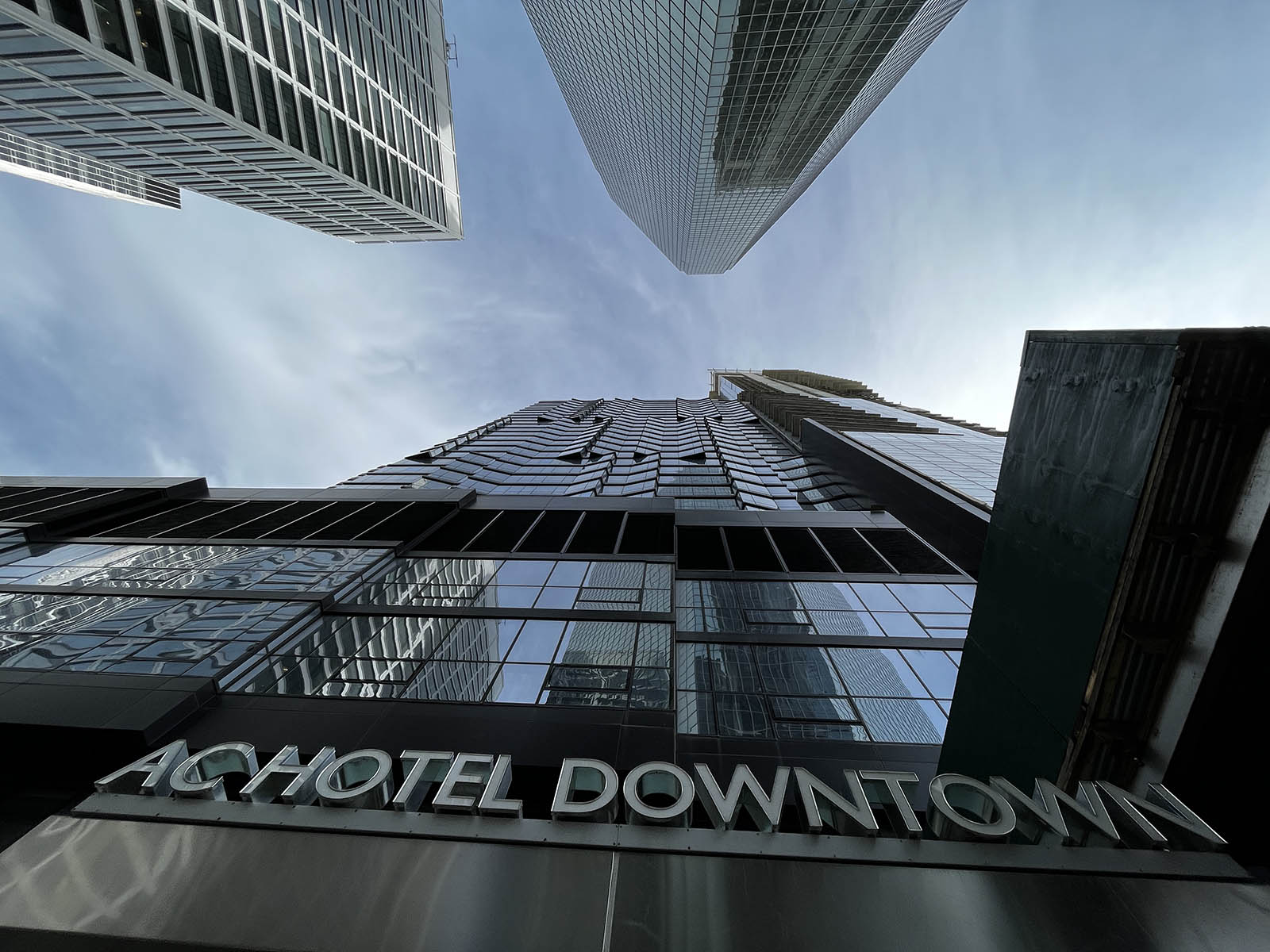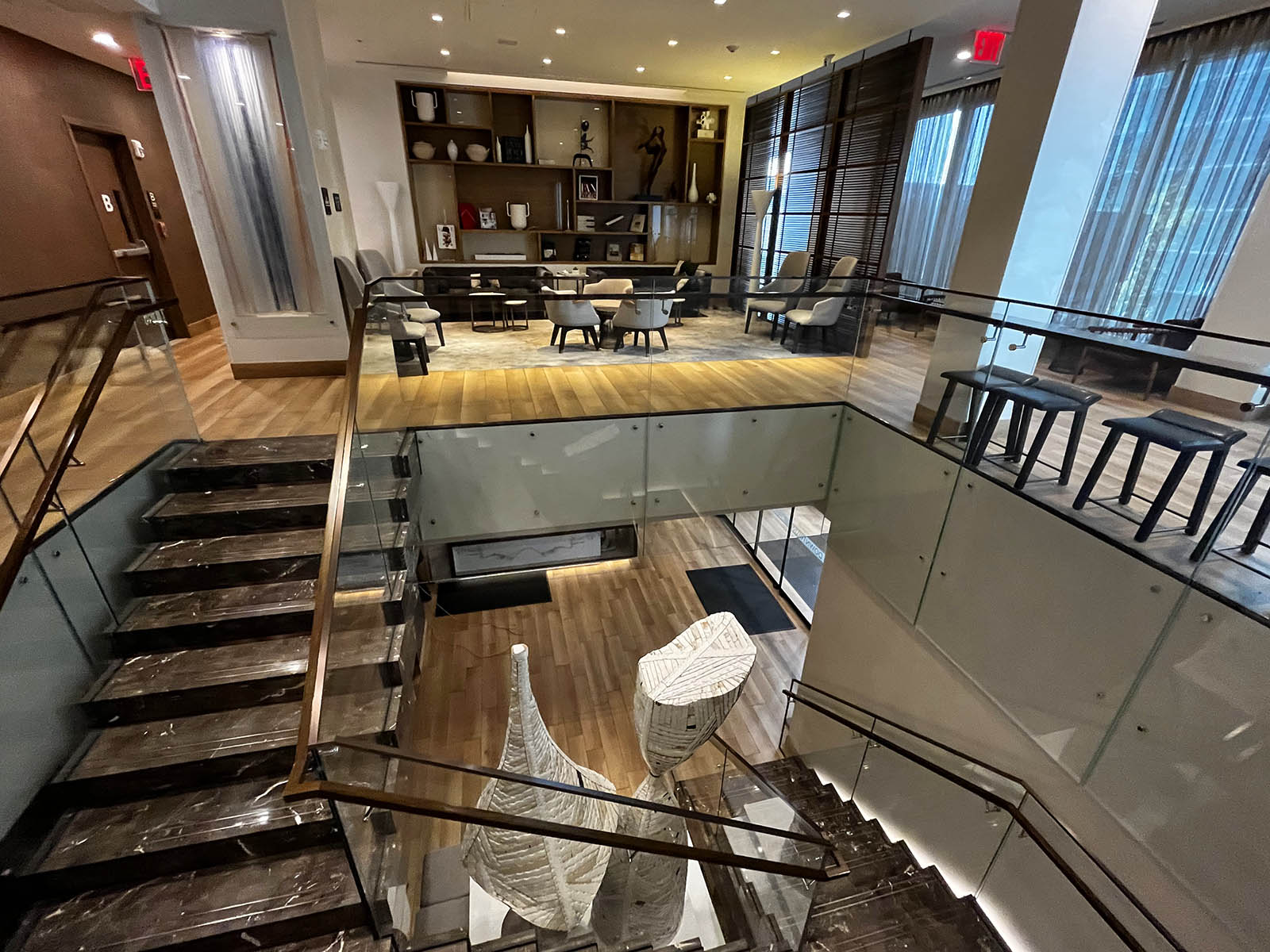 After enjoying my stays at AC Hotels in Columbus and Dublin, Ohio, I took a room at the AC Hotel by Marriott New York Downtown, 151 Maiden Lane, which was as comfortable and welcoming as its Midwestern counterparts, but also boasts a view of the Brooklyn Bridge and the East River.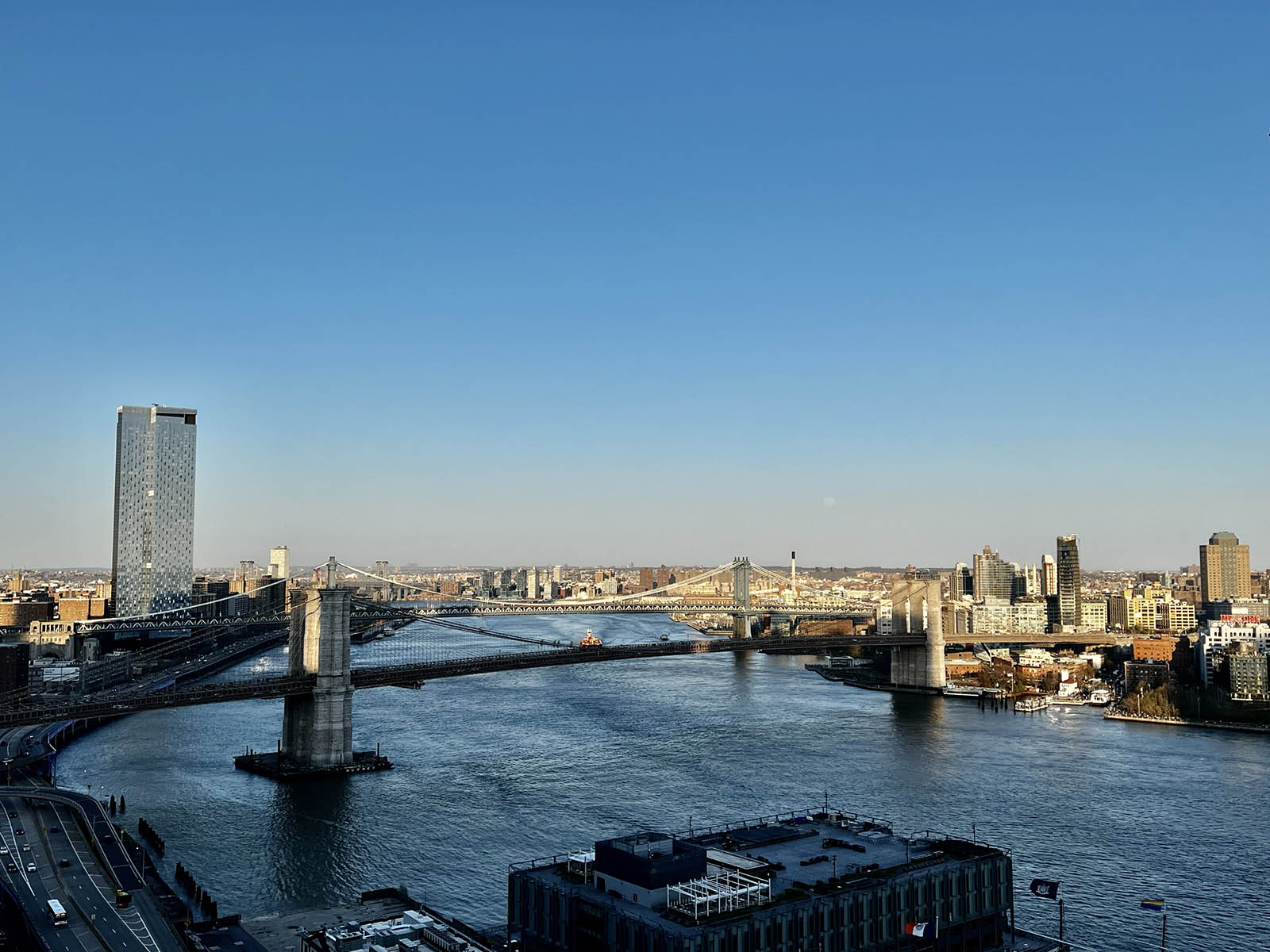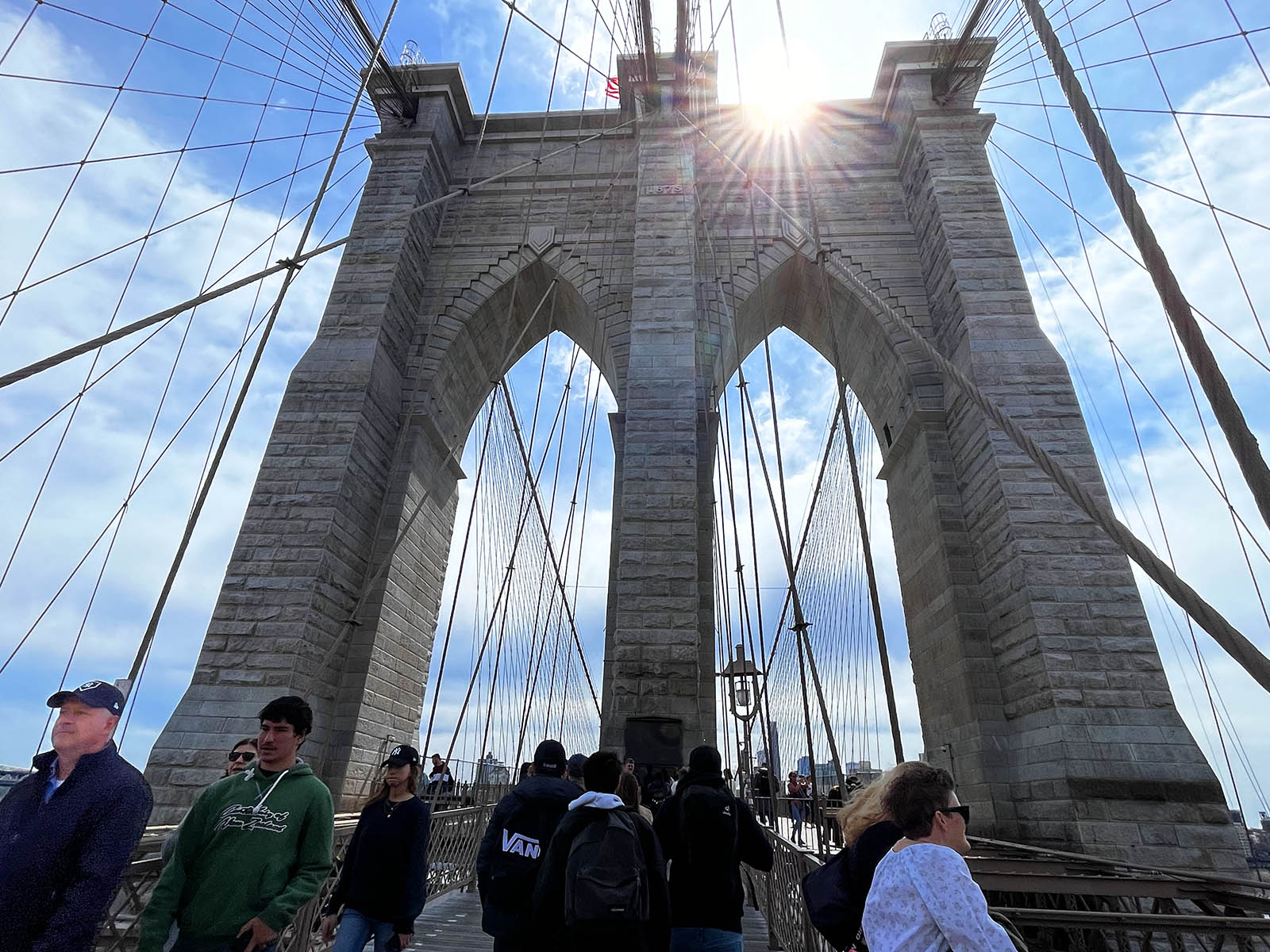 It's also walkable to the bridge (and across to Brooklyn, if you're up for it), Wall Street, South Street Seaport, the 9/11 Memorial, Calatrava's Oculus, One World Trade Center, Battery Park and more.
Gone are the days when downtown is a dead zone after office hours, and you can enjoy incredible bakery and coffee at the Brazilian Cafe Patoro – get the brigadeiro chocolate croissant – on Front Street, the nearby Dorlan's Tavern for oysters and top-notch burgers and get ready to stand on line for the bagels at Leo's on Hanover Square.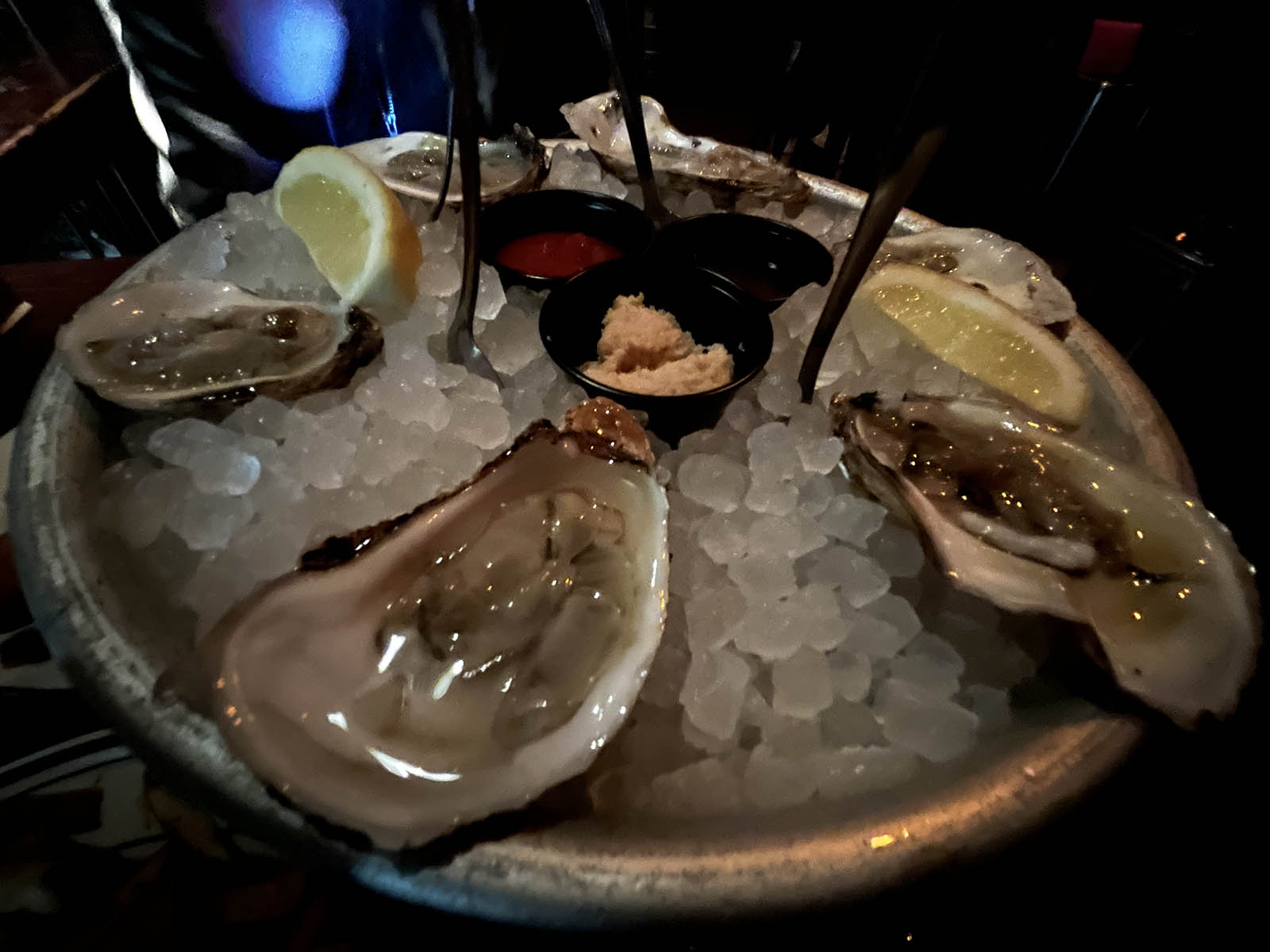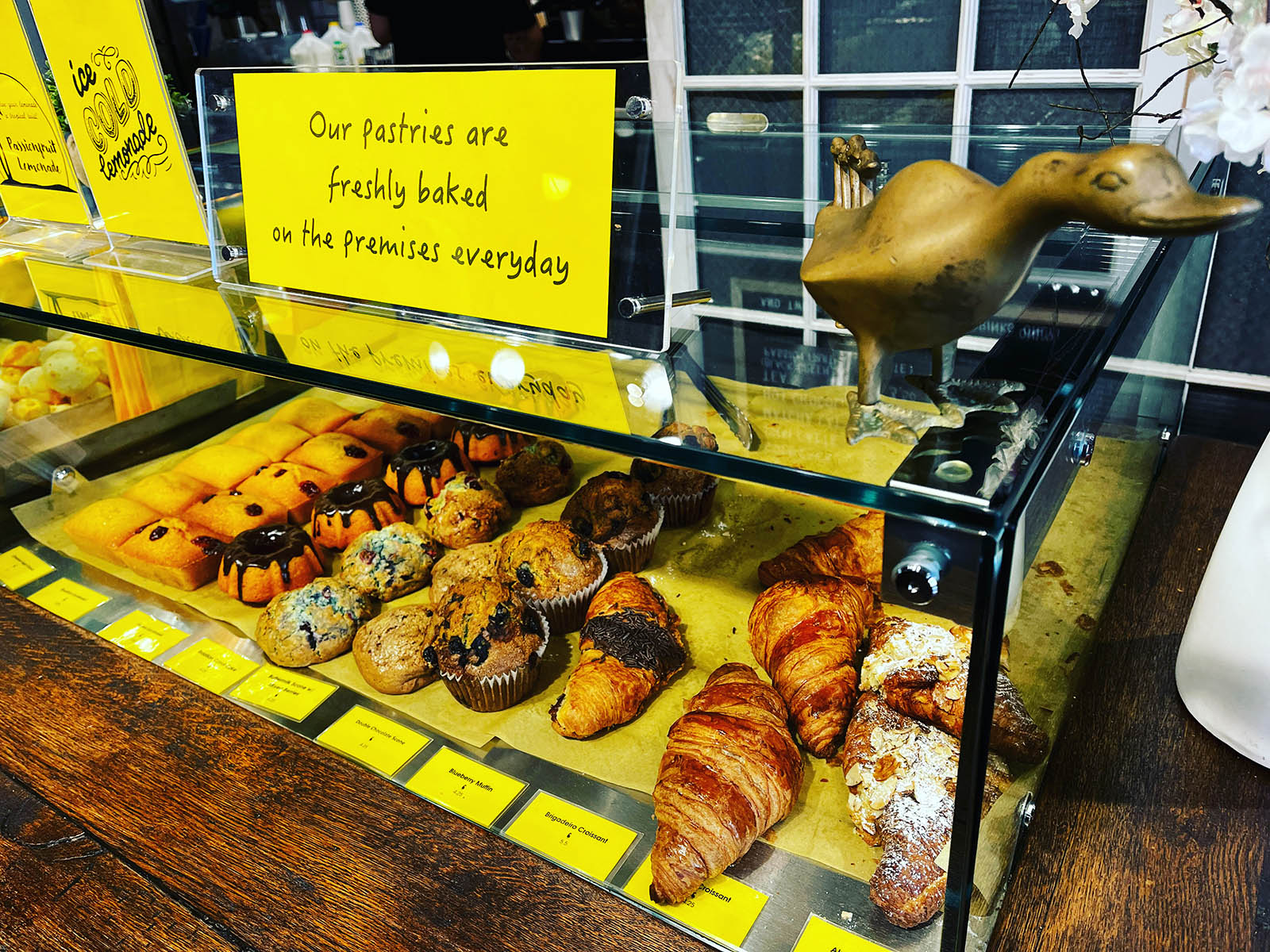 All of these were revelations to me.
I upped the unexpected ante by allowing my tween – an already-seasoned traveler, who explored every on-screen option on the flights – to plot most of the weekend trip so she could experience my hometown through her own lens.
That led me to me places I've either never experienced or haven't seen in years and wouldn't likely have visited on my own.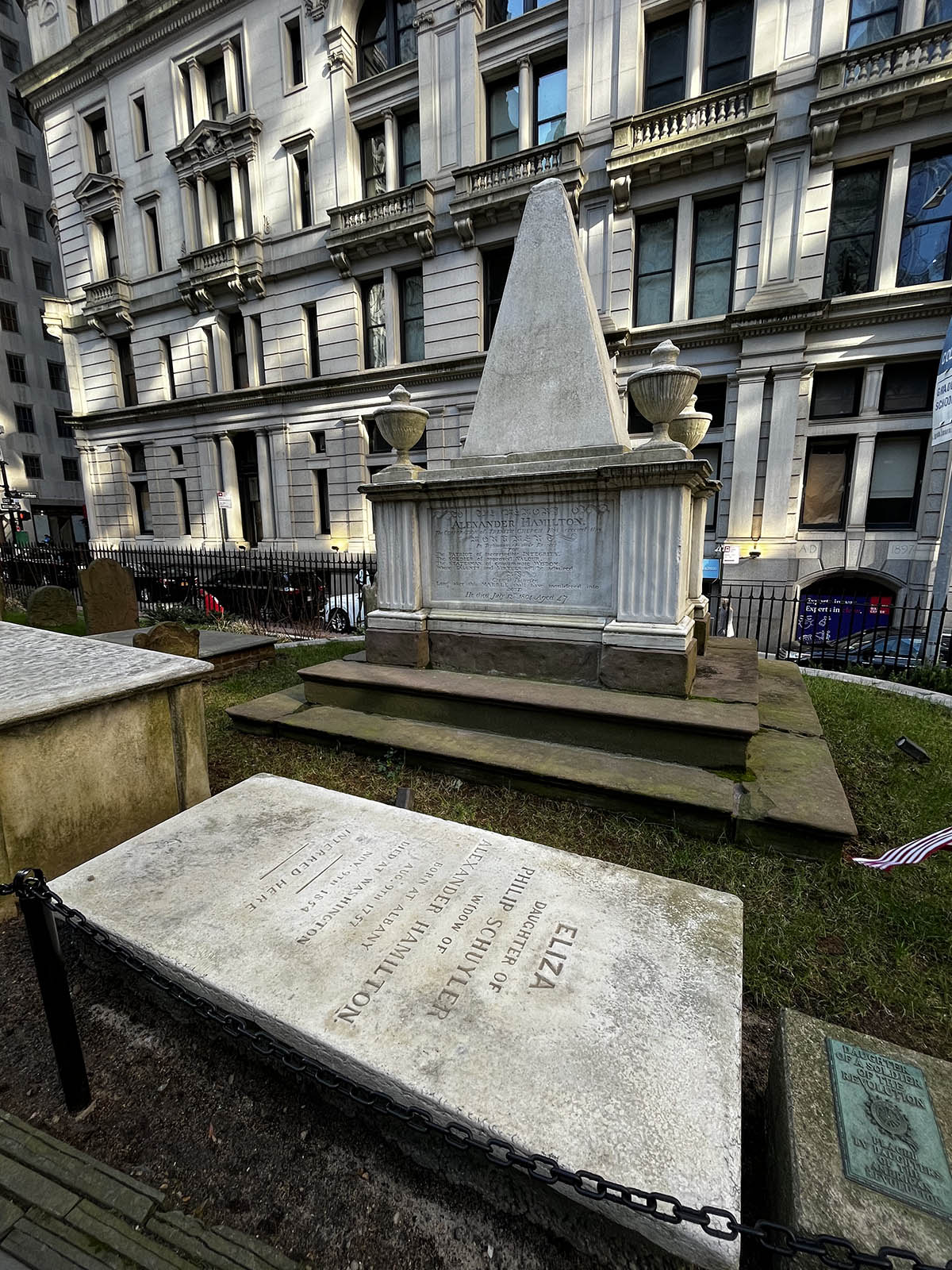 In the latter category was historic Trinity Church – a 10-minute walk from the hotel – to see Alexander Hamilton's grave. As you might imagine, this has become a popular tourist attraction and when we arrived the guard at the gate asked if we were there for Easter services or "for the grave."
We then walked through the Oculus ("it's like a giant Art Museum wing," my kid opined), paid our respects at the fountains at Ground Zero and went shopping for clothes (if you know me, then ... UNEXPECTED!), before walking across the insanely crowded Brooklyn Bridge for a stroll around the DUMBO neighborhood, where we ogled $500 retro '70s funky shoes and did a couple stops for daddy.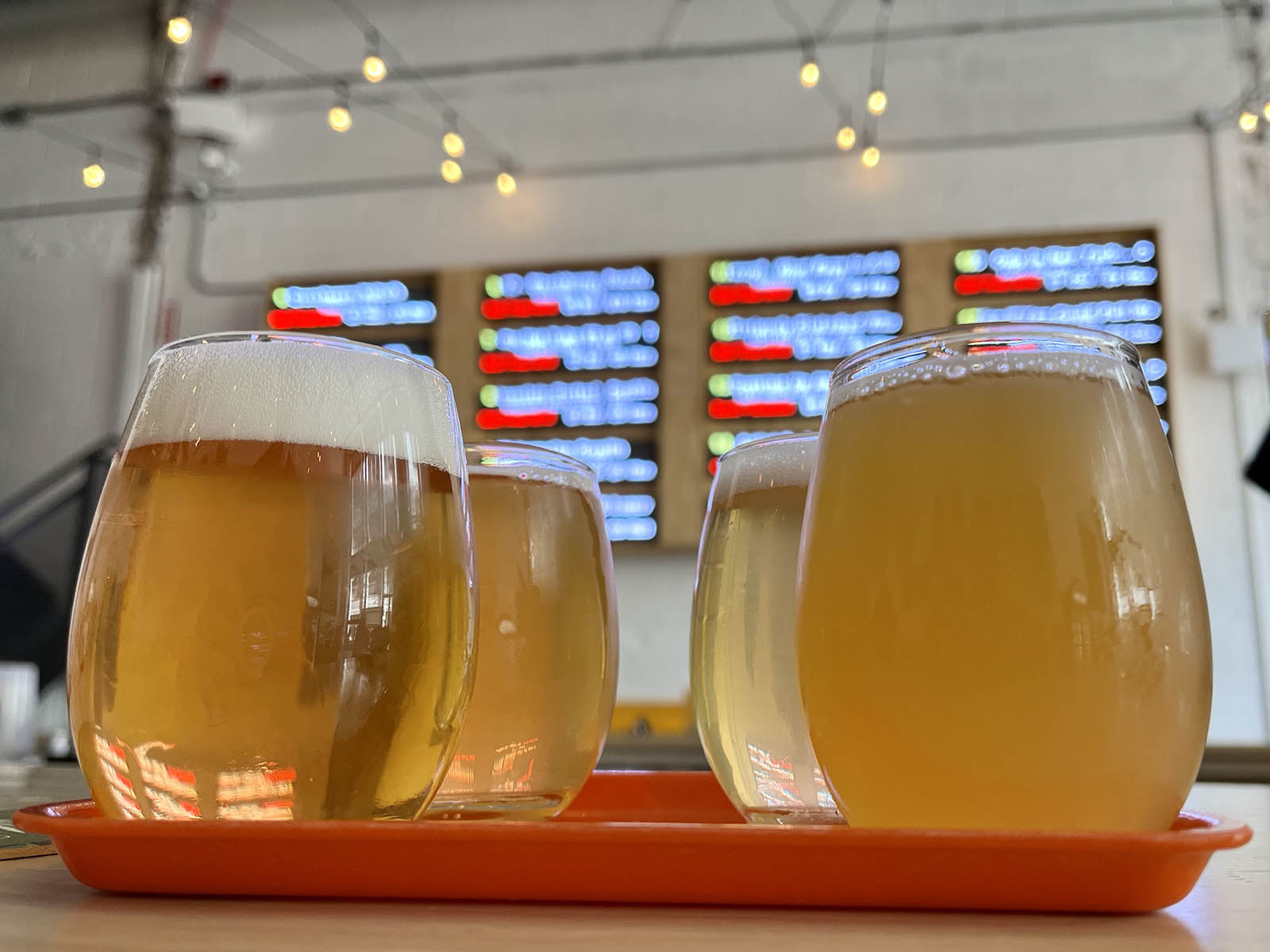 I grabbed a flight of lagers and ales, included a great kolsch and a spelt lager, at Evil Twin Brewing, 43 Main St., in the shadow of the Manhattan Bridge – yes, my kid demanded THAT shot from Washington Street – before walking through some weekend markets to get to the Kings County Distillery taproom located in the historic Brooklyn Navy Yard gatehouse.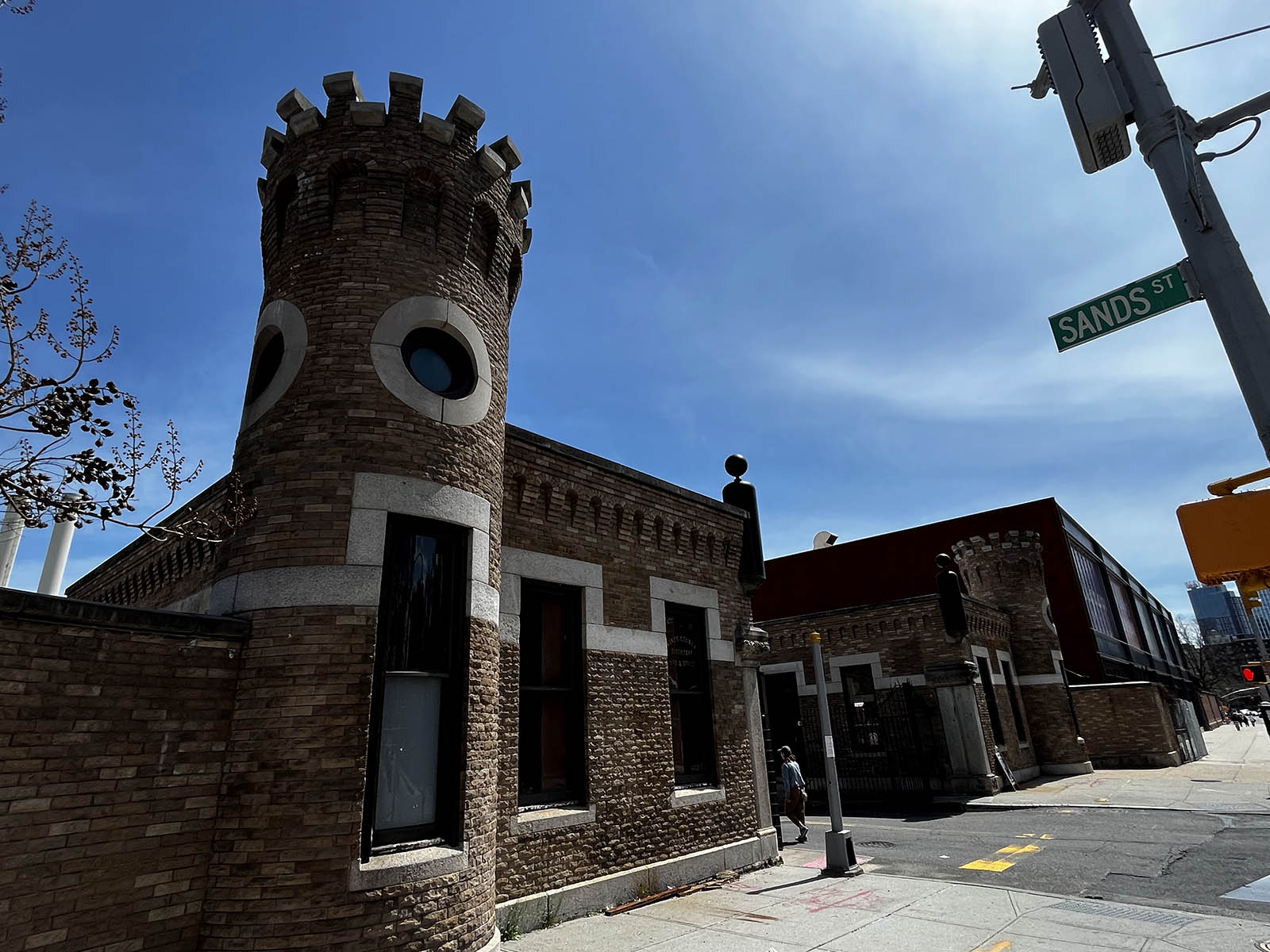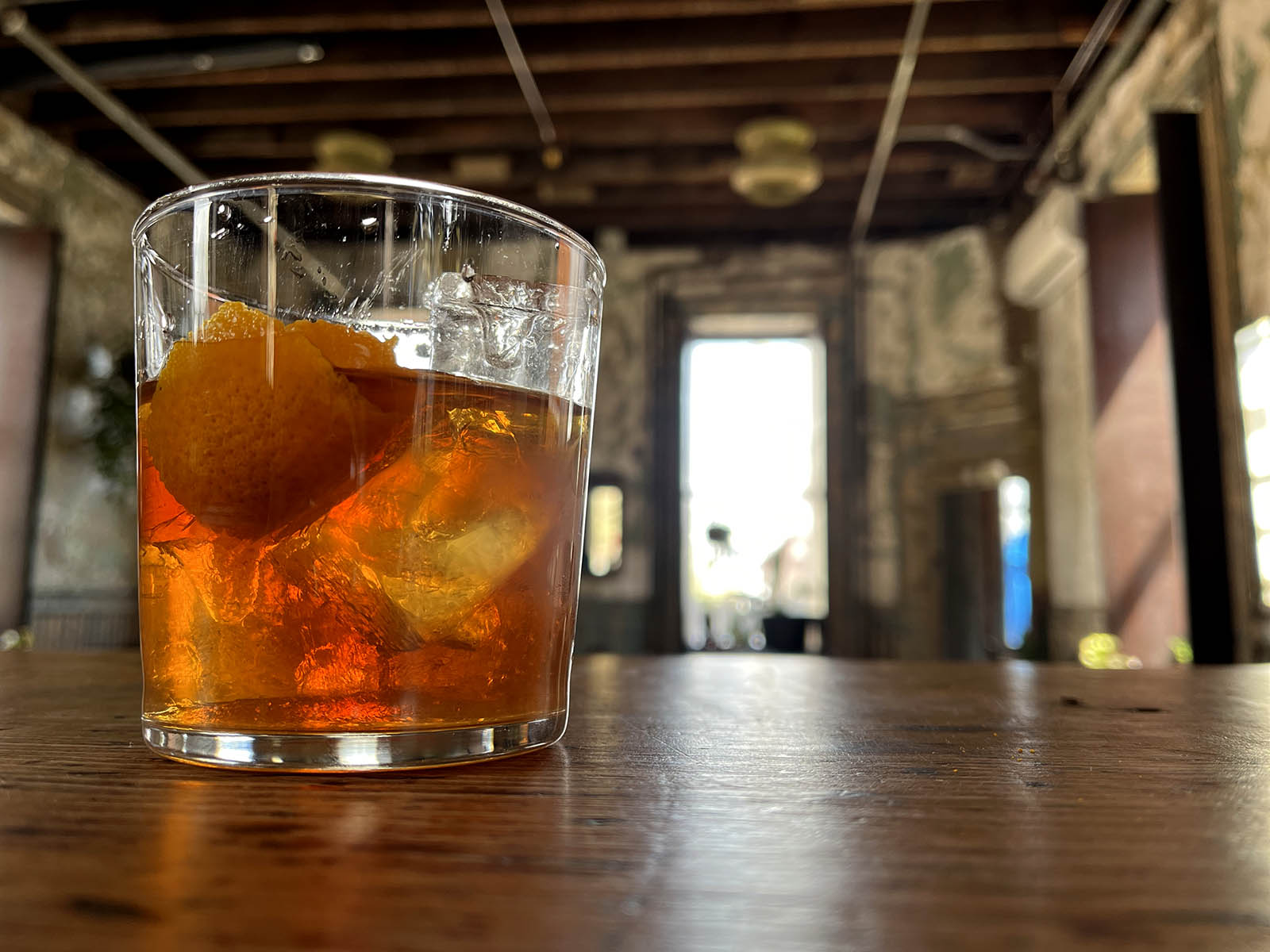 There I had a whiskey Old Fashioned and took photos of the Urban Spelunking-able tasting room. Alas, the distillery was closed to the public while we were there, but it was still nice to stop and have a drink at the Navy Yard, where I can remember, as a child, visiting my grandfather, who was a Navy cook.
Back into Manhattan, we crossed off two things from the kid list: Madame Tussaud's Wax Museum and Edge at Hudson Yards.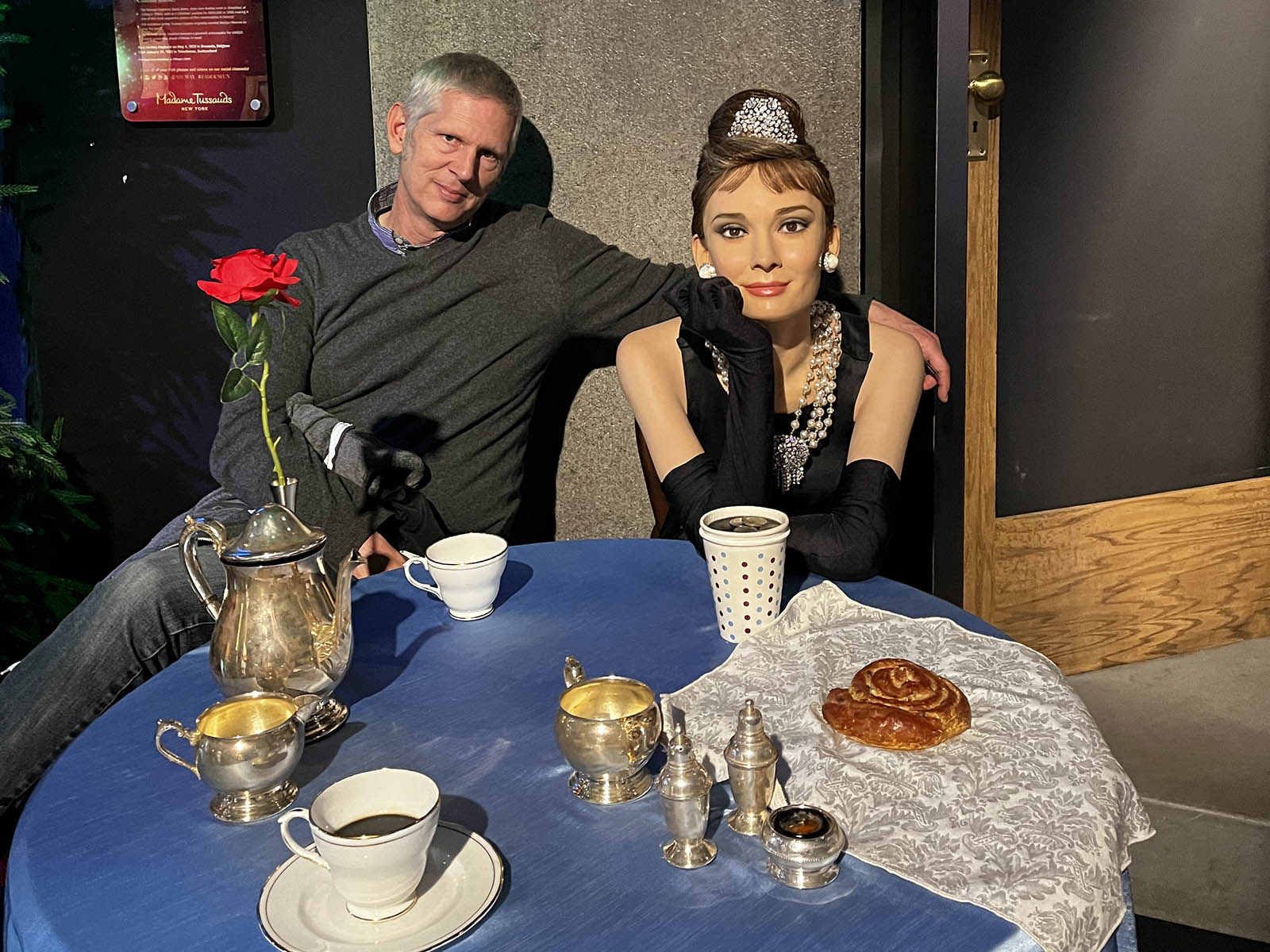 Although I'm of a "certain age," I'd never visited a wax museum and I was skeptical that it would be a but dull, over-hyped. But, honestly, it was a blast. The museum, on 42nd Street, just west of Times Square, was packed – with a line of eager visitors out front – and inside there was everyone from Abraham Lincoln to Billie Holiday to the Hulk to 1970s Stevie Wonder to Taylor Swift and beyond.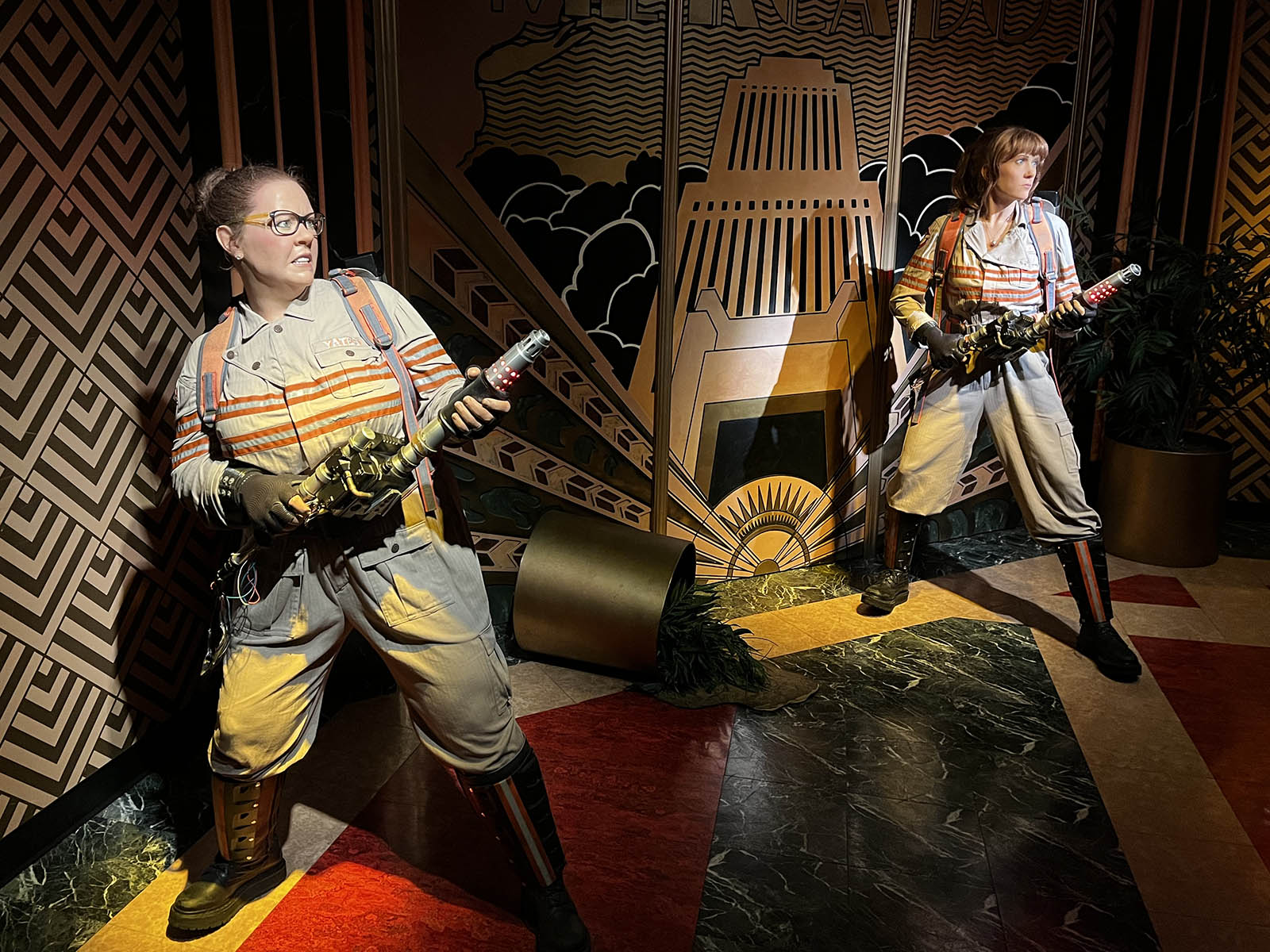 There was an extensive "Ghostbusters" section, a floor rumbling 4-D Marvel film, a hall of presidents and in most every case, the wax statues were astonishingly lifelike. I had a photo taken of me chillin' at breakfast with Audrey Hepburn, but I have a camera full of photos of my tween standing next to nearly every wax figure in the place.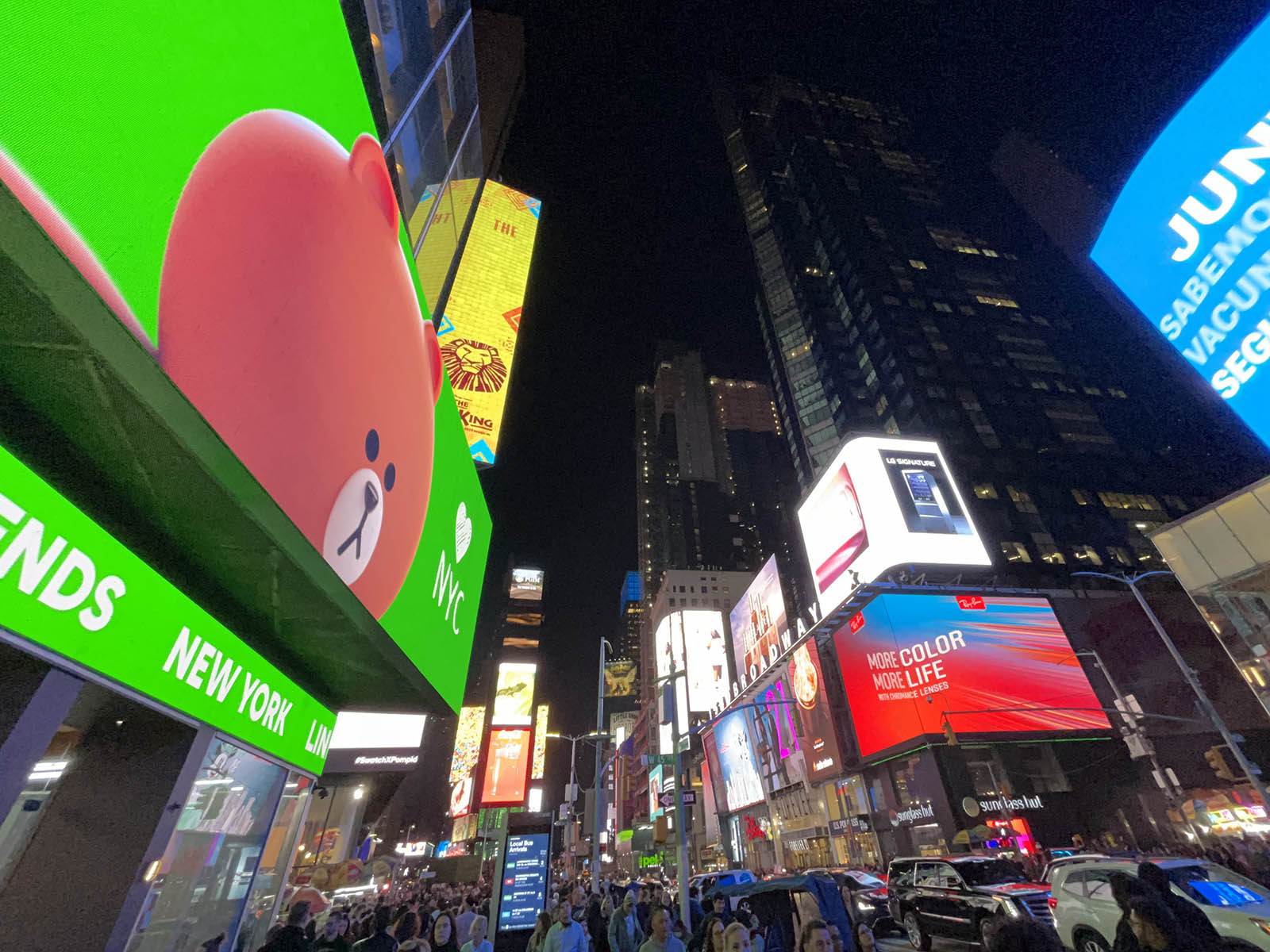 After a de rigueur stroll through the sea of humanity and neon at Times Square, we went over to Hudson Yards to walk a bit of High Line, take photos of the Vessel and the Citrovia display and go up to Edge, the highest outdoor viewing terrace in the Western Hemisphere about 100 floors up at 30 Hudson Yards.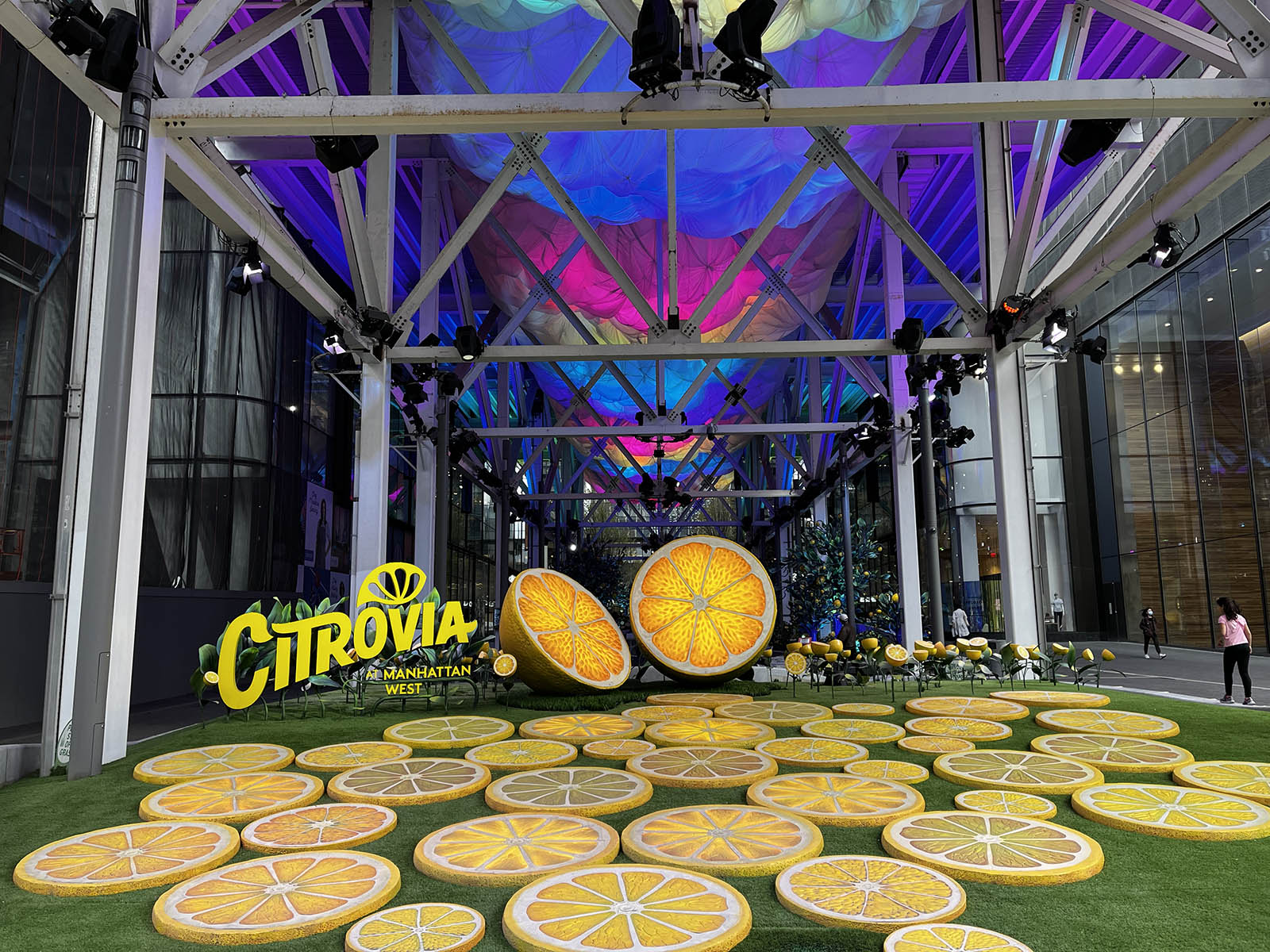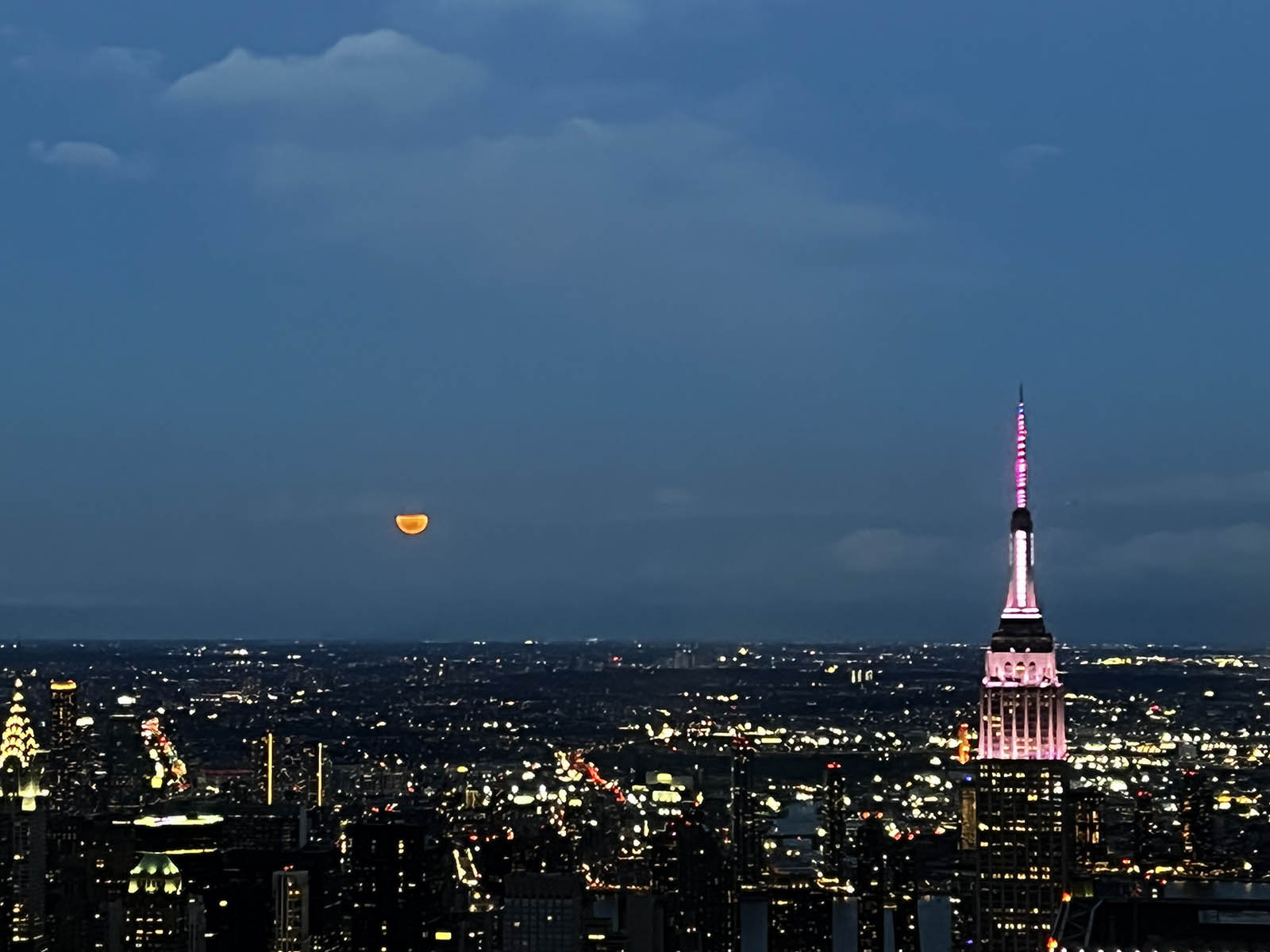 Although we didn't get strapped in to lean over the side, we did get to see a stunning pink moon in the eastern sky, dangling there as if an Instagram-ready prop.
And we did stand on the clear floor to get a view straight down 1,200 or so feet.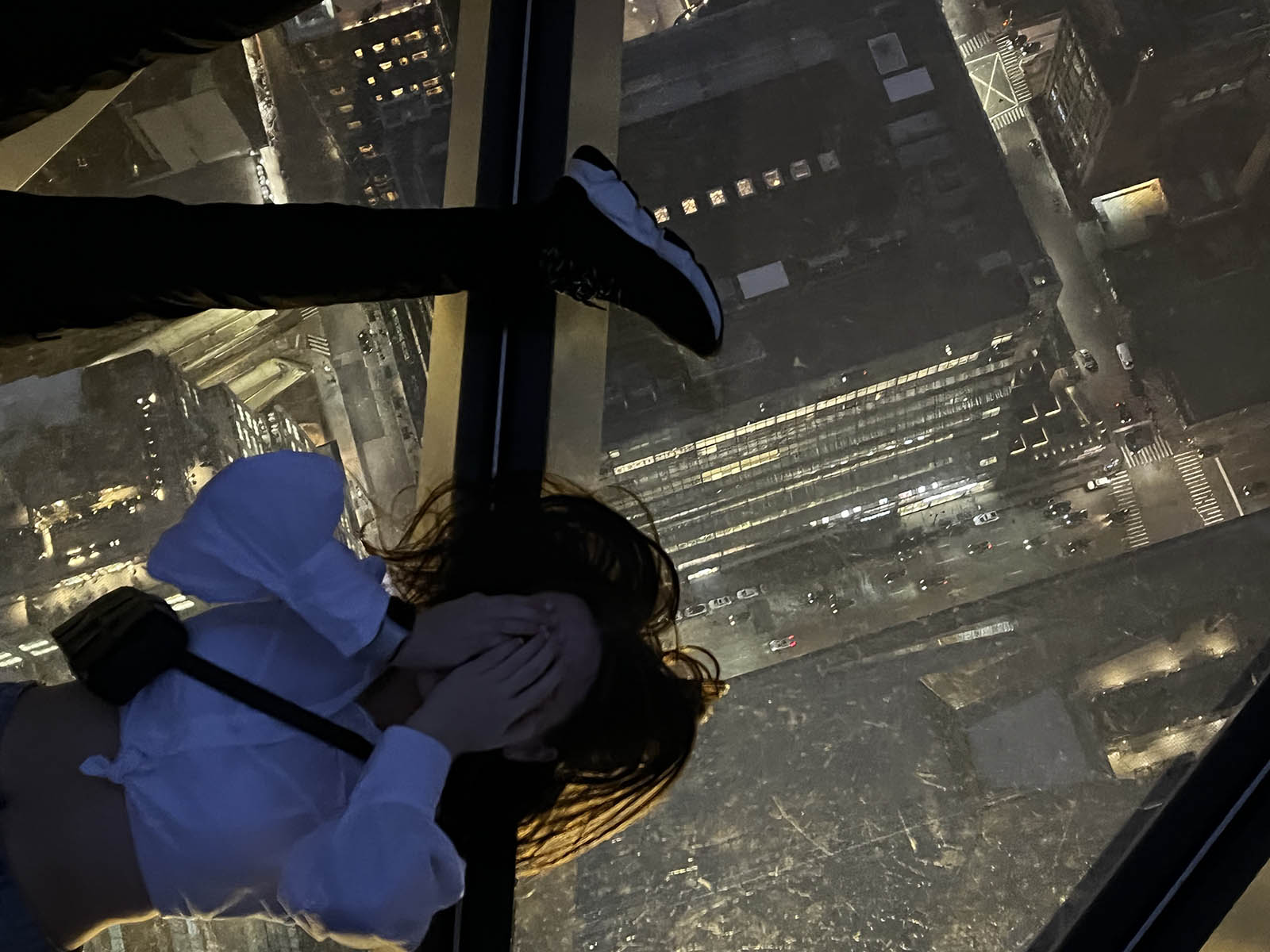 While I don't suggest you waste your time on this, we also did a tour around my old neighborhood in Brooklyn, where my kid wanted to see the house I grew up in, my schools and the site of the record shop where I got my first job at age 9.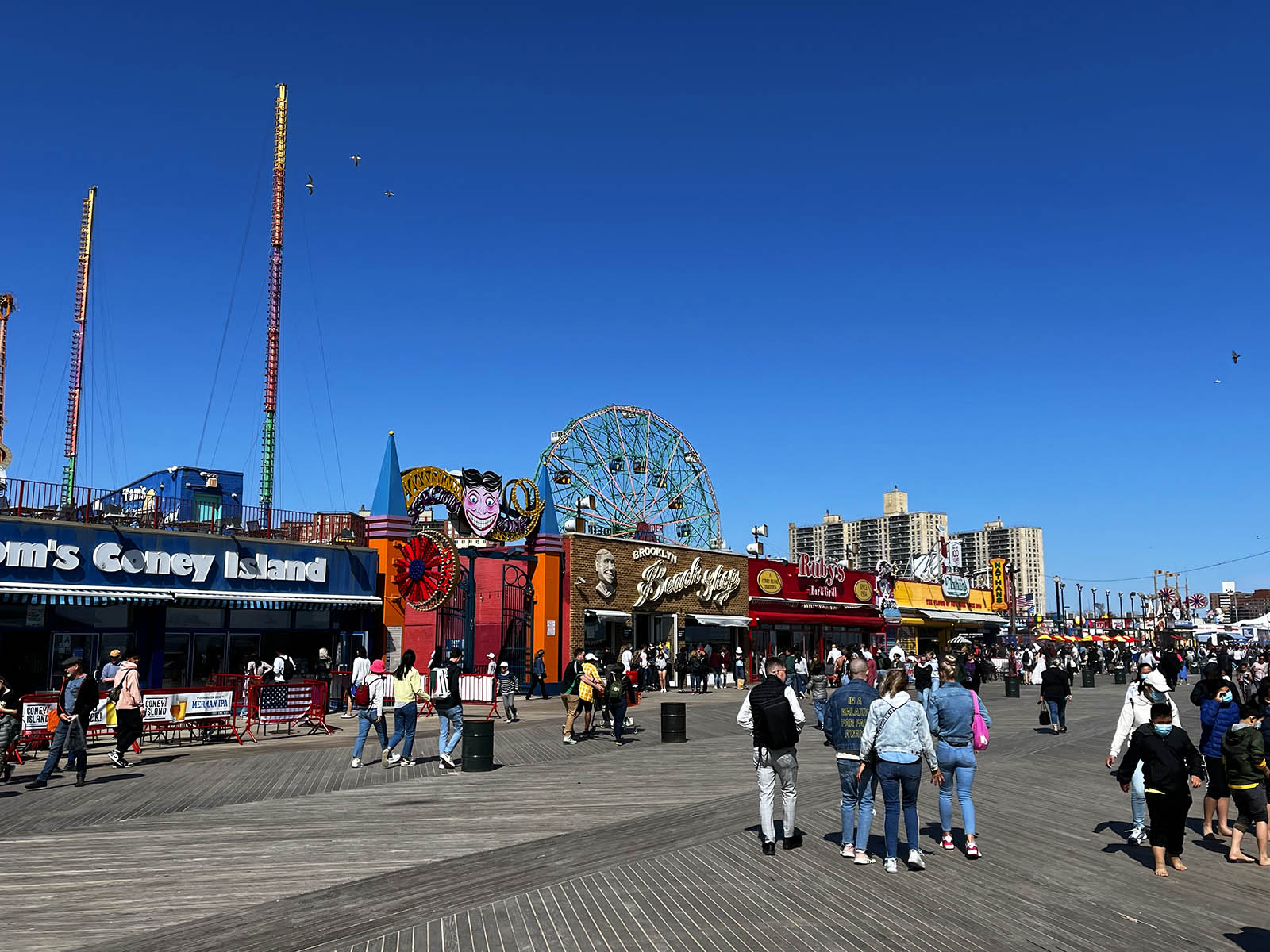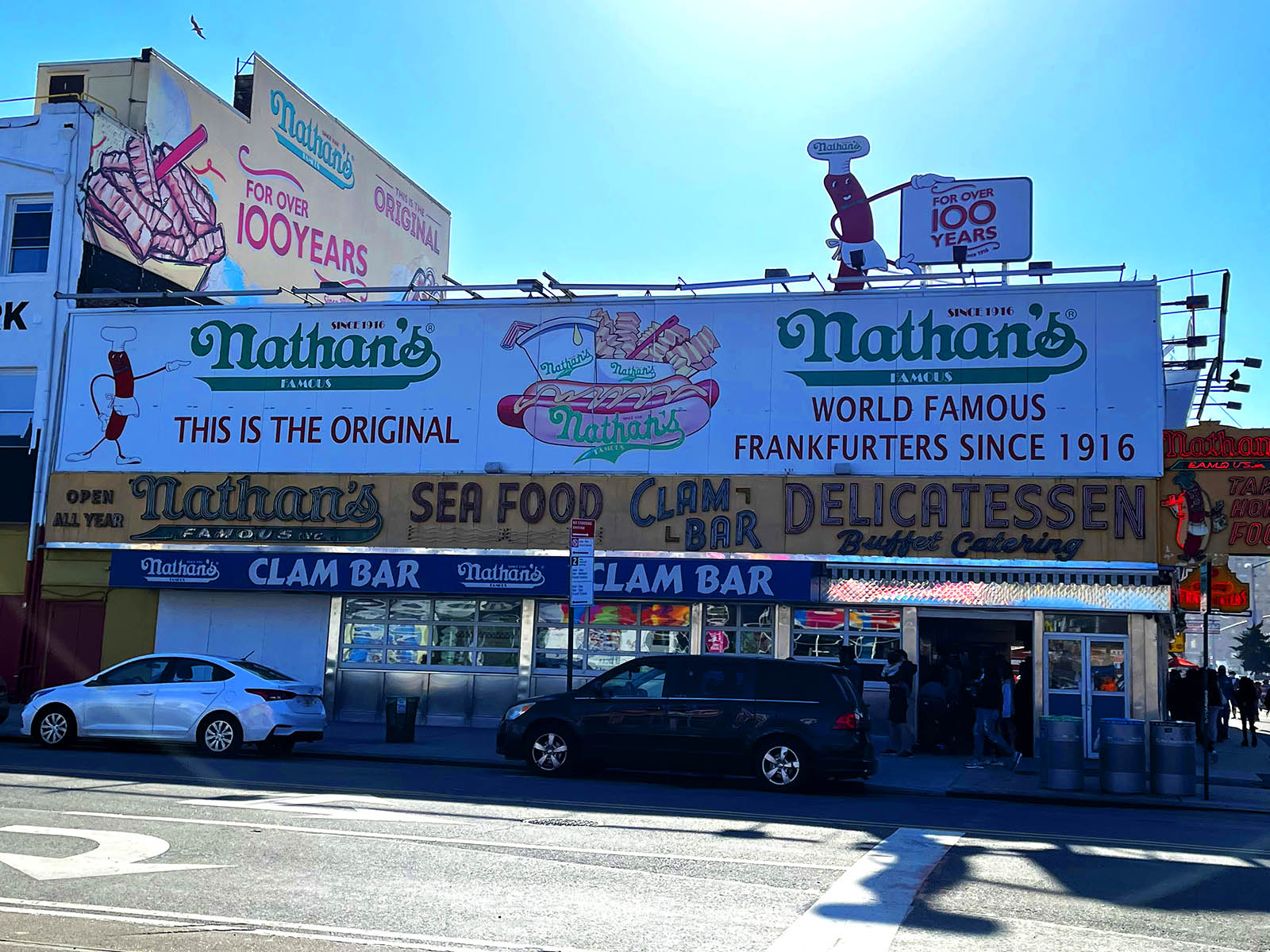 More recommended were our other wanderings, which were also more of what you'd expect from me, if you know me. We went to Coney Island – where frozen custard debuted in 1919 – and played games, ate Nathan's hot dogs and fried clams, collected seashells and where my tween became an honorary Brooklynite by riding the Cyclone.
We got Italian cookies and pastry at Pasticceria Monteleone and Court Street Pastry Shop in Carroll Gardens, gargantuan sandwiches at Defonte's Italian sandwich shop in Red Hook and more Italian pastries at Rocco's on Bleecker Street (OK, and at Ferrara, too, in Little Italy) while visiting the old family stomping grounds in the West and South Village.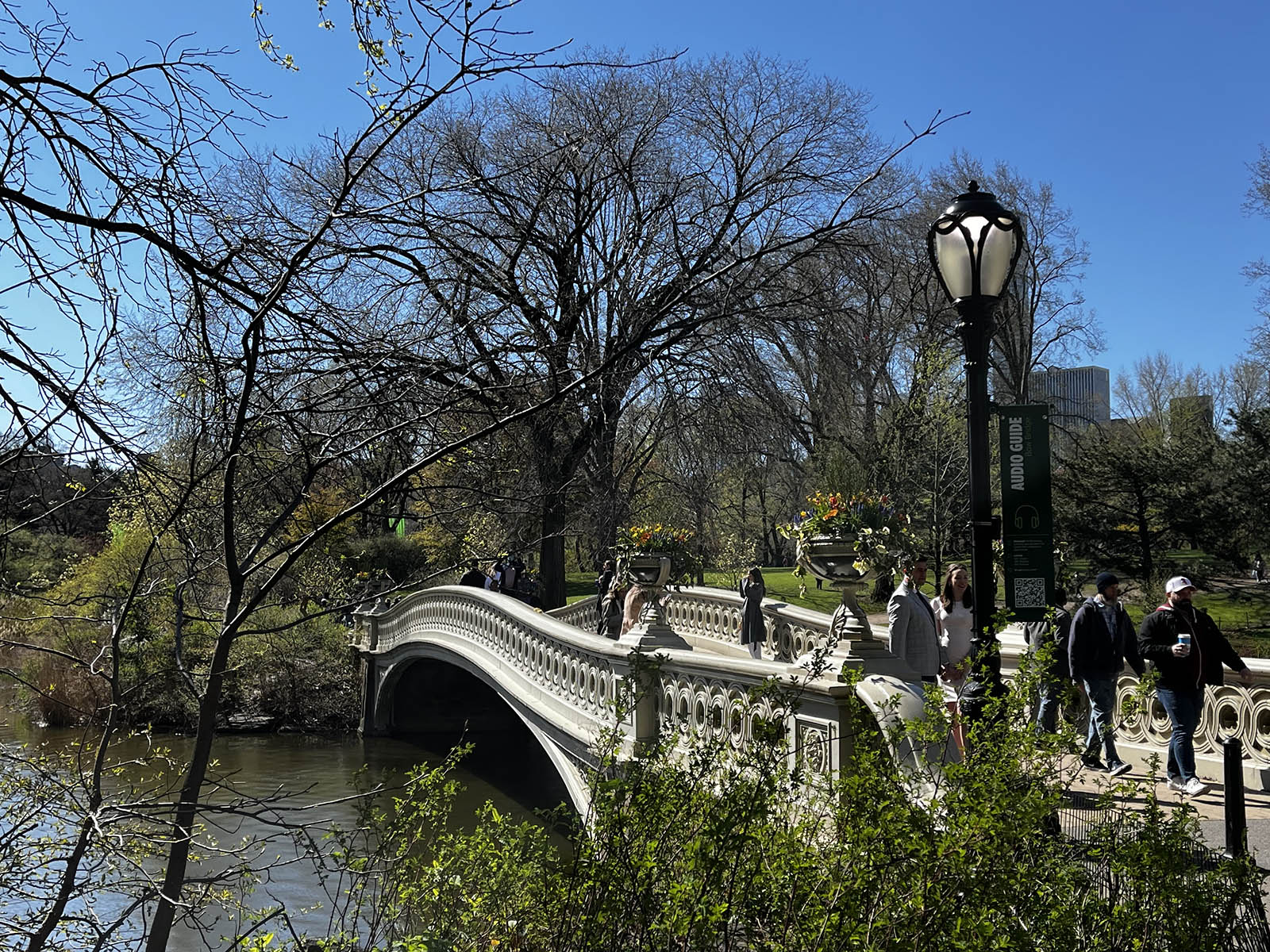 There was time for a walk through Central Park and photos at Strawberry Fields, Bow Bridge and on Umpire Rock, plus Rockefeller Center and a peek inside Grand Central (alas, my happy place, the Oyster Bar, was closed).
Of course, we squeezed in a Mets game, too. It was Opening Weekend at Citi Field and in the sun at least, it was warm and victory was ours.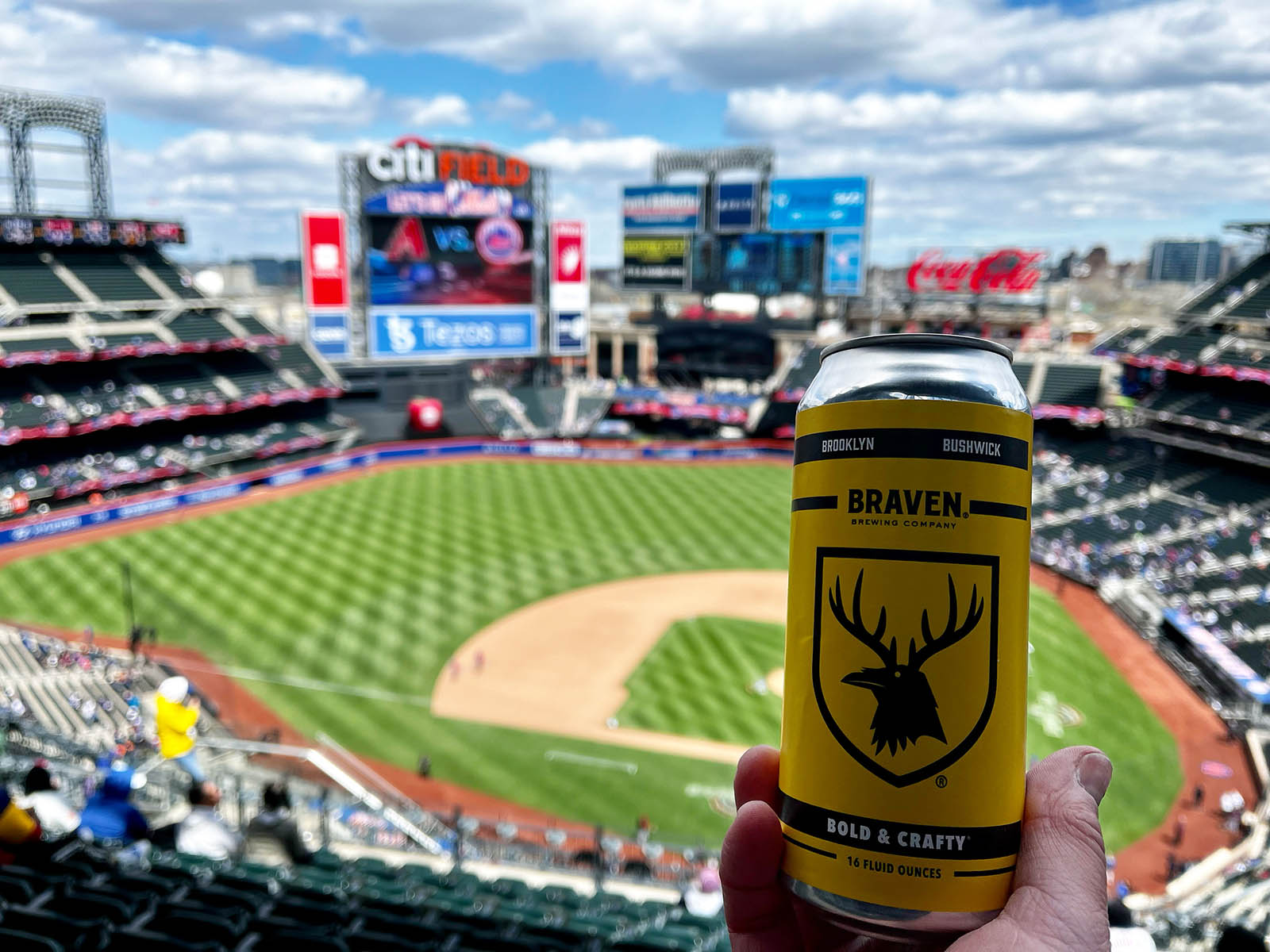 We had a little time before hitting one more unexpected stop – the Color Factory, 251 Spring Street, in SoHo – so we wandered SoHo and did a turn through Chinatown and Little Italy (OK, we had pastries at Ferrara, too. Don't judge!).
Again, I was a little unsure of what to expect at Color Factory, which describes itself as "an interactive art museum," but doesn't really make it clear what to expect.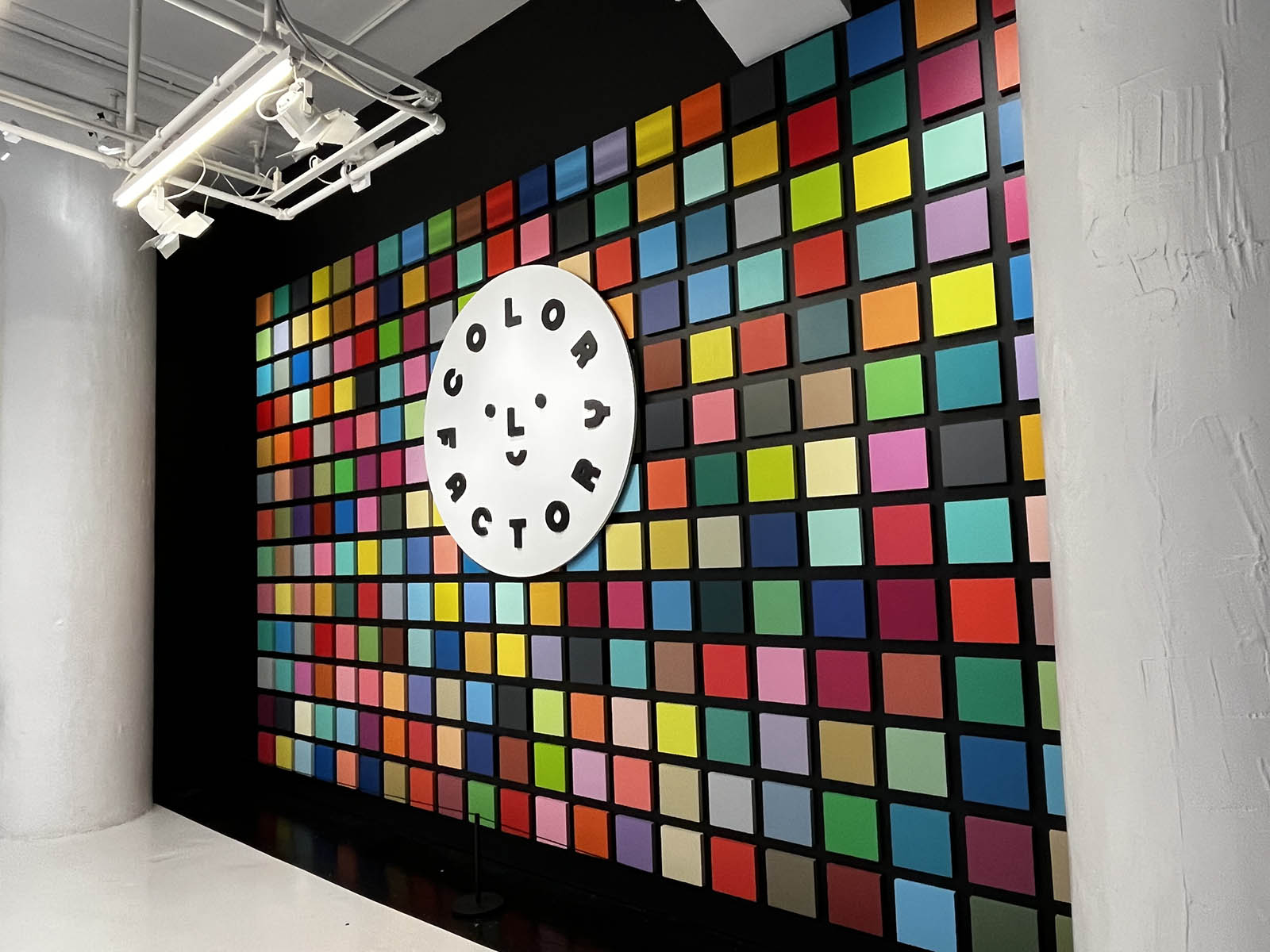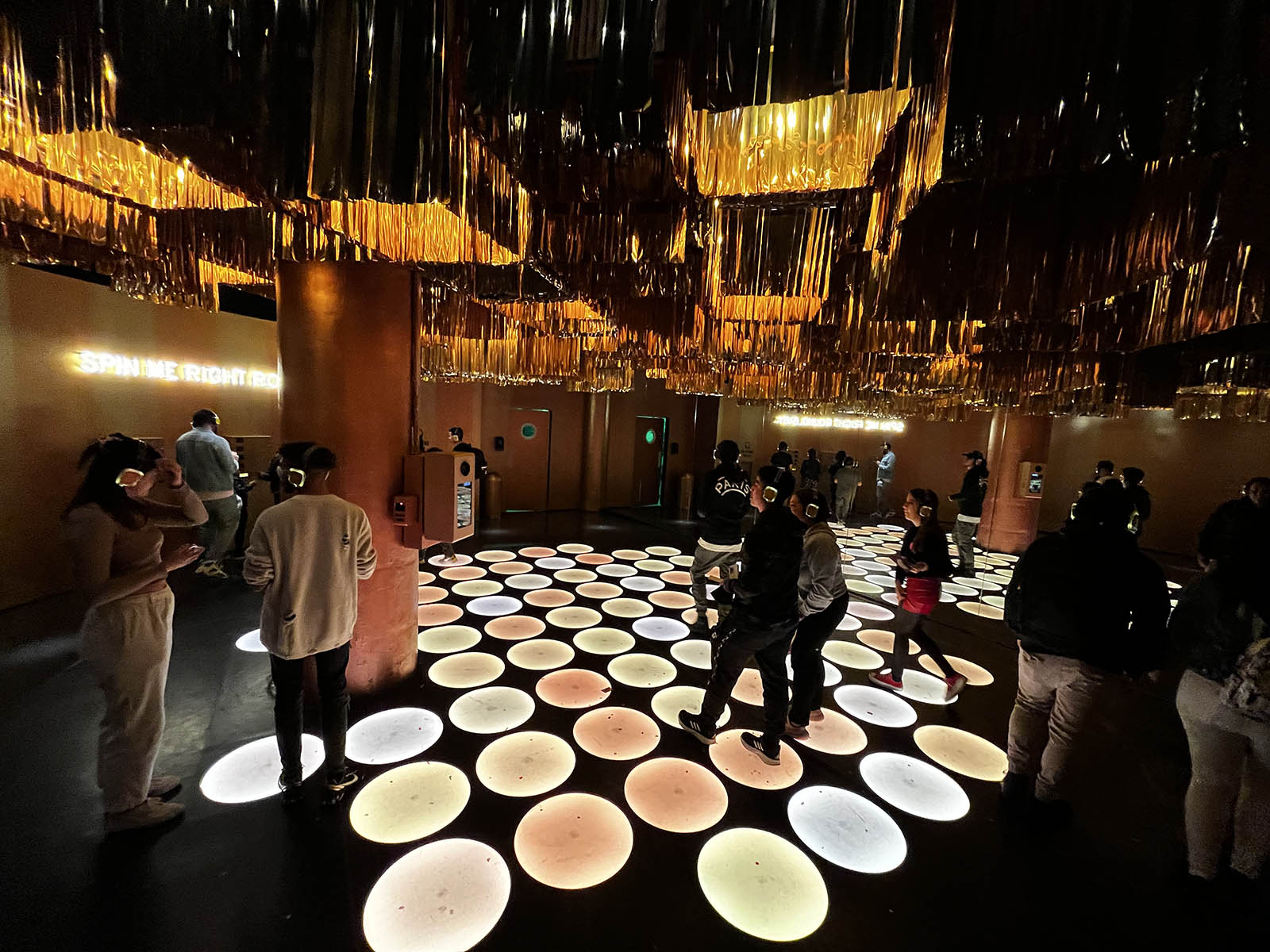 We threw confetti, drew portraits of each other, danced to Madonna's "Borderline," romped in a soft blue ball pit – and more color-themed activities – and were rewarded along the way with little treats. We had an absolute blast.
And we did it all in a long weekend, thanks to a quick and easy pair of direct, nonstop JetBlue flights from MKE to JFK.
JetBlue, new to Milwaukee, offers one daily nonstop flight in each direction between Milwaukee and Kennedy.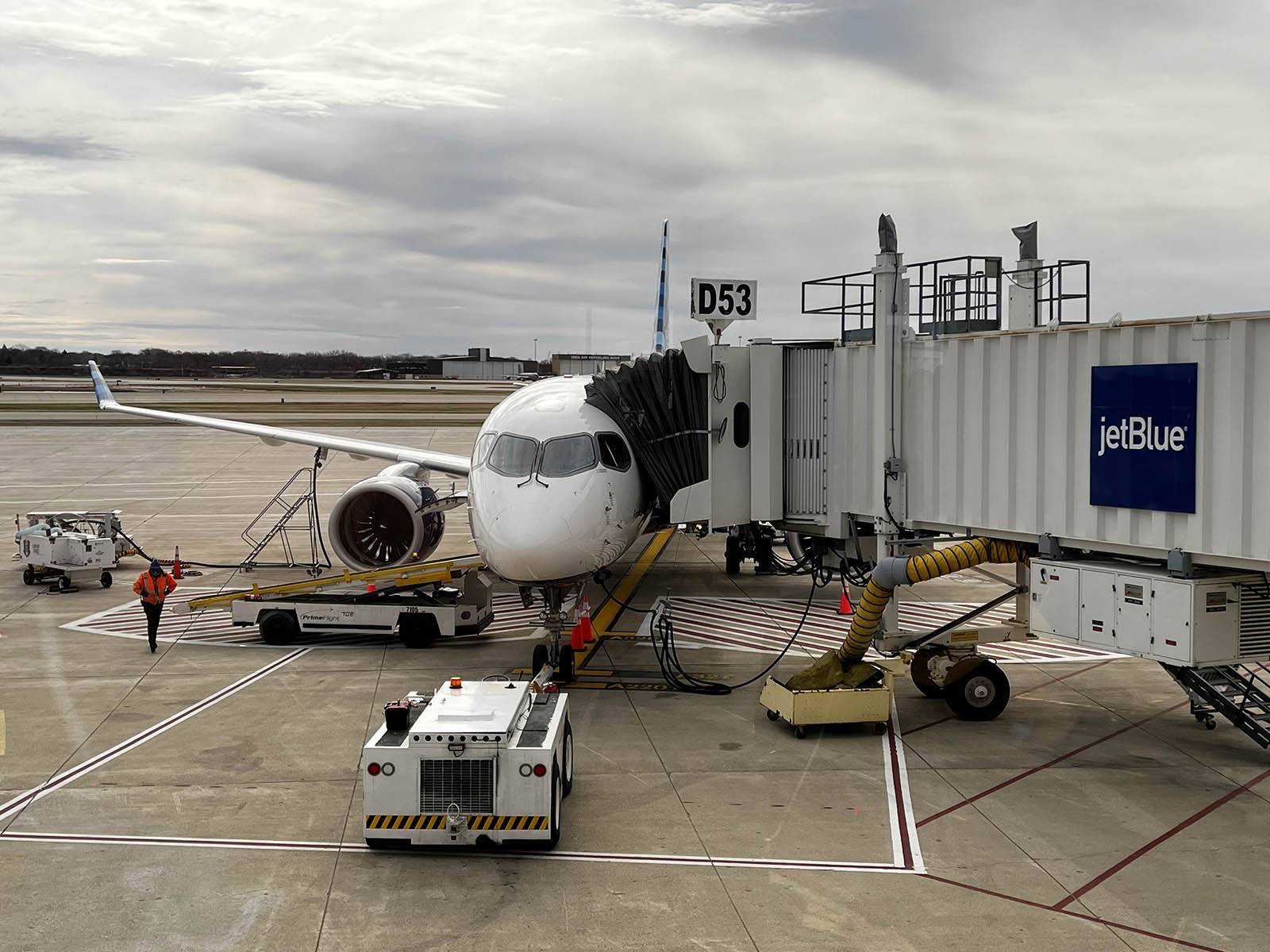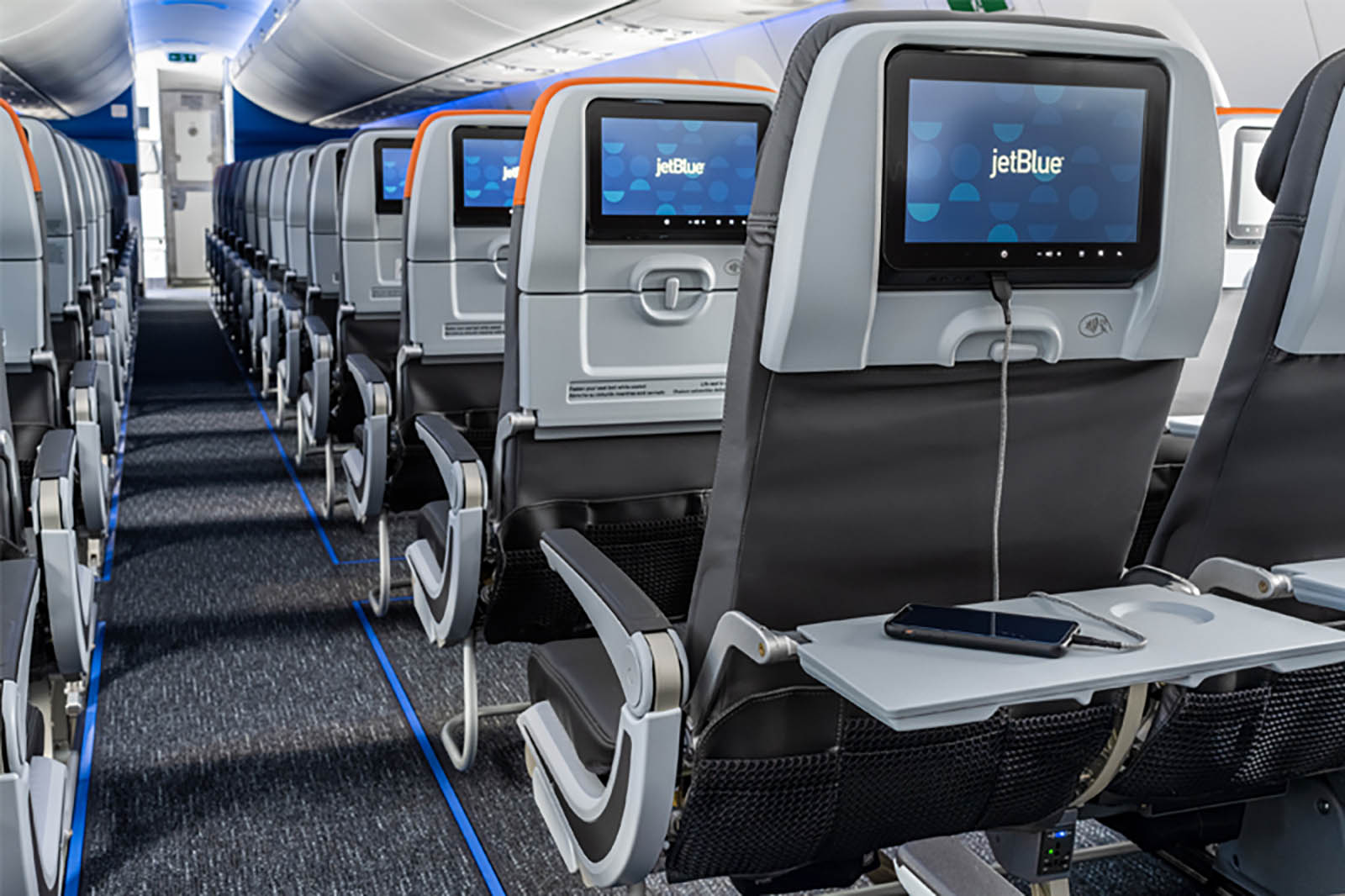 "Adding Milwaukee to our route map will help diversify our markets, support our Northeast growth strategy and give our customers more travel options," said Andrea Lusso, vice president network planning, JetBlue, last month.
"We are excited to offer our customers flying for business or leisure an opportunity to explore Milwaukee and connect Milwaukee residents to our New York and Boston focus city networks."
Born in Brooklyn, N.Y., where he lived until he was 17, Bobby received his BA-Mass Communications from UWM in 1989 and has lived in Walker's Point, Bay View, Enderis Park, South Milwaukee and on the East Side.
He has published three non-fiction books in Italy – including one about an event in Milwaukee history, which was published in the U.S. in autumn 2010. Four more books, all about Milwaukee, have been published by The History Press.
With his most recent band, The Yell Leaders, Bobby released four LPs and had a songs featured in episodes of TV's "Party of Five" and "Dawson's Creek," and films in Japan, South America and the U.S. The Yell Leaders were named the best unsigned band in their region by VH-1 as part of its Rock Across America 1998 Tour. Most recently, the band contributed tracks to a UK vinyl/CD tribute to the Redskins and collaborated on a track with Italian novelist Enrico Remmert.
He's produced three installments of the "OMCD" series of local music compilations for OnMilwaukee.com and in 2007 produced a CD of Italian music and poetry.
In 2005, he was awarded the City of Asti's (Italy) Journalism Prize for his work focusing on that area. He has also won awards from the Milwaukee Press Club.
He can be heard weekly on 88Nine Radio Milwaukee talking about his "Urban Spelunking" series of stories.