Though one of Milwaukee's most recognizable and historic Prospect Avenue mansions was erected as a home for a wealthy industrialist, it wasn't long before sweet melodies filled the air in the sprawling building ... and continue to do so a century later.
Built by Charles L. McIntosh, to plans drawn by Chicago architect H.R. Wilson, the red Galesburg brick mansion at 1584 N. Prospect Ave. is now home to the Wisconsin Conservatory of Music.
The mansion itself is beautiful, and the music wafting from all corners of its four stories (including the basement) elevates the experience.
"It's very inspiring to the work that we do," says WCM's Director of Corporate and Foundational Giving, Brenda Hughes, as she shows me around what is officially called the McIntosh House, despite the fact that its namesake didn't live there long.
"Beginning at 9 o'clock in the morning, there's always someone practicing, as you can hear now. There's always music. And by the time mid-afternoon comes and students start coming out of school, there's music on every floor."
McIntosh built the Neo-Classical Revival home on what was Milwaukee's gold coast. Prospect Avenue was lined on both sides with stunning homes that were a testament to the wealth and power of their owners.
McIntosh was born in New York and after working in Hartford, Conn., and Denver, he arrived in Racine in 1895 where he bought into and took control of J.I. Case. As the 20th century dawned, McIntosh moved to Milwaukee to become a director at Milwaukee Harvester Co., which later merged with four other companies to become International Harvester.
In order to create the kind of home befitting a successful industrialist, McIntosh bought the smaller Robert Spencer house on Prospect and tore it down. By the autumn of 1904, his stunning new mansion was completed.
A city preservation report calls the home "one of Milwaukee's finest and most unusual examples of Neo-Classical Revival domestic architecture," describing it like this:
"The main block of the McIntosh House is a seven bay, two-story, hip-roofed, symmetrical composition flanked with a one-story side wing and arcaded loggia. The focal point of the facade is the monumental, four column Corinthian portico executed in brownstone and approached by a broad flight of stairs. The portico shelters the fully glazed double entrance doors, which are surmounted by a wide wrought iron railed balcony supported on brownstone consoles."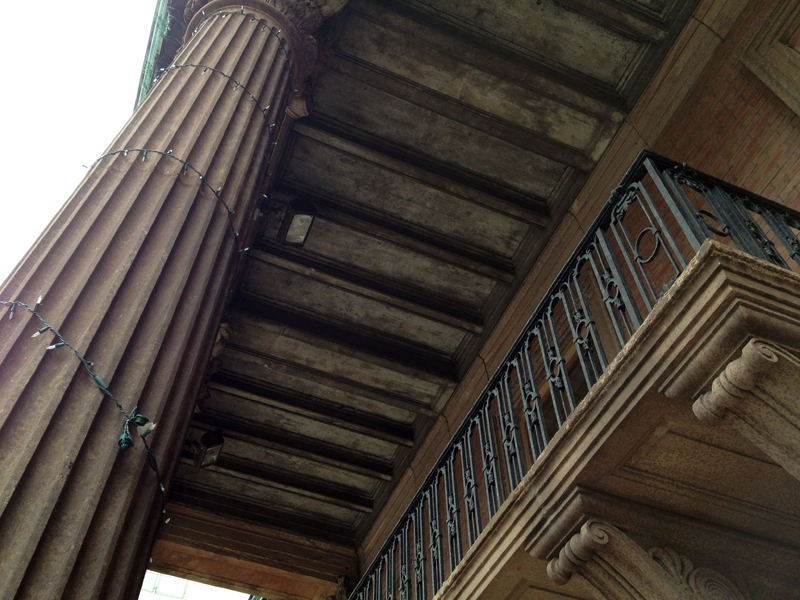 A trio of dormers – with roofs that echo the arched tops of violins – peeks out over the balustrade above the loggia.
There's a beautiful east-facing apse that offers stunning, unobstructed views of Lake Michigan from window seats on the first and second floors. And that's just the beginning.
Step inside and to the right is the ornate women's reception room with its marble fireplace, flamboyant decor and hand-carved moldings. Across the lobby is the gentlemen's salon, which had a walk-in humidor. Straight back is the former dining room with its mahogany paneled walls, impressive chandeliers and dark wall paintings of castles and other old world scenes.
Off to the right in the former library are the conservatory's administrative offices. Some of the most interesting, including Hughes' office, were created by enclosing a former carriageway. Hughes' space, which has soaring arches in three walls, may be the only office in town with a working downspout running through it.
On the opposite site of the lobby, in that one-story wing, is an incredible recital hall that was described a century ago as a "veritable paradise." It remains so today with its vaulted ceiling laced with decoration depicting vines and flowers, and the fine acoustics that make it a perfect recital hall for the conservatory.
Back out in the lobby, Hughes takes me to stand in a specific spot and says, "listen. This is the sweet spot.
"At the peak of the day you can hear, with crystal clarity, all the different instruments and ensembles and everything."
McIntosh died in 1910 and 11 years later his widow sold the home to Mr. and Mrs. William Osborne Goodrich, and the musical life of the mansion began.
Goodrich was born into a family that produced linseed oil. Blinded by a gun accident at age 12, Goodrich fell in love with music, studying piano and voice. His sight later returned in part and his musical career flourished, often alongside his work in the family businesses.
He studied and performed music in Europe and it is said that Wagner's widow was enamored of his talents.
He and Mrs. Goodrich – Marie, the second eldest daughter of Capt. Frederick Pabst – built that stunning Gothic mansion at 2234 N. Terrace Ave., just across from Water Tower Park, but traded it for the McIntosh House.
"I think this was recognized even at the time as the jewel of the neighborhood. This was definitely a larger space for them," Hughes speculates about why the Goodriches changed their address.
"They were the perfect fit for parties and recitals. He sang all his life. He said that music was the most important part of his life."
Goodrich surely was also struck by the alluring details, including the broad, impressive staircase up from the lobby to the second floor, where, halfway up, there's a stretch of stained glass windows believed to be the work of Tiffany Studios, though they are unsigned.
On the second floor, former family and guest bedrooms, along with a couple parlors are now used as practice studios for students of the conservatory, like most every available space in the building.
In 1932, the Goodriches moved to a new Alpine chalet-style home they built in Fox Point – on Goodrich Lane, how could they resist? – and leased the mansion to the Wisconsin College of Music, which then bought the home 16 years later.
The school was founded in 1901. In 1968, it merged with the Wisconsin of Conservatory of Music – which had started in 1899 – under the latter name.
Both schools moved many times over the years, and the Conservatory's most recent home before the merger was the two-story building with the soaring second-story windows at 1428 N. Farwell Ave., which it had occupied since 1962.

(Photo: Matt Mueller)
Nowadays, the mansion is known to most in town as the Wisconsin Conservatory of Music rather than the McIntosh House, and the building is alive with activity – and melody – most every day of the year.
In addition to its adult students of all ages, the conservatory also brings the joy of music to children of all ages via a wide range of classes and camps, many of which are held in the room once occupied by a little boy. A little nook cozies up next to the fireplace and atop that east apse is a lake-view porch (that would make any parent a nervous wreck).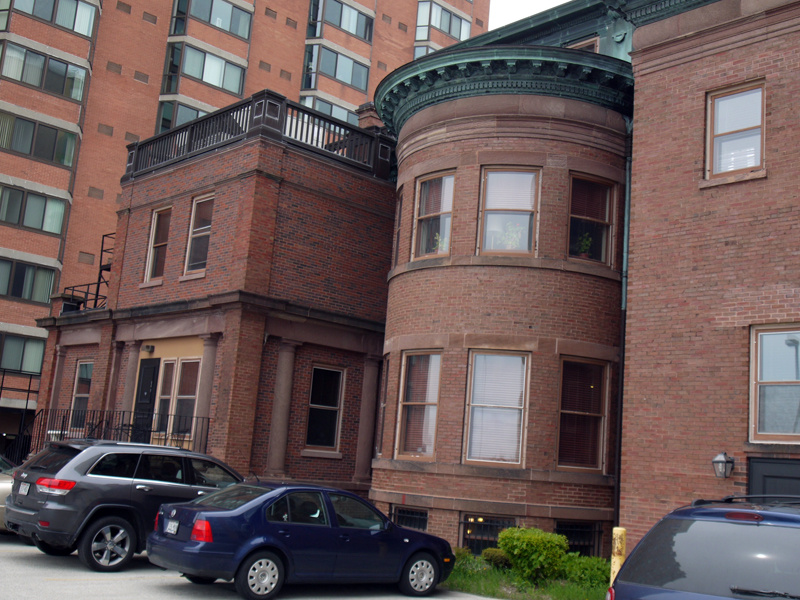 Even up here, small rooms that were once storage areas and servants quarters house music stands, pianos and other instruments.
Near the end of his life, Goodrich – who died in 1956 at age 93 – told a reporter, "I've had stables of horses, Mediterranean yachts, absorbing business association, years of living in Europe – but music has been the greatest pleasure of all."
Stand in the "sweet spot" in the lobby of his former home and you'll not only hear music wafting in from all sides, you just might be able to picture McIntosh smiling contentedly.
Born in Brooklyn, N.Y., where he lived until he was 17, Bobby received his BA-Mass Communications from UWM in 1989 and has lived in Walker's Point, Bay View, Enderis Park, South Milwaukee and on the East Side.
He has published three non-fiction books in Italy – including one about an event in Milwaukee history, which was published in the U.S. in autumn 2010. Four more books, all about Milwaukee, have been published by The History Press.
With his most recent band, The Yell Leaders, Bobby released four LPs and had a songs featured in an episode of TV's "Party of Five," and films in Japan, South America and the U.S. The Yell Leaders were named the best unsigned band in their region by VH-1 as part of its Rock Across America 1998 Tour. Most recently, the band contributed tracks to a UK vinyl/CD tribute to the Redskins and collaborated on a track with Italian novelist Enrico Remmert.
He's produced three installments of the "OMCD" series of local music compilations for OnMilwaukee.com and in 2007 produced a CD of Italian music and poetry.
In 2005, he was awarded the City of Asti's (Italy) Journalism Prize for his work focusing on that area.
He can be heard weekly on 88Nine Radio Milwaukee talking about his "Urban Spelunking" series of stories.