Milwaukeeans take food seriously, and we tend to have strong opinions about restaurants. Some local eateries, however, seem to be more controversial than others, receiving written and word-of-mouth reviews that range from praising to bashing.
Here are six restaurants that diners seem to either love or hate. Feel free to chime in with your opinions on the joints or to suggest other disputable dining spots.
Some diners find this "greasy spoon" cantina to be the Mecca of Mexican comfort food, whereas others declare it disgusting. Most of the food is served on paper plates, which again, is a point of contention for some and an endearing attribute for others. In 2019, the prices went up substantially for the first time in years, yet still remain less than the price of average Mexican fare in Milwaukee.Currently available for limited dine-in or carry-out.
(PHOTO: Facebook)
There's a lot of commotion during Lakefront Brewery's Friday night fish fry thanks to a rollicking polka band, a busy dance floor and "family style" seating. And yet, some folks say the fish fry is not the strong point of the experience. Still others appreciate the simplicity of it – as well as the coveted potato pancake "side" that isn't available at many local fish fries. (There's also a full menu.) Another dividing point is the number of kids. Some diners find it annoying, whereas others welcome the chance to responsibly parent while drinking a Riverwest Stein or two. Masks are currently required; patio seating.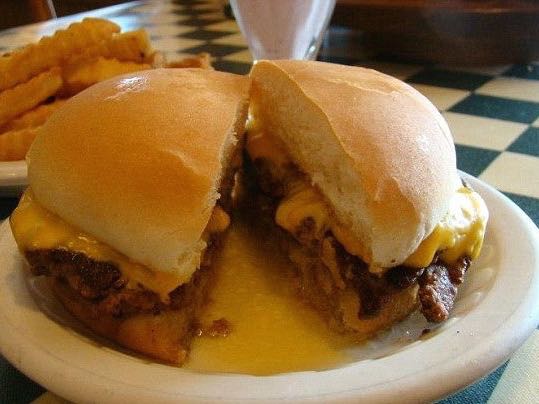 (PHOTO: Facebook)
With the lack of lunch counters left in the city, Solly's definitely has that going for it. However, the burgers – which are literally bathing in butter – tend to divide diners. Even burger fanatics sometimes find them too greasy and gross, whereas others salivate at the very thought of them. Either way, Solly's Grille has been in business since 1936 and shows no sign of slowing down or offering less-sinful burgers. Dine-in and patio service; COVID19 safety procedures in tact.
(PHOTO: Facebook)
Real Chili serves up bowls of hearty, no-frills chili made from beans and meat atop spaghetti noodles. It's savory, as spicy as you like ... and greasy. The good news and the bad news is that nothing, except the price, changes at Real Chili, including the recipes and the red-and-black decor. However, it regularly receives polarizing reports. OnMilwaukee senior writer and dining critic Lori Fredrich said it best: "People either love the chili or compare it to dog food." Both locations currently open.
Every time someone calls Victor's a "cougar bar" or "Victims," someone else usually chimes in with a "but the food's really good" comment. Many Milwaukeeans aren't aware that Victor's is as much of a dining destination as it is a dance club. Even owner Victor Jones told OnMilwaukee, "We are relatively unknown for our food." Yet people rave online and off about the fish fry, homemade bread, steaks and seafood bisque. The dated roller-rinky atmosphere is also a point of debate, too; some dig the kitsch whereas others find it flaky. Following COVID19 safety precautions; indoor seating only.
BelAir Cantina hasn't been around as long as the other places on this list, but in a short amount of time, they've garnered a varied reputation. Some seek them out with regularity for the Tuesday and Thursday taco deals or the three salsas served with the bottomless baskets of chips. Others find the food overpriced, unauthentic and inconsistent in quality. However, most Milwaukeeans agree that margaritas taste delicious after a long work day. BelAir has patio seating and is following COVID19 safety rules.
Molly Snyder grew up on Milwaukee's East Side and today, she lives in the Walker's Point neighborhood with her partner and two sons.
As a full time senior writer, editorial manager and self-described experience junkie, Molly has written thousands of articles about Milwaukee (and a few about New Orleans, Detroit, Indianapolis, Boston and various vacation spots in Wisconsin) that range in subject from where to get the best cup of coffee to an in-depth profile on the survivors of the iconic Norman apartment building that burned down in the '90s.
She also once got a colonic just to report on it, but that's enough on that.
Always told she had a "radio voice," Molly found herself as a regular contributor on FM102, 97WMYX and 1130WISN with her childhood radio favorite, Gene Mueller.
Molly's poetry, essays and articles appeared in many publications including USA Today, The Writer, The Sun Magazine and more. She has a collection of poetry, "Topless," and is slowly writing a memoir.
In 2009, Molly won a Milwaukee Press Club Award. She served as the Narrator / writer-in-residence at the Pfister Hotel from 2013-2014. She is also a story slam-winning storyteller who has performed with The Moth, Ex Fabula and Risk!
When she's not writing, interviewing or mom-ing, Molly teaches tarot card classes, gardens, sits in bars drinking Miller products and dreams of being in a punk band again.