This summer, we've had a string of exceptionally warm days with the mercury rising well into the 90s and even hitting triple digits on June 21. It's the kind of weather that visits us more and more often, but it isn't entirely new.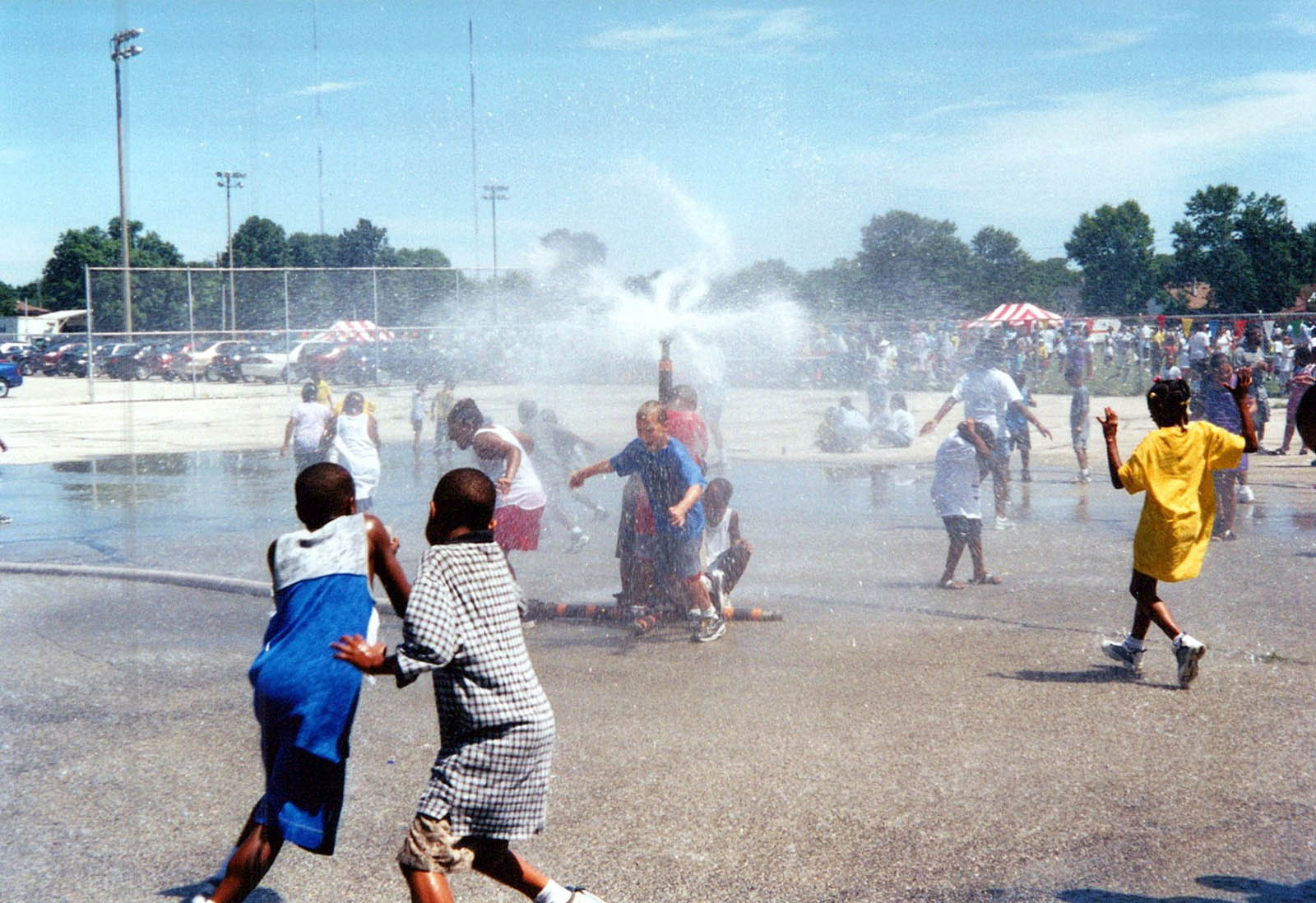 Searing temperatures in the past led sweating citizens to take matters into their own hands and open fire hydrants for relief and fun, providing generations of photographers idyllic scenes of city kids brimming with unbridled joy.
But in the late 1980s the illegal opening of fire hydrants became an epidemic in Milwaukee, leading to dangerously low water pressures and damaged hydrants in the system for fighting fires, as well as injuries to kids playing in the water in the streets and to passing drivers.
Milwaukee Recreation had a history of helping to keep kids cool via a variety of methods. In 1987, for example, it worked with the city to close streets around schools like Kagel in Walker's Point, and open hydrants, so kids could play in the spray safely and under the supervision of adult staff.
Seeking a long-term solution, Milwaukee Recreation teamed with the Mayor's Office, Water Works and Milwaukee Fire Department in 1989 to launch Cool Spots, a program that brought illicit sprays off the streets and moved them legally into playgrounds.
In June 1989, the city's Finance and Personnel Committee recommended allocating $25,000 for sprinklers at 14 MPS and city playgrounds that would operate from mid-June through August on afternoons when the temperature reached 85 degrees.
The plan – in which MFD purchased the sprinklers and provided the hoses and Milwaukee Recreation installed and monitored the sprayers – was approved by the Common Council and by June 27 the program was ready to go.
That year, the Cool Spots were set up at sites that included 20th St. (Wheatley) School, Franklin Square, Columbia Playground, Norris Playground, Palmer Street (now Carver) School, Green Bay Avenue, Berger (MLK) School, Longfellow School, Mitchell School, 21st Street (Gwen T. Jackson) School, 31st Street (Westside) School, Kagel and Vieau.
Cool Spots sprayers were vertical pipes about 5 feet tall on a stand that were connected to hydrants via a traditional fire hose. They shot a spray of water up – 250 gallons a minute! – that cascaded back down in something resembling the shape of a canopy coconut tree fronds.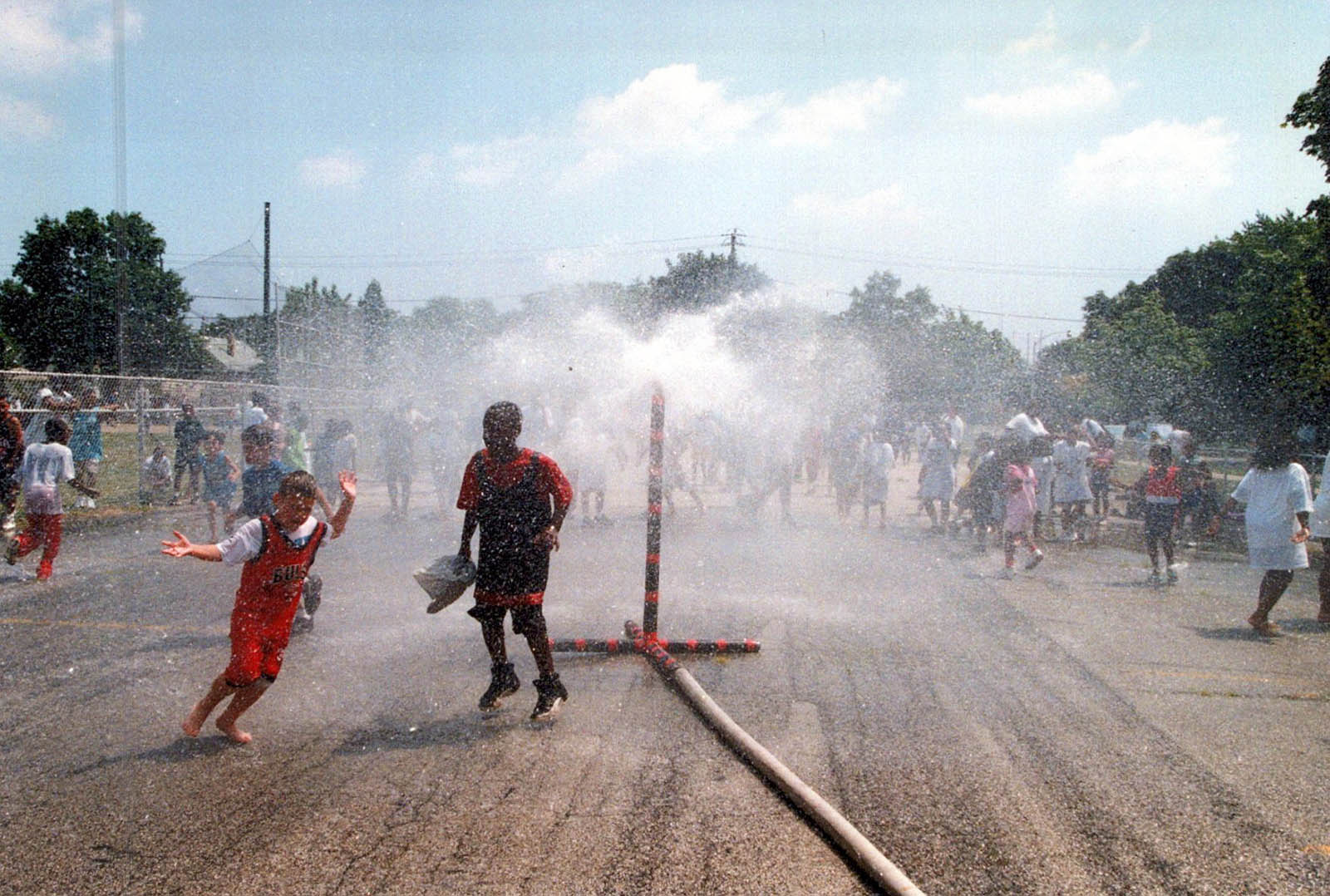 "City staff were responsible for connecting the sprinklers and opening the fire hydrants," says Milwaukee Recreation Senior Director Lynn Greb. "The Cool Spots would run all day because our staff were not able to close the fire hydrants."
According to Milwaukee Recreation's Brian Hoffer it's likely that the original sprinklers had a long life, and were never replaced in the 30 years the program was active.
Even with these Cool Spots up and running and proving popular, the opening of hydrants on hot days remained a problem in Milwaukee (as in other cities).
On one scorching early July day in 1990, 100 fire hydrants were opened illegally, according to the Milwaukee Sentinel. Water from one of them caused a car to crash into a utility pole causing severe head injuries to the driver.
"The accident confirmed the fears of officials, who warned earlier that trying to beat the heat by opening fire hydrants was dangerous and illegal," the morning paper reported. "About 100 hydrants were opened illegally throughout the city Wednesday, including one on N. Holton Ave., midway between E. Lloyd St. and E. Reservoir Ave., said Jeannette Taylor of the City Water Works. 'That (hydrant) has been off and on all day,' Taylor said."
Water Works personnel would come out and shut it off and soon after another call would come in reporting it open again.
"Eugene Zarling, Water Works district supervisor on the city's North Side, said illegally opened hydrants kept workers busy all day Wednesday," the Sentinel reported. "When a fire hydrant is opened to create an illegal sprinkler, the pressure drops and the water supply to the area is lowered, Zarling said.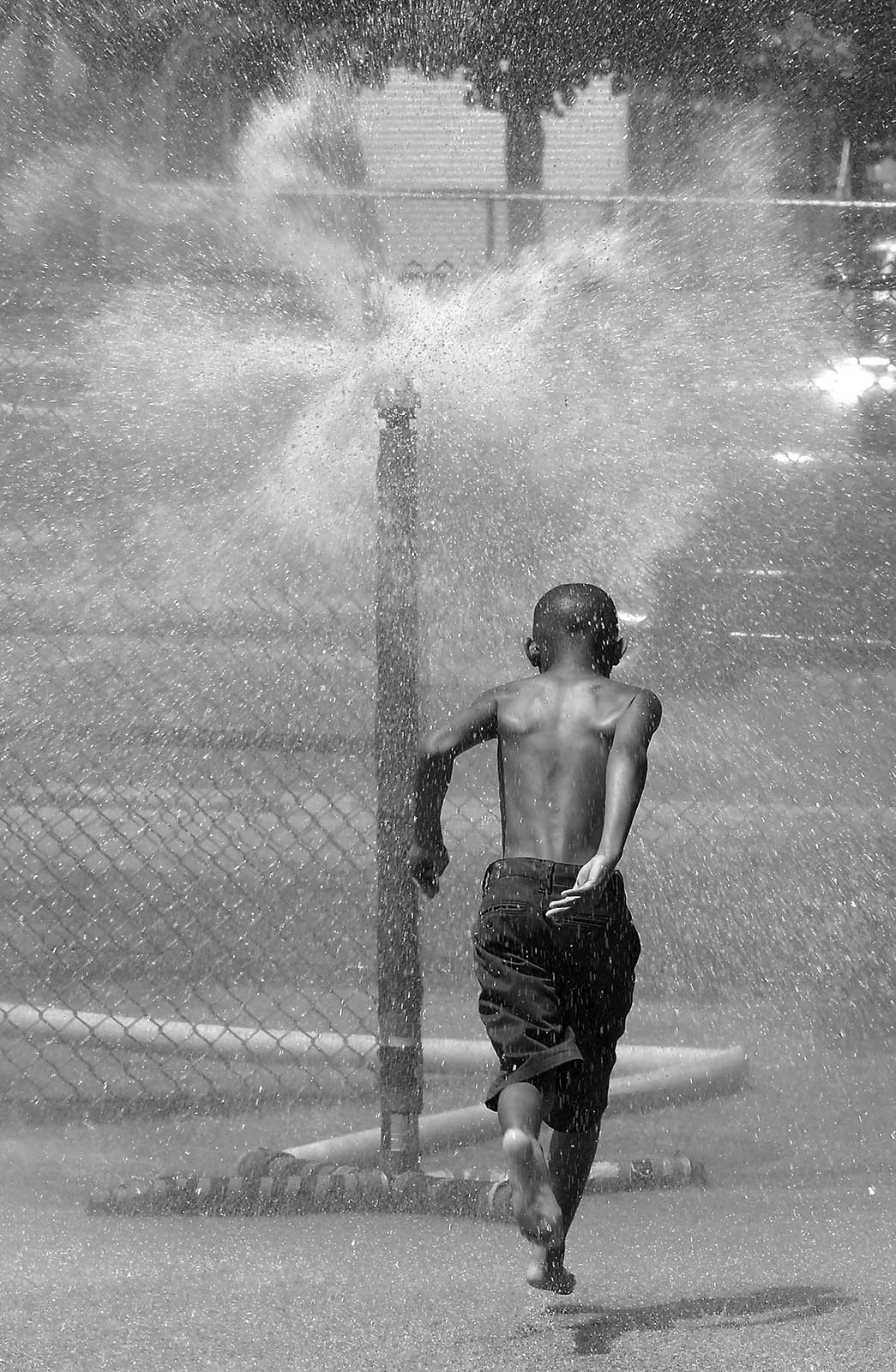 "The decrease in water pressure can hamper firefighting abilities. On a small water main, the water supply can drop 20 to 25 pounds when a hydrant is opened. The effect on a large water main is less because of the higher volume, Zarling said. The average water main carries 70 to 75 pounds of pressure, although the range is 60 to 90 pounds. 'We've been lucky so far that we haven't had a fire in an area where a hydrant was opened,' he said."
A Milwaukee Police Department lieutenant told the paper that often those opening the hydrants are adults. At the time, opening a hydrant could cost a juvenile $55 in fines. Adults could expect to be hit for $319.
By 2005, fines for tampering with fire hydrants had risen to $1,000 and up to 30 days in jail.
The wasted water also cost the city – and, ultimately, taxpayers – money, too.
Cool Spots continued to operate each year, although at times the number and location of sites would change.
In 1994, when Milwaukee logged its first 100-degree day in six years, there were 11 locations, and, still, hydrants were opened. And now it wasn't just dangerous for drivers and children.
"The program ... has not kept city Water Works employees from becoming targets as they try to close illegally opened hydrants," reported the Sentinel that June. "Workers dispatched Wednesday and Thursday have had 'bricks thrown at them, rocks thrown at them and buckets of water,' Department of Public Works spokeswoman Rosalind Rouse said. She said one worker was shoved to the ground.
"'It has been difficult,' Rouse said. She said no employees were injured and no arrests were made. Police have been asked to accompany some employees when they turn off hydrants."
In 2004, the Journal Sentinel reported that about 30 hydrants were opened in the Metcalfe Park neighborhood alone during a June heatwave and the late columnist Eugene Kane waxed sentimental about playing in illegally opened fire hydrants in Philadelphia as a kid.
"When kids get hot, parents can find cool spots and water fun that's safe and legal for their children," he said. "Consider this a plea for more responsibility as well as an ode to a childhood memory prompted by the sight of an open fire hydrant and a bunch of kids trying to bring some coolness to a steamy day."
By 2018, the City of Milwaukee Water Works had installed more than 3,000 hydrant-locking devices in neighborhoods with high rates of illegal hydrant openings.
There aren't hard statistics for how many kids used the Cool Spots, but photographic evidence and some news reports suggest they were well-appreciated.
Photos in the Milwaukee Recreation archive show dozens of kids enjoying sprayer sites.
In 1995, the Journal noted that about 75 kids were frolicking in the sprinkler at the Oliver Wendell Holmes School playground in Harambee.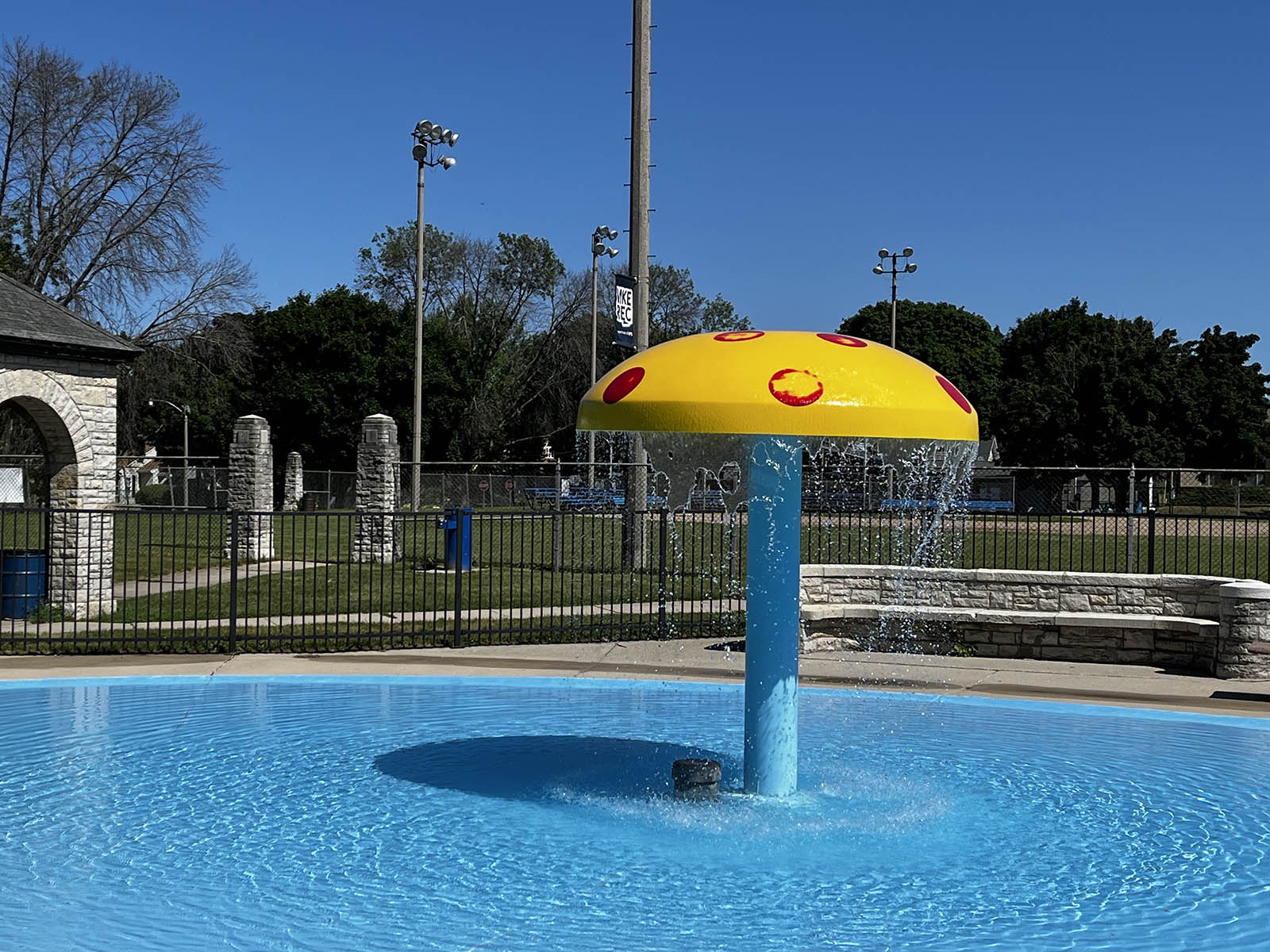 "It keeps the kids out of trouble," Brenda Smiley told the paper. She had brought her four sons to the playground to cool off and play in the sprinkler. "It's fun, too," she added, getting into the spray herself.
By 2018, the Cool Spots program began to change as Milwaukee Recreation had begun to install splash pads at some of its sites and others had wading pools, like the beloved "mushroom" at Enderis Park. (Burbank Playfield, Holt Playfield, Merrill Park and Ohio Playfield also have wading pools, which are aimed at children 8 and under.)
The splash pads save water because they are user-operated, which means they're only turned on when actively in use. They can be found at Columbia Playfield, Franklin Square Playfield, Southgate Playfield, Clovernook Playfield, Burnham Playfield and Green Bay Playfield later this summer.
But the Cool Spots program is not gone. It still exists in a slightly toned-down mode.
The six spots this year – Clarke Square Park, Custer Playfield, Emigh Playfield, Lucille Berrien Park, Lyons Park and Mitchell Park – no longer have the upright sprinklers connected to hydrants.
"We have traditional 'backyard sprinklers' at our playgrounds now," Greb says. "These new options save water."
You can see all of Milwaukee Recreation's water fun options here.
(NOTE: This article was written for Milwaukee Recreation's institutional history project. While the topic was provided by Milwaukee Recreation, the content was not.)
Born in Brooklyn, N.Y., where he lived until he was 17, Bobby received his BA-Mass Communications from UWM in 1989 and has lived in Walker's Point, Bay View, Enderis Park, South Milwaukee and on the East Side.
He has published three non-fiction books in Italy – including one about an event in Milwaukee history, which was published in the U.S. in autumn 2010. Four more books, all about Milwaukee, have been published by The History Press.
With his most recent band, The Yell Leaders, Bobby released four LPs and had a songs featured in episodes of TV's "Party of Five" and "Dawson's Creek," and films in Japan, South America and the U.S. The Yell Leaders were named the best unsigned band in their region by VH-1 as part of its Rock Across America 1998 Tour. Most recently, the band contributed tracks to a UK vinyl/CD tribute to the Redskins and collaborated on a track with Italian novelist Enrico Remmert.
He's produced three installments of the "OMCD" series of local music compilations for OnMilwaukee.com and in 2007 produced a CD of Italian music and poetry.
In 2005, he was awarded the City of Asti's (Italy) Journalism Prize for his work focusing on that area. He has also won awards from the Milwaukee Press Club.
He can be heard weekly on 88Nine Radio Milwaukee talking about his "Urban Spelunking" series of stories.