The OnMilwaukee.com Summer Festivals Guide is presented by Pick 'n Save, Where Wisconsin Saves on Groceries. Pick 'n Save is Wisconsin proud, and excited to help promote and feed the great Milwaukee summer that includes festivals and fun nearly every day. Click to save here!
SEATTLE — As the drummer of Spacehog, I've played in front of big crowds at Summerfest, at least three times (or so I recall). I have some fond memories, rolling into Milwaukee, taking the opportunity to skim new music in the open air of your beautiful lakefront.
As a fan, I have huge affection for my own hometown's annual music fest, the Leeds Festival in England. For many years now I have flown in for it. Similarly, it's a great chance to catch up with old friends and float about the site skimming the bands of the moment – a festival equivalent of channel surfing. It puts the onus firmly on the bands to deliver something memorable. Personal highlights include Morrissey, James Brown, The Arcade Fire, Late Of the Pier and The Foo Fighters.
As a band, the festival environment can throw some serious challenges to any group braving the outdoors. For a start, there's the weather. On last year's Summerland tour we got literally blown off stage by a thunderstorm – twice, with near fatal consequences. Fortunately, the weather at the Wisconsin State Fair was perfect when we visited in August.
Turning up at a festival levels the playing field for bands large and small. It's a logistical nightmare getting everything working and looking/sounding good in the 15-30 minutes one usually gets during a "change over."
Being left-handed, I am now used to wrestling with rental drums in the allotted time in order to play an instrument I actually recognize. But next time you see a great show in the great outdoors, spare a thought for all the technicians, sound and lighting guys, and the local oompah loompahs, that made it all possible for you.
Of course, it doesn't always go perfectly. Playing Glastonbury with the Pierces in 2012, the onstage sound was so horrible I couldn't hear any of the singing. I wound up finishing a song about four measures too early with the whole band looking at me quizzically … pretty awkward.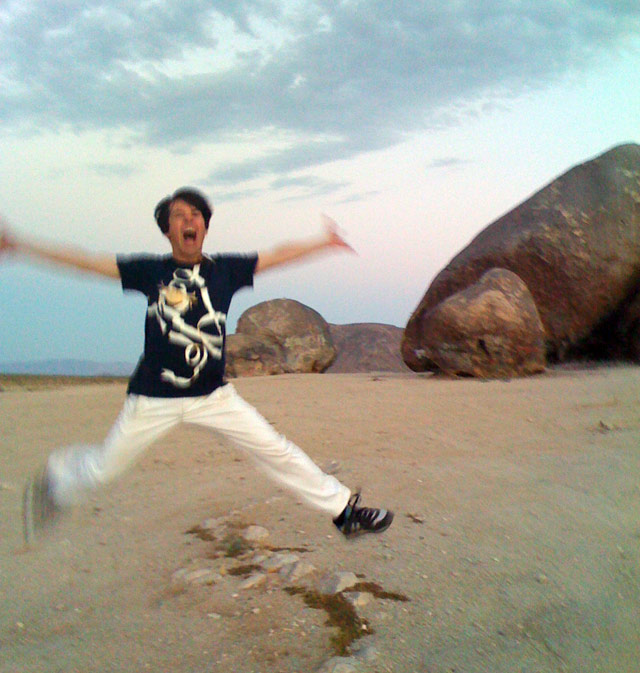 Coachella '07: On the way, in Giant Rock, California
As a musician, it can be a jolt adjusting to the dynamics of playing outdoors to a bigger than normal crowd: I was playing Mosport festival in Ontario in the '90s. One minute I was in the cocoon-like warmth of my bunk on the bus. One cup of coffee later I was front of house, playing the drums with 100,000 looking at me on a giant TV screen. Weird!
I enjoy the feeling of being at a festival, even if I'm less inclined to camp and skip showers for three days straight. As we all advance in years I'm seeing the kind of benefits I have been lucky enough to enjoy monetized by the promoters: The so-called VIP experience. Artists are ever more eager to get in on it as their record sales vanish, and it seems only a yurt and a blow up bed come between adding a zero to the weekend festival price tag.
Glasto '84: Ticket $20, everything else, priceless
My first festival was Glastonbury in 1984. Tickets were $20 (if you didn't jump the fence). Today, if you fancy rubbing shoulders with the celebs at Coachella before retiring to the field marked "glamping" you might have to part with as much as $8,000 each for the privilege.
Whatever the price whatever the class, it was and still is all about the music. So here's to it, Summerfest peeps: get out there and enjoy it!
Jonny Cragg was born in Hythe England on July 18th 1966. Raised and educated in Yorkshire he chose Leeds as his spiritual home. Whilst at school he learned to play the drums, playing in local bands until opting to study Psychology at the University of East London in 1985.
Almost by accident his first job after graduation was back behind the drums for Leeds band The Hollowmen. They recorded four studio albums, signed to Arista Records, and toured extensively throughout Europe. A press trip to New York served to strengthen his resolve to move to the States, and that finally happened in the Spring of 1993. By the following year, Cragg had formed Spacehog with a group of Leeds expatriates in The Lower East Side: The group went onto sell millions of records, and tour the world to great success. He remains active in the group having made four studio albums to date.
Jonny is also a session musician, producer, writer, DJ and educator. His credits include: The Pierces, Supergrass, Edie Brickell, The Utah Saints, David Johansen and Richard Butler and Marty Wilson Piper, HBO, Comedy Central and Nickelodeon.
He has two daughters, Laila and Domino, and lives with his partner in Seattle.