When I visited in early 2020, I wrote that Dancing Goat Distillery in Cambridge, about an hour west of Milwaukee, was "primed for big growth."
Recently, I went back and found that growth has not only happened, it has not abated.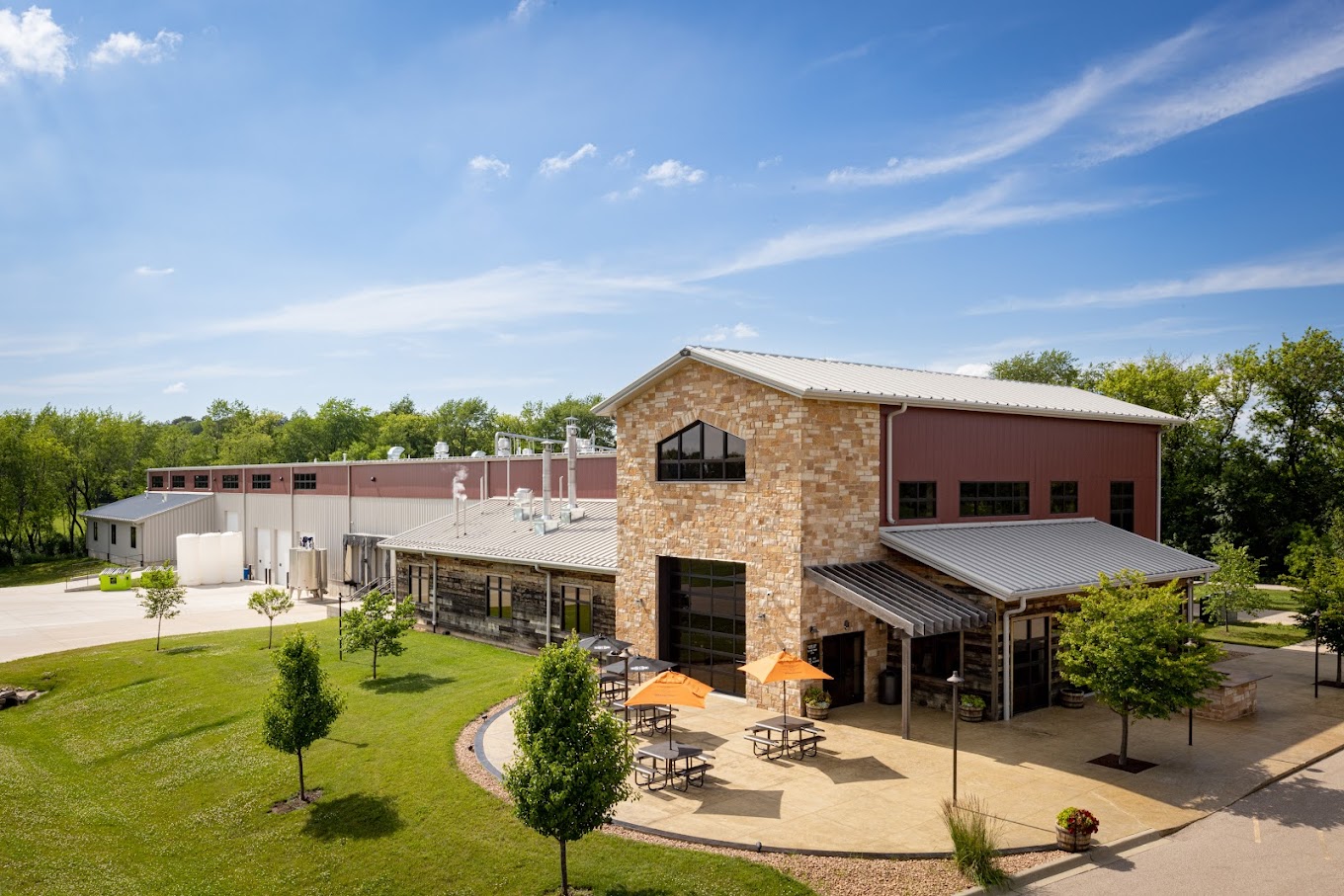 And it was immediately obvious before I even parked the car.
The distillery's building stretches considerably further out the back and also off the north side than when I last visited.
Also since then, an impressive Kentucky-style rickhouse has gone up – and is nearly full – a little more than a mile away. Planning is underway for a second rickhouse of similar size.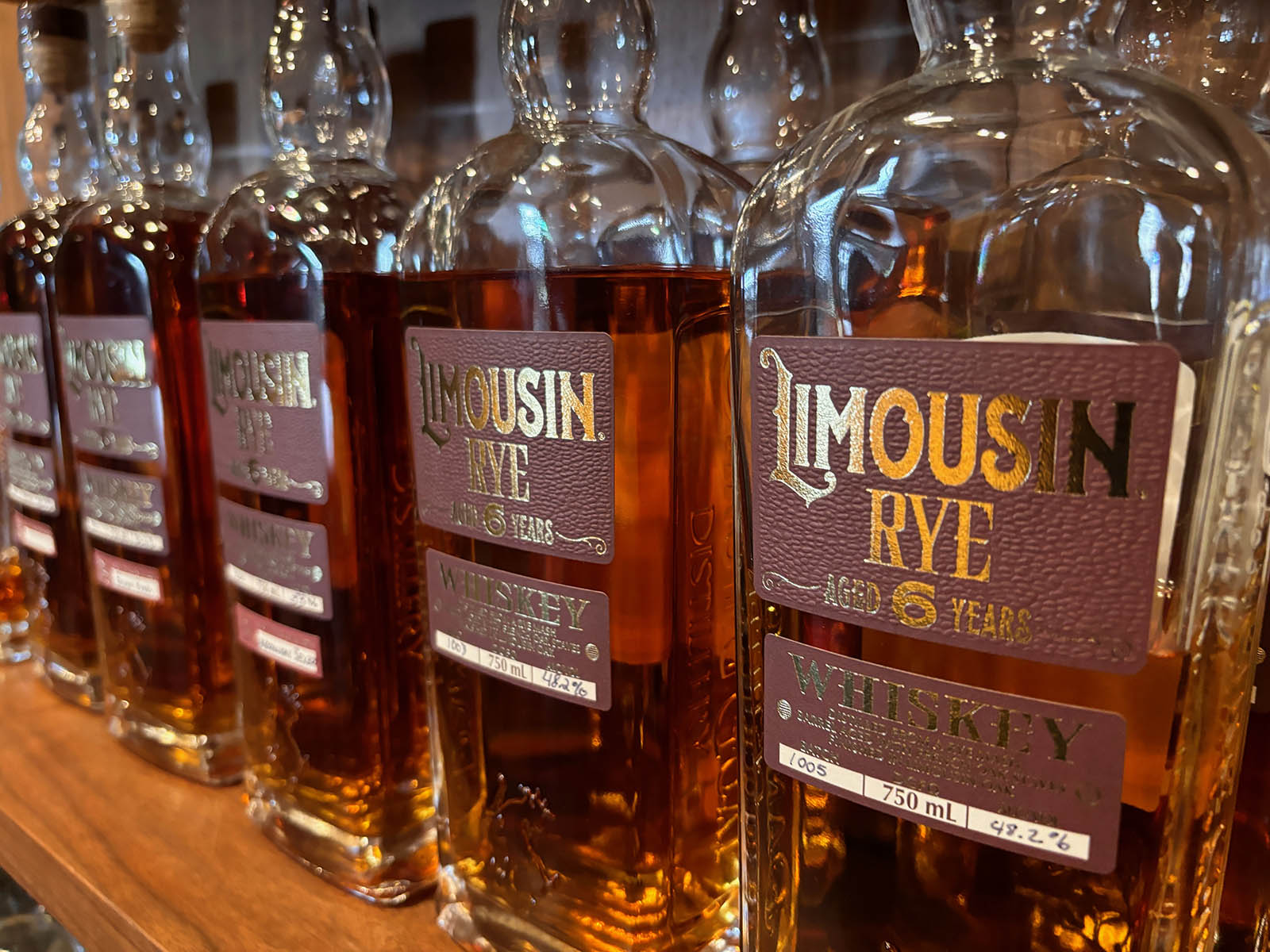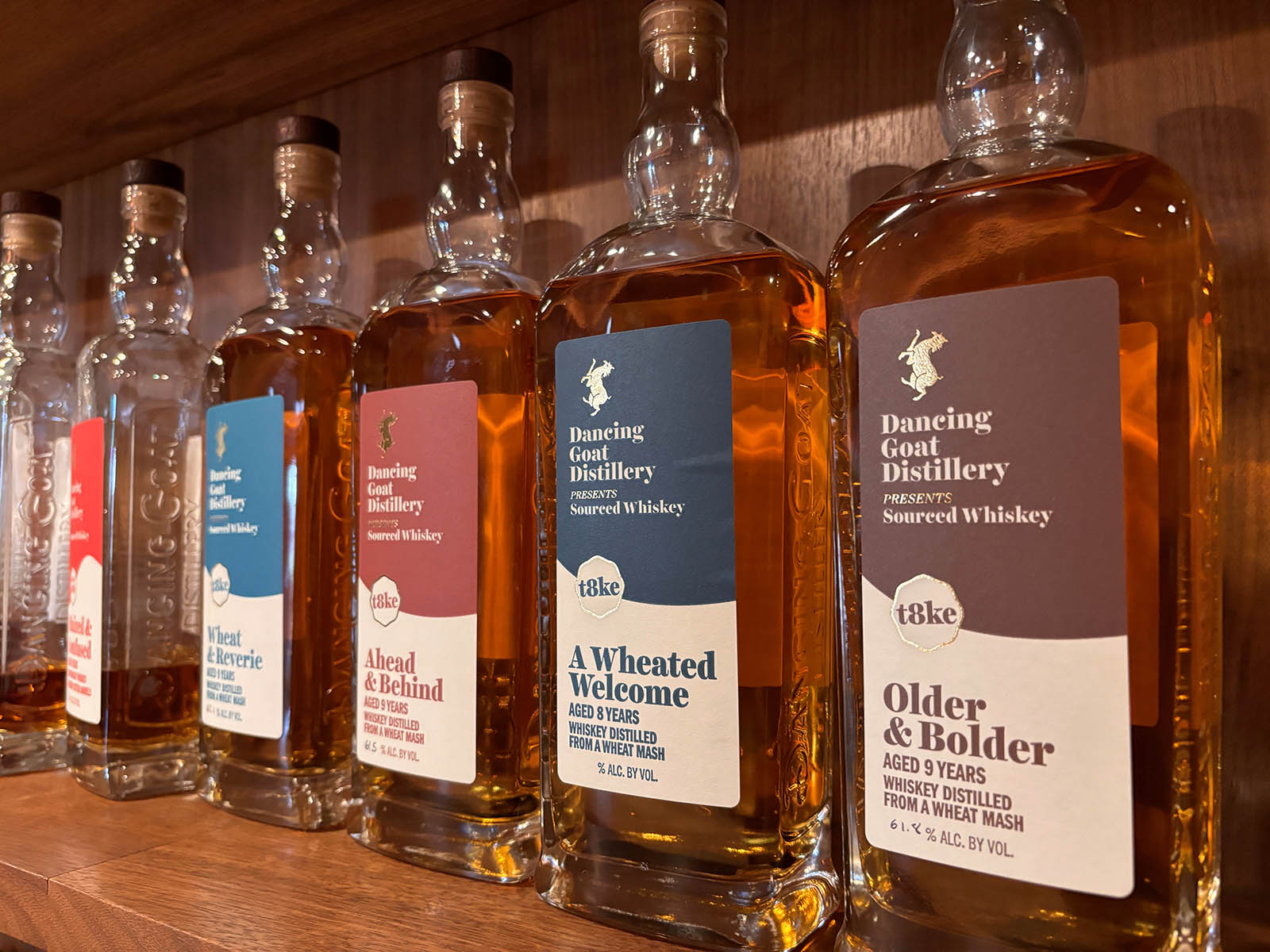 Click here to read that 2020 story for background on the distillery and then, let's look at what's new.
Tasting Room / Spirit Vault
Initially, the tasting room and shop was open to the public like any bar, serving cocktails, but COVID closed it for about year. When it reopened, it did so with a different approach.
"It kind of allowed a reset," says distillery General Manager Sean Dotson. "We still get some community feedback, 'Hey, why aren't you guys doing this?' Often what we say is, there's places in town if you want to go belly up and watch a game, sit there and drink for hours. This is probably not your spot, but it's still available to taste any of the spirits we make here.
"We want to focus more on the spirit and less on consumption."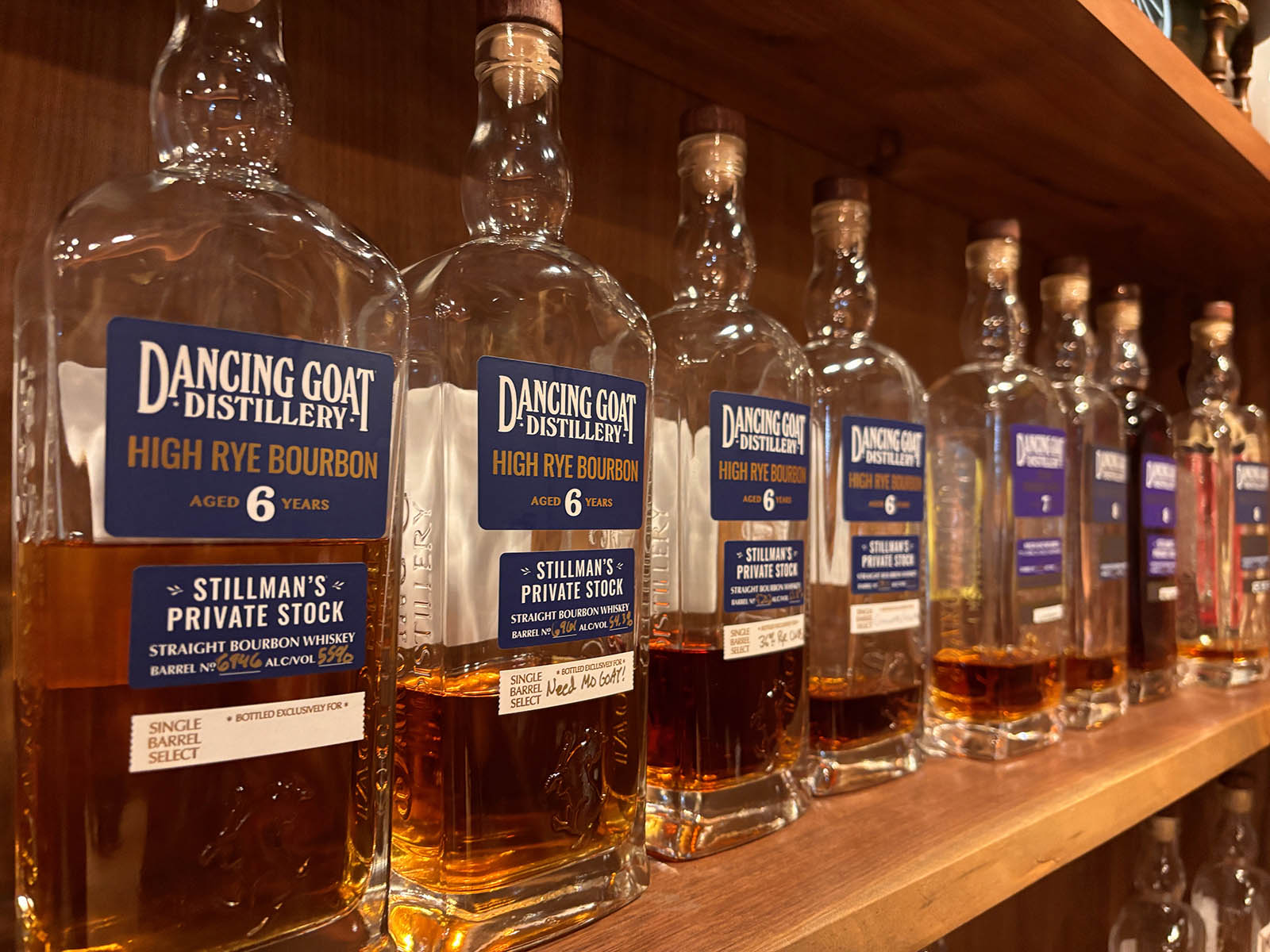 The tasting room is still open for guided tastings, cocktail classes and for tours, too. Free sampling is available and there are bottles for sale that are exclusive to the tasting room and shop.
Hours are Thursdays, 3-6 p.m.; Fridays, 2-6; Saturdays, noon-6; and Sundays, noon-4. Tours last about an hour and are $10. Tours with guided sampling are $20. Cocktail classes run $50 per person.
New in this area is a former employee break room that is now called the Spirit Vault.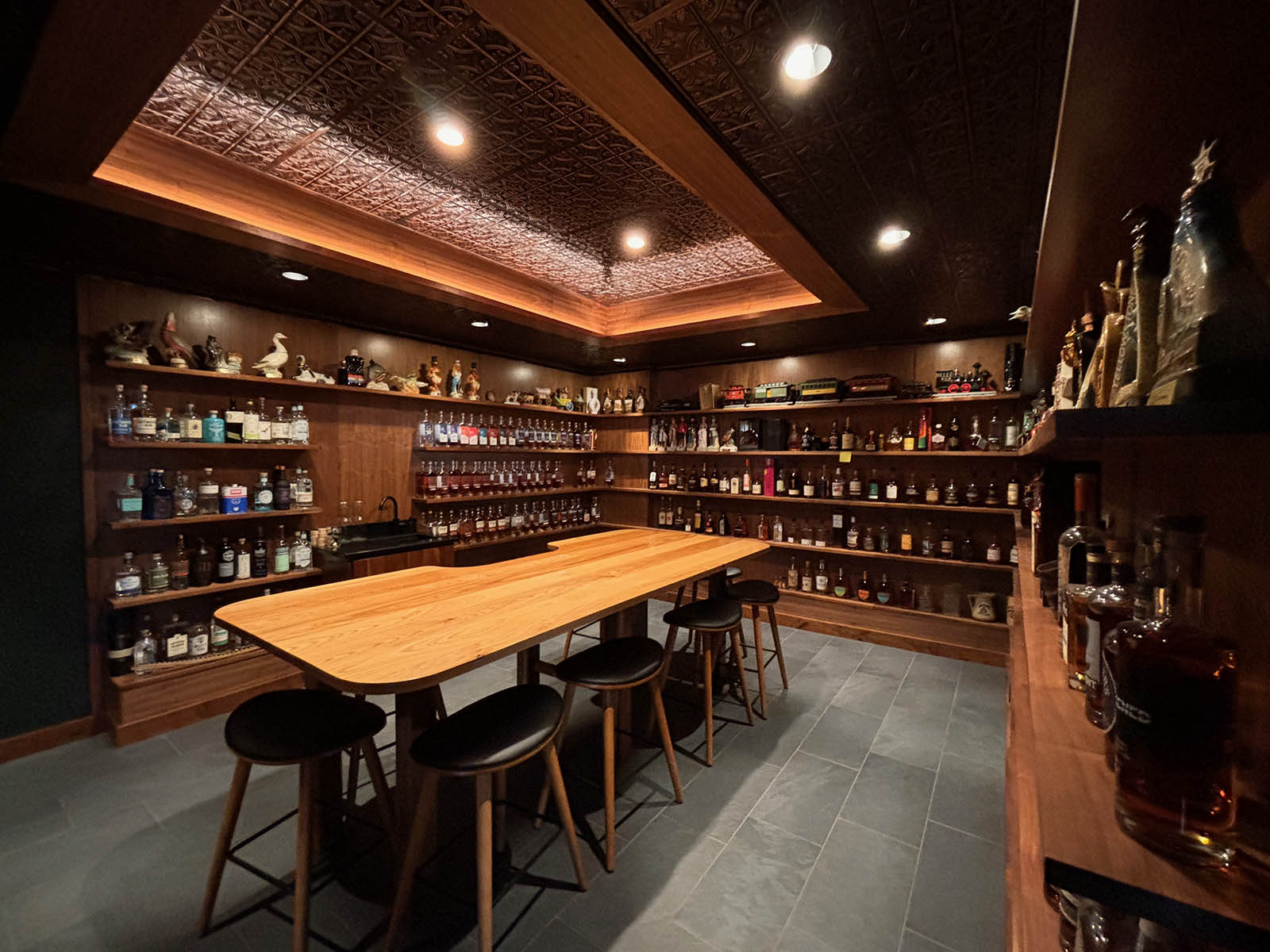 Behind an original vault door – from an area high school – is a table for classes, tastings and other events and it's surrounded on three sides by an amazing collection of bottles, including pre-Prohibition stuff and other rare pours, classic collectible bottles, a variety of contemporary spirits and lots of bottles of unique Dancing Goat bottlings.
"We'll bring folks in here and take them through a sensory exercise of how we analyze whiskey or spirit," says Dotson. "And then the other thing that we primarily use this space for is barrel picks. So we might have a bar, restaurant or a store come in and we'll walk through different barrel samples with them."
These days, Dancing Goat has been doing about 55 barrel picks a year and is working on growing that business.
Gin Academy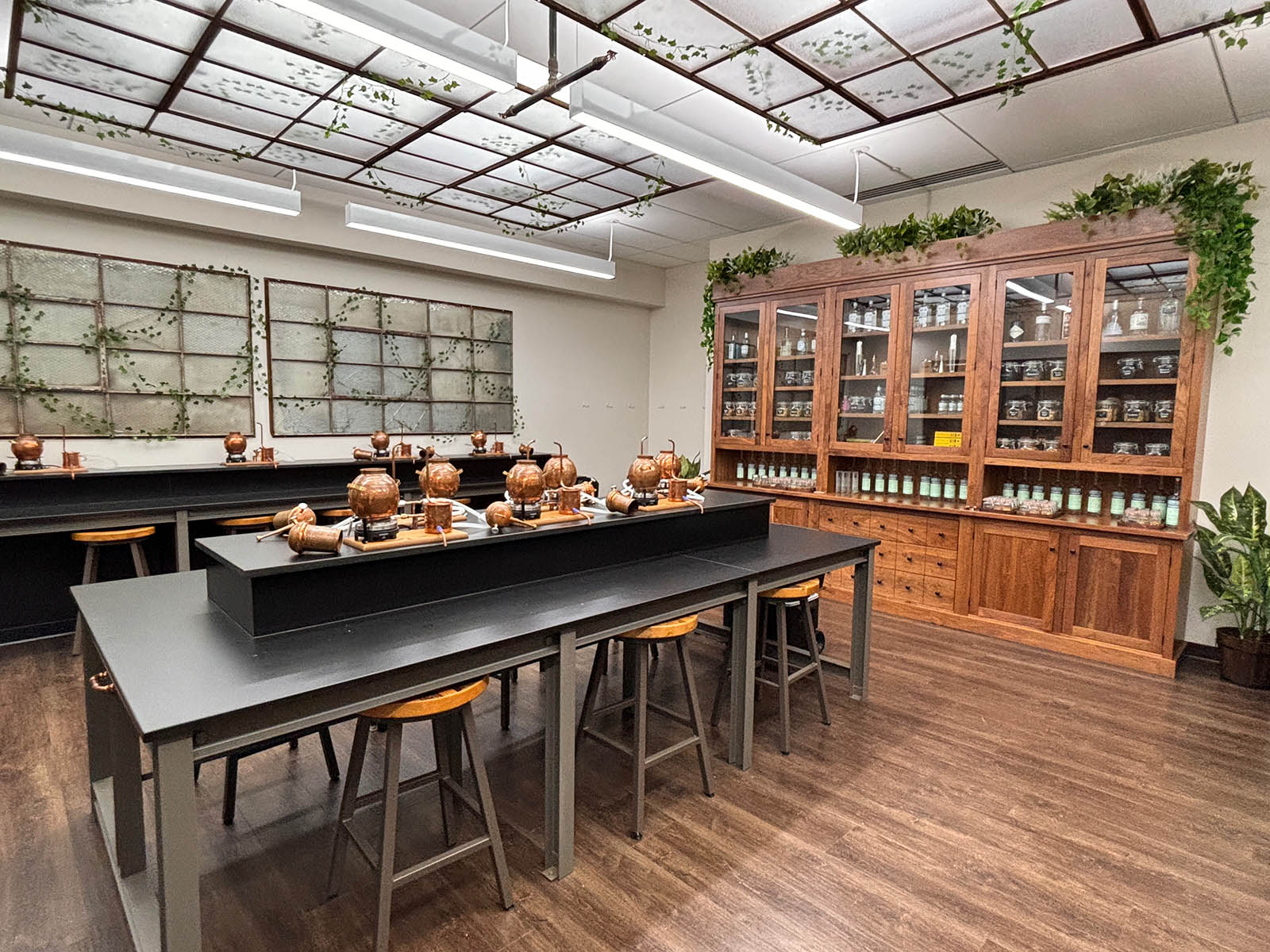 Although gin schools are common in other countries, like England, they're not a regular feature of distilleries in the U.S. ... yet. Dancing Goat has what is likely the first in the country. In two classes – 101 for the basics and 201 for a little more advanced work – distillery staff explain the history and process of making gin and introduce 15 botanicals from which guests will create their own unique gin on an alembic mini-still and take home a 750ml bottle of it.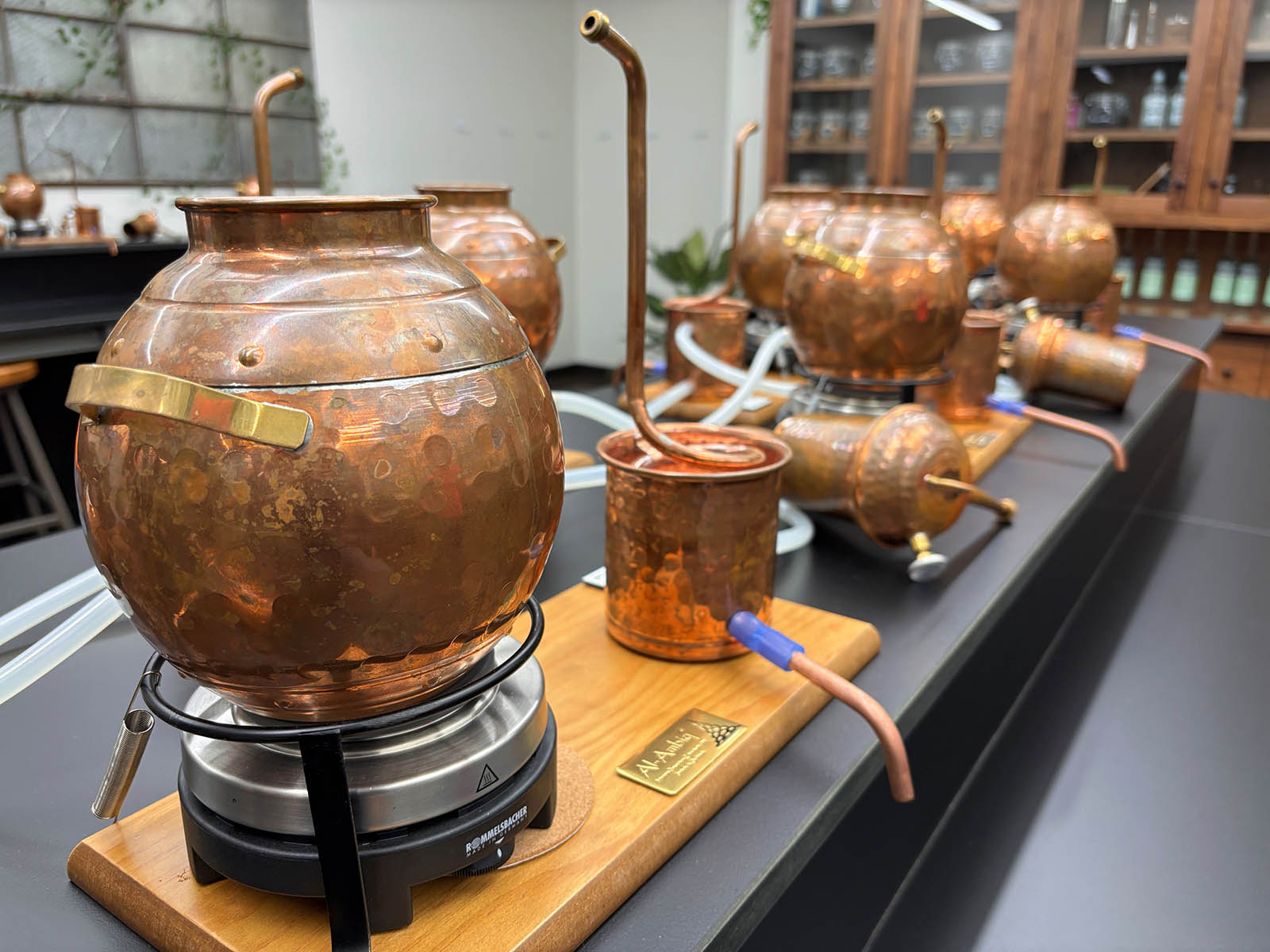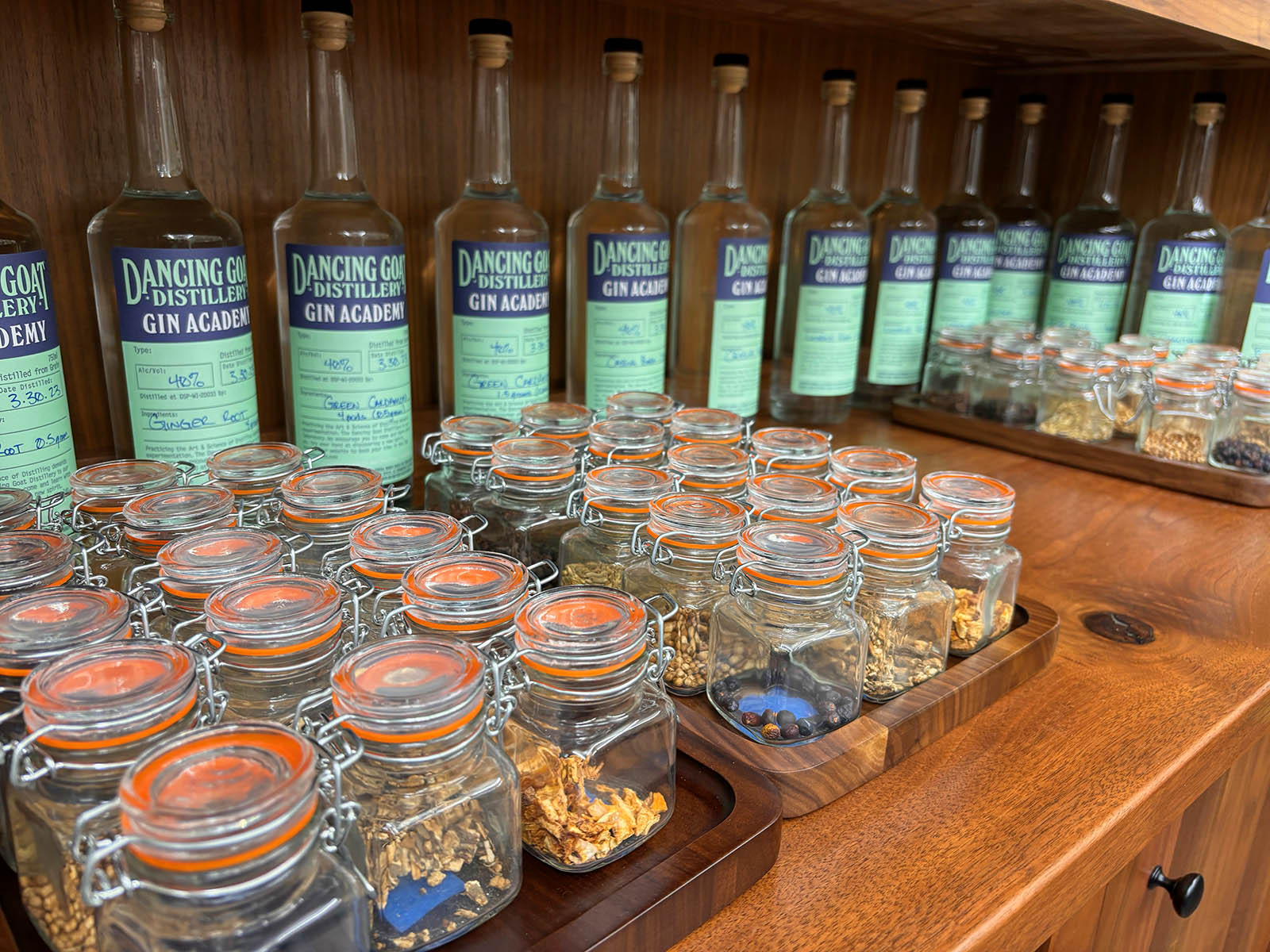 "We've been doing this since last October," says Dotson, "and we've had about 400 people through here since then.
"We're not making chemical engineers, but they're literally doing a botanical bill, they're weighing it all out themselves. They load (the still) themselves, they start it. It's their distillate. They're distiller for the day."
Prices start at $90 for a one-person experience, $110 for two guests to share a still. The cost for the 201 class runs $140 solo and $160 shared.
Folks have traveled from all around the country to take the classes, Dotson says.
Distillery expansion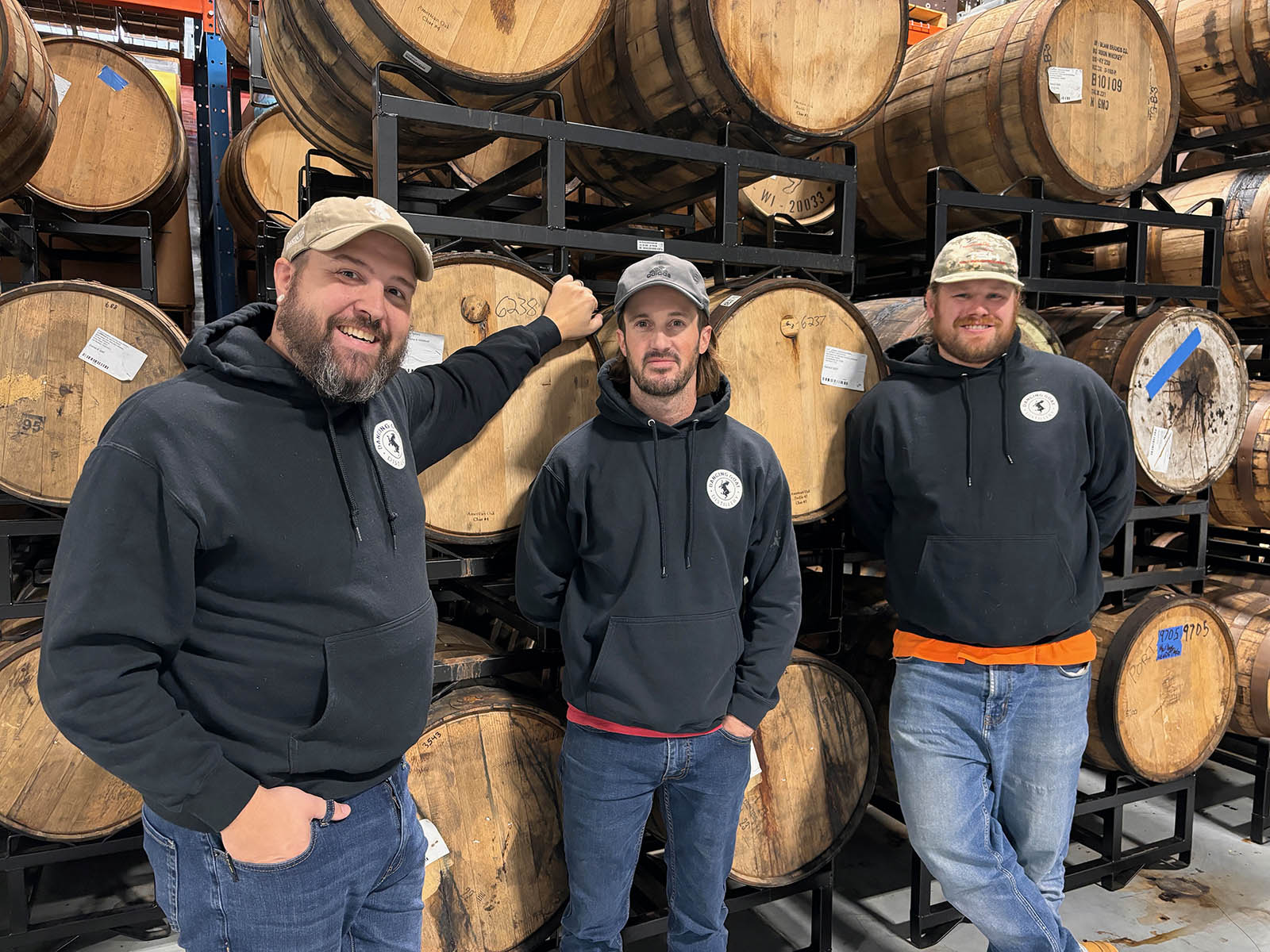 With its growth over the past few years, the distillery now has 34,000 square feet of space and four stills – two column and two pot – though they're not all actively running, according to Wisconsin Sales Manager Chris Haywood.
In addition to its well-known Limousin Rye, Dancing Goat produces Death's Door Gin, brandy, bourbon and other whiskeys under the Dancing Goat name and the Travis Hasse Pie Liqueur line.
But, says Dotson, with expanded capacity, the business has pivoted a bit.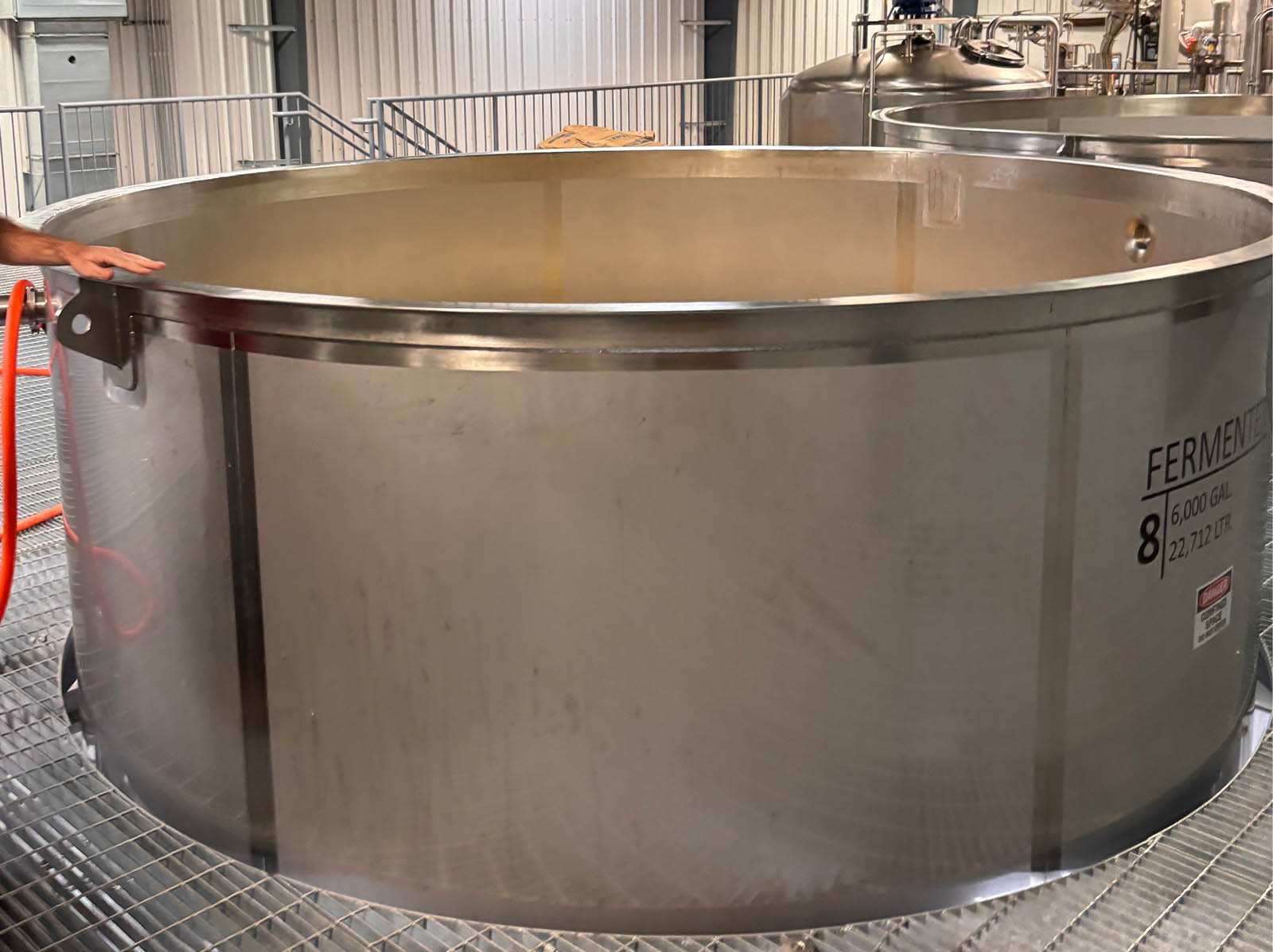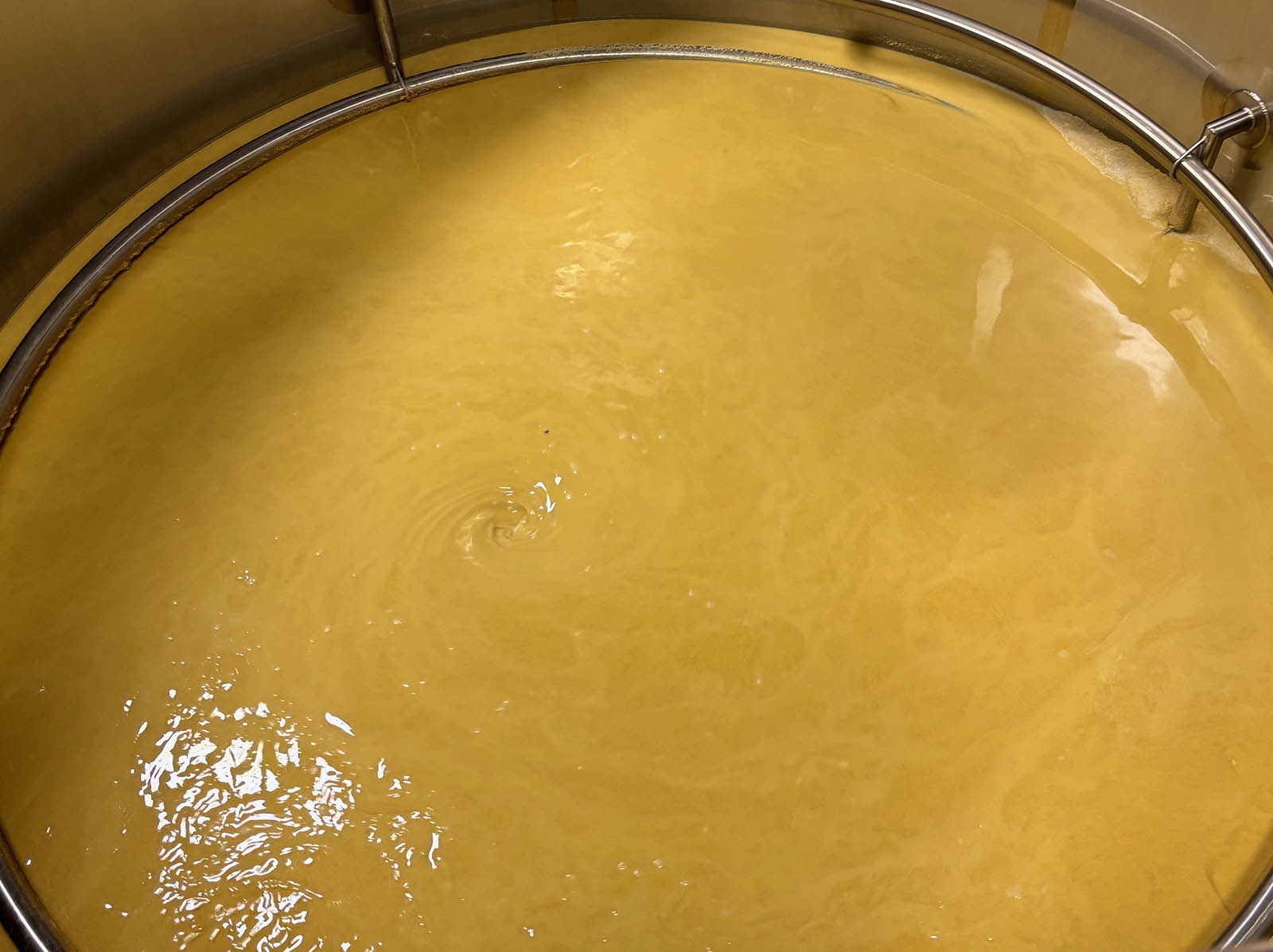 "Production's gone up probably five-fold this year," he says. "We'll make close to 2,000 barrels of whiskey and half of that is for contract business. We don't have the demand (ourselves) to keep this equipment online all day, and so part of our business strategy is finding contract business."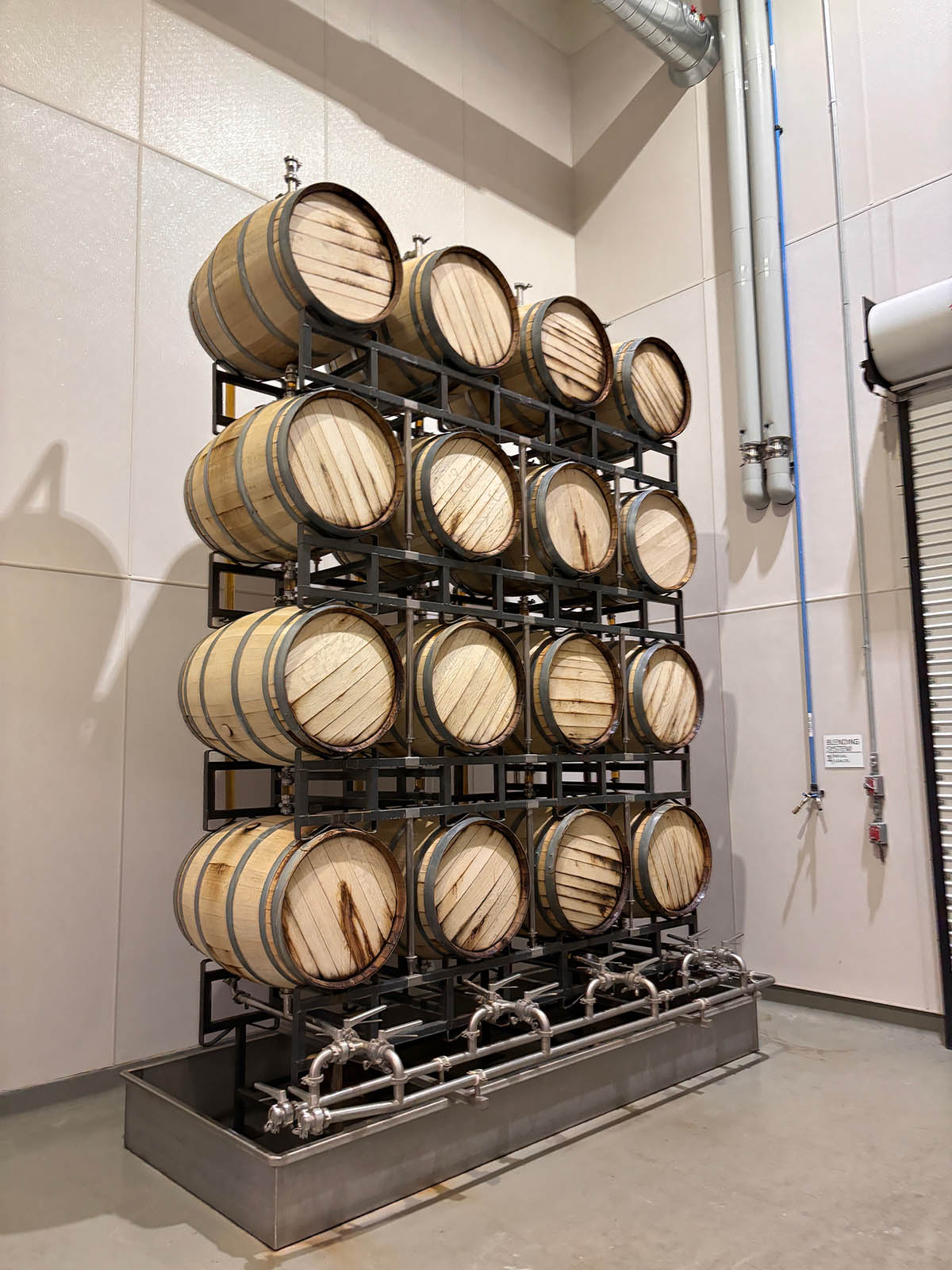 He says that Dancing Goat is producing for a number of smaller local labels, but also one much larger West Coast-based client. Due to non-disclosure agreements, Dotson isn't at liberty to name those customers.
"We will produce for someone and then they figure out how to sell it. We will be actively hunting business for next year."
Interestingly, while Dancing Goat distills for others, it is also buying distillate on a contract basis. That's what allows them to sell seven-year-old whiskey, for example.
"The bourbon that we're selling right now, we bought that at roughly five years old and we've been sitting on it for two years. Ownership is still active on the barrel buying front and no intentions right now to slow that down, even though we do have the capacity increased on our end, they're still just interested in getting different spirits from other places.
"We can't make up time so if we can get access to something that's six, seven years old ... we can't go back in time and do that ourselves. That's part of the appeal of it. And then also it is just different spirits and the way that Nick (Maas), our head distiller looks at it, it's really paint for him. He wants a diverse paint library and that's why we're still going to continue buying some things."
Part of the expansion of the facility was boosted by a Focus on Energy grant, Maas says, who explains that much of the water used on site is in a captive system that conserves water, but also makes the most of energy usage.
"Our condenser water runs through the floor for radiant heat," Maas explains. "We try our best to scavenge heat wherever we can. "Our cook water for our cook process, we paid for that steam, right? So we use that. After it runs through the system it runs through the floor (for heating) and then it goes back into a captive tank where it's chilled back down to cooling temperature."
Though there is some evaporation, very little water needs to be added to the system.
Rickhouse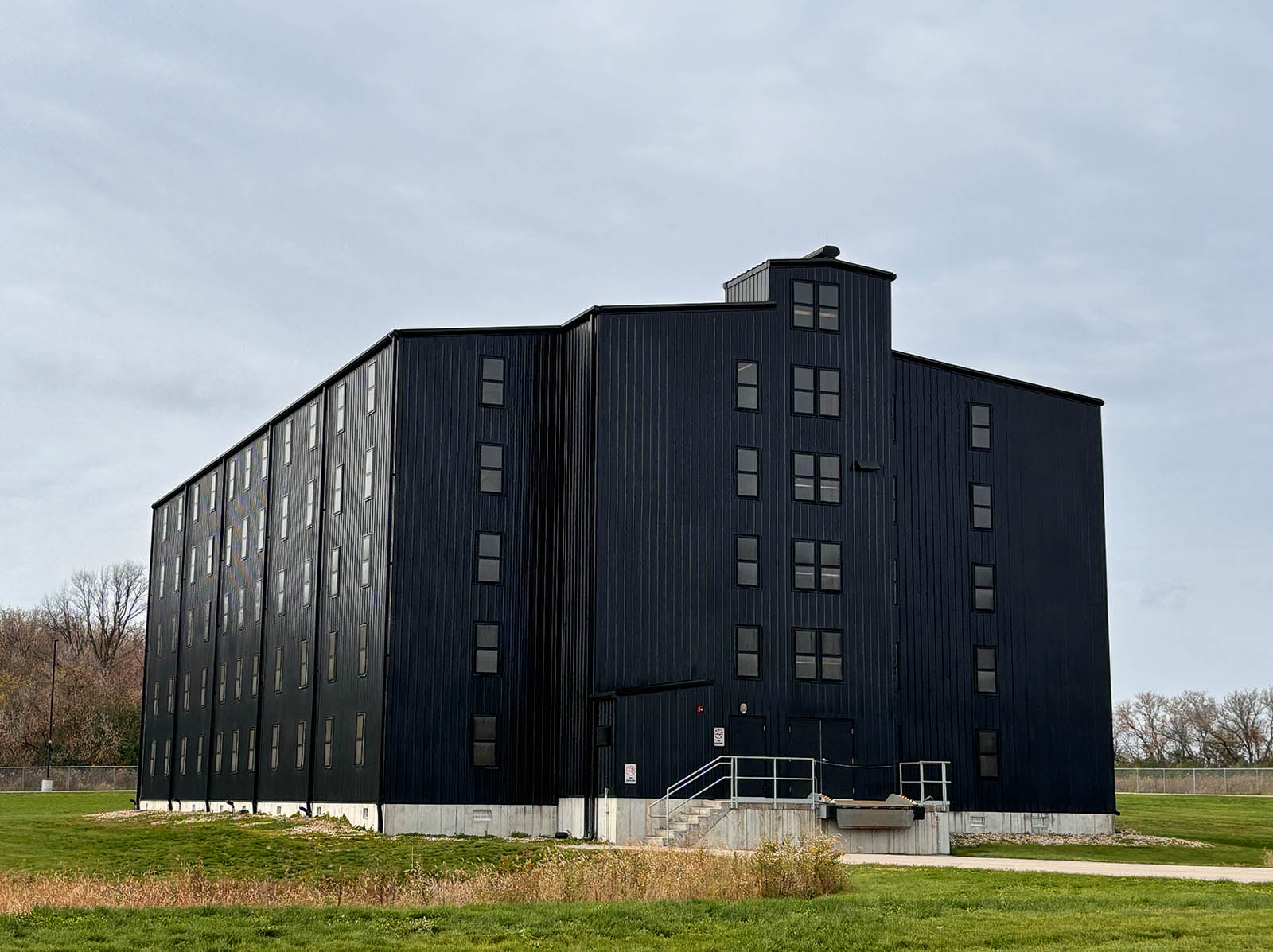 For some – me included – seeing an open-air, Kentucky-style rickhouse for barrel storage is a real treat. Dancing Goat built the first one in Wisconsin in 2021 and it remains pretty much the only one, though J. Henry recently built something similar on its Dane farm.
This five-story structure is straight outta Bardstown and has the capacity to house 7,800 barrels. Because it's already nearly full, Dancing Goat is in preliminary discussions with the state to get permission to build another one on an adjacent plot of land that the distillery already owns.
Getting the first one built was a multi-year process, Dotson says.
"It's not commonplace in the state of Wisconsin."
But paperwork and approvals are not the only hurdle to building a second one. Something they learned with the first one was that you need some of the inventory in advance.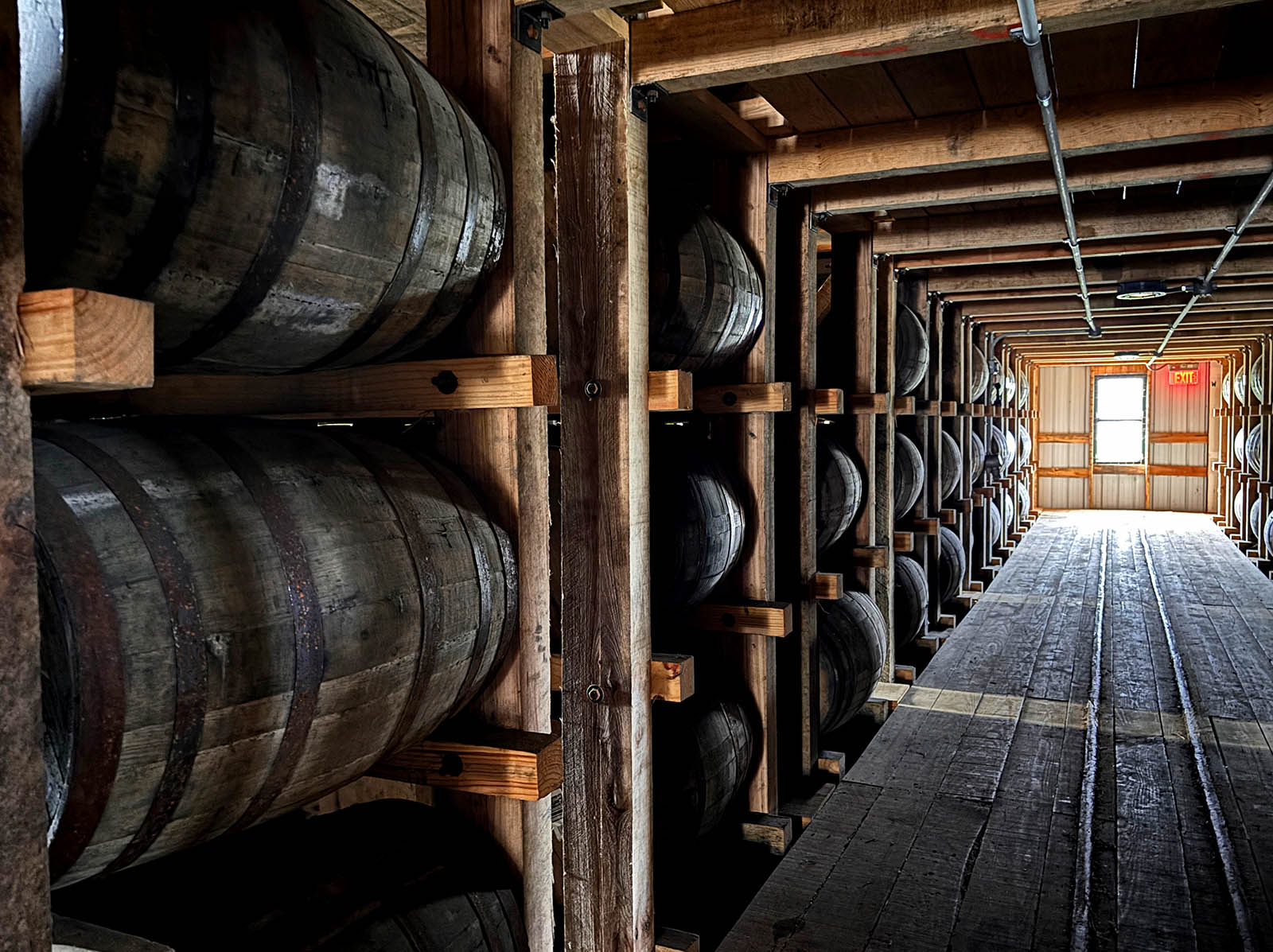 "There are no continuous beams in this building," Dotson says. "It's really a shell that's wrapped around the ricks."
The wooden ricks, which hold the barrels, are built first and then the shell is added at the end.
Providing a base is a concrete pad that has footings that are 25 feet deep.
"There's more concrete here in this footprint than there is the entire distillery," says Dotson. "By the end of the year, there will be close to 5 million pounds in here."
As Maas explains, the rickhouse isn't a building, legally speaking.
"It's not actually a building," he says. "It's four racks with cladding around them. It's not an occupied structure. This isn't a floor we're standing on, it's a catwalk. Structurally, the ricks are the only thing here. We just put cladding around it.
"The barrels are holding it up."
That's why you need inventory.
"The weight of the barrels keeps these wooden beams (that make up the ricks) straight," adds Haywood. "So for number two, we're going to want to have a majority of the inventory getting ready to go into the rickhouse."
But, with a capacity of 1,560 barrels on each level, an estimate from Dotson that they'd need about 30 percent of the capacity to keep the place standing and about 2,000 barrels a year being produced – plus more being purchased – it shouldn't be too long before I'm back out in Cambridge to check out yet another rickhouse at Dancing Goat Distillery.
Born in Brooklyn, N.Y., where he lived until he was 17, Bobby received his BA-Mass Communications from UWM in 1989 and has lived in Walker's Point, Bay View, Enderis Park, South Milwaukee and on the East Side.
He has published three non-fiction books in Italy – including one about an event in Milwaukee history, which was published in the U.S. in autumn 2010. Four more books, all about Milwaukee, have been published by The History Press.
With his most recent band, The Yell Leaders, Bobby released four LPs and had a songs featured in episodes of TV's "Party of Five" and "Dawson's Creek," and films in Japan, South America and the U.S. The Yell Leaders were named the best unsigned band in their region by VH-1 as part of its Rock Across America 1998 Tour. Most recently, the band contributed tracks to a UK vinyl/CD tribute to the Redskins and collaborated on a track with Italian novelist Enrico Remmert.
He's produced three installments of the "OMCD" series of local music compilations for OnMilwaukee.com and in 2007 produced a CD of Italian music and poetry.
In 2005, he was awarded the City of Asti's (Italy) Journalism Prize for his work focusing on that area. He has also won awards from the Milwaukee Press Club.
He can be heard weekly on 88Nine Radio Milwaukee talking about his "Urban Spelunking" series of stories.