OnMilwaukee is proud to partner with Lopez Bakery to highlight this special event in honor of Día de los Muertos.
Dia de los Muertos – Day of the Dead – is quite different from Halloween even though the holidays fall within the same timeframe.
Unlike Halloween, Dia de los Muertos runs for two days – in 2022 it runs from Nov. 1-2 – and is primarily a celebration of life and joy. It is also a time to honor deceased family members and some believe this is a time when "the veil" between life and death is the thinnest and therefore offers the chance to communicate with loved ones who have departed.
Here are six ways to celebrate:
1. Day of the Dead at the Mitchell Park Domes
The Desert Dome is the setting for a Dia de los Muertos celebration showcasing flowers and candlelight. This festive event takes place Friday, Oct. 28 from 6 to 9 p.m. Admission is $8 per person.
2. Latino Arts Gallery Dia de los Muertos Ofrenda Exhibition
Check out this gallery, 1028 S. 9th St., full of colorful, meaningful ofrendas (altars) honoring the dead. This year's ofrenda installations come from The Mexican Consulate, University School of Milwaukee and local artists. It runs through Sunday, Nov. 20. and the hours are Monday through Friday from 10:30 a.m. to 7:30 p.m. There is an opening reception on Friday, Oct. 28 at 5 p.m.
3. Dia de los Muertos Festival and 5k Run/Walk
Run though the Forest Home Cemetery, 2405 W. Forest Home Ave., on Saturday, Oct. 29 at 9 a.m. and then stay to enjoy a family-friendly Day of the Dead celebration featuring food trucks, local vendors, arts and crafts, traditional music and dance, altars to the dead, face painting, community resource booths and more. The festivities run until 3 p.m.
4. 30th Annual Dia de Los Muertos Exhibition Celebración/Celebration
Walker's Point Center for the Arts, 839 S. 5th St., has the longest standing tradition of celebrating this cultural practice in Milwaukee. This exhibit of ofrendas made by artists and community members runs through Friday, Nov. 11.
5. Dine at a Mexican Restaurant
There are a zillion muy bueno Mexican restaurants in Milwaukee. Stop by one of your favorites or try someplace new. Here are five to try.
6. Visit the Ofrenda House
Milwaukee's Jason Gonzales and his 4-year-old daughter created this stunning yard ofrenda, 4149 S. 1st St., to honor his grandmother, mother and anyone else mourned by someone in the community. It is free to visit, but is collecting donations for a local recovery center.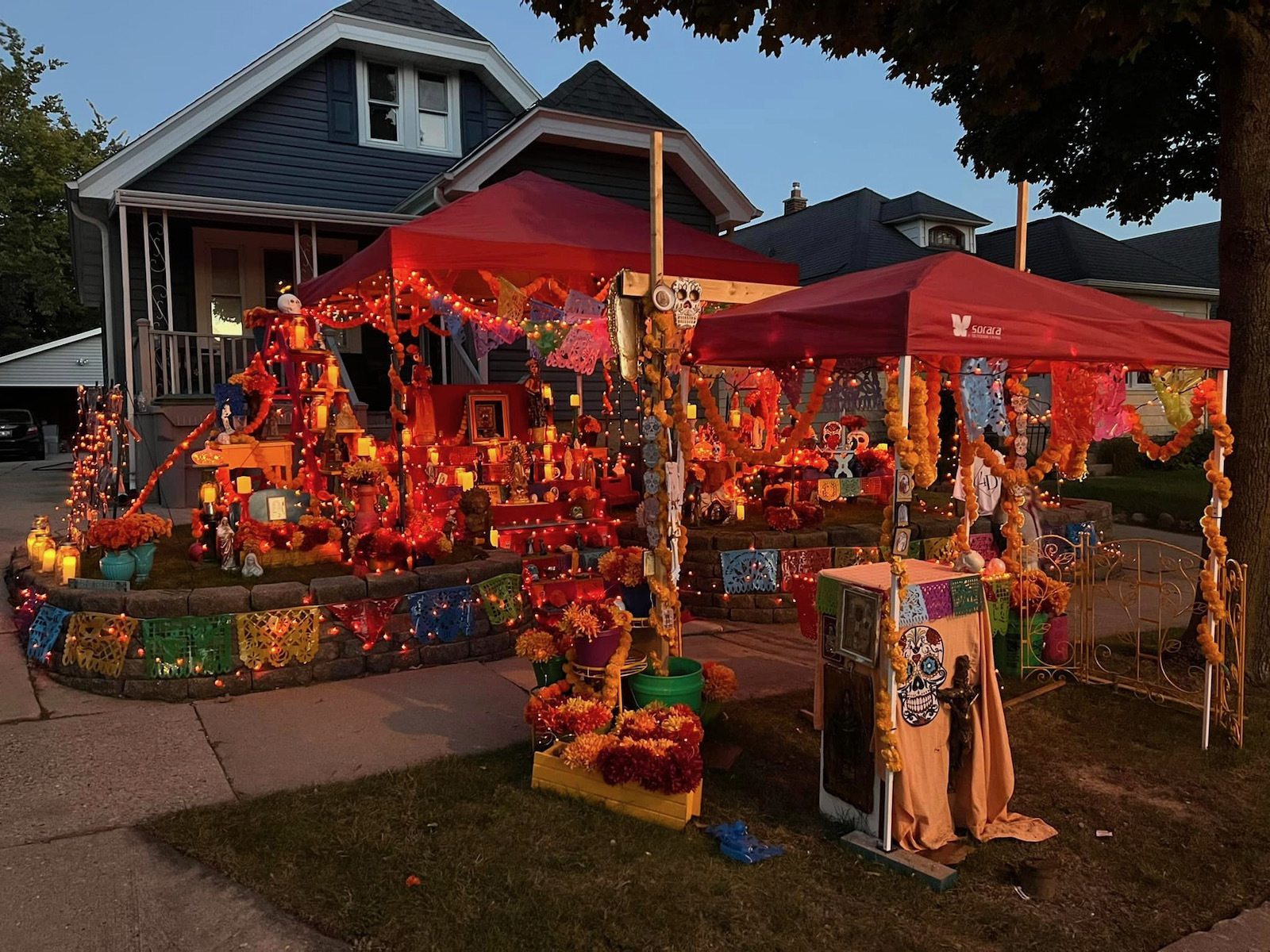 Molly Snyder started writing and publishing her work at the age 10, when her community newspaper printed her poem, "The Unicorn." Since then, she's expanded beyond the subject of mythical creatures and written in many different mediums but, nearest and dearest to her heart, thousands of articles for OnMilwaukee.

Molly is a regular contributor to FOX6 News and numerous radio stations as well as the co-host of "Dandelions: A Podcast For Women." She's received five Milwaukee Press Club Awards, served as the Pfister Narrator and is the Wisconsin State Fair's Celebrity Cream Puff Eating Champion of 2019.