It's officially summer in Milwaukee. Snowblowers have been retired for the season as firepits take their place. Joggers and bikers can be seen whisking along the lakefront. The aroma of barbecues waft throughout the neighborhoods. You may even hear the clinking of steins as friends gather at the local beer garden.
Yes, the city is starting to heat up, and Milwaukeeans are eager to step out of their dormancy to assess the damage from the storm of the last 14 months.
In many ways, things feel the same. Tailgaters still line the parking lots hours before first-pitch to make sure they are well and lathered before heading in to Miller Park – er, American Family Field. Fiserv Forum picked up right where it left off, with sellout crowds and local legends sitting courtside. The local music scene even looks posed and ready, with familiar names gracing the stage at Bay View's Chill on the Hill.
But we haven't made it out wholly unscathed. Scores of iconic businesses have closed their doors for good, from bars and restaurants to music venues and boutiques. And those businesses that have made it through continue to suffer the lasting effects of the pandemic. Deer District itself is no exception to the toll. Punch Bowl Social closed its doors back in March 2020. Despite rumors of a reopening coming soon, the empty space serves as a harrowing reminder of what 2020 dealt to the city. The scene outside of Punch Bowl Social in recent weeks has provided a captivating juxtaposition.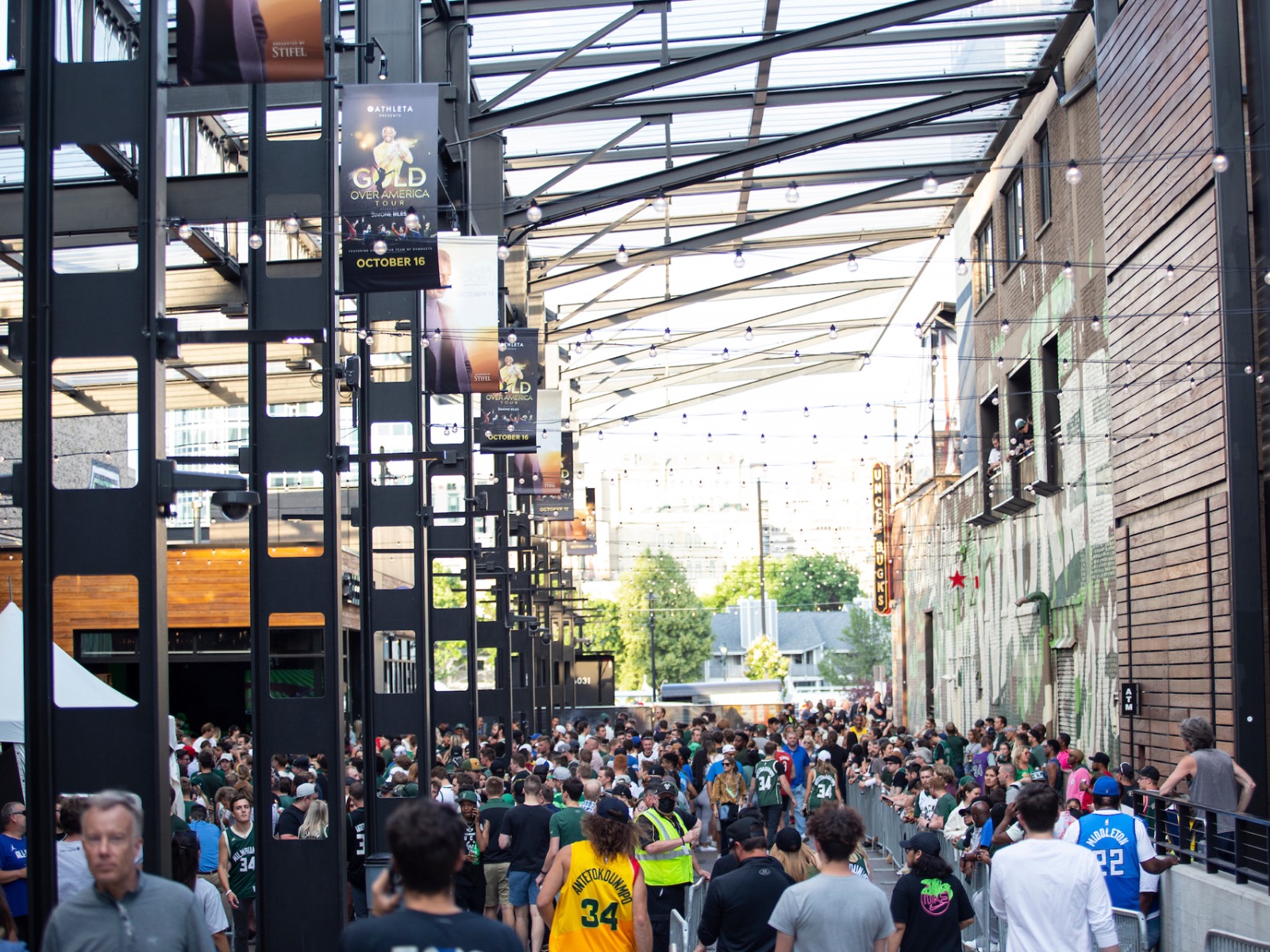 It's the perfect storm. The Milwaukee Bucks have continued their success on the court, in a stretch unlike the city has seen in decades. School has let out for the summer. Vaccination rates have climbed. All these factors, pooled together with people's burning desire to get out of isolation, has created a holy sight in Deer District for the Bucks' playoff run.
An estimated 15,000 fans flocked to Deer District to cheer on their Bucks. With a giant TV screen, a DJ, personalities from inside the stadium, and food and drinks aplenty, Deer District was no doubt the place to be. Draped in team garb, fans young and old cheered their hearts out. But the black and green apparel wasn't the most powerful underlying thread; it was the unbridled joy of Milwaukeeans once again experiencing a packed event crowd with friends and family.
People were laughing. People were singing. That old familiar Milwaukee summer scent of beer and nicotine sifted throughout. Strangers photo-bombed selfies. Chants of "Bucks in Six" reverberated through the cream brick canyons of Downtown. The soul of Milwaukee, what was a sheltered spark, burst aflame in a celebration of life, love and community.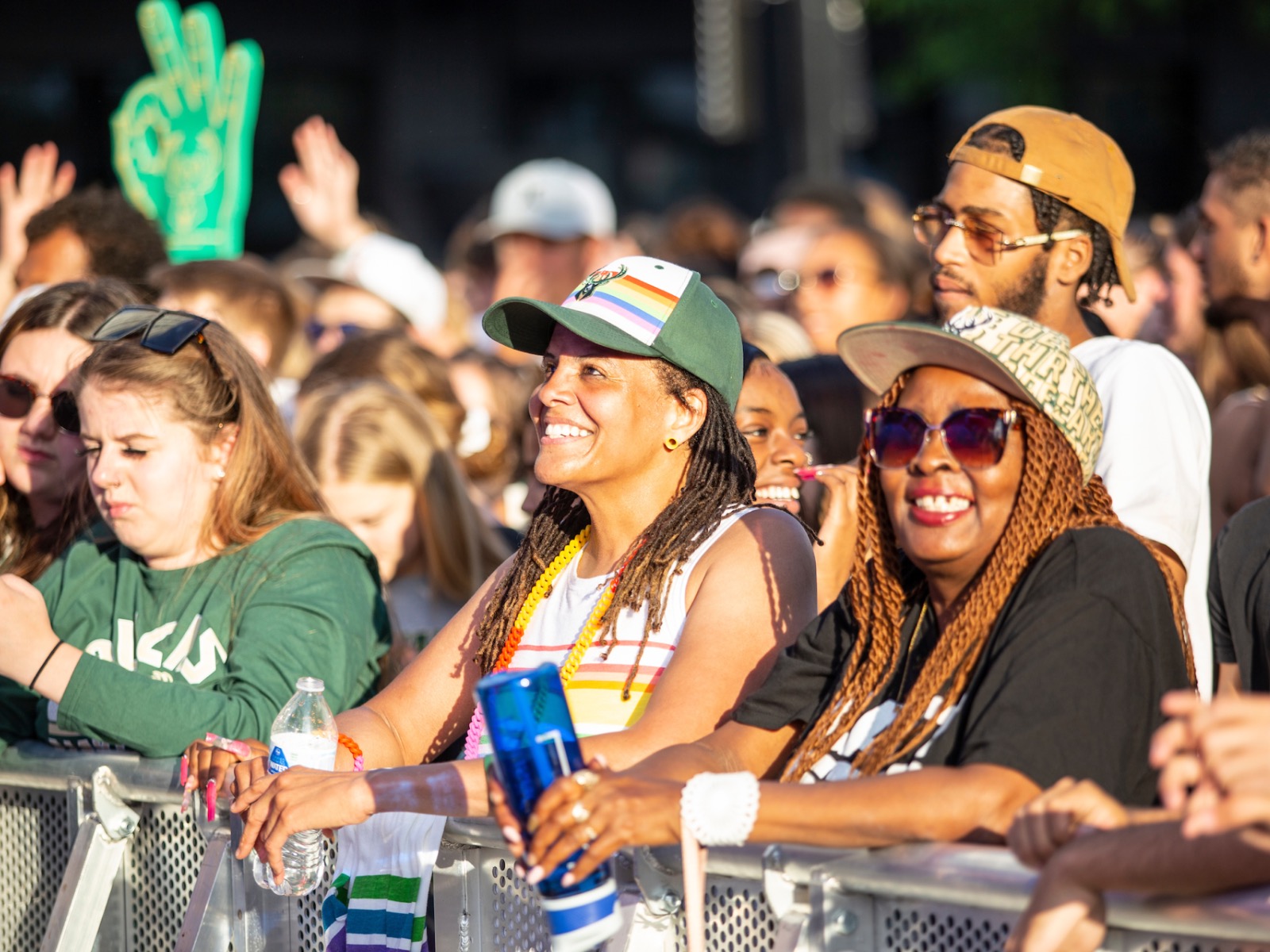 If the throng of Bucks fans was any indication of how Milwaukee plans to return to festival season, we may not be on a pace to return to large crowds, but record-breaking crowds for the upcoming events. There's no doubt Kathleen O'Leary and Don Smiley, CEOs of the Wisconsin State Fair and Summerfest, respectively, had their eyes glued to how the events were handled at Deer District as a test of what they may experience for their attractions later in the year, not to mention the number of other festivals who have announced a return for later this summer.
As long as we don't see a late surge in COVID-19 cases, the future looks bright for the upcoming Milwaukee summer staples. Very bright.
Milwaukee is determined to get back on its feet. Odds are, it might do far more than that – it may run.