For decades, most Milwaukeeans knew the slogan, "Gloves to burn, and some that don't burn" – the tagline of the Jac. F. Donges hat and gloves store on North 3rd Street.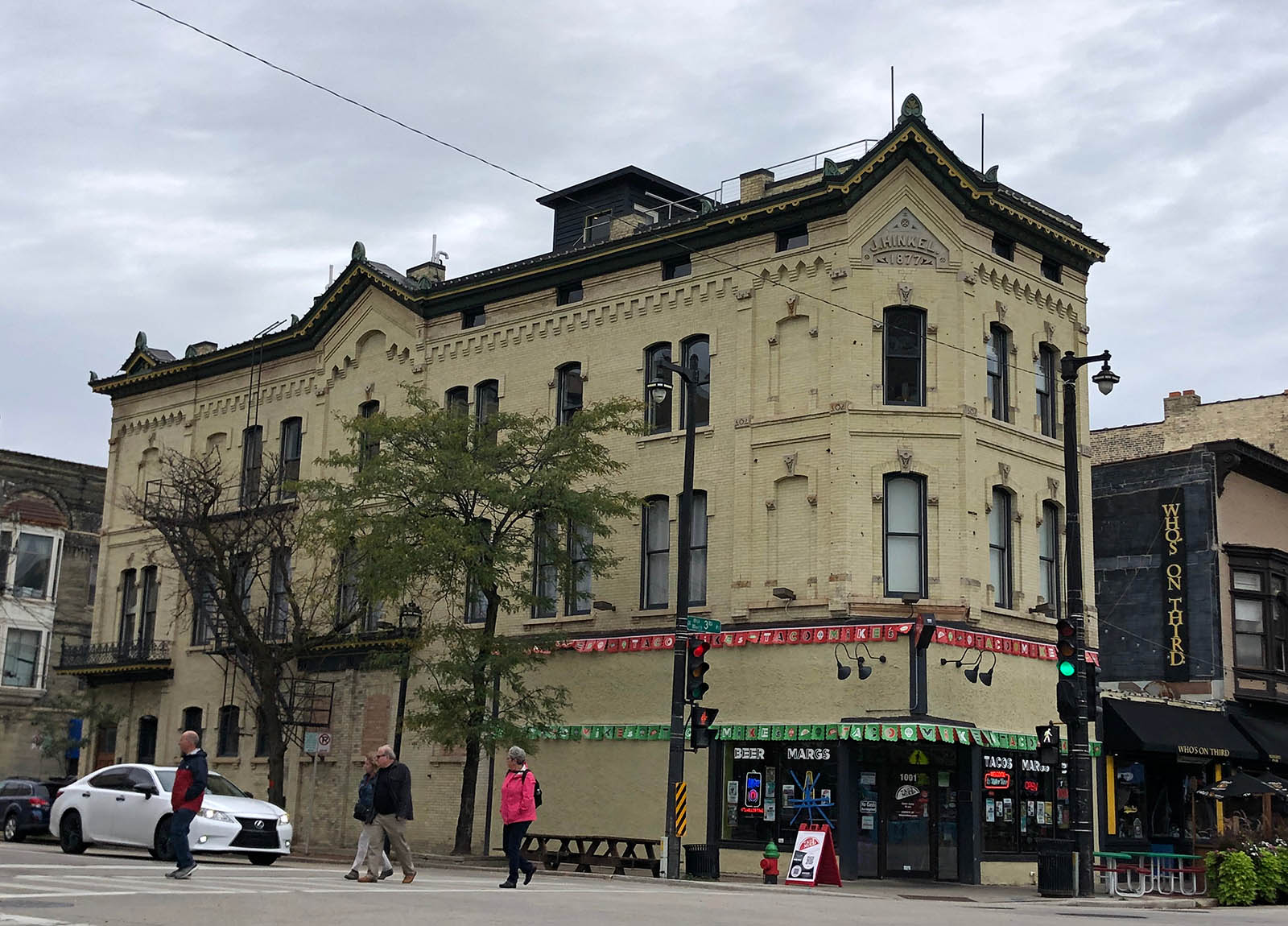 It's co-founder and namesake Jacob Donges was, similarly, long a well-known Milwaukeean, as much for his work establishing Donges Bay on the North Shore as for his long-lived Downtown business, which closed in 2001.
But what of Jac's younger brother and business partner, Charles C. Donges?
Well, little seems to remain of the memory of him. His most enduring known legacy in Milwaukee appears to be the beautiful Queen Anne house he built for himself and his young family in 1894.
That house, at 2619 W. State St., is now for sale.
It has four bedrooms and three bathrooms across 2,867 square feet.
The house was designed by Frank Andree, who got his start working for about seven years as a draftsman in Edward Townsend Mix's office. In 1888, he struck out on his own and in 1889 he went into partnership with Jacob Jacobi.
By 1891, Andree moved on, combining his talents with those of Henrik Van Ryn and Charles Lesser to form Van Ryn, Andree & Lesser, who opened offices in the old Plankinton Building.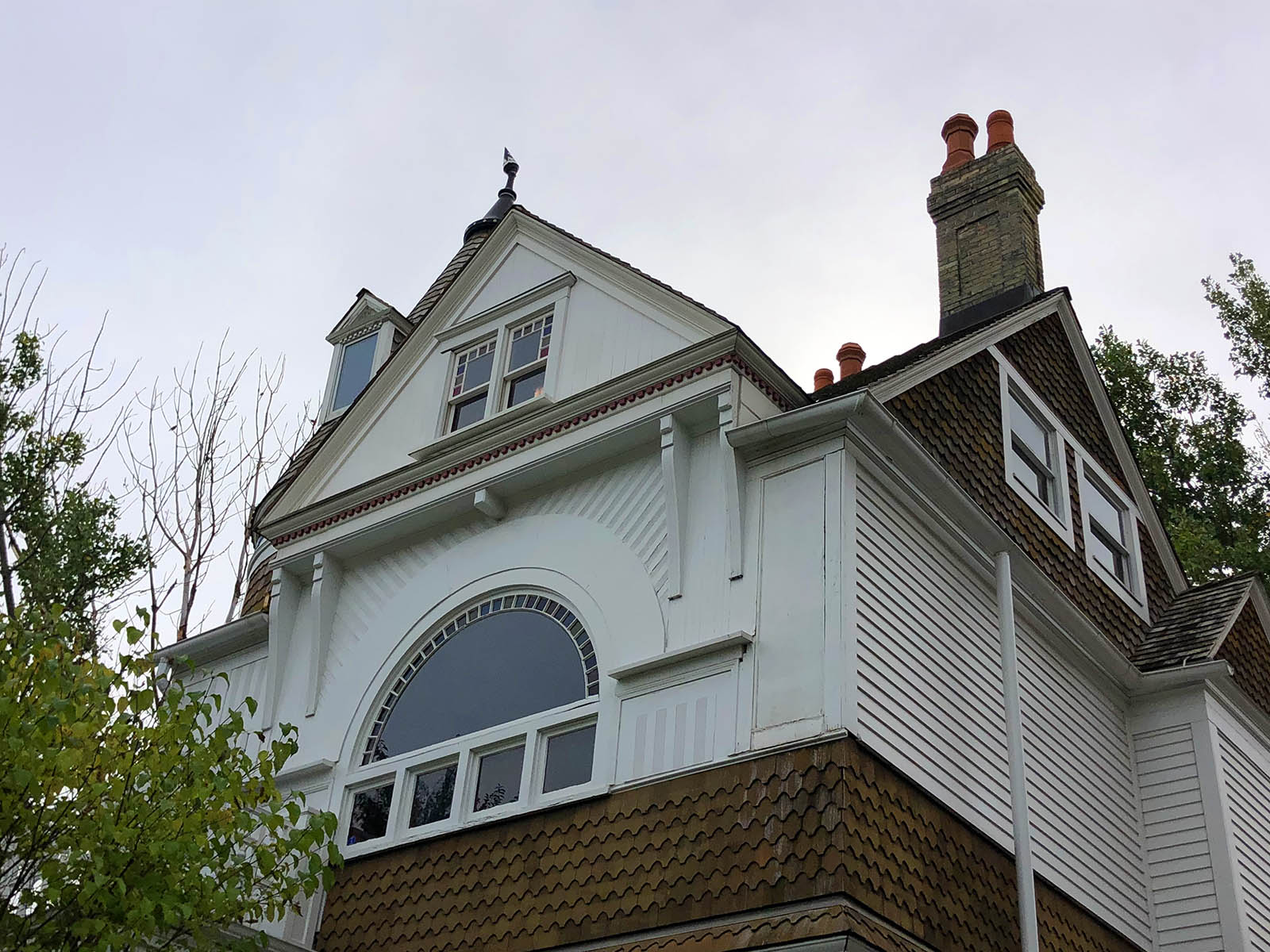 Clearly never one to stay very long, Andree again went solo in 1893, and in that year he was likely tapped by Charles Donges to draw the State Street home, which has for about a century stood directly across the street from the State Theater, also designed by Andree, albeit much later.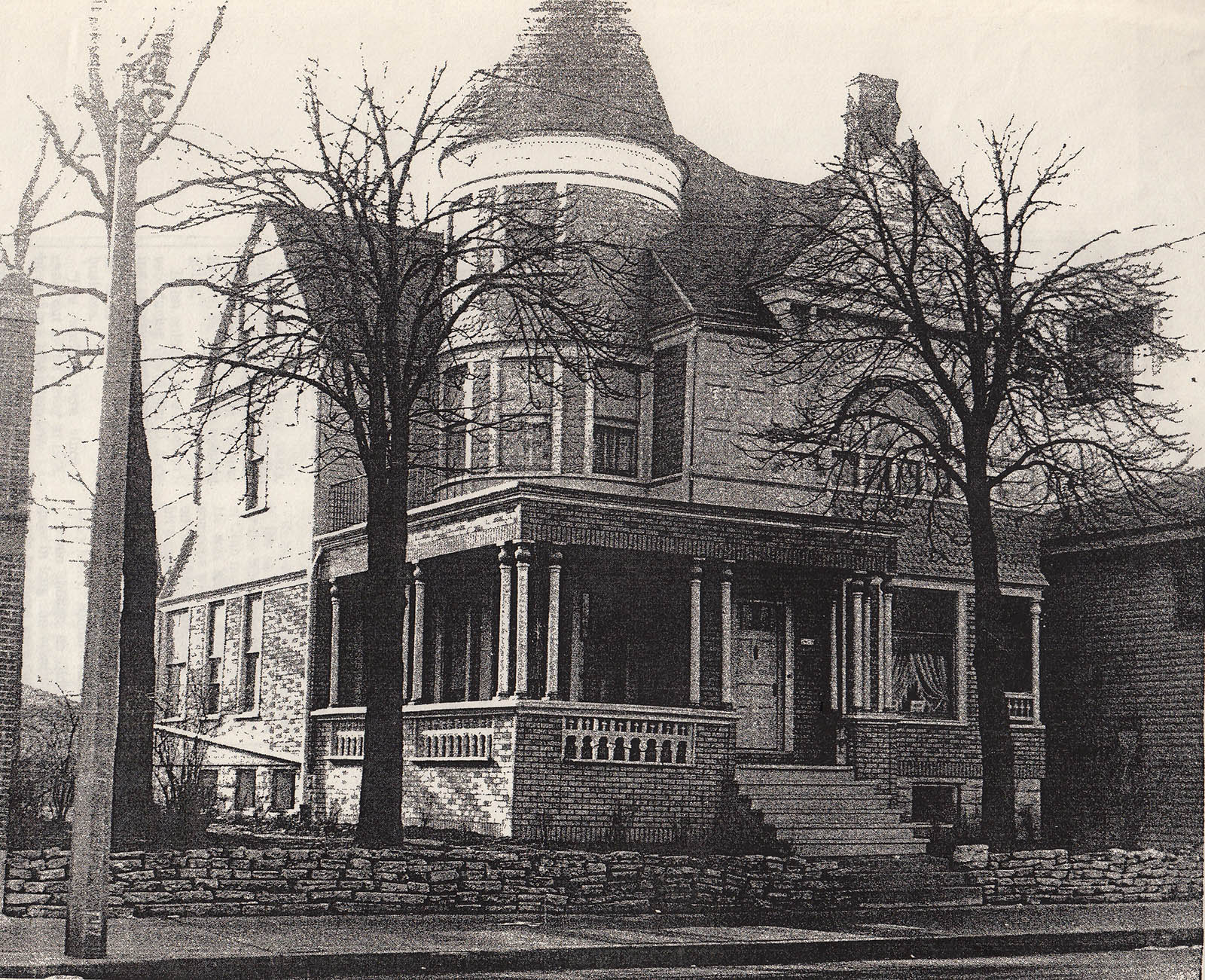 The home is instantly recognizable for its tall, slender, pointed turret, with a window halfway up the cones, and the stunning and broad second-story arched window (as well as for the discordant Gothic window just above it, reportedly added later).
Andree went on to design homes across the city, especially in the Concordia and Story Hill neighborhoods on the West Side, where he worked in a variety of divergent styles, including Queen Anne, Colonial Revival and even Prairie Style.
But who was Charles Donges?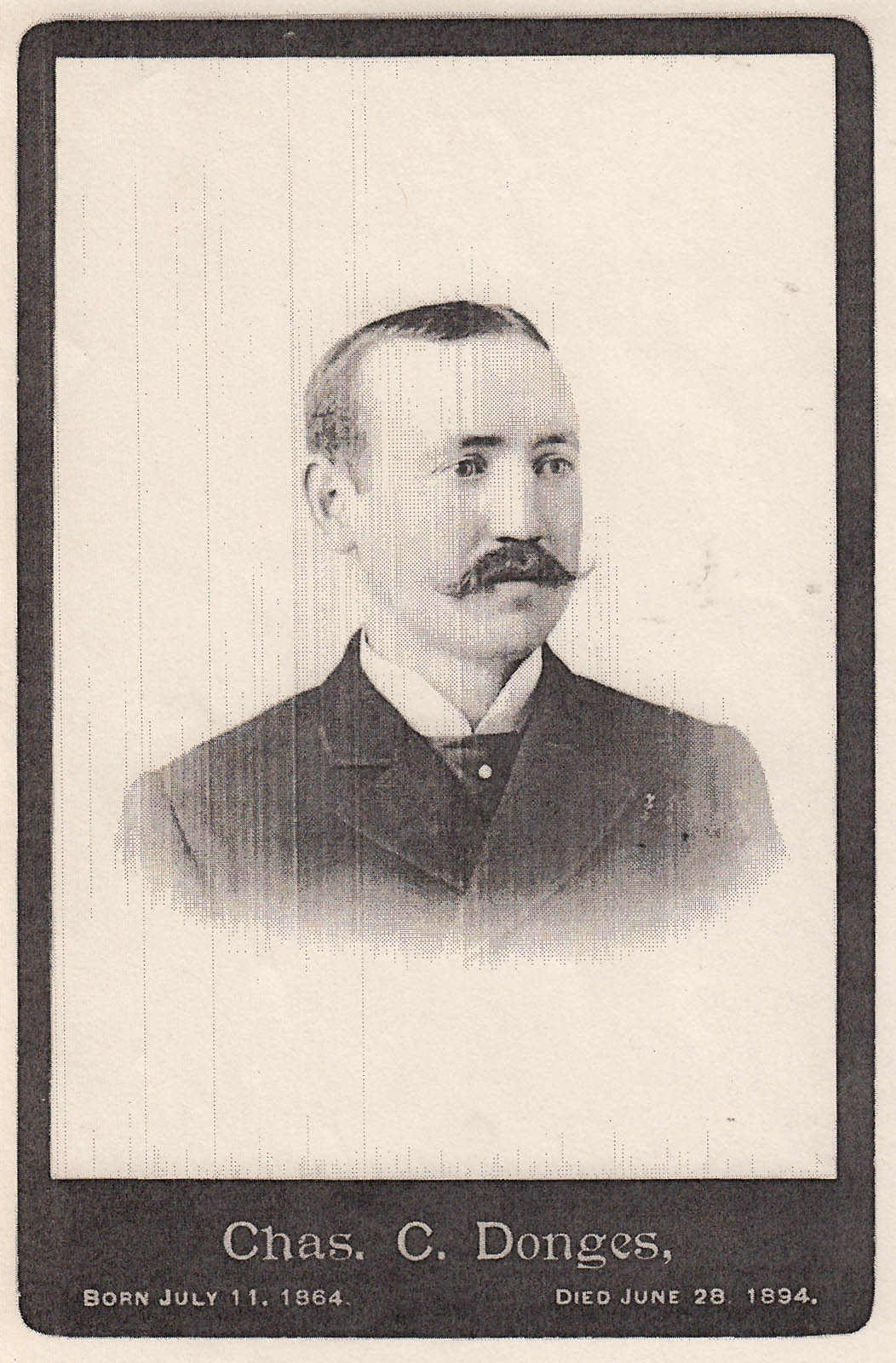 Charles and Jacob (who was called Jac) were born in Milwaukee – in 1864 and 1860, respectively – to German immigrants Jacob F. and Elizabeth Donges. Their father, who had arrived in Milwaukee in 1842 and worked as a cabinetmaker until 1860, then worked at City Hall as a janitor. When he died in 1871, Jac took over that job in order to support his family, which included six siblings.
In 1884, the brothers bought a hat shop opened in 1877 by a German woman on 3rd and Highland (where the Mader's parking lot is now located). In the basement Jac kept is collection of what one later newspaper account called, "stone curios. Some of them, including strange hitching posts of a bygone era, were donated to the public museum. Others were removed to the Donges estate on the North Shore."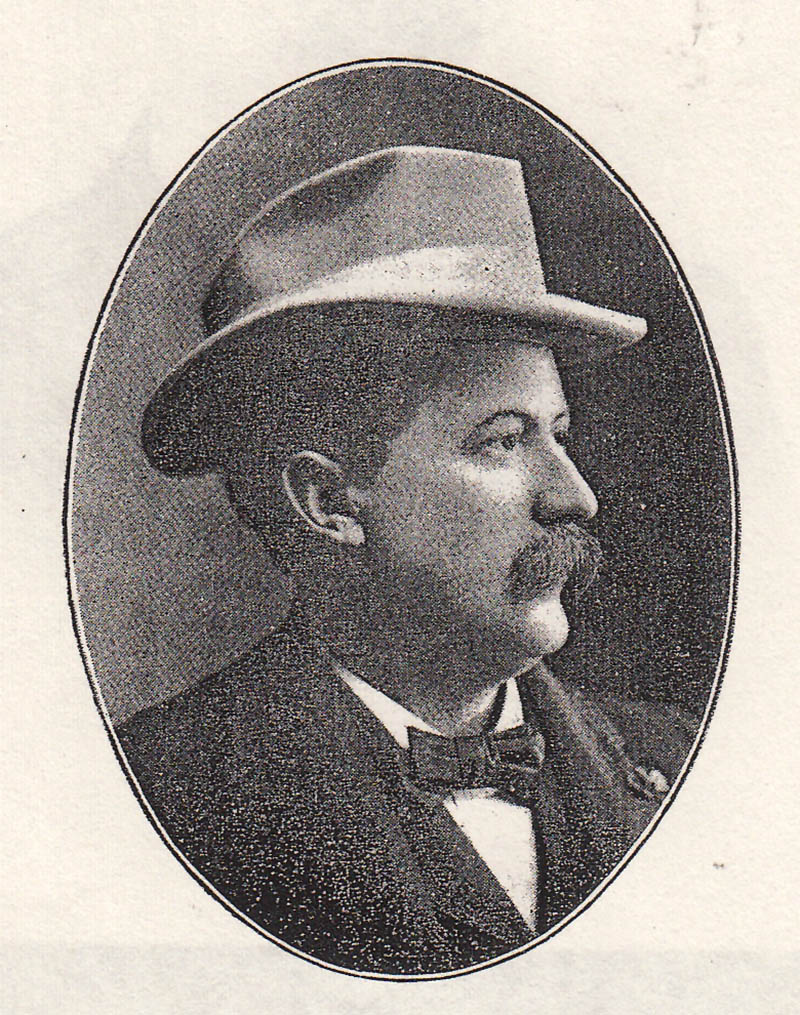 That estate was the result of an entry into the world of real estate investment in 1888.
That year, a property in what would become Fox Point was purchased and soon re-sold to Christ Preusser, presumably helping to fund the 1890 purchase of seven acres of lakefront land in the Town of Mequon for $1,000.
That land, now partially in Bayside and partially in Mequon – called Fairy Chasm – was meaningful to Jac (and perhaps Charles), according to a much later newspaper article.
"Fairy Chasm had its beginning with a boy by the name of Jacob F. Donges, who loved nature and hiking along the north shore of Lake Michigan," wrote the Milwaukee Journal in 1994. "One day in 1873, he took a tumble into a ravine that rose from the beach westward into farmland along the bluff. Its sides were so steep that it was virtually inaccessible and unseen. He fell in love with the area. He vowed someday to own it. And he did."
The Fish Creek Park Co. was formed to develop the land, which grew to cover 20 acres, and by 1915, Jac alone owned 28 acres, including the ravines, where trails used by indigenous peoples could still be seen.
There was much buying and selling of land in the long road to the creation of Fairy Chasm and Bayside, and that's another story. But suffice to say, that by then, Charles was long gone.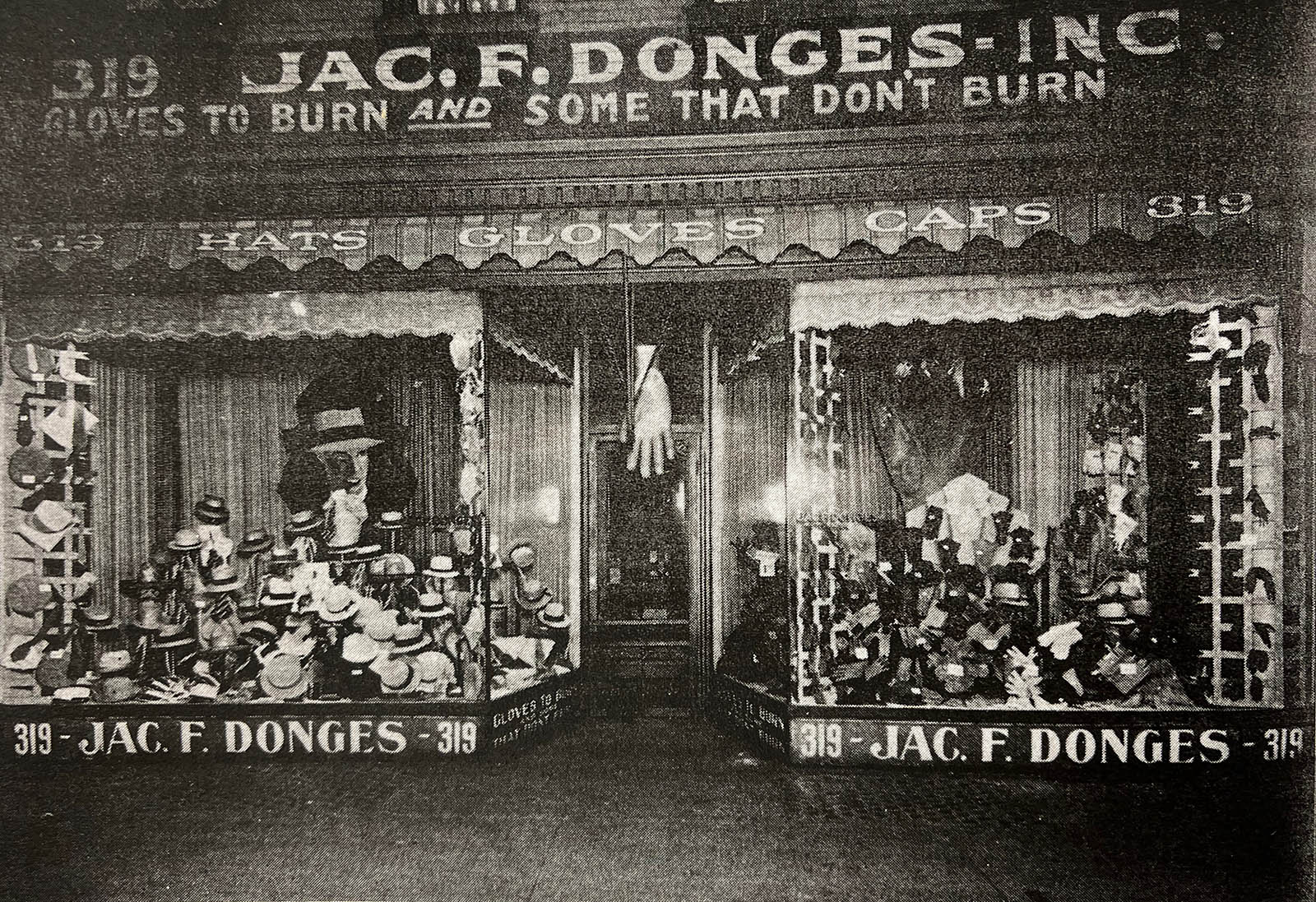 In 1889, he married Clara Guentner and in 1890 a daughter, Ella, was born. In 1893, another daughter, Anita, arrived.
But sadly, just shy of his 30th birthday, Charles died of appendicitis, according to a one-paragraph notice in the Evening Wisconsin, which said that the deceased was, "a well-known and very popular young man."
That young man left behind a beautiful home and a complicated family mess that dragged on for a number of years.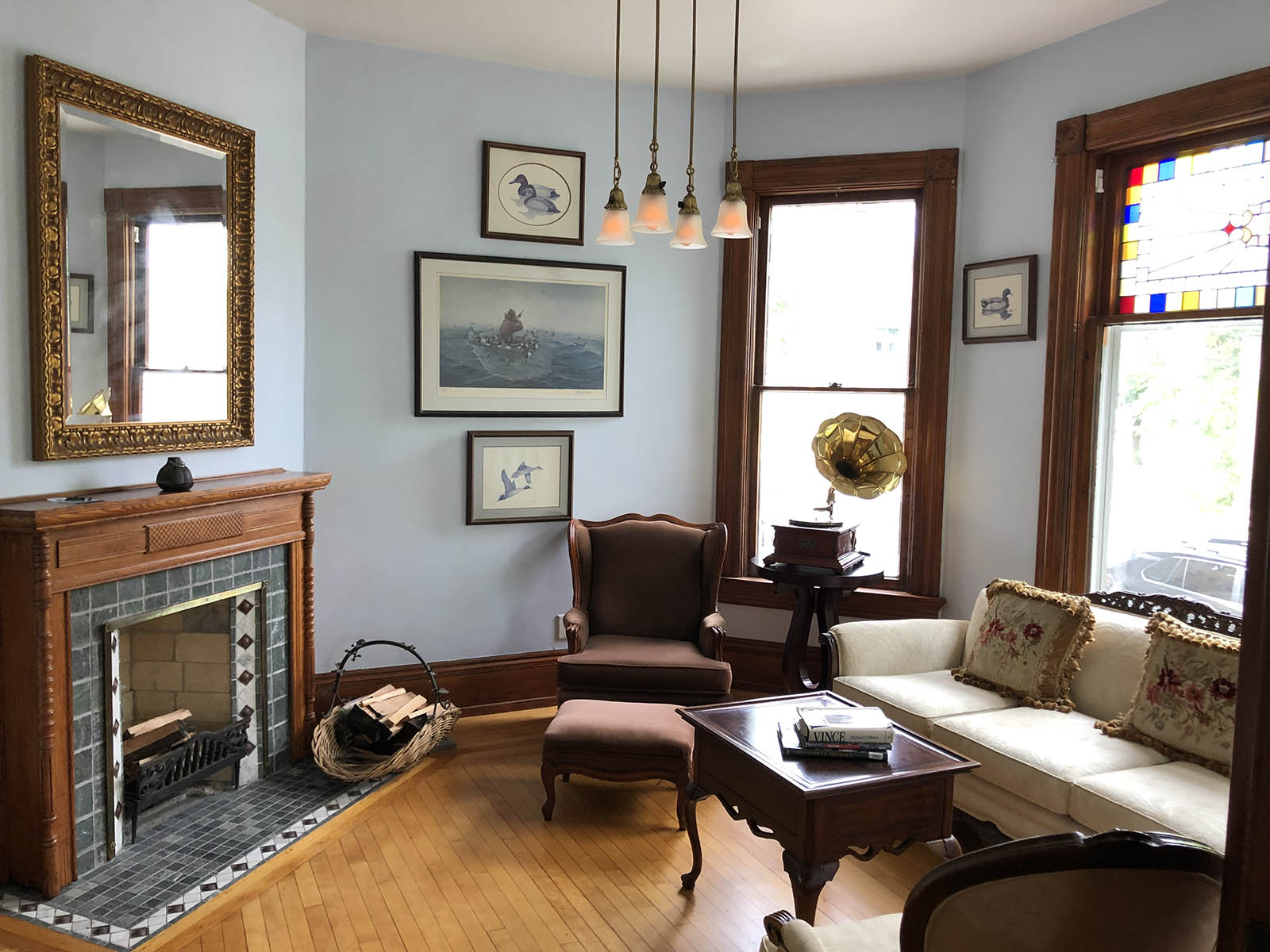 The problem was that Charles hadn't updated his will after the birth of his chldren and so that document left his interest in the hat store to Jac and $1,000 to each of their four sisters. It left nothing to Ella and Anita and their mother was having none of that.
Clara sought legal remedy, asking a judge to set aside the will and direct Charles' estate to her and the children. In 1897 a judge did exactly that. Though the decision was appealed, it appears to have stood.
There were, however, no hard feelings, it seems, as Clara and the girls were not only invited to weddings and other functions, but Anita and her cousin Erma – Jac's daughter – had a double wedding outdoors in 1916 under a pergola up in Donges Bay.
(It also bears noting, that another of Jac's daughters, Elsie, married Fred Usinger Jr. – whose family was involved in the founding of Fairy Chasm/Donges Bay – and their grandson, Fritz, is the longstanding current owner of Usinger's, still operating across Third Street from where Donges hat shop long operated.)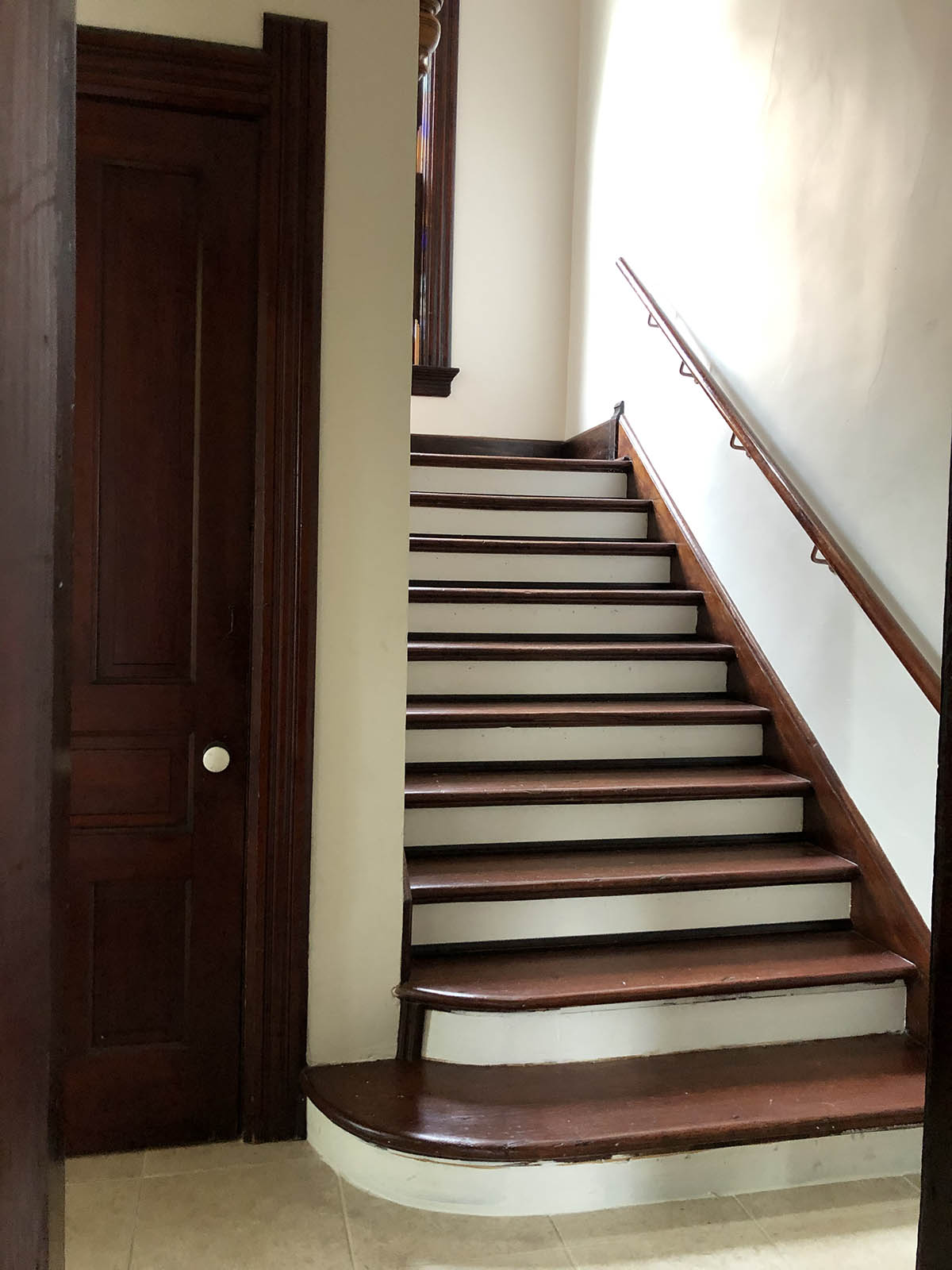 And when Jac died in 1928 at the age of 68, leaving an estate estimated at $250,000, Charles' daughters were each bequethed $10,000 and their mother Clara was left $5,000.
Jac continued in the hat and real estate business and Clara continued to ive in the State Street house with the children, at least until 1916.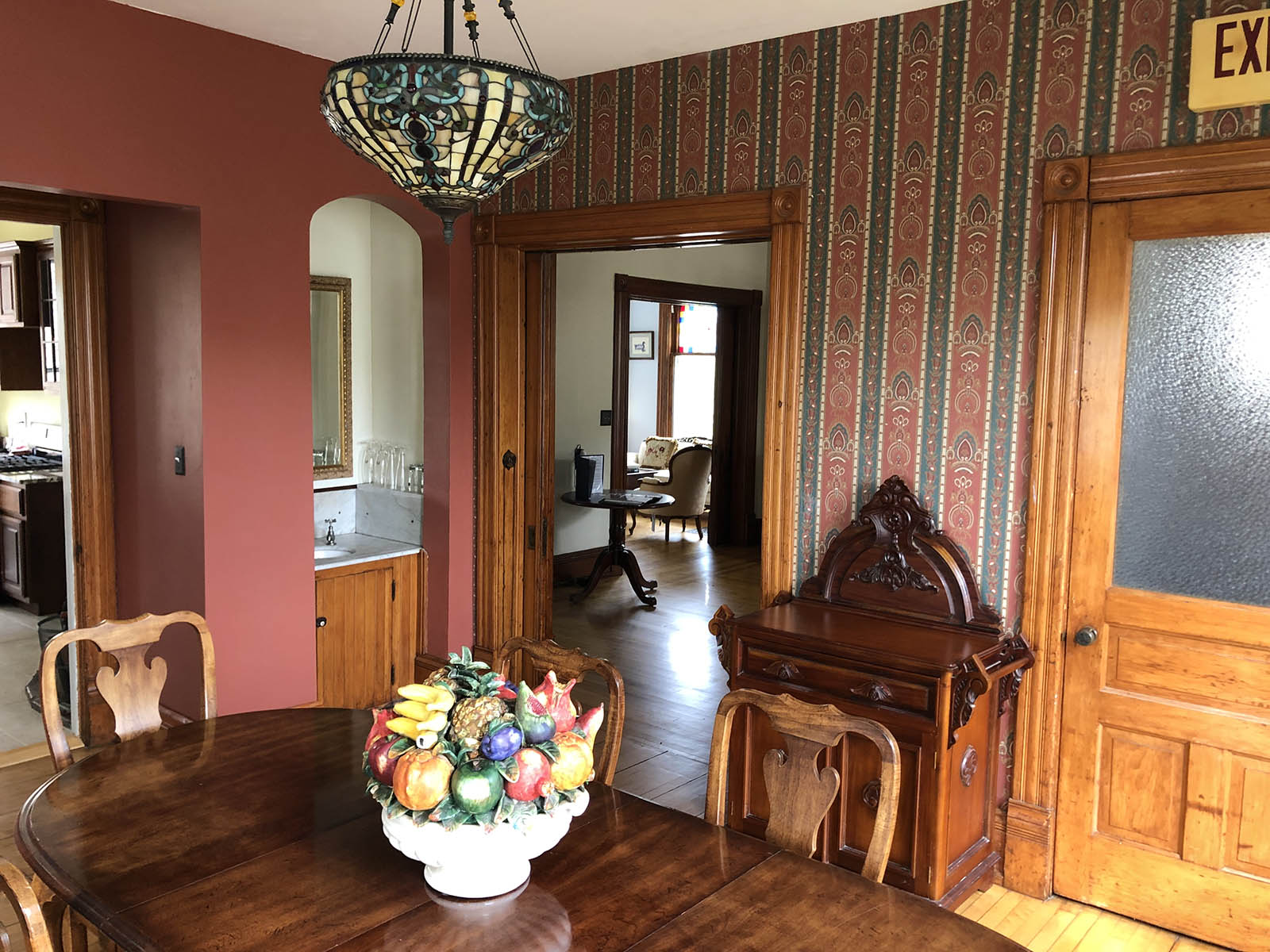 By 1921, the large house had been sliced and diced into the Highland Apartments, with apparently one large unit, and six apartments that were also called "furnished rooms," which is likely a more accurate description.
Three years later, the owners were bungalow salesman Adolph M. Bauman and his wife, Irma, a milliner who ran a hat shop in the home.
In 1928, the home was occupied by Falk Corp. draftsman Karl W. Johns and the State-Lee Hat Shoppe, as well as the furnished rooms.
That same year, Jac died after having retired from the hat business in 1927 and his brother-in-law Harry Bexell was running the shop, which was purchased by Morris Kahn in 1933.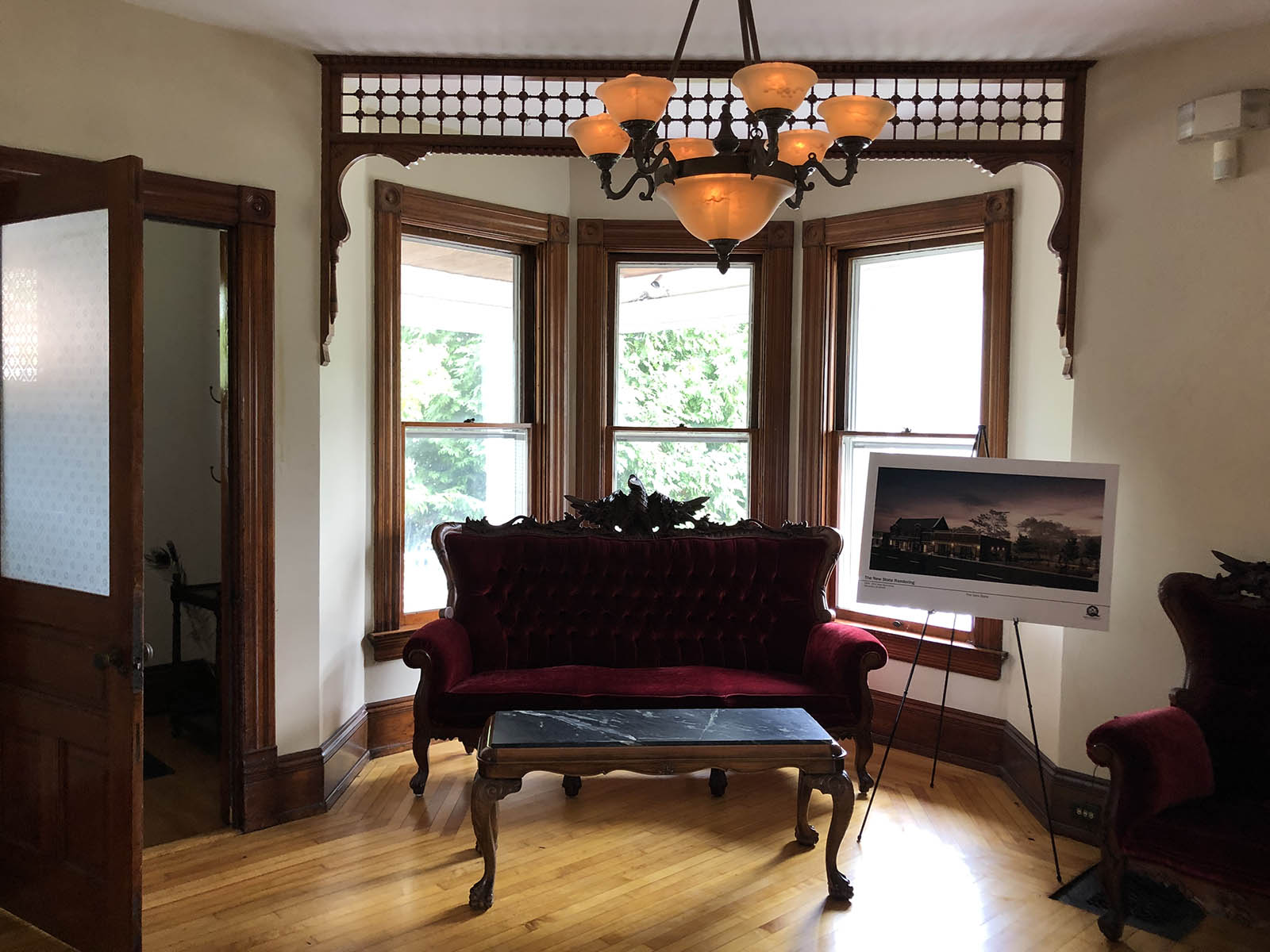 Kahn moved the shop to its location on the corner of 3rd and State in 1936 and, ultimately, his son Jerry took over and ran the business until it closed 68 years later.
Back at the State Street house, a number of owners in succession rented out the rooms: Eugene DeRath in the early '40s, Mrs. Lillian Suhr in the late '40s, Kenneth Nuremberg in the 1960s and '70s, William Henkelman in the '80s.
In the early 1990s, the house was converted into offices and a clinic for the Milwaukee Indian Community Health Center and later the Rainbow Community Health Center.
In 2000, William Andrews converted it back to a single family residence for the first time since the Donges era.
The Steve Ewing era
In 2004, area radio and music promotion personality Steve Ewing bought the place, mostly, he says, for his daughter.
"She got into the real estate business," he says, "and you know how dads are, they just love their kids and they sometimes do stupid things. She came to me and said, 'Dad, I know you've always wanted a Queen Anne-style Victorian.' I own (and old house) f ive blocks from here and I'm up to my ass in problems with that place.
"'I found one This is perfect. This is really, this is the place.' So she brings me over here, and I looked at it, and I went, 'Holy sh*t, this needs a lot of work'."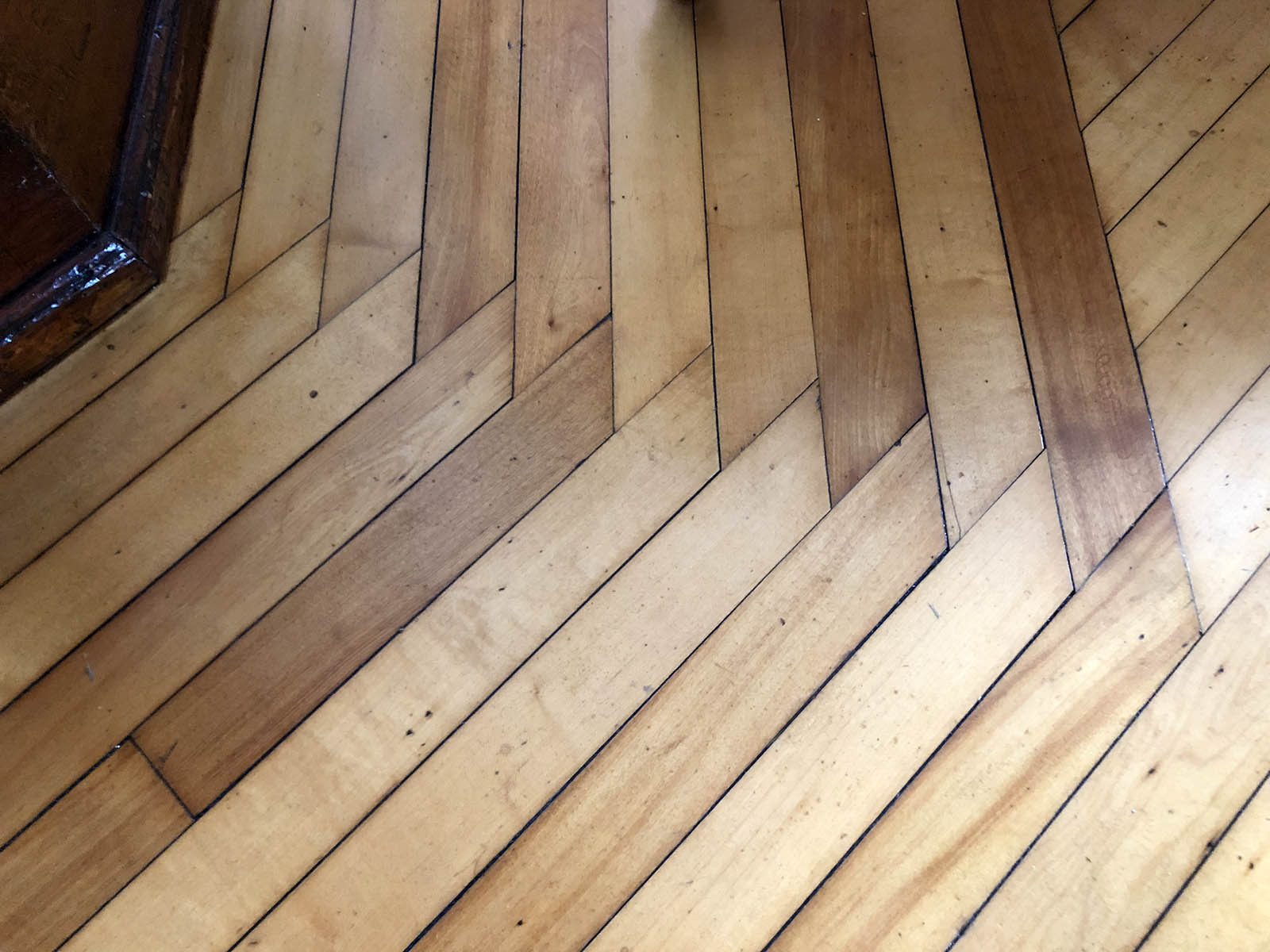 But, still, you know how dads are. Especially dads enamored of historic buildings.
Ewing set to work, tapping local architect and architectural historian H. Russell Zimmermann to help get the home back in shape.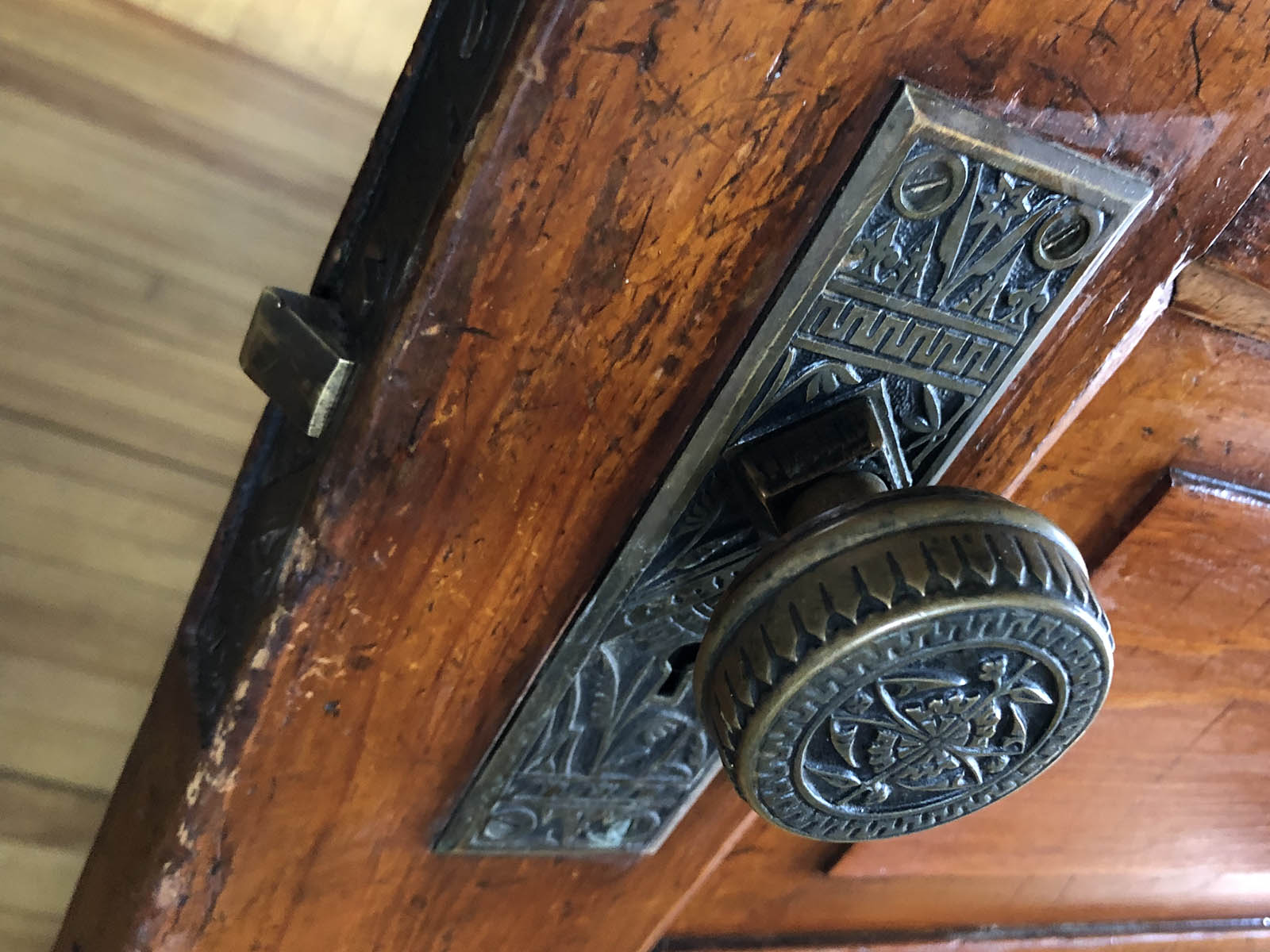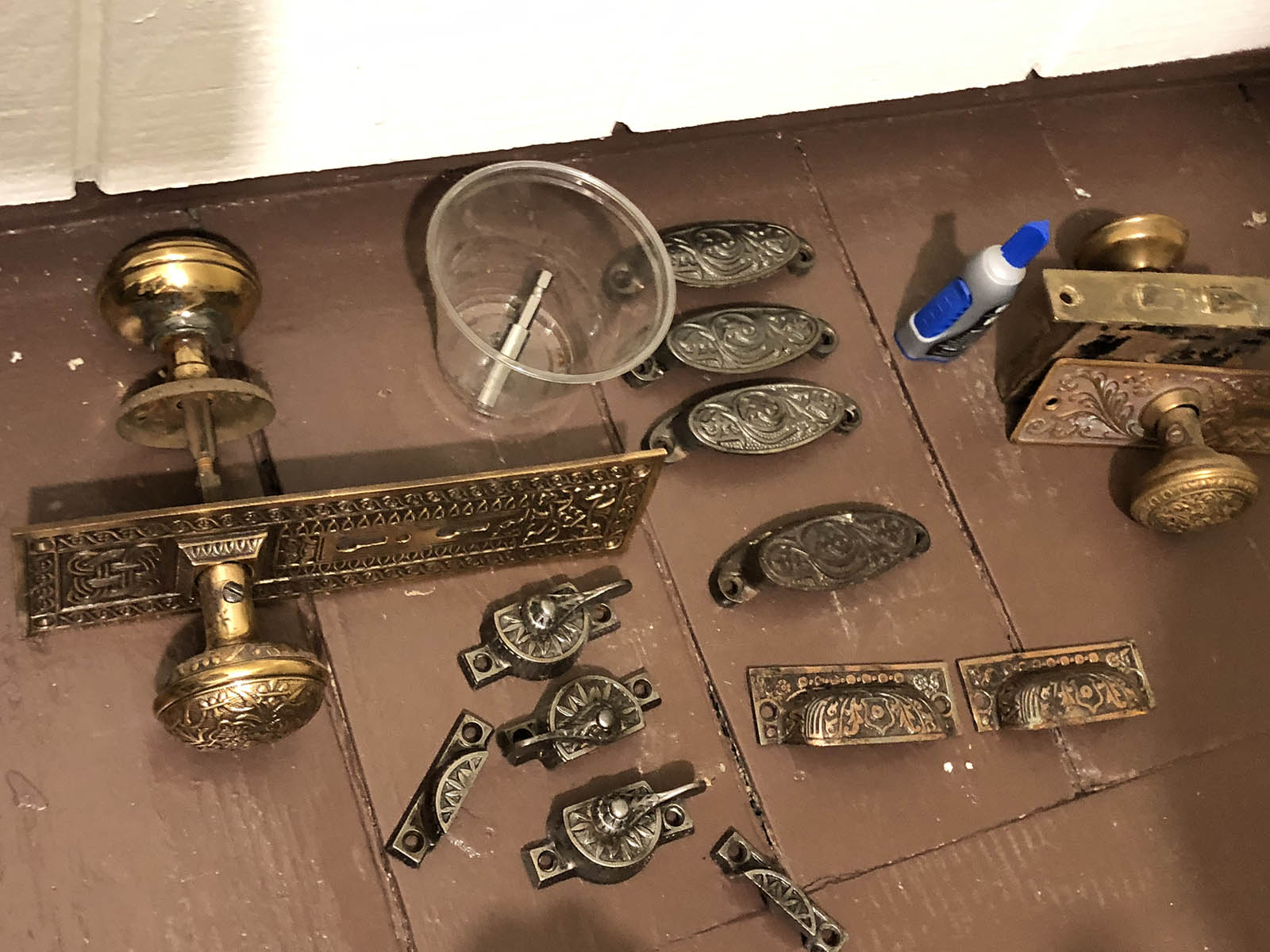 Now, it's a real gem. Gorgeous hardwood floors, beautiful woodwork on the first floor, THAT window upstairs, pocket doors, original brass doorknobs and escutcheons.
Ewing has also saved original details for future reinstallation.
I'm a big fan of the curved wall "corners" upstairs.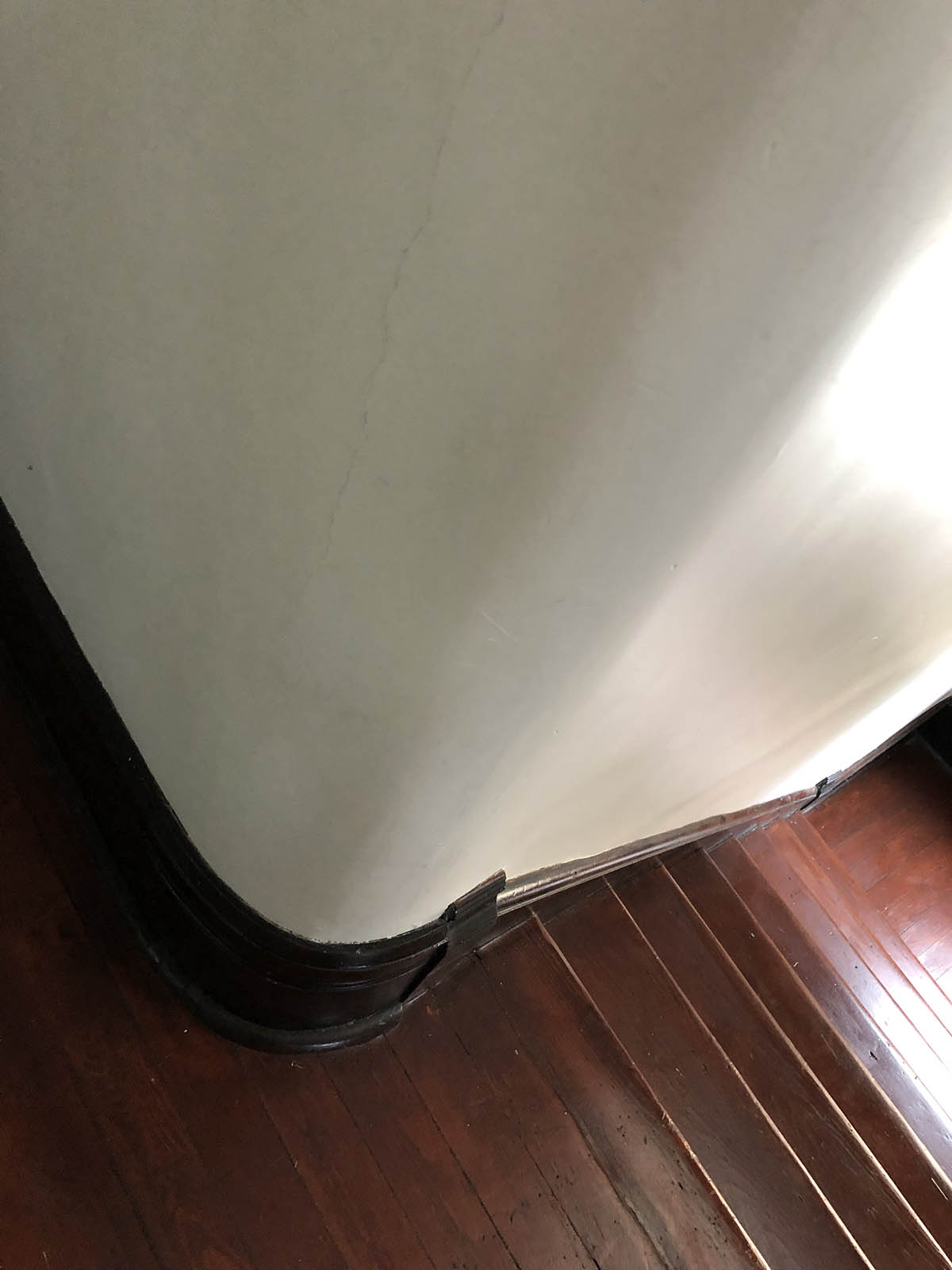 Plus, because Ewing has a home nearby, he's used this place as his office and man cave.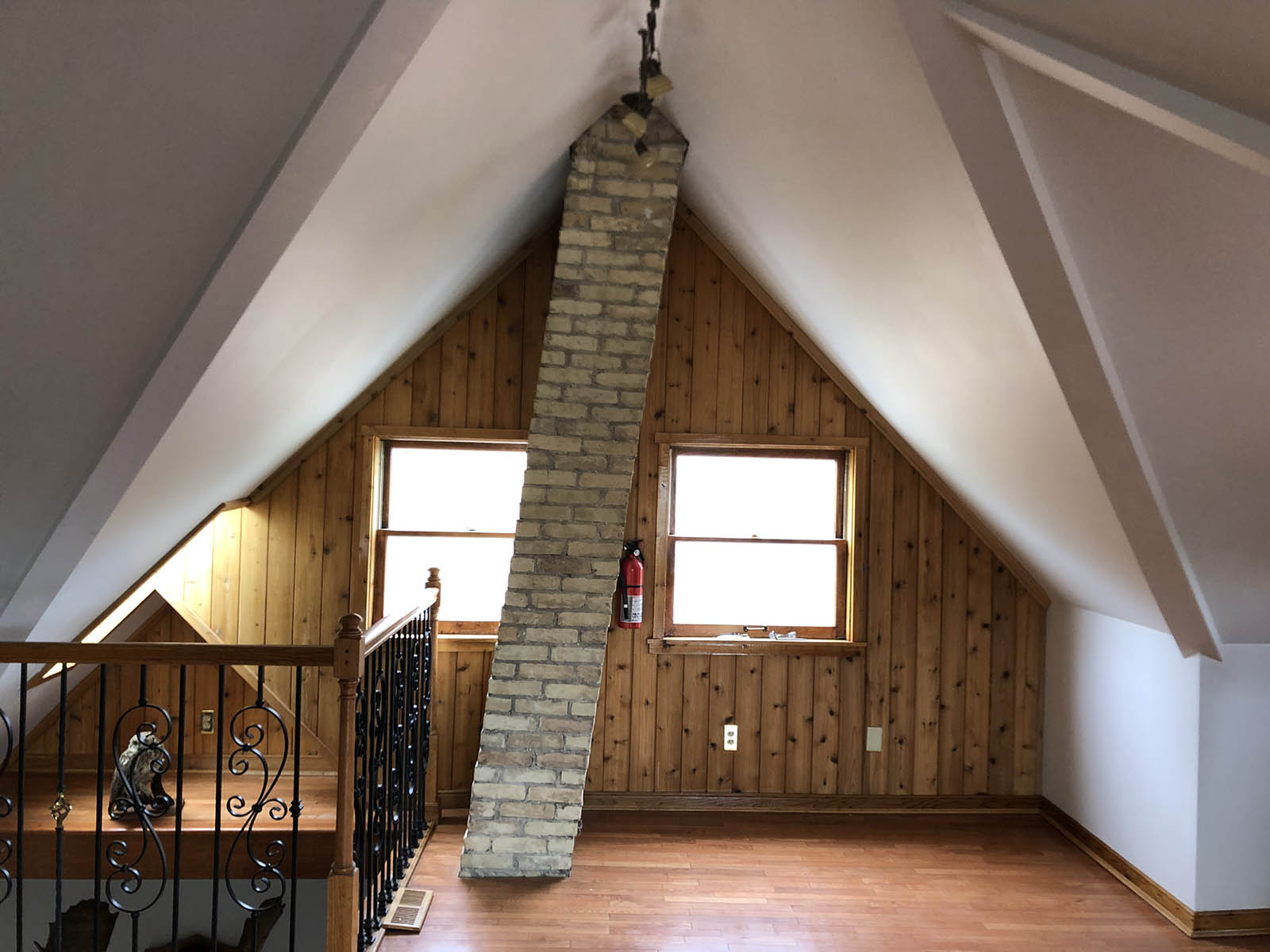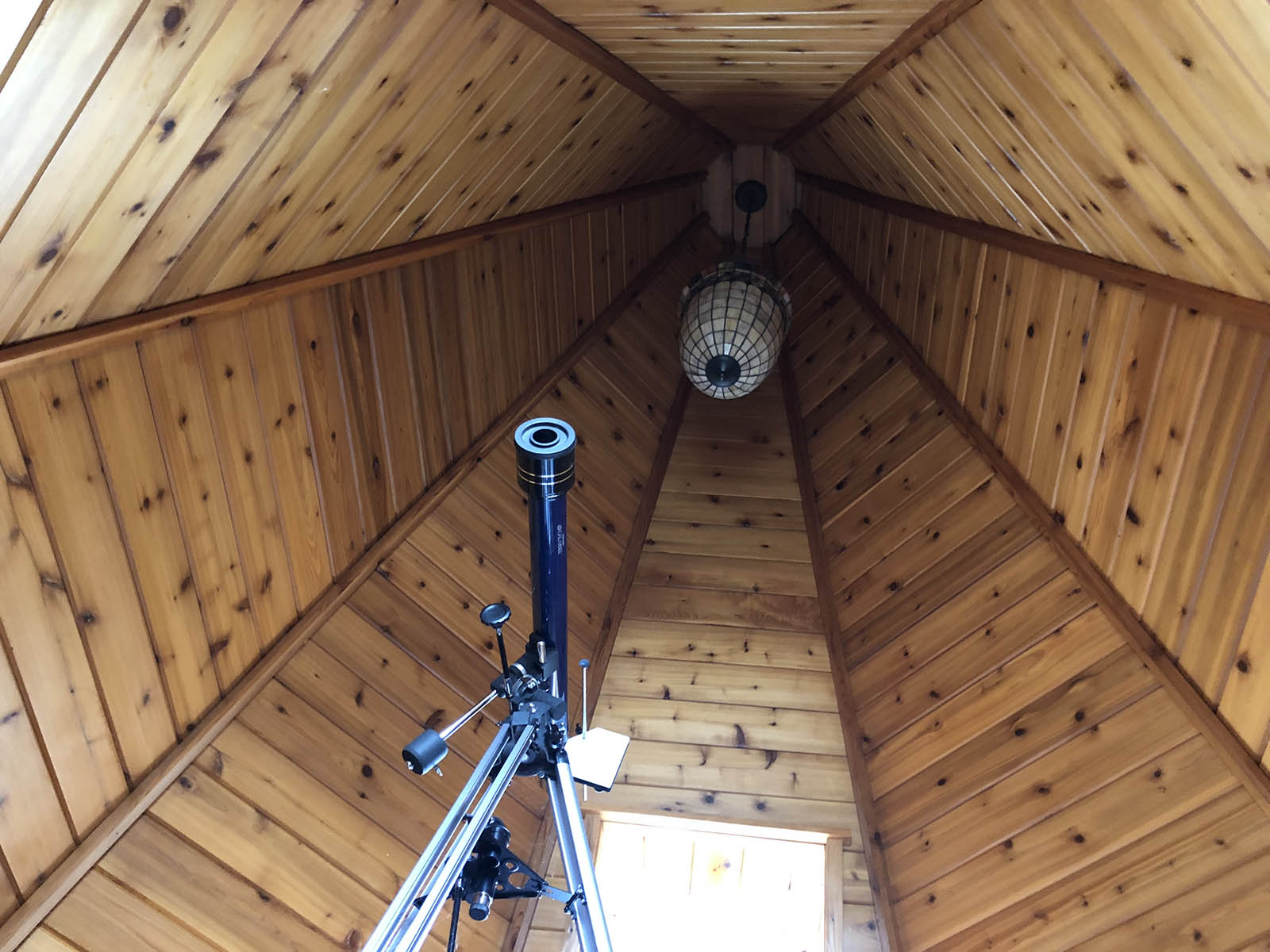 There's a great bar upstairs and the attic – with its exposed, tilting (on purpose) cream city brick chimneys – has been converted into usable space, with a staircase up into the top of the turret, which boasts a telescope and a small cafe-style table.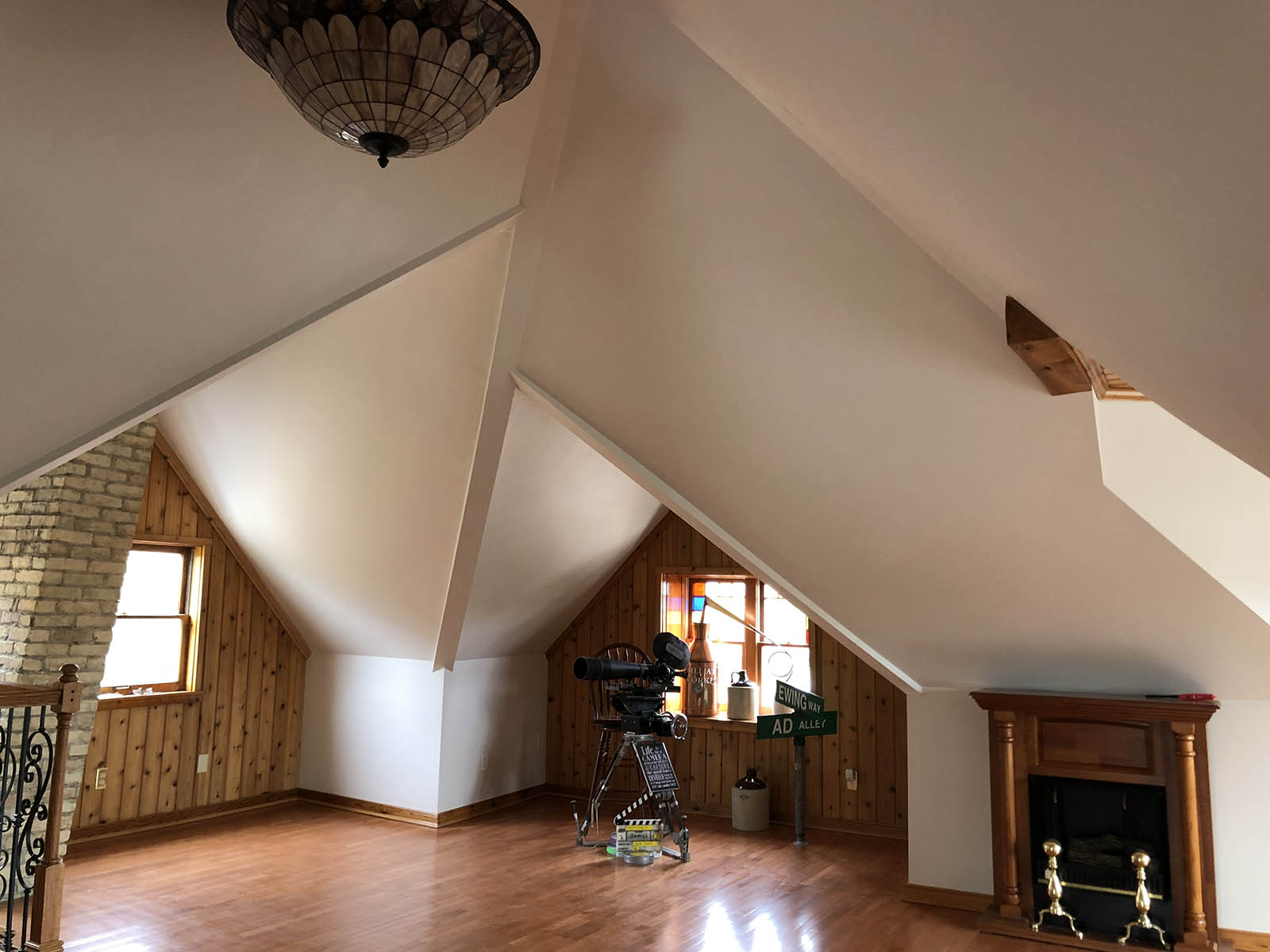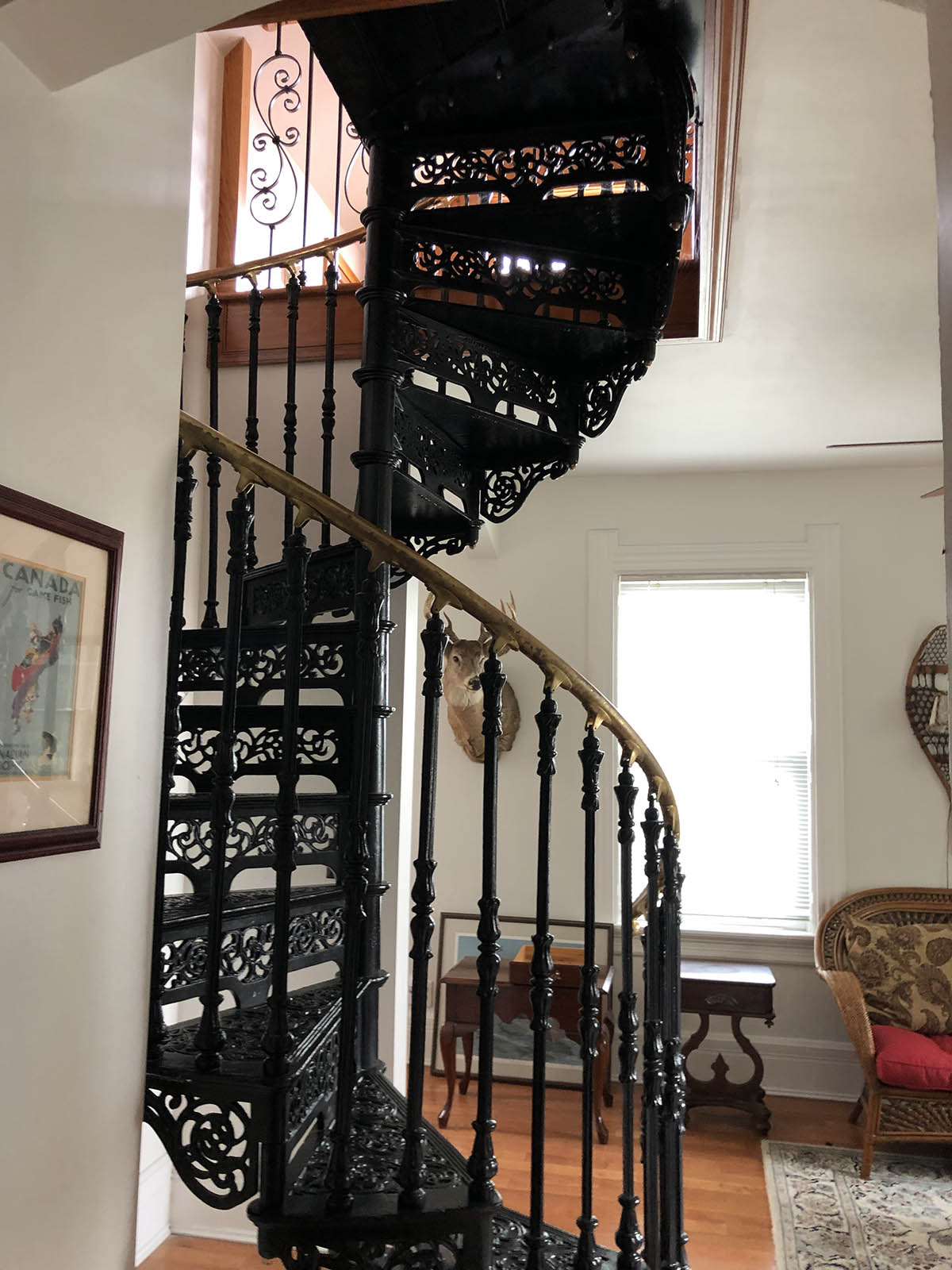 He also installed an antique spiral staircase, and in the attic window – expressing his passion for Scotch whisky – he's got a (non-functional) decorative still.
While part of the allure for Ewing was the beauty and history of the home, as well as its location near his house, there was another connection that he simply couldn't resist.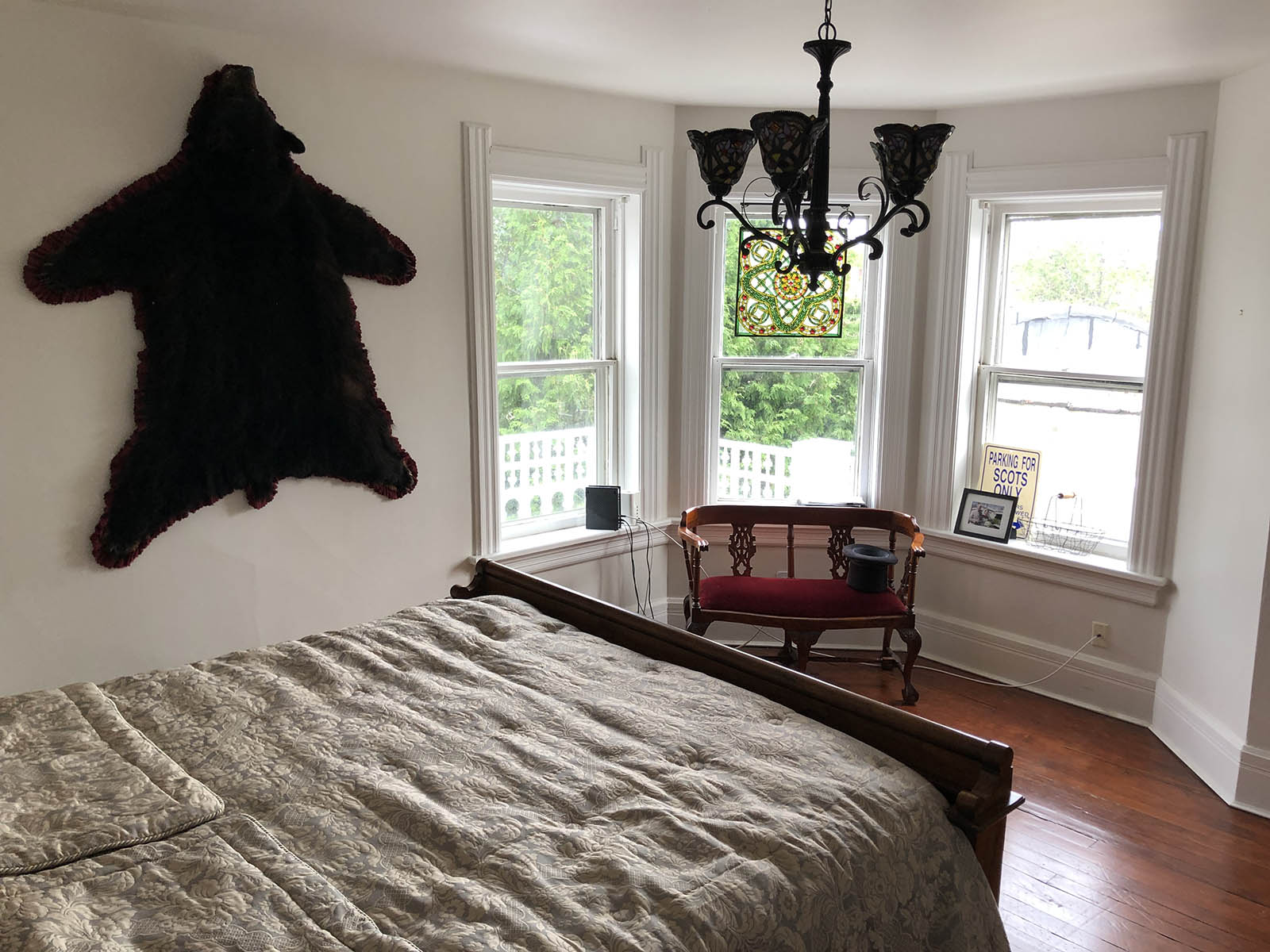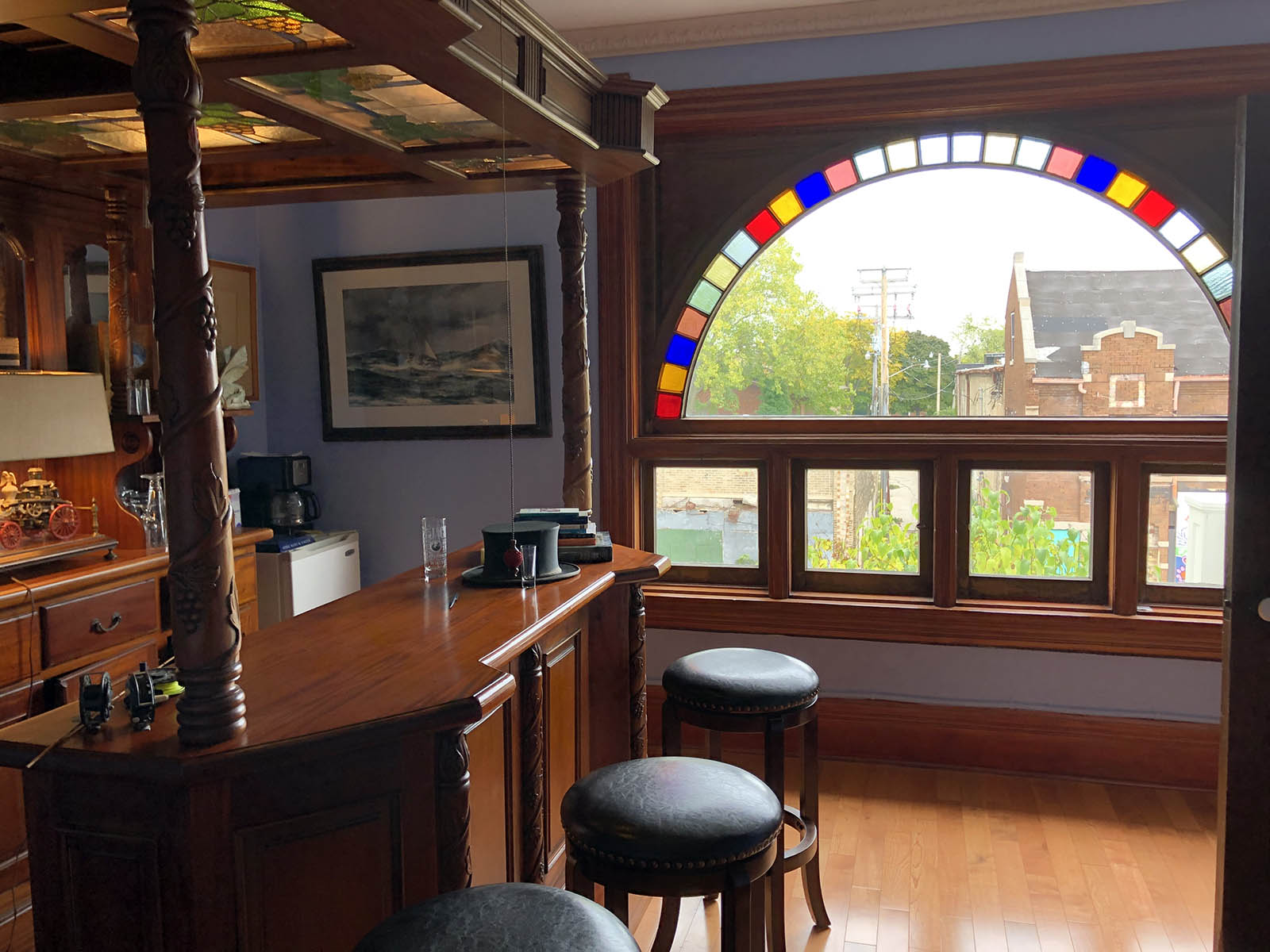 "I was like a Whitefish Bay kid, until eighth grade, and then my dad moved to Bayside," he says. "Whenever we would have a snow day we would always go down and smoke cigarettes and pipes and stuff like that down at Fish Creek, and we'd also go smelting down there and everything else.
"So, I felt, in a way, this is kind of cool, Donges Bay. 'Oh, Donges. I know about them.' When I had Russell Zimmermann look into it, he said 'You've got architecture here that's historically significant. But, the real thing is it's Charles Donges ... The Usingers and the Donges, both of them down on Old World Third Street'."
Born in Brooklyn, N.Y., where he lived until he was 17, Bobby received his BA-Mass Communications from UWM in 1989 and has lived in Walker's Point, Bay View, Enderis Park, South Milwaukee and on the East Side.
He has published three non-fiction books in Italy – including one about an event in Milwaukee history, which was published in the U.S. in autumn 2010. Four more books, all about Milwaukee, have been published by The History Press.
With his most recent band, The Yell Leaders, Bobby released four LPs and had a songs featured in episodes of TV's "Party of Five" and "Dawson's Creek," and films in Japan, South America and the U.S. The Yell Leaders were named the best unsigned band in their region by VH-1 as part of its Rock Across America 1998 Tour. Most recently, the band contributed tracks to a UK vinyl/CD tribute to the Redskins and collaborated on a track with Italian novelist Enrico Remmert.
He's produced three installments of the "OMCD" series of local music compilations for OnMilwaukee.com and in 2007 produced a CD of Italian music and poetry.
In 2005, he was awarded the City of Asti's (Italy) Journalism Prize for his work focusing on that area. He has also won awards from the Milwaukee Press Club.
He can be heard weekly on 88Nine Radio Milwaukee talking about his "Urban Spelunking" series of stories.