Close your eyes for a moment and imagine a truly delicious doughnut.
Its dough is buoyant and buttery with a subtle, satisfying chew. Its icing is smooth and sweet, but not cloying. It's indulgent; but at the same time balanced and restrained.
That's the sort of doughnut you can expect from Donut Monster, the playfully named pop-up shop birthed by Chef Jackie Lee Woods and his wife Sara.
Donut Monster has been serving up dozens of freshly made doughnuts (and, more recently breakfast sandwiches) on weekends at area locations including Hawthorne Coffee Roasters, 4177 S. Howell Ave., and Pilcrow Coffee, 1739 N. Dr. Martin Luther King Jr. Dr.
But the pop-ups are just the beginning for the brand, which will occupy a stall in the forthcoming 3rd Street Market Hall at The Avenue and – if all goes well with the Woods' search – an additional brick and mortar shop in the greater Milwaukee area.
Among Donut Monster's offerings are yeast doughnuts made with a tender, buttery brioche dough and gilded with flavors like cinnamon toast, maple bacon and lemon poppy ($2.50 each).
There are also filled varieties like the Blueberry cheesecake with blueberry glaze and liquid cheesecake filling; or the PB&J with concord grape glaze and peanut butter filling ($3 each).
There are also old fashioned doughnuts made with a sour cream-based dough in flavors like tangy buttermilk with sprinkles, old fashioned lemon and old fashioned salted chocolate ($2.50 each).
Meanwhile, hand-sized fritters boast a rotating selection of fresh fruit inclusions like lemon and blueberry (pictured, $5 each).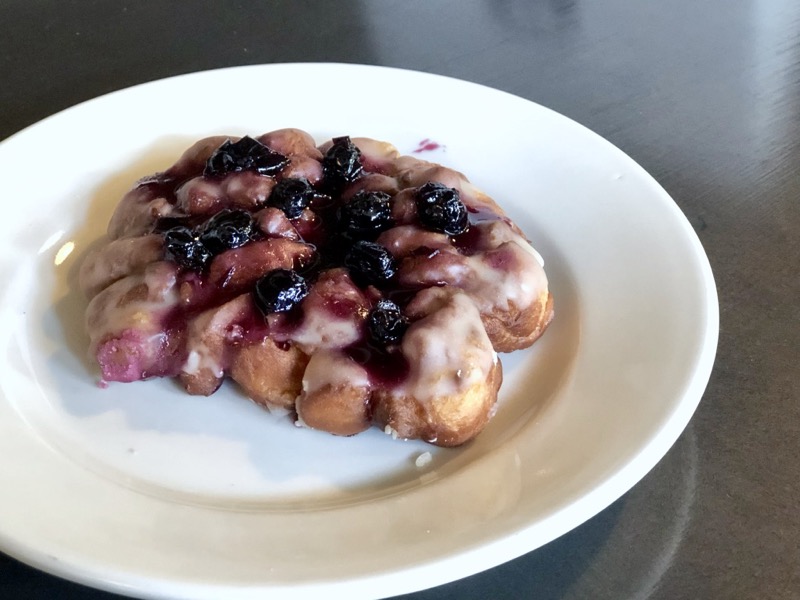 Each of the doughnuts has its selling points. The buttermilk old fashioned has a pleasant tang that's cut by the sweetness of the glaze; the cheesecake boasts a creamy cheesecake filling and an icing that maintains the pleasant acidity of fresh fruit; and the lemon poppy is beautifully floral thanks to the use of fresh lemon zest.
And while appreciating the subtleties of their flavor profiles is by no means a prerequisite, it's at the fore of Woods' mind as he uses his classical training and years of experience to create the best possible doughnuts.
"The goal is to create a doughnut that's sweet, but not a sugar bomb," says Woods. "I lean less sweet, and what we're looking for is balance in terms of sugar, salt and acid."
Chef-driven doughnuts
Woods' career has included work creating work-intense 14-course tasting menus at Ardent, concocting beautifully presented desserts at c.1880, creating high end Asian cuisine at Umami Moto and working the line at Bacchus. He also spent a number of years on the West Coast, honing the art of sourdough and wood-fire at Homestead in Oakland California and developing a true appreciation for fresh, seasonal and organic ingredients at Redd in the Napa Valley.
"Among my takeaways from working in California was an understanding of flavor … an understanding of what excellent product really is," says Woods. "And that really changed the way I approach food."
In the case of donuts, that means using high quality, wholesome ingredients (many of which are organic) and taking the time to perfect recipes that hit it out of the park in terms of both texture and flavor.
The journey began over two years ago when his wife Sarah was pregnant with their son Jackson and couldn't seem to find a doughnut she loved.
"I'd talked with Annelise [Linton, colleague and former Ardent pastry chef] about doughnuts quite a bit," says Woods. "And after my wife posed the challenge, it really jazzed me up. We started eating doughnuts everywhere: Chicago, Seattle, Portland, New York. We ate all the doughnuts that we could. And I concentrated on the textures, the sweetness levels … looking for what I really wanted in a doughnut."
"I wanted properly in-season tasting raspberry and blueberry," he says. "Glazes that are sweet, but not super sweet. And I wanted the lightness of a Krispy Kreme – but with a bit of texture – like a properly al dente pasta. You want that little bit of toothiness. Ultimately, I wanted to create a doughnut that people would want to eat every day."
Woods admits he thought the process would be easier than it was.
"We used bread flour, all-purpose flour, cake flour," he says, noting that he went through at least 25 recipes before settling on the ones they're currently serving. "And we played with the ratios. We experimented with the fermentation times and the frying temperatures..."
And, although the recipes have reached a point he's pretty happy with, Woods says he's likely to continue tinkering, welcoming constructive feedback from pop-up customers and making them the best they can be.
The ultimate breakfast sandwich
Woods has also moved on to creating the perfect breakfast sandwich. For the past six months, he's been working on a recipe for the sandwich's base: an English muffin that's tender on the interior and crisp on the exterior.
He rolled out the first iterations during pop-ups last weekend.
"They're simple sandwiches, really," he says. "All the work goes into the muffin."
Of course, by "simple" he means comforting handheld creations sporting ingredients like perfectly fluffy omelet-style eggs flavored lightly but effectively with chives and tarragon, Beeler's bacon cooked deliberately so that its texture doesn't impede a smooth clean bite and the creamy umami of Wisconsin-made Pine River cheese spread ($7.50).
The bacon and egg version is delicious, he notes, but his favorite is made with "great ham," cheese spread and creamy avocado balanced by a bit of lemon juice ($8.50)
Ultimately, Woods says, the goal is for Donut Monster to offer between 12 and 14 doughnut varieties, including 10 core flavors and two to four seasonal varieties (with potential options like Mexican chocolate tequila, white chocolate passion fruit and malted banana filled doughnut with condensed milk glaze). Morning doughnuts will be supplemented by a menu of simple sandwiches, coffee and a variety of sodas made from Woods' recipes.
When asked what he's gotten out of the journey from fine dining to doughnuts, Woods smiles.
"It's been really freeing," he says. "And it's made me refocus my point of view ... the world doesn't revolve around eating 14 courses at a sitting. This is food that doesn't need an explanation. It's comfortable food. Delicious. Food that makes people feel safe."
Get yours
Looking for a doughnut? Or a delicious breakfast sandwich? You can find them this weekend. Donut Monster will be at Pilcrow Coffee on Saturday, April 27 and at Hawthorne Coffee Roasters on Sunday, April 28. Doughnuts are available from 8 a.m. to noon (or until sold out). Got your heart set on a specific kind? Pre-order your doughnuts by messaging Donut Monster on Facebook by Friday (April 26) at 6 p.m.
Keep up with the latest by following Donut Monster on Instagram, Facebook and Twitter.
Lori Fredrich (Lo) is an eater, writer, wonderer, bon vivante, traveler, cook, gardener and girlwonder. Born and raised in the Milwaukee area, she has tried to leave many times, but seems to be drawn to this quirky city that smells of beer and alewives.
Some might say that she is a little obsessed with food. Lo would say she is A LOT obsessed with food. After all, she has been cooking, eating and enjoying food for decades and has no plans to retire anytime soon.
Lo's recipes and writing have been featured in a variety of publications including GO: Airtran Inflight Magazine, Cheese Connoisseur, Cooking Light, Edible Milwaukee, Milwaukee Magazine and the Milwaukee Journal Sentinel, as well as on the blog Go Bold with Butter, the web site Wisconsin Cheese Talk, and in the quarterly online magazine Grate. Pair. Share.