EPHRAIM – Somewhere near the Egg Harbor, during our summer trip to Door County in August, I turned to my wife and said, "We have to bring her here."
Her, of course, is our 6-year-old daughter. A child who loves princesses and roller coasters and cartoons. You know, the kind of stuff that you can't really find in Door County.
That's why, once upon a time, I figured that the magnificent, serene and beautiful Door County is a place only to be enjoyed by adults. Maybe my priorities have changed, though, because after 20 years of visits, only recently did I come to the conclusion that kids could fall in love with this magical retreat, too.
Turns out I was right. After the summer rush died down, we took our daughter to Door County for the first time this weekend. Despite the gloom Mother Nature threw at us, we experienced this vacation destination in its fall glory. We had a wonderful, memorable time -- the kind of trip in which the only tears that flowed came when we had to leave on Sunday afternoon.
Really, a weekend isn't enough time to show anyone Door County for the first time, especially a young child. But because what should've been crisp autumn weather wound up being wind and rain and temps dropping into the low 40s, we focused our itinerary on a mix of indoor and outdoor fun. Suitably bundled up, we had no complaints.
With help from our friends at the Door County Visitors Bureau, we made the Waterbury Inn on the border of Ephraim and Sister Bay, our home base. The spacious two-bedroom, two-floor loft was absolutely perfect for our family. "Can we live in this hotel?" our daughter asked upon settling in. With a great pool, a lodge-like feel featuring a roaring fireplace, non-stop hot chocolate and board games, the place was, indeed, more fun than home.
And we made sure to stick around the property on Saturday, swimming with the other families at the hotel, playing checkers in front of the fire and cuddling in the king-sized bed on the second floor of our suite.
But that was after we settled in following a three-hour drive. On Friday, we arrived around 6:30 p.m. and drove straight to the center of the peninsula to visit P.C. Junction, a train-themed bar and grill near Bailey's Harbor that kids will go berserk over. It's not fancy, and that's just fine.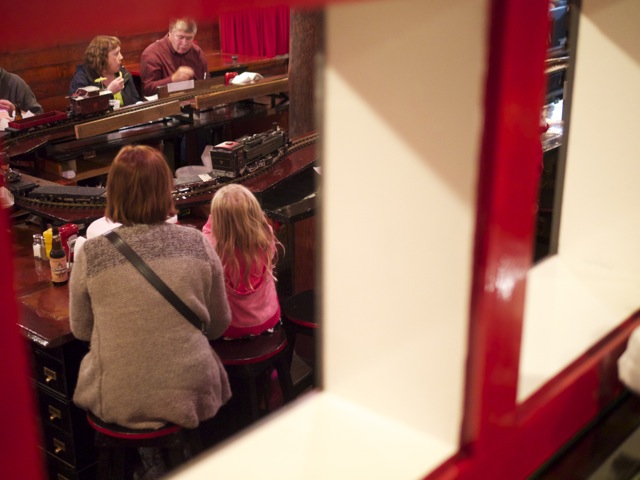 Navigating the bar, an O-gauge train brings your food right to you. The "conductor" switches up the knick-knacks on the train cars throughout the evening; the "bubble car" was a big hit, naturally. The food is tasty and inexpensive – our dinner was only about $30. I've been to the train-themed restaurant in the Dells, but P.C. Junction is totally different. It's fun, authentic and low-key; you should definitely take your kids here.
Of course, you can't take your family to Door County without paying a visit to the iconic Wilson's in Ephraim for ice cream, and we made a beeline for its humungous desserts right after dinner. This time of year, you won't deal with the huge lines, although Door County certainly wasn't dead this weekend. I've been up here in the dead of winter, which is a totally different feel. It was less crowded, sure, but plenty of people come to the peninsula for the fall colors.
We began Saturday morning with a delicious breakfast at Carroll House in Sister Bay. This unassuming restaurant serves some of the best food I've had anywhere, and the secret must be out because on a blustery, rainy morning, it was packed. Speaking of packed, I inhaled the stuffed cherry French toast and the famous "Uncle Roo's" hash browns. Breakfast held me into late afternoon, which is saying something, because when on vacation, I'm pretty much always hungry.
Saturday afternoon, we ambled around a few galleries, then journeyed a little south of Fish Creek to Hands On Art Studio, a fascinating DIY craft compound/farm that's not much of a secret after 18 years in business. Cy Turnbladh and Karon Ohm have turned this artistic oasis into quite an operation – they shipped out some 1,600 pieces of customers' art last summer, and they stay busy year-round.
Unfortunately, we couldn't throw our own pottery – that requires an advance reservation – but found ourselves with tons of other crafting opportunities, from pottery painting to metal sculpture to spin art to fused glass to jewelry making. My wife settled in to make herself a bracelet, while my daughter and I picked fused glass, something I hadn't tried until Saturday.
My daughter and I spend a lot of time making art projects together; it's great to see a child learn a new craft, then use her imagination to put her skills into practice for an original piece. Of course, if you seek immediate gratification, don't pick something that needs to be fired in a kiln. My wife's bracelet was ready right away, but our glass projects would take two days of baking. The plate my daughter made arrived already, and it's really beautiful. I'm excited to see how my glass "totem" turned out.
It's also worth noting that Hands On serves as home to a number of animals, including chickens and cats, and most notably, Salvatore, a beautiful, brown rescue lama. Sadly, the weather Saturday afternoon continued to degrade, so most of the animals hid in the barn. But Salvatore Dalai Llama let us pet him before we headed back to the hotel to bundle up further.

Dressing in layers turned out to be a wise move because it felt like winter by the time we drove to Fish Creek to board the Door County Trolley Company for its ghost tour. Back in August, my wife and I checked out the Bloody Mary Tour. As you might guess, this ride proved to be a bit more family-friendly.

At $25 for adults and $17 for kids, the ghost tour isn't the kind of zombies-jumping-out-at-you kind of experience. Instead, it's real Door County history. A Sturgeon Bay high school teacher served as our guide, sharing stories of Asa Thorp, the sunken ship Hackley, and other nuggets of Door County spooky stories, as we visited the allegedly haunted Noble House, a cemetery and lighthouse in Peninsula State Park and more. Indeed, it was scary and just barely age-appropriate for a 6-year-old, but she gave it the thumbs up. If anything, it ran a little long for her (and my) attention span, but if you're a history buff, this tour is a can't-miss.

Do keep in mind that the two-hour tour starts at 6 p.m., so you'll either wind up with an early or late dinner. We opted for a late lunch and a later dinner, and our plan just about worked.

For lunch, we visited an old favorite, The Cookery, in Fish Creek. This was actually the very first restaurant I tried on my first visit in 1994 – of course, that was before its fire and rebuild. The Cookery is even better than before, and I ordered a delicious kale salad and homemade ginger ale, while my wife went with a turkey, cherry chutney and cream cheese sandwich. Our six-year-old opted for grilled cheese.

We found less luck with dinner. Our plan was to visit Grasse's Grill in Sister Bay, as the website -- and even the sign on the front door -- said the establishment was open until 9 p.m. When we arrived at 8:30 p.m., the hostess told us the restaurant was closed. Unfortunate for us that they didn't feel like staying open until the advertised time; I opted not to take our sleepy kid to Husby's, so we grabbed some chili at a gas station and ate it back in the room.

We opted to stay north on Sunday morning, too, visiting the famous Al Johnson's for breakfast. Again, cold weather foiled our plans: The goats that roam the grass roof of this Swedish landmark kept themselves tucked cozily indoors and out-of-sight. Al Johnson's, too, was packed, but after 20 minutes in the gift shop, we were seated for a hearty and traditional breakfast. I went for Swedish pancakes, which are really more like crepes, topped with lingonberries and Swedish meatballs on the side. Maybe I'm a breakfast snob (OK, an everything snob), but of the many outstanding breakfasts I've had in Door County, I found Al Johnson's to be a touch overrated – but the experience more than made up for any minimal shortcomings. If only the goats were out ...

Despite the lack of Sister Bay goats, I got my fill of them at The Farm, just four miles north of Sturgeon Bay. This fascinating place -- where you can feed baby goats, sheep and pigs -- bills itself as a living museum of rural America.

The Farm opened in 1965, but as every one of my 20-something trips to the peninsula has centered on adult-oriented fun, I'd never been. But I know I'll be back. Located on 40 acres of land, The Farm lets you pet the wandering baby animals and bottle-feed them milk. The adult animals, including cows, chickens, sheep, goats and more, gobble up your 25-cent bags of corn. You can even take your turn milking a mama goat or watching baby chicks hatch – and, if you're so inclined, you can learn a little about farms or hike the acres of trails.

I'm a sucker for baby animals, so I was giggling almost as much as the children here. Interestingly, our daughter said she most enjoyed cuddling with the barn kittens. While she's used to cats, she reminded me that she's never played with kitties so young. (I was transfixed by little goats that wag their tails when being fed and by the cows with impossibly long, wagging tongues. My wife, on the other hand, had about enough after a pig bit her – let that be a lesson to visitors to put the pig's food directly on the ground.)

I can't say enough about this place, other than make sure you go. At only $8 for adults and $4 for kids 12 and under, The Farm represents a tremendous value. It's a perfect way to head out of Door County with a lifetime of memories.
Speaking of memories, after we got home, I asked my daughter what her favorite part of the trip was, and I saw the wheels turning as she really had to think about it. She ultimately decided on the kittens and the train-delivered dinner, but watching her scan her memory of an action-packed 48 hours, I knew that even at this young age, she now understands my love for Door County.

And this was during the worst possible weather I could imagine for early October. Had we experienced a beautiful, crisp weekend in which we could appreciate the magnificent foliage, this trip could've been even better ... nah, it's just not possible.

Door County will always mean sophisticated (and less sophisticated) grown-up fun to me. Crazy nights at the Bayside Tavern, savory meals on both the lake and bay sides, bike rides and camping in Peninsula State Park, shops (such as my wife's favorite Fred & Co.) and art galleries, well, everywhere.

But I now know it's true: More so than anywhere else in Wisconsin, Door County has something for everyone. It seems to me that tourists and residents alike are really on their best behavior because they're happy to be enjoying our state's best-kept secret – any time of the year.

Having now visited in every season, I fell in love with Door County all over again last weekend, this time through a child's eyes. I'm delighted that this special place is now forever etched in our family history.
Andy is the president, publisher and founder of OnMilwaukee. He returned to Milwaukee in 1996 after living on the East Coast for nine years, where he wrote for The Dallas Morning News Washington Bureau and worked in the White House Office of Communications. He was also Associate Editor of The GW Hatchet, his college newspaper at The George Washington University.
Before launching OnMilwaukee.com in 1998 at age 23, he worked in public relations for two Milwaukee firms, most of the time daydreaming about starting his own publication.
Hobbies include running when he finds the time, fixing the rust on his '75 MGB, mowing the lawn at his cottage in the Northwoods, and making an annual pilgrimage to Phoenix for Brewers Spring Training.