"Bar Month" at OnMilwaukee is brought to you by Miller Brewing Company, calling Milwaukee home since 1855. For the entire month of March, we're serving up fun articles on bars, clubs and beverages – including guides, the latest trends, bar reviews, the results of our Best of Bars poll and more. Grab a designated driver and dive in!
Drink coasters basically have one job: to protect surfaces from a beverage's heat and/or wetness. Secondarily, they are sometimes used on bar tops to advertise brands or to add an artistic flair on a coffee table. And occasionally coasters provide a way to showcase hometown pride.
Such is the case with the Milwaukee coasters made by Milwaukee Beer Gear, a company started by Zach and Amanda Wambold in September 2017.
"Every stellar home bar should be equipped with a nice coaster set," says Wambold.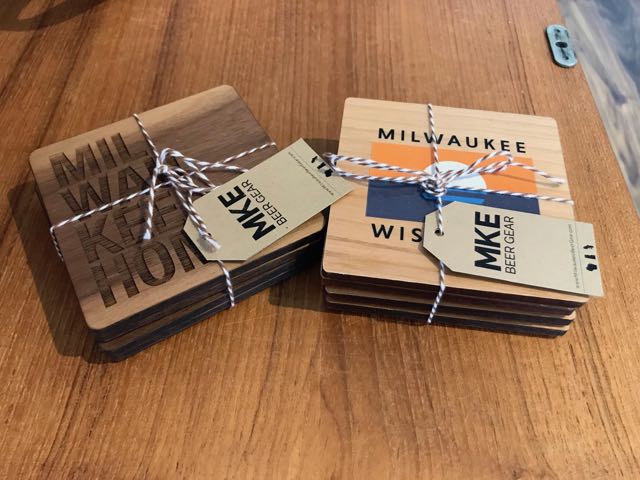 Made from cherry wood, Milwaukee Beer Gear's coasters are laser-etched. "We loved the grain of the wood and were inspired by the different neighborhoods we know and love," says Wambold.
They also make Wisconsin beer ingredient coasters – which include beer's four ingredients: hops, barley, yeast and water – and Milwaukee Flag coasters.
The coasters are for sale at The Waxwing, Local MKE, MilwaukeeHome, Hyde Park, Sparrow and more. They also sell them on Etsy and their website.
"A good coaster should be unique, high-quality and functional," says Wambold.
Leslie Phillips, a local artist who runs a business called Orange Pops, started creating coasters in 2011 and, since then, sold thousands of them.
"I make the coasters using images that I create. My images range from city and state themes, to cats, plants and countless others," says Phillips.
Phillips' coasters are coated with a high-gloss, resin epoxy finish that makes them appear glassy.
"Other coaster makers tend to use Mod Podge or a clear coat acrylic spray. The resin is expensive, but I find it is the only finish that gives me the exact results I need for creating a lasting piece of artwork," says Phillips.
Phillips says coaster sales are excellent because they are essentially small, affordable piece of functional art.
"A lot of people don't have room for additional large art on their walls, but the coasters work great to add a splash of color to small spaces," says Phillips. "They also make great gifts."
Orange Pops coasters are available at The Waxwing, Sparrow Collective, various festivals and through the website.
"Although I am best known for my coasters, I consider myself a creative adventurer and like to branch out into all sorts of different media," says Phillips.
Hanmade Coasters, a small business started by cousins Colleen McCarrier and Hannah Jablonski, offers a six pack of Wisconsin "party know-how" coasters made from heavy duty cardboard and designs from cheese curds, football, accordions playing polka and beer chasers to deviled eggs and more.
"My artistic style can best be described as colorful, whimsical and handmade," says Jablonski.
Get Hanmade party coasters here.
Molly Snyder grew up on Milwaukee's East Side and today, she lives in the Walker's Point neighborhood with her partner and two sons.
As a full time senior writer, editorial manager and self-described experience junkie, Molly has written thousands of articles about Milwaukee (and a few about New Orleans, Detroit, Indianapolis, Boston and various vacation spots in Wisconsin) that range in subject from where to get the best cup of coffee to an in-depth profile on the survivors of the iconic Norman apartment building that burned down in the '90s.
She also once got a colonic just to report on it, but that's enough on that.
Always told she had a "radio voice," Molly found herself as a regular contributor on FM102, 97WMYX and 1130WISN with her childhood radio favorite, Gene Mueller.
Molly's poetry, essays and articles appeared in many publications including USA Today, The Writer, The Sun Magazine and more. She has a collection of poetry, "Topless," and is slowly writing a memoir.
In 2009, Molly won a Milwaukee Press Club Award. She served as the Narrator / writer-in-residence at the Pfister Hotel from 2013-2014. She is also a story slam-winning storyteller who has performed with The Moth, Ex Fabula and Risk!
When she's not writing, interviewing or mom-ing, Molly teaches tarot card classes, gardens, sits in bars drinking Miller products and dreams of being in a punk band again.