"Bar Month" at OnMilwaukee is brought to you by Miller Brewing Company, calling Milwaukee home since 1855. For the entire month of March, we're serving up fun articles on bars, clubs and beverages – including guides, the latest trends, bar reviews, the results of our Best of Bars poll and more. Grab a designated driver and dive in!
Previously, I wrote about some of Downtown's dead and buried rock clubs. But because there were so many places you wanted me to mention that were outside the geographical constraints of that article, I present this East Side edition...
As always, add your memories using the Talkback feature at the bottom or on Facebook.
1. Avant Garde
2111 N. Prospect Ave.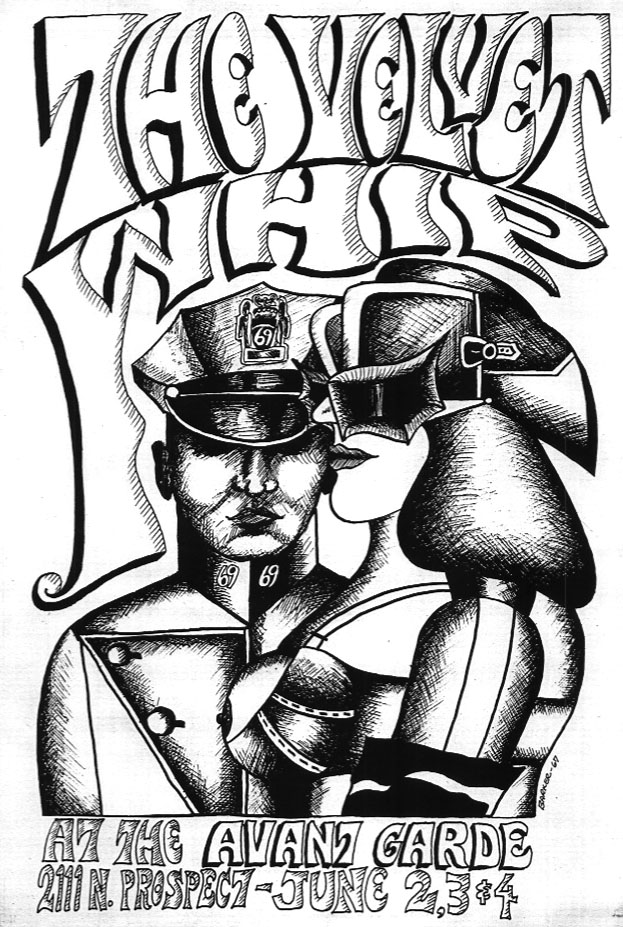 (PHOTO: MilwaukeeRockPosters.com)
Mostly a hipster beat coffee house in the 1960s, the Avant Garde hosted folk and blues gigs, but also appearances by rock outfits like the experimental Velvet Whip. Read more here.
2. Brett's
1501 N. Jackson St.
Brett Mazzone used to own this lower East Side place that is now home to Points East Pub. The small back room had a stage tucked into one corner and the black light ensured that you instantly regretted it if you had prematurely stopped using Head & Shoulders. For a while, in the mid-'90s my band used to practice on the stage on off-nights and store our gear upstairs in the apartment occupied by Summerfest talent buyer Scott Ziel.
3. Celebrity Club
2203 N. Prospect Ave.
Though it was open during the years I trolled live music venues on the East Side, I never stepped inside Sherman's Celebrity Club. But I do recall that in the 1980s it was extremely popular with the college set, which would crowd in to see Pat McCurdy in the heyday of his solo career, as well as his years fronting the Men About Town and the Confidentials. Later it became Vox and then Vintage.
4. Century Hall
2340 N. Farwell Ave.

(PHOTO: Mark Spieth)
The East Side's favorite gathering place, Century Hall – on Farwell Avenue, where a mini-mall now stands – was more than a club. It was a place for East Siders of all stripes to meet, have a beer, eat some food and catch a wide range of music. Bands included everyone from the R&B Cadets, Kojo and Semi Twang to Husker Du, The Cramps, Fishbone, The Fall, Johnny Thunders, Dead Milkmen and reggae gigs with the likes of Freddie McGregor and Michigan & Smiley. When it burned to the ground on April 24, 1988 it seemed that all of the East Side was gathered outside looking on in tearful horror. A similar scene played out shortly afterward when the original Beans and Barley caught fire.
5. The Globe/Boardwalk
2020 E. North Ave.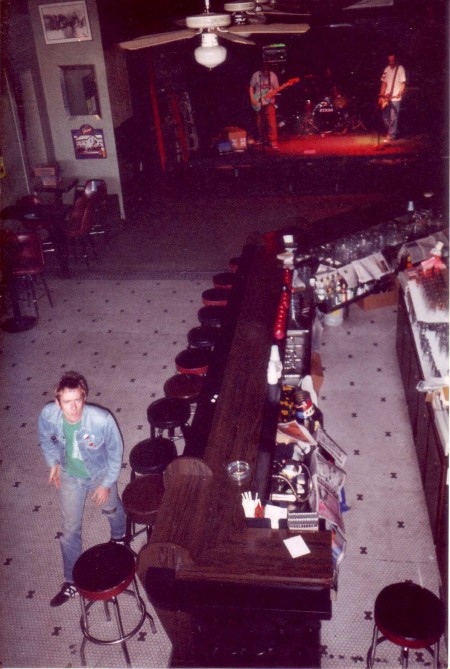 (PHOTO: Ted Leo)
Mention The Globe to any Milwaukee music fan over the age of 20 and you will probably get yourself a response combining the phrases "best show ever" and "for five bucks!" Whether they were booking biggies like Jimmy Eat World, packing them in for The Promise Ring or even opening up mid-afternoon for an all-ages show, The Globe was a music scene staple that can never be replaced. It took over the Boardwalk, which also hosted live music. Ask anyone over 40 about that one. Nowadays, it's home to The Hotel Foster.
6. Harpo's
1339 E. Brady St.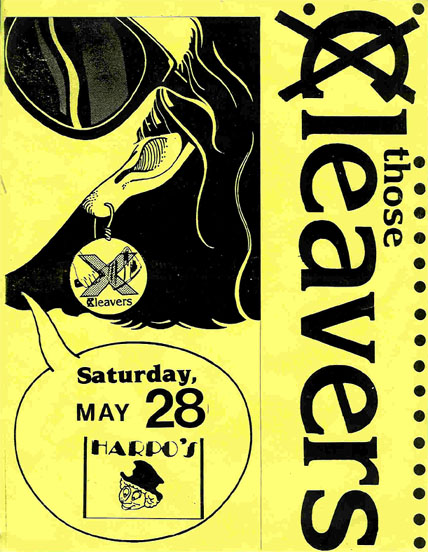 (PHOTO: MilwaukeeRockPosters.com)
Now home to Club Brady, my abiding memories of Harpo's are of sitting behind the drum kit during Semi-Twang gigs in the mid-80s learning what I could from the inimitable Bob Schneider, and the fact that my band The Yell Leaders played its first gig here in 1992.
7. Humpin' Hanna's/O'Brads/East Village Other
827 E. Locust St.

(PHOTO: MilwaukeeRockPosters.com)
Now nothing more than a grassy lot in Riverwest, 827 E. Locust St. was once home to the underground O'Brads and later Humpin' Hanna's (later simply Hanna's), where you could catch the likes of Lou Reed, Spirit, Canned Heat and the MC5. Hanna's was also a regular venue for the nascent Cheap Trick. In 1974, In A Hot Coma opened for Cheap Trick here, arguably providing the spark for Milwaukee's punk rock scene. Believe it or not, Sunday was a Penny Beer Night, which, you'll be unsurprised to hear, was very, very popular.
O'Brads in 1965. (PHOTO: Gary Myers)
"The Shag – East Side Layton School of Art guys – were the house band (at O'Brads) in '67, maybe earlier," remembers Bob Dickey. "They moved to San Francisco in spring of '68 and the Racquet Squad – mostly Marquette guys – took over for a while then the house band days seemed to end. I was too young to get in, but by '69, maybe '70, OX and Hound Dog Band and Short Stuff were playing there from time to time and so I got in by virtue of being 'with the band.' It was probably Hanna's by that point. For a brief period it was East Village Other. It was a dank basement dive that reeked of stale beer and always had a slight hint of vomit lingering."
8. The Jazz Gallery
932 E. Center St.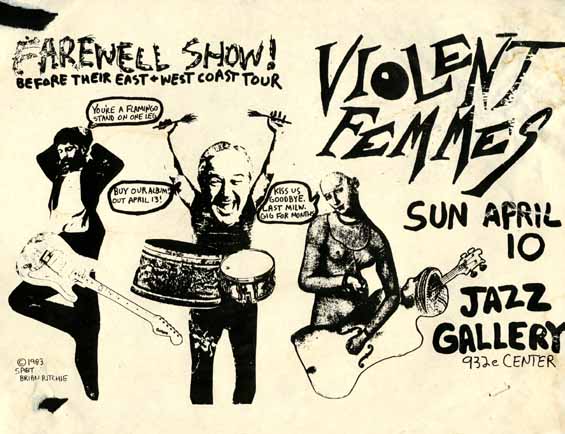 (PHOTO: MilwaukeeRockPosters.com)
Jazz fans and punks will recall Riverwest's Jazz Gallery as the scene of many early Violent Femmes gigs (they did a residency there). It was also the club that saw Bill Cosby – who was in town performing at State Fair in the mid-'70s – sit in on drums with organist Jimmy Smith. Avant jazz saxophonist Fred Anderson recorded his "The Milwaukee Tapes" disc in 1980 there. Other greats like Sam Rivers also played in the small corner bar.
9. The Landing/The Tasting Room
1100 E. Kane Pl.
I played The Landing's back room (which is the focus of the photo above, with the stage door in the foreground) numerous times with The Blowtorch and saw bands like the Squares there, too. The Blowtorch even opened for Billy Bragg there in 1985 (there's video of all of us out on the Humboldt bridge). Later, it became the Tasting Room and continued to host live local music, but the building has been shuttered for a very long time now.
10. L.A. Freeway
1806 E. North Ave.

(PHOTO: Andy Tarnoff)
Long before Cush, and right before Matisse – in the 1980s – the L.A. Freeway was a neon-lit, plastic palm tree adorned lounge where boys in pink oxfords, rockers and random East Siders drank beers in bags for $1. At the time, it was rumored to have one of Milwaukee's best jukeboxes, featuring tunes by Golden Palominos, XTC, Talking Heads and more, thanks to bar manager and local musician Mike Benign (Blue In The Face, Umbrella Man, Arms & Legs & Feet). They also featured live bands. The building was demolished after the fire that destroyed it and Pizza Man.
11. Shooter's
1905 E. North Ave.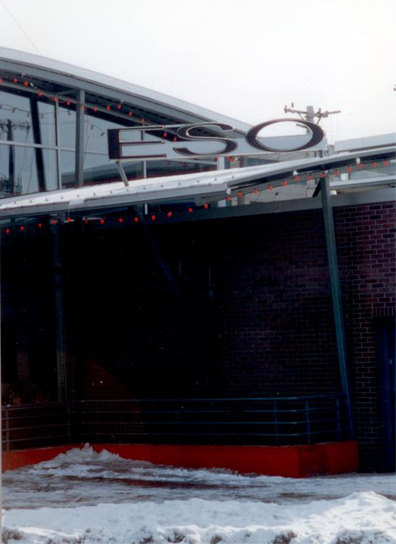 (PHOTO: Andy Tarnoff)
Before it became Goth Central, the walk-down space below Beans & Barley was home to Shooters Nightclub. Remember the neon sign with the shooting star? Although predominantly a dance club, which meant plenty of white lines in the loo, Shooters also hosted tons of live bands. The crowd was an interesting mix of New Wavers, generation "Me" people and guys with gold chains and hairy chests still hanging on to the '70s. Later, the club became Esoteria, then Eso, then Mantra.
12. Teddy's
1434 N. Farwell Ave.
(PHOTO: MilwaukeeRockPosters.com)
Teddy Macchi's club, where Shank Hall is now located, had a little something for everyone at some stage. Early in the '70s it was, according to the Milwaukee Journal, "the hot blues and jazz club of the East Side," but by 1975 it was drawing a new, dance-oriented crowd that was "rewarded with the chic decadence of New York." Machi was still into jazz, but when, in 1976, he booked Eddie Harris, Nat Adderley and Les McCann, he brought them to jazzman George Pritchett's subterranean club up the street (in Landmark Lanes), rather than in his own. By the time I got to Milwaukee in the early '80s, Teddy's was booking local rock and roll and you could see Plasticland or Wild Kingdom there, for example.
13. Thai Joe's/Bangkok Orchid
2239 N. Prospect Ave.
While I was a big fan of the Thai food at Bangkok Orchid, I wasn't part of the part-reggae, part-hippie, part-DJ scene that was bumpin' at Thai Joe's in the lower level of the Prospect Mall during the 1990s. But I bet a lot of you were. It was popular and it was varied and was happenin'. Many who played there left a stick behind as evidence and some of those endured well into the construction phase of the mall's conversion in recent years.
14. Zak's/The Spruce Goose
2249 N. Humboldt Ave.
Zak's, run by Damian Zak, was on Humboldt and North. It hosted the Dead Boys, Devo, Television's Tom Verlaine, The Professionals (the post-Sex Pistols band of Steve Jones and Paul Cook), The Dream Syndicate and former New York Doll Johnny Thunders before becoming the Spruce Goose in the '80s and that's when the likes of 10,000 Maniacs and Translator played there.
Born in Brooklyn, N.Y., where he lived until he was 17, Bobby received his BA-Mass Communications from UWM in 1989 and has lived in Walker's Point, Bay View, Enderis Park, South Milwaukee and on the East Side.
He has published three non-fiction books in Italy – including one about an event in Milwaukee history, which was published in the U.S. in autumn 2010. Four more books, all about Milwaukee, have been published by The History Press.
With his most recent band, The Yell Leaders, Bobby released four LPs and had a songs featured in episodes of TV's "Party of Five" and "Dawson's Creek," and films in Japan, South America and the U.S. The Yell Leaders were named the best unsigned band in their region by VH-1 as part of its Rock Across America 1998 Tour. Most recently, the band contributed tracks to a UK vinyl/CD tribute to the Redskins and collaborated on a track with Italian novelist Enrico Remmert.
He's produced three installments of the "OMCD" series of local music compilations for OnMilwaukee.com and in 2007 produced a CD of Italian music and poetry.
In 2005, he was awarded the City of Asti's (Italy) Journalism Prize for his work focusing on that area. He has also won awards from the Milwaukee Press Club.
He can be heard weekly on 88Nine Radio Milwaukee talking about his "Urban Spelunking" series of stories.