Because so much crucial business has been transacted by bars and restaurants outside this year, the looming Wisconsin winter has many in the hospitality industry doing whatever it takes to squeeze every last possible bit of outdoor business out of autumn in Milwaukee.
No one appears to be doing more than Hans Weissgerber III at the Estabrook Park Beer Garden, who says he intends to keep the beer garden open, "Til hell freezes over... or the pipes. Whichever comes first."
Recently, Weissgerber received some blue canvas panels that he's installed between tables and has added heaters up in the umbrellas above each table. Right now, he has eight heated tables, but he's working to get more canvas panels and more heaters so that he can add more.
"I'm trying to get stuff made as fast as I can, it's crazy what industries are like overwhelmed right now," he says as we walk the garden on a gorgeous early October day. "They ran out of this fabric.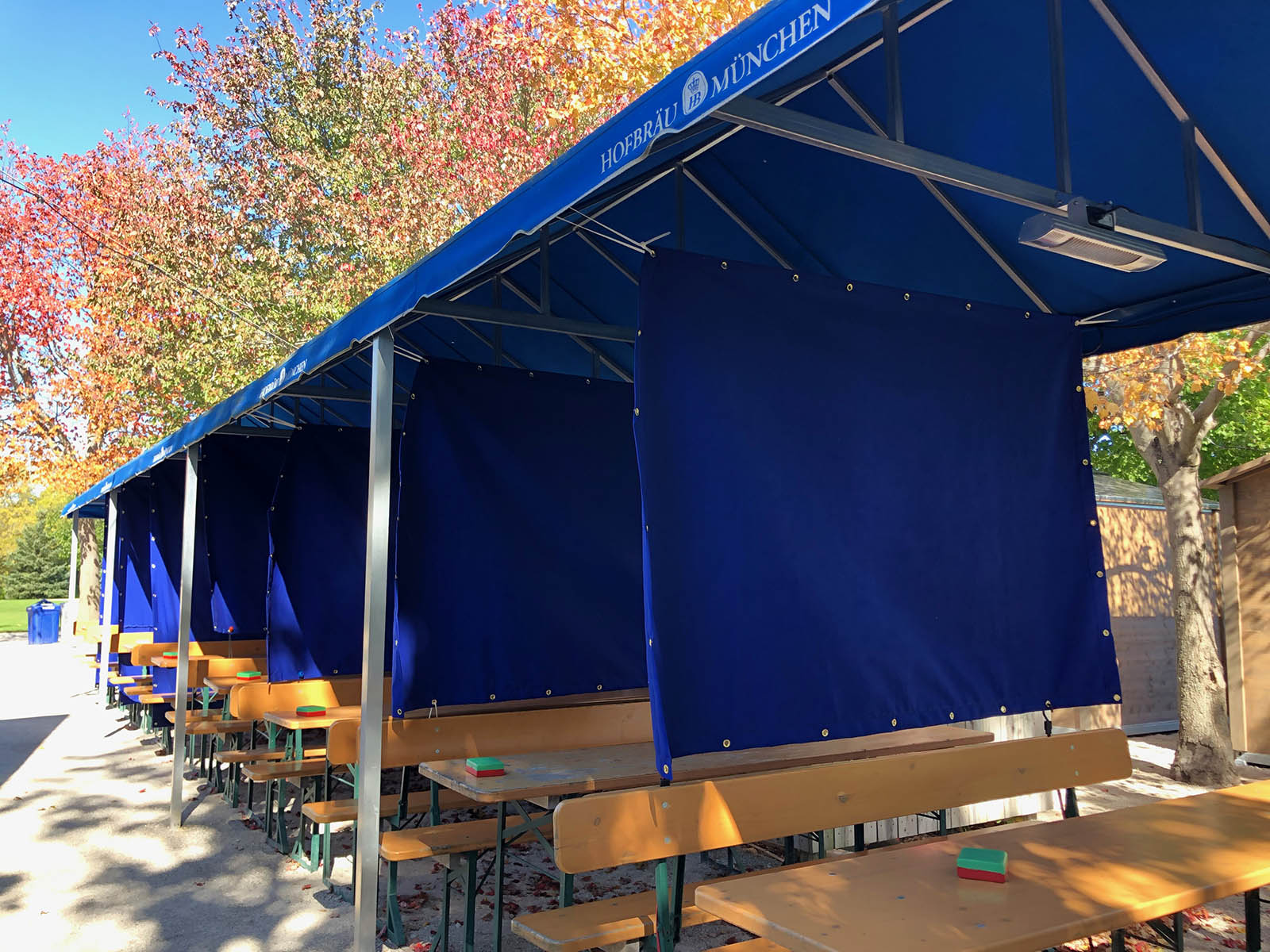 "This way I can get two tables under an umbrella and maintain the social division. The real challenge right now with trying to provide heat to this stuff is the only way you get an economy of scale with radiant heat is density, and we can't have density, right?"
Weissgerber also says that limited staffing means he's only been using the outdoor kitchen and beer tapping area on Saturdays and for Friday fish fry, but he's thinking of changing that, too, to accommodate more guests in that open, but roofed area.
"We were going to just stop using this is," he says. "We haven't been tapping any beer back here. We're trying to follow the county's directive to limit the number of personnel that we have. We just are trying to run with a skeleton staff so we don't have so many people crossing paths with each other.
"We haven't had any issues here with staff getting sick. We're really intense about the temperature taking, the logging, everything. But if you have 20 employees, then you've got to deal with 20 people crossing paths. If you can operate a shift with four or five people. It makes it really difficult when we're busy, but it's just the best way to do it."
Weissgerber figures he can get eight heated tables in the space and maintain separation and distance.
But all of this costs money, which is something that many in the hospitality industry are struggling to earn right now.
"You have to put so much money and effort just to get back to square one. But that's the challenge. I want to do it. We want to provide opportunities for people to be outside as long as possible."
One thing that Weissgerber is doing that is unique and isn't costing him all that much is the installation last week of Belgian-made "Easy Chalets," that are shipped flat and are then raised on-site.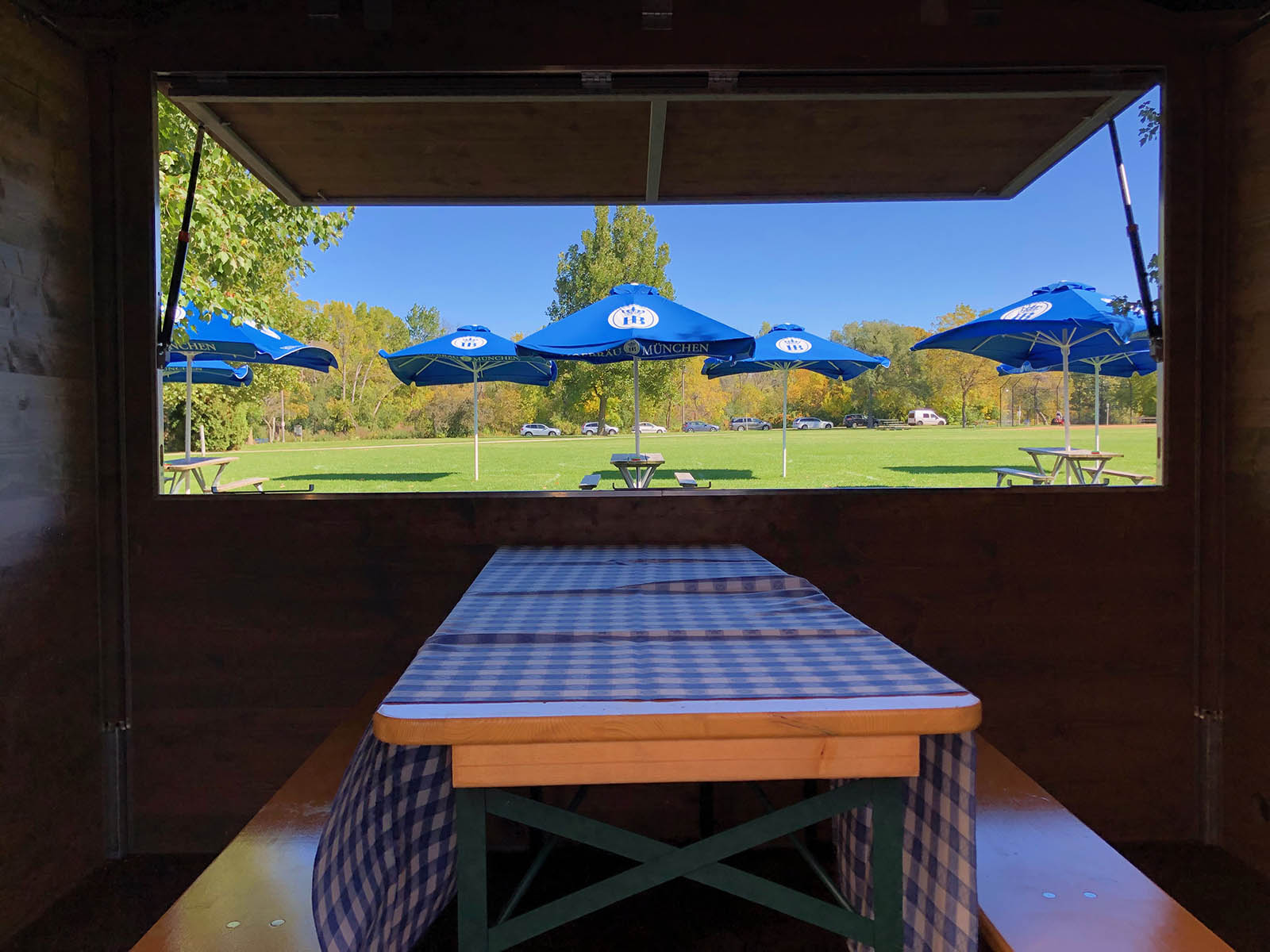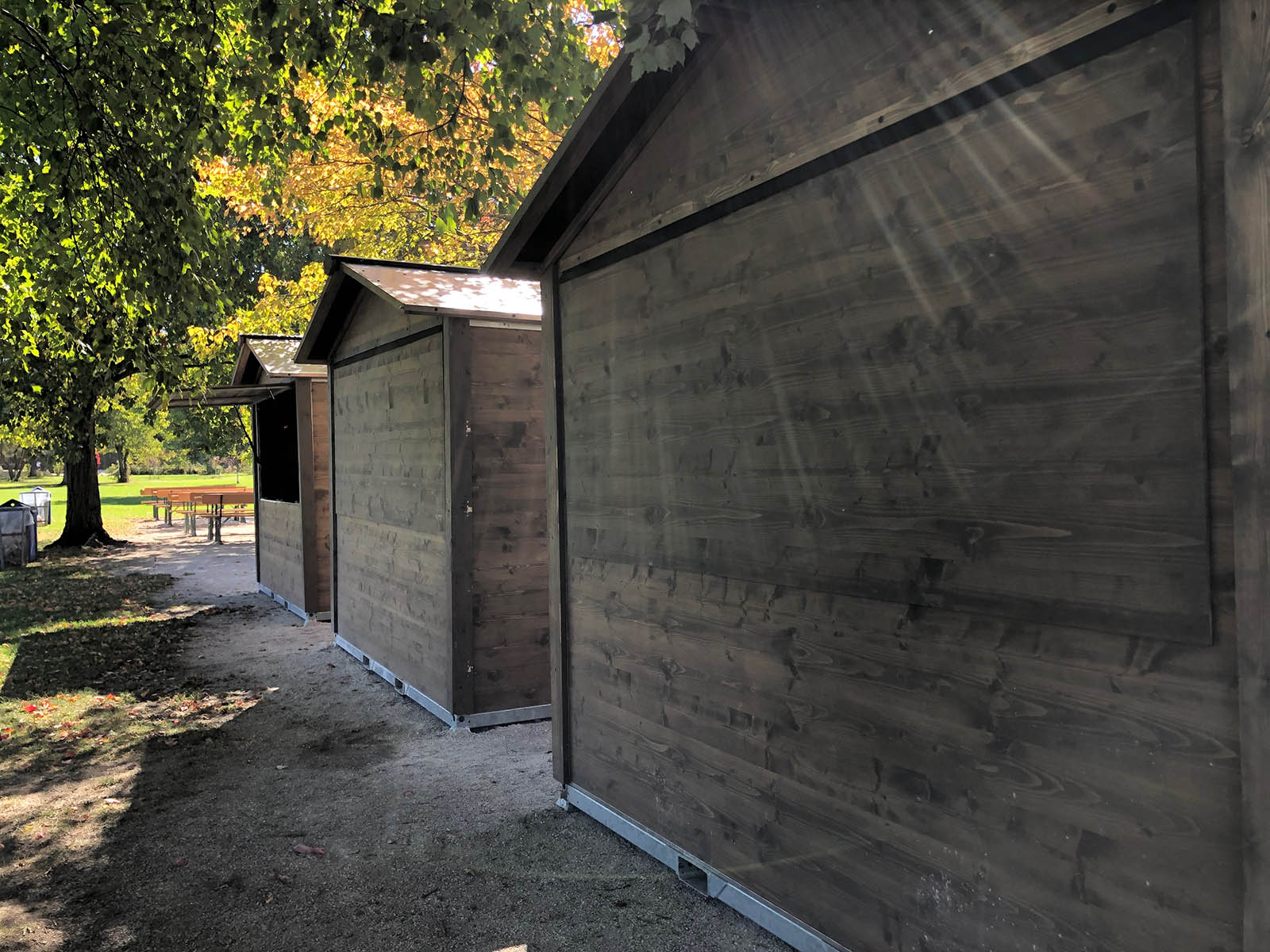 Weissgerber owns two dozen of the chalets, which he uses for vendors at events like Christkindl markets. At the moment, he's installed three at the beer garden and has begun taking reservations.
If they prove popular, he is prepared to add a few more.
Weissgerber says his record time for set-up of one of the chalets is about four minutes.
The wooden chalets are big enough to hold a picnic table and there's an entrance door on one side and a window flap on the opposite side that opens to allow for light, air flow and a view. Heaters are installed in these, too.
The chalets are available for $60 per hour but come with a $50 gift card for food and beverage ($10 covers the cost of service, cleaning, power for the heaters, etc.). A full menu of options is posted on the Estabrook Park Beer Garden Facebook page:
"It's a two hour minimum. So you're basically getting a $100 gift card. So if you think about it, though, if you have six people up here, it's $10 per person per hour that you have to spend which is not unreasonable."
If a chalet does not have a reservation, it will be available for walk-up use.
"Yeah, we'll rent them out on the spot," says Weissgerber. "We've even done some things on the first weekend where if a group of six walked up and they're buying three growlers and pretzels and loading up on stuff, we're like 'Here, you're already there. Just get in, take it for a ride.
"If the demand is there, we can add more of them; it's a matter of driving a forklift over here from our warehouse that's just right across the street."
Weissgerber points out that a little work done five years ago has really made all of this possible at the Estabrook Park Beer Garden.
"What saved us is being able to provide heat," he says, pointing to a low post with an electrical box and meter on it. "We put this in five years ago at our expense for that Mai Fest. We've got the power, we've got the cords, we've got the heaters.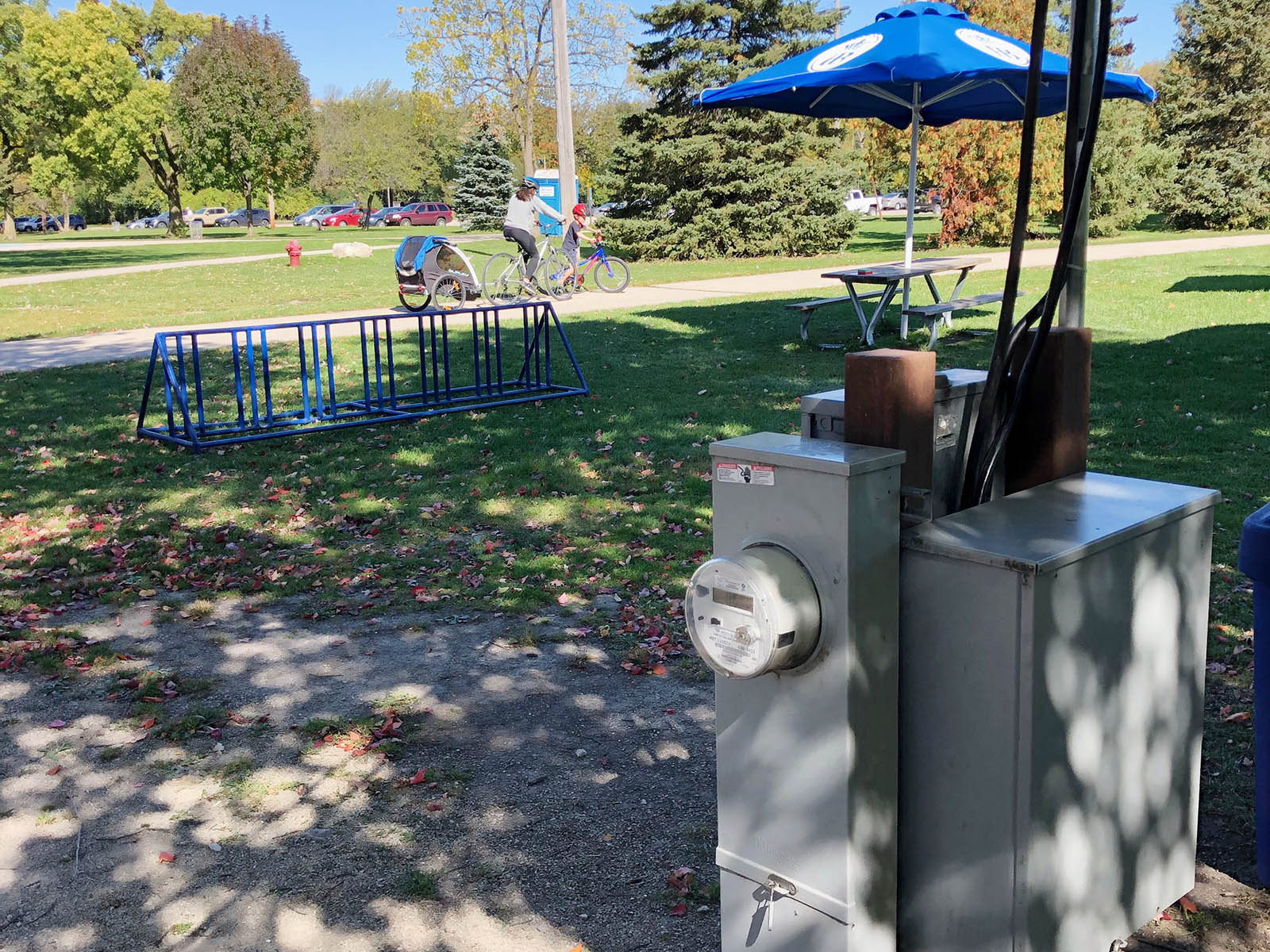 "We're trying to use every resource that we already have in our portfolio to provide opportunities for people to be outside."
However, in the end, it comes back to Weissgerber's comment about hell and the pipes freezing over.
No matter what he does to keep customers warm and returning, he will have to shut down when the pipes free in the unheated beer garden service building.
"This building isn't made to go through the winter. It doesn't have heat in it. So that's why I say like, until the pipes freeze ... literally," he says. "We get into a hard freeze and we can't keep the building going. We can use space heaters to get through a 24 to-48-hour period of not being above freezing. But if it goes like a week, we've got to shut it down.
"We've always gone until the first weekend in November. I would imagine we'll probably make it a couple of weeks into November. Who knows, though? I mean, the weather is so wacky."
Unfortunately, Weissgerber's plan to create a second beer garden, with an indoor component, in the old maintenance building across the park drive, has not yet come to fruition, though it's still in the works, he says.
"It would be a year-round facility," he says. "The vision is that instead of trying to keep this open in regular years past Oct. 31, we would shut this down at the end of October, and shift over there. During the (warm) season, that would only be for special events. We get a lot of inquiries for those."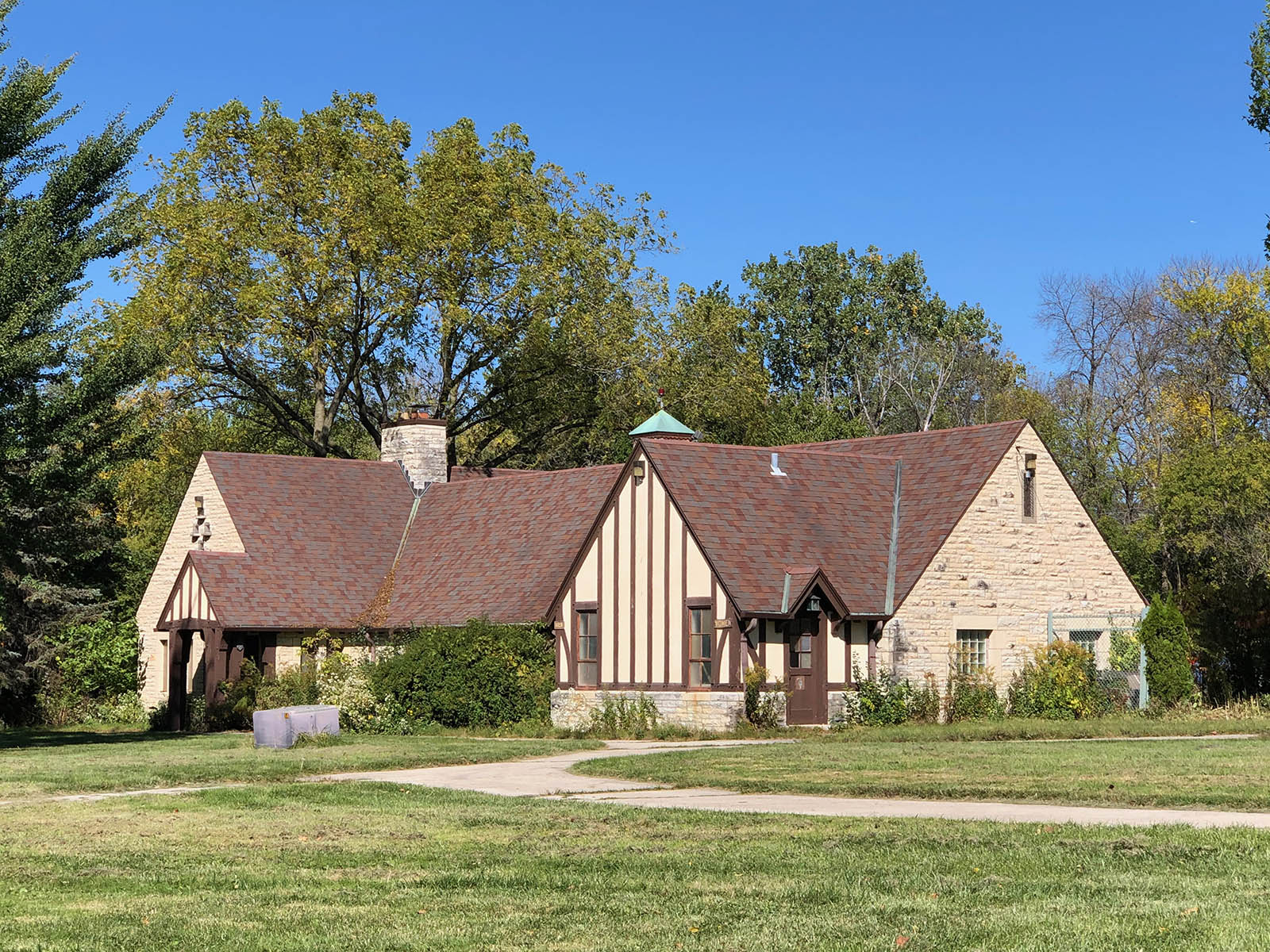 That building needs to be gutted and renovated and, like the current beer garden building, requires winterization.
"I've been toying about the idea of throwing in some radiators here and getting it winterized," says Weissgerber. "But what stopped me from doing that is that we really do want to make the investment (over) there, where we would have a small 100-seat beer garden, and then a lodge -like space in the building with some fireplaces, and that would be open all year round.
"We were going to do it this winter. Back in February, we were going to try to hash out the rest of the details with the County, and then we were going to work on it so that it would have opened this fall. We're in the negotiations for (a lease) right now. When all this COVID stuff was starting I just got gun shy in that moment."
Born in Brooklyn, N.Y., where he lived until he was 17, Bobby received his BA-Mass Communications from UWM in 1989 and has lived in Walker's Point, Bay View, Enderis Park, South Milwaukee and on the East Side.
He has published three non-fiction books in Italy – including one about an event in Milwaukee history, which was published in the U.S. in autumn 2010. Four more books, all about Milwaukee, have been published by The History Press.
With his most recent band, The Yell Leaders, Bobby released four LPs and had a songs featured in episodes of TV's "Party of Five" and "Dawson's Creek," and films in Japan, South America and the U.S. The Yell Leaders were named the best unsigned band in their region by VH-1 as part of its Rock Across America 1998 Tour. Most recently, the band contributed tracks to a UK vinyl/CD tribute to the Redskins and collaborated on a track with Italian novelist Enrico Remmert.
He's produced three installments of the "OMCD" series of local music compilations for OnMilwaukee.com and in 2007 produced a CD of Italian music and poetry.
In 2005, he was awarded the City of Asti's (Italy) Journalism Prize for his work focusing on that area. He has also won awards from the Milwaukee Press Club.
He can be heard weekly on 88Nine Radio Milwaukee talking about his "Urban Spelunking" series of stories.