Happy October! Fall is here, and I couldn't be more excited.
When it comes to fall, which happens to be my fave season, I tend to be a basic B. Bring on the pumpkin spice lattes, apple picking, pumpkin patches, hay rides and 13 nights of Halloween.
Another thing I love about fall is the fashion. One of my staples and basic items for this season are leather leggings. They are warm, chic and go with practically anything.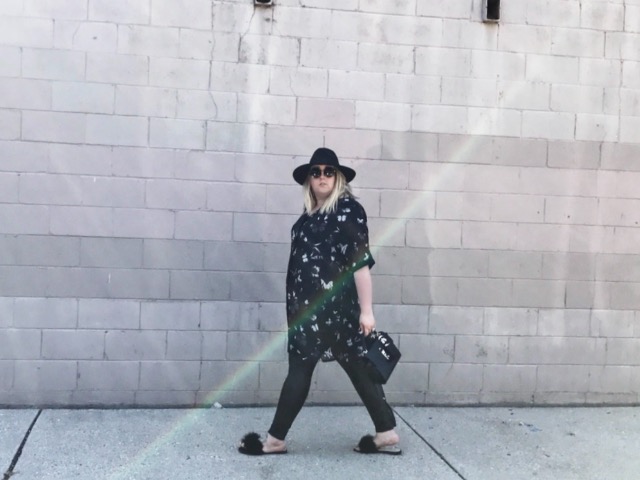 In this look, I paired it with a great oversized butterfly tunic, a hat (which is another fall staple) and fuzzy slides. As the weather gets colder, the slides will have to go and the boots will have to be broken in. But I know this look is going to be a go-to all season long for me.
Now, if you can excuse me, I'm off to have a PSL and watch "Hocus Pocus."
Hat: ASOS (yes, it's a men's hat; I have a big ol' head)
Sunnies: c/o Torrid old
Bag: Henri Bendel
Leather leggings: Express
Top: c/o Simply Be
Slides: Cape Robbin
Pamela Kieck is a Milwaukee based fashionista and is the founder of the fashion, beauty and lifestyle website itspamelakieck.com Pamela has always found herself with an intense interest in style,body positivity, and empowering women to live their best life all while looking fabulous!

Pamela has recently been named an Influencer by Vogue magazine, and is a Social Media Influencer for Cosmopolitan magazine. She enjoys a recurring gig on Milwaukee's Fox 6 Real Milwaukee as a Style/ Beauty expert.

Pamela is bold, outspoken and doesn't take herself too seriously. She is a dog mom to 2 puppies, Cooper and Winston. She can't live without mascara, oversized sunglasses and a lavender latte from Stone Creek Coffee.

Instagram: @pamelakieck
Twitter: @itspamelakieck
Pinterest: @pamelakieck
Facebook: Pamela kieck
Website: itspamelakieck.com