The leaves are falling, the temps are dropping and it's time to bust out the sweaters. For the next four weeks, I will show you different ways to style sweaters for the season – plus will be putting together a permanent Lookbook on It's Pamela Kieck for you to check out.
The first look in this series is a perfect way to dress up a sweater! I'm obsessed with this striped, balloon sleeve, pullover sweater. The colors are all fall neutrals. (I can't be the only one that considers Bordeaux a fall neutral right?) Because of that, I kept the rest of the look in a neutral color scheme. Then, an adorable suede wrap skirt is the perfect way to elevate into a more chic casual look that you could easily wear to work, brunch or a date night.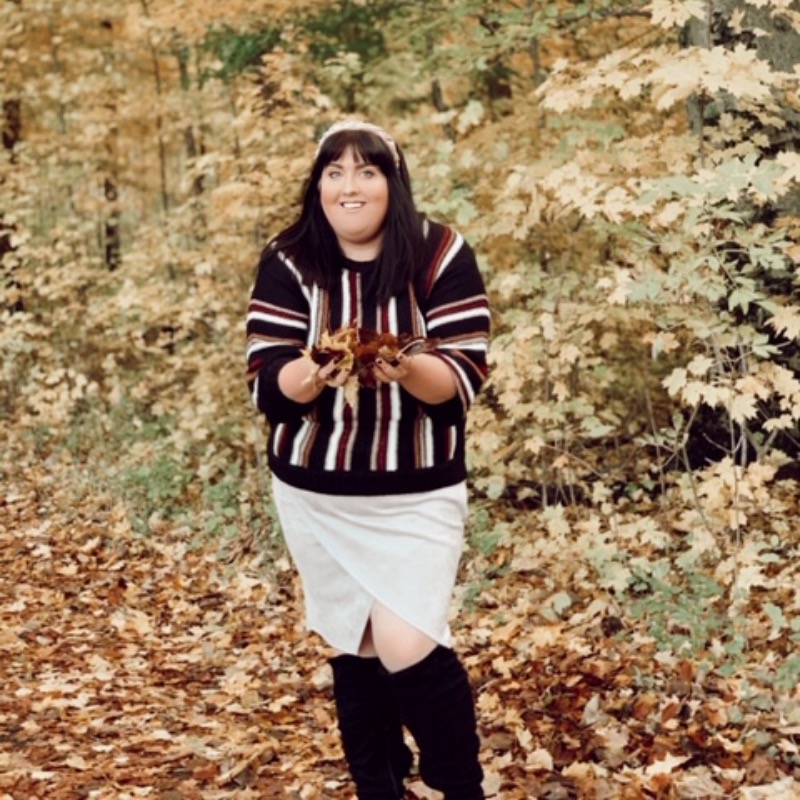 I then added the flat thigh-high boots to make a statement and accentuate those gams! (Side note: Flat thigh-high boots are a staple for a fall wardrobe. I live in mine all season long, and they honestly go with everything.)
Finish the look with a cute accessory, like the braided headband shown here, to tie it all together. And if you wanted to elevate the look even more, add a leather jacket or even a fun faux fur jacket for a bolder look.
Pamela Kieck is a Milwaukee based fashionista and is the founder of the fashion, beauty and lifestyle website itspamelakieck.com Pamela has always found herself with an intense interest in style,body positivity, and empowering women to live their best life all while looking fabulous!

Pamela has recently been named an Influencer by Vogue magazine, and is a Social Media Influencer for Cosmopolitan magazine. She enjoys a recurring gig on Milwaukee's Fox 6 Real Milwaukee as a Style/ Beauty expert.

Pamela is bold, outspoken and doesn't take herself too seriously. She is a dog mom to 2 puppies, Cooper and Winston. She can't live without mascara, oversized sunglasses and a lavender latte from Stone Creek Coffee.

Instagram: @pamelakieck
Twitter: @itspamelakieck
Pinterest: @pamelakieck
Facebook: Pamela kieck
Website: itspamelakieck.com