Today's the day to get your first taste of the pizza from Flourchild, the highly anticipated pizzeria opening (hopefully soon) at 727 N. Milwaukee St.
The pizza concept from Chef Andrew Miller, Cameron Whyte and Samuel Emery, (the partners behind Merriment Social and Third Coast Provisions) was announced in January with the hope that the venue could open this spring. But, well… thanks to the global pandemic and restrictions barring restaurants from offering dine-in service, those plans have been put on hold.
Fortunately for all of us, we can still have a first taste of Flourchild's pizza, thanks to a one-day-only pop-up at Third Coast Provisions, 724 N Milwaukee St. During the pop-up, which takes place today (March 26), folks can pre-order their choice of three pizzas for curbside pick-up. [See details here]
I had the very good fortune of being able to pick up one of those pizzas a day ahead of schedule. So I can tell you a bit of what to expect.
Uniquely delicious
It looks like a pizza. And it smells like a pizza. But Flourchild's pies are just a bit different from anything else I've tasted in the city.
The foundation of the pizza is housemade dough that boasts a complex flavor thanks to natural cold fermentation and ingredients like freshly milled organic, GMO-free flour from Wisconsin's Great River Milling. The style, which Chef Miller describes as a mash-up between New York, New Haven and Detroit style pizza, results in a tender crust (that's soft enough to fold, but not so much that it completely sags out) with just the right amount of chew and plenty of crispness, particularly on the edges.
As for toppings, I was able to sample two of the 14" pies, which I picked up hot and unsliced (a trick for great take-out pizza) and threw into a preheated 450-degree oven when I got it home just to refresh it a bit.
The pepperoni comes with red sauce, Ezzo pepperoni, fresh mozzarella, aged mozzarella and Calabrian chili honey ($20).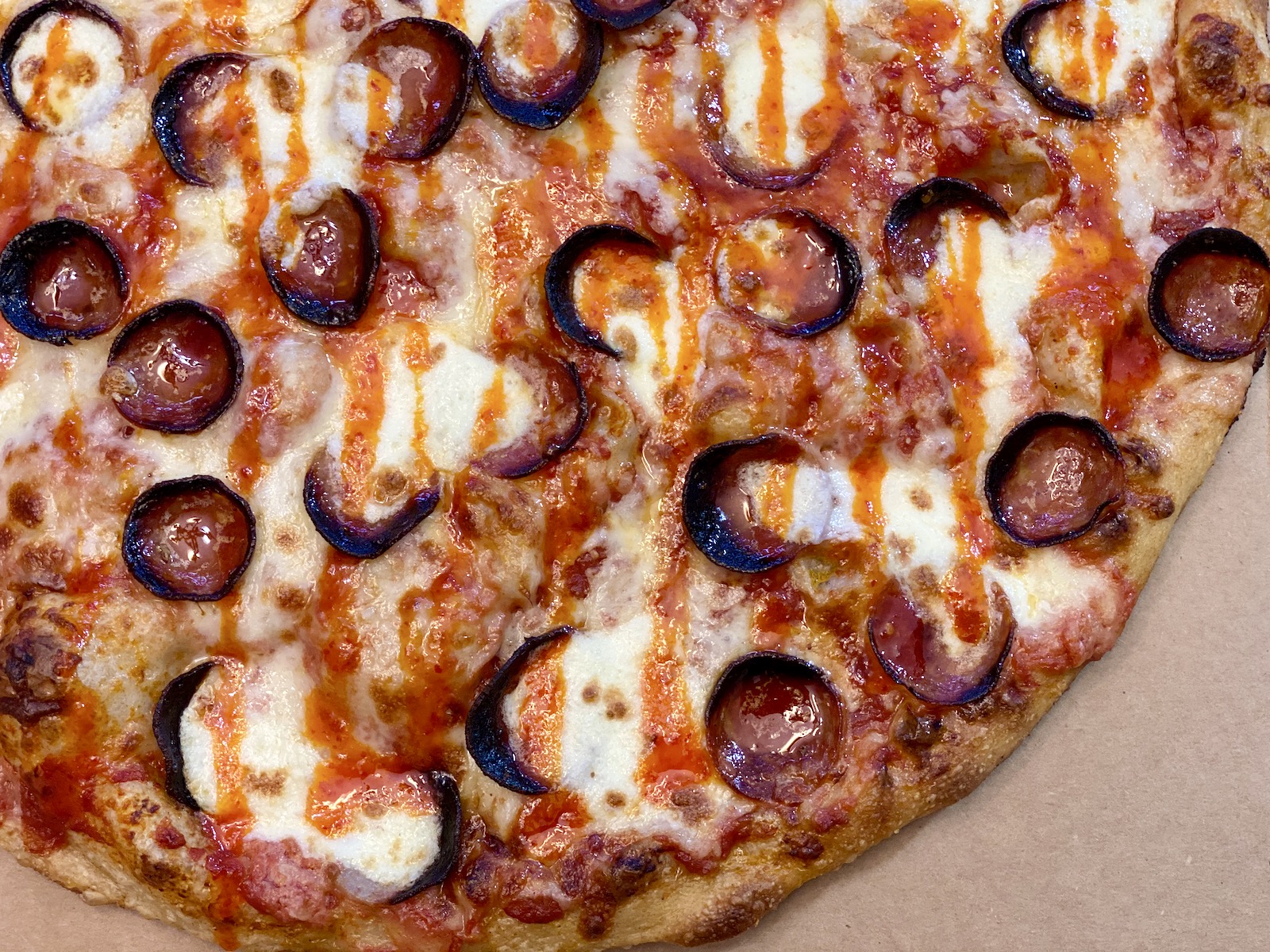 The red sauce on the pepperoni pizza was bright with a deep, rich cooked tomato flavor. There was enough of it to offer flavor, but not so much that it overwhelmed the other ingredients or made the pie too soggy. The pepperoni was slightly spicy and crisp and the cheese was applied in good proportion -- enough to give a little bit of a cheese pull when sliced hot. But the best part? That Calabrian chili honey.
Meanwhile, the "Talk Curry to Me" with massaman curry, broccoli, trumpet mushrooms, red pepper, slow roasted tomato, fresh mozzarella and pickled red onion ($20)
This far-from-boring pie exempified everything I want in a veggie pizza: fresh flavors in a context that's far from boring. The vegetables were nicely cooked, but not overcooked (this is key); and each one maintained its own flavor against the others. There were also exceptional things – like the bright tang of the pickled onions – that took everything up a notch. The cheese was spare (better to showcase the veggies, my dear), and the sauce was rich and full-flavored with all the nuances a Thai curry should have without being spicy.
I've been eating well all week, thanks to carry-out from spots like Interval, Neighborhood Draft and Momo Mee (if you're curious what I've eaten, you can stalk me on Instagram). But – as good as every meal has been – this pizza was the most pleasant surprise of all.
So, go. Pre-order yourself a pizza before they all sell out (there weren't many left to pre-order as of last night). If we're lucky they'll extend the pop-up so we can all enjoy that pizza again and again.
Lori Fredrich (Lo) is an eater, writer, wonderer, bon vivante, traveler, cook, gardener and girlwonder. Born and raised in the Milwaukee area, she has tried to leave many times, but seems to be drawn to this quirky city that smells of beer and alewives.
Some might say that she is a little obsessed with food. Lo would say she is A LOT obsessed with food. After all, she has been cooking, eating and enjoying food for decades and has no plans to retire anytime soon.
Lo's recipes and writing have been featured in a variety of publications including GO: Airtran Inflight Magazine, Cheese Connoisseur, Cooking Light, Edible Milwaukee, Milwaukee Magazine and the Milwaukee Journal Sentinel, as well as on the blog Go Bold with Butter, the web site Wisconsin Cheese Talk, and in the quarterly online magazine Grate. Pair. Share.