Bummed out? Looking for something new to razz your berries? Then it's the perfect time to slip on your hippest mask and beat feet to Ice Cream Social.
After all, the new mid-century modern ice cream garden, located just behind At Random, 2501 S. Delaware Ave., officially opens on Wednesday at 4 p.m. And you won't want to miss the chance to experience the ginchiest new patio scene in Bay View.
Upon arrival, pay heed to the host who greets you at the entrance. He or she is keeping a close eye on things and can let you know if there are open seats available. If the place is antsville, just leave your name and number and lay dead for a few; they will give you a call when seating opens up. (Pro tip: head to the garden before 8 p.m. to avoid a wait).
Once you're in, cast an eyeball on those nifty surroundings.
Head to the ordering counter and peruse the hip seasonal assortment of both new and classic ice cream drinks ($10; try the peach honey and basil or the pina colada for a summery quaff) and bonified boozy floats ($11; options include berries and bubbles or the gin fizz float).
There are also fab frozen drinks ($12 each; you can't go wrong with a hurricane); and a mix of cocktails from classic Wisconsin old fashioneds to way out finds like cucumber vodka lemonade ($9-$11).
And stay tuned, the word from the bird is that as soon as the leaves begin to turn, those summer cocktails will cop a breeze in favor of some cool new autumnal tipples.
Before you split, be sure to throw in some bread for a nice tip; the supermurgitroids behind the bar deserve every cent. And don't forget to take advantage of the hand sanitizer at the counter; it gets rid of all your 2020 cooties.
From there, take a breath and relax. Find a seat at one of the outta sight socially distanced seafoam green picnic tables and – as you wait (patiently) for them to call your name to pick-up your drinks – take in the unreal tunes piped in on the garden's souped up stereo system.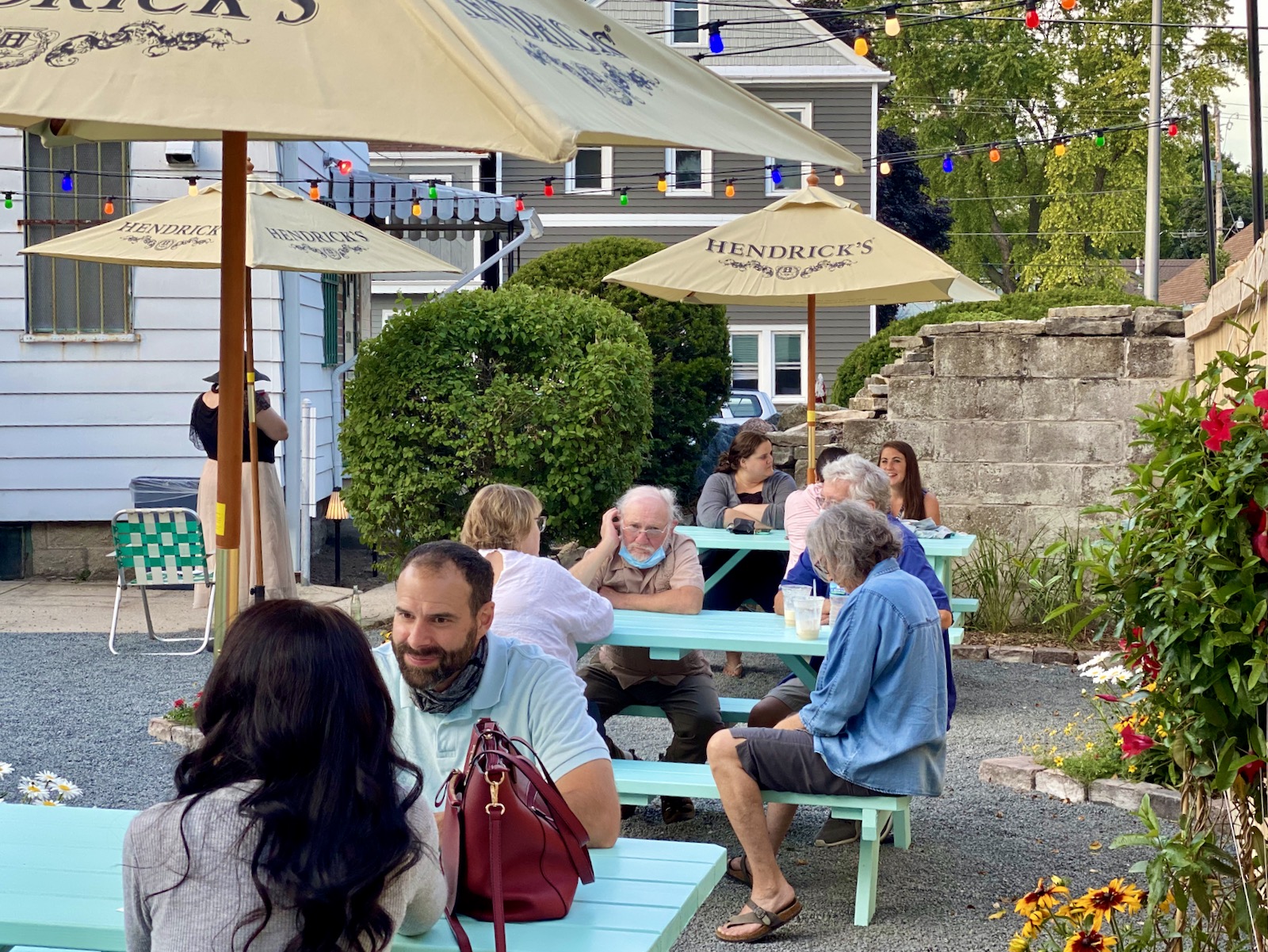 Don't get frosted if your order takes a few minutes longer than you expect. Good things come to cool cats.
When the magical moment arrives, you'll be ready for that first sip. And as the cool creamy concoction slides down your throat, let the sweet elixir calm your soul. Feel that breeze? It's perfect. And so are the colorful festoon lights set off by the dusky summer sky.
Ice Cream Social is open Tuesday through Thursday from 4 to 10 p.m., Friday from 4 to 11 p.m., Saturday from noon to 11 p.m. and Sunday from noon to 10 p.m.
Well behaved children are also welcome in the ice cream garden until 7 p.m. when accompanied by at least one parent or legal guardian. After 7 p.m. Ice Cream Social is limited to guests 21 or older.
Ice Cream Social was made possible with the help of a variety of hip cats including James Drzewiecki of Ginkgo Leaf Studio (space design), Kiersten Peterson of SweetP Designs (plantings), Pete Klockau of The Black Lagoon Room (logo design) and Dave Hansen of Lake Tiki Woodcrafts (signage).
Lori Fredrich (Lo) is an eater, writer, wonderer, bon vivante, traveler, cook, gardener and girlwonder. Born and raised in the Milwaukee area, she has tried to leave many times, but seems to be drawn to this quirky city that smells of beer and alewives.
Some might say that she is a little obsessed with food. Lo would say she is A LOT obsessed with food. After all, she has been cooking, eating and enjoying food for decades and has no plans to retire anytime soon.
Lo's recipes and writing have been featured in a variety of publications including GO: Airtran Inflight Magazine, Cheese Connoisseur, Cooking Light, Edible Milwaukee, Milwaukee Magazine and the Milwaukee Journal Sentinel, as well as on the blog Go Bold with Butter, the web site Wisconsin Cheese Talk, and in the quarterly online magazine Grate. Pair. Share.