For decades, the building at 551 N. 5th St, housed offices for employees at Blue Cross/Blue Shield and later, Time Insurance and its descendants, Fortis and Assurant.
After sitting vacant for a few years, the five-story structure been renovated into a new home for Milwaukee Tool, which currently has about 900 employees working on site.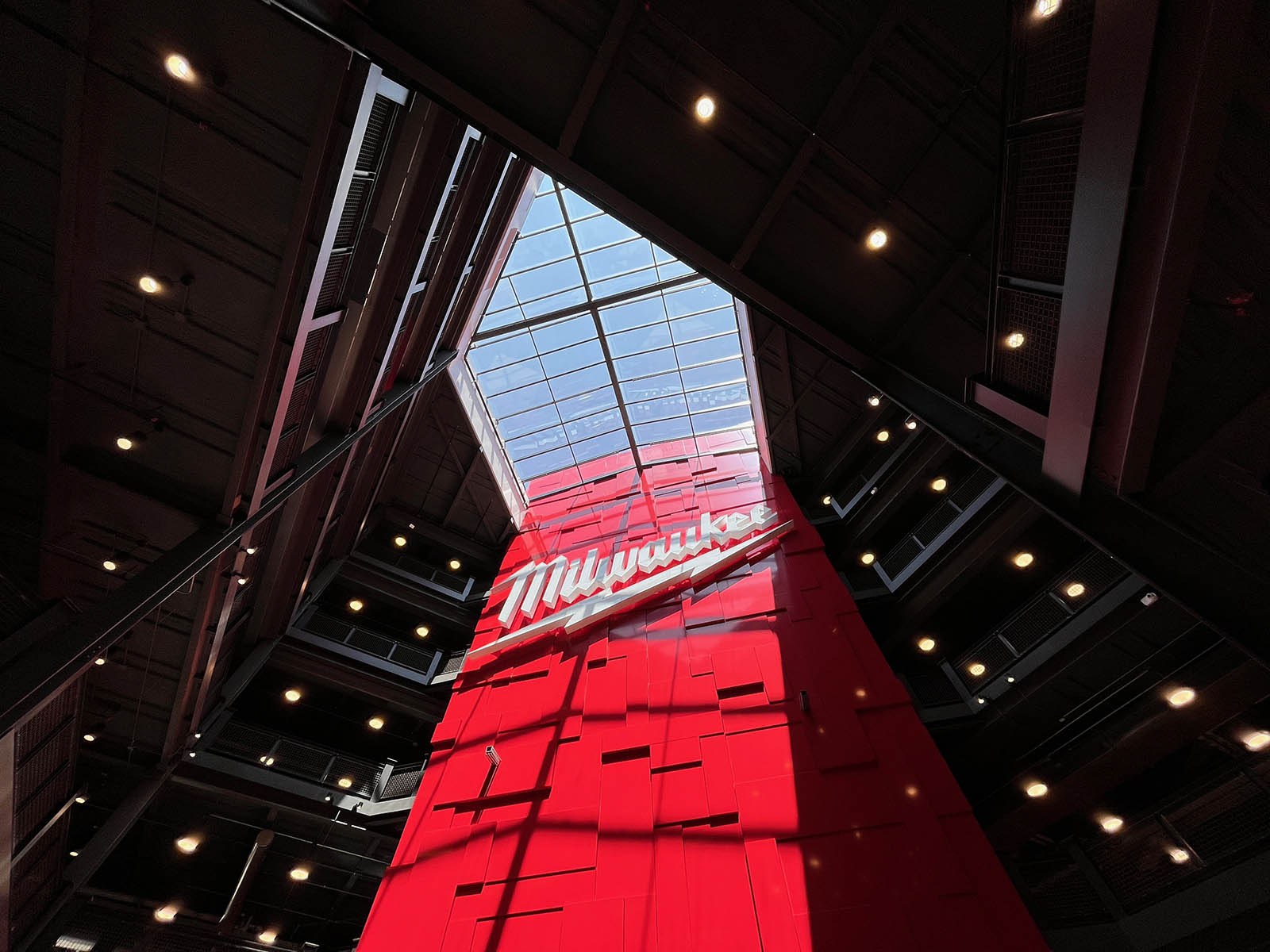 The building has a capacity of 1,210 and according to Senior VP of Brand Marketing Tim Brasher, Milwaukee Tool is confident it'll reach that number by 2025.
While Brasher says the structure would allow for another four floors to be added to the top, the cost of doing that – in conjunction with the limitations of attached parking structure – make it extremely unlikely.
A 2019 plan by developer Scott Lurie's F Street Group to renovate the building and to add on to it to create a hotel did not come to fruition.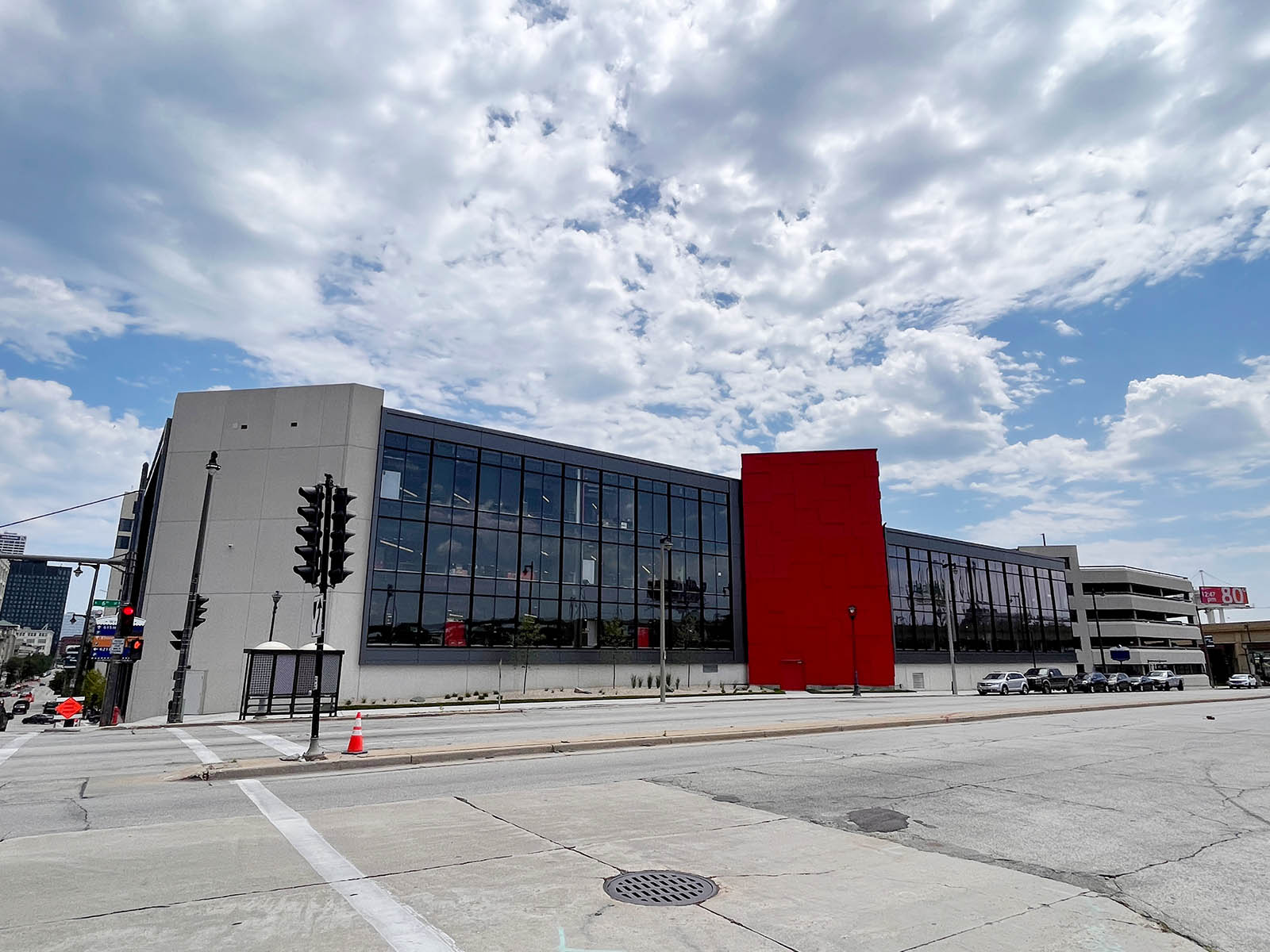 Work on the $30+ million effort to convert the 370,000-square-foot building and its adjacent parking garage – built in 1978 – for Milwaukee Tool began in June of 2021, and staffers began moving in the following February.
(You can see some "before" photos in this article.)
At that point, work was still underway and the construction at times was so loud that some employees could the see the water in their desktop mugs swooshing around.
This past spring, two large red signs bearing the distinctive company logo in white, were added to the building, explaining its "code name:" Red Beacon. The one on the parking garage, facing south, has been nicknamed "The Mohawk" by staffers for its shape and the way it wraps up over the wall onto the roof.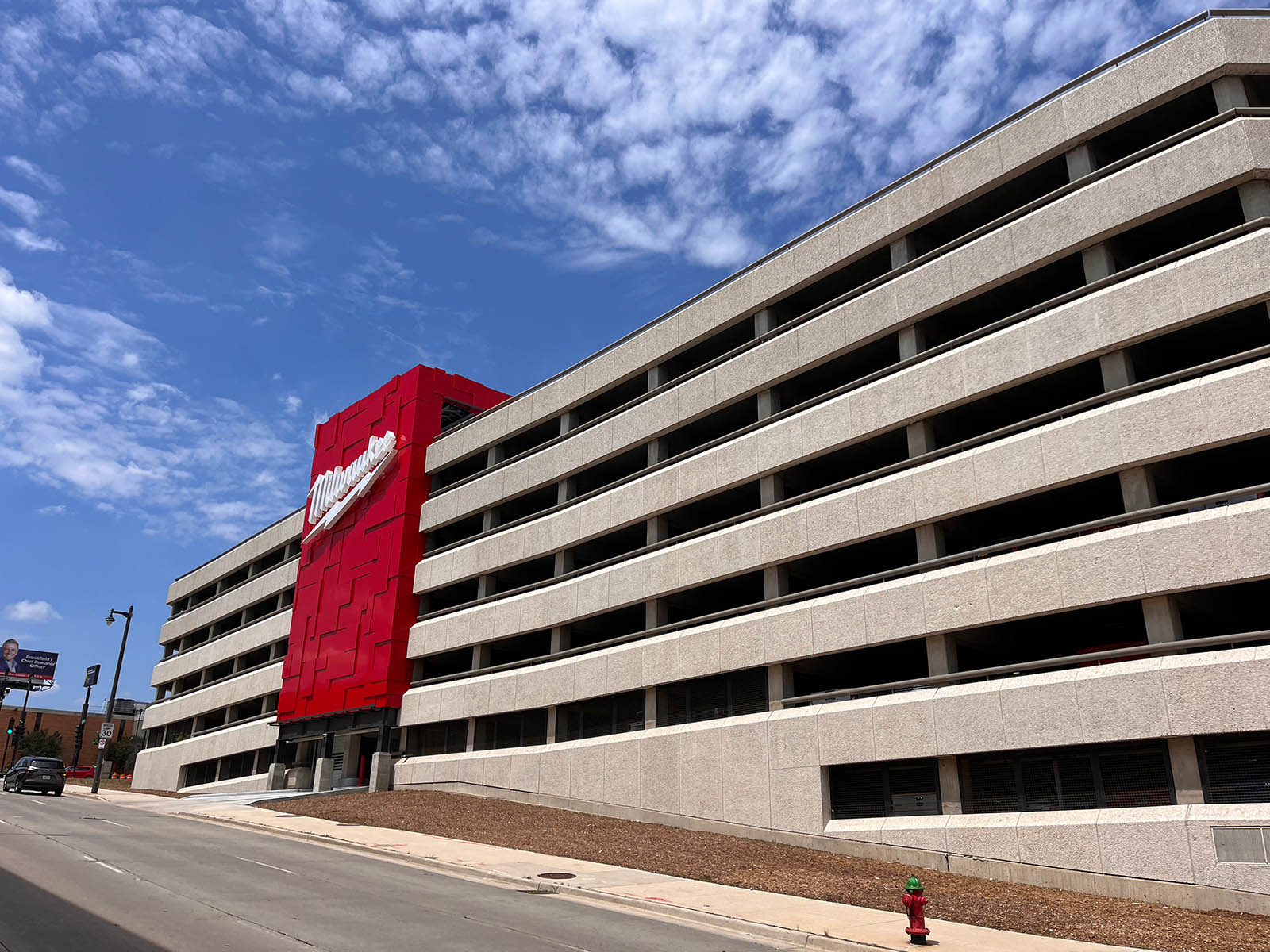 According to Brasher, complications in the parking structure and on the roof caused delays in the project which has since edged closer to $40 million.
The project architect is Stephen Perry Smith Architects and the Mortenson is the general contractor.
"We are a predominantly in-office culture," Brasher says. "We do have a lot of employees here that spend lots of time traveling, so at any one point in time, you've got 20 percent of people that are traveling. We're spending a lot of time out doing research on job sites."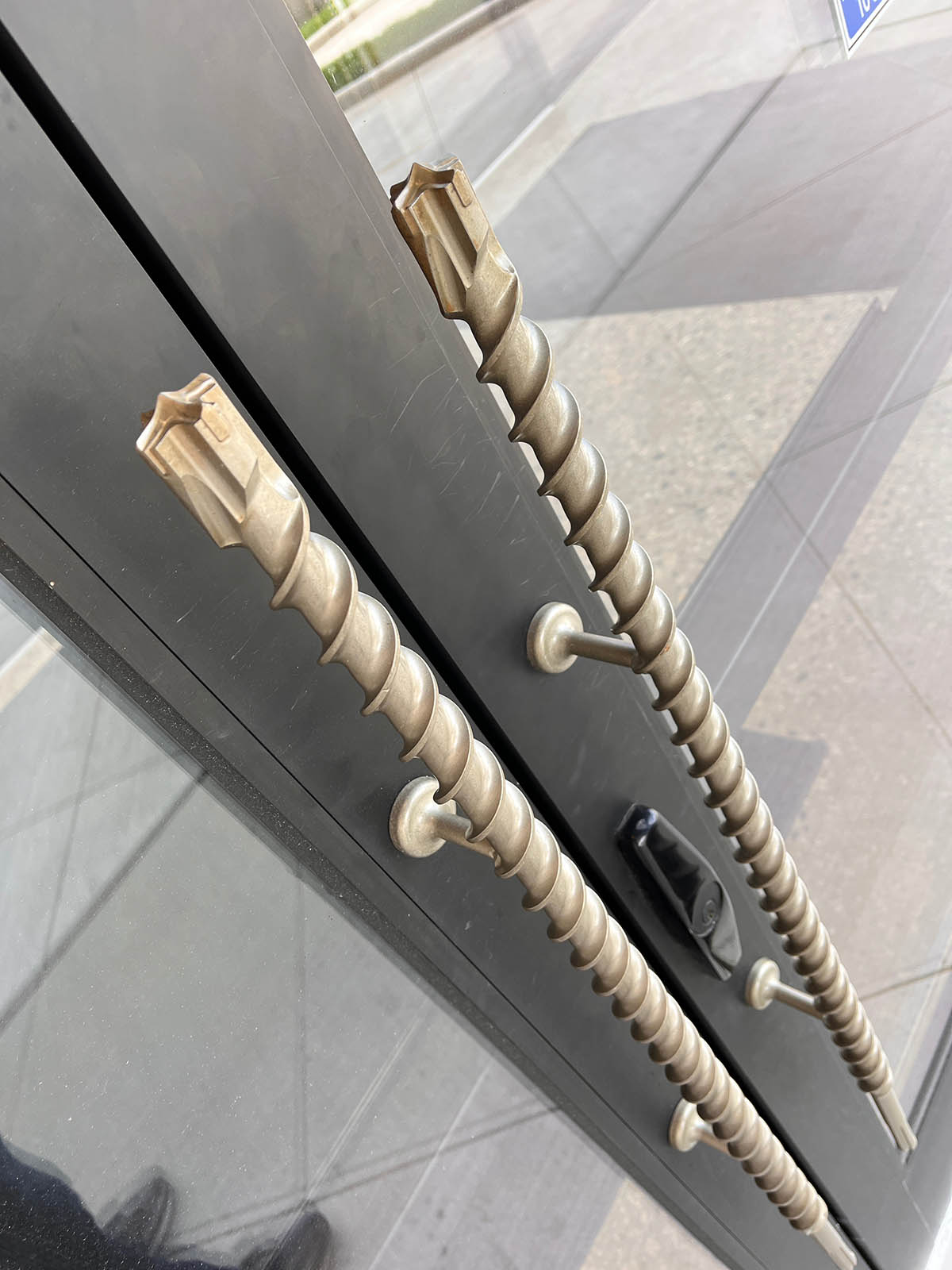 Still, the building is a bustling place with all those employees, who work in a wide variety of departments.
The door handles are like giant drill bits, the elevator cars are themed to match the trades of the company's customers – masonry, plumbing, etc. – and, as a tribute to its customers and a reminder to employees, all of the duct work and other typically hidden infrastructure remains exposed on the ceilings.
The garage has more than 800 parking spots and indoor storage for 100 bikes. There's also an employee fitness center that rivals some public gyms I've seen.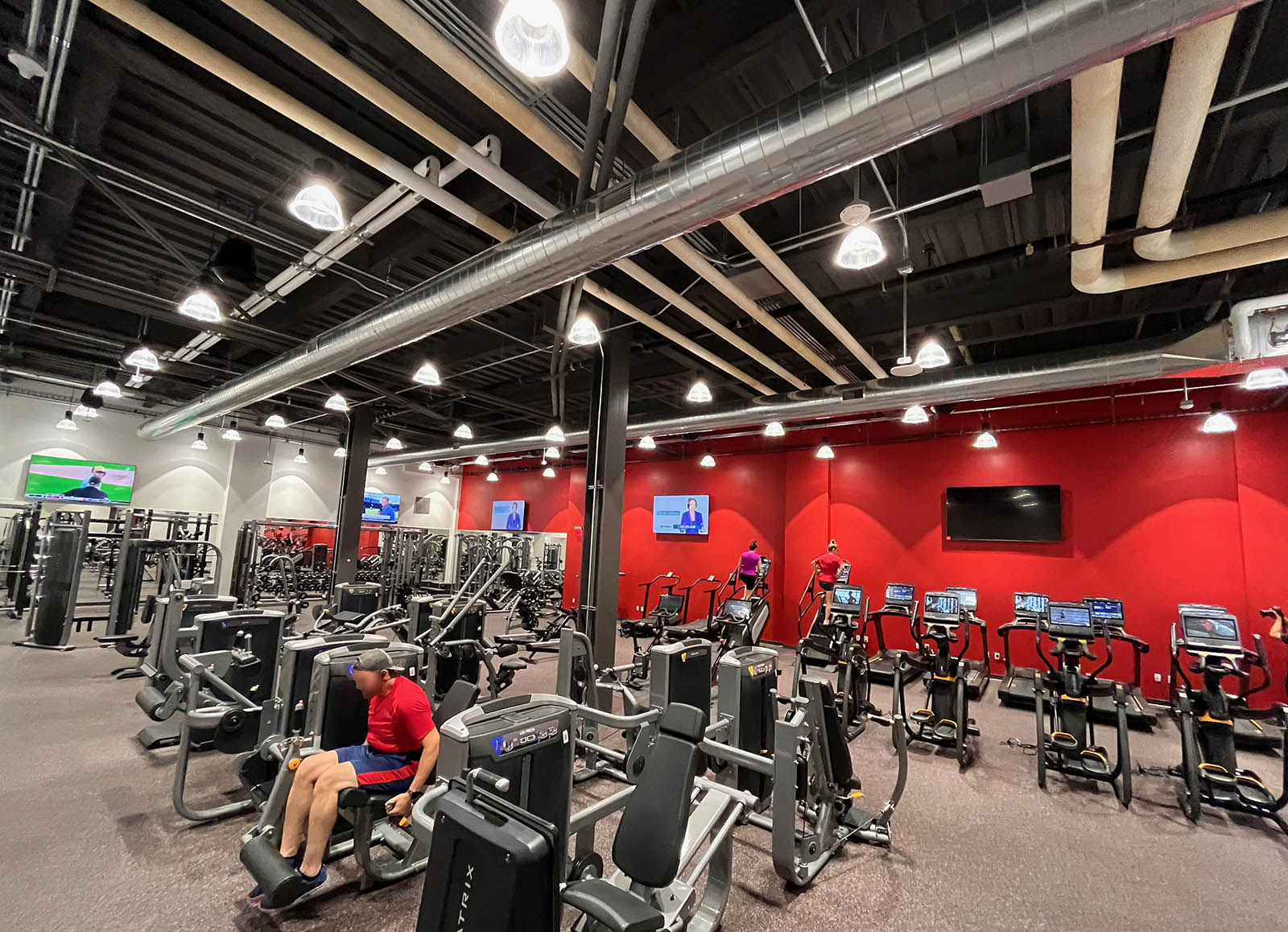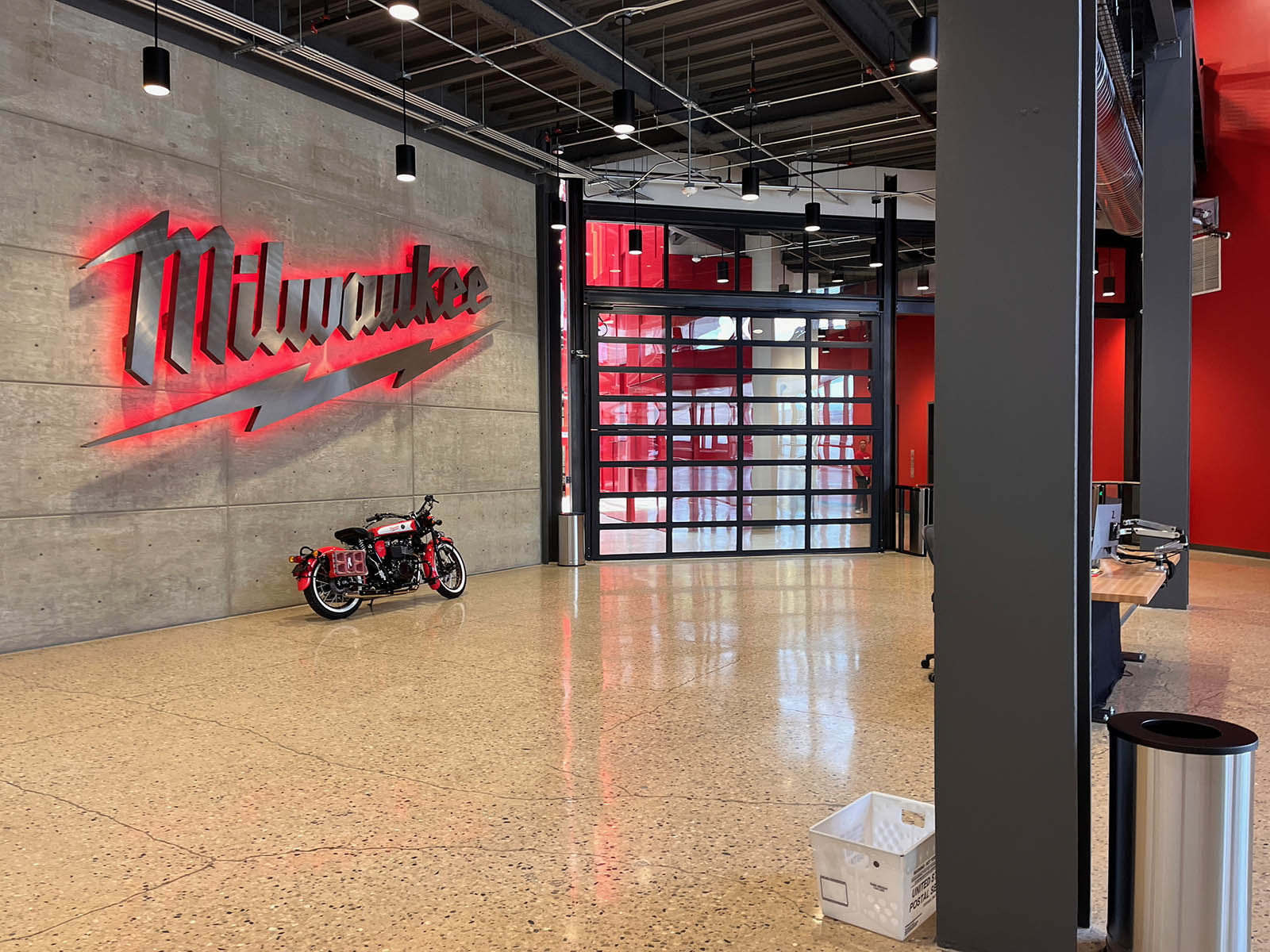 The first floor is given over mostly to the lobby – the centerpiece of which is a giant solid steel company logo that weighs about 12,000 pounds.
Here there is also a series of meeting rooms and flexible spaces for presentations, trainings and similar events, and to the so-called Red Hive, a soaring atrium space with an 83-foot red wall bearing a more than 30-foot-wide Milwaukee Tool logo, and stadium-style seating built into the structure.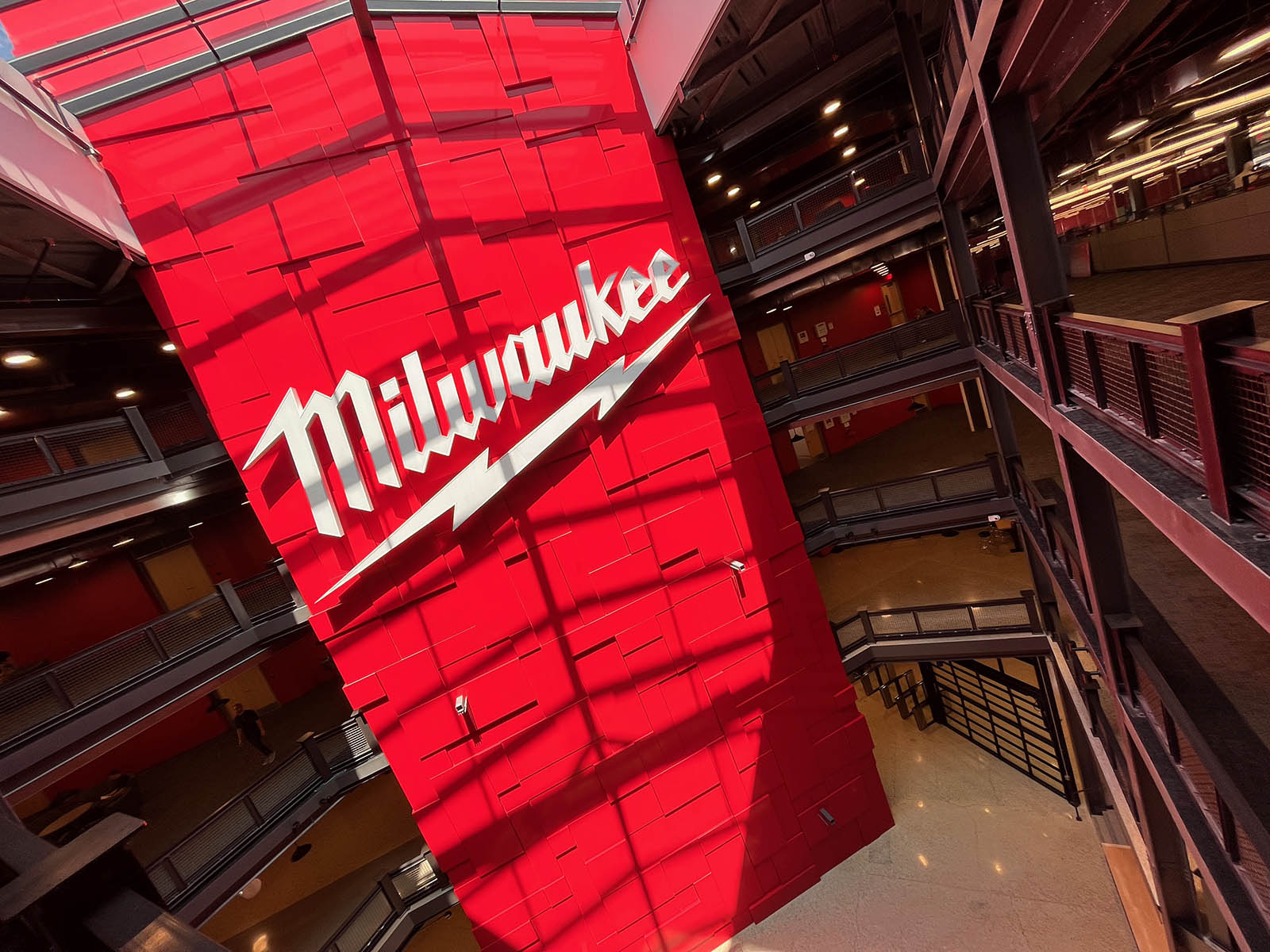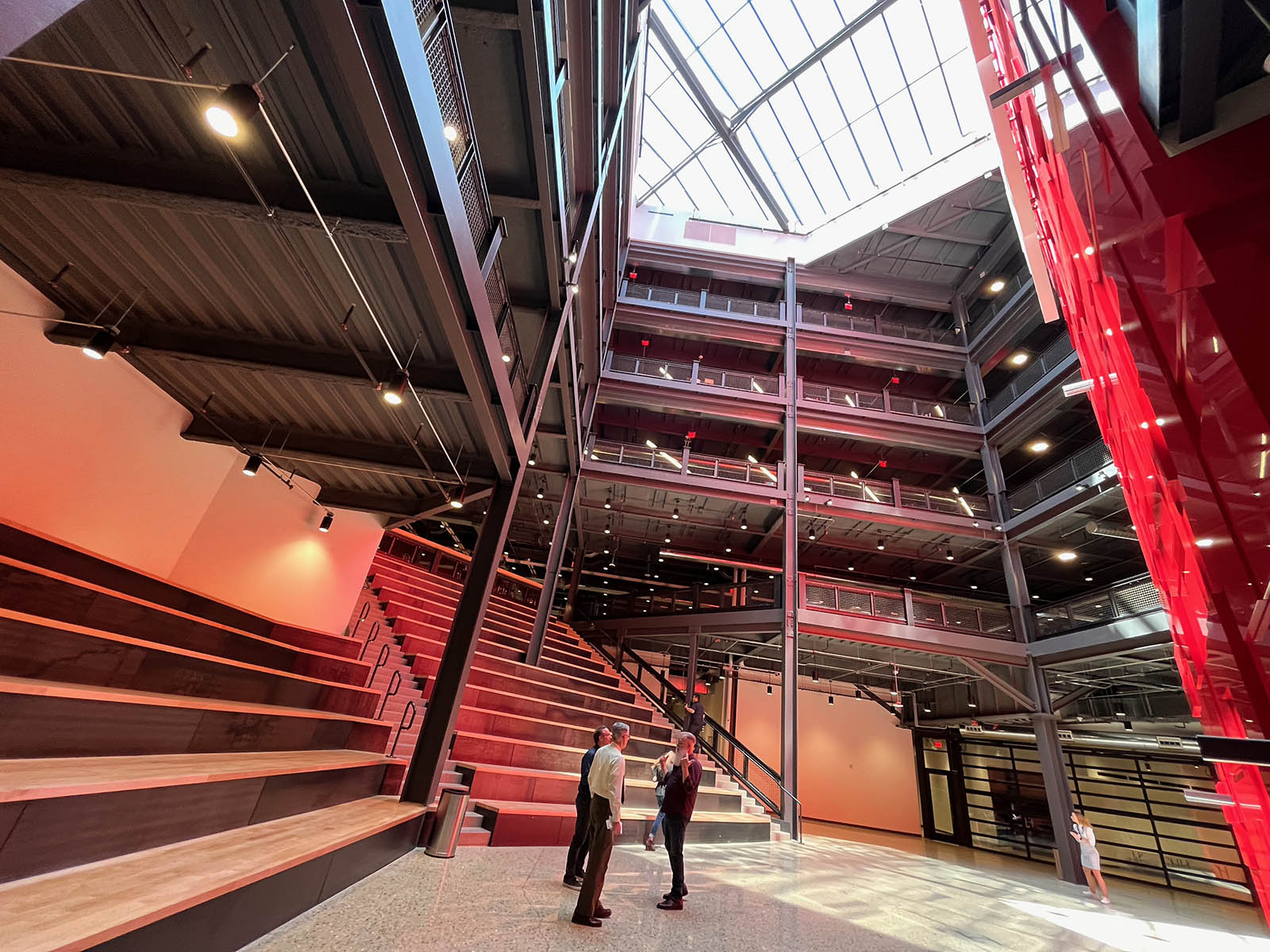 The center of the building had to be carved out of the steel structure to create the atrium.
Soon, the wall will have a huge video screen that will allow for large group presentations but also will be able to teleconference on a grand scale with Milwaukee Tool's 15-odd other locations around the country (including nine others in Wisconsin).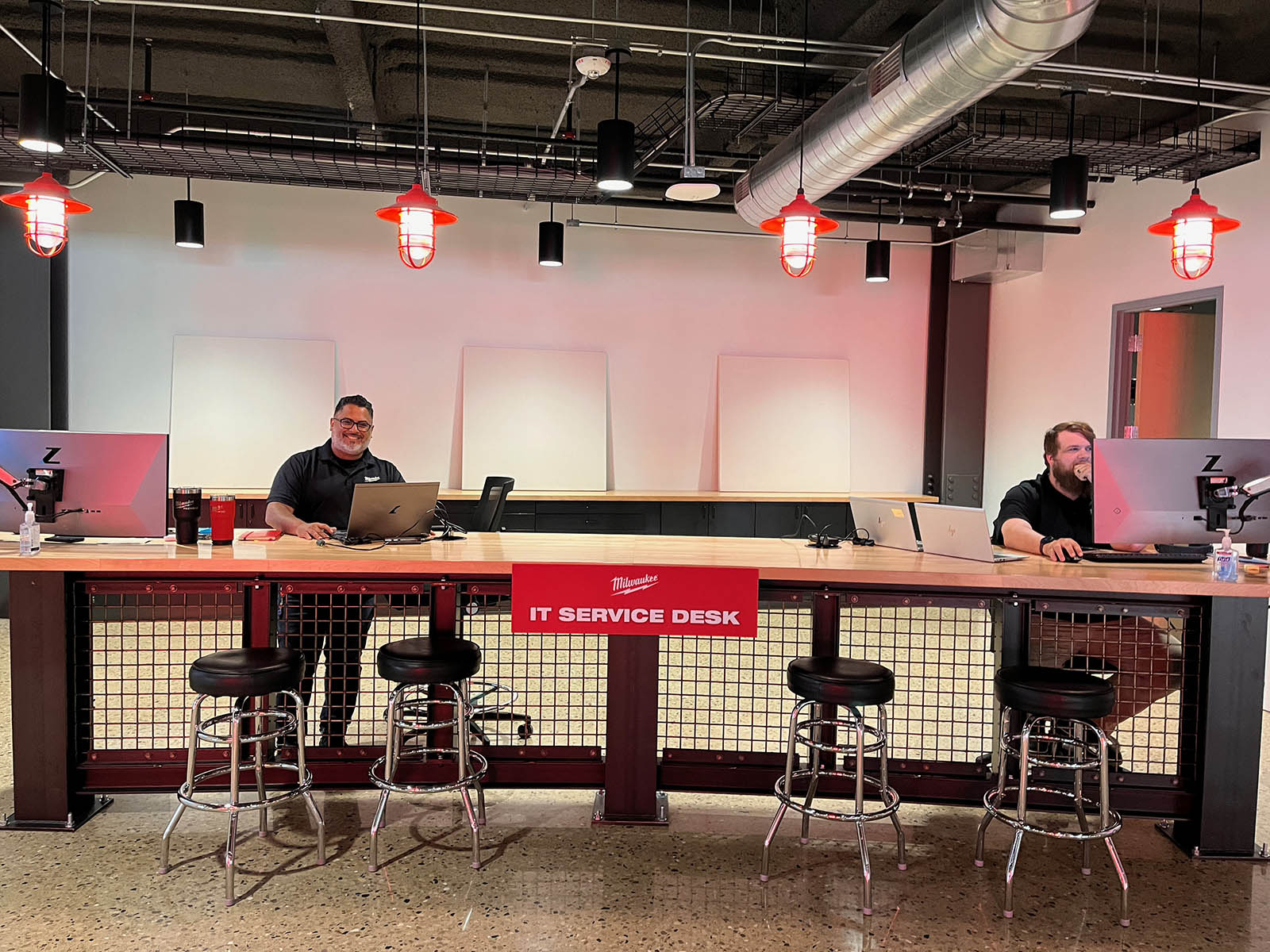 On the second floor, there is a large cafeteria, with an IT help desk nearby and just next to that a full-service coffee stand.
A multi-season elevated patio deck with heaters for employees was added to the northeast-facing section of the second floor.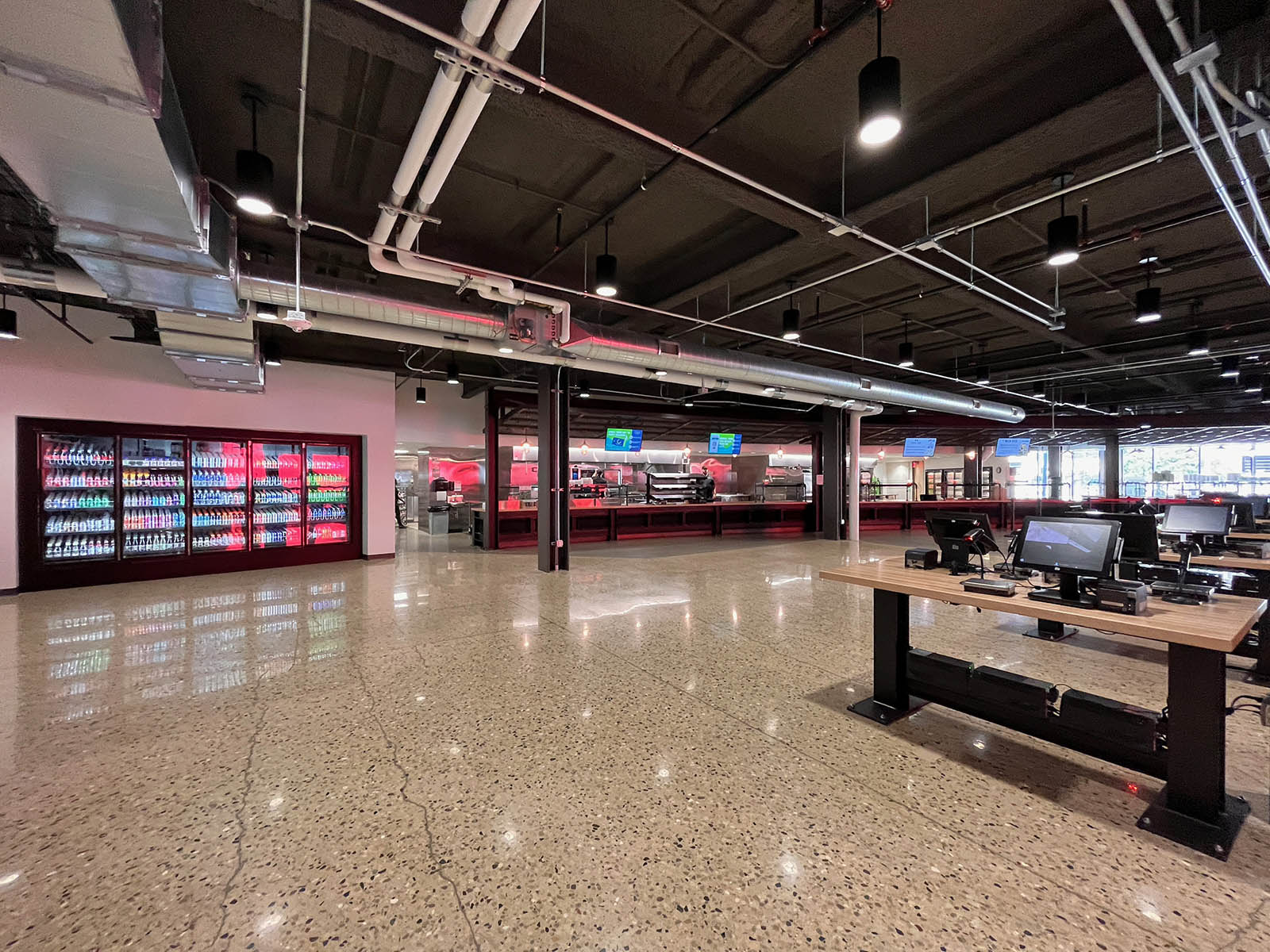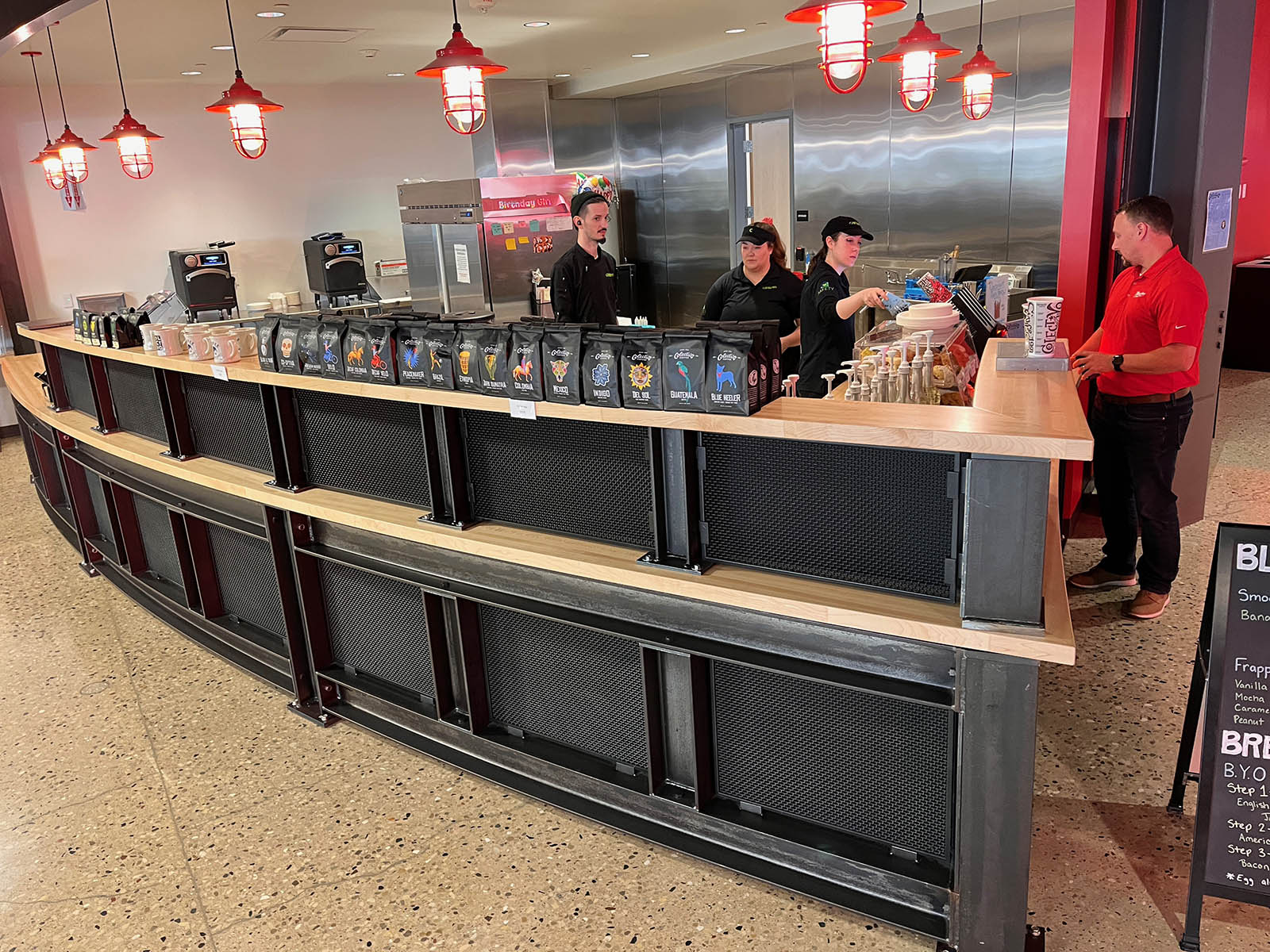 The top three floors are full of open-plan workstations that house numerous departments in the company, which is no longer simply a power tool manufacturer, says Brasher.
"We are a solutions provider," he says, noting that Milwaukee Tool also is active in tool transportation, organization and storage.
Although the company headquarters remain – and will remain – in Brookfield, where there are roughly 2,200 employees, Brasher says Downtown Milwaukee is key to Milwaukee Tool, which recently landed on Fast Company's 2023 Best Workplaces for Innovators list.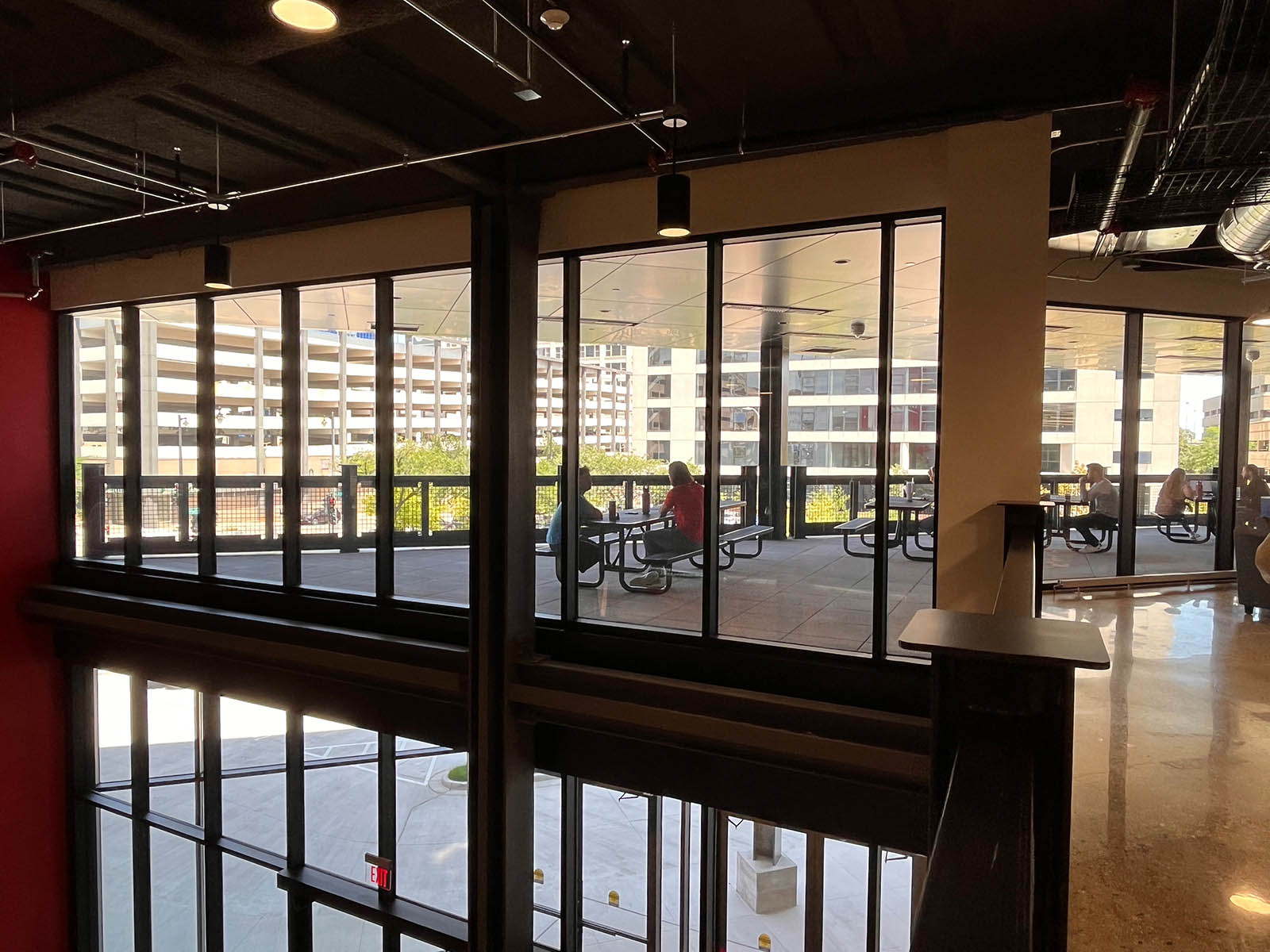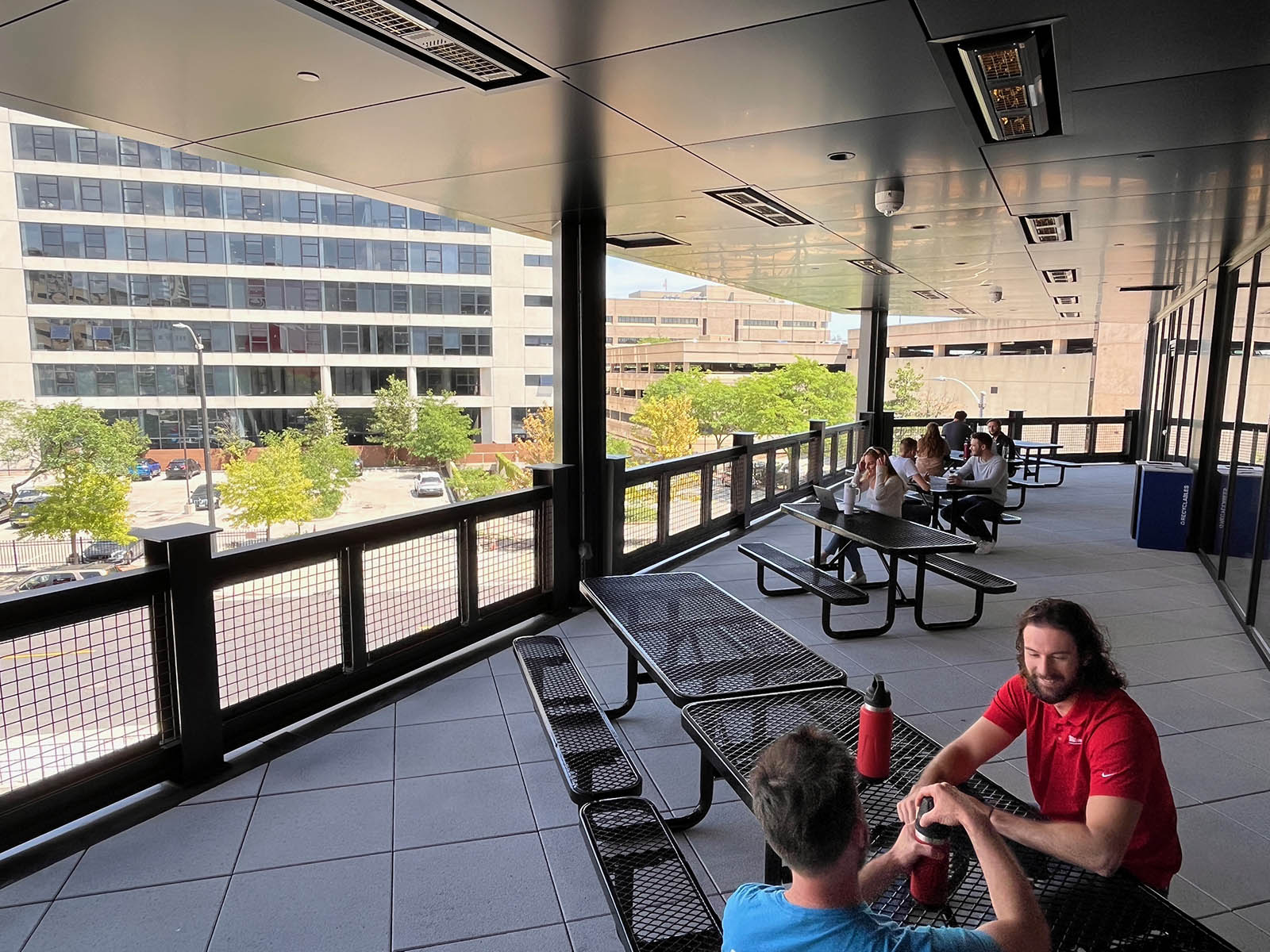 "Look at this facility," he says, as we stand at the outdoor deck. "Who wouldn't want to be here? We compete heavily with, with the likes of Google and Tesla for some of the really, really highly sought-after talent, especially from a double-E (electrical engineering) standpoint.
"It's a massive advantage for us to be able to have this as a recruiting tool."
The Downtown location is the first for the business in the City of Milwaukee – where Milwaukee Tool was founded in 1924 – since the early 1960s, when it occupied a building at 52nd and State Streets, Brasher points out.
"We're really stoked to be here," he says. "Honored to be in Downtown Milwaukee."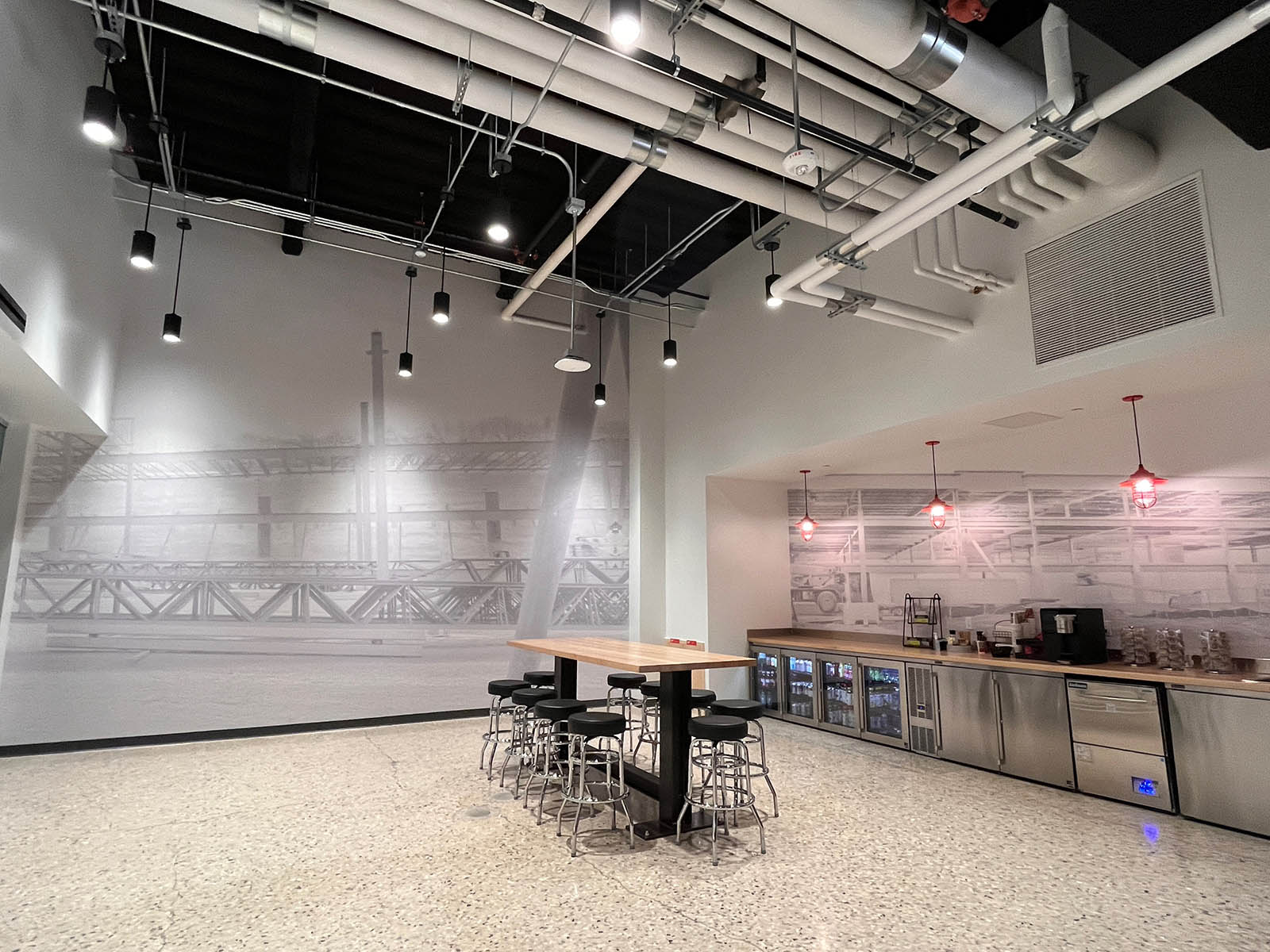 And the fact that since it began the project, the Iron District was announced for just across the street?
"Oh my gosh," he says, "I mean, blessed; that's the way I would say it. It's a great, great opportunity. It wasn't a part of the plan, wasn't the reason for being here, but we're super happy about it."
Brasher says there's still work to do; the construction isn't complete. But, he adds quickly, it may never be.
"We have a saying here, 'building the plane as we fly it,' and this is one of the best examples of how we live this," he says. "We're still finishing the building."
Brasher points furnishing the lobby and doing some more lighting and landscaping outside, as well as undertaking the renovation of the large basement.
When will it be finished?
"Hopefully never," he says. "We're constatly evolving. (But) the basement ... that will come in the next 12 months."
Born in Brooklyn, N.Y., where he lived until he was 17, Bobby received his BA-Mass Communications from UWM in 1989 and has lived in Walker's Point, Bay View, Enderis Park, South Milwaukee and on the East Side.
He has published three non-fiction books in Italy – including one about an event in Milwaukee history, which was published in the U.S. in autumn 2010. Four more books, all about Milwaukee, have been published by The History Press.
With his most recent band, The Yell Leaders, Bobby released four LPs and had a songs featured in episodes of TV's "Party of Five" and "Dawson's Creek," and films in Japan, South America and the U.S. The Yell Leaders were named the best unsigned band in their region by VH-1 as part of its Rock Across America 1998 Tour. Most recently, the band contributed tracks to a UK vinyl/CD tribute to the Redskins and collaborated on a track with Italian novelist Enrico Remmert.
He's produced three installments of the "OMCD" series of local music compilations for OnMilwaukee.com and in 2007 produced a CD of Italian music and poetry.
In 2005, he was awarded the City of Asti's (Italy) Journalism Prize for his work focusing on that area. He has also won awards from the Milwaukee Press Club.
He can be heard weekly on 88Nine Radio Milwaukee talking about his "Urban Spelunking" series of stories.