The new Mequon location for Cafe Hollander, which opens to the public this weekend, has been a long time in coming. But if a first look at the impressive space is any indication, it was well worth the wait.
1. It's sheer size is impressive
The massive structure, which anchors the Mequon Town Center at the corner of Mequon and Cedarburg Roads, is a bit of a behemoth sporting two full floors along with enough patio space to literally double the restaurant's capacity during the summer months.
2. There's open air galore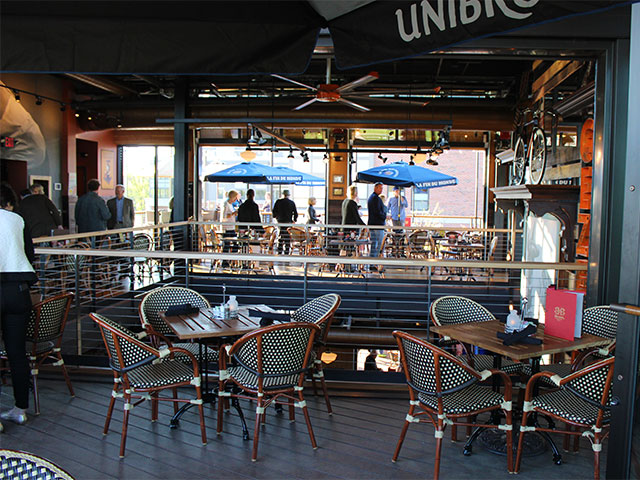 Adding to the impact of the restaurant's plentiful patio space is the fact that over half of the wall space for the restaurant can be open air, thanks to strategically placed garage doors and large windows. As an added bonus, overhead patio heaters ensure comfort even on cooler days and during the evening hours.
3. Bicycles everywhere
Cafe Hollander has always embraced elements of Benelux culture, including the bicycling culture that's common in the region. The Mequon location links even more closely with the restaurant's cycling roots thanks to its location, which sits along the Ozaukee Interurban Trail, a 30-mile trail which connects with the Oak Leaf Trail to the south, creating a link of sorts between the Lowlands Mequon and Milwaukee locations. Plenty of bicycle parking is available, making it an easy stop for cyclists looking for a bit of respite from the trails.
4. Beer beer and more beer
With 38 taps and a list of over 100 beers by the bottle, you're unlikely to experience an impasse in finding a beer you'll enjoy. The list, which includes five beers made by the Lowlands Brewing Collaborative, represents a variety of styles from across the world.
5. Patio view
Patios surround the property on both the first and second floors. And the second-floor patio offers picturesque views of the Milwaukee River to the east.
6. Inside views
The patio isn't the only place that offers a great view. Second floor seating overlooks the first floor – a design element that gives a nod to Hollander's first location on Downer Avenue.
7. Something new at every turn
Seems there isn't a dull spot in the house thanks to plentiful Belgian beer paraphernalia shipped back from travels to Bavaria, along with classic cycling photos, hanging bicycles and a variety of signs and other points of visual interest.
8. A menu with something for everyone
From cheese and charcuterie platters to salads, sandwiches, veggie and beef burgers and entrees (like truffle chive hangar steak over shredded gratin potatoes with haricots verts for $20.95), it seems there's a dish for every palate at Cafe Hollander.
9. Fun and games
Thanks to a limestone petanque court (essentially French bocce), there's plenty of entertainment to be had, even for the youngest visitors.
During opening weekend, the cafe will be open Friday, May 20 from 11 a.m. to 2 p.m. and 5 to 10 p.m.; Saturday and Sunday hours will be 10 a.m. to 2 p.m. with brunch service and 5 to 10 p.m. Reservations are recommended due to limited seating during the opening weekend and can be made at cafehollander.com. The bar and upstairs patio will be open to the public during this time for beverage-only service.
On Tuesday, May 24, the cafe will begin its regular hours, open daily at 8 a.m. for breakfast and serving brunch from 8 a.m. to 3 p.m. on weekends.
Lori Fredrich (Lo) is an eater, writer, wonderer, bon vivante, traveler, cook, gardener and girlwonder. Born and raised in the Milwaukee area, she has tried to leave many times, but seems to be drawn to this quirky city that smells of beer and alewives.
Some might say that she is a little obsessed with food. Lo would say she is A LOT obsessed with food. After all, she has been cooking, eating and enjoying food for decades and has no plans to retire anytime soon.
Lo's recipes and writing have been featured in a variety of publications including GO: Airtran Inflight Magazine, Cheese Connoisseur, Cooking Light, Edible Milwaukee, Milwaukee Magazine and the Milwaukee Journal Sentinel, as well as on the blog Go Bold with Butter, the web site Wisconsin Cheese Talk, and in the quarterly online magazine Grate. Pair. Share.