A former foreclosure at 5601 W. Vliet St. in Washington Heights now contains a hopping pizzeria thanks to owners Ann Brock and James Durawa of Wy'East Pizza.
Brock and Durawa fell into the pizza business while they were living in Portland, Ore.
"We'd just purchased our house, and we were pretty much eating like crap," says Durawa. "I was really tired of eating frozen pizzas, so I started reading Peter Reinhart's 'American Pie: My Search for the Perfect Pizza.' And then I started messing around and making my own dough."
Brock laughs. "Yes, we ate a lot of pizza. Like every weekend for two solid years."
Along the way, Durawa also took the opportunity to gain experience as a fill-in at Apizza Sholes in Portland. And by 2009, they'd purchased and customized a trailer and launched Wy'East Pizza.
For four years, the two operated Wy'East out of their customized trailer. But when family matters drew them back home to Wisconsin in 2014, they finally began to think about establishing a brick and mortar.
"We knew we were offering something that perhaps Milwaukee didn't have, and we were pretty sure people would be interested," says Durawa. "The opportunity to own our own space was something we just wouldn't have had in Portland, but it was possible in Milwaukee."
Durawa, who'd looked at a variety of restaurant spaces across town, says he first came across the former Papa Joe's Pizza & Pasta while walking his dog in the Washington Heights neighborhood, and he and Brock became intrigued.
"I watched it for probably months," he notes. "Finally, when I caught wind that the building had gone into foreclosure, I attended a meeting of the Vliet Street Business Association, and things just developed from there."
Not quite a year later, they'd transformed the little restaurant into a hip, modern space complete with a Forno Bravo gas-fired domed Italian pizza oven.
The renovation, which was completed by Edward Haydin of Arc-Int Architecture and Matthew Jones of Hometown Building, includes a dining area that seats almost 30 guests at dining tables, as well as counter seating against the wall near the register.
What to expect
Wy'East was busy when we rolled in on Thursday night around 6:30 p.m., which was right on time, since the restaurant sold its last pizza at about 7:30 p.m.
Service is informal, with pizza orders taken at the counter and delivered to tables when completed. Pizzas are made and baked to order, cooked two at a time in the oven. On average, that meant about 45 minutes to an hour, not a bad wait for great pizza especially if you while away the time with a beer and a bit of good conversation.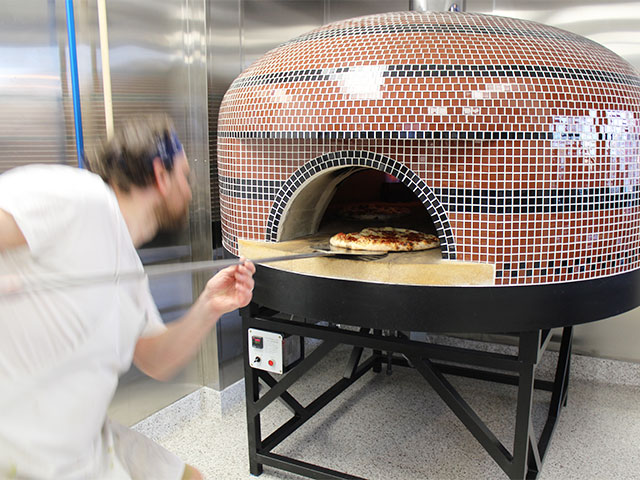 The menu, which currently includes 10 pies plus a seasonal special, will be expanded to include a house salad and appetizers including mixed olives and focaccia with two rotating dipping sauces. According to Durawa, a roasted vegetable medley may also be an option during the cooler months, when the salad is likely to shift over to more of a slaw.
On the beverage side, the restaurant offers a selection of wines ($7-8 a glass), along with four tap beers and a list of brews by the bottle (with most priced at $4-5)
"Our offerings reflect a selection that caters a bit more to people who enjoy beer," says Durawa of the beer selection. "We've got Schlitz, but then we have an 11 percent barley wine from Pennsylvania. Overall, our list has a Midwestern focus, but we'd eventually also like to bring in some beer from Portland if we can."
If you're looking for a sweet ending to your meal, Wy'East also offers Purple Door ice cream sandwiches for $3.25, including flavors like vanilla chocolate chip, espresso molasses and raspberry green tea lemon.
The pizza
It's not quite New York-style. And not quite Neapolitan. But Wy'East pizza is a delightful hybrid of the two.
The dough, which derives its texture from an extended fermentation period and long rise, is cooked to perfection at 800+ degrees, producing a crust with an exceptionally puffy, crunchy exterior and a tender, airy interior.
Similarly to a New York-style pie, Wy'East has a thin crust which gets thicker and chewier around the edges. Toppings, particularly cheese, are plentiful, and unlike traditional Neapolitan pies, there's little to no "pooling" of toppings in the middle of the pizza, a characteristic typically resulting in a somewhat soggy center.
Pizzas come in two varieties: red pies created with a base of tomato sauce, mozzarella, pecorino Romano and herbs, as well as white pies with a base of olive oil, mozzarella, pecorino Romano, ricotta and herbs.
Among the red pies, the most popular (for good reason) is the "Hot Marmot," which boasts a slightly sweet and savory combination of pepperoni, fresh garlic and sweet hot goats horn peppers which have been marinated in a maple syrup brine ($22).
But, there is also the "Three Sisters" featuring mushrooms, garlic and basil ($20); the "Loowit" with green olives and sweet hot peppers; the "Zig-Zag" with soppressata and nicoise olives; the "Hogsback" featuring sausage and red onion ($19); and "Avalanche" a vegan option featuring tomato sauce and herbs ($14).
White pies include the "Cloud Cap" with mushrooms, roasted garlic and fresh rosemary ($20) and "Cape Blanco" with fresh garlic, sausage and cracked pepper ($21). Add fresh arugula to either for just $2.
If you'd prefer to customize, you can start with an add on pie featuring tomato sauce, herbs (and cheese, if desired) for $14 and add up to three additional toppings ($2-3 each) including pepperoni, sausage, soppressata, anchovies, sweet hot peppers, green olives, fresh or roasted garlic, red onion, fresh mushrooms, fresh arugula, basil or nicoise olives. That said, meat lovers should note that pies are limited to one meat option each to preserve the structural integrity of the pizza.
More on the way
Currently, Wy'East is open Thursday, Friday and Sunday from 4:30 to 9 p.m. and Saturday from 4:30 to 10 p.m. But in the coming weeks, once some of the kinks are worked out, Brock says they'll add dinner service on Wednesday nights, too.
Once timing on pizza orders is standardized a bit more, Brock notes they'll also begin taking call-in orders for carryout.
"We're toying with a number of ideas," says Brock, "including potential for lunch service. Our focaccia is pretty delicious, so perhaps we'll add sandwiches to the menu. But we really want to get all the kinks worked out before we make too many changes."
The parking lot, which was poured last week, is currently getting its finishing touches, which will include a patio that seats an additional 12 customers. Landscaping is being added to create green space on the lot, as well as promote healthy water drainage for the property.
A grand opening celebration is also forthcoming, and is likely to take place in the next month or so. Watch OnMilwaukee for details as they develop.
Lori Fredrich (Lo) is an eater, writer, wonderer, bon vivante, traveler, cook, gardener and girlwonder. Born and raised in the Milwaukee area, she has tried to leave many times, but seems to be drawn to this quirky city that smells of beer and alewives.
Some might say that she is a little obsessed with food. Lo would say she is A LOT obsessed with food. After all, she has been cooking, eating and enjoying food for decades and has no plans to retire anytime soon.
Lo's recipes and writing have been featured in a variety of publications including GO: Airtran Inflight Magazine, Cheese Connoisseur, Cooking Light, Edible Milwaukee, Milwaukee Magazine and the Milwaukee Journal Sentinel, as well as on the blog Go Bold with Butter, the web site Wisconsin Cheese Talk, and in the quarterly online magazine Grate. Pair. Share.