Season's eatings! The weather may be getting colder, but Dining Month on OnMilwaukee is just cooking up, dishing out your winning picks in this year's Best of Dining poll. Dining Month is brought to you by Fein Brothers, your premier food service equipment and supply dealer in Wisconsin since 1929. Congratulations to all of the winners, and happy eating for all those who voted! See all the winners for the month so far here.
In this series, we're trying out some of the Milwaukee area's most popular fish fries. In each article, you'll find commentary, fun facts, pro tips and ratings of the three foundational elements of a classic Wisconsin fry: the fish, the potato pancakes and the classic Wisconsin-style brandy old fashioned. While we're enjoying our fish fries, weekly Burger Trail articles will post on Mondays (follow along here). View all fish fry reviews here.
Bass Bay Brewhouse
S79W15851 Aud Mar Dr, Muskego
(414) 377-9449
bassbaybrewhouse.com
There's a great vibe at Bass Bay Brewhouse, a spot I often describe as having a modern day supper club feel. That's partially due to offerings like oysters Rockerfeller and delicious prime rib; but it's also a testament to the comfortable digs, which offer a year-round view of Bass Bay, a gorgeous body of water that connects up with Big Muskego Lake. Even better, the space always seems to be filled with friendly people, many of whom make weekly trips to the restaurant for dinner with family and friends.
A particular attraction is Bass Bay's fish fry. You can get a classic cod fish fry with cod, French fries, marbled rye and coleslaw ($14) any night of the week. On Fridays, it offers additional options including rye bread crusted walleye ($18) or fried shrimp ($16) along with un-fried options like poor man's lobster with drawn butter ($14) or cod Oscar, featuring crab-crusted cod, grilled asparagus and hollandaise sauce ($18). All are served with french fries, marbled rye, coleslaw and tartar sauce. On Fridays, you can sub out the french fries for potato pancakes for $1.
Pro tip: The crowds pile in early on Friday nights; come after 7:30 p.m. for the shortest wait.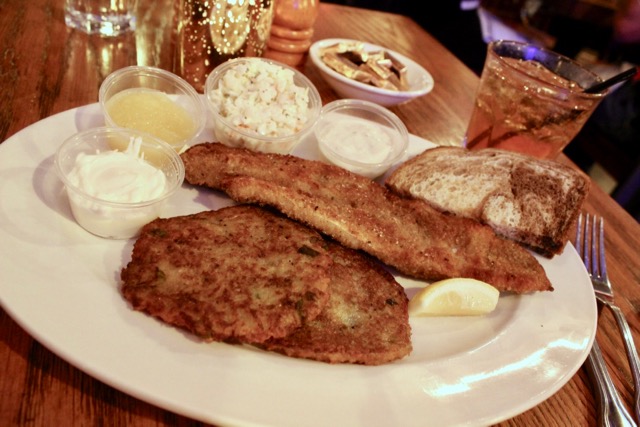 The fish
Among my favorite lake fish are perch and walleye, both of which are my preference for a Wisconsin fish fry. Both take me back to childhood when summer vacations meant spending time at my great grandparents' cottage Up North. We'd spend the days swimming and fishing, and at night we'd take our catch of fresh fish and fry it up for dinner. And that fresh flavor is always what I'm looking for.
In the case of Bass Bay's walleye, it's fresh and tasty. The breadcrumb coating is a lovely touch; it's ultra crisp and redolent of caraway, a flavor that's really complementary to the moist, flaky fish.
The cod is also a great bet. It's crispy and well-seasoned on the exterior and moist and flavorful on the interior. The breading sticks to the fish, and it holds up over the long-term (even if you take home a piece or two for reheating the next day) without getting soggy. It's one of the reasons I chose it for "Best Fish Fry" for the second year running.
They get bonus points for their delicious tartar sauce, which has a great classic flavor but goes beyond the simple mixture of mayonnaise and relish.
The potato pancakes
I've confessed before that I'm a big fan of potato pancakes made with shredded potatoes, many of which end up with edges riddled with crispy, straggly potato bits. While these were not those pancakes, they offered much of the same flavor. The pancakes were thin, with a relatively firm texture and a consistently round appearance. They had a nice potato flavor and were well seasoned and not at all greasy. Interestingly, while most restaurants automatically serve potato pancakes with a side of applesauce, Bass Bay offers a choice of applesauce, sour cream or syrup.

The old fashioned
Bass Bay's brandy old fashioned is proof that just because it says "sweet" in the name doesn't mean it has to be cloying. The cocktail was spirit forward with balanced flavor and hints of cinnamon and clove from the bitters. Muddled fruit was also evident in the glass.

Bass Bay Brewhouse is open Wednesday and Thursday from 4 to 10 p.m., Friday and Saturday from 11 a.m. to 12 a.m. and Sunday from 10 a.m. to 4 p.m.
Got suggestions for our next fish fry? Email lori@staff.onmilwaukee.com with your suggestions. Suggested fish fry menus must include lake fish (walleye, perch), potato pancakes and a stellar old fashioned.
Lori Fredrich (Lo) is an eater, writer, wonderer, bon vivante, traveler, cook, gardener and girlwonder. Born and raised in the Milwaukee area, she has tried to leave many times, but seems to be drawn to this quirky city that smells of beer and alewives.
Some might say that she is a little obsessed with food. Lo would say she is A LOT obsessed with food. After all, she has been cooking, eating and enjoying food for decades and has no plans to retire anytime soon.
Lo's recipes and writing have been featured in a variety of publications including GO: Airtran Inflight Magazine, Cheese Connoisseur, Cooking Light, Edible Milwaukee, Milwaukee Magazine and the Milwaukee Journal Sentinel, as well as on the blog Go Bold with Butter, the web site Wisconsin Cheese Talk, and in the quarterly online magazine Grate. Pair. Share.