In this series, we're trying out some of the city's most popular fish fries. You'll find commentary, pro tips and ratings of the three staples of a classic Wisconsin fry: namely the fish, the potato pancakes, and the classic Wisconsin style brandy old fashioned. View all fish fry reviews here.
Ricardo's Pizza
5627 Broad St., Greendale
(414) 421-1980
ricardosgreendale.com
Ricardo's Pizza is an old school favorite among Greendale locals, from whom I've heard any number of raves over the years. The business has been owned and operated by the Loch family since 1969. The restaurant has seen two locations over its lifespan, but has occupied its current strip mall digs (adjacent to Miss Beverly's Deluxe BBQ) since 1999.
As you might guess, Ricardo's is best known for its pizza. And I might never have thought of it for a fish fry had it not been for an astute recommendation from OnMilwaukee reader Matt Kraus, who wrote and told me it was "one of the best in the city." Those high accolades had me curious, so I ventured out last Friday to give it a try.
We arrived around 6:30 p.m., and while we encountered a pleasantly full, bustling restaurant, we were seated immediately at a table in the front portion of the venue. Tables around us showcased a nice diversity of folks, some eating delicious looking pizza, others enjoying entrees and a few (like us) nibbling away at good looking fish frys.
Fish fry options include breaded North American lake perch ($14.99), breaded cod ($10.99), baked cod ($11.99) and a shrimp dinner featuring butterflied panko-breaded shrimp served with cocktail sauce ($11.95). Each meal comes with a choice of potato (French fries, homemade potato pancakes, seasoned wedges or sweet potato fries; the latter will cost an additional $1.29), applesauce, coleslaw and salted rye bread.
It's worthwhile to mention that Ricardo's coleslaw is fresh, light and almost salad-like with a flavorful sweet and sour dressing. It was a nice alternative to the typical creamy variety. The salted rye was also well worth eating, rather than just an obligatory afterthought.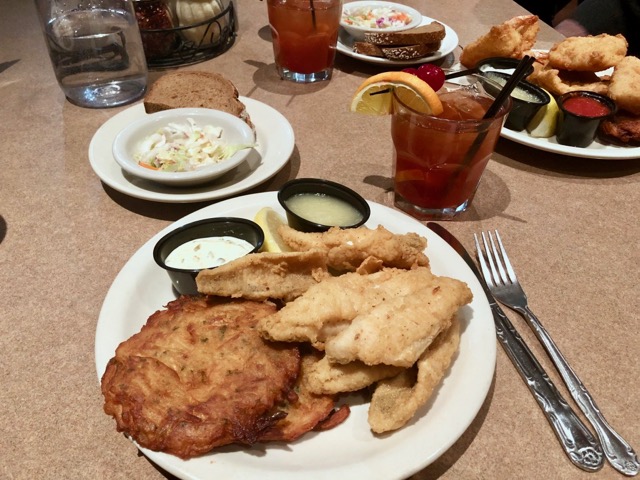 The fish
The perch dinner was an absolute delight, featuring a hearty serving of what appeared to be lightly hand-breaded perch. The seasoning was flavorful and the fish was crisp on the exterior with a lovely tender texture on the interior.
The cod was good as well, also lightly breaded with a moist flaky texture, though it was not quite as well seasoned as the perch. Overall, either were a pretty good bet.
Ricardo's also offers the option of adding fantail shrimp to any of the fish fry options for an additional $3. We opted for the shrimp with the cod plate, and it was a nice addition. The shrimp was tender and flavorful and provided an extra few bites for the heartier appetite.
The potato pancakes
Ricardo's pancakes were lovely and irregular, a nice indicator that they were handmade. They were also piping hot and crisp with a good amount of seasoning and a nice bit of flavor from the onion. If you like your pancakes to be on the lighter side, these won't appeal, as their texture is more dense and thick. But I felt them to be more than satisfying overall.

The old fashioned
Flavor-wise Ricardo's old fashioned was a hands down "5;" it was sweet and boozy with a nice bitter balance. In fact, it's among the best I've encountered thus far. There was evidence of muddled fruit in the base of the glass, giving the drink that murky look that's typical of this Wisconsin-style classic. Unfortunately, the garnish was the one nick in this old fashioned's armor; the orange slice that was skewered was dried out and withered, making it unfit for eating or plopping into the drink. It was a small detail, but definitely one which should have deserved a bit more attention.
Got suggestions for our next fish fry? Email lori@staff.onmilwaukee.com with your suggestions. Suggested fish fry menus must include lake fish (walleye, perch), potato pancakes and a stellar old fashioned.
Lori Fredrich (Lo) is an eater, writer, wonderer, bon vivante, traveler, cook, gardener and girlwonder. Born and raised in the Milwaukee area, she has tried to leave many times, but seems to be drawn to this quirky city that smells of beer and alewives.
Some might say that she is a little obsessed with food. Lo would say she is A LOT obsessed with food. After all, she has been cooking, eating and enjoying food for decades and has no plans to retire anytime soon.
Lo's recipes and writing have been featured in a variety of publications including GO: Airtran Inflight Magazine, Cheese Connoisseur, Cooking Light, Edible Milwaukee, Milwaukee Magazine and the Milwaukee Journal Sentinel, as well as on the blog Go Bold with Butter, the web site Wisconsin Cheese Talk, and in the quarterly online magazine Grate. Pair. Share.