In this series, we're trying out some of the city's most popular fish fries. You'll find commentary, pro tips and ratings of the three staples of a classic Wisconsin fry: namely the fish, the potato pancakes and the classic Wisconsin style brandy old fashioned. View all fish fry reviews here.
Swingin' Door Exchange
219 E. Michigan St.
(414) 276-8150
swingindoorexchange.com
Want history? You'll find it here. There's been a bar in the space that now houses the Swingin' Door Exchange since 1933. At that time, the bar was aptly called the Grain Exchange Tavern. In the 1960s, it became Bubin's Saloon. But in 1973, under the ownership of Michael Murphy, it became the Swingin' Door and remained so until 2010 when current owners – K.C. Swan and Shelley Sincere – took over the business and renamed it the Swingin' Door Exchange.
And that's part of the charm of this old-school "Saloon & Eatery," which still hearkens back to an era when stained glass windows and ornate wooden bars were the norm and hospitality was the name of the game.
Speaking of the bar, you can pull right up to it and enjoy a fish fry every Friday beginning at 11 a.m. Options include fried or baked cod in two, three or four piece servings ($9.50, $11.50 or $13.50), lake perch ($13) or a combo fry that includes two pieces of cod, two pieces of perch and three shrimp for $16.50. Each fish fry comes with buttered marble rye, housemade cole slaw and tartar sauce and your choice of side (housemade chips, spicy vermouth carrots, a cup of soup, french fries or potato pancakes).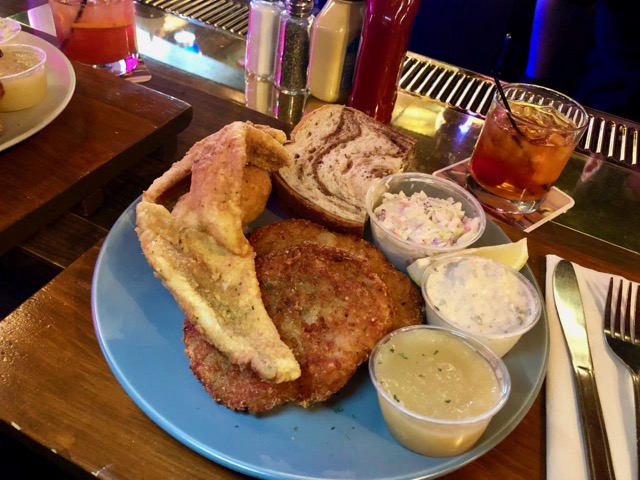 The fish (4.5)
The lunch portion of lake perch included two butterflied fillets. The perch were lightly coated in seasoned flour, so the exterior was slightly crisp while the interior was tender and moist. Overall a solid standard preparation for the lake fish.
Meanwhile, the cod offered a nice surprise. The fillets were thinner than many, but they sported a well-seasoned mid-weight breading that added plenty of flavor without completely overpowering the fish.
The potato pancakes
Sadly, I didn't find the potato pancakes to be very remarkable. Count these among the ranks of potato pancakes that very closely resemble hash browns. The standardized (scallop shaped) patties were faultlessly crisp, but still somewhat dense. They hadn't been fully drained, so they erred on the greasier side. As for their flavor; they were potato-forward with a moderate onion flavor.
My recommendation: opt for the spicy vermouth carrots instead. They're not particularly spicy, but they're quite delicious.
The old fashioned
If you're looking for very sweet, this is not your old fashioned. My drink was definitely brandy forward with just a hint of sweetness and a few residual sugar crystals in the bottom of the glass.There was no muddled fruit, but there was both a cherry and orange in the glass.
Got suggestions for our next fish fry? Email lori@staff.onmilwaukee.com with your suggestions. Suggested fish fry menus must include lake fish (walleye, perch), potato pancakes and a stellar old fashioned.
Lori Fredrich (Lo) is an eater, writer, wonderer, bon vivante, traveler, cook, gardener and girlwonder. Born and raised in the Milwaukee area, she has tried to leave many times, but seems to be drawn to this quirky city that smells of beer and alewives.
Some might say that she is a little obsessed with food. Lo would say she is A LOT obsessed with food. After all, she has been cooking, eating and enjoying food for decades and has no plans to retire anytime soon.
Lo's recipes and writing have been featured in a variety of publications including GO: Airtran Inflight Magazine, Cheese Connoisseur, Cooking Light, Edible Milwaukee, Milwaukee Magazine and the Milwaukee Journal Sentinel, as well as on the blog Go Bold with Butter, the web site Wisconsin Cheese Talk, and in the quarterly online magazine Grate. Pair. Share.