Fall 2017 shoe trends are here. Some are classic, some are casual and some are not for the fashion faint of heart! No matter what trend you decide to rock, these shoes will definitely get you noticed when you walk in a room and will be a conversation piece all night long.
So get ready for my five fave shoe trends for fall!
1. Slouchy boot
The slouchier, the better this season! Wear them over skinny jeans or with a dress to give a chic effortless style. Wear these in any color, heel height or material to have them go with whatever your style is.
2. Metallics
This is the biggest shoe trend of the season and soon you will be finding metallic shoes everywhere you turn. Whether it's bold with over the knee boots or more casual with loafers, adding a metallic shoe turns any outfit into a show stopper. Also when wearing these, don't focus on pairing the sheen with your accessories! Mixed metals are in this season.
3. Red
If you read my article last week, I talked about how the color of the season is grenadine. This trend is also for shoes too. Add a pop of color to a neutral outfit or color go all out in a monochromatic outfit in head to toe red. This is a classic color with a modern twist!
4. Lace up booties
Lace-up booties are casual, comfortable and great for street or weekend wear. Dress them up or down, thigh high or bootie, heeled or flat – these shoes will be in your closet for seasons to come.
5. Embellished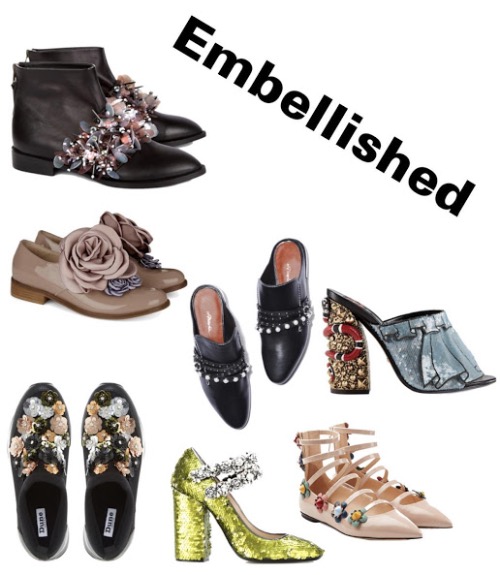 The more out there, the better this season! Pearls, sequined, faux fur – you name it, and it's on a shoe this season. These shoes are meant to be the statement piece of your outfit. Have fun and this season is the time to try some wild footwear.
Pamela Kieck is a Milwaukee based fashionista and is the founder of the fashion, beauty and lifestyle website itspamelakieck.com Pamela has always found herself with an intense interest in style,body positivity, and empowering women to live their best life all while looking fabulous!

Pamela has recently been named an Influencer by Vogue magazine, and is a Social Media Influencer for Cosmopolitan magazine. She enjoys a recurring gig on Milwaukee's Fox 6 Real Milwaukee as a Style/ Beauty expert.

Pamela is bold, outspoken and doesn't take herself too seriously. She is a dog mom to 2 puppies, Cooper and Winston. She can't live without mascara, oversized sunglasses and a lavender latte from Stone Creek Coffee.

Instagram: @pamelakieck
Twitter: @itspamelakieck
Pinterest: @pamelakieck
Facebook: Pamela kieck
Website: itspamelakieck.com