When it comes to writing a concert review, I don't mind a little bit of challenge. Sure, my skills are rusty from the long layoff of live music, but sometimes it's pretty easy. Writing about the Psychedelic Furs last night, for example, wasn't a tough job, because for the most part, I knew what I was in store for.
Seeing The Flaming Lips tonight at the new Generac Power Stage was going to be more of a challenge, and I expected that in advance.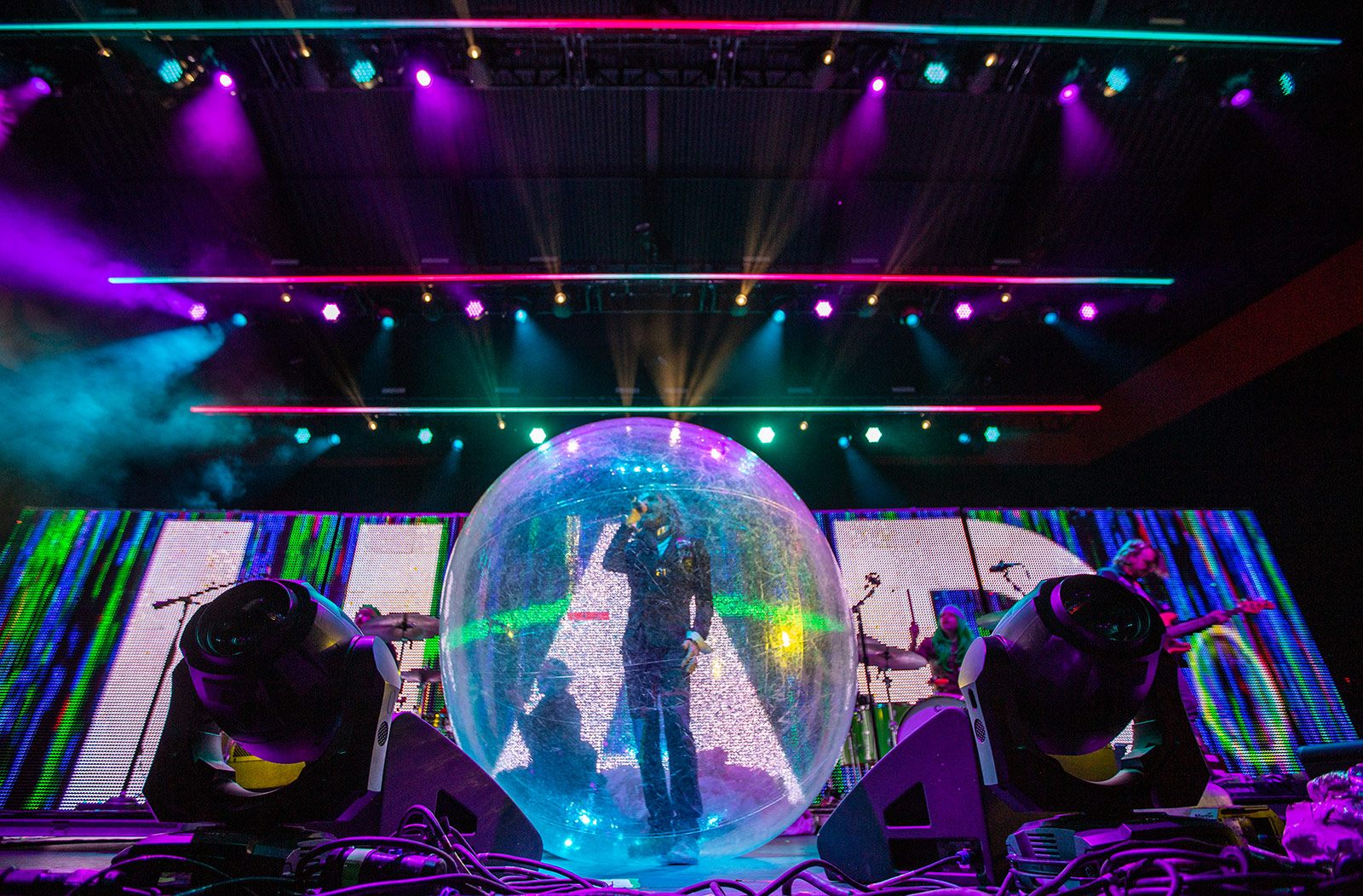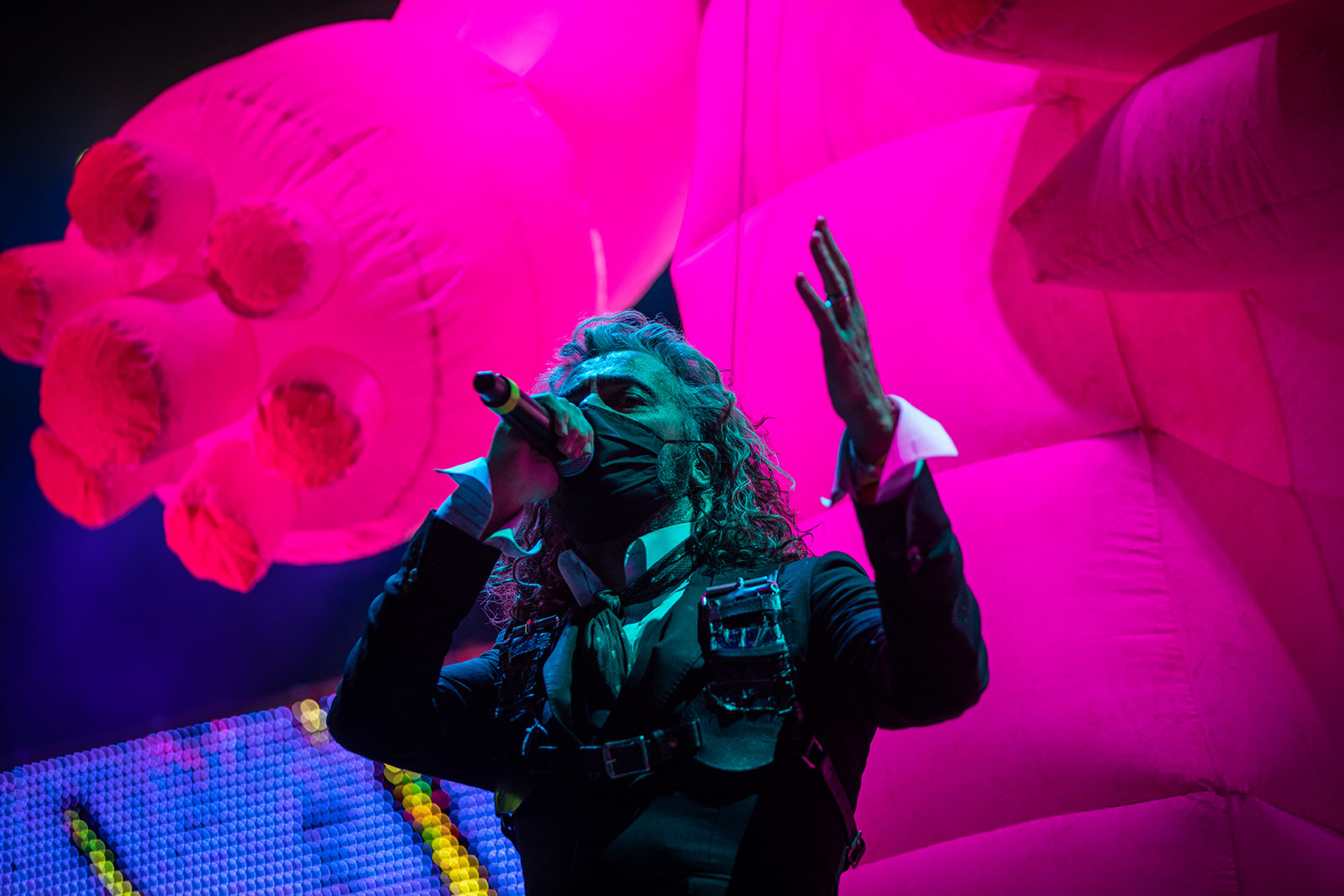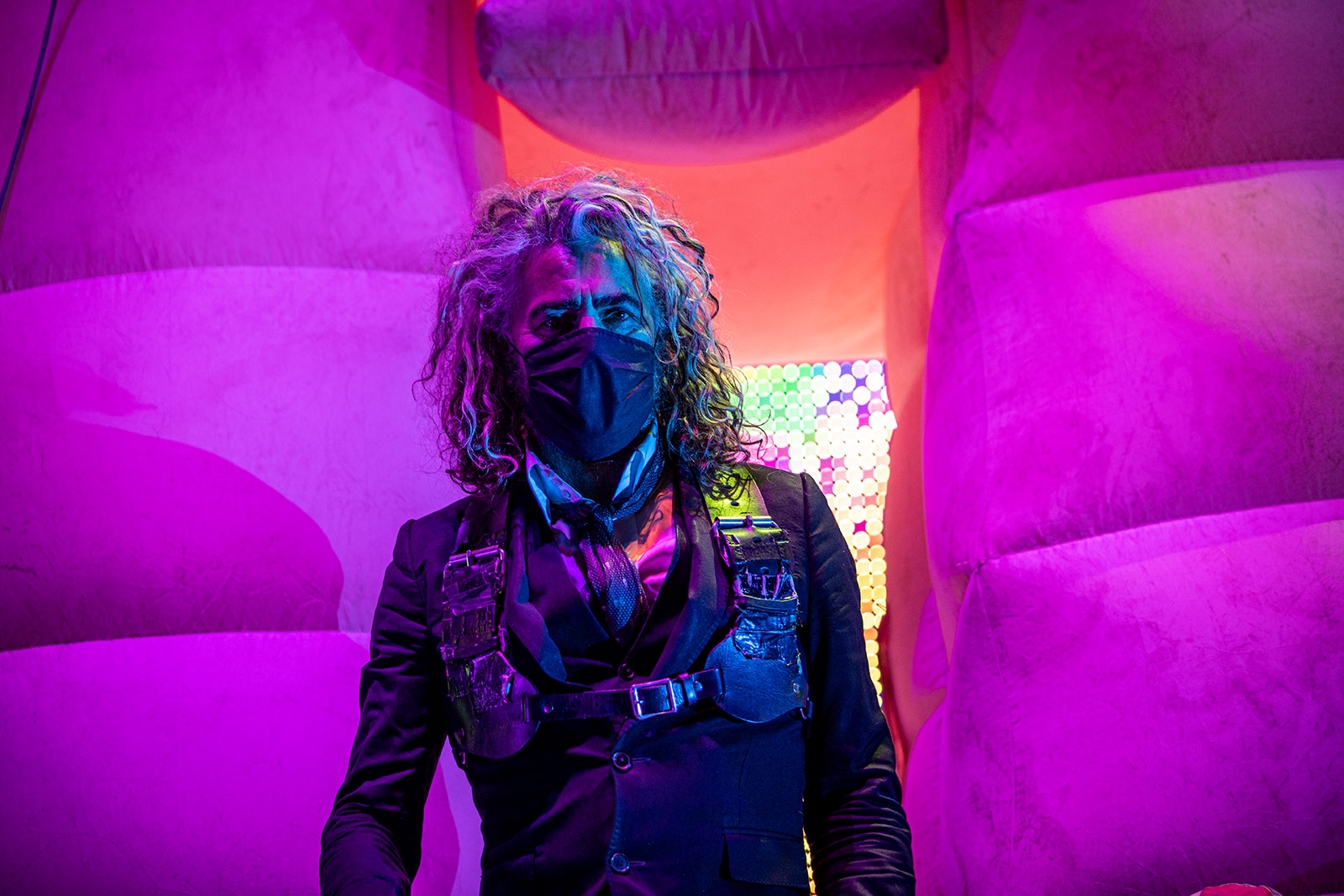 Technically, the 9:45 p.m. show on the last night of Summerfest wasn't the first time I've seen this band on the Henry Maier Festival Grounds. That actually happened back on May 29, 1995 at New Rock Fest at the old Marcus Amphitheater. All I really remember about that show was that it was short – they had to make way for Duran Duran and the Violent Femmes. I was celebrating my 21st birthday weekend, and I knew only one song by the Flaming Lips: "She Don't Use Jelly," which I discovered on an episode of "Beavis and Butthead." I had the CD single.
Flash forward to 2021. This psychedelic, experimental and hard-to-shoehorn band has now cranked out some 16 studio albums in the last 35 years, and while I've never heard a Flaming Lips song I didn't like, I couldn't begin to name more than a handful of their tunes. I was well-aware that they were very critically acclaimed by music people in the know, and that their live shows always promised a spectacle.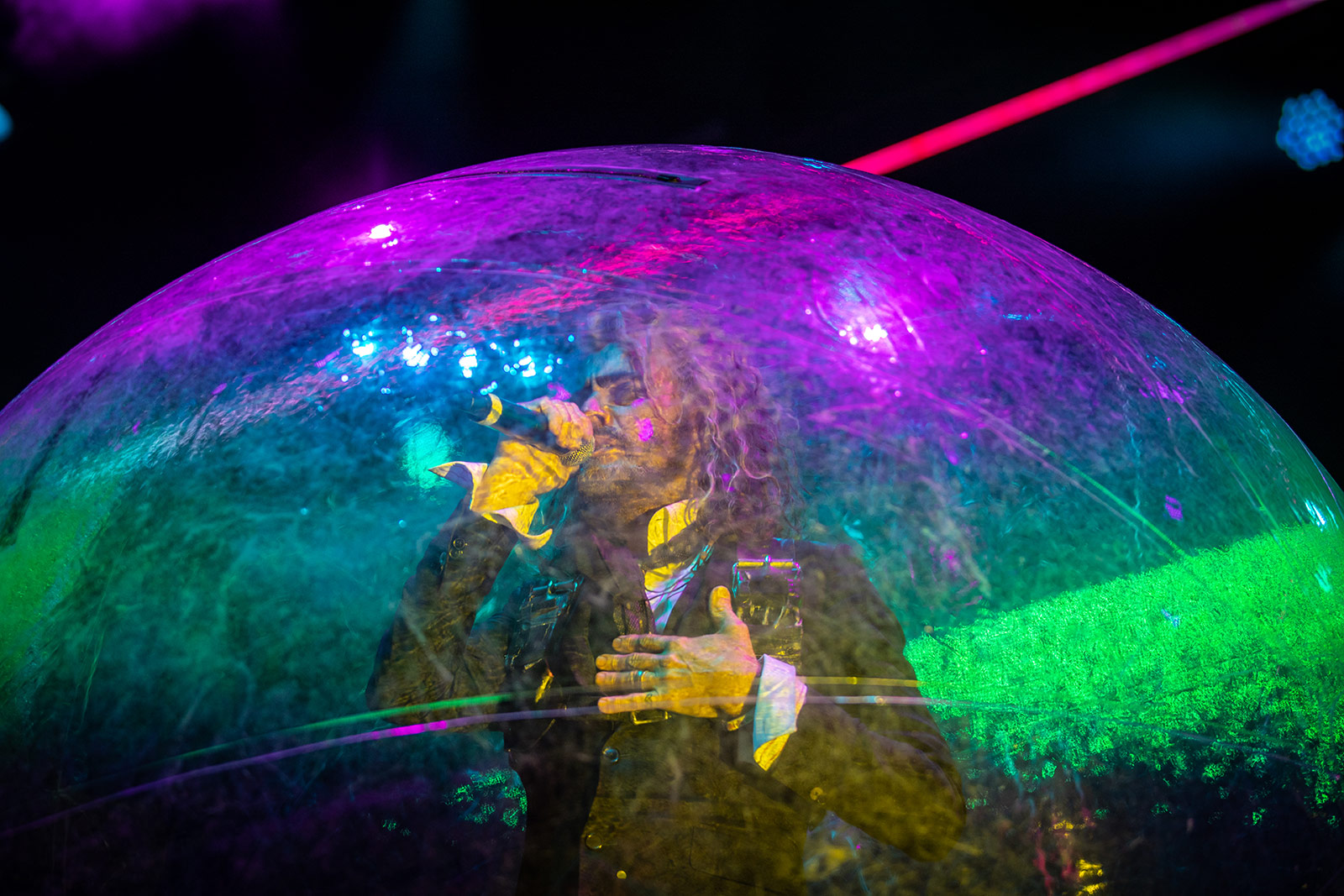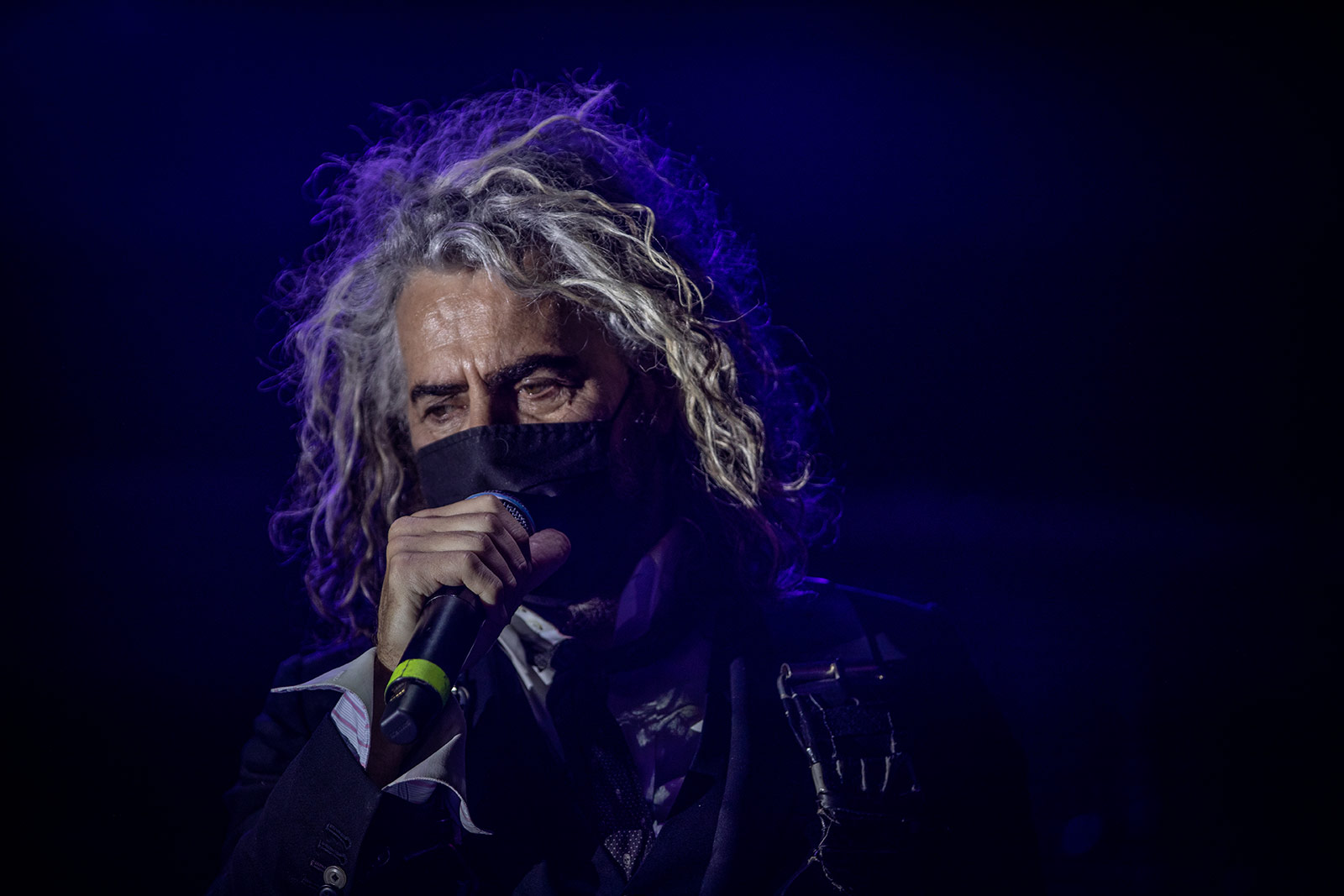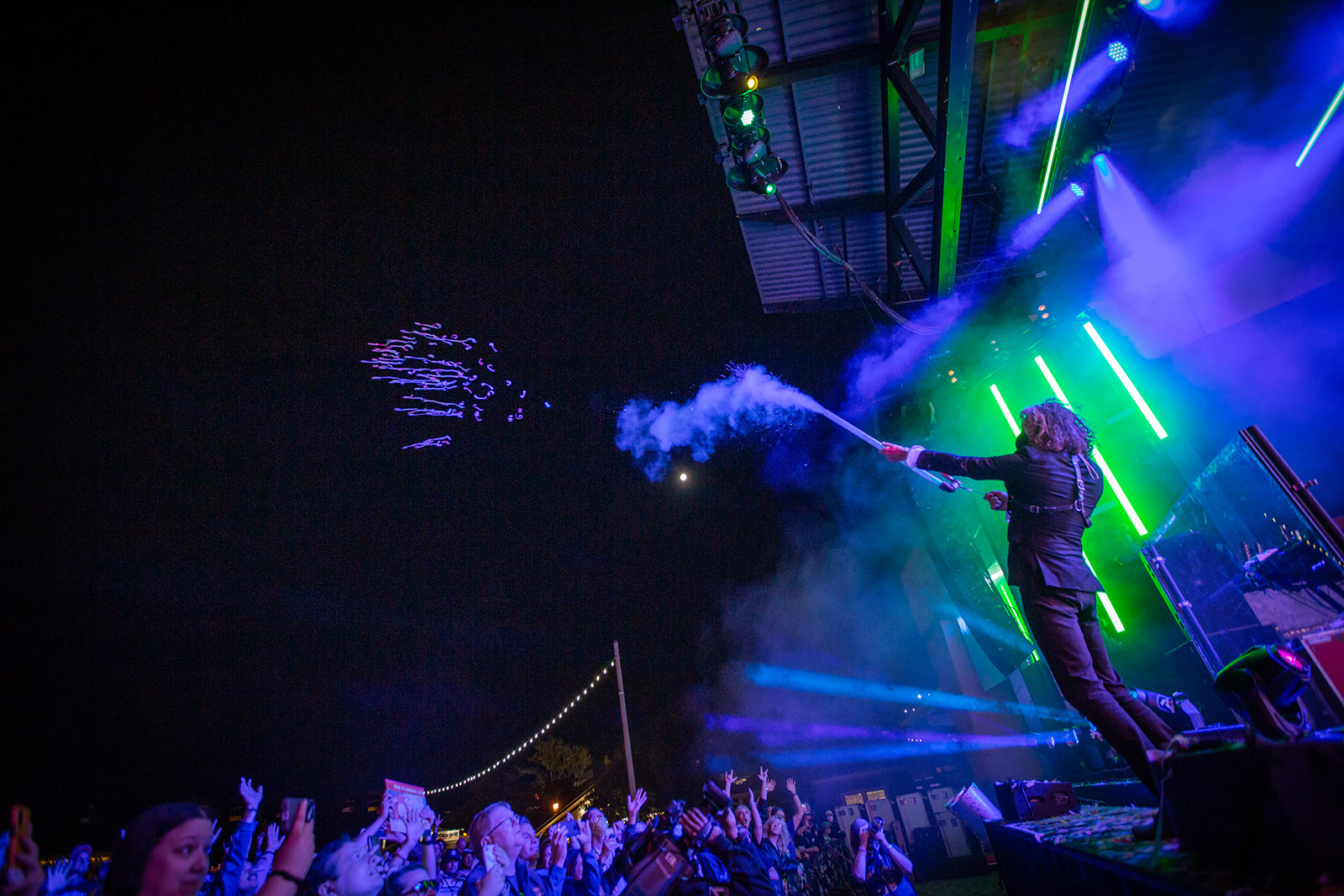 That's not an easy way to head into a show to review, but I brought along my friend Jon, who has seen them many times, to help. I listened to as much of their work in the week in advance, and I researched their recent set lists. The best I can do is offer you a taste of the experience, for if you're looking for the insight of a Flaming Lips super fan, you'll have to look elsewhere.
Of course, I knew their encore, "Do You Realize??" from 2002's "Yoshimi Battles the Pink Robots," as well as that eponymous song, which I think is pretty great. And of course, there was "She Don't Use Jelly," which despite being a pretty fun tune, illustrates just how much this band has evolved since 1993.
The rest I was either hearing for one of the first times.
Granted, in some ways the music at a Flaming Lips show is just a soundtrack for the entire visual experience, which is something I can better describe.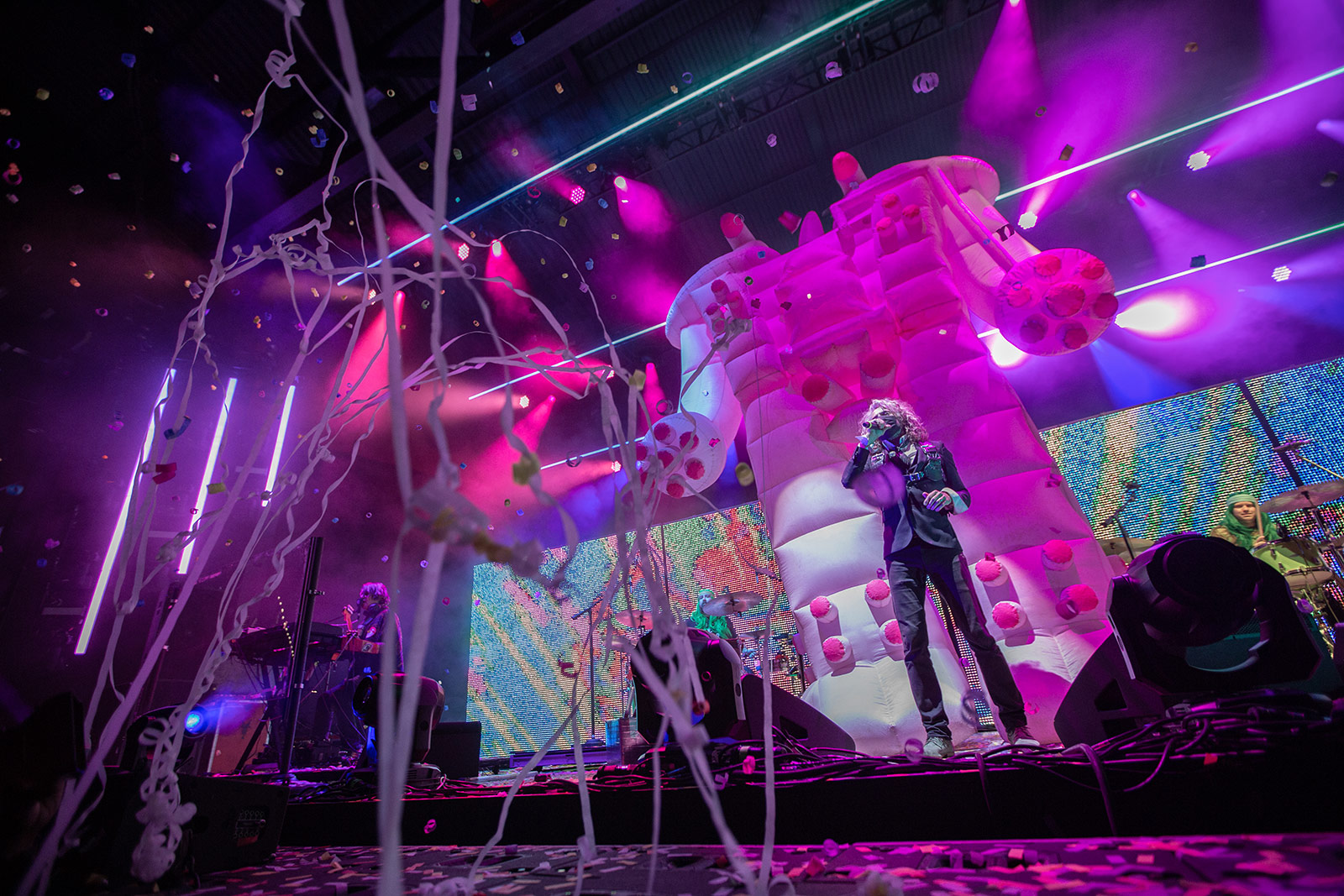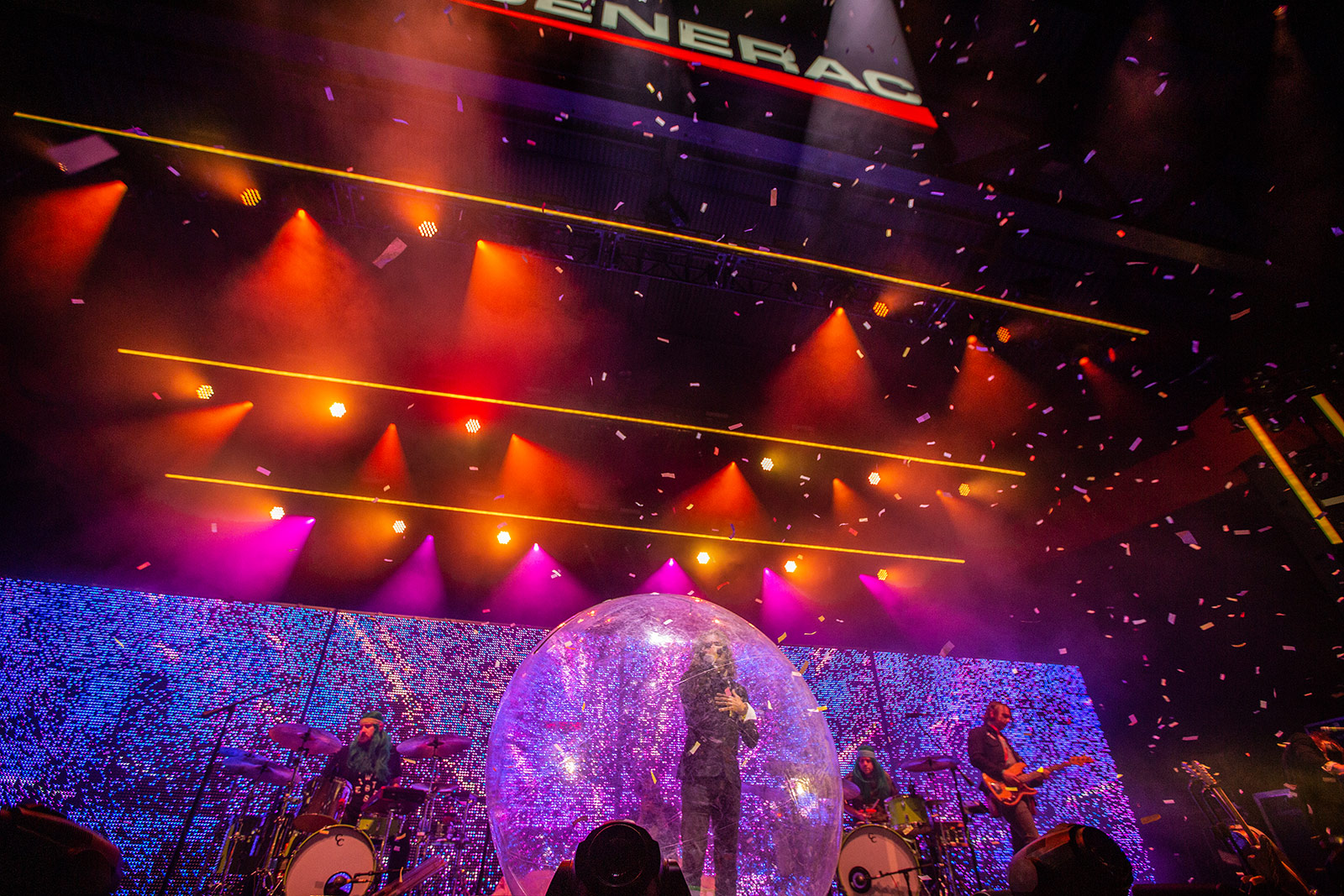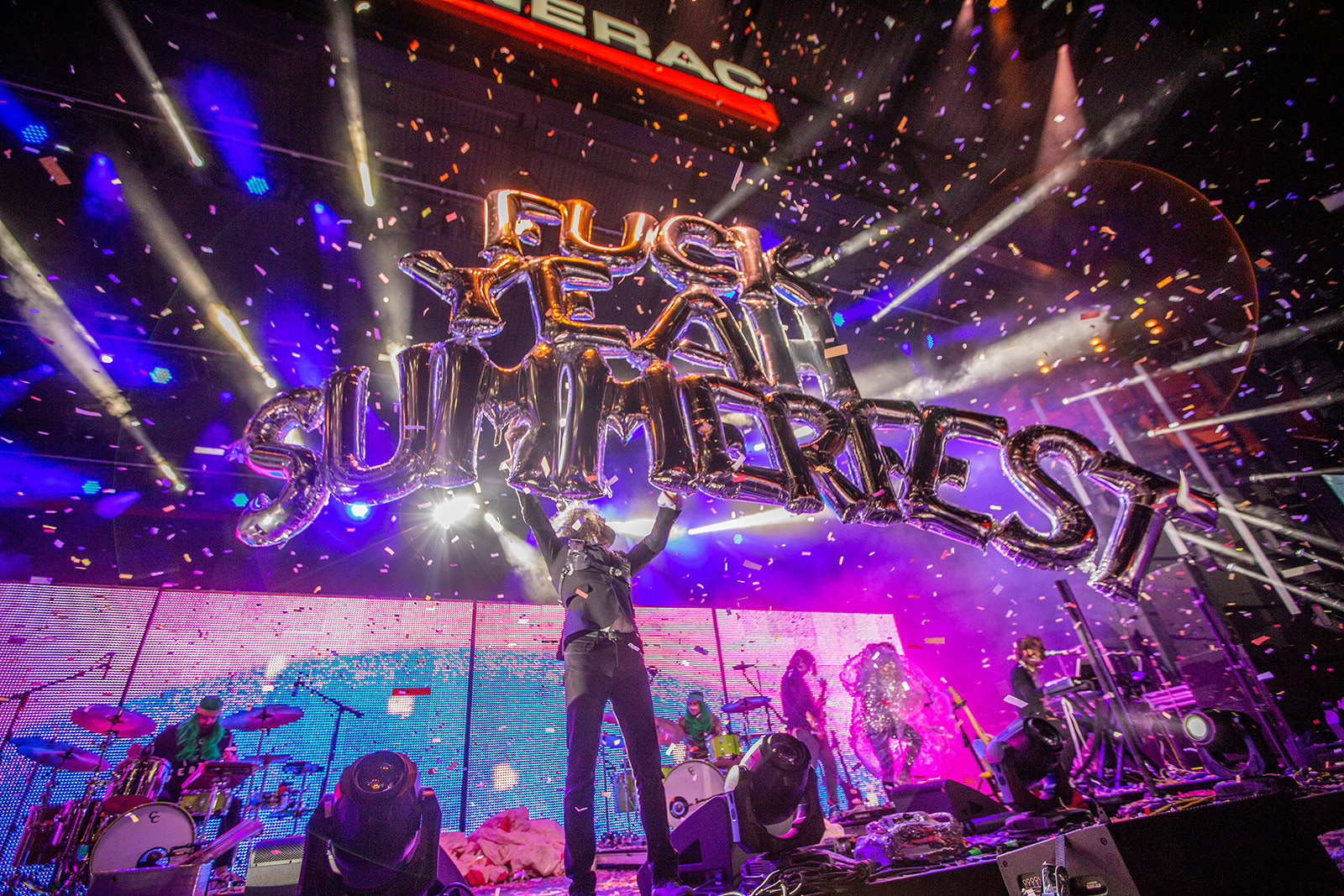 The show was more lightly attended than I expected, but even though they started 15 minutes late, standing in a bubble, Wayne Coyne made sure to point out that he didn't want to spread Covid to the blissed out crowd. "This is such an amazing place to be … but we're not going to throw out balloons. That's just for today." By the end of the night, Coine rotated through multiple bubbles.
In those bubbles, with smaller bubbles floating over the crowd, the 60-year-old lead singer started with "All The Movies On Quaaludes" and didn't stop for 70 minutes. More stripped down and less elaborate than their typical sets, I'm told, there were still confetti cannons shot aplenty, as well as a giant white inflatable robot gracing the stage during "Yoshimi Battles the Pink Robots, Pt. 1."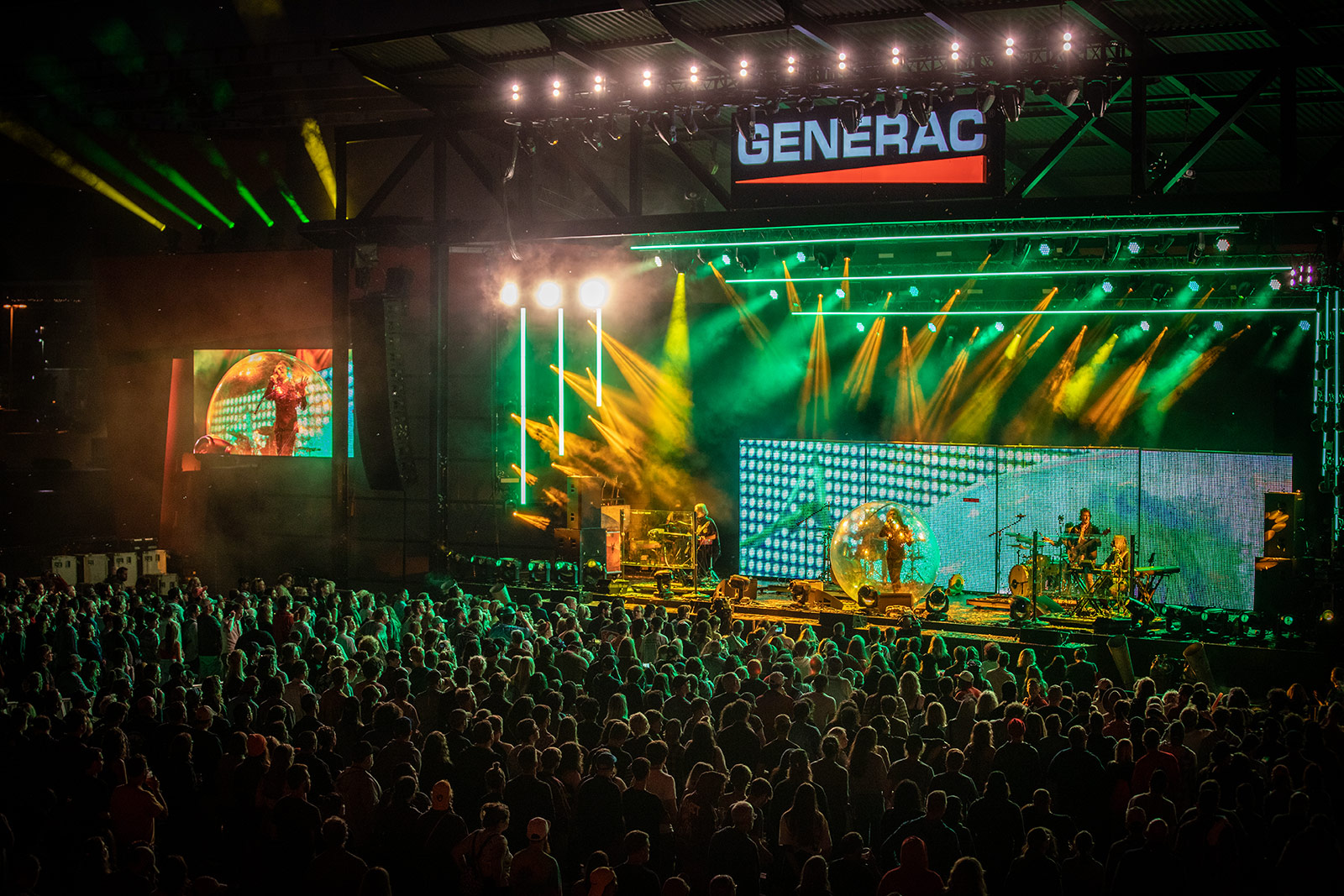 Double drum kits and a fuzzed out vocals, it all sounded pretty good.
Coyne is the last original member of the band, but they sounded great as they floated out a Mylar balloon during "She Don't Use Jelly." We all ate it up.
As temperatures dropped at the lakefront to an even cooler 61 degrees by the end of the show, I found myself a little bit in awe that the Big Gig even happened. Major kudos to organizers for pulling it off, as well being the first venue in Milwaukee to mandate proof of vaccination or a negative Covid test.
It was almost a year ago that The Flaming Lips staged their "bubble concert" in their hometown of Oklahoma City to protect the audience from the skyrocketing Covid cases – now we were unbubbled once again, amidst a crowd of fans who have protected themselves and their community, and I was writing a review after two years without seeing a live show. Kind of profound, at least for me.
And so, Coyne, who is no stranger to space bubbles, put a trippy bow on Summerfest and offered me optimism that next year will probably once again be "normal." Maybe. Hopefully.
"We'll be back at Summerfest and will play like crazy," said Coyne. "Live music will combine to defeat the Coronavirus."
"Please remember to take care of each other," he said toward the end of the 70 minute set.
What a cool, weird way to close out a Summerfest, even if was more than two months late.
Set list (I think:)
At the Movies on Quaaludes
All We Have Is Now
Race for the Prize
Yoshimi Battles the Pink Robots, Pt. 1
Flowers of Neptune 6
She Don't Use Jelly
Silver Trembling Hands
Will You Return / When You Come Down
Assassins of Youth
Mother I've Taken LSD
The W.A.N.D.
Sleeping on the Roof
Encore:
Do You Realize??
Andy is the president, publisher and founder of OnMilwaukee. He returned to Milwaukee in 1996 after living on the East Coast for nine years, where he wrote for The Dallas Morning News Washington Bureau and worked in the White House Office of Communications. He was also Associate Editor of The GW Hatchet, his college newspaper at The George Washington University.
Before launching OnMilwaukee.com in 1998 at age 23, he worked in public relations for two Milwaukee firms, most of the time daydreaming about starting his own publication.
Hobbies include running when he finds the time, fixing the rust on his '75 MGB, mowing the lawn at his cottage in the Northwoods, and making an annual pilgrimage to Phoenix for Brewers Spring Training.