Local. Fresh. Seasonal. Delicious. Any or all of these words could be used to describe Chef Dana Spandet's wood-fired pizza.
The Bartolotta Restaurants alum with a five-year tenure as executive chef for Tall Guy and a Grill Catering, launched her new pizza business, Flour Girl & Flame, in mid-August. And she's been serving up locally-focused signature 10-inch pies from her wood-fired pizza trailer at locations across the city ever since.
Just this past weekend, Spandet and staff served a moderate crowd at the scaled back open-air Vliet Street fall festival, serving up a menu of wood-fired pizzas and housemade bialys.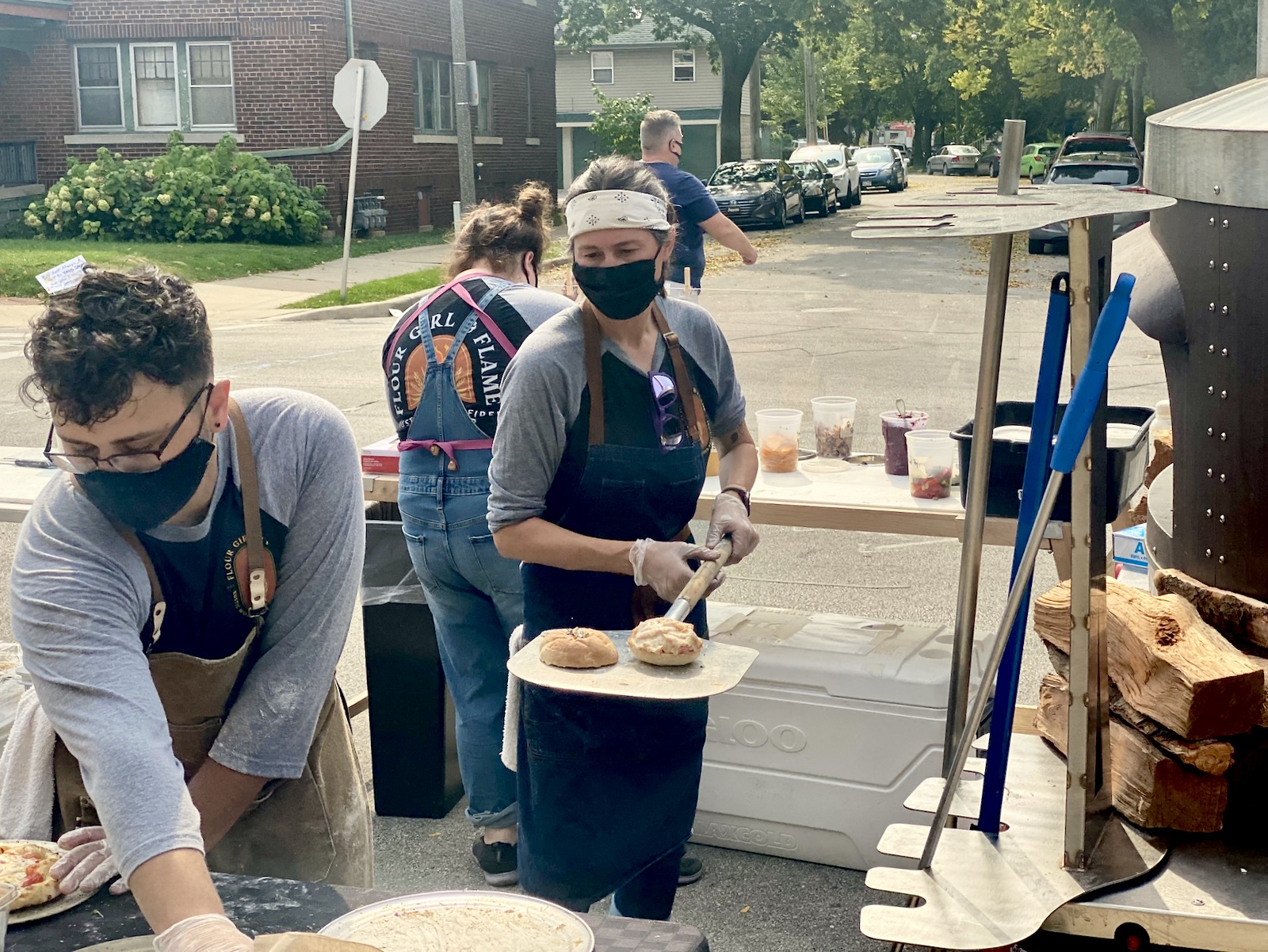 Pizza offerings included the Wisco Margherita with tomato, basil, mozzarella and garlic ($12); The Meats with tomato sauce, fennel sausage or pepperoni, caramelized onions, house pickled peppers and mozzarella ($14), Drop the Beet with beet pesto, smoked butternut squash, mozzarella and arugula ($13); and the Foraged Mushroom with roasted garlic cream sauce, local foraged mushrooms, Blakesville Creamery goat feta and arugula ($15, pictured below).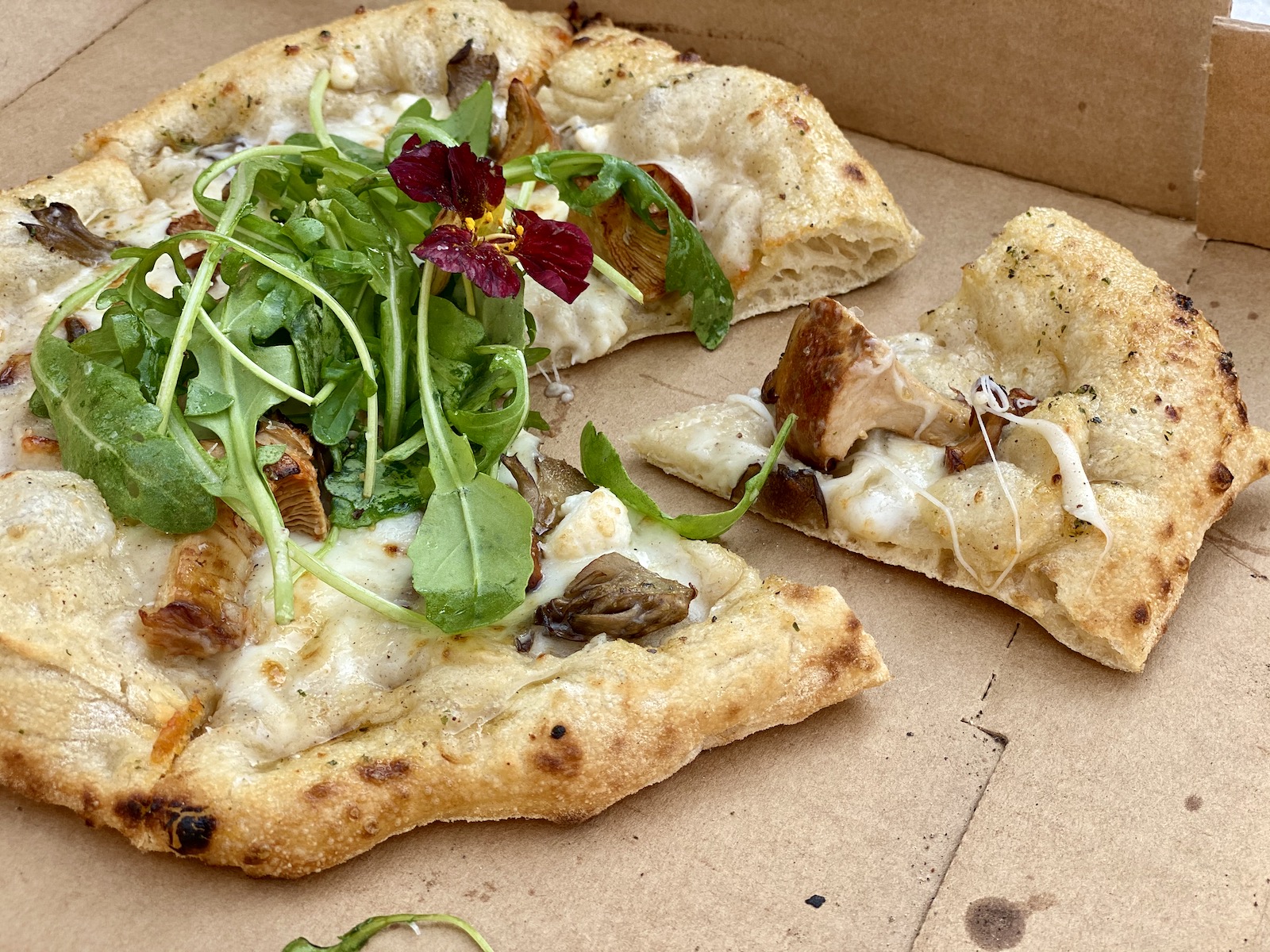 The pizza crust is made with 00 flour milled from heirloom wheat grown in Wisconsin; the dough undergoes a 48-hour fermentation period before being formed and baked in the wood-fired oven.
The resulting crust is moderately thin, but supple and airy, with a slight crispness on the exterior and a pleasant chew. Its flavor is moderately complex with a distinctive wheatiness. In the case of the Foraged Mushroom, it was complemented by the deftly applied toppings which balanced elements of earthy, rich and garden fresh with each bite.
Take a look and you'll see that every pizza is topped with a signature element: an edible flower from Baby Mama Botanicals.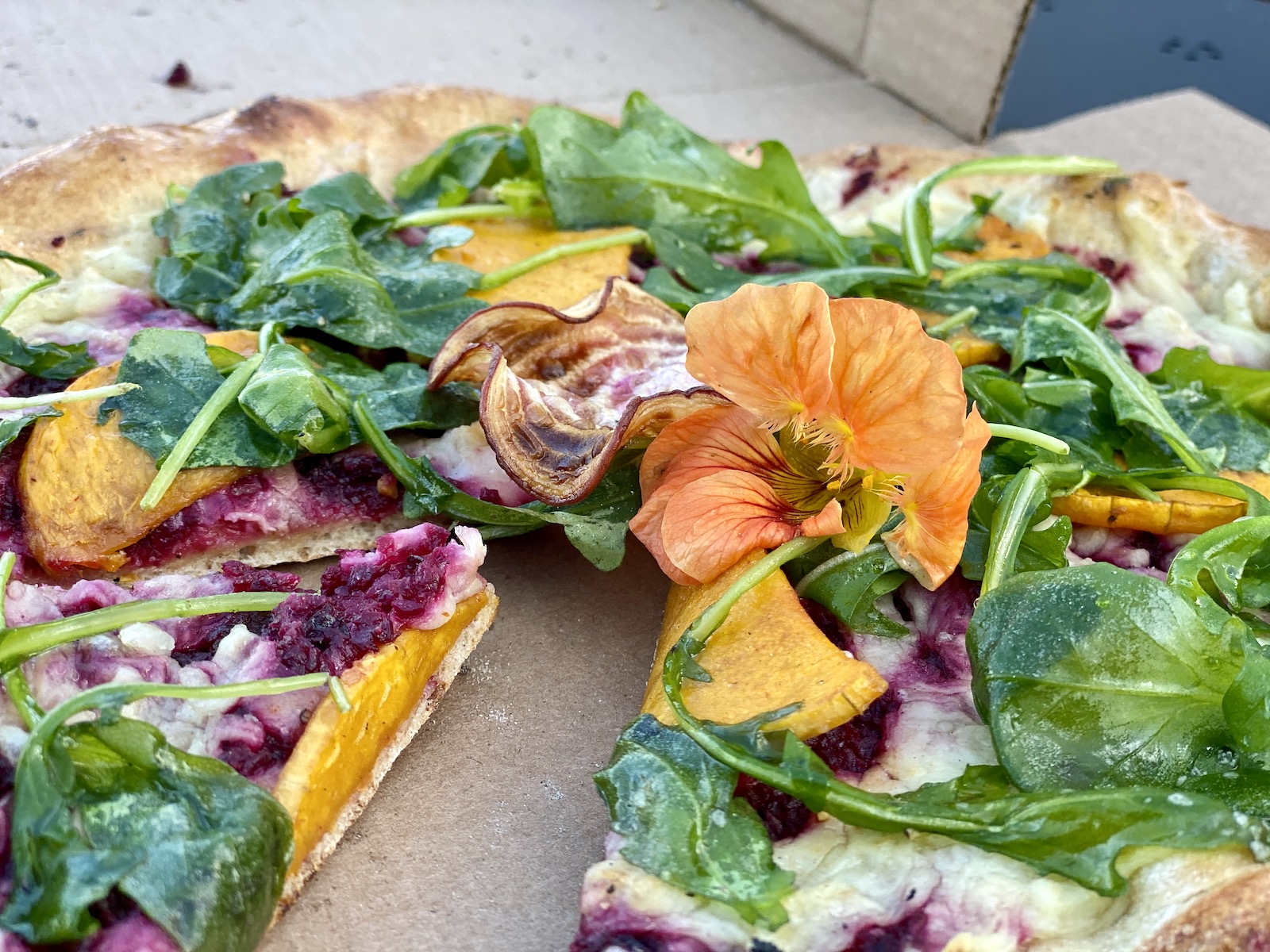 The bialys, their tops stuffed with the traditional cooked onions and poppy seeds, were filled with hot ham and melted maple cheddar. The dough was light and yeasty with a slight smokiness from the cherry wood ($7). They made a perfect autumnal hand-held lunch.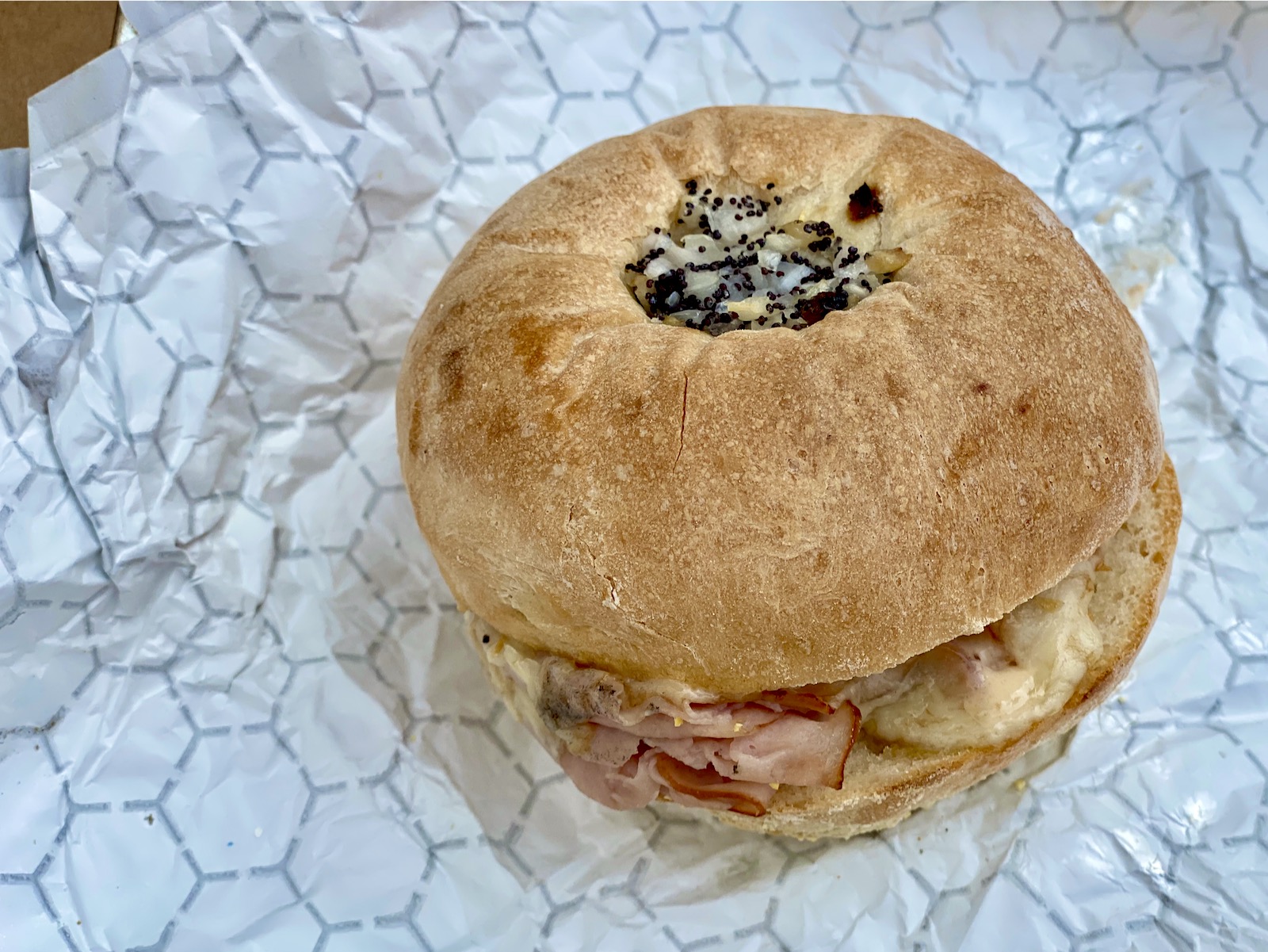 A passion fueled by flame
The idea for the pizza trailer seeded itself months ago as Tall Guy and a Grill made the pivot from catering to carry-out during the early weeks of the COVID-19 pandemic.
"We struggled a bit at first," Spandet says. "But then we started cooking food on a wood burning Santa Monica grill that Milwaukee Blacksmith fashioned for us. We rolled it out on the sidewalk in front of the kitchen and started using it for carry-out. We were burning kiln-dried Wisconsin cherry wood, so you could smell us a mile away, and it really caught the attention of passersby."
Fast forward a few weeks and Spandet says she received a random email from a company out of Denver, Colorado that makes mobile pizza trailers. Intrigued, she gave them a call. The more she learned, she says, the more intrigued she became.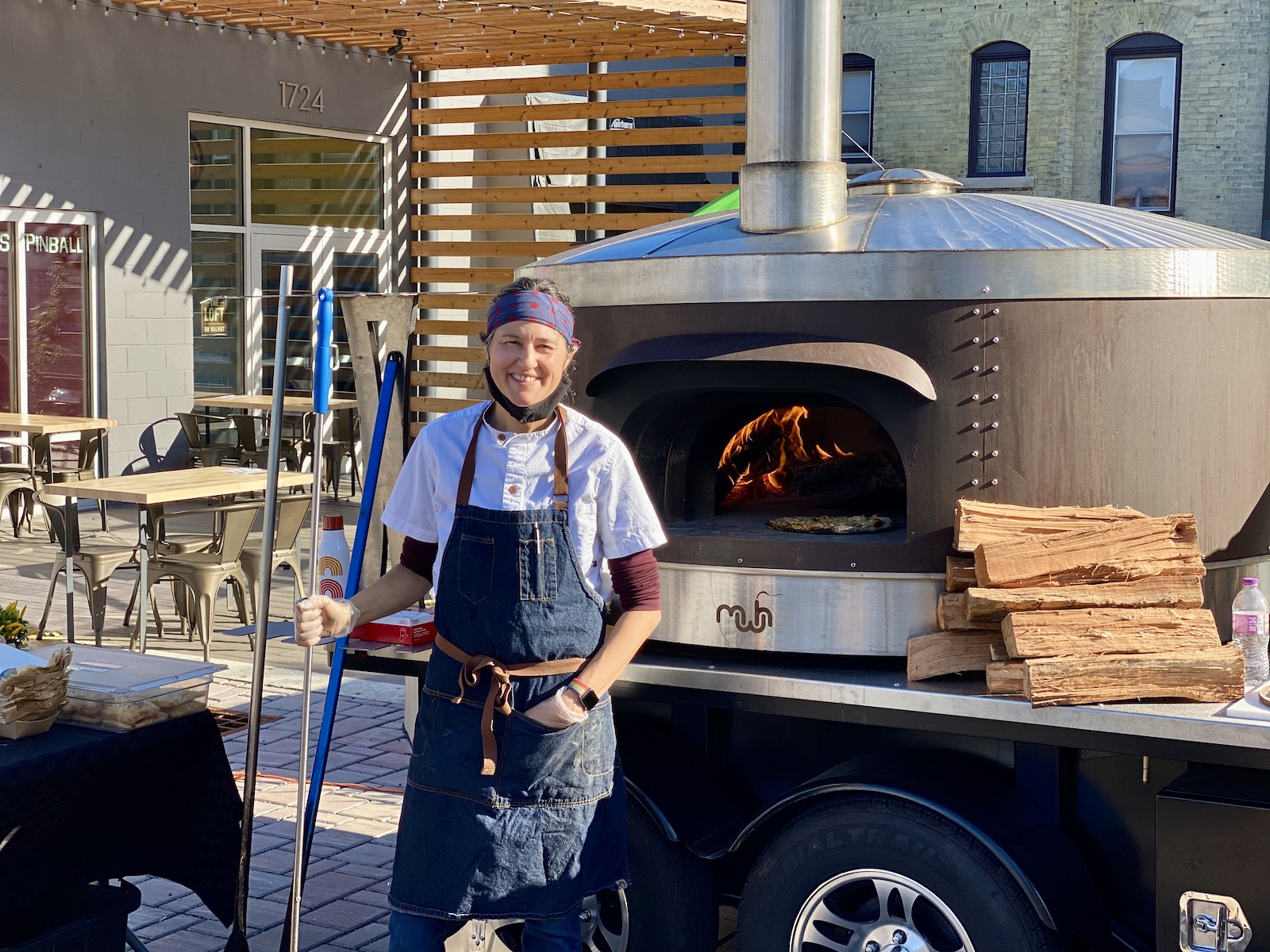 "I've always been completely obsessed with pizza," she says. " It's a once a week deal at our house, and it's a food I've always taken so much comfort in. Then you have the wood fire. Fire is fragile and beautiful and heartwarming and it's such a powerful, primal way to cook food."
"After learning more about the pizza trailers, I started researching and devouring every book I could find on wood-fired pizza," she says. "It got to the point that I literally couldn't sleep at night."
At that point, Spandet discussed the idea of starting her own wood-fired pizza business with Dan Nowak, owner of Tall Guy & A Grill Catering.
"He was all in," says Spandet, noting that he immediately invested in the woman-owned, LGBT-owned business by agreeing to allow her to use the Tall Guy kitchen for any needed prep.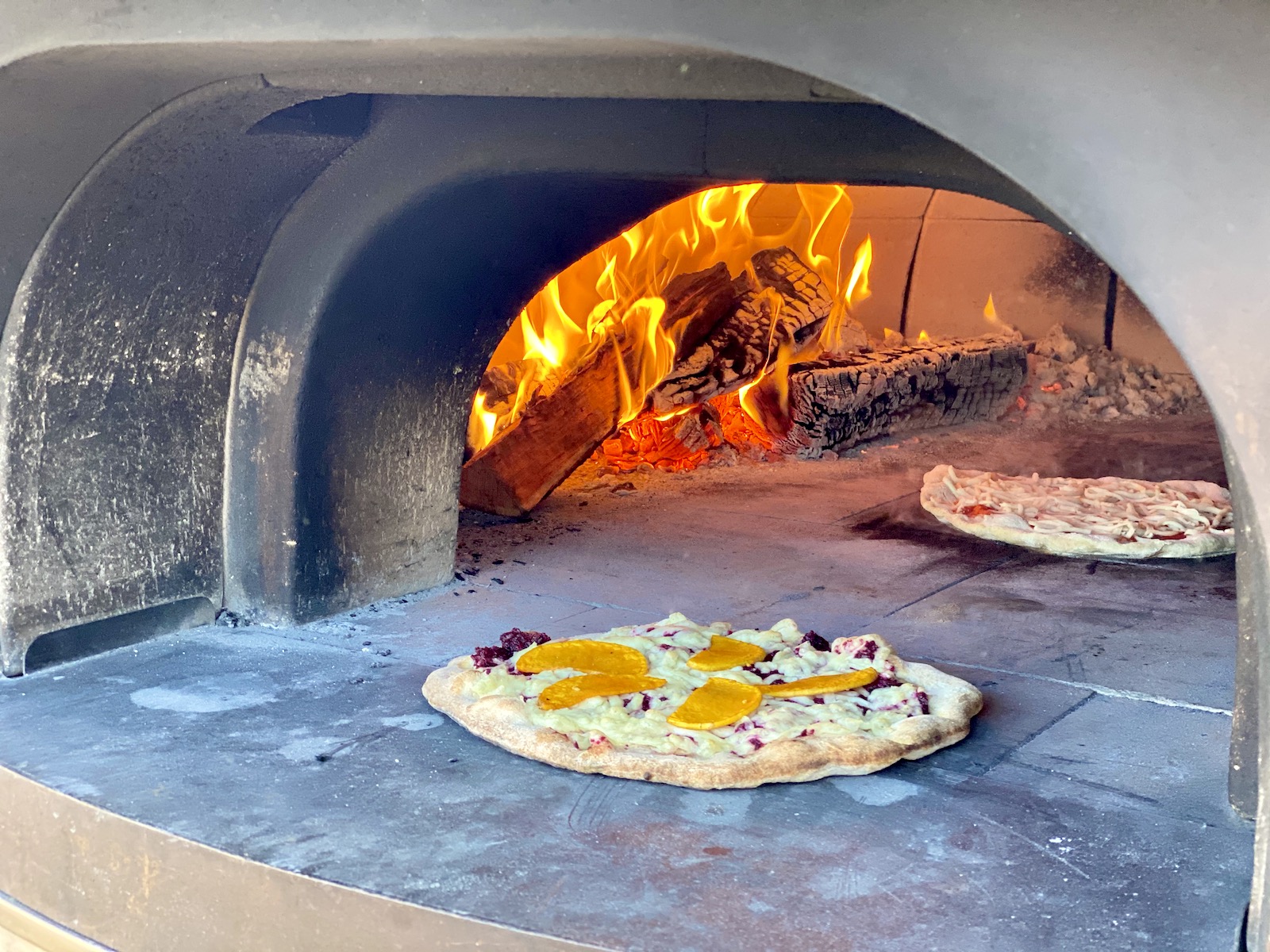 From there, the remaining stars aligned. Serendipitously, Spandet found a pizza trailer for sale locally. It had been used in 2018 and 2019 by a business called Cottonwood Trailer Pie; but when the owner made the decision to move to Maine, he put it up for sale.
The 15-foot, three and a half ton pizza trailer is equipped with a Le Panyol oven designed with a metal exterior and a refractory Larnage clay interior that fires at levels up to 900 degrees, cooking a pizza in about 90 seconds.
"It's awe-inspiring," says Spandet. "You can cook ribs in it and bake for days and days, since it retains heat so well."
As a result, Spandet says they're optimizing on the carry-over heat and using the oven to roast vegetables and bake items like breads, hand pies (like the dirty apple chai pie pictured below) and other ancillary items.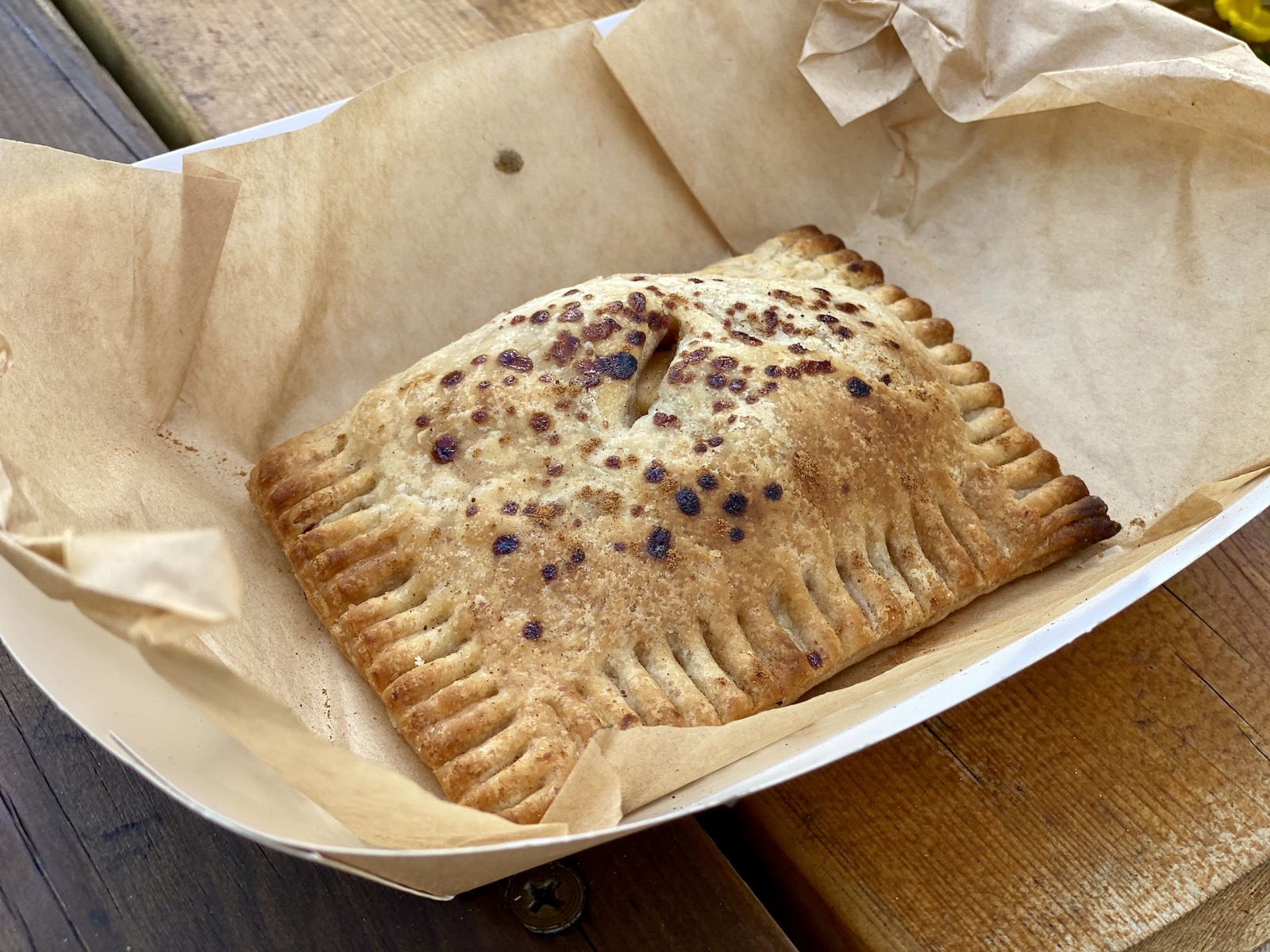 Local stewardship
Spandet says that Flour Girl and Flame is fueled by her passion for both pizza and the magic of live fire cooking; but also her passion for supporting local farmers and purveyors, from farms to makers like Underground Meats and Dead Bird Brewing from whom she sources vegan mozzarella cheese.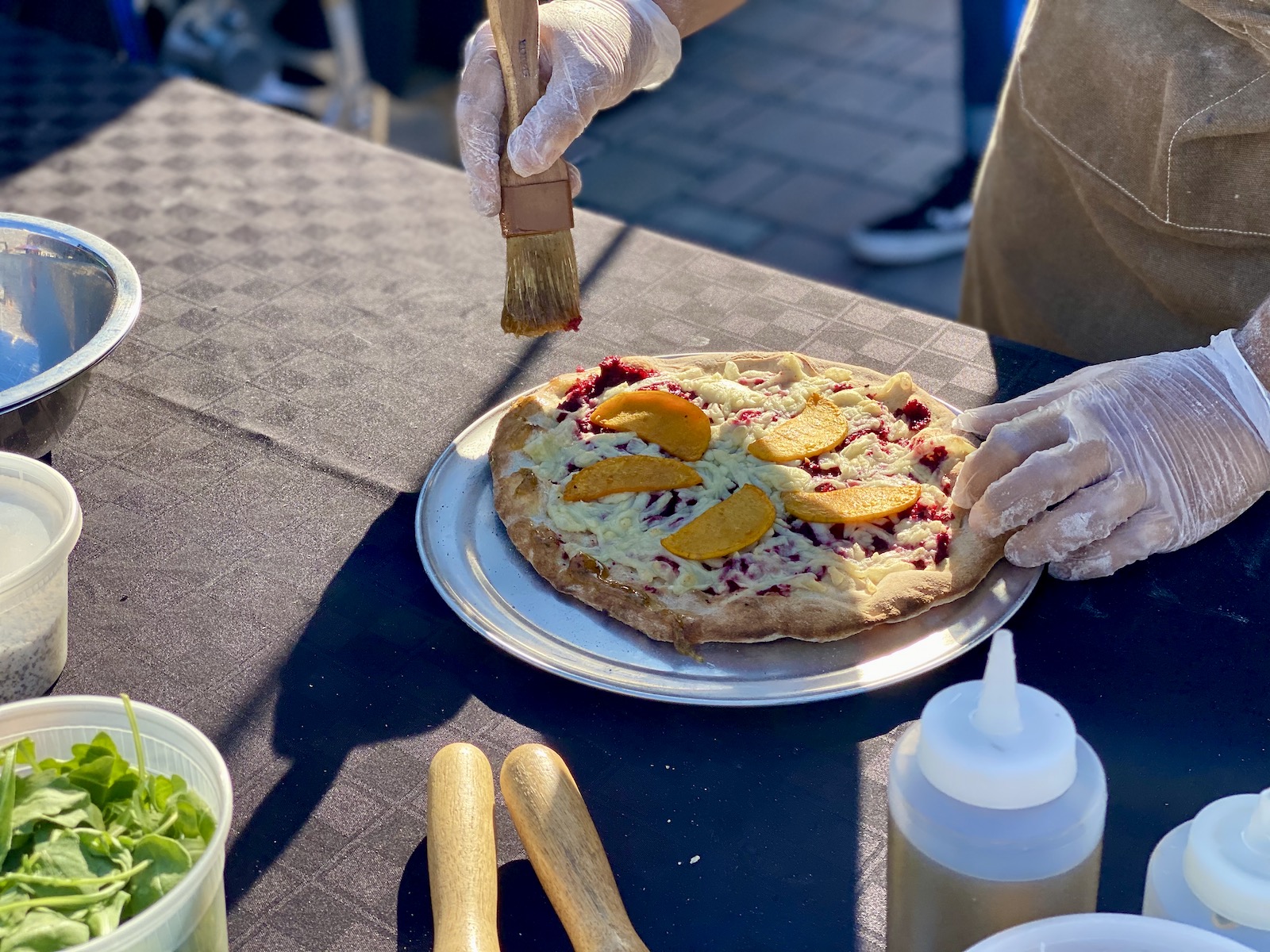 But she says Flour Girl & Flame also presents her with an opportunity to take local sourcing to a new level.

"It's been really important to me to foster inclusion in the choices I make in terms of sourcing. I want to support women growers, LGBT farmers, Black farmers…" she says. "It's about not only highlighting who is growing the food, but also why. It's about understanding our producers, getting to know them and supporting the back-breaking work that they do. It's so inspiring working shoulder-to-shoulder with folks who work so hard and make chefs look so good."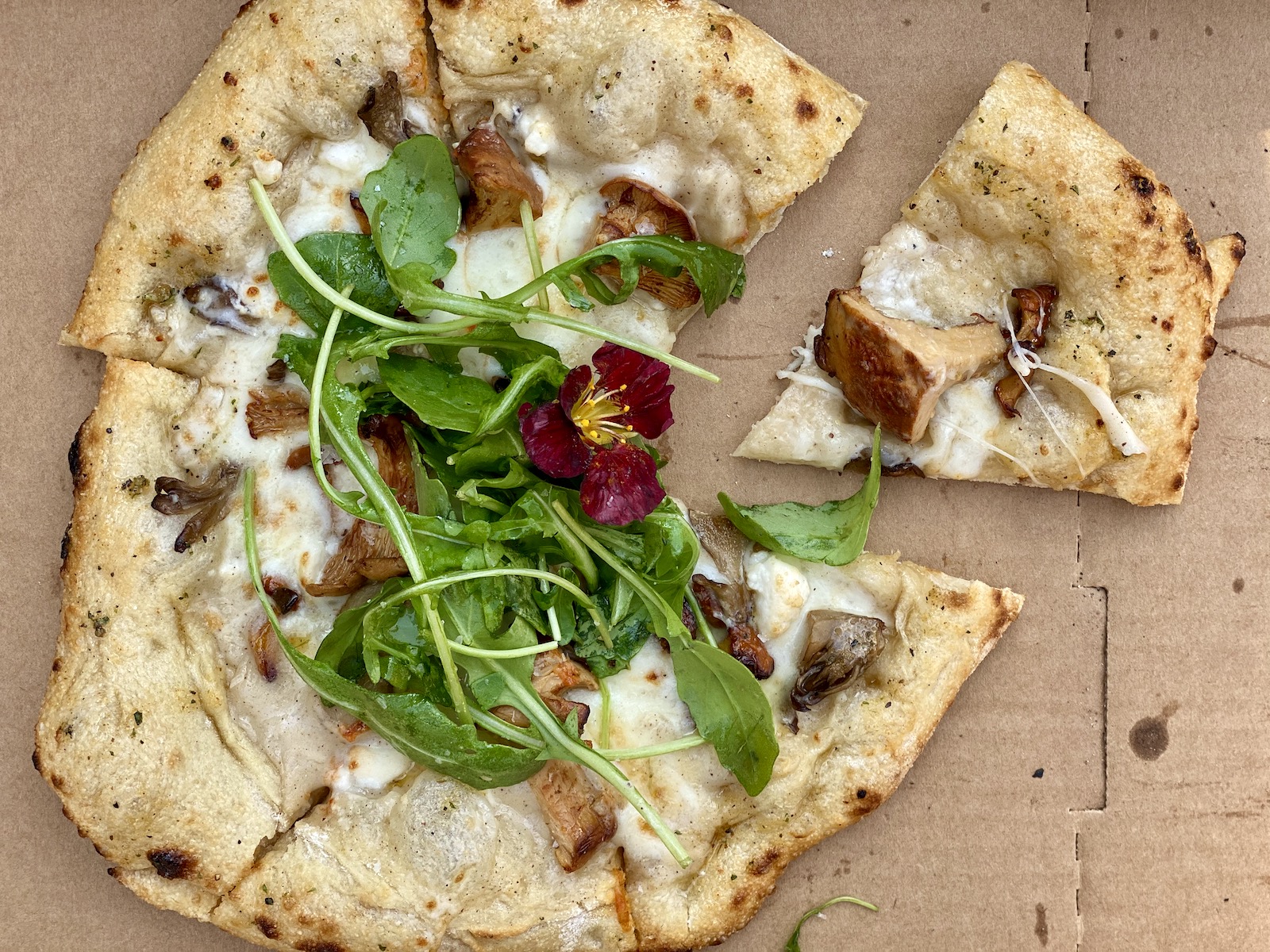 In keeping with that goal, Spandet says she's also made a vow to give back to the community. Her Community Dough program ensures that a portion of proceeds is given back to a local organization. Thus far, she has supported the work of The Tandem, Sherman Phoenix and Acts Housing, an organization that works with families to circumvent the traditional barriers (credit, savings, financial, language, etc.) to home ownership.
In addition to pop-up events, Spandet offers catering for weddings and other events, with menus featuring a variety of rustic wood-fired cuisine (and pizzas, of course).
Here's where you can find them next: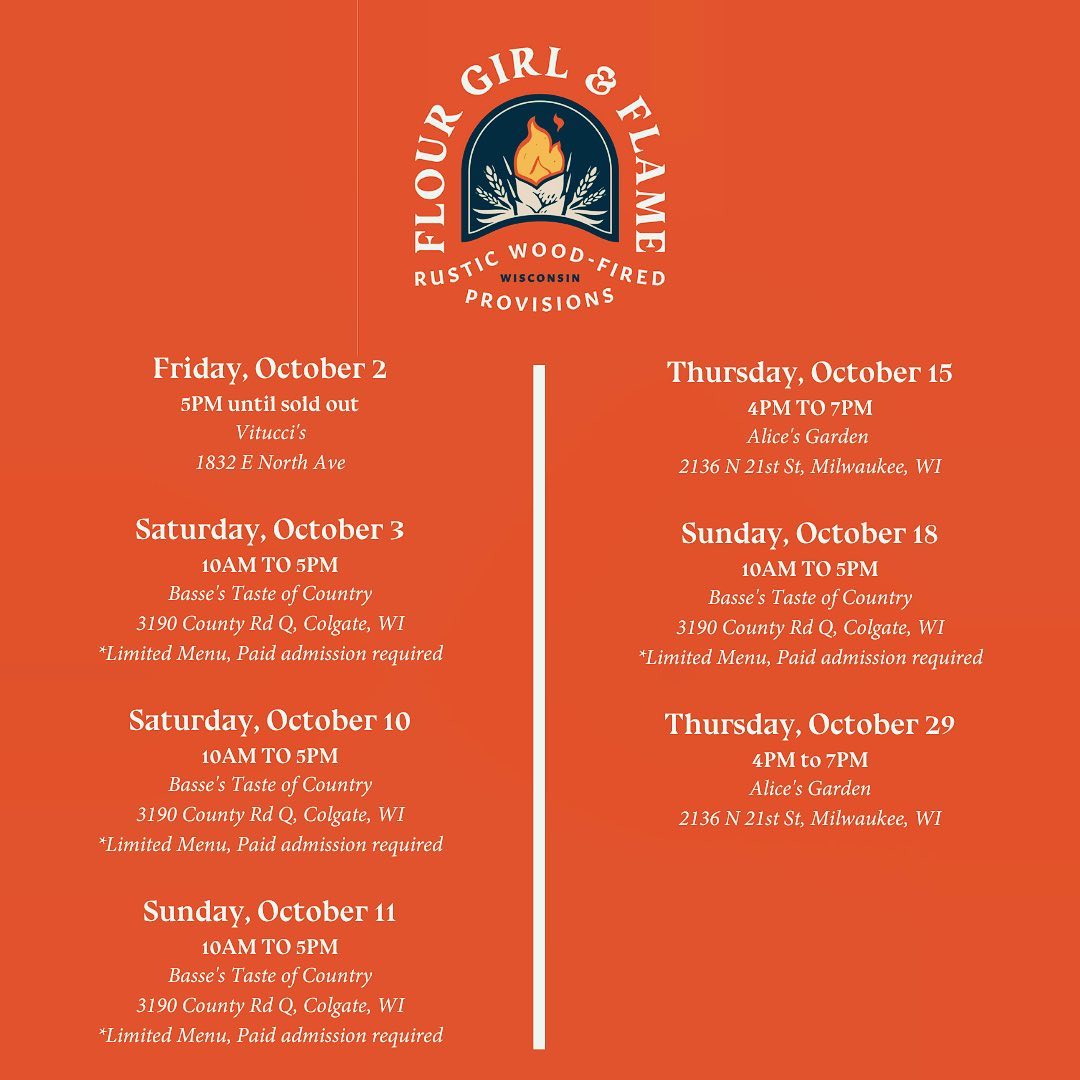 Watch the Flour Girl & Flame Facebook and Instagram feeds for more information and updates.
Lori Fredrich (Lo) is an eater, writer, wonderer, bon vivante, traveler, cook, gardener and girlwonder. Born and raised in the Milwaukee area, she has tried to leave many times, but seems to be drawn to this quirky city that smells of beer and alewives.
Some might say that she is a little obsessed with food. Lo would say she is A LOT obsessed with food. After all, she has been cooking, eating and enjoying food for decades and has no plans to retire anytime soon.
Lo's recipes and writing have been featured in a variety of publications including GO: Airtran Inflight Magazine, Cheese Connoisseur, Cooking Light, Edible Milwaukee, Milwaukee Magazine and the Milwaukee Journal Sentinel, as well as on the blog Go Bold with Butter, the web site Wisconsin Cheese Talk, and in the quarterly online magazine Grate. Pair. Share.