A shame that Summerfest went to all that trouble to renovate and improve the American Family Insurance Amphitheater, just for Dave Grohl and the Foo Fighters to blow the roof off the new place and rock it into rubble at its reopening show. A glorious, awesome shame.
After a two-year shuttered silence, the Amp rocked back to life thanks to the Foo Fighters and a loud, jam-packed crowd on Friday night ready to sing, bob and dance out a year's worth of reserved energy – a vibe shared on stage by Grohl, who seemed thankful, gobsmacked and full of raucous glee to be back in front of fans once again, making just their second stop on their return tour. (Cincinnati marked their on-the-road debut on Wednesday.) Grohl promised the Amp crowd all 260 songs from across the Foo Fighters' long career, and while the band understandably didn't pull off that marathon-like feat, they got damn close, delivering a two-and-a-half-hour unrelenting onslaught of everything concert fans missed over the past year.
The whole performance was an old-school rock show thrill, perfectly balanced – non-stop music with enough regular interludes and personality to feel unique and special; a set list smartly mixing new material with the hits, arranged with slight deviations in genre and energy so the show never felt repetitive – but there were several moments that stood out amongst the stellar night. Here are nine of the best memories from the Amp's rockin' return.
1. Allow me to reintroduce myself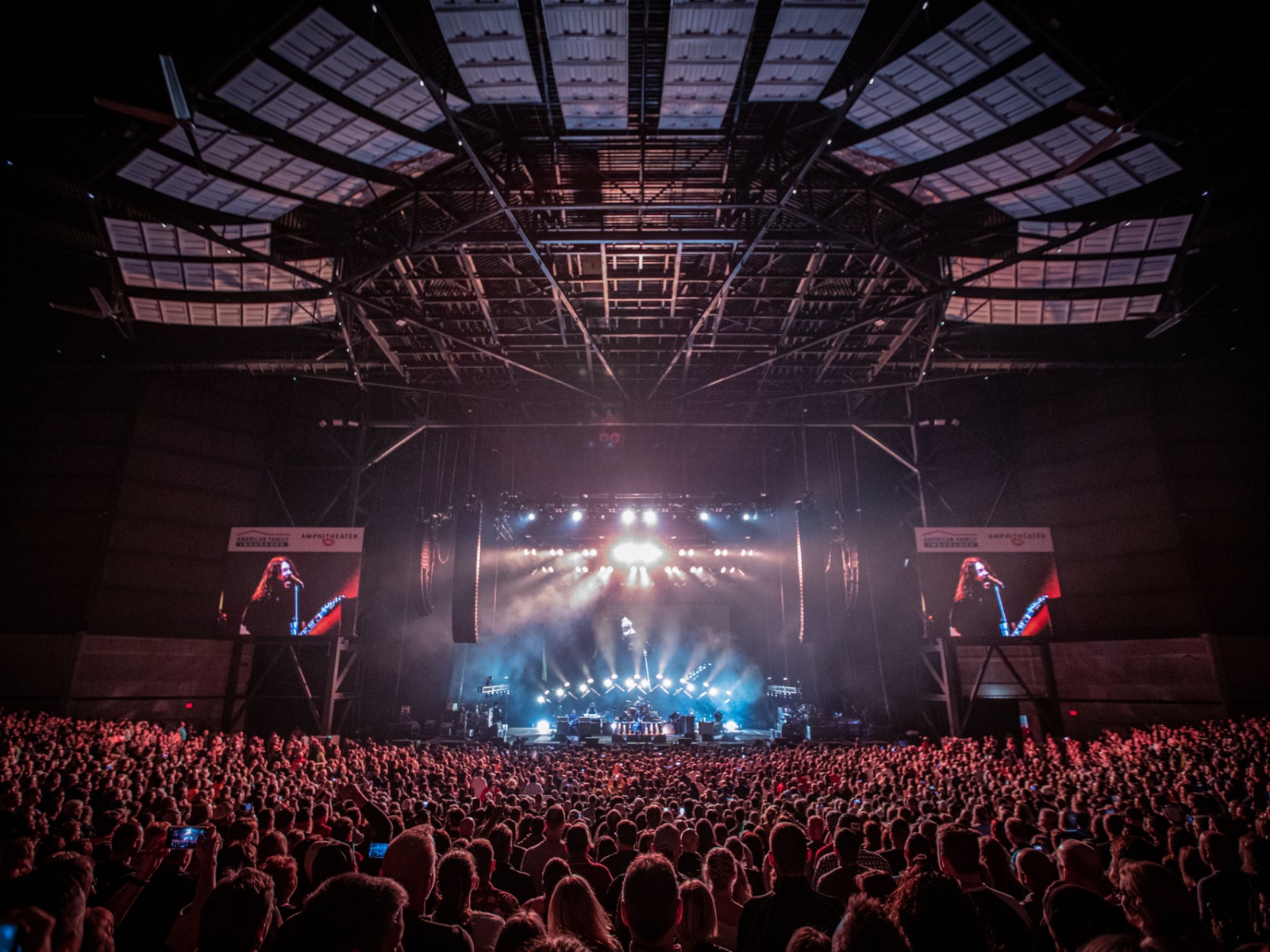 The Foo Fighters weren't the only ones reintroducing themselves to a Milwaukee stage on Friday night – the stage itself was saying hello once again. After a year-long COVID-induced quiet and more than two years since the lights last went up, the American Family Insurance Amphitheater finally got to show off its new look.
Those expecting a completely and utterly brand-new Amp might've been whelmed, and as the first show in two years, there are surely kinks to be worked out. Plus the Foo Fighters' no-frills, classic rock show aesthetic isn't the one to show off the venue's enhanced capabilities. (The theatrics were limited to some zig-zagged stage lighting in back and concert footage on a big screen with some After Effects filters; the band and the music was instead the focus, a role they crushed.)
However, the changes made to the arena – from more aisles to improved screens to cup-holders to additional restrooms, bars and concourses – may have been subtle to some but no less substantial, and the Amp's slick new look, from the signage to the clean new paint job inside, is a massive improvement. At first glance, it seems spiritually similar to its past version – some rearranged vendors, some significantly better signage, a lot of lovely polish – but beyond that, there's much enhanced in this revamped Amp. (Any unimpressed grumbling might've also been due in part by the long lines to get in to the grounds as showtime drew perilously near. Again: kinks to be worked out.)
Most important of all for the newly enhanced stage, the show sounded absolutely terrific, able to handle Grohl's variety of blessed howls, bellows and screams for all 150 minutes.
2. Special times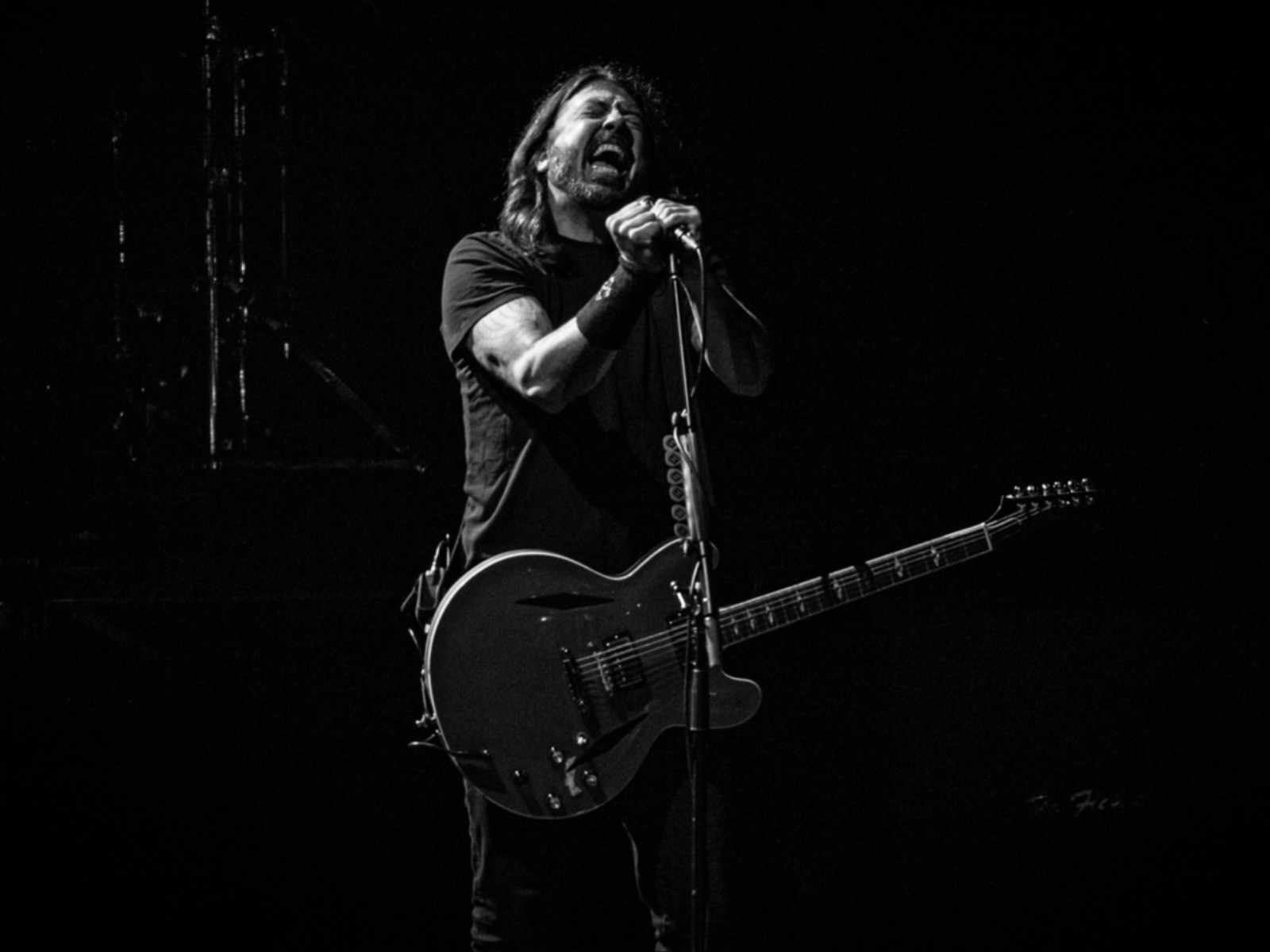 The show got off to a surprisingly mellow note as Grohl and company opened the night with a slowed-down and stripped-down rendition of "Times Like These." Performing on an otherwise blank stage with just two spotlights on Grohl and Hawkins, it was a low-key start to the show – but one that put a pointed emphasis on the hit song's inspirational lyrics about learning to live again. It was a thoughtful and emotional welcome back to concerts, and to a once-regular sight that became all too rare, before eventually the song – and the entire show – got to rocking, took off to the races and never looked back.
3. Strong start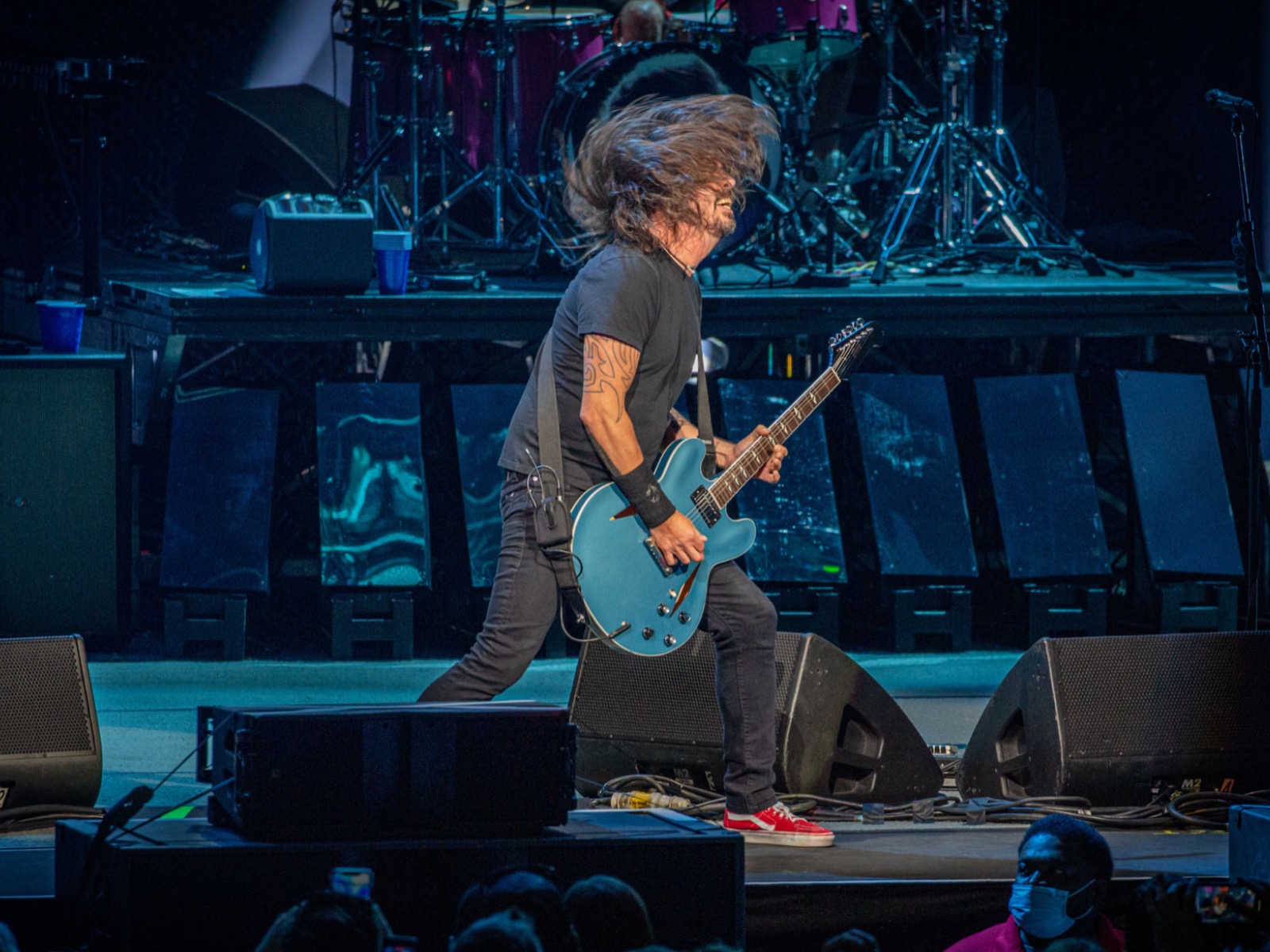 If I didn't know any better, judging by the absolute blitz of music and energy at the start of the night, you'd almost get the idea that Grohl and Foo Fighters hadn't been able to perform big live shows for over a year and were finally now able to unleash once again!
After the emotional ride that was "Times Like These," the Foo Fighters launched into a furious barrage of rocking hits and favorites, catapulting from the vigorous end of their opener to the driving, growling hit "The Pretender" to the just plain classic "Learn to Fly." Grohl was full of energy, strutting back and forth across the stage with his light blue guitar, his crowd talk honed down to wild and exuberant Tazmanian Devil shoutouts.
Even when Foo Fighters made their first dabble into their newest material from this year's "Medicine at Midnight," shifting from "Learn to Fly" right into the stompy "No Son of Mine," the energy and excitement lost no steam. It helped that the song rocks, a manic and borderline rockabilly rollick ending with a fun back-and-forth between Grohl and Taylor Hawkins on drums. If you needed a reminder of the thrill of concerts, Friday night – and especially the first few numbers – was quite the re-education, with Grohl quite the teacher.
4. Rocking off the rust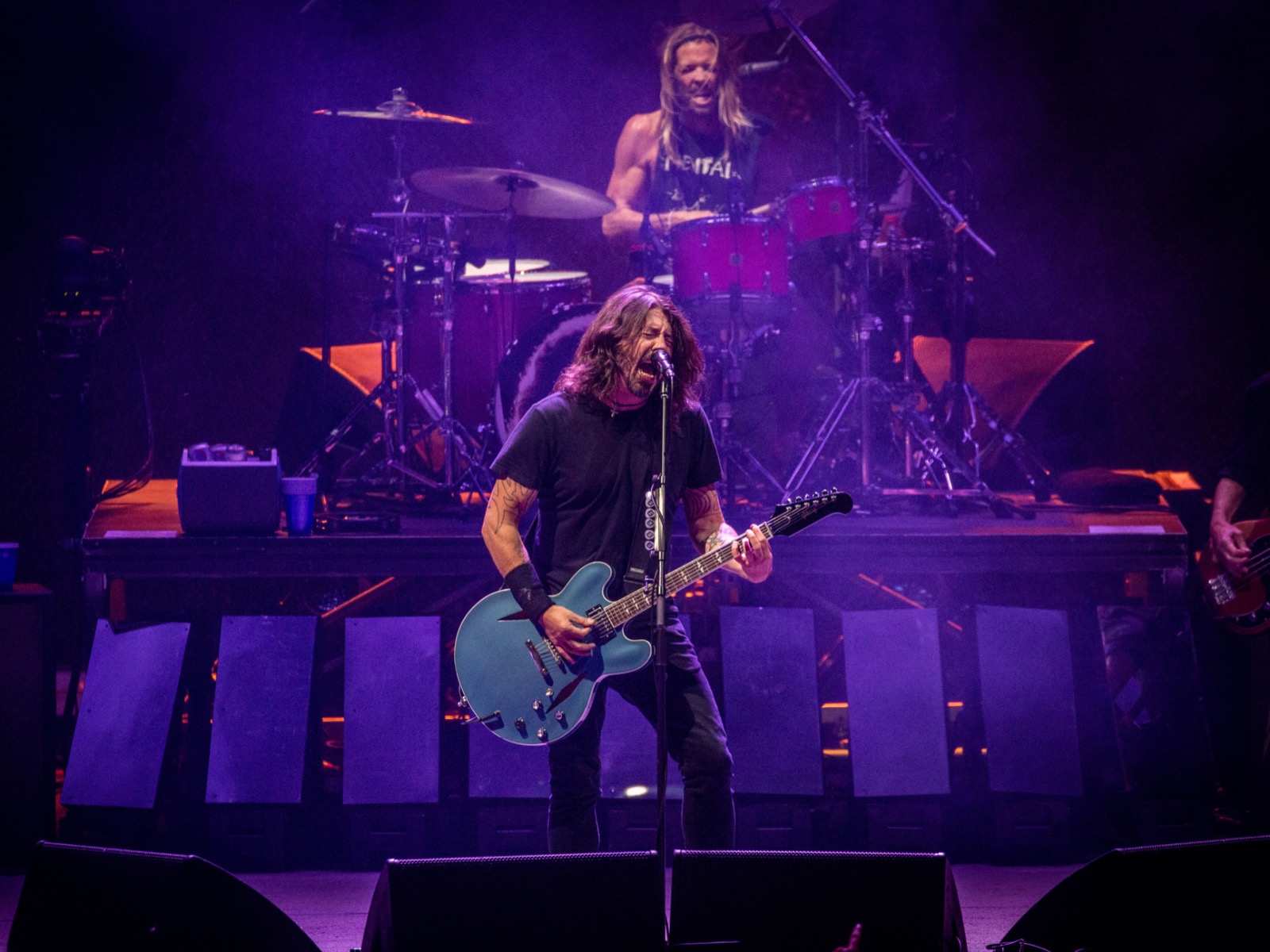 Considering this is just the Foo Fighters' second show in quite a while, it shouldn't be surprising that there would be a little rust to work off. Most of the night was as polished and crisp as the revamped amphitheater hosting it all, but at one point during the grooving banger "The Sky is a Neighborhood," Grohl briefly forgot the lyrics. Being the consummate rock professional, Grohl effortlessly worked his brainfart into the song, singing "I forgot the lyrics, but it's been a real long time" to laughs and amused applause from the crowd. Grohl and the Foo Fighters have cemented themselves as not only one of the most popular surviving rock bands currently at work, but also one of the most amiable and playful. They were there to put on a good time – and when you've got that attitude, and it's been so long since anything like Friday night, there's no way to have a bad time.
5. A heroic set list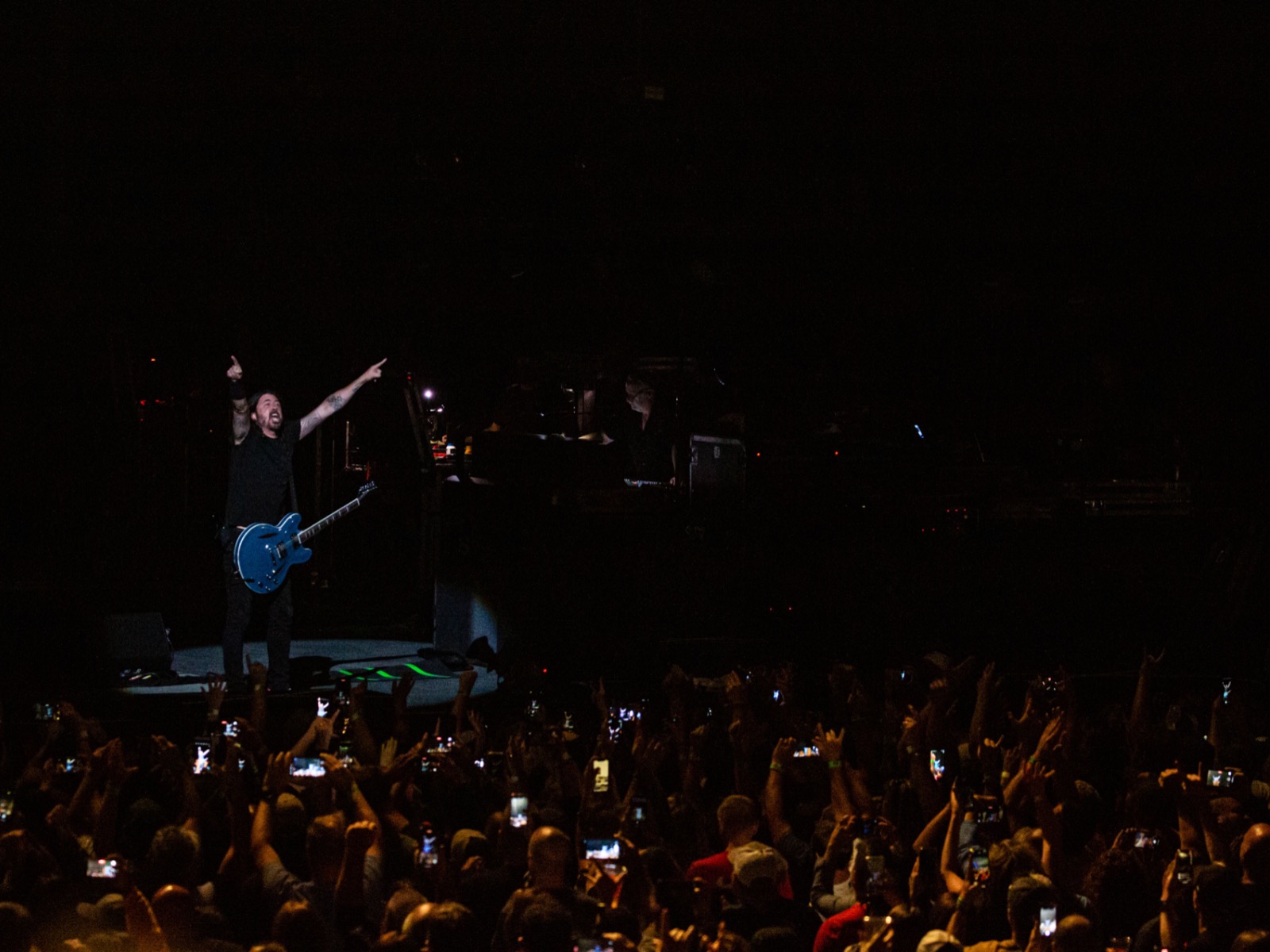 During the show, Grohl took a moment to explain the science behind a set list – trying to get to all the crowd-pleasing hits while also hitting on the latest material and trying to squeeze in some rare deep cuts for the hardcore fans in the house. That science was on display Friday night, as the Foo Fighters had a pretty perfectly assembled lineup, from the opening run of hits to bouncing from "The Sky is a Neighborhood" to "Rope" to "Shame Shame," a funky, sulky and soul-splashed new track to a duo of classics with "Breakout" and "My Hero," which got the slow-tempo treatment before bursting at the seams. There was never a long stagnation in the night – "Medicine at Midnight" was maybe the only "OK to sit down" song – and each track found a way to sound slightly different from the last so the evening never got repetitive. The Foo Fighters may not have played the 260-song set list promised, but there were no complaints to be made about what tracks made the stage on Friday night.
6. Grohl gets groovy
You should be dancing … with @foofighters at @AmFamAmp 🕺🏿💃🏿

🎥 @aManAboutFilm pic.twitter.com/b7QrkHIY93 — OnMilwaukee (@onmilwaukee) July 31, 2021
Just as you'd expect, a disco dance party broke out in the middle of our old-fashioned rock show. 2021: always full of surprises.
Inspired by the HBO documentary about the Bee Gees, as well as shutdown restlessness, Grohl and company recorded a full album of Bee Gee covers this past year and introduced the world to their groovy alter ego: the "Dee Gees." Why? To quote Grohl, "Why the f*ck not?" And while unfortunately a costume change into their stylish period-era duds didn't make an appearance, the "Dee Gees" and their unapologetically toe-tapping rendition of "You Should Be Dancing" did make it to the stage on Friday night.
It may seem like a strange fit, but considering the Foo Fighters' self-aware and goofy dad vibes, and especially Grohl's respect for his industry elders and music appreciation across genres (case in point: the recent revelation that his "Smells Like Teen Spirit" drum intro was inspired by funk bands like The Gap Band), the detour made strange sense. It helped that the cover actually sounded great too, with Grohl's growling howls transforming into a very respectable crooning falsetto. Plus, everything sounds more fun under a giant disco ball.
7. Somebody to love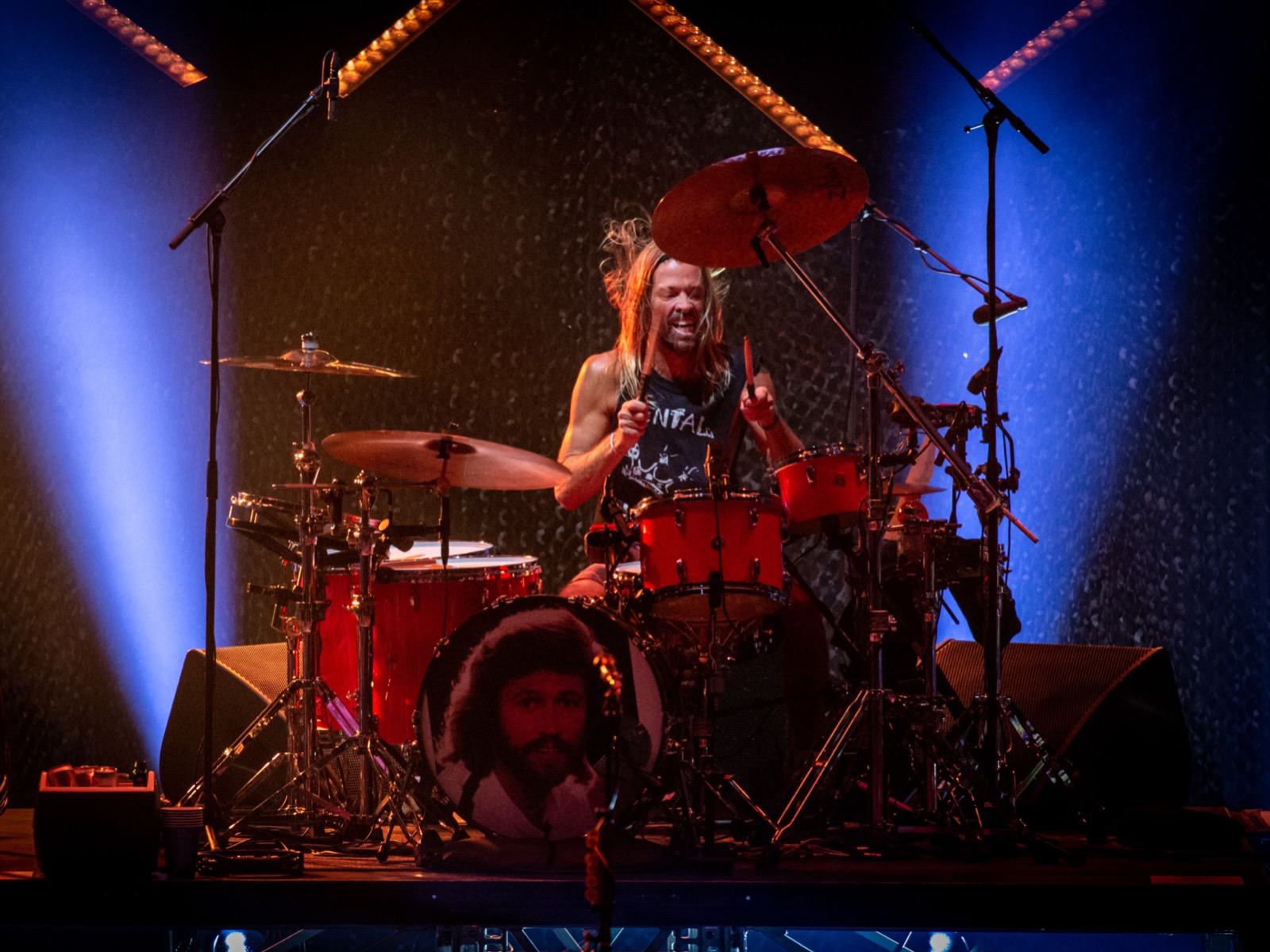 Unsurprisingly, after at least 90 minutes of roaring, singing and rollicking across the stage, Dave Grohl and his vocal chords needed a break. Thankfully, his break came in the form of a trip back to the drum kit and yet another song on Friday night's unstoppable rock rocket of a concert. While Grohl took over the drums, Taylor Hawkins stepped out and took the lead on another cover – this time Queen's "Somebody to Love." Hawkins played the part well, parading around the stage in his sleeveless shirt and swim-ready shorts like beach bum Freddie Mercury. He didn't quite have the vocal range – in fact, one of the backup singers had to come to his rescue on the song's final big ear-piercing riff, his falsetto still working its way out of quarantine – but who does? As far as breaks go, this one was a blast.
8. Saving the best (of you) for last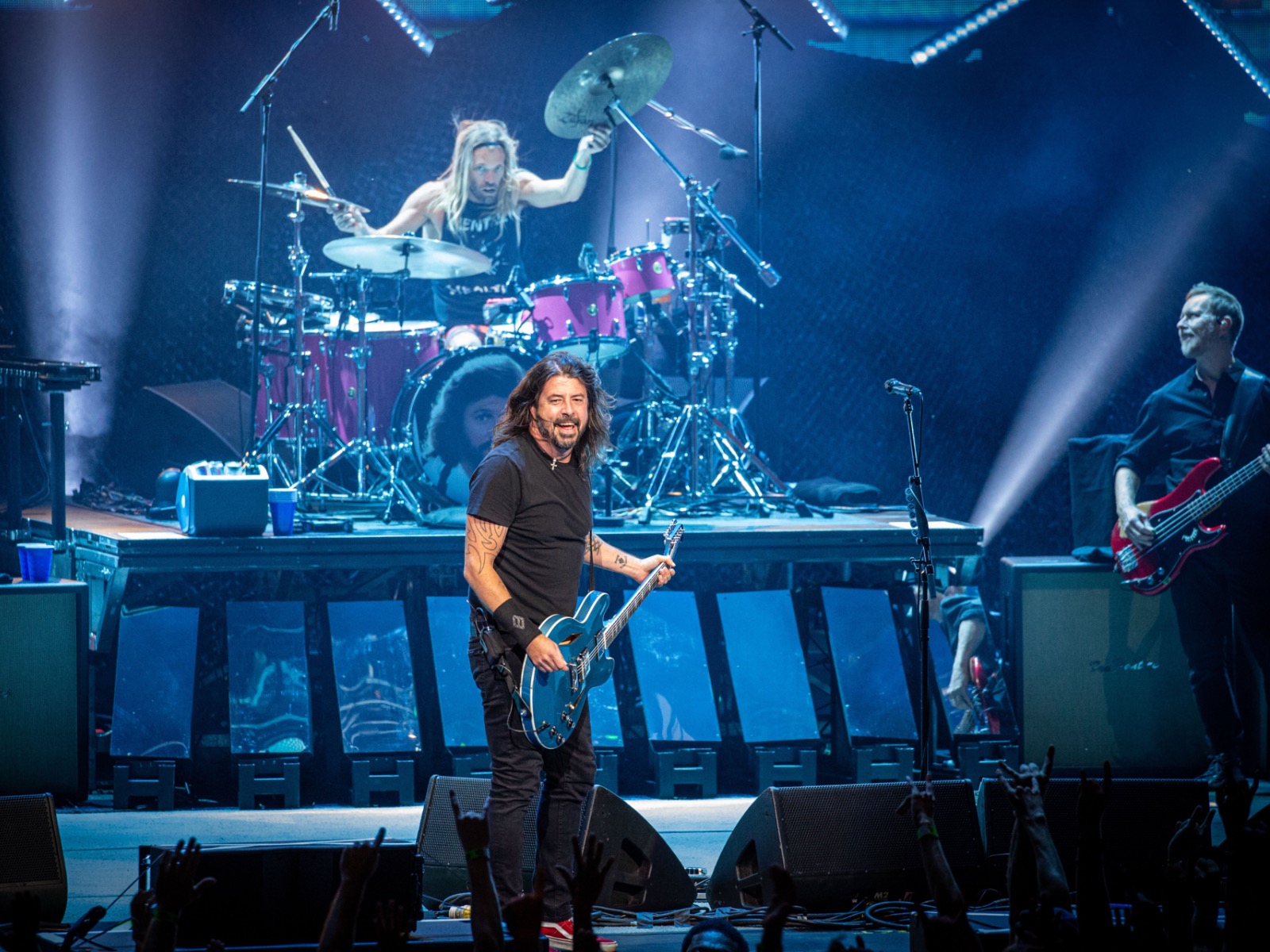 On Friday night, I learned Dave Grohl and I have something in common: We both have no time or interest in that tedious encore rigamarole, with the band pretending like they're leaving the stage even through several of their hits are still obviously to come and the crowd slapping their hands together for some arbitrary time to get songs they already know are en route. It's all fake – and worst of all, it's time that could be better spent with music.
Grohl thankfully agrees, yelling "f*ck it" to the whole ridiculous process on Friday and diving right into the night's final batch of hits, starting with "Best of You" and "Monkey Wrench" – both turned up to eleven and blown out with rocking tangents and blasts of screaming into the cheering crowd, who responded by taking over several of the "ohhhhs" on the extended bridge of "Best of You." I forgot what it's like to hear thousands of people shiver-inducingly sing the same song together in the same place, led by the same band leader. I don't want to forget again.
9. Dreams come true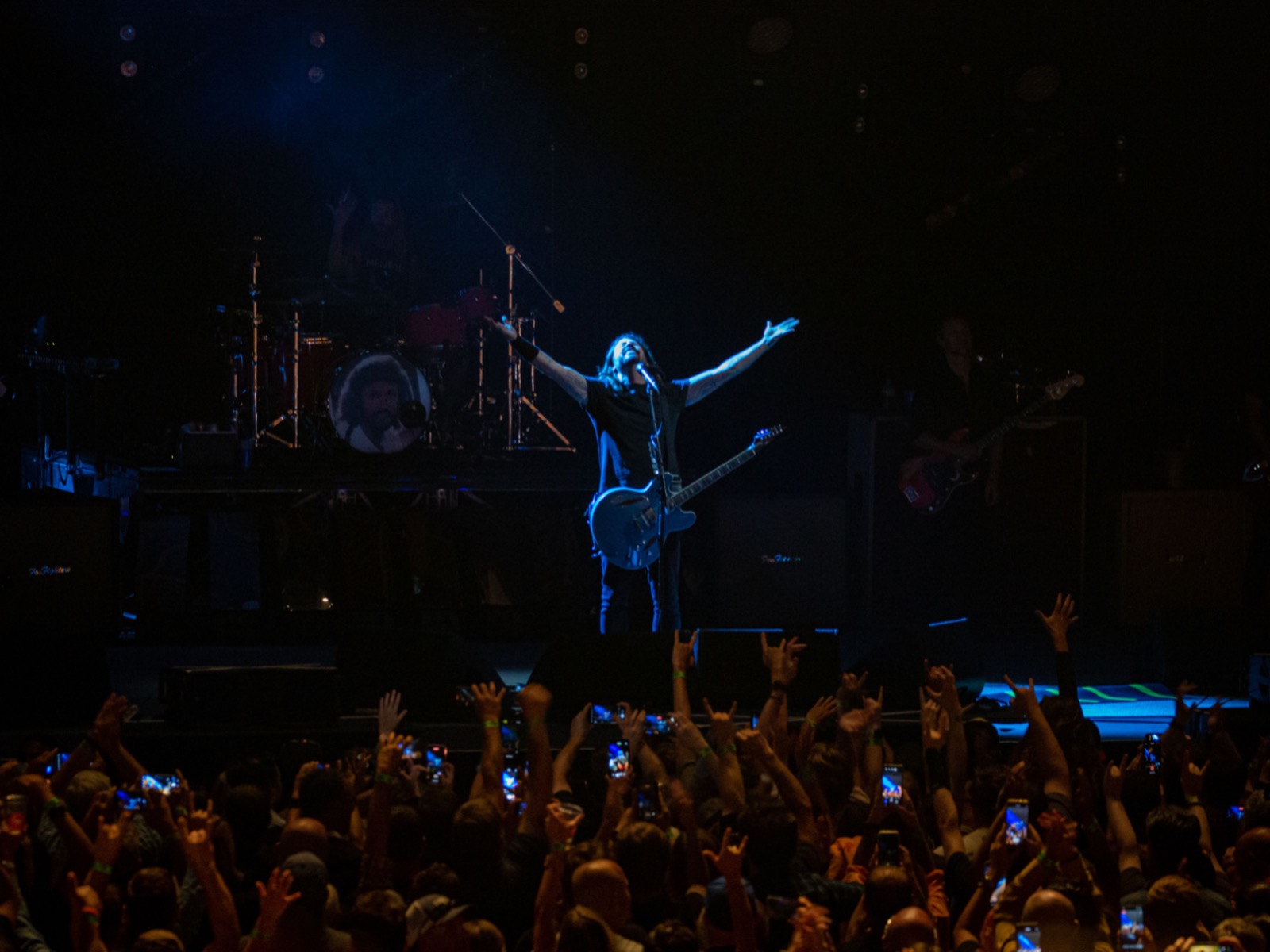 Before their final song, Grohl talked about a dream he had several times throughout quarantine, about playing a gig to a giant crowd ... only to wake up and have to pop onto "a Zoom call with some asshole." But on Friday night, that dream became reality once again – a two-and-a-half-hour dream topped off with, instead of a goodbye, a rocking rendition of their '90s hit "Everlong." It was the kind of finale that left the audience walking out wondering if everything could ever be this real forever, if anything could ever be this good again ...
Set list
"Times Like These"
"The Pretender"
"Learn to Fly"
"No Son of Mine"
"The Sky is a Neighborhood"
"Rope"
"Shame Shame"
"Breakout"
"My Hero"
"These Days"
"Medicine at Midnight"
"Walk"
"You Should Be Dancing" (Bee-Gees cover)
"Somebody to Love" (Queen cover)
"All My Life"
"Making a Fire"
"This is a Call"
"Aurora"
"Best of You"
"Monkey Wrench"
"Everlong"
As much as it is a gigantic cliché to say that one has always had a passion for film, Matt Mueller has always had a passion for film. Whether it was bringing in the latest movie reviews for his first grade show-and-tell or writing film reviews for the St. Norbert College Times as a high school student, Matt is way too obsessed with movies for his own good.
When he's not writing about the latest blockbuster or talking much too glowingly about "Piranha 3D," Matt can probably be found watching literally any sport (minus cricket) or working at - get this - a local movie theater. Or watching a movie. Yeah, he's probably watching a movie.