Love food trucks? So do we! So much so that OnMilwaukee partnered with Milwaukee World Festival, Inc. to bring the first MKE Food Truck Fest to Henry Maier Festival Park in July. Find out more here.
While working at a Starbucks around 2009, Becky and Zach Kinzer met and fell in love – not only with each other, but with the atmosphere of a coffee shop. More than a decade later, both of those loves have bloomed – into a family for Becky and Zach, and into Better Together Cafe, a mobile milkshake and espresso bar bringing that beloved communal energy to Milwaukee's streets.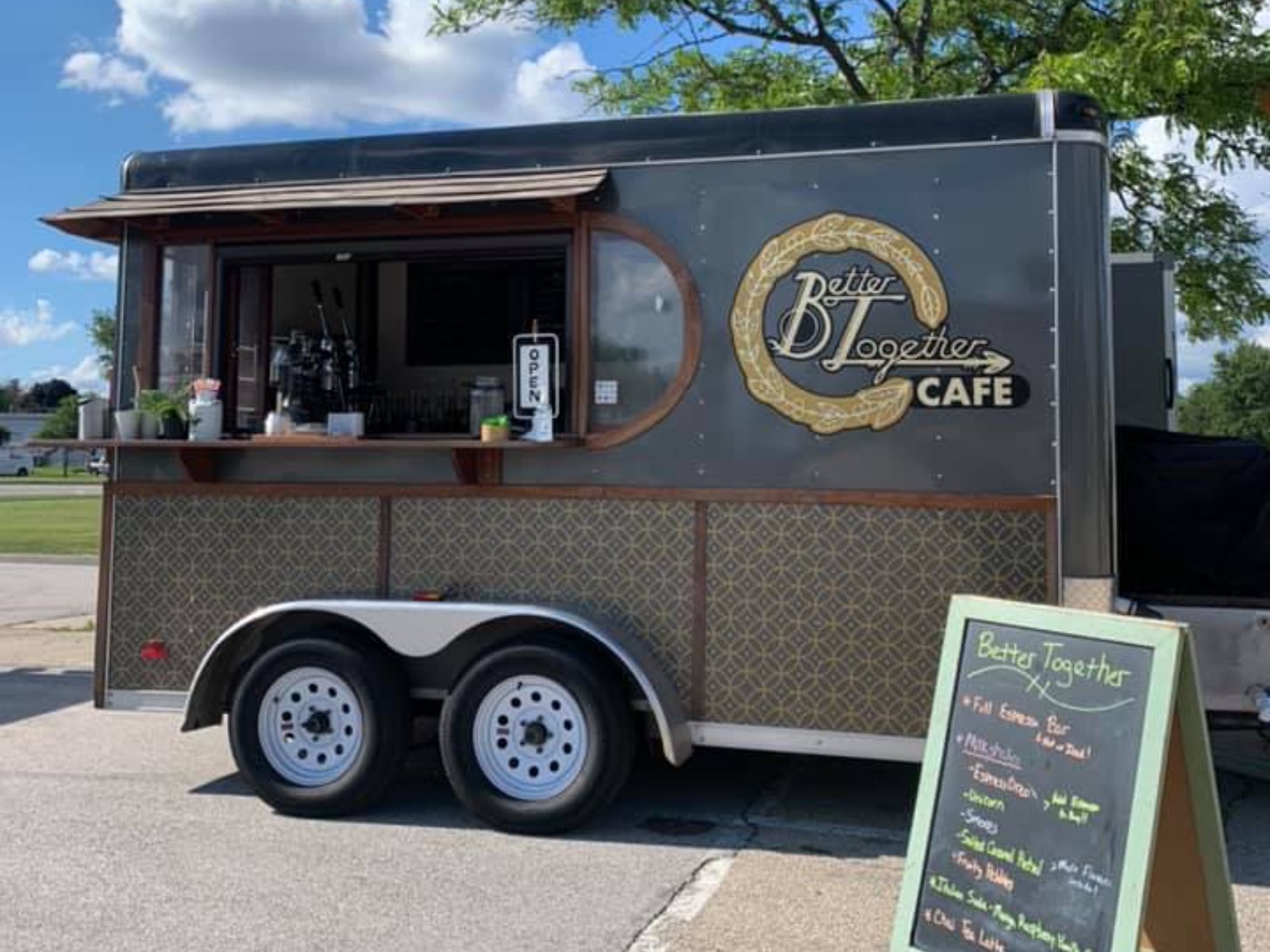 "Our dream was always to open up a coffee shop, and I worked on a food truck for a couple of summers, and after working there, I thought, 'This is kind of genius; we should start a coffee truck rather than doing a brick-and-mortar right away – get our name out there, get our process and concept down and everything,'" Becky explained.
Fueled by that lightbulb idea, the Kinzers put the Better Together Cafe – named after the song by Jack Johnson, the soundtrack to their first dance at their wedding – on the road in 2018, fueling Milwaukeeans with scrumptious shakes and espresso drinks for all coffee palates. The menu features classic coffeeshop espresso drinks and traditional milkshake favorites, as well as some sweet surprises – including a PB&J shake, a Instagram-approved unicorn shake, a Take5 candy bar in slurpable milkshake form and a pair of breakfast of champions options inspired by Cinnamon Toast Crunch and Fruity Pebbles.
Better Together's espresso and shakes have shaken up the Brew City coffee scene so much that the couple is now prepping to take their original love and dream to the next big level: a full-on brick-and-mortar location, aiming to open next month in the former Dairy Queen at 1301 N. Chicago Ave. in South Milwaukee.
Until then, we'll just have to settle for the Kinzers continuing to bring the coffee shop atmosphere they fell in love with (and fell in love within) to corners and food truck festivals all around the city. Oh darn.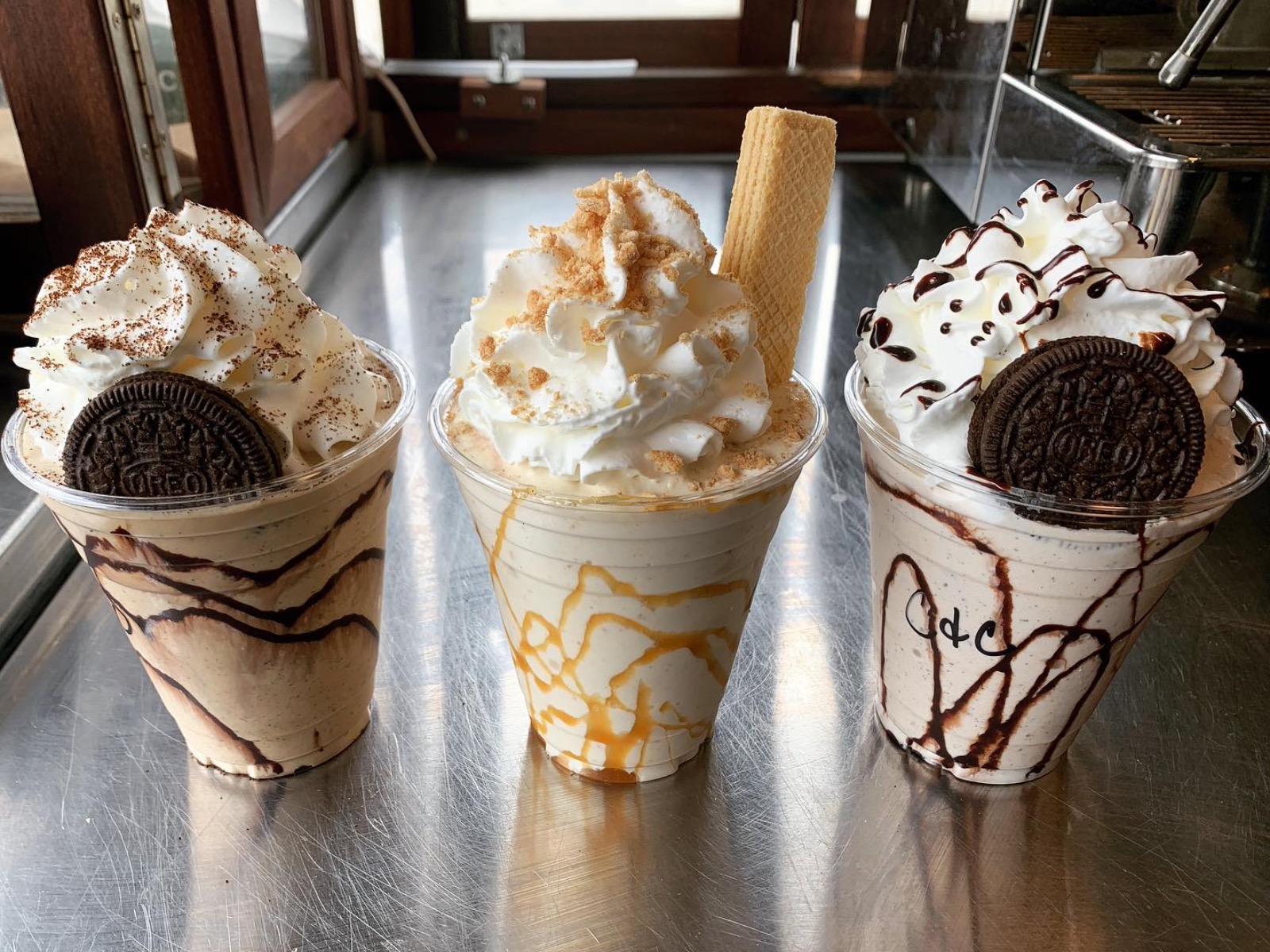 Type of food: Coffee, espresso and milkshakes along with small breakfast pastries and snacks
Most popular item: If you're going toward the milkshake menu, Becky points to the espressOreo as their most popular option. ("It's basically a cookies and cream milkshake with two shots of espresso – it's amazing," she raved.) As for the espresso bar part of Better Together's menu, Becky says the most popular item is the trailer's shakerato – a shaken espresso drink with vanilla and cream.
Where are you usually parked/located: Better Together's most popular parking spots range all around the area – from Oak Creek to Wauwatosa to Menomonee Falls and Brookfield. In addition to food truck events on weekends and high-business areas on weekdays, due to the pandemic, you can also often find Better Together in front of local apartment complexes.
"Last year during COVID, that was kind of our thing," Becky explained. "We pivoted in March when everything shut down and all of the businesses that we were going to weren't there. So we started going where the people were: where they were living."
To find out where specifically Better Together's parked and pouring, follow the truck on Instagram and Facebook.
Do you offer gluten-free options? According to Becky, anything on the menu can be made gluten-free. Plus, the trailer sells macarons from Le Macaron, which are also gluten-free. In addition, along with whole milk or Breve, Better Together's menu offers oat milk (for an extra 75 cents) as an option in its espresso drinks.
If you could park your trailer anywhere in the world, where would it be: "You know, this is going to sound kinda silly, but because I really want a vacation, I would go to Hawaii and park it right there," Becky laughed, potentially inventing the latest foodie trend in the process: food boats.
As much as it is a gigantic cliché to say that one has always had a passion for film, Matt Mueller has always had a passion for film. Whether it was bringing in the latest movie reviews for his first grade show-and-tell or writing film reviews for the St. Norbert College Times as a high school student, Matt is way too obsessed with movies for his own good.
When he's not writing about the latest blockbuster or talking much too glowingly about "Piranha 3D," Matt can probably be found watching literally any sport (minus cricket) or working at - get this - a local movie theater. Or watching a movie. Yeah, he's probably watching a movie.