Love food trucks? So do we! So much so that OnMilwaukee partnered with Milwaukee World Festival, Inc. to bring the first MKE Food Truck Fest to Henry Maier Festival Park in July. Find out more here.
Let's get the bad news out of the way first: Mark Wesson is a Bears fan. To help balance that sour note out, however, Wesson offers you something sweet – VERY sweet: funnel cakes. And not just your classic funnel cakes, but wild, towering and wonderously sugary funnel creations that'll send you on such a sugar high, you'll forget the Bears, Packers, rivalries and football entirely exist.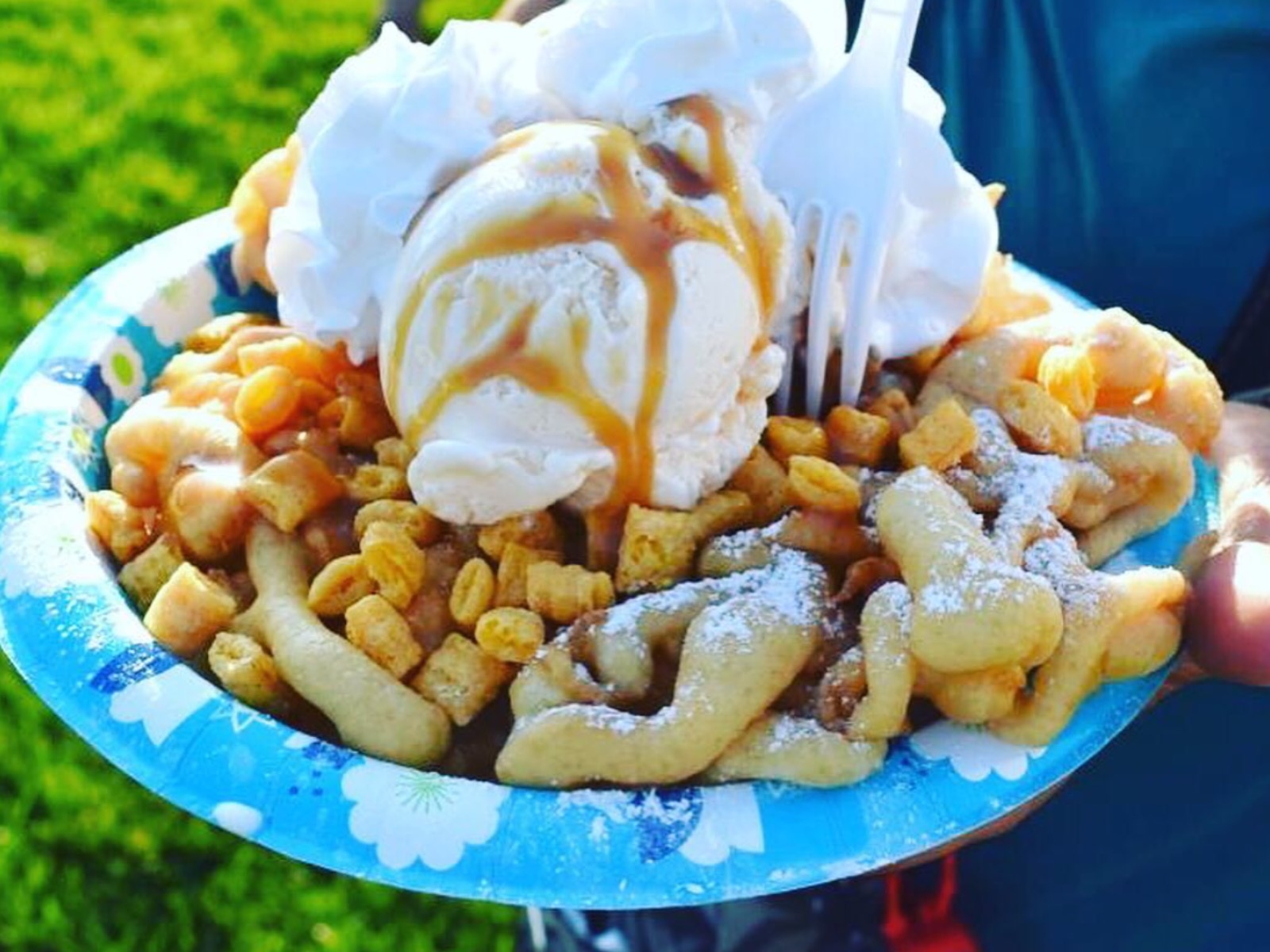 "It's nice to bring a taste of that carnival treat home – and we can bring it to your neighborhood and to your streets," said Wesson, who co-owns the My Funnel food truck with his wife Christie.
After getting their start selling funnel cakes out of a tent "for some side hussle and some fun" few a few years prior, the Wessons – captivated by the growing food truck scene and noticing a gap for desserts beyond cupcakes and ice cream – eventually took their funnel cake confections on the road in the summer of 2018.
They've been sating sweet teeth across northern Illinois and Wisconsin ever since with unique funnel cake concoctions that are their own culinary carnivals – with menu options like the caramel crunch featuring a funnel cake topped with vanilla ice cream, caramel sauce, whipped cream and Captain Crunch cereal; or the Cinnamon Me, piling cinnamon sugar, horchata ice cream, Cinnamon Toast Crunch ceral, caramel and whipped cream upon a funnel cake. They've even dabbled with maple bacon and Flamin' Hot options in the past, taking the funnel cake further than ever before.
But here's something even more unexpected than some of My Funnel's creative toppings: Wesson himself doesn't have a sweet tooth.
"Ironically, I'm not a funnel cake fan; my family is," Wesson confessed. "When we had an opportunity to pick up a fryer down here in Illinois, my family was ecstatic. They were like, 'Ooh, funnel cakes any time of day? This is great!' I'm not a sweets guy, but I love creating new things and seeing what the kids like."
Wesson may not have a sweet tooth, but the My Funnel food truck certainly knows how to please them with these carnivals on a plate – so fun and playful, we'll happily let that whole Bears thing slide.
Type of food: Desserts including funnel cakes and ice cream
Most popular item: A banana cream pie funnel cake, featuring a funnel cake topped with vanilla ice cream, fresh sliced bananas, whipped cream, crushed vanilla wafers and vanilla pudding mix.
Where are you usually parked/located: My Funnel is based out of northern Illinois, but the food truck typically aims to get up to Milwaukee and Wisconsin "a least a couple dozen times" a year. To keep up with My Funnel, follow them on Instagram and Facebook.
Do you offer gluten-free options? My Funnel always carries a few gluten-free ice cream options on the truck. As for gluten-free funnel cake options, Wesson notes that they've sampled a few gluten-free batters, but haven't found the right one yet.
"I want to sell it so it tastes good and at least gives you that sweet dough taste," he said. "We's still looking; we're always looking. We're working on it."
If you could park your truck anywhere in the world, where would it be: "Probably in front of a school," says Wesson. "Kids and adults love our funnel cakes – and ironically, when we do the super sweet ones with the caramel and the chocolate and the extra stuff, it's the adults who eat that up. The kids love the traditional funnel cake by itself."
As much as it is a gigantic cliché to say that one has always had a passion for film, Matt Mueller has always had a passion for film. Whether it was bringing in the latest movie reviews for his first grade show-and-tell or writing film reviews for the St. Norbert College Times as a high school student, Matt is way too obsessed with movies for his own good.
When he's not writing about the latest blockbuster or talking much too glowingly about "Piranha 3D," Matt can probably be found watching literally any sport (minus cricket) or working at - get this - a local movie theater. Or watching a movie. Yeah, he's probably watching a movie.