"Bar Month" at OnMilwaukee is brought to you by Miller Brewing Company, calling Milwaukee home since 1855. For the entire month of March, we're serving up fun articles on bars, clubs and beverages – including guides, the latest trends, bar reviews, the results of our Best of Bars poll and more. Grab a designated driver and dive in!
OnMilwaukee's on the hunt for good, frozen pizzas – which (for better or for much, much worse) we nicknamed "froza," kind of like "froyo" – in bars and taverns. Last week, we downed a delicious one at The Newport, and this week, we had a couple of Cedar Teeth pies at Burnhearts, 2599. S. Logan Ave.
Cedar Teeth pizzas, which are vegan and vegetarian, are rectangle in shape, making the squares-vs.-triangles argument moot. The rectangular pizzas are also cut into rectangle-shaped pieces, which we couldn't help think looked a little like a top row and bottom row of teeth, aptly.
Burnhearts has five varieties of Cedar Teeth pizzas made to order in a pizza oven behind the bar. We tried the Cheesus Chrust (cheese pizza) and the Bronze Fonz (veggie sausage and mushroom) for $10 each.
It's the crust – called a "sourdough rosemary dust crust" – that sets Cedar Teeth apart from any other frozen pizza we've sampled. It's thin-ish and chewy – firm but not crackery – with a buttery-hint-of-herbs flavor. The fact it's handmade and a Bay View-based product makes it even better.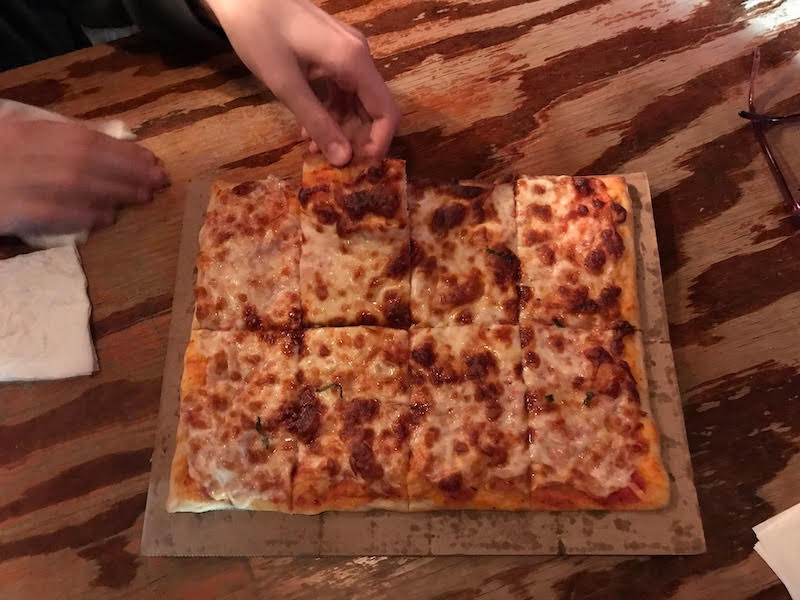 Five years ago, I wrote an article about Cedar Teeth and enjoyed revisiting owner Hannah Roland's story this week. Check it out here.
And we're still looking for excellent frozen pizzas in bars to try, let us know if you have a favorite.
Molly Snyder grew up on Milwaukee's East Side and today, she lives in the Walker's Point neighborhood with her partner and two sons.
As a full time senior writer, editorial manager and self-described experience junkie, Molly has written thousands of articles about Milwaukee (and a few about New Orleans, Detroit, Indianapolis, Boston and various vacation spots in Wisconsin) that range in subject from where to get the best cup of coffee to an in-depth profile on the survivors of the iconic Norman apartment building that burned down in the '90s.
She also once got a colonic just to report on it, but that's enough on that.
Always told she had a "radio voice," Molly found herself as a regular contributor on FM102, 97WMYX and 1130WISN with her childhood radio favorite, Gene Mueller.
Molly's poetry, essays and articles appeared in many publications including USA Today, The Writer, The Sun Magazine and more. She has a collection of poetry, "Topless," and is slowly writing a memoir.
In 2009, Molly won a Milwaukee Press Club Award. She served as the Narrator / writer-in-residence at the Pfister Hotel from 2013-2014. She is also a story slam-winning storyteller who has performed with The Moth, Ex Fabula and Risk!
When she's not writing, interviewing or mom-ing, Molly teaches tarot card classes, gardens, sits in bars drinking Miller products and dreams of being in a punk band again.