OnMilwaukee's The Future Is Female series is brought to you by Alverno College and features some of the most interesting, innovative and intelligent women in the city.
Last February, Emma Larson and her husband, Khurram, purchased a home on Holton Street in Riverwest. They were immediately smitten with the neighborhood and quickly decided they wanted to make it even better.
Hence, Larson decided to set aside time one Saturday to pick up garbage on the street. This week will be week 24 of what is now called The Holton Street Clean-up that's regularly attended by numerous neighbors wanting to pitch in and spruce up the busy street.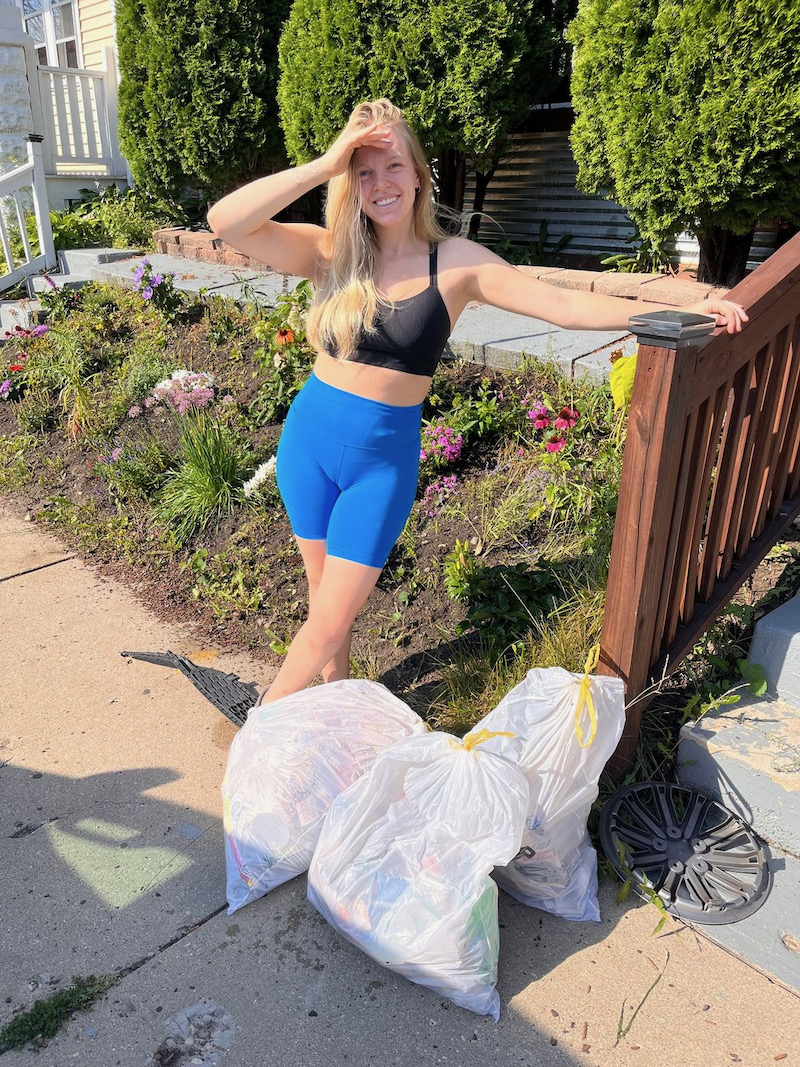 How did you get started cleaning up Holton Street?
One Saturday morning my husband, Khurram, and I just decided to start picking up litter on the street. I was surprised that we were able to clean up a lot in just half an hour. And it was so satisfying to see the street tidied up. It immediately seemed like something we could and wanted to do every week.
How did you get others to join you?
When we first moved to the neighborhood, we joined the Riverwest Facebook group and saw how strong the community is. I shared what we were doing with others in the group. Turns out a number of people were cleaning up on their own or came to join us to clean up.
What is satisfying about this work for you?
It's been a great success. Every time we finish our work, we get the satisfaction of knowing we did something tangible to improve our community. It gets you outside and moving your body. In a weird way, we look forward to it every week. And we've made awesome friends that also love and contribute to the neighborhood. After we clean, people on our block will say "it looks great - you must have recently been out."
What attracted you to the Riverwest neighborhood?
I love how much character is in Riverwest. People here are passionate about the neighborhood, nature and local companies like The Daily Bird. It'll be exciting to see how the neighborhood evolves as more professionals move here because they see what we saw: a walkable neighborhood with great restaurants and shops that's just minutes away from the lake and Downtown. Milwaukee is a gem. It's one of the best-preserved cities and we have a lot of pride.
Where did you grow up? Go to college?
I grew up in Brookfield and went to college in Wauwatosa. My husband and I are expecting our first baby in February. We're excited to be close to family in Milwaukee.

Molly Snyder started writing and publishing her work at the age 10, when her community newspaper printed her poem, "The Unicorn." Since then, she's expanded beyond the subject of mythical creatures and written in many different mediums but, nearest and dearest to her heart, thousands of articles for OnMilwaukee.

Molly is a regular contributor to FOX6 News and numerous radio stations as well as the co-host of "Dandelions: A Podcast For Women." She's received five Milwaukee Press Club Awards, served as the Pfister Narrator and is the Wisconsin State Fair's Celebrity Cream Puff Eating Champion of 2019.